Chrono24 On Facebook
Chrono24, world's largest market place for watches, now has its own Facebook page. One of my tasks as their new Social Media manager is to update the Chrono24 FB on a regular basis. Besides sharing interesting offers on Chrono24 on the Facebook page, you are able to share your own on-line buying experience, a photo of a special watch or occasion related to watches or simply post a question you have regarding a watch (for sale).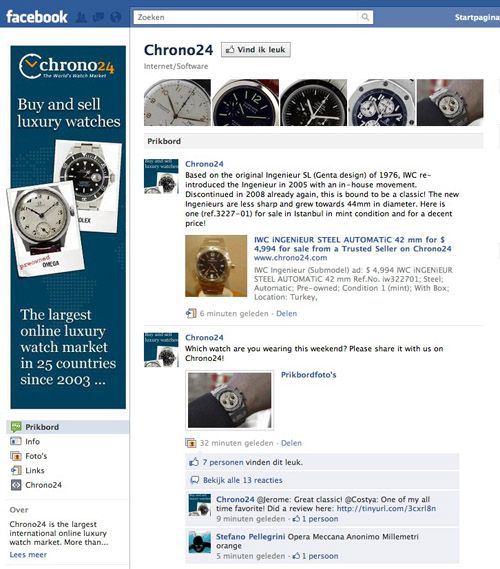 A platform like Chrono24, with over 1.8 million unique visitors a month, is a great extension for the websites of authorized dealers and watch dealers. Private sellers are also able to offer their watch(es) for sale at Chrono24, free of charge. Although authorized dealers are most of the time not allowed to display the (list) prices of watches, at least you know where you can find the watch you are looking for and who has it in stock.
Although some brands are a bit hesitant about Chrono24, I am of the opinion that it offers great value to them as well. This many visitors on the look-out for a new watch, they should take advantage of that. Compare it with car trader sites, the big car brands are clearly visible on there as well, making sure the visitors know what brands to consider 🙂
In the meanwhile, give the Chrono24 Facebook page a visit and 'Like'! 🙂
https://www.facebook.com/chrono24