Want to know when your watch is due for a service? The Lepsi Watch Scope measures a number of vital signs, like accuracy, beat error, amplitude etc. Below, our hands-on review of the Lepsi Watch Scope that you can use to keep track of the performance of watches in your collection.
We will try to focus a bit more on stuff surrounding our beloved timepieces. Gadgets, accessories, things we like, or we use on a daily basis will all be part of this. In this article, I would like to introduce a little gadget, which hopefully will come handy to most of you. I think us watch guys all know that buying a watch is only the beginning of our "relationship" with that object. We have to maintain it, take care of it and, if need be, have it serviced. But how do you know when it's due? Aside from the obvious (when it's losing or gaining time perhaps stopped working at all), you can check its performance regularly. Taking it to a watchmaker and have it checked would be one solution. Or buy a Lepsi Watch Scope and do it yourself at home.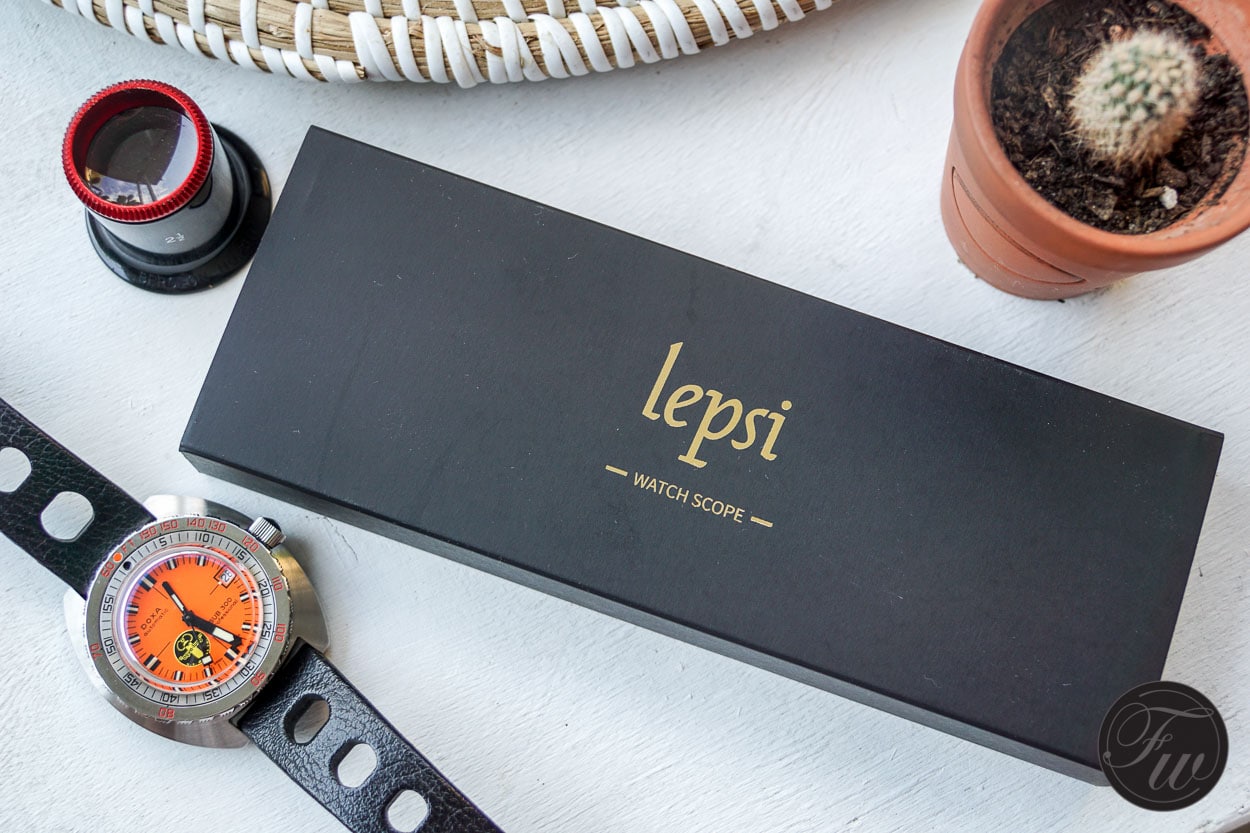 Check it!
When you buy a watch, and especially a vintage one, you want to make sure that it is running accurately. Of course, this could vary depending on the age, condition, and functions of the timepiece. Still checking your priced possession and making sure it is up to the task is a must. There are a bunch of apps out there that can check the accuracy of your watch passively. This means that the app might mark your timepiece's performance by measuring it on a 24-hour base. However, that data might not be 100% correct. A second solution would be to invest in a professional timegrapher or a similar gadget. A timegrapher has a little microphone that "listens" to the beat of your movement to measure and determine its precision. There are a number of these analytical tools on the market; one of them being the Lepsi Watch Scope.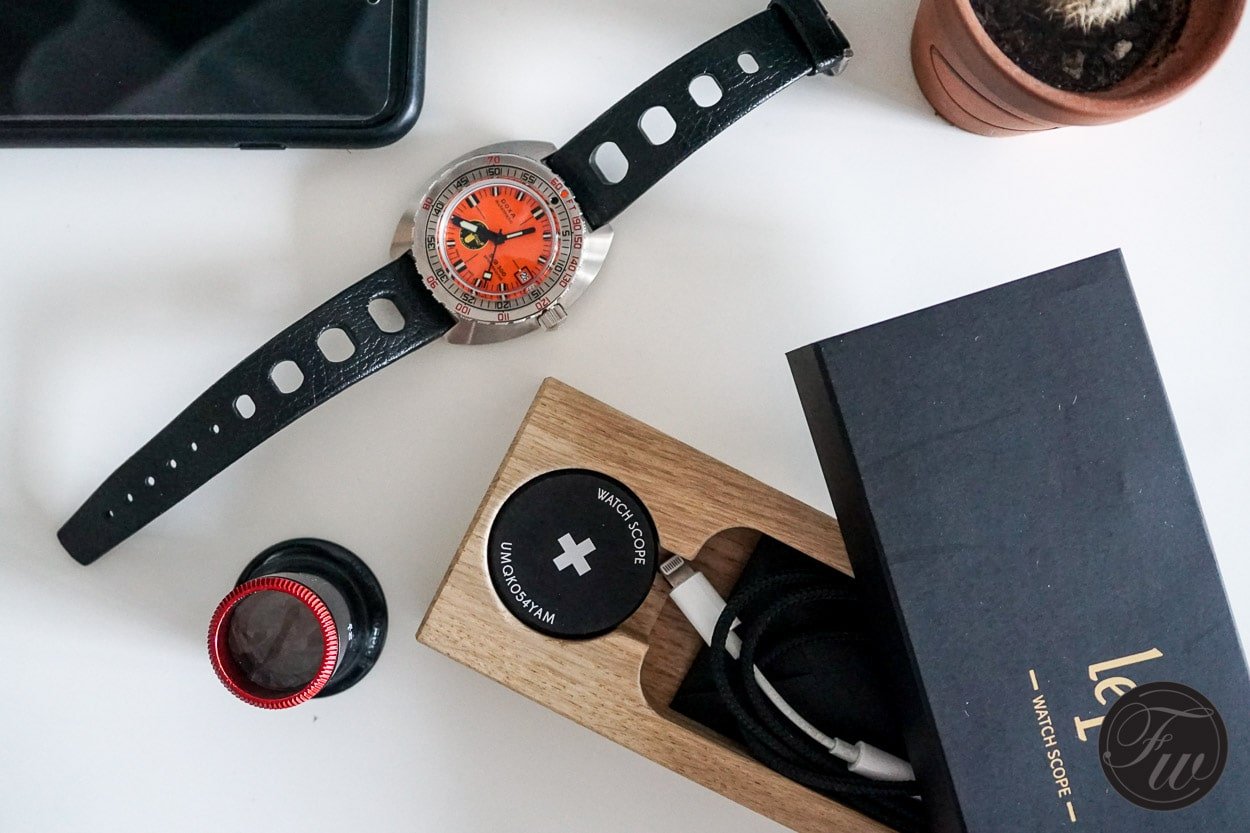 Lepsi Watch Scope
This clever little device is not different from the aforementioned timegraphers; it consists of a little round case that holds a microphone, which – through a jack plug cable – connects to your smartphone or iPad. All you need to do is to download the free app (called Watch Scope), connect the Lepsi Watch Scope to your phone through the cable and place the device on your watch. It looks like a stethoscope for watchmakers (hence its name; Watch Scope) that you can place on the face of the timepiece while wearing it. You can also take the watch off and set it on the Lepsi. It works both ways. After you are done, disconnect the cable and place them with the device back into its wooden case until next time. You can also carry it around, travel with it or be the star of any watch get together.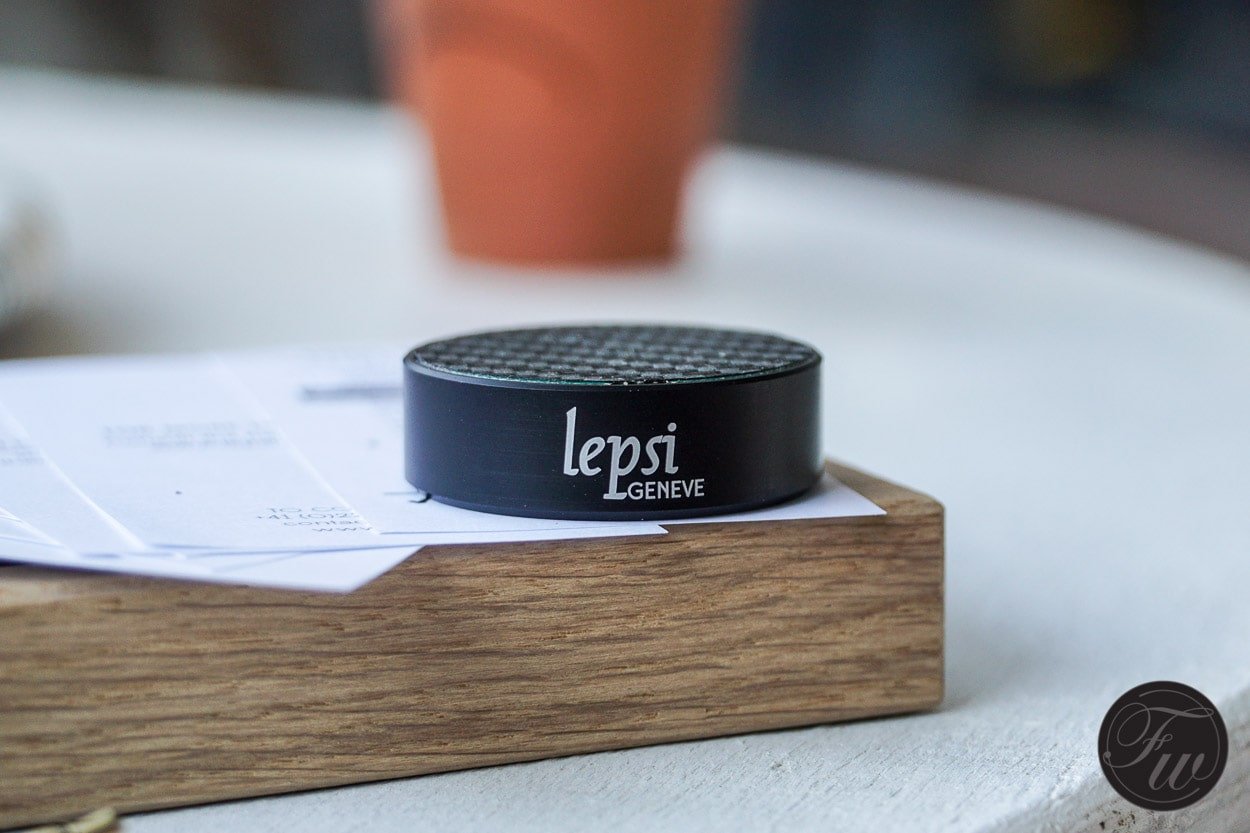 Let's Lepsi
When you're all set, open the app and click the play button at the bottom center of the screen. You will see that the timer on the top will start counting back from 18 seconds, the little pulsation symbol appears in the center of the screen (showing that the device is picking up the sound of your watch) and before the seconds are up the result will appear in seconds per day. You can switch the view between sound or graph to see how the performance differs while Lepsi changes into a continuous analysis, once the 18 seconds are up. When ready just tap the stop sign at the bottom and the measuring stops. In settings, you can choose between "standard" or "watchmaker" mode. "Standard" only gives you basic info of your watch's accuracy while "watchmaker" mode display further metrics like rate variation, beat error or amplitude.
App
Now comes the fun part. See the notepad-and-pen icon on the top right corner of the screen? This is a clever option of the app which allows you to save the results. You can measure your whole collection and store each watch's data in the app. Later you can edit, update or perhaps delete these results. Now, let's look at the other features of the Watch Cope app though. Top of the list is "Quick measure" but we already talked about that. The next one is "Magnetism detector". If you click on it the on-screen description tells you what to do to make the feature work. You can also download a separate free app with the same function if you want to use your phone as a device to detect whether your watch is magnetized or not.
The idea is simple; iPhones have built-in compasses and those contain a magnet. The software uses that magnet to detect if the object you hold close to it also has magnetization or not. To calibrate this feature, you need a piece of magnet (like a fridge magnet or a magnetic clip from your bag perhaps earplugs like BeatsX). You have to move it across the screen without touching it and where you see the highest result is where the compass located on the phone. Tap the screen there, the app saves the spot and from now on once you move your watch over this area the app will tell If it has magnetization or not. Be careful, it can also magnetize your watch so try to move it closer to the screen but not too close and never touch the screen with it. Clever, right?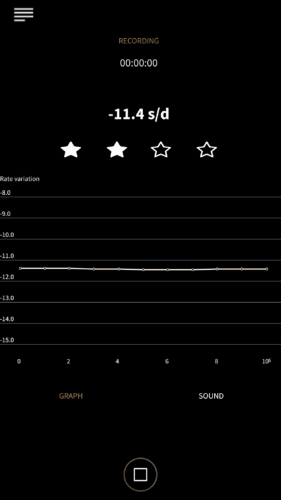 The 3rd menu point is the "Collection" feature. As I mentioned above, you can save the measurements of your watch and store it here. You can name your watches, upload their own photos and update the measuring whenever you have the watch serviced or experience change in its performance.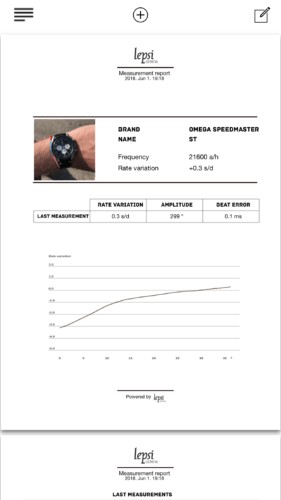 Measurement report, the 4th point, creates a pdf of the watch's diagnosis. You can either print it from your phone directly or email it to someone. The 5th and 6th features are in every app; "Parameters" which is another word for settings and "Help". Well, that is self-explanatory.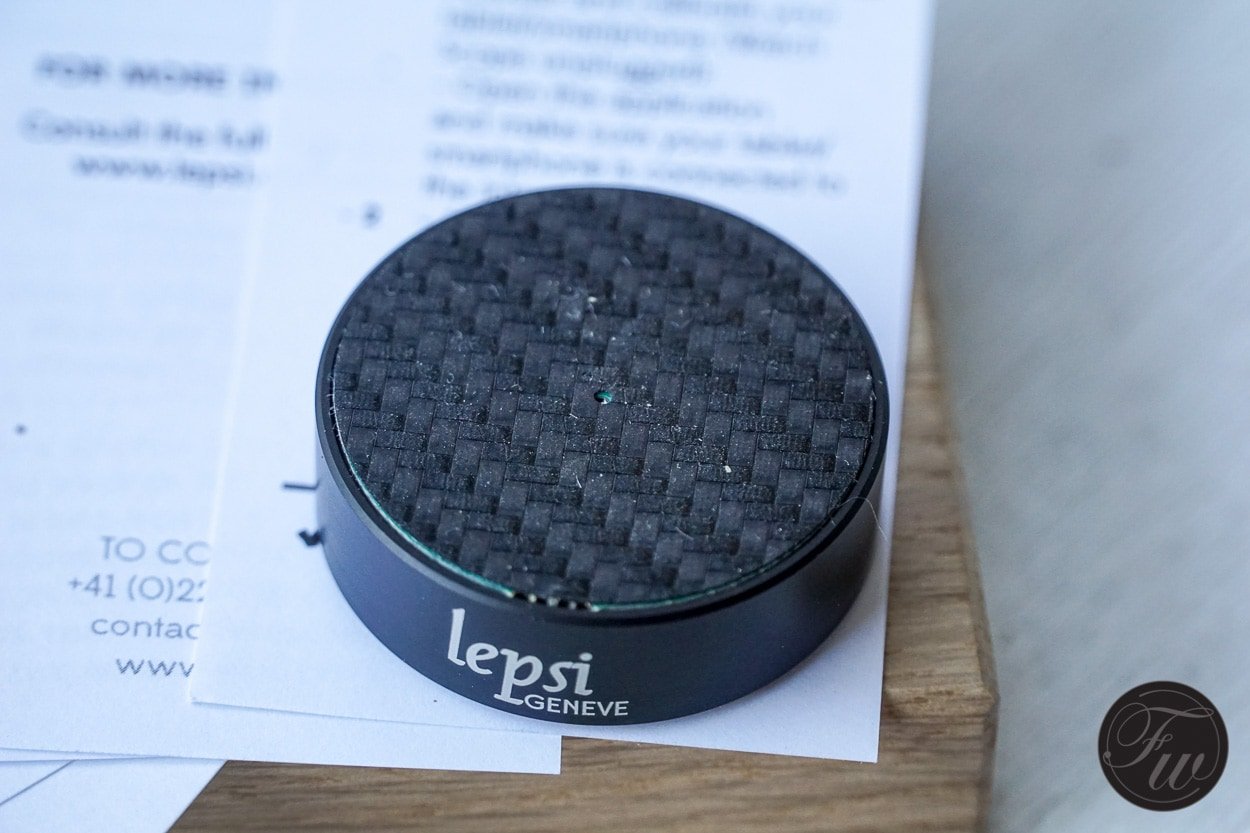 Swiss made
Just like many of your favourite timepieces, the Lepsi Watch Scope is also Swiss made. The item is produced with quality materials, it does not feel cheap or plasticky at all. As a matter of fact, the top of the device has carbon fibre covering to protect the microphone. I tested it with my iPhone (and iOS) but it works with Android too. I'm also told by Lepsi that a Windows version is coming soon. If you would like to invest in a Lepsi Watch Scope the price is 369 CHF (€ 340). Moreover, the company has a Watch Analyzer that is an even more accurate version with additional features. We will try to have a look at that device in the near future too. The development at Lepsi is ongoing with more new tools and accessories so keep an eye on them.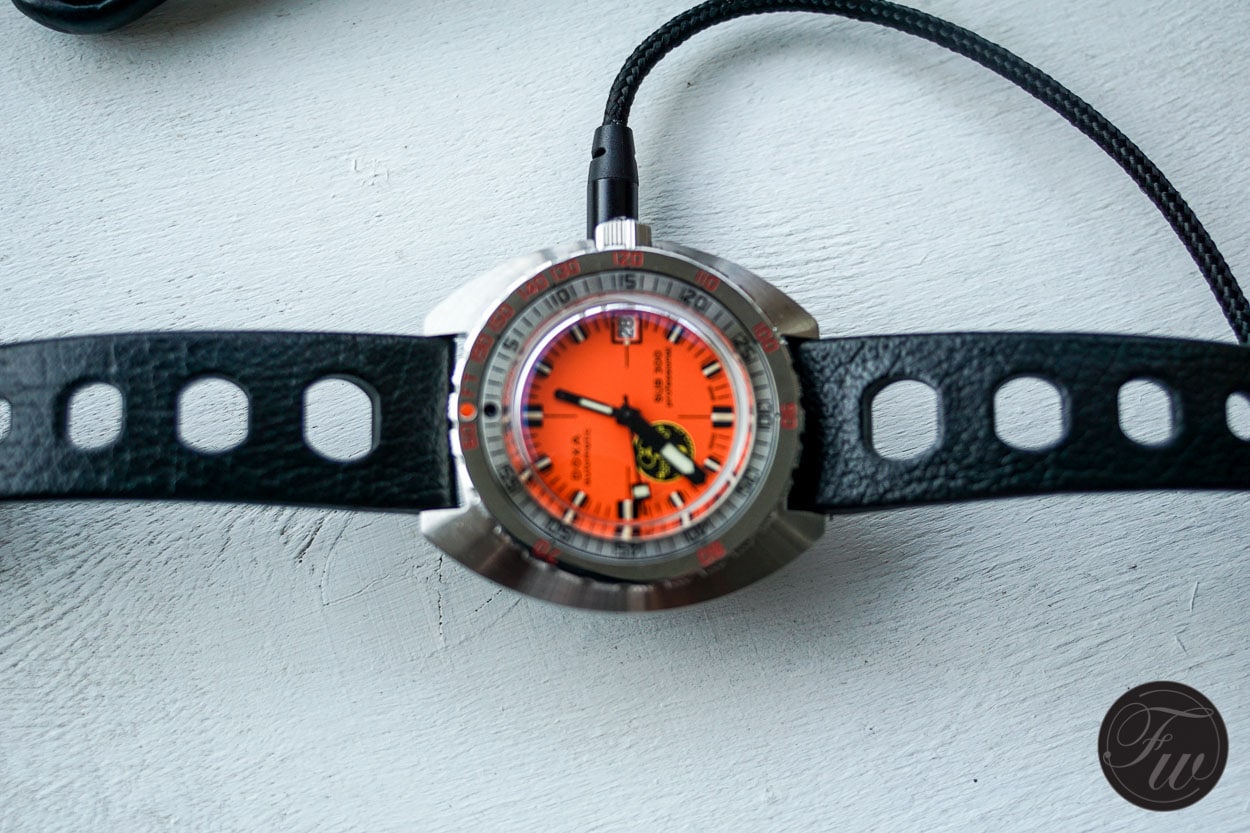 If you want to visit Lepsi's website, please follow this link.