I am back from my 12-day trip to Turkey. Happily to see that?Ǭ†Dutch watch magazine called 'Watching' had a new edition waiting for me at Horloge Platform Nederland. This edition covers the Basel and the SIHH watch expos, and features the Les M?ɬ©tiers d?¢'Ǩ'Ñ¢Art ?¢'Ǩ?ìLes Masques?¢'Ǩ¬ù watch by Vacheron et Constantin. ThePurists has a nice article on-line about the VC novelties, including these 'Mask' watches. They write:
"….a set of 4 wristwatches each decorated by a miniature of an ancient mask. Each mask on the dials of the 4 watches is a replica of an actual mask from the Barbier-Mueller Museum in Geneva, famous for its collection of primitive tribal artifacts. Only 25 sets of the quartet will be produced.
VC utilised advanced computer imaging and design software to shrink the actual masks and fit them under the crystal of the watch. All of the masks are identical copies of the ones on display at the museum, right down to the patina and tarnish. Even the dent on the nose of the Chinese Death Mask is reproduced on the watch.
The masks are set on sapphire dials tinted in complementary colours and engraved with a poem written by Michel Butor, a contemporary French writer. Each mask has an individual poem dedicated to it reflecting the nature of the mask. Because of the tinted crystal, the poems are only visible at certain angles so they do not draw attention away from the mask. To accomplish this, VC had to engrave the underside of each crystal with the words of the poem before filling the engraving with gold. "
I am not that VC-ish, but these watches are really stunning. They have a caliber 2460 movement (who cares what type of mechanical movement is inside, with a dial like this) ticking inside, as found in the Les M?ɬ©tiers d?¢'Ǩ'Ñ¢Art ?¢'Ǩ?ì4 Saisons?¢'Ǩ¬ù unveiled for the 250th anniversary of VC in 2005. Time, day and date are read from discs positioned at the edge of the dial, freeing up much of the dial for various forms of decoration.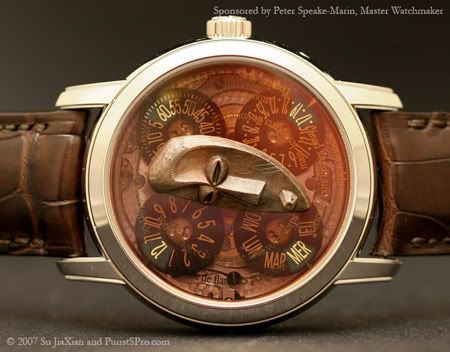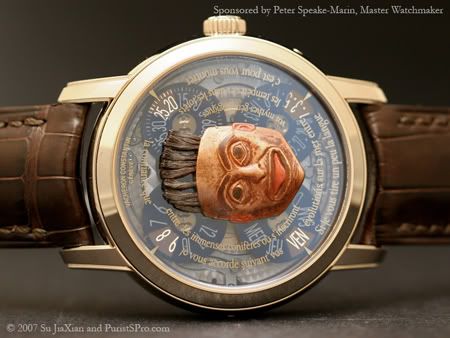 More details and pictures on these watches can be found at http://www.tp178.com/SJX/Basel_SIHH/geneva2007/vc/vc.htm
Source: ThePurists.com, both text and pictures.