Pre-SIHH 2009 news from Max Büsser: Horological Machine 2 Ceramic
Yesterday, I was happy to find an e-mail from Maximilian Büsser in my inbox. He is pre-releasing some 'SIHH' news on the internet already. Just recently, I posted news on his Horological Machine No.3. However, he now introduces the Ceramic model of the HM2. There are two versions of the new HM2: a ceramic with red gold (HM2-CR) and ceramic with titanium (HM2-CTi).
The HM2-CR is a limited edition of 33 pieces (and only 11 produced in 2009) and the HM2-CTi is a limited edition of 66 pieces (and only 22 produced this year).
Ceramic is quite 'da bomb' in the horological world lately, and MB&Friends are also embracing this material for their watches. As MB&F writes in their official press release:
"Ceramic: there is nothing quite like it. In fact, nothing that even comes close! From exquisite 5,000 year old pottery to 300 km/hour brake disks on Formula One racing cars; from the aqueducts of the Roman Empire to 1,600 heat shields on the space shuttle, ceramics extreme versatility is complimented an incredible ability to shrug of time and adversity."

To be able to create the Ceramic parts of this watch, diamond cutting tools are nescessary equipment for MB&F.
Enough talk, here are some pictures of the new MB&F creations: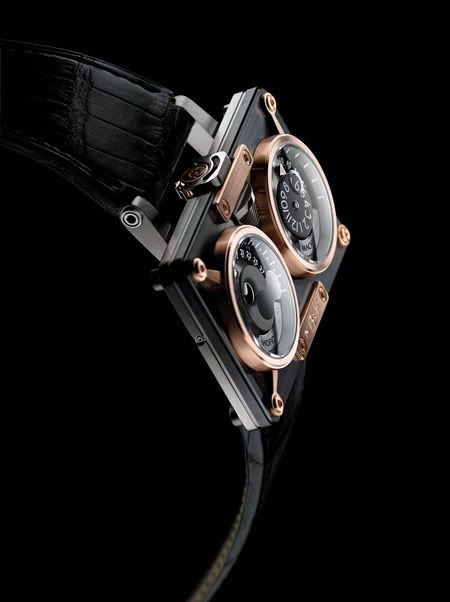 Although I am way too young to wear gold :-), I do love the HM2-CR – that's the ceramic with red gold – with its nice color contrast. The retrograde date and bi-hemisphere moon phase is on the left dial and the (jump) hour and minutes (also retrograde) are on the right dial. No wonder the case is almost 6 centimeters in width! The jump hour/retrograde mechanism developed by Jean-Marc Wiederrecht.
The SIHH is worth visiting for this Horological Machine only! I am eagerly waiting for the first pictures of this watch in the flesh.
Movement used in the HM2-CTi and HM2-CR is a:
Jean-Marc Wiederrecht/Agenhor designed functionality regulated and powered by a Girard-Perregaux oscillator and gear train
Balance oscillating at 28,800 bph
22k rose gold Double Hakken automatic winding rotor
Number of components: 349 including 44 jewels
Case dimensions:
Dimensions (exclusive of crown and lugs): 59mm x 38mm x 13mm
Water resistant to 30 meters (3 ATM)
Number of parts: 102 (case only)
What do you think of these haute horlogerie timepieces? Exceptional watchmaking or too haut for you? Please leave a comment!