New detail emerges on the Concord C1 QuantumGravity…
and here it is….drumroll…."vertical and liquid power reserve indicator" !?Ǭ† OK, very anti-climactic, I know!?Ǭ† But thus far it seems that Concord is trying to build some buzz (hype?) in advance of the launch of this new watch at BASELWORLD 2009 by revealing information about it, bit by bit.?Ǭ†?Ǭ†?Ǭ† My question is, will it work??Ǭ† I, for one, am a bit confused.?Ǭ† Here's what we know about the features of this watch thus far:
A case measuring 47.5mm and over 22mm in depth
An "aerial bi-axial tourbillon mechanism", further described as "a structure that makes emptiness its core material"
Tourbillon carriage fitted outside the movement and case
A "3D dial" that "strives to display the passing of time" (hopefully more successful than Romain Jerome's Day&Night :-))
Function elements fitted to the site of the case
Cable-stayed bridges
"Impressive" sapphire crystal
Officer-style hinged back
Right-angled skeletonized bridges
Hmmm…my concern is that the unconventional nature of this watch is being over-played to the point that its unveiling at BASELWORLD could leave people wondering what exactly they were hoping to be excited about.?Ǭ† I also fear that the price will be in the stratosphere, making it unreachable for all but the most deep-pocketed collectors.?Ǭ† Which also means that the C1 QuantumGravity could be forever subject to opinions of watch owners, collectors & enthusiasts who can only judge this watch from their computer screens.
The pictures we have seen of the C1 QuantumGravity thus far I can only describe as "unusual" and equally as mystifying as the description of its features: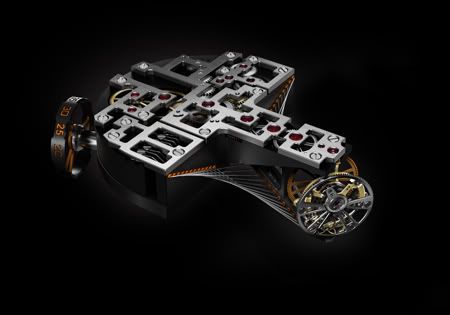 Certainly keeps with the spirt of nonconformity and creativity that Concord is trying to sell!?Ǭ† I admit to being curious.?Ǭ† However I wonder if this watch will live up to its mysterious ways.?Ǭ†?Ǭ† What do you think?
Kyle Stults is Founder & President of Perpetuelle.com, a new online community for watch owners, collectors & enthusiasts.