Part of the fun of collecting (vintage) wrist watches is buying accessories like watch boxes, straps, old advertisements, old catalogues, hats, instruction manuals etc. Just to complete your (vintage) watch or just to have fun. You can't always spend hundreds or thousands of dollars/euros on a watch, so you'll need to fulfil your horological needs otherwise. Hence, you are collecting all the stuff your girlfriend or wife sees as 'crap'. I used to get some old National GeoGraphics magazines for example (1960s and 1970s) and cut out all the cool Omega / NASA advertisements (www.old-omegas.com is a very good reference for this)
A few weeks ago, I went to the watchfair in D?ɬºsseldorf, Germany. It is a quarterly event held in the Radisson-SAS Hotel and besides watches, there are quite a few merchants who carry booklets, straps, boxes, books and other watch accessories. I noticed that one of the merchants (a Dutch guy) had an Omega box for sale with a few pins. You know, these small things you can attach to your shirt or jacket. Omega created a few of these pins with a blink to the Speedmaster line and its involvement in the Moon landing. To my best knowledge, these pins were meant for people who bought the 1957 (50 years) edition of the Speedmaster Professional watch 2 years ago. I had noticed them last year during my visit to the US, but the jeweler didn't want to sell them to me. Anyway, I managed to get two boxes a few months ago. I gave one away to my watchmaker (who is a total Speedmaster adept) and kept one for myself. See below for an example of these pins: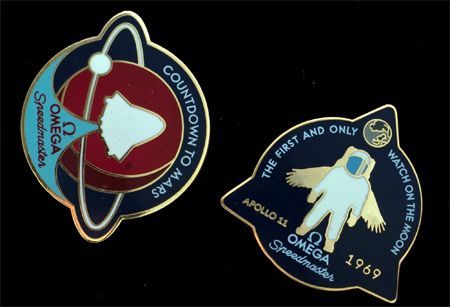 Anyhows, this particular merchant at the watchfair didn't even blink when he showed the pricetag of 350 Euros. What an idiot. Ofcourse, everything has its collector's value. A set of silver Rolex spoons by Bucherer, vintage catalogues, watch boxes, watch standards etc. But asking 350 euro for a box with a few pins that are still available at Omega (as a giveaway) is like the people on eBay asking a lot of money for actual watch catalogues. What's wrong with some friendly giving and taking stuff that other people are looking for and didn't cost you a penny? Or at least ask a reasonable price. If you want to fetch 350 euro for a box of pins that is still obtainable, put it in a safe for 15 years and try again.
About a year back, the owner of Richmenstoys had a nice Audemars Piguet carton outer box for a certain watch at his booth during a watch fair. A friend of mine was looking for such a carton outer box since a while, since the seller of his watch didn't include the original one (sigh!). After asking what this carton outer box should cost him, the seller smiled and said "a can of soda".