Since my review on the Linde Werdelin 3-Timer, a number of people asked me how the size of the 3-Timer compares to an Audemars Piguet Royal Oak Offshore. Although I answered them that the Linde Werdelin is a bit more flat on the wrist and less 'in your face', last weekend I had borrowed an AP ROO Safari for a review and decided to take a side-by-side picture with the Linde Werdelin. As you can see, the dimensions of the Linde Werdelin are comparable to the AP ROO Safari when it comes to width and length, but the height is quite different. The Linde Werdelin is a bit less 'in your face' than the Royal Oak Offshore. As Kristian Haagen wrote on my Facebook photo album (where I put this picture as well): "Great pair! They should marry instantly. They will have beautiful children." I wholeheartedly agree.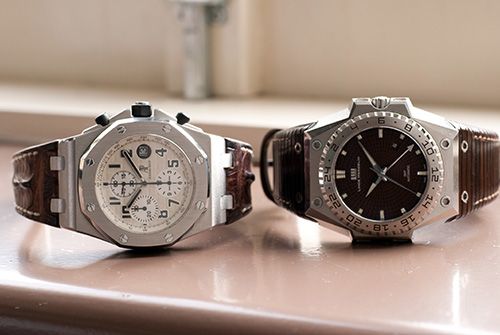 Of course, you can expect a review of the AP ROO Safari here soon 😉

Robert-Jan Broer, born in 1977, watch collector and author on watches for over a decade. Founder of Fratello Watches in 2004.

Latest posts by Robert-Jan Broer (see all)