Since the release of the Speedmaster Speedy Tuesday Ultraman, we get some questions about the original version from 1968. Time for us to recap our article from 2016 about the Speedmaster Ultraman reference 145.012-67. This will give you some more background on the original Speedmaster Ultraman.
For the Speedy Tuesday Ultraman, Omega and us (Fratello) wanted something more colourful, like the 2004 Speedmaster Professional Racing for the Japan market. A few brainstorming sessions later led us to Ultraman. The original Speedmasters with the orange hand from 1968 that can be seen in the 1960s TV series Ultraman are simply amazing and appreciated by many collectors.
Omega Speedmaster Ultraman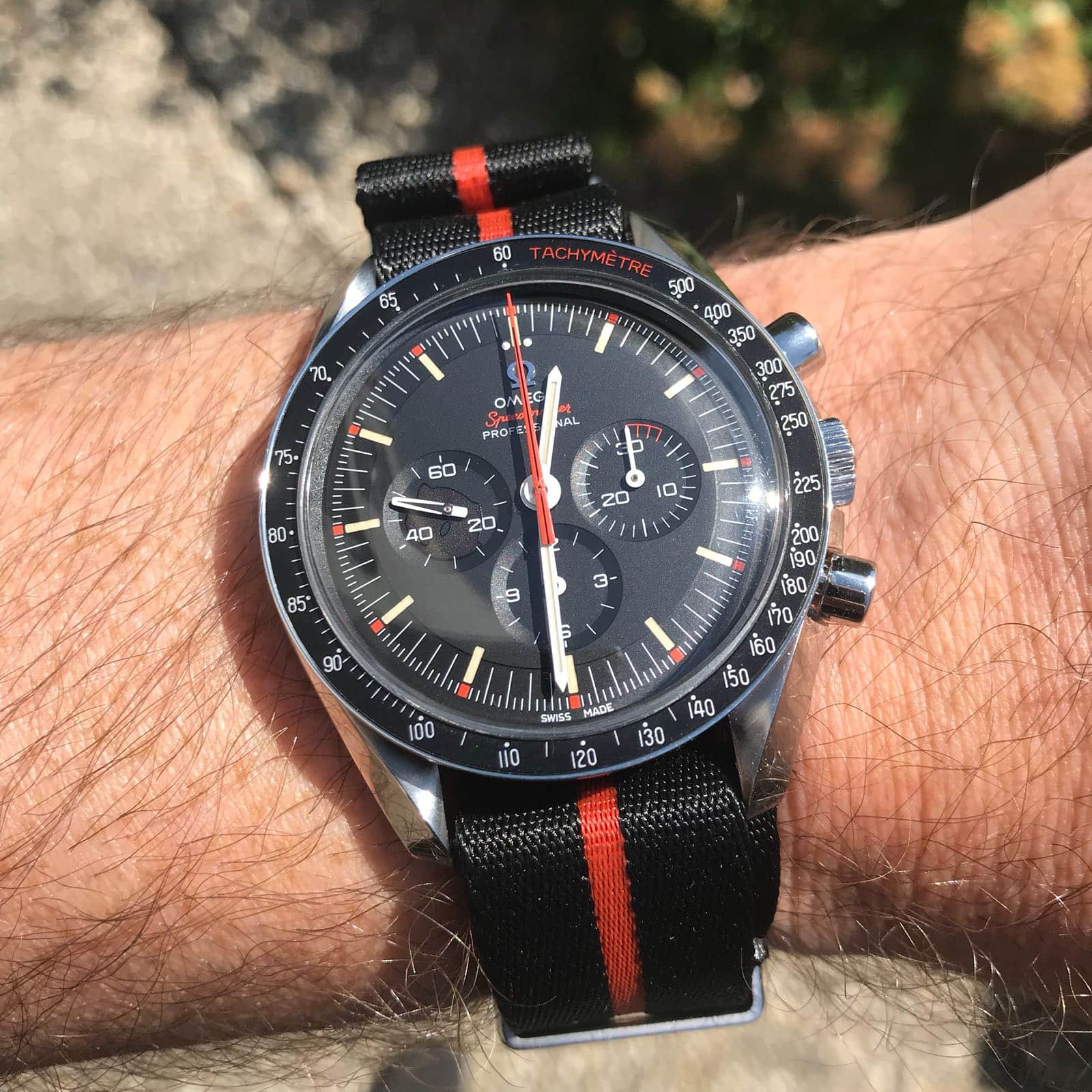 We don't like to recreate models from the past for a Speedmaster Speedy Tuesday, so we started to add some more details to it. Things like the stepped dial, DON bezel and applied logo are all elements from the Speedmaster Ultraman 145.012-67 that we will show you in this article. Geeky elements like the Ultraman's head (only visible using UV light), the orange three-minute markers on the subdial (these stand for the duration of Ultraman's power) and the orange square markers at the end of each hour marker, make it a watch for those who love this stuff.
These orange handed Speedmasters are topic of (heated) discussions every once in a while. Only a few of them have been (officially) made in Bienne, but (official) numbers aren't known. The watch was only made in 1968 and featured in The Return of Ultraman in 1971, which gives it its nickname 'Speedmaster Ultraman'.
For a long time, the Speedmaster Ultraman remained a mystery and to a certain extent, it still is. We don't know why Omega produced the Speedmaster 145.012-67 with an orange hand and only so few pieces of them. People made assumptions and estimates, but when Omega Museum Director Petros Protopapas travelled to Japan in 2015 and met with some collectors, he made an interesting comment on the Speedmaster Ultraman. He confirmed that the Speedmaster Ultraman is real and was delivered this way from Bienne.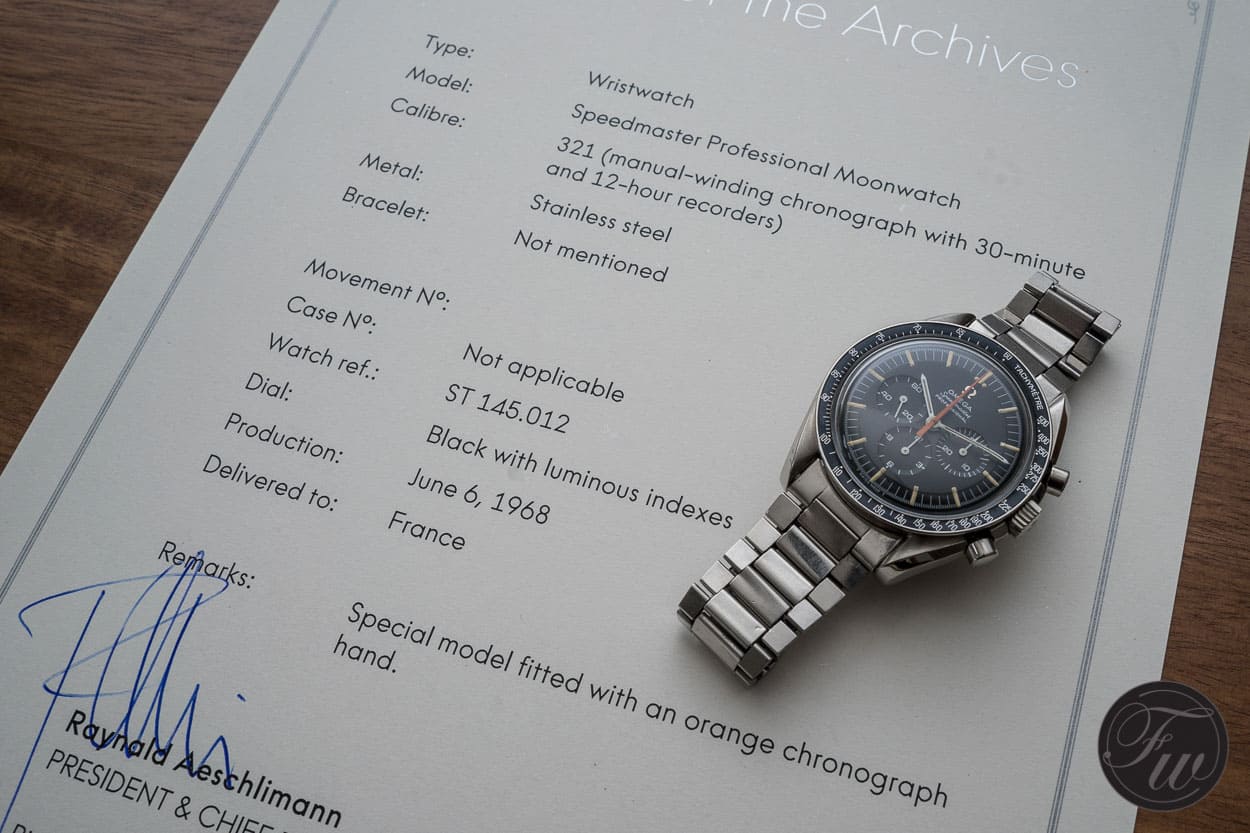 TOHO Studios
An interesting detail was told to us by Omega's Museum Director regarding the TOHO studios and Tsuburaya productions, responsible for Ultraman and a couple of other movies. The creator of the Ultraman series was Eiji Tsuburaya, was probably a watch collector himself as many of his creations were starring a lot of different interesting watches. More interesting, the Ultraman series were preceded by the Ultra Q series (1966). The Ultra Q series were in black & white and already featured a Speedmaster as well, a reference 105.003.
The series Return of Ultraman (also known as "Ultraman Has Returned") were the sequel to the Ultraman series and appeared in 1971 and 1972 and were directed by Eiji's son Hajime Tsuburaya. Instead of black & white, these series were already in colour, of course. An interesting thing to note is that the series have this orange touch. Hence the orange hand Speedmaster doesn't sound to us as a total coincidence.
Some of the other TOHO distributed movies also feature some great and iconic timepieces. In the movie based on the Japan Sinks novel ("Submersion of Japan"), you will be able to see an Omega Seamaster PloProf for example.
However, the Speedmaster Ultraman is a watch that was produced in 1968, long before its appearance in Ultraman Returns.
Speedmaster 145.012-67
In the serial number range of roughly 3000 watches (26.076.xxx and 26.079.xxx, which corresponds to a production in 1968), an unknown number of watches were assembled with an orange hand. The reason is unknown, but after it became clear that these watches played a role in Ultraman, they were nicknamed 'Speedmaster Ultraman' or the 'Ultraman Speedmaster'.
At this time, it isn't clear how many of them are around but once in a while, someone claims to have an all original Speedmaster Ultraman in his possession. Omega documented some of them as a Speedmaster that left the factory with an orange hand, as can be seen on the Extract of the Archives above. It is clear and confirmed that at least not all of these roughly 3000 pieces have an orange hand. Unconfirmed, it is said that less than 50 Ultraman watches are known/identified.
These watches were shipped to different markets, so not only to Japan.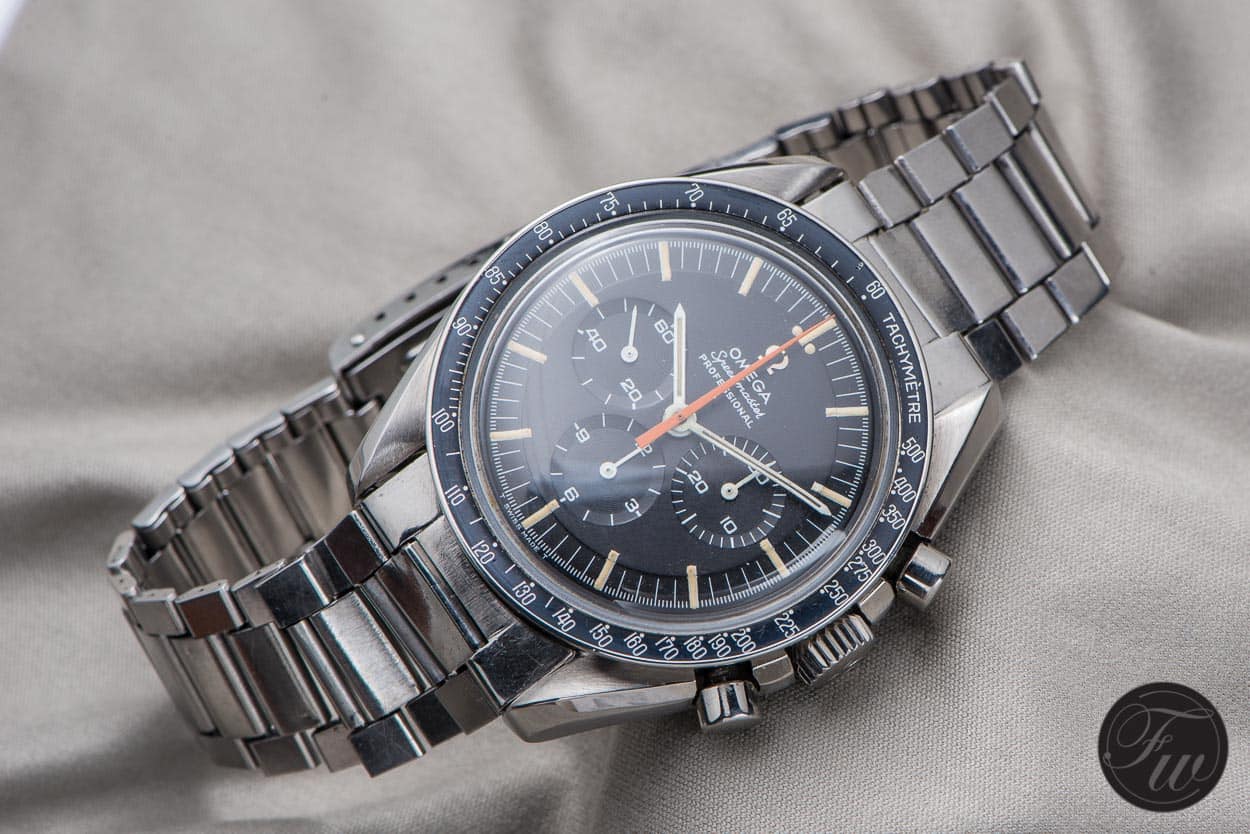 Orange Hand
Besides the orange hand, it is a pretty normal Speedmaster 145.012-67 with all characteristics of that reference: calibre 321 movement, DO90 bezel, 1039 bracelet etc. Those who are after making some quick bucks and not afraid of using some fraudulent tactics probably already thought about adding a Mark II orange hand (from this Racing model), Soccer timer or Chronostop model and offer it as a Speedmaster Ultraman.
Up till now, it isn't exactly clear whether the hand of the Ultraman Speedmaster is unique to this model. However, the hands of the Mark II, soccer timer and Chronostop watches aren't 100% identical either. That said, it will be difficult to identify an original Speedmaster Ultraman without a validation from Omega's archives. Although prices for the Speedmaster Ultraman are of course higher than a normal 145.012-67, considering its rarity are not completely out of this world.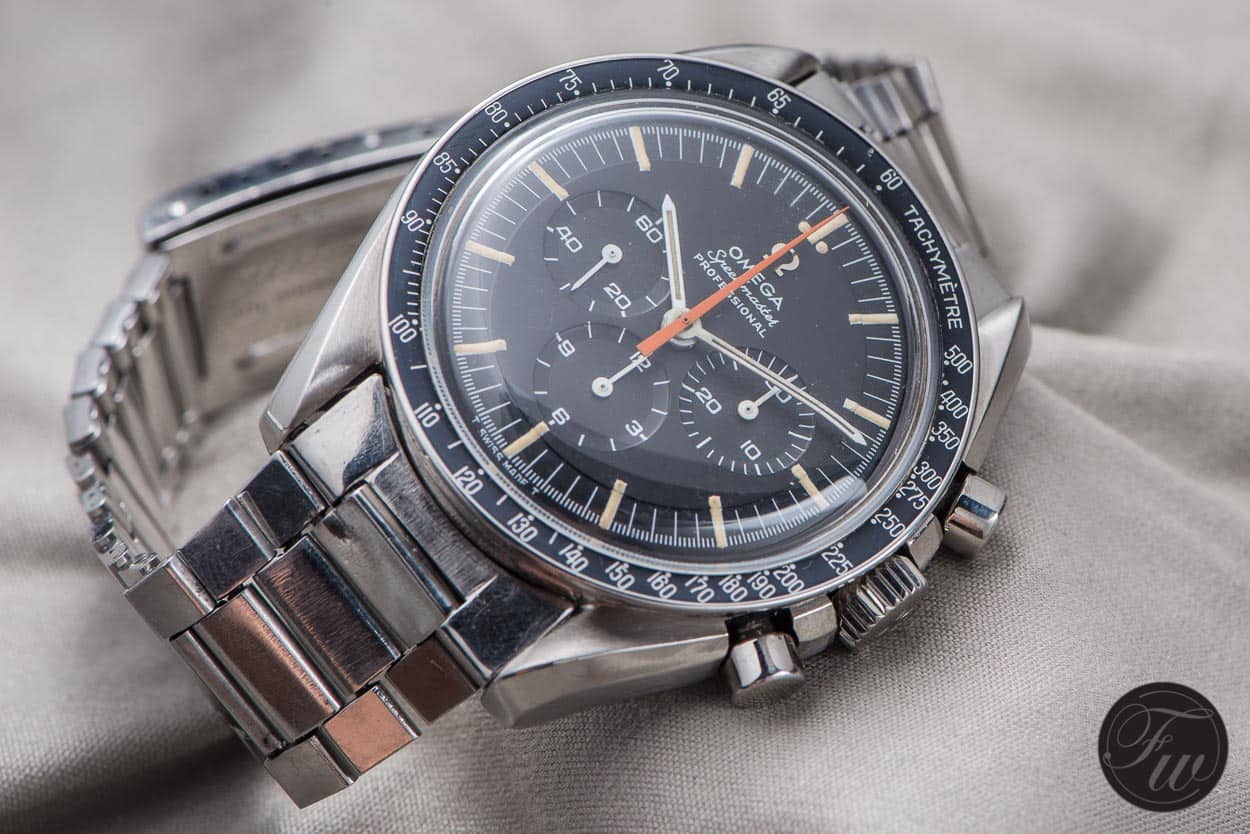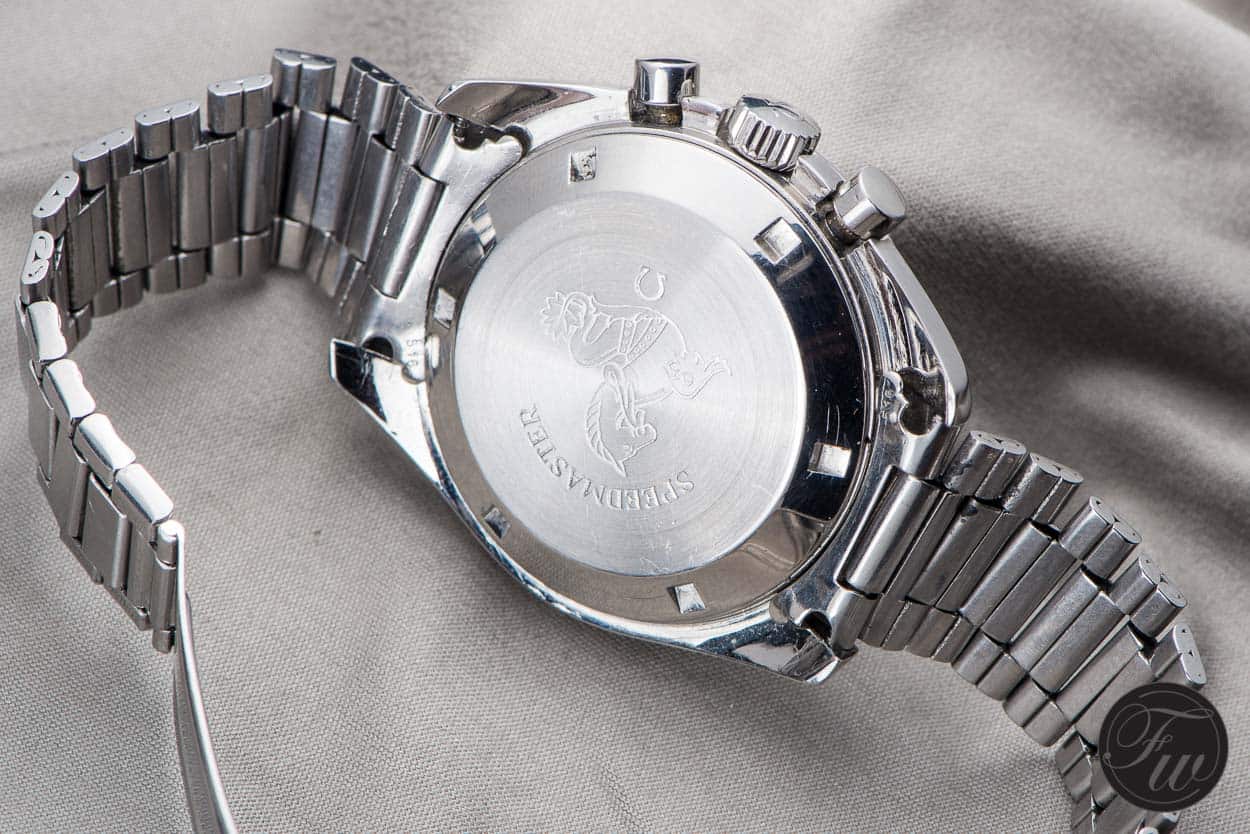 Some Thoughts
I've seen a couple of Speedmaster Ultraman watches over the years, from clearly frankenwatch models to the real deal like we have here. I remember lively discussions on Omega forums of people who were very certain that they bought the watch as-is new back in the 1960s, or that their father did. It is very difficult to prove this to others I can imagine. Only with the provenance from Omega, I would dare to buy a Speedmaster Ultraman myself (and pay the premium for it). I know that the Omega Museum works on getting more details on the table about a lot of different watches they produced in the past. This is hard work and requires a lot of capacity and persistence in a lot of cases.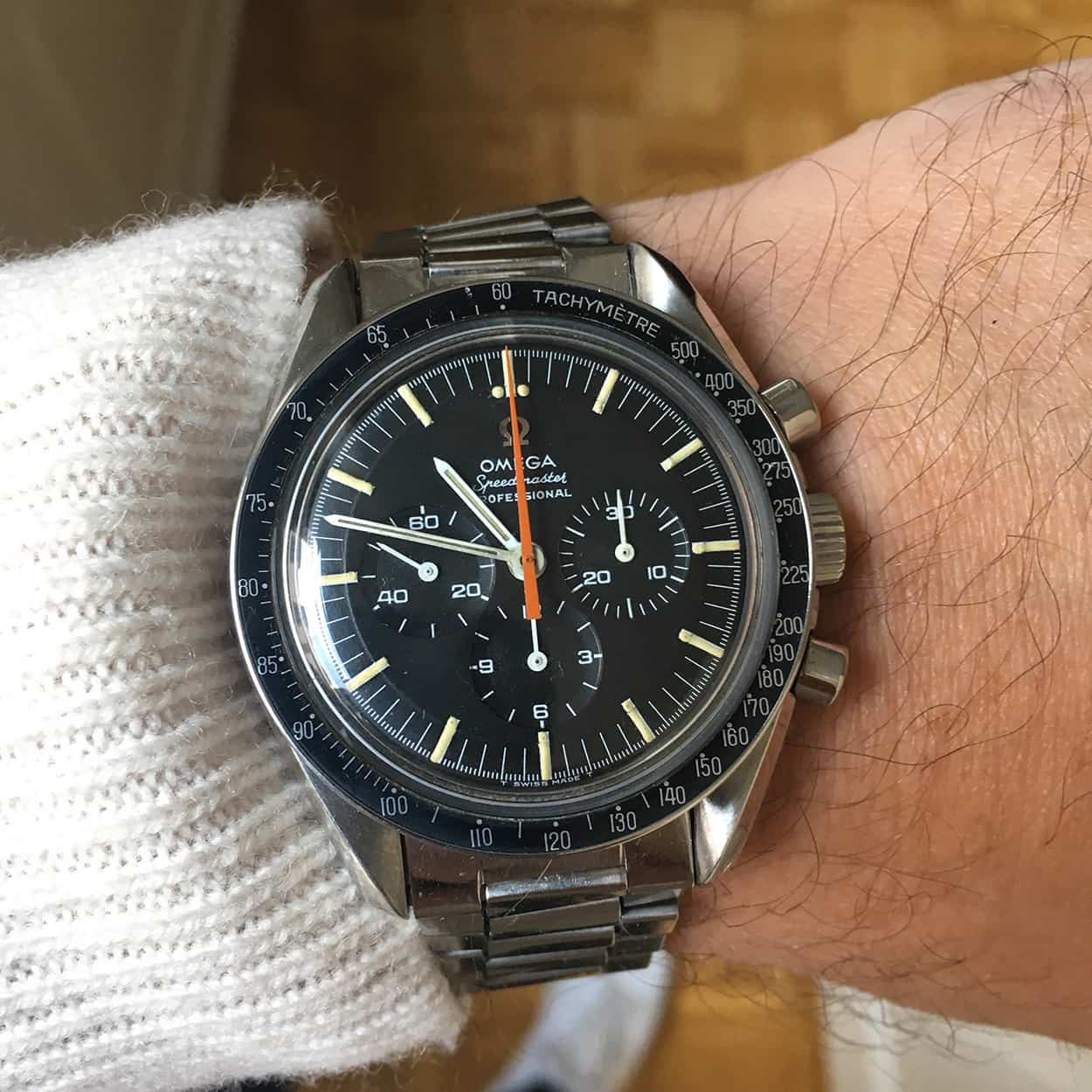 This particular piece was made available to us by Roy and Sacha Davidoff, who currently own or have owned the watch. A big thank you to the Davidoffs!
*This article appeared first on December 13th, 2016 but was updated with new information and image(s).