Uhren Magazine Goes iPad
Last week, I was visiting Frankfurt and every time I'm in Germany, I try to buy some watch magazines that they don't sell here in The Netherlands. This time, I brought Uhren Magazine back home and when flipping through the pages in the ICE train, I noticed they have an iPad version as well.
Once home, I downloaded the Uhren Magazine app from Apple's AppStore and was surprised to see a very nice and clear 'overview' of magazines you can download and read. The monthly edition can be bought via the Uhren Magazine app, which is used as a kind of container of magazines. Also, a number of 'Extra Editions' can be downloaded as well, some of them are free of charge. Click here to go to the AppStore for Uhren Magazine.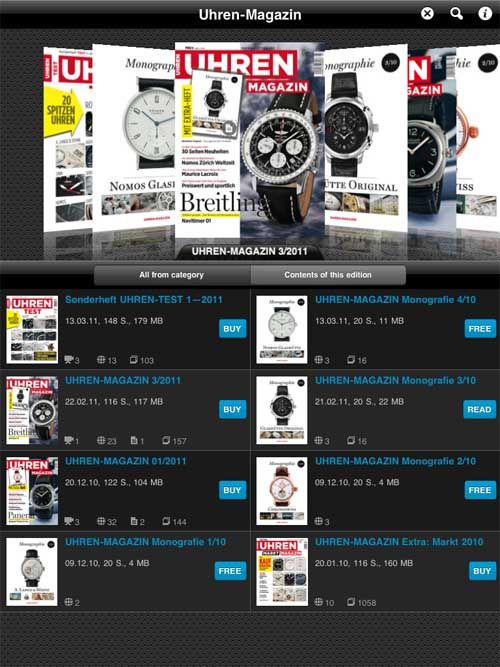 I downloaded a few magazine and they read quite well, although I think the iPad is a bit too heavy to really enjoy a book or magazine (but that could be just me ;)). Anyway, just like WatchTime and a number of other magazines, I think it is great that they appear on iPad as well.
The only downside of these publishers is that they charge as much for the iPad version of their magazine as they do for the paper version. This doesn't sound right, as the paper version needs a different type of logistics (printing, paper, shipping, storage etc). I would buy all of the iPad version magazines of Uhren Magazine if the price was more fair as opposed to the paper version.
While I'm on the subject, make sure to check-out the BaselWorld app. It will tell you more about the biggest watch show in the world and you will  get to see all exhibit locations via a cool 3D map.