Inspired by the huge interest in vintage watches, the Hong Kong-based Undone company offers chronographs that could be easily mistaken for something 60 years old. Balazs did a review on Undone last year, with a lot of background information on this relatively new company, so I suggest to click the link above if you want to know more about them.
Undone Tropical Sahara
One of the concepts of an Undone watch is that you can customize it the way you want. However, the Undone Tropical you see here is their 'Sahara' model and nothing has been customized or changed to this model. It is not mandatory to customize anything, of course. Undone offers a number of standard designs, which you can leave as-is or make some changes. You can change dials, add text on the dial, choose a different case colour (black, rose gold, yellow gold or the default silver colour), select different bezels and case backs (engraved, display back, engraved display back etc.). Last but not least, Undone has a wide variety of strap types to choose from. But again, we have the standard Undone Tropical Sahara model here. A 41.8mm x 13.5mm steel case, plain case back, tachymeter bezel and a tropical 'Sahara' dial.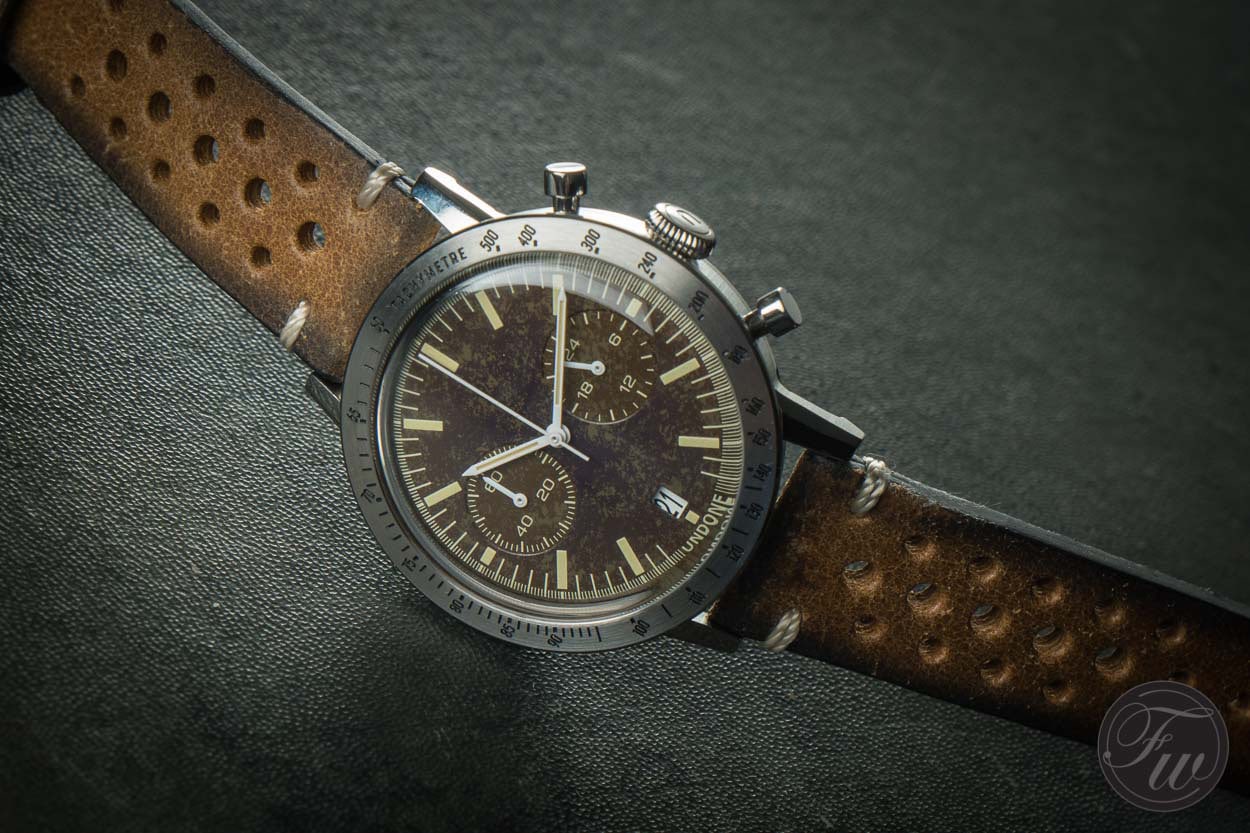 Mechanical-Quartz Hybrid
I remember from the old days that IWC had a Pilot chronograph that used a "Mecaquartz" movement. A quartz movement for the basic timekeeping, and a mechanical module for the chronograph function. Note that the chronograph automatically stops after 60 minutes, to prevent the battery from running flat. The movement in this Undone Tropical Sahara basically works according to the same principle. Undone uses the TMI VK64A calibre movement. TMI stands for Time Module Inc and is part of the Seiko holding. Many people indicate this as a Seiko movement, which might imply that Seiko also uses this calibre in their own watches, which isn't the case. Seiko produces over a hundred million quartz movements per year for other brands, so in this case, they are also the supplier for Undone. I think companies just prefer to refer to this VK64A movement as a Seiko calibre rather than an (unknown) TMI calibre. In any case, the TMI movements are very well appreciated and appraised by enthusiasts of microbrands. They even offer chronograph movements (NE86 and NE88) that have a column-wheel mechanism. Anyway, Undone chose to use the mechanical-quartz hybrid movement for their chronographs and it performs well. The movement has no running seconds hand, but instead, you can use the chronograph hand for that. On the left subdial, you will find the minutes recorder (60-minute scale) and the subdial on the right is a 24-hour indication. Located at 6 o'clock, there's the aperture for the date.
Tropical Dial
Although I've never been a fan of tropical dials on vintage watches myself, there's little point in denying that these are massively popular among collectors. To an extent, I like the fact that a watch has been worn in the past, but the term "tropical" goes from a slightly discoloured dial to something totally wasted. I especially have issues with the latter, at some point, a watch is just too damaged to be considered 'nicely aged'. That said, a little patina or a little discolouration can be nice and Undone decided to create a dial that has these characteristics. To me, it also shows that you can actually make a dial "tropical" instead of a dial becoming "tropical" due to circumstances. With the Undone Tropical Sahara, the dial looks actually very nice. The slight discolouration and patina effect looks good on this watch and indeed "suggests" it is actually a very old watch if you wouldn't know any better.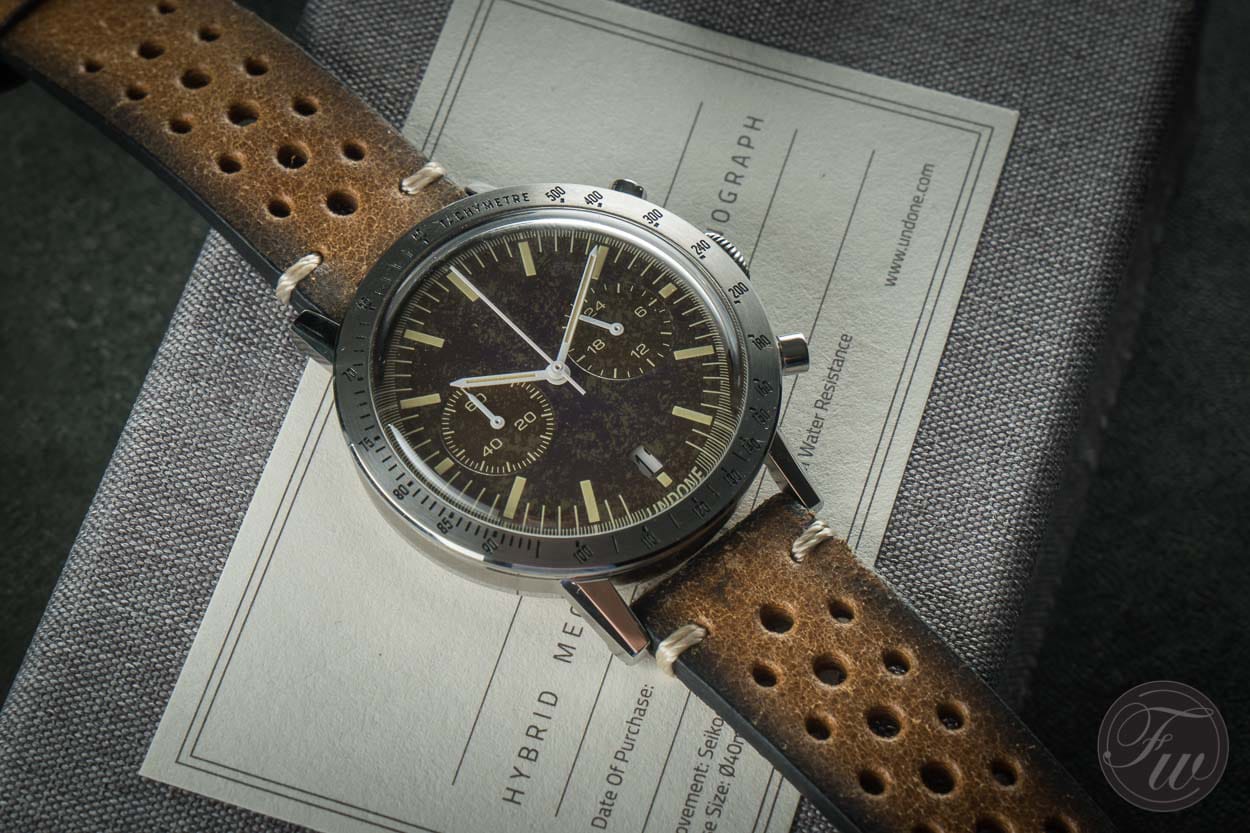 A ticking quartz second hand could give away that this is a modern watch, but there isn't one. The only seconds hand that might run is that of the chronograph, which is mechanically powered. Clever. The date aperture on 6 o'clock shows a white date disc with black printing, for good contrast. However, I would not have minded if Undone would have left it out. I don't care for a date function in all honesty, but I know that a lot of people do. The colour of the hour markers looks aged as well, a bit green-ish even. The lume in the hands is more of a dark yellow/orange tone. As you can see in the pictures, the date is already changing towards the next on the images while it is only 10 o'clock in the evening. Actually, you will see that the date already starts to move at around 9:15.
Sleek Case
Housed in a stainless steel (316L grade) 41.8mm case, this watch will fit most wrists. The lug-to-lug size is approximately 47mm, and it sits quite comfortably on my 18cm wrist. Somehow the lugs make the case look quite large, but the 20mm lugs are just very small. No crown guards on this watch, just a flat crown and two pump pushers that don't really enlarge the case either. Although the specifications indicate a thickness of 13.5mm, it is mainly the domed crystal that causes this height. The crystal is, according to Undone, hardened domed K1. It is not sapphire, or as hard and scratch resistant as sapphire, but it is a mineral crystal with special treatment making it harder to scratch or damage. A sapphire crystal on this watch would have a major impact on the price.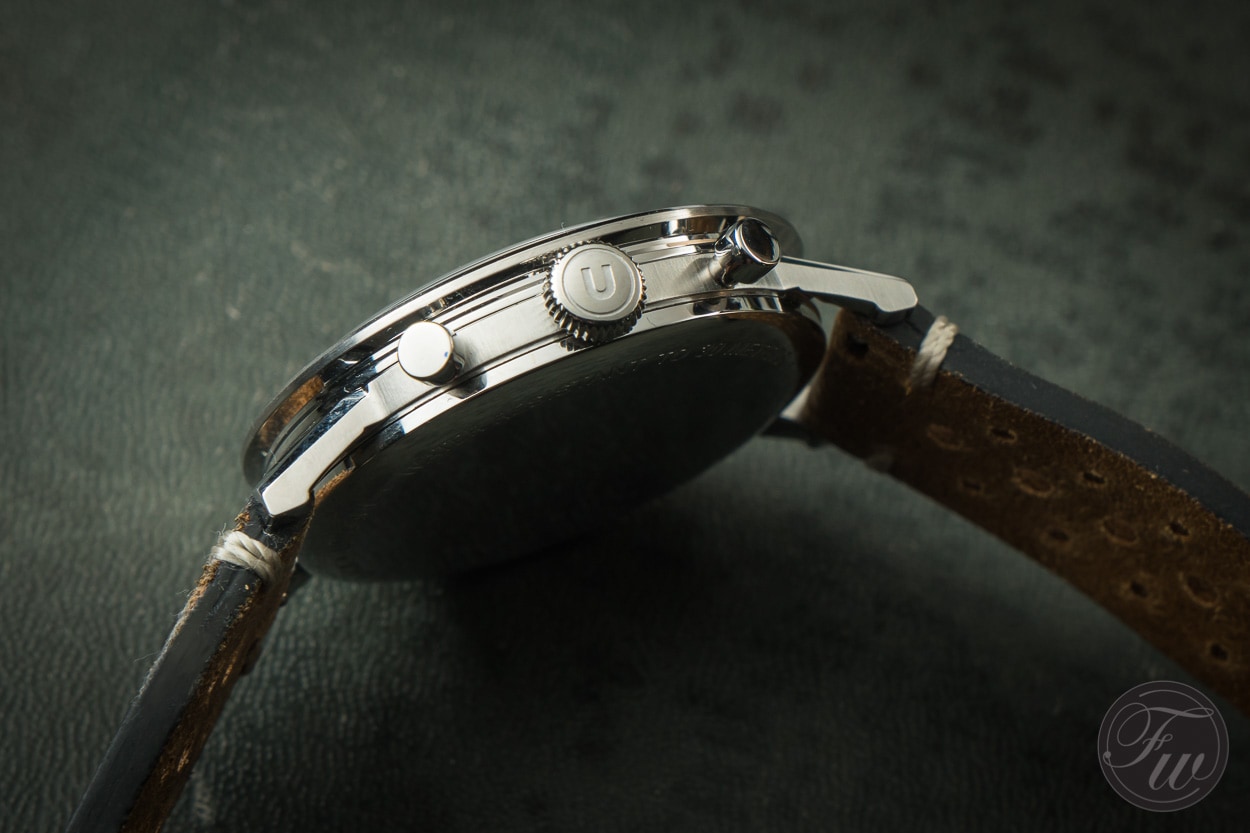 The watch itself is quite thin, especially for a chronograph. This, of course, has to do with the fact that the base movement is quartz powered and thus rather thin. A stainless steel tachymeter bezel reminds me a bit of the Speedmaster CK2915, but when you look at it more carefully, you will see that the shape is different. There is a little slope when looking from the side, where the CK2915 bezel is flat on top. Polished lugs, a nice bevel, a brushed side, Undone did a nice job creating different finishing on the surfaces.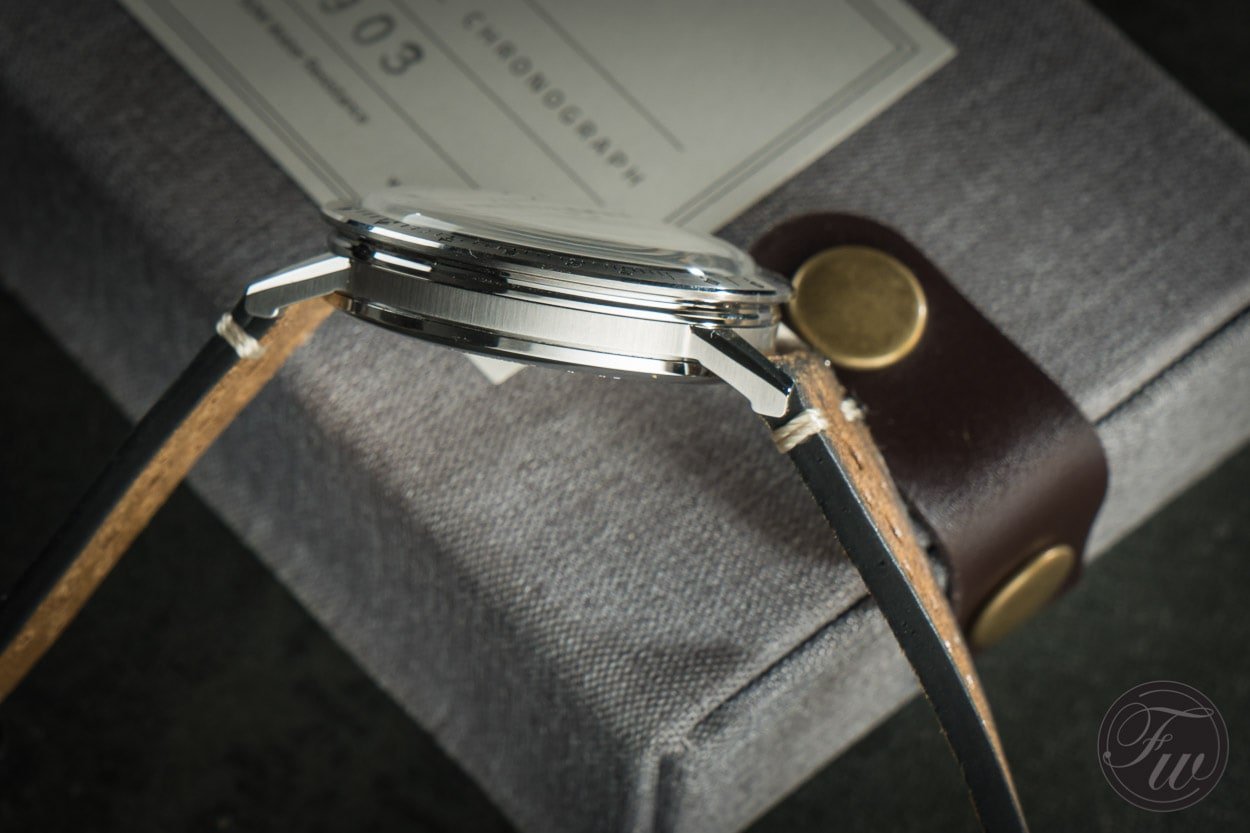 Attached to the case is a nice rally strap. It is soft and very comfortable. The colours of the strap match the tropical dial perfectly. It actually has a bit of a two-tone effect with the dark outer part and the brown centre. The brown is patinated and consists of different tones as well. The steel buckle is a bit too round for me, I would have preferred something more square shaped and with sharper edges. It is just a bit too bulky and the shape doesn't match the watch in my opinion. It is signed though, with the Undone logo.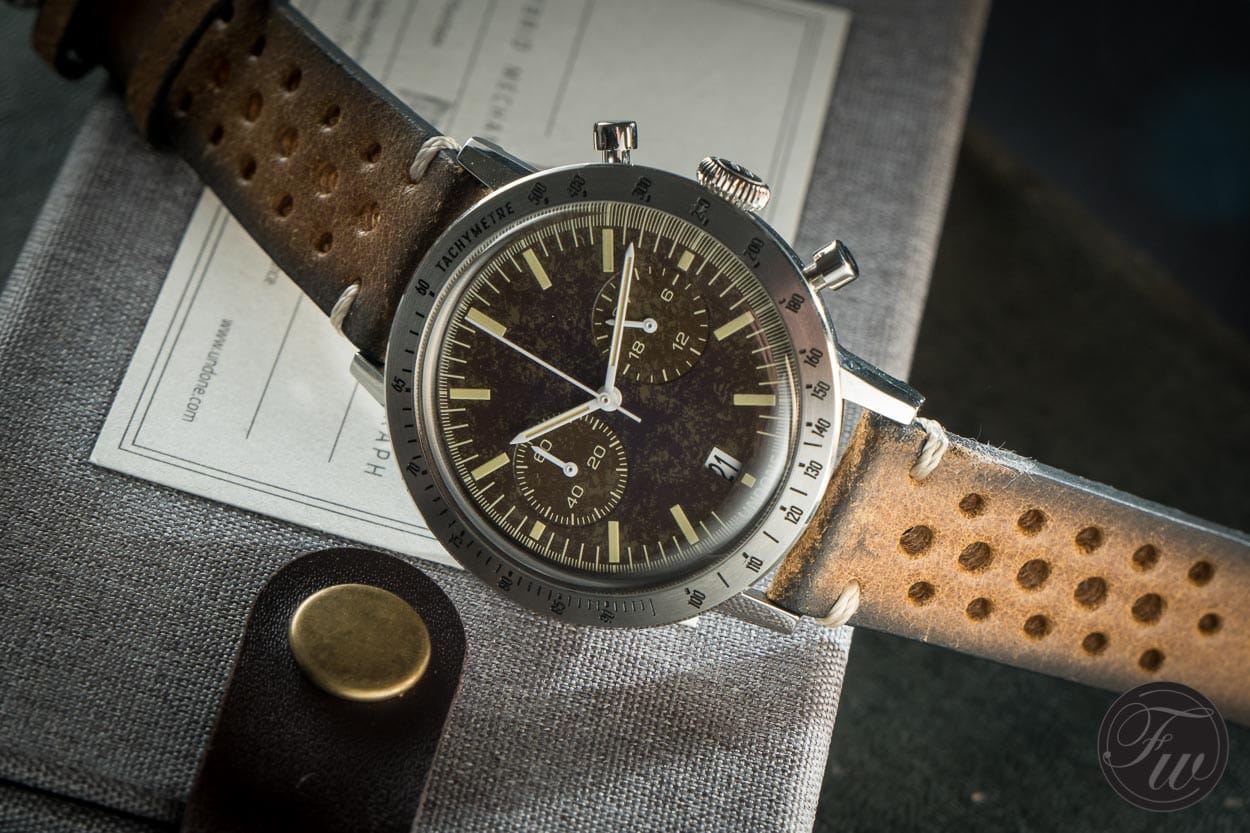 Undone Packaging
The Undone Tropical is delivered in a nice grey cardboard box packaging, covered with a cotton(like) cloth. On top, the brand and model are described as a vintage looking label. As if you were to find a little box labelled with its content from a watchmakers bench from the 1940s. The date of purchase is printed on there, as well as some specifications of the watch and movement. Inside is also a little card (kind of a business card with some room for a personal message) and a folded paper that serves as manual. When we received the watch, the box was slightly damaged (as it isn't as tough as plastic or wood). Although it is a watch we get in for review, I would be a bit upset if we actually ordered it as a purchase. I am not sure though if the watch will be shipped differently to end-customers. I can imagine the total packaging would look a bit different, to be honest. Last week we received a more expensive watch for review from another brand, simply in a plastic bag, so we are definitely not always getting the same experience as an actual buyer of a watch.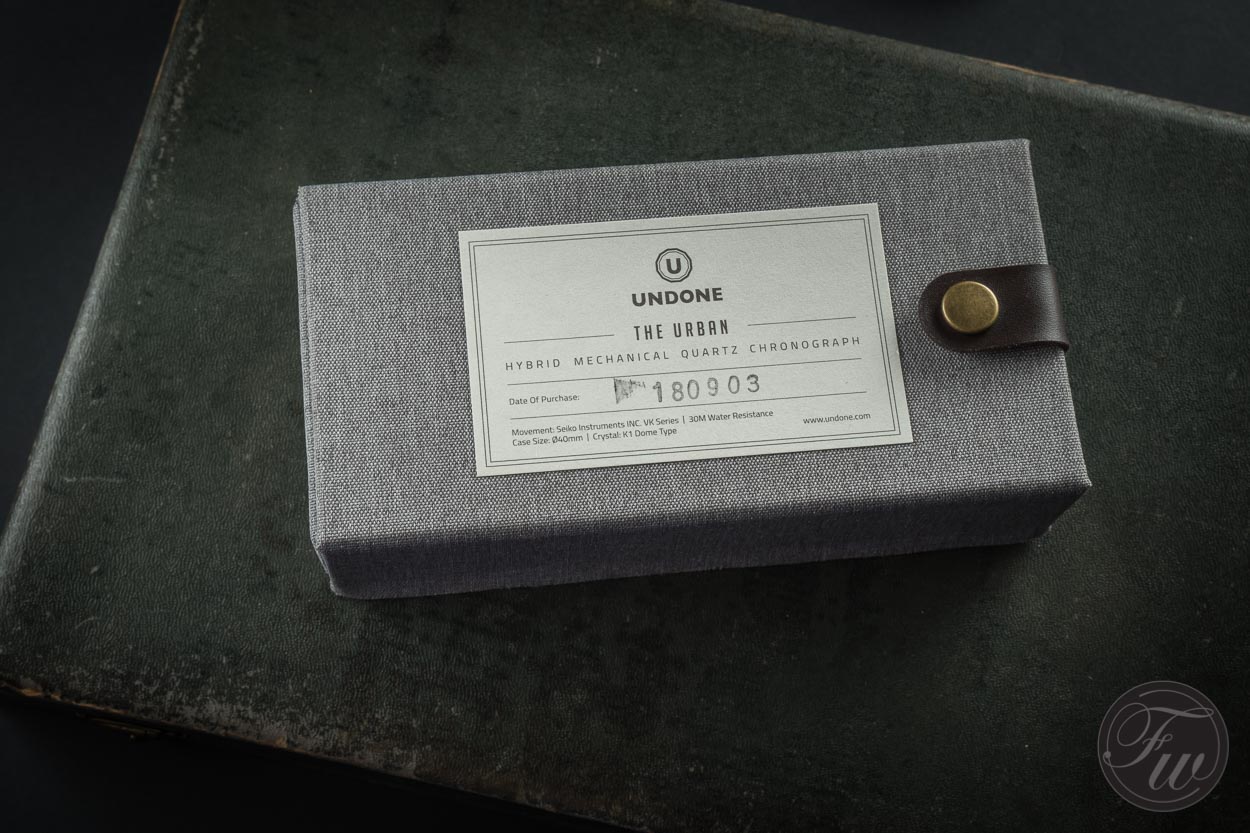 Some Thoughts
I thoroughly enjoyed wearing this Undone Tropical Sahara watch. It is a cool watch, and of course, there is a bit of insinuation of wearing something vintage while it isn't. But it is a fun watch, and given the price tag of $345USD, it is just that: fun. For this price, I have to say that the execution of the dial, hands and case are very nicely done. The chronograph movement that will just record 60 minutes is a bit awkward, although I also have to admit that I rarely time events longer than an hour with mine. But at least they can if needed. As mentioned, I am not a fan of the buckle, but these are just small things and personal preferences. The Undone Tropical Sahara comes in a nice looking box, which adds to the fun factor. These watches are nice for those of you who fancy a vintage watch but are either not determined enough which one to get yet, have to save up for one or love the aesthetics of a vintage watch but do not dare to buy one (I can think of various reasons). Or, because you simply want a nice looking chronograph. Whatever reason you might have to buy this watch, you will not be disappointed for $345USD.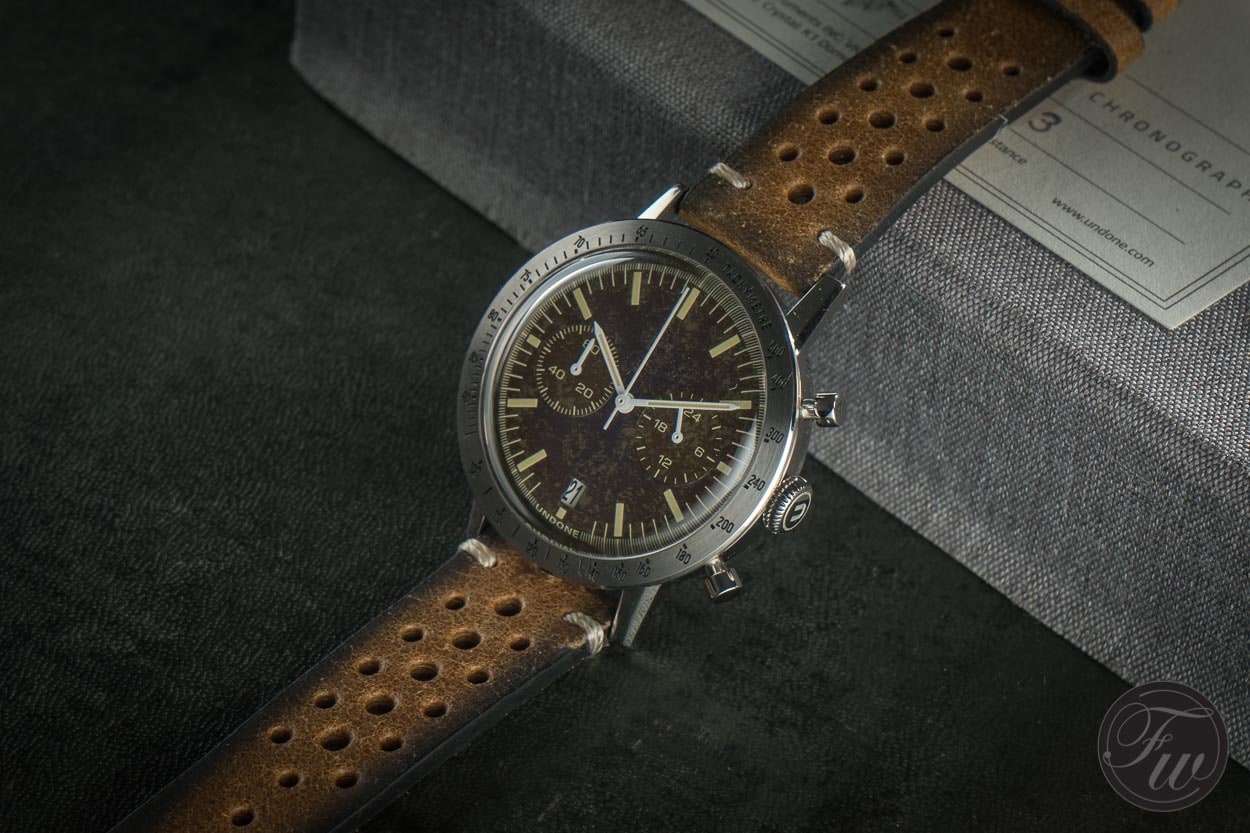 We are giving away an Undone Tropical
Together with Undone, we are giving away one of the Undone Tropical Sahara watches. Participating is easy, just make sure you are on the Undone mailing list here and on our mailing list here, and a winner will be drawn from the subscribers.
More information about Undone via their official website.
A winner will be drawn on October 4th.