I have posted about Pierre DeRoche watches before and have seen the SplitRock in stainless steel (as pictured below)… however.. today I had the 'honor' to check out the ros?© gold SplitRock with black dial. This gold SplitRock is a limited edition (only 21 pieces) and just arrived at the -only- Dutch authorised dealer, Horloge Platform Nederland (located in The Hague).
This rather big watch with chronograph functionality has an automatic Dubois D?©praz movement with a 22 kt gold rotor.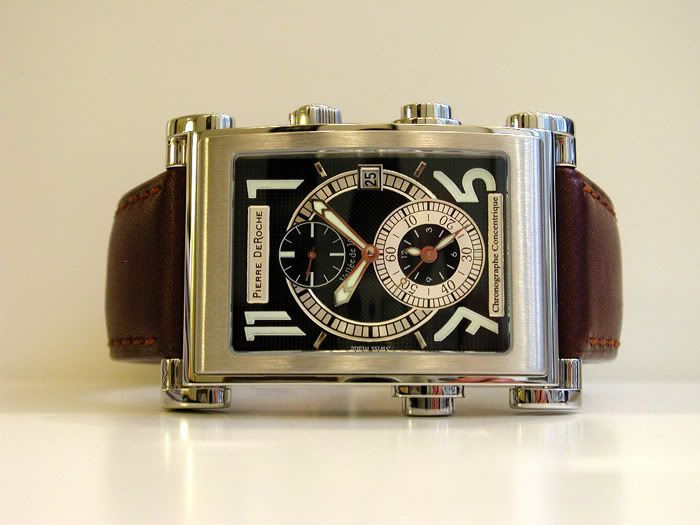 "The slightly convex sapphire crystal of the Concentric chronograph reveals the elegance and meticulous decoration of the mechanism. In addition to its new shape, the oscillating weight is decorated with C?¥tes de Gen?®ve, rhodium-plated and engraved with the Pierre DeRoche logo. The circular bridge forming a distinctive crown-shaped motif is decorated with C?¥tes de Gen?®ve and protected by a fine layer of ruthenium chosen for its resistance to oxidation and its high resistance. Moreover, Pierre DeRoche has highlighted the two bridges of the chronograph mechanism by a similar ruthenium-treated decoration. Finally, each movement carries its own number, engraved on the oscillating weight."

Robert-Jan Broer, born in 1977, watch collector and author on watches for over a decade. Founder of Fratello Watches in 2004.

Latest posts by Robert-Jan Broer (see all)