This Week in Watches: October 5, 2019
Back with a Fistful of Watches
Dia dhuit, watch peeps!  It's time for This Week in Watches for October 5, 2019!
For this episode of This Week in Watches, we have a lot to cover.  It seems that the entry of October has brands already thinking of the holiday season and where they'd like you to spend your money.  Let's see if this week's new treats provide that level of temptation.  Here we go!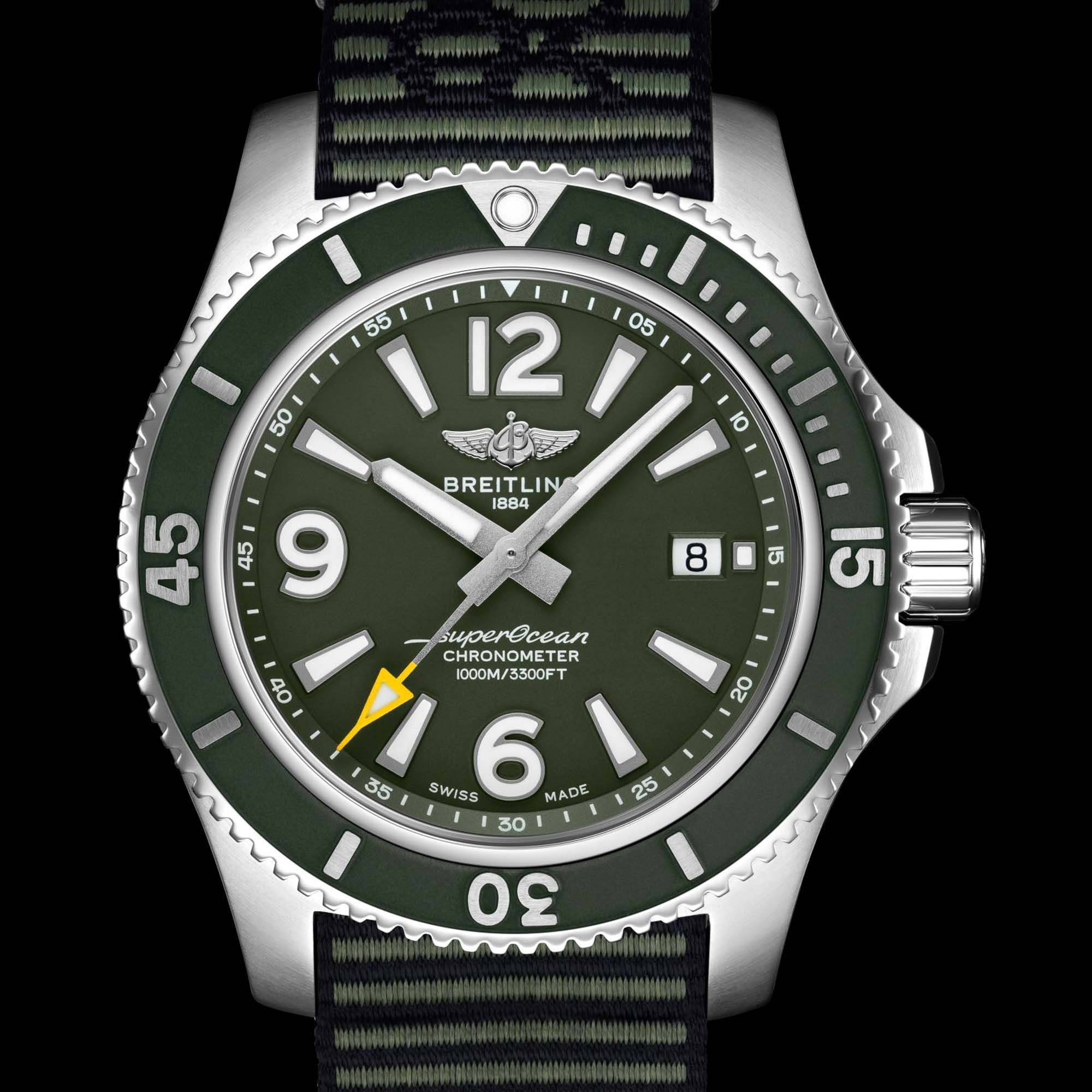 Breitling and Outerknown
One of Breitling's squad's happens to focus on surfing.  And when it comes to surfers, there are few who are better known than Kelly Slater, an American surfer with 11(!!) world championships under his belt – errrr, board shorts.  Slater also founded a company by the name of Outerknown, a sustainable apparel brand.  Well, Breitling and Outerknown have come together on a couple cool new products, both of which are seen in the photo above.  First off, we have a lineup of 18 new ECONYL Yarn NATO straps that are made using material from discarded nylon commercial fishing nets.  Breitling has also worked with Outerknown to introduce a new special edition 44mm steel Superocean with a dark green dial and matching ECONYL NATO strap.  The watch features Breitling's chronometer-rated Cal.17 automatic and the watch is water resistant to 1000 meters.  The watches will cost 4,100 Euros.  More information can be found here on the Breitling official site.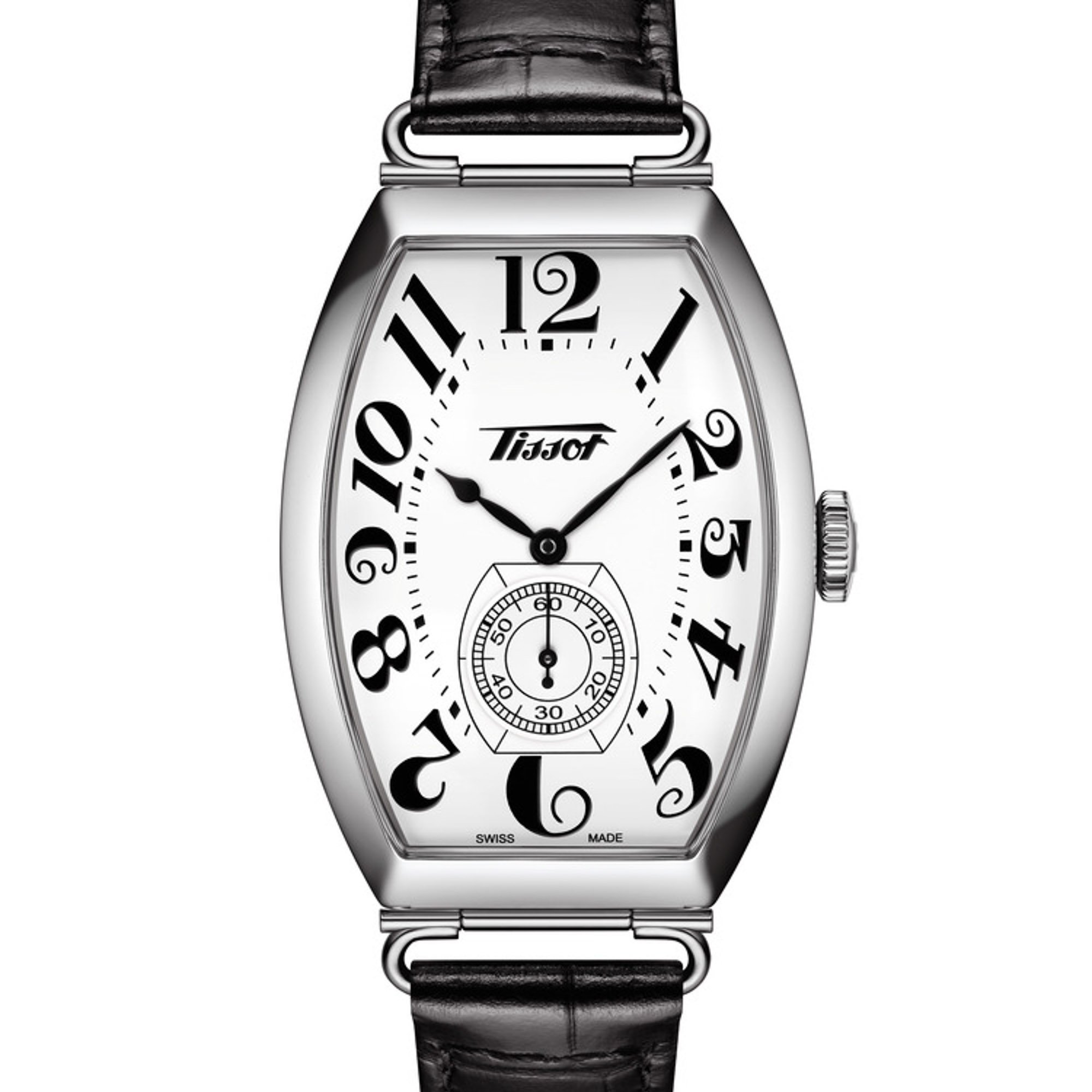 Tissot Heritage Porto
Next up on This Week in Watches is news from Tissot.  They shot us news of both quartz and hand-wound versions of their new Heritage Porto.  Interestingly, the "lifestyle" pics all depicted female wearers, but I'd think that these 42.45mm long by 31.1mm wide retro pieces could be worn by either sex.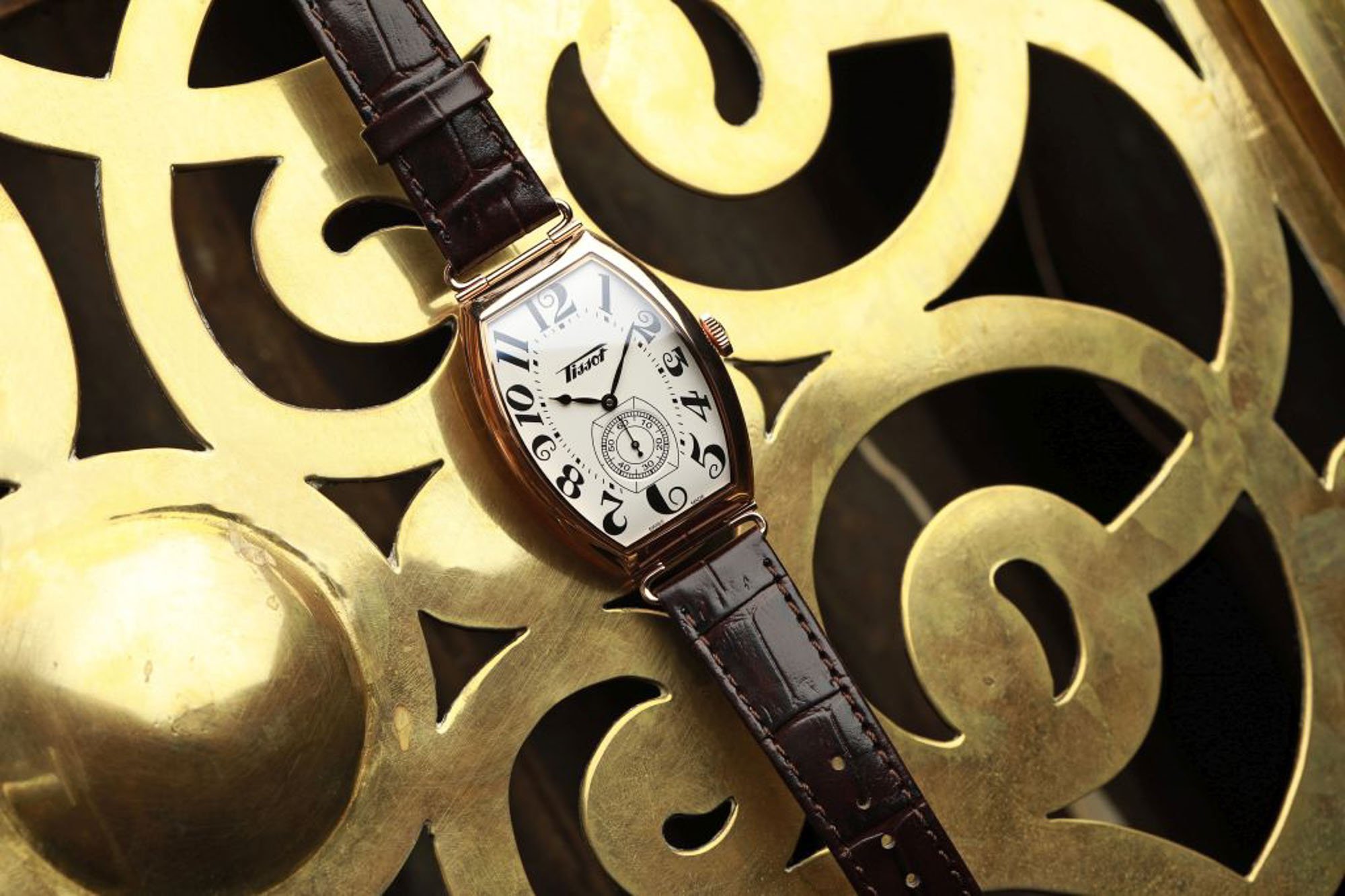 The tell that the watch is mechanical is its sub-seconds hand at 6:00.  All watches feature a truly attractive tonneau case with what I'd call pivoting swing lugs.  The watch reminds me of pieces from the early part of the 20th century.  Inside the mechanical piece, we have the ETA 7001 with 45 hours of power reserve.  The watches contain a mineral glass crystal, water resistance of 30 meters and are a hair over 10mm thick.  The mechanicals come with a white dial and either steel or PVD gold case.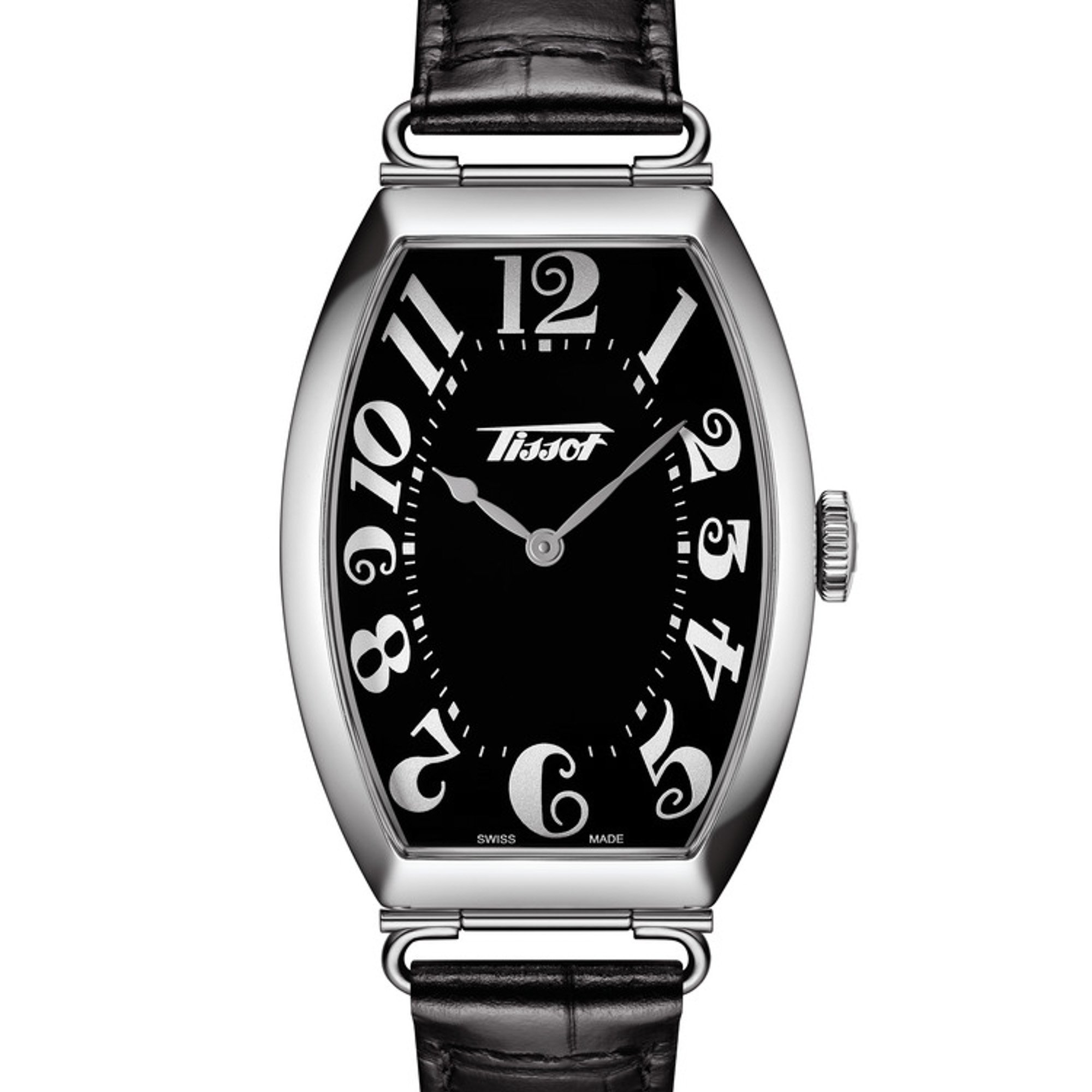 The quartz models feature the same combinations, but add a stunning black dial and steel case to the mix.  The mechanical pieces will price at 980 Euros for steel and 1,110 Euros for PVD gold.  The quartz models come in at 460 Euros for steel and 530 Euros for PVD.  I think Tissot has a super cool offering here – especially in the mechanical pieces.  The new Heritage Porto goes on sale in November.  Keep checking the official Tissot site for more information.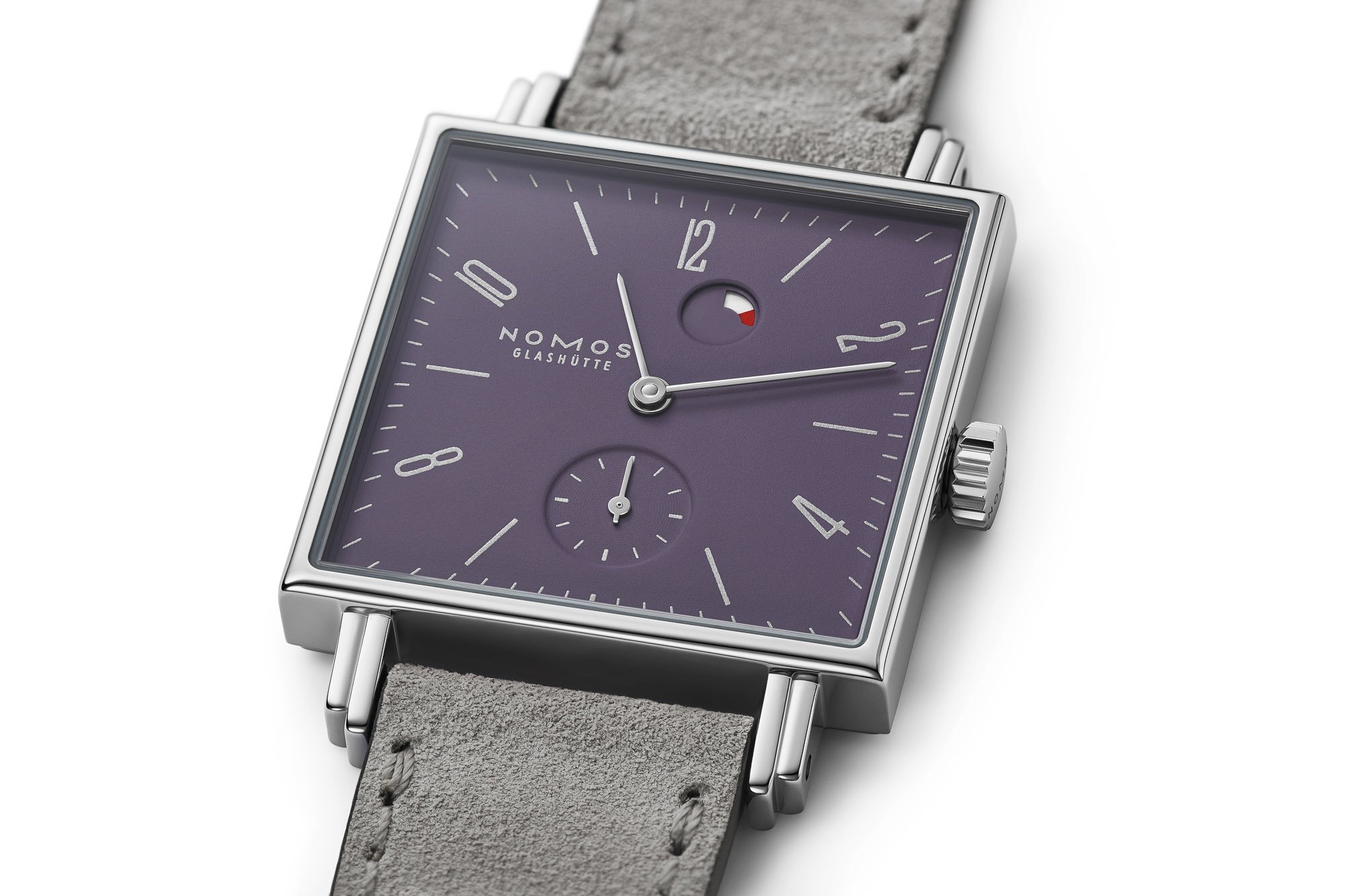 Nomos Tetra Plum
The new Nomos Tetra Plum is next on This Week in Watches.  What we have here is a truly attractive 29.5 x 29.5 stainless steel watch with a stunning plum-hued dial.  The watch features a Metro-esque power reserve indicator on the dial around 1:00 that lets the user know that when it is time to wind the manual DUW 4301.  On its velour grey leather 18mm strap, the watch is extremely eye-catching.  With 30m of water resistance, sapphire crystal, and a slim height of only 6.4mm, this one is likely a joy to wear.  I give a lot of credit to Nomos for making non-round watches and when they feature movements like this, we're all better for it.  The Tetra Plum is available in October for the price of 2,140 Euros.  More information can be found on the official Nomos site.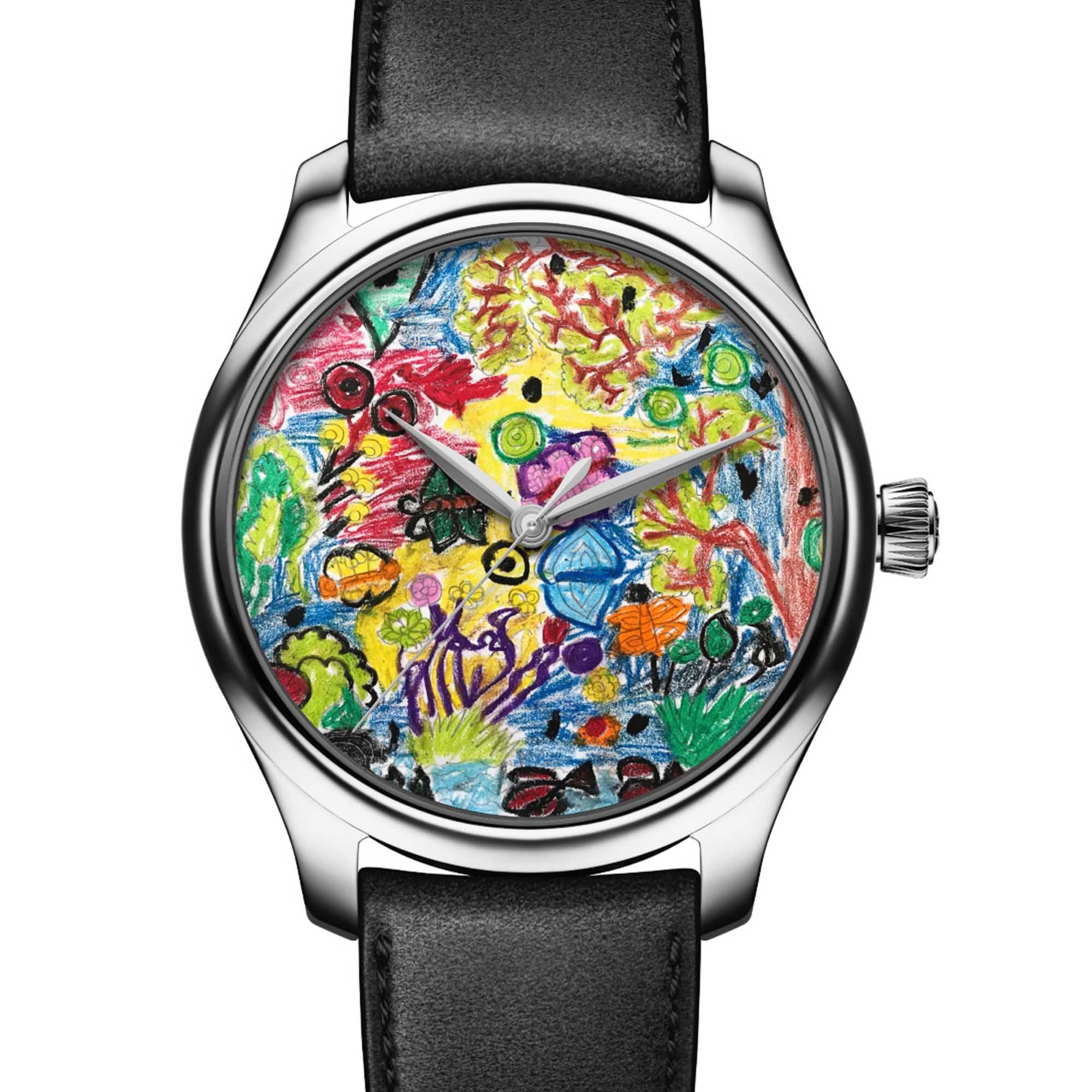 Moser "Room to Read" Unique Pieces
Moser sent us word of two unique pieces created to help support the literacy foundation, "Room to Read".  The organization works with children to promote literacy around the world.  Moser chose two drawings from children who are in the program and these have been hand painted onto the dials of two unique watches.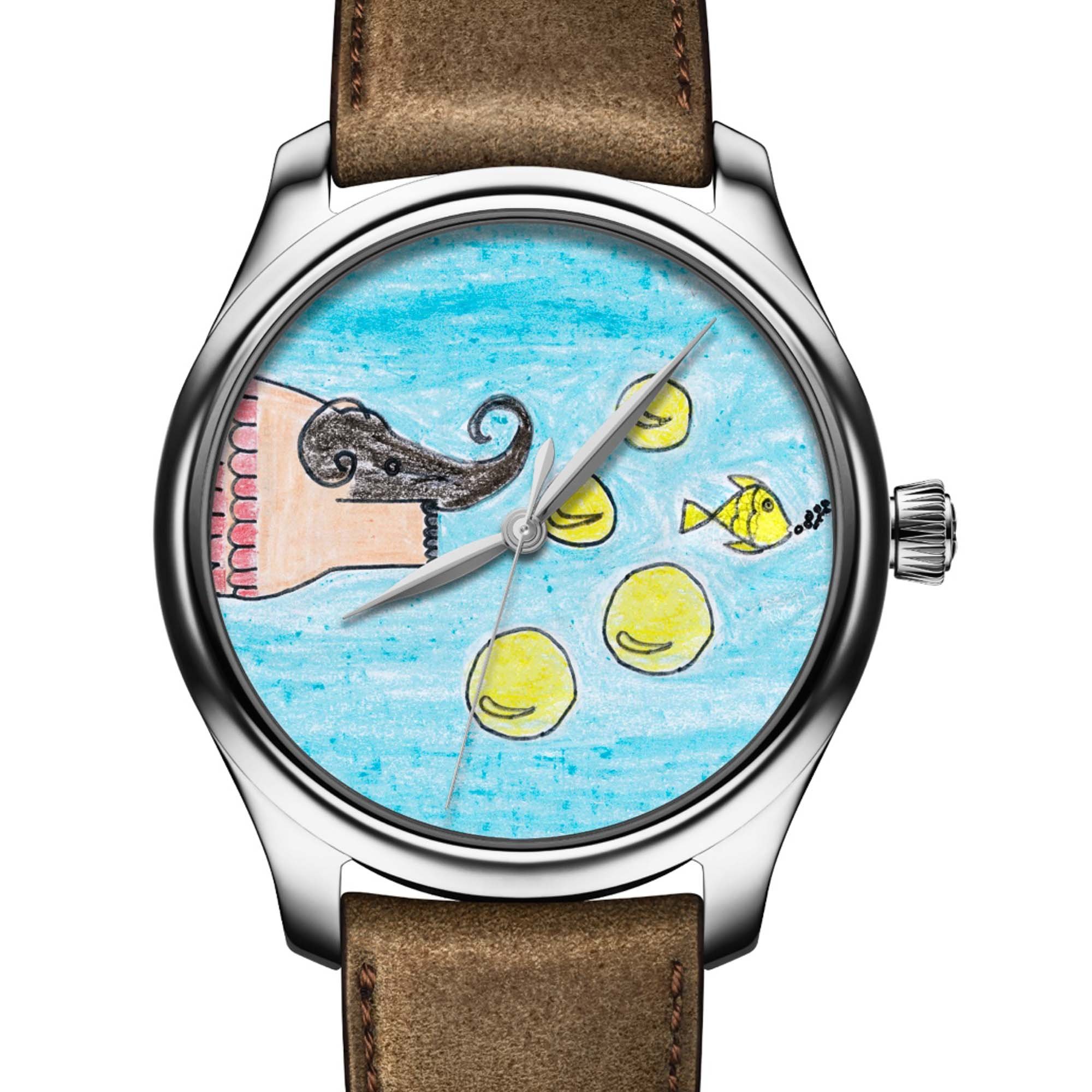 The 40mm Centre Seconds Automatic models from Moser feature white gold cases and the HMC 200 calibre. Moser plans to auction one piece on October 3rd (this has been completed by the time you read this) in London and the second on November 9th in Zurich.  More info can be found in the link above and on the Moser official site.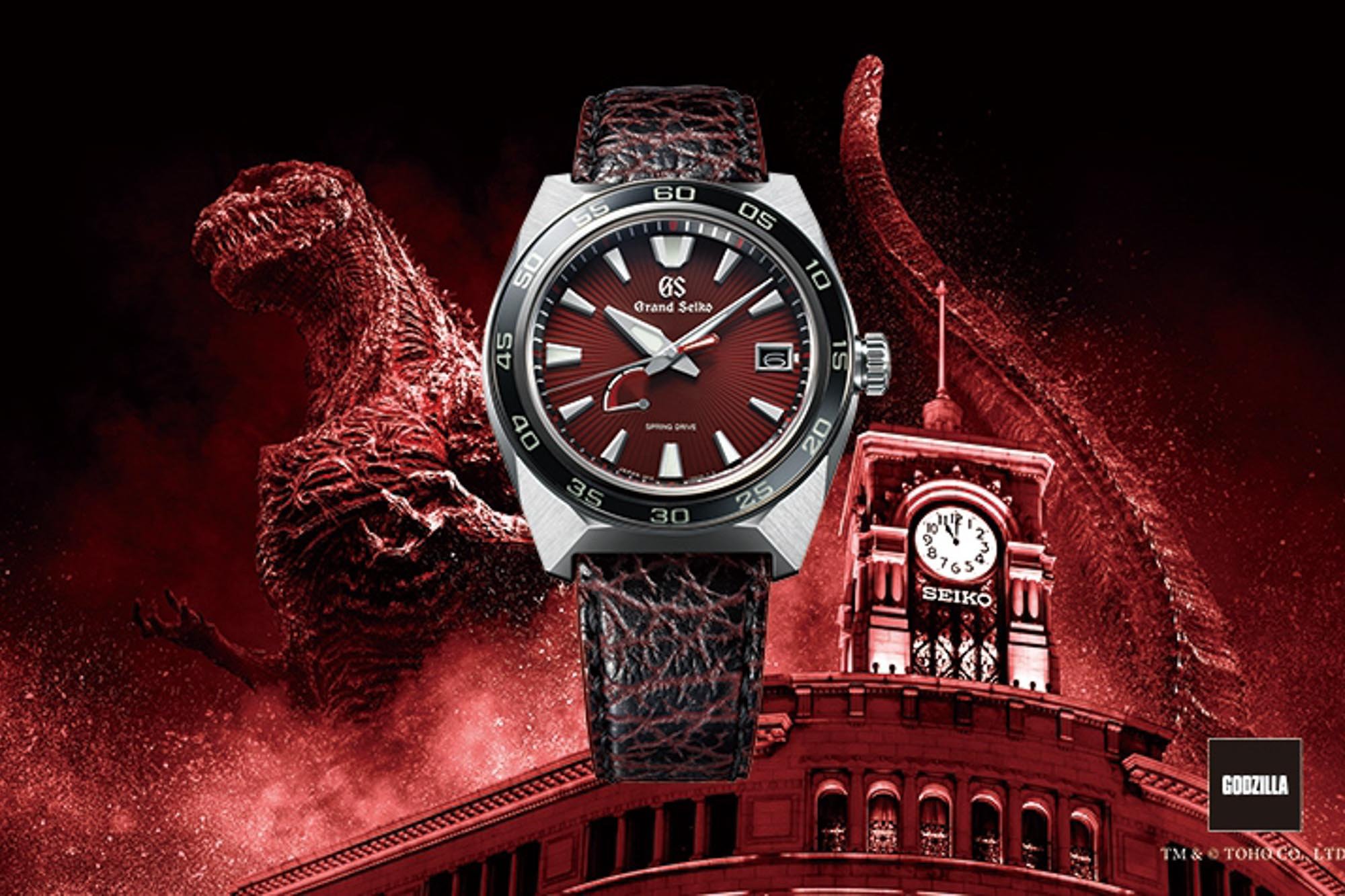 Grand Seiko Go Goes Godzilla!
Fresh from the "we didn't see that coming" department is a 650-piece limited edition Grand Seiko that celebrates both the 65th anniversary of Godzilla and the 20th anniversary of Spring Drive.  Yeah, like we said, we didn't see that coming but there's a link here. In Godzilla's 1954 appearance, he destroys the famous Seiko Wako tower in Ginza!  This red-themed high-intensity titanium watch comes on a very Godzilla-like shark strap.  Apparently, the dial color takes its inspiration from the monster's heat ray beam that it shoots from its mouth.  The watch features Grand Seiko's 9R15 Spring Drive movement with 72 hours of power reserve.  On the display back, the monster's profile can be found as well as the limited edition number.  This new GS will become available in November for 12,700 Euros.  More information can be found on the Grand Seiko site.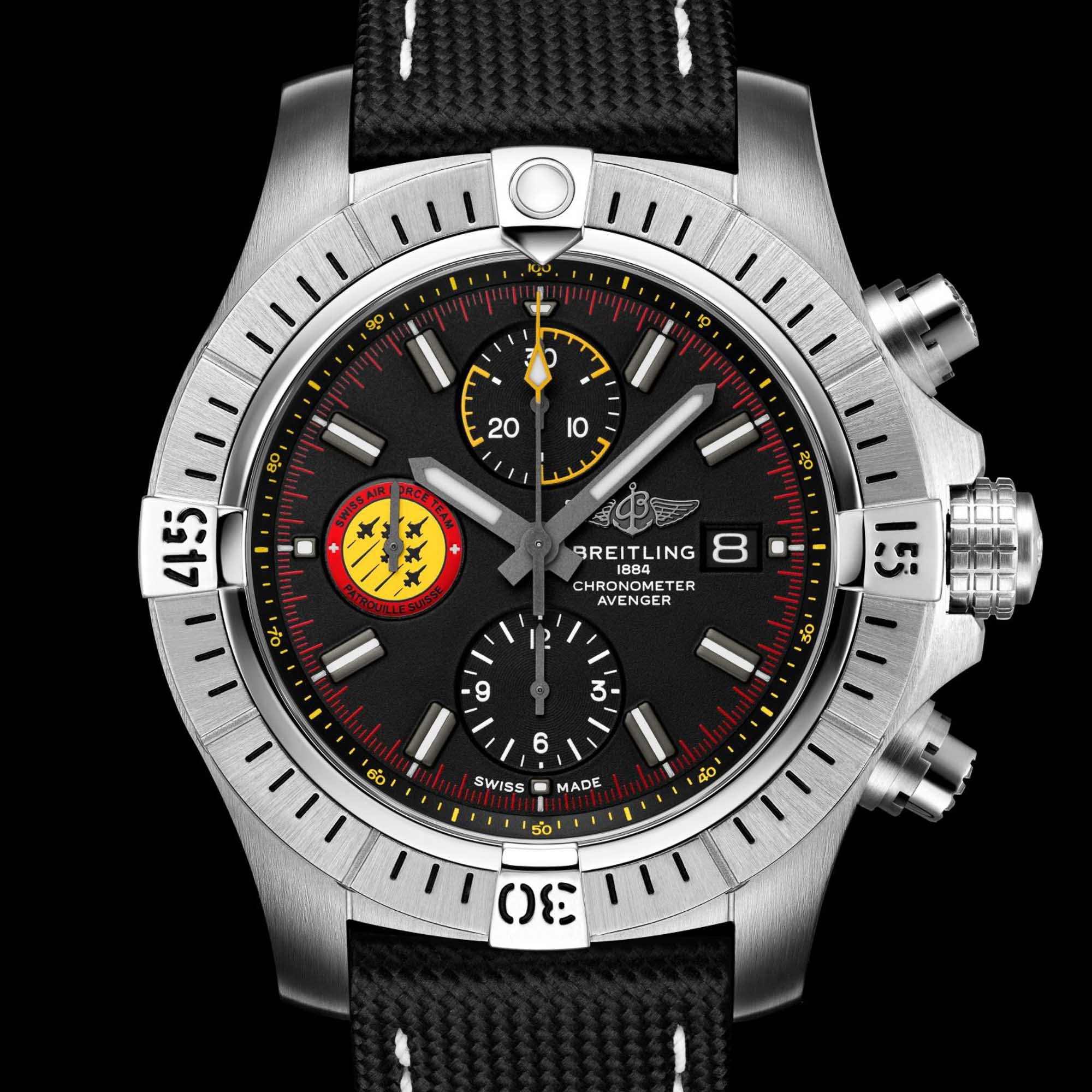 Breitling Avenger Swiss Air Force Team
This Week in Watches contains a double shot of Breitling news with the announcement of a 550-piece limited edition Avenger chronograph.  This watch celebrates the 55th anniversary of the Swiss Air Force Team and specifically the aerobatic demonstration team known as the Patrouille Suisse.  The steel 45mm chronometer-rated chronograph features the Breitling caliber 13 automatic.  The dial is pretty snazzy with its black background, red and yellow highlights, and the team's insignia at 9:00.  The 22mm strap looks to be a tactical material with leather backing. This new Avenger will retail for 5,480 Euros.  For further information, head to the official Breitling site.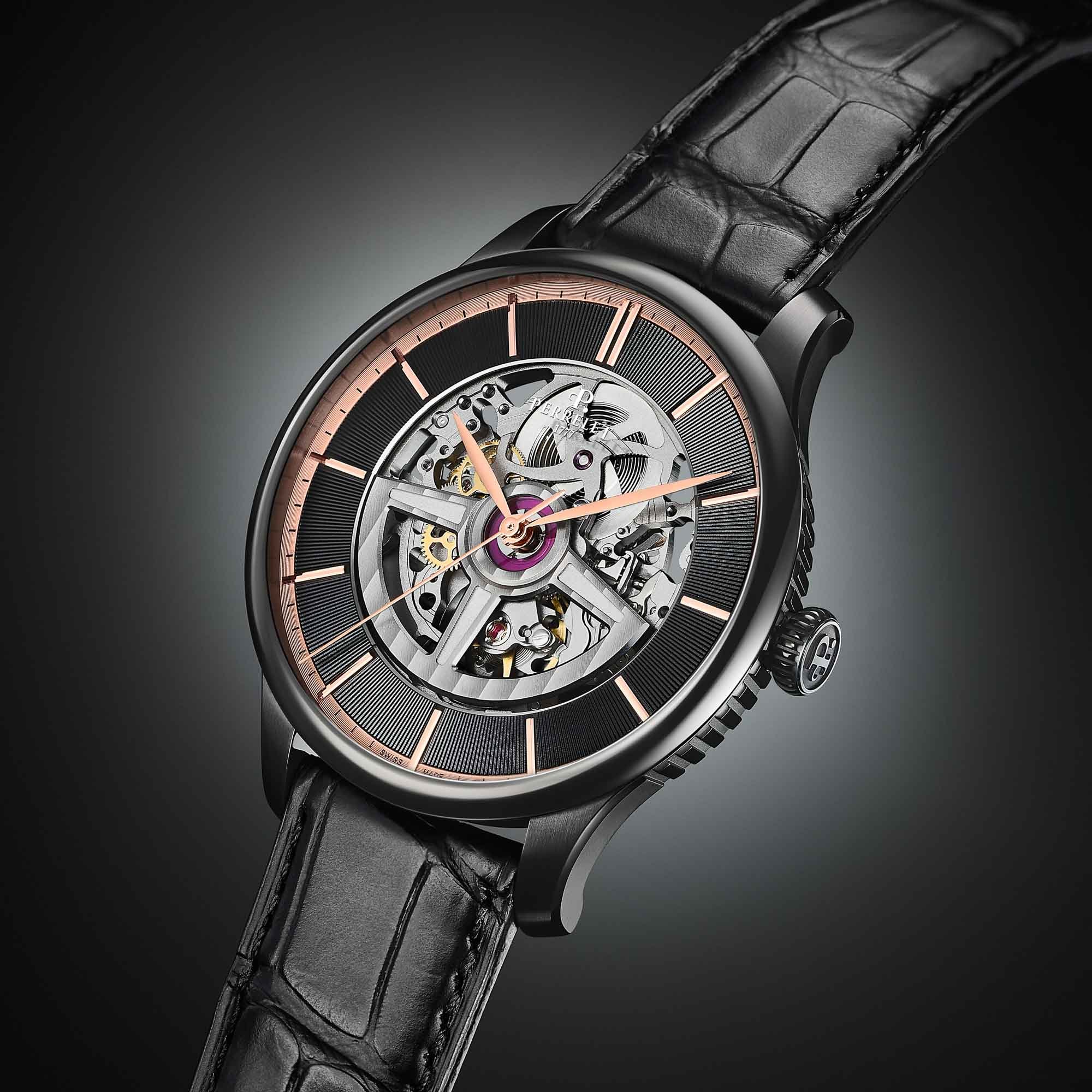 Perrelet First Class Double Rotor Black Edition
Perrelet, a brand not often featured here on Fratello, sent us news that we thought we'd share on This Week in Watches.  They've released a new watch in its First Class line called the Double Rotor Black Edition.  Technically speaking, the in-house made watch contains a double rotor with two oscillating masses that allows the automatic to gain and store energy from the two rotors.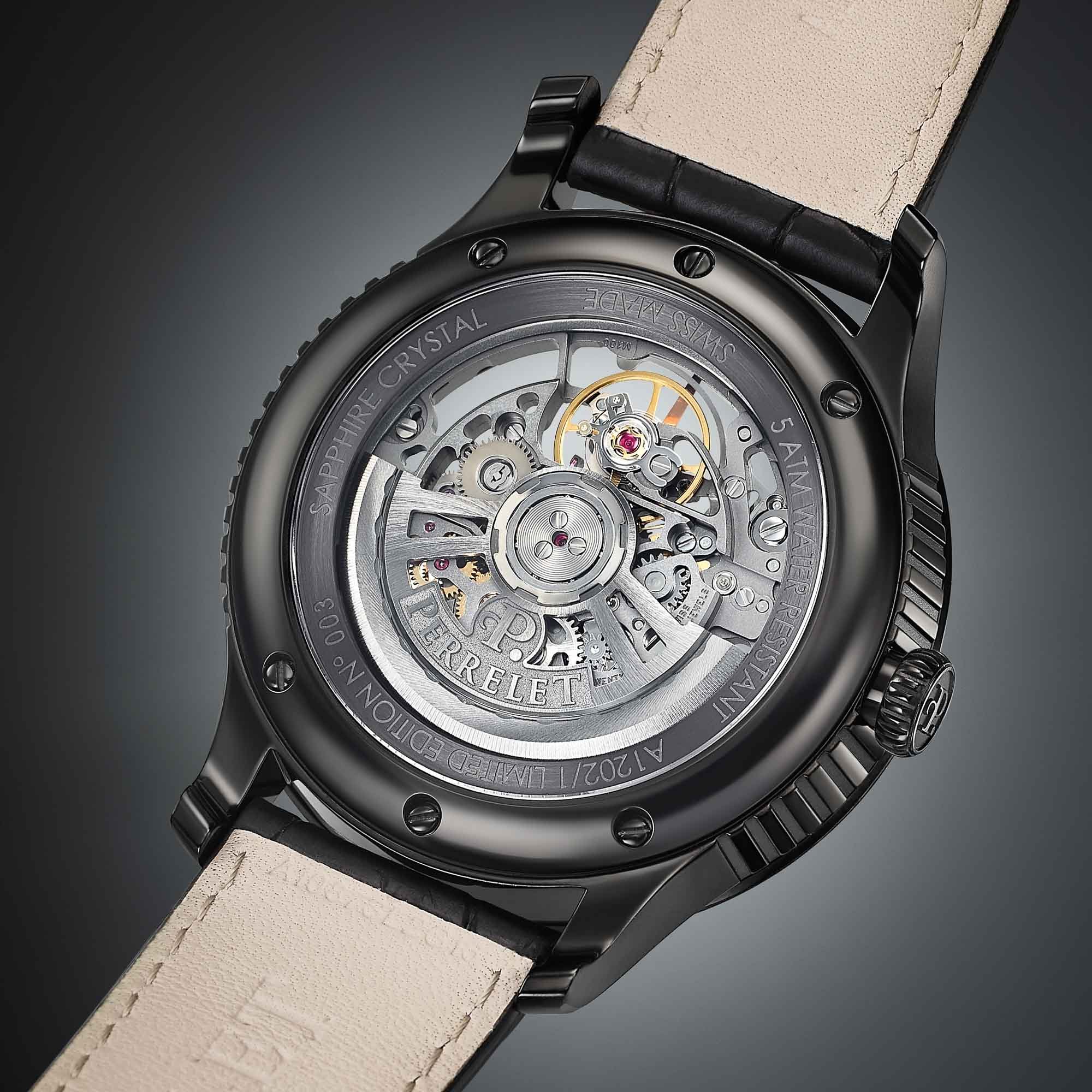 The in-house P-481 automatic is skeletonized within a PVD-coated steel 42mm case.  Perrelet will make 240 of these watches.  Pricing isn't mentioned and the watch isn't on the official Perrelet site, but reach out and I am sure they'll be in touch!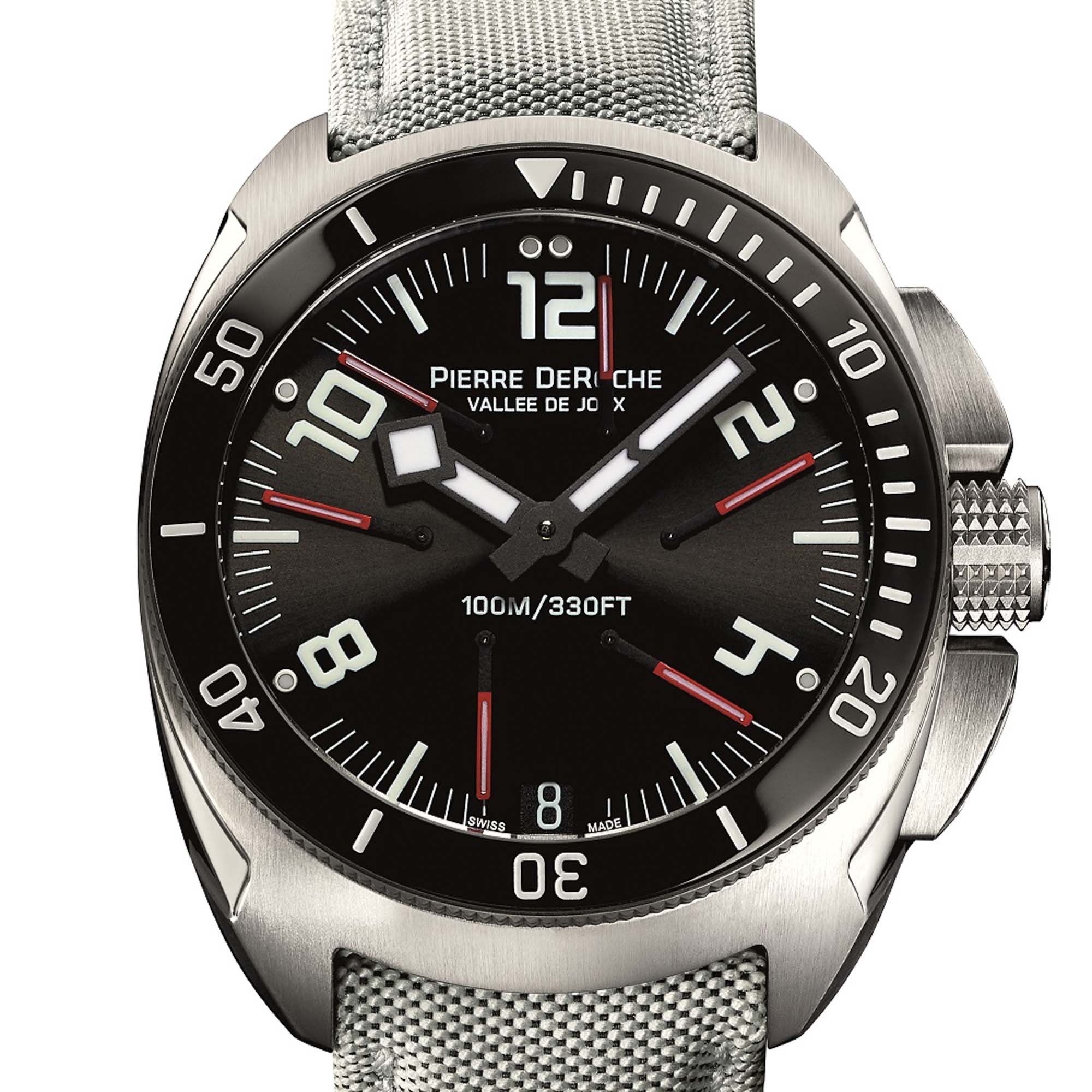 Pierre DeRoche Grandcliff 1004 Royal Retro
Last up on This Week in Watches is a rather unique piece from small producer Pierre DeRoche.  The Grandcliff 1004 Royal Retro contains a unique retrograde modular movement with help from Dubois Dépraz.  Essentially, instead of a normal sweep seconds hand, the moving seconds are displayed via the movement of one of the 6 sub hands on the dial.  Each moves for 10 seconds at a time and are positioned on the dial such that you can tell the time elapsed within a given minute.  Frankly, I think it's really cool.  The 43.5mm diameter titanium watch is also water resistant to 100 meters and is durable enough for water sports.  Only 201 will be made and pricing is 14,900 CHF.  For more detailed info, head to the official Pierre DeRoche site.
Well folks, that's all for this round of This Week in Watches.  Enjoy your weekend!