Uhren Magazine is one of the three leading German watch magazines. Very informative, and, although with a more than healthy interest in German watches, very independent in their articles (I mean not directed or affected by their advertisers). Mostly they are very good informed and are very professional in giving their opinions and (technical) information about the watches they review or test.?Ǭ†
In the current?Ǭ†issue (Juni, edition?Ǭ†6) there's a quite terrible error in the review of the new Patek Philippe Nautillus. Have a look at the following picture: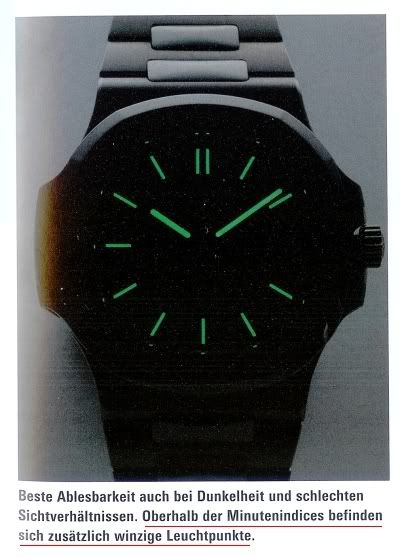 The undelined text says (translated from German). 'Above the minute indexes there?Ǭ†exists additional little light emitting dots.'
Don't think so 😉 These are the reflections of the illuminating minute indexes in the edges (facets) of the sapphire crystal…

Gerard has been in the watch industry for over two decades now. He runs an on-line watch shop from The Hague, The Netherlands, and besides that he has journalistic and photographic activities in the field of watches. Collecting watches since he was six years old (true!) and triggered by a friend, he bought his first 'real' watch in the late eighties; an Omega Speedmaster Professional with glass back. This was the first watch of a nice, even today ever growing, collection.

Latest posts by Gerard Nijenbrinks (see all)