Abel Court Creates The "AC Signature" Based On The TAG Heuer Monaco CS2110
A thoughtful modification turns a nice watch into a stunner
Regardless of whether we're talking about watches or cars, typically, modified versions aren't my thing. I almost always believe that the original is the best because, honestly, a small garage rarely has the resources to make something better than a huge company. Today's AC Signature Monaco is a rare example where I like a modification as much as its factory counterpart.
If you've never heard of Abel Court, take a few minutes to do some web sleuthing. You'll probably end up at his site, Heuertime, but not before encountering loads of praise in articles across the "watchscape" from collectors who have entrusted their precious vintage Heuer models to him for restoration. As a trained watchmaker, Abel isn't really an open shop for taking on every request, but I've been fortunate enough to have a watch serviced by him. The work was perfect, and the fact that he documented each step along the way through glorious, high-res photos made it even more special. Abel also collects watches. He keeps some, and he restores others and offers them for sale. Most importantly, he's a creative meddler, and that's how the "new" AC Signature Monaco came to life.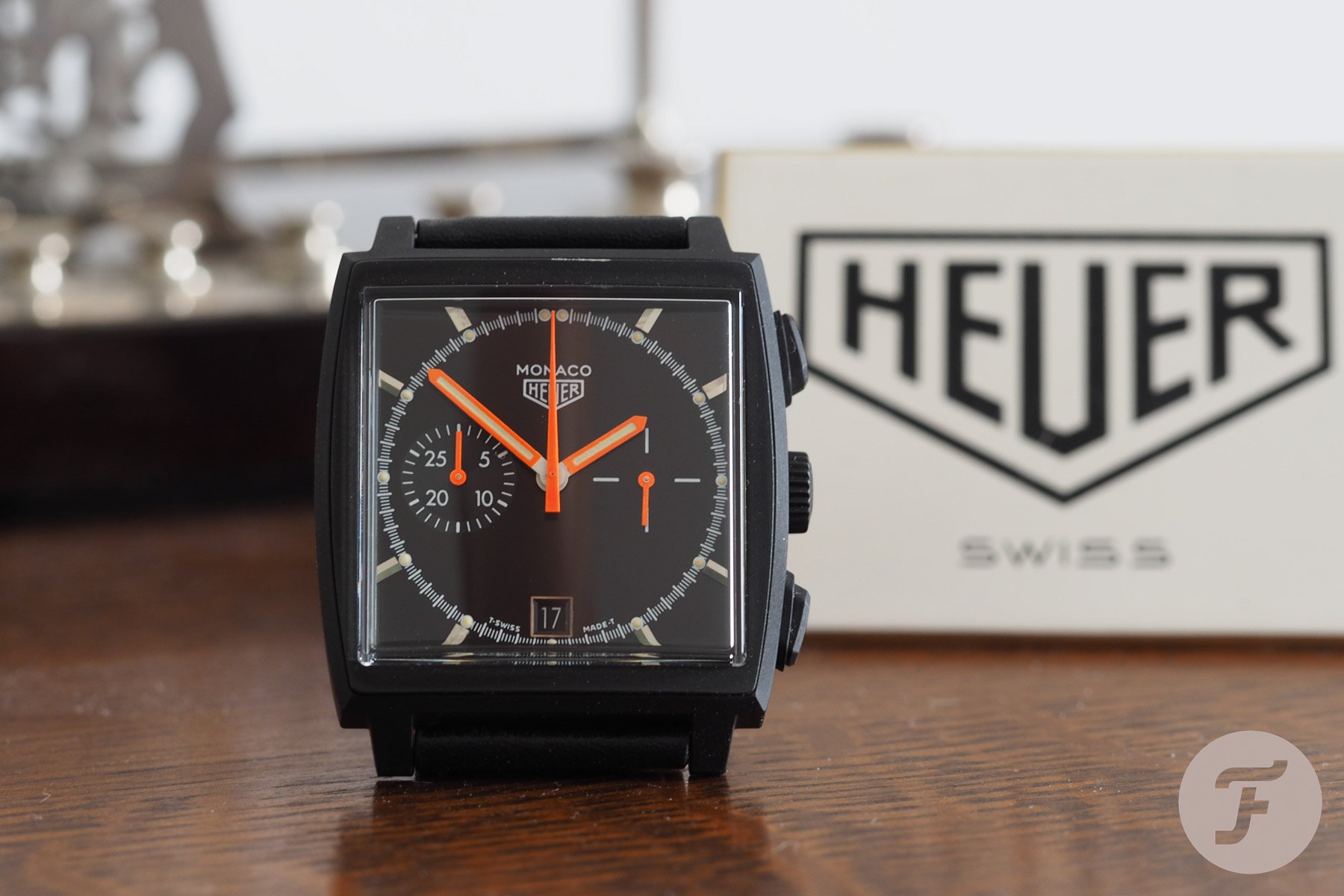 The AC Signature Monaco
The other week, I opened up the Facebook app on my phone and began scrolling. It didn't take long before I stumbled across a high-contrast chronograph. I looked at the author, saw Abel's name, and then looked more closely at the watch. It was a Monaco with a black case and bright orange hands. At first, I thought it was the mythical Heuer 740303N "Dark Lord," a PVD-coated Monaco that routinely auctions for crazy sums. Yet it wasn't. This watch looked different and, upon closer inspection, actually contained more orange details, such as the main hands. It looked good but somehow familiar. Abel hooked me, and that led me to his site, where more detail exists on the AC Signature Monaco.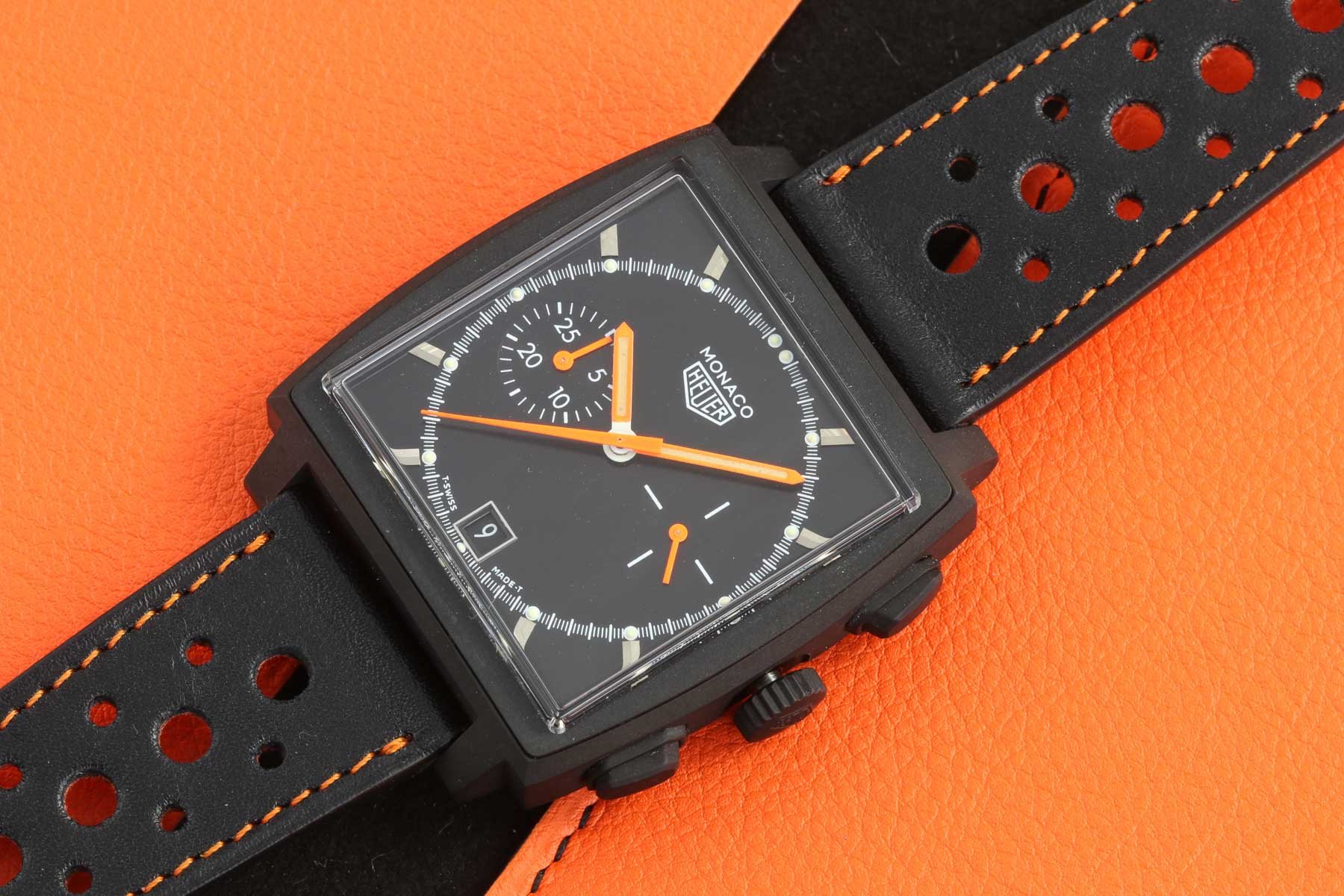 Abel has done customization work before, and I've seen evidence of this. He has created some nifty coated-case Speedmasters, and I've even gone hands-on with his personal DLC-coated Cal. 11-powered Autavia "Viceroy." The watches are striking and well done, to say the least. The AC Signature Monaco is his newest creation and comes after several years in the incubator. The watch uses the CS2110 limited-edition Monaco that TAG Heuer launched back in 1997. As an aside, I still remember that watch and the fervor that it caused! Abel is a huge fan of the watch because of its importance in the (TAG) Heuer continuum. He also enjoys the watch because the dial design has an asymmetric '70s look, even though it isn't.
Using the CS2110 as a base
I contacted Abel about the AC Signature Monaco soon after reading about it, and he generously offered to send his own piece to me the next day. In person, I can say that the watch is just as striking as it is in the photos. It's so clean and also reminds me of Porsche dashboard instruments from the '70s and '80s. Plus, the watch looks fantastic on the soft, handmade black rally-style strap with orange stitching.
To create the AC Signature Monaco, Abel completely disassembles the original CS2110 and fully services the ETA 2894-2 within. After that, he works on all of the external parts. When I say "all," every metal part that is visible is lapped, polished, and media-blasted while keeping all the sharp edges. This three-step process ensures that all parts are in perfect condition while being ready for PVD coating. The PVD coating, if you're curious, is the only operation that Abel does not perform himself. When it comes to the use of PVD over DLC, the choice is deliberate. PVD was the process used 50+ years ago, and while it is more prone to scratches, Abel likes the ability of the watch to "live" with the wearer (in fact, this one already bears the scar of a countertop incident!). I asked Abel about the orange hands, and they are, in fact, NOS Heuer parts complete with tritium lume, but he has to modify them to fit. While there is no color-matching performed with the dial tritium, the overall look is quite consistent and warm. Other niceties are the coated crown, pushers, and Heuer buckle.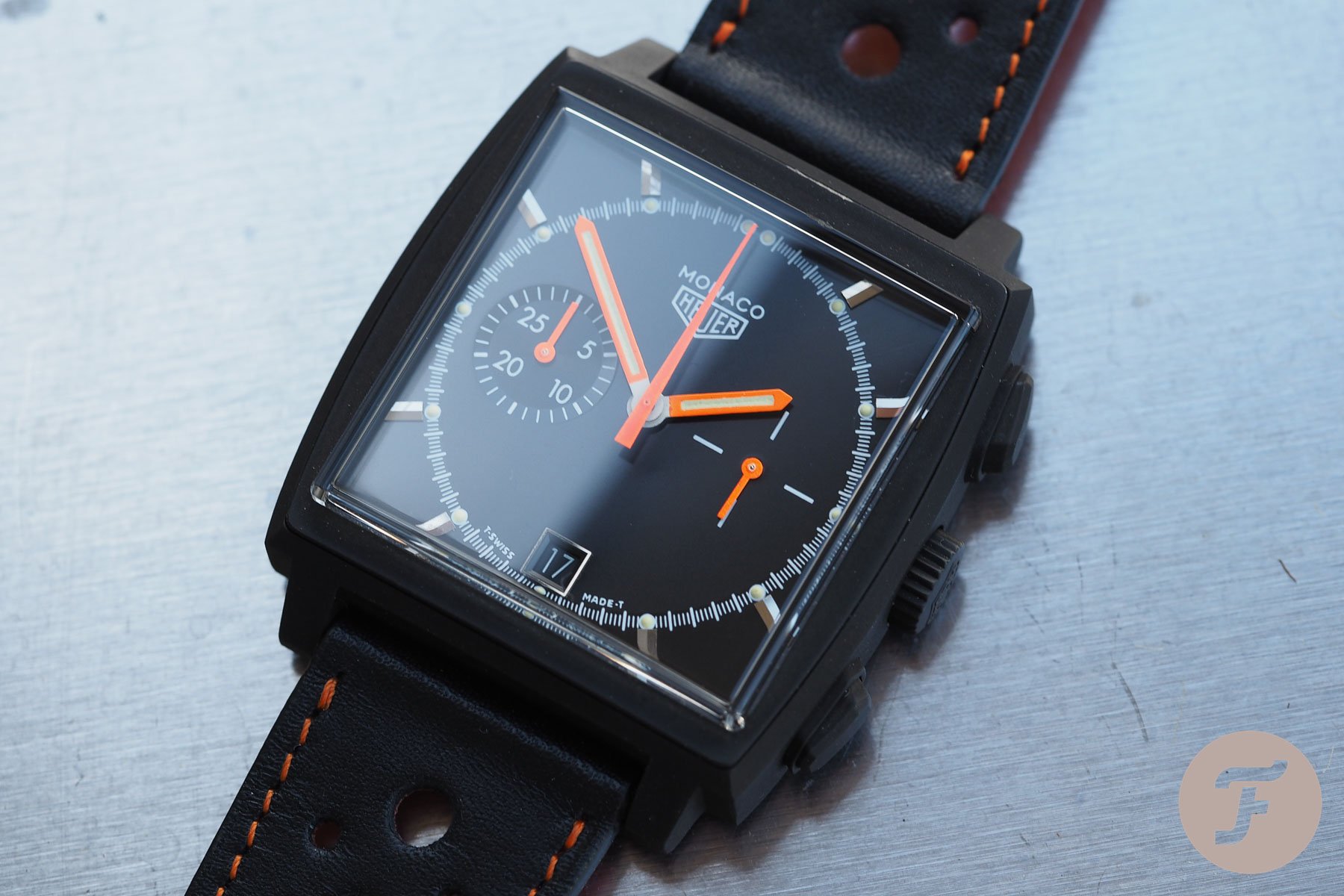 On the wrist, this one rocks!
The AC Signature is a striking watch on the wrist! The surprising detail, though, is how wearable this watch is. I think I was in my early 20s when I tried on a new CS2110, and it felt massive. That must have had more to do with my perceptions of watch sizes back then because my wrist hasn't changed since that time. Regardless, trying this watch on has me thinking of hunting down a CS2110! I compared this watch to my vintage 73633B Monaco (the watch Abel serviced), and there's a big difference. Whereas the original is quite wearable, it is chunky laterally at 40mm. The CS2110, however, comes in at a svelte 38mm. The other great touch that adds a lot to the overall execution of this piece is its original acrylic crystal. Seriously, I'm not sure if TAG has made a modern Monaco that I like more than this one. The result is that this modified piece can easily stand as an everyday watch.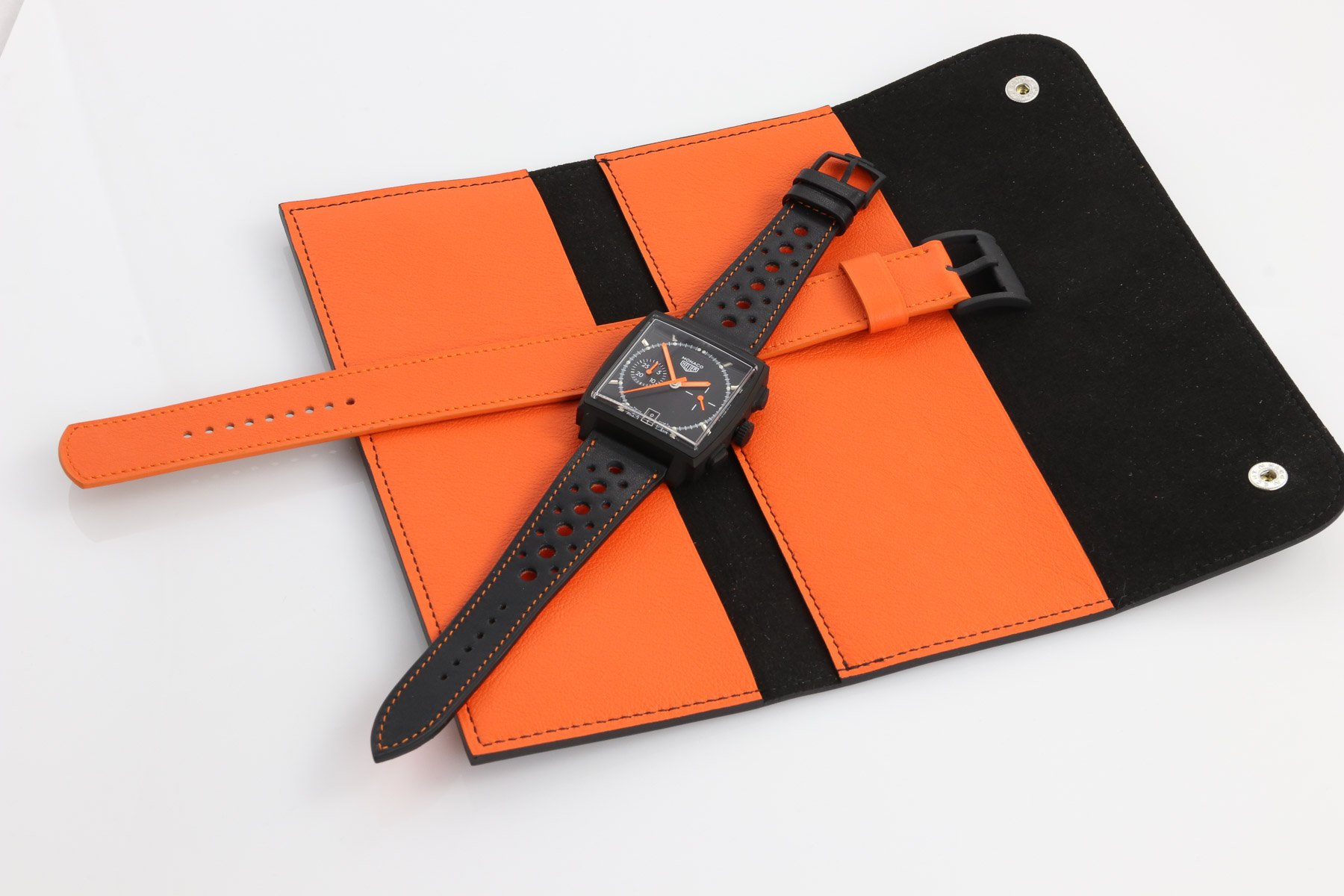 Final notes on the AC Signature Monaco
The AC Signature Monaco will come with a pair of handmade straps, a travel pouch, and a booklet showing the watch during its transformation. Abel is happy to discuss it if you're interested in commissioning one of these watches, and pricing is set at €7,800. Is that inexpensive? Absolutely not, but there's real work behind this creation. Plus, the underlying watch is no longer inexpensive, and the ETA 2894-2 is a time-intensive movement to service. The fact that these are built manually by a real enthusiast should make them prized by collectors. If you'd like to find out more, visit Abel's site to inquire about this cool project.
Thanks to Abel for the hands-on experience and for sharing many of the photos that you see in this article!