Arctic-Cool-Tool Time With The New Linde Werdelin Oktopus Moon 3DTP
And I feel like a lesser Viking... Again.
Linde Werdelin might be based in London, but in this, its 20th-anniversary year, the brand shows us its Arctic roots. As I'm in Norway, I do know that Denmark isn't exactly the Arctic, but for our readers in Malaysia, Australia, or Wyoming, it might as well be the North Pole. And with the new Oktopus Moon 3DTP, Linde Werdelin plays into the stereotype in a good way. The brand's watches might fly in the face of vintage-small-cased trends, but that is why we love them. Yes, I feel a strong Viking kinship, even if the new Linde Werdelin Oktopus Moon 3DTP makes me feel inadequate.
I'm not a small guy at 6'3″, but the bold chunkiness makes me question my spindly arms. As this is a big beast, I will try to avoid telling you that a 44mm+ watch feels small, but I can't promise anything. We have seen the Oktopus diver's watch before, but this time a crisp, cool wind seems to have blown in from the North, well timed to cool us down in July. This also comes in as the lightest watch that the 20-year-old brand has ever made.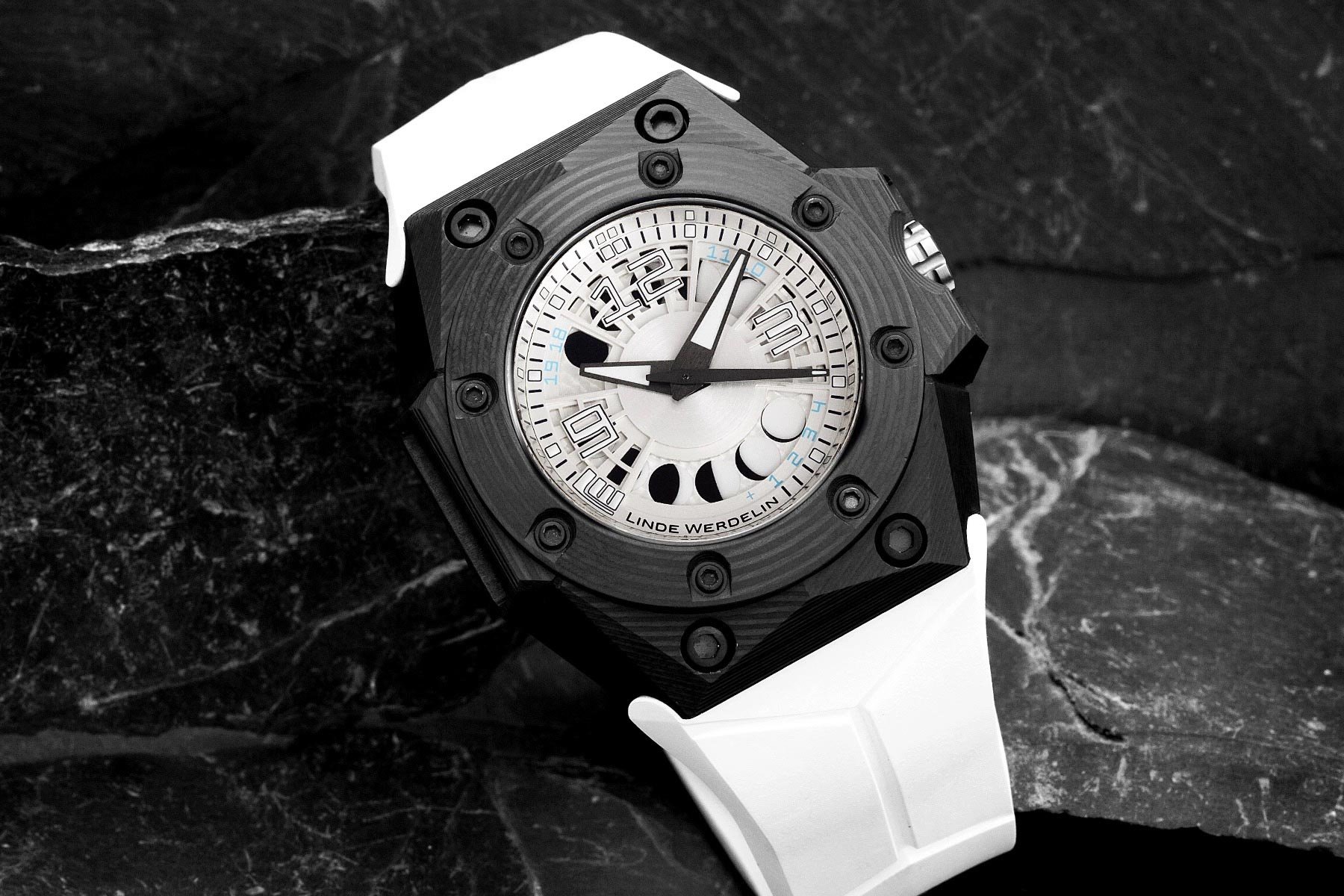 It feels smaller than it looks
Here we go with the "lies" about small-sized big watches… And I will also seem two-faced to some of you, often waxing lyrical on 36-38mm watches being perfect on any wrist. I still think so, but all watches have their time and place, and we all have style moods. If I'm wearing a rough pair of khaki shorts and a frayed-sleeve T-shirt, I'd feel well silly with a sleek 36mm vintage chronograph. Those are the days I'll put on my big Marinemaster, soft in its shape but heavy at 180+ grams. When it comes to the watch at hand, the Oktopus Moon 3DTP, the proprietary carbon-fiber layering that constitutes its new case takes away almost all the weight while keeping the strength. It weighs just 60 grams without the strap. Yes, that's a sweet sixty, for real.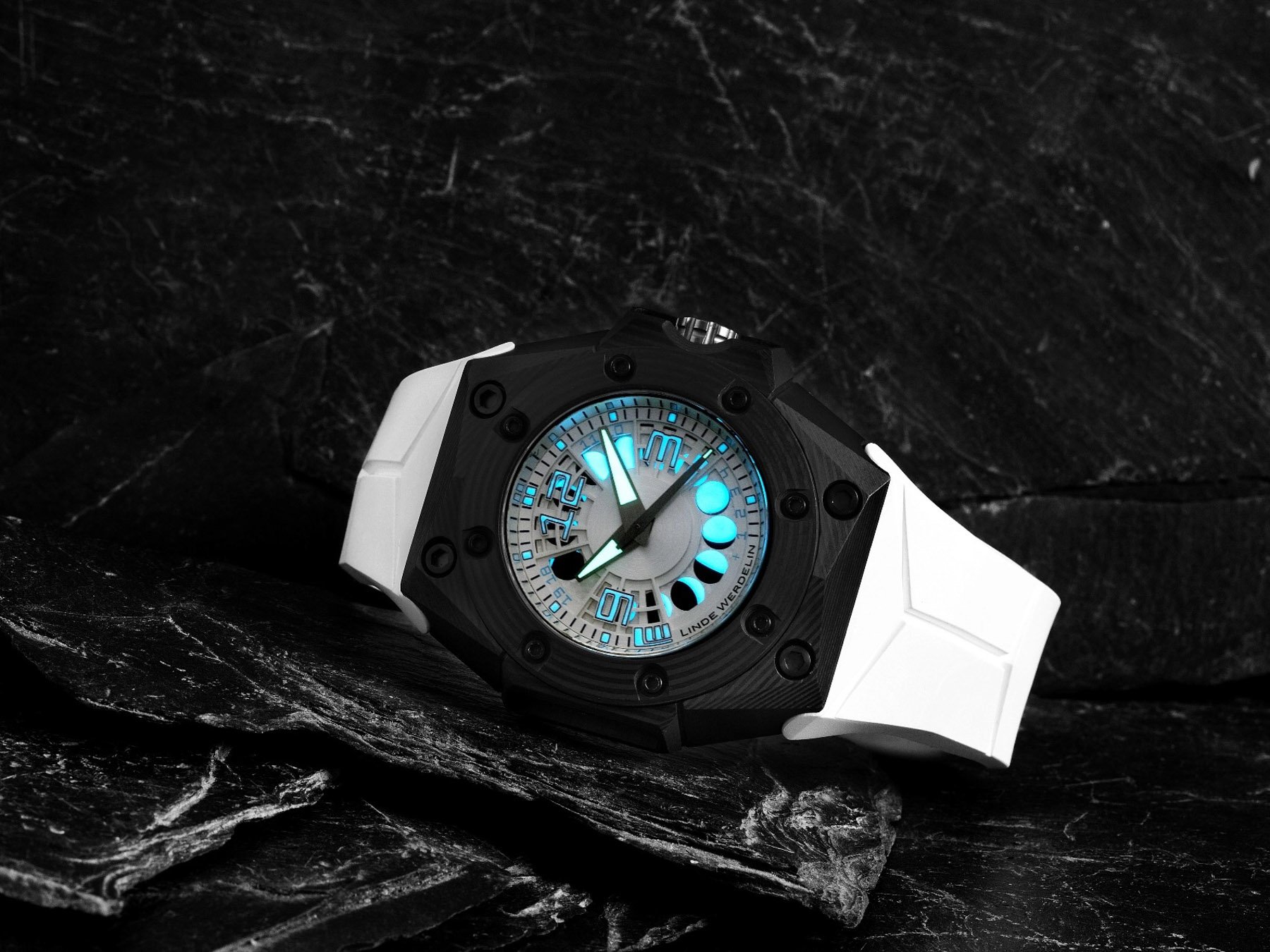 Not small, but comfortable for such a big boy
A Linde Werdelin's 15mm-thick case seems tall but is known for its underside curvature with a semi-flush case back. This makes all the difference in the way it sits on your wrist, and the 46mm of lugless case length is ergonomically short. Riffed off the existing Oktopus design with a 300m depth rating, Linde Werdelin sensibly markets it as a sports and diver's watch. With no timing bezel, it won't pass an ISO test, but that's a rather irrelevant test in 2022 anyway. If you're a serious diver, you'll wear a dive computer or a Garmin, but that doesn't make this chunk of black granite any less cool. Different from the previous Oktopi (plural, innit?), the bezel is more integrated into the case itself with a steeper angle towards the outer case. And strong, facetted angles are what sets any Linde Werdelin apart from most watches except the Orlinski Hublots.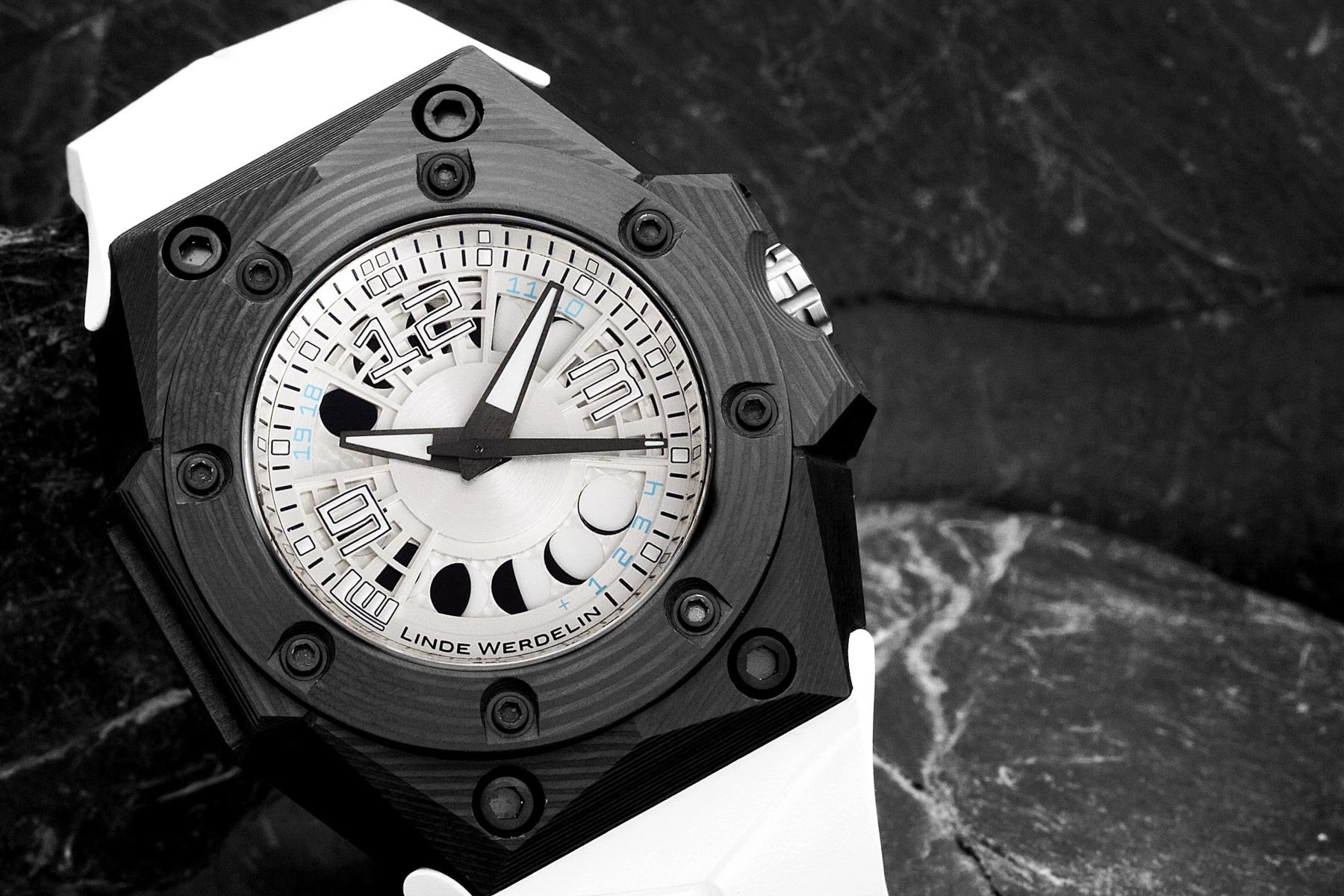 Star Wars analogies
While I do like the blue-accented-and-rubber-strapped version, the stark white and black Oktopus is something else. There is always something slightly otherworldly about a Linde Werdelin, always refreshingly different, but this one? I imagine the white-accented version to be the time-telling tool of one of the winter-camoed rebel fighters in Return Of The Jedi in the scenes where they're battling on the ironically named snow planet Hoth. These scenes were actually shot in Norway, so I'm getting a full-circle Nordic vibe here.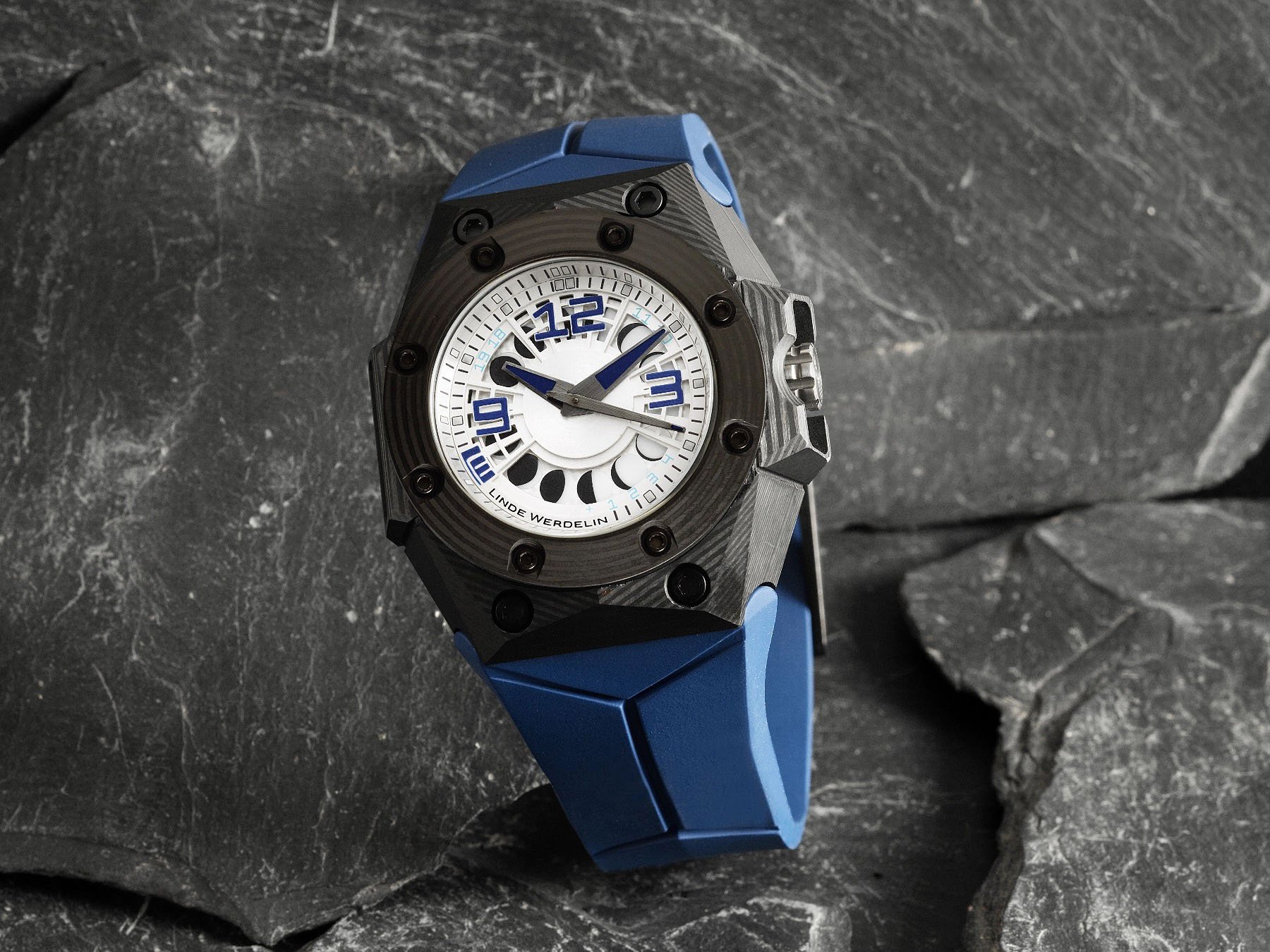 Moons and gears
The moonphase display of the new Linde Werdelin Oktopus Moon 3DTP is clearer and more graphic than before, but it still has its charm intact. There is an architectural vibe to the Oktopus here, a lot more pronounced than on the regular versions and underlined by the monochrome aesthetic. Only 56 of each color will be made at £16,000 ex. taxes, each bursting with dizzying, skeletonized lume at night. Visible underneath the semi-open-worked dial, there is a bespoke LW caliber with a 42-hour power reserve and a 4Hz beat rate. The value herein lies in the weightless construction and Linde Werdelin's persistence through 20 years with its unmistakenly bold, clean-cut, and ballsy design language. The Oktopus Moon 3DTP is available now exclusively from Linde Werdelin.
Does this mark the return of big tool watches but with a lightweight, techy approach? Let us know what you think in the comments, Fratelli.
Find me and follow me at @thorsvaboe