The Audemars Piguet Royal Oak 16202 — The Best One So Far?
And what about its availability?
It's no secret that I am a huge fan of the Royal Oak design, so I was incredibly excited to see the presentation hosted by Audemars Piguet on the new Royal Oak 16202 "Jumbo". We knew it was coming, as AP had already communicated the discontinuation of the 15202 last year.
The biggest news, perhaps, is the introduction of the new caliber 7121 for the Royal Oak 16202 Jumbo. It's the first time in 50 years that the Jumbo gets a new movement. That doesn't mean, however, that the previous 2121 movement didn't receive any updates. One of the designers at Audemars Piguet told us during the 40th anniversary that the 2121 has been the subject of small changes over the years. He wasn't clear about the changes that were made, but we can assume these were optimizations of the movement as well as some visual changes, such as differently decorated rotors used over the years.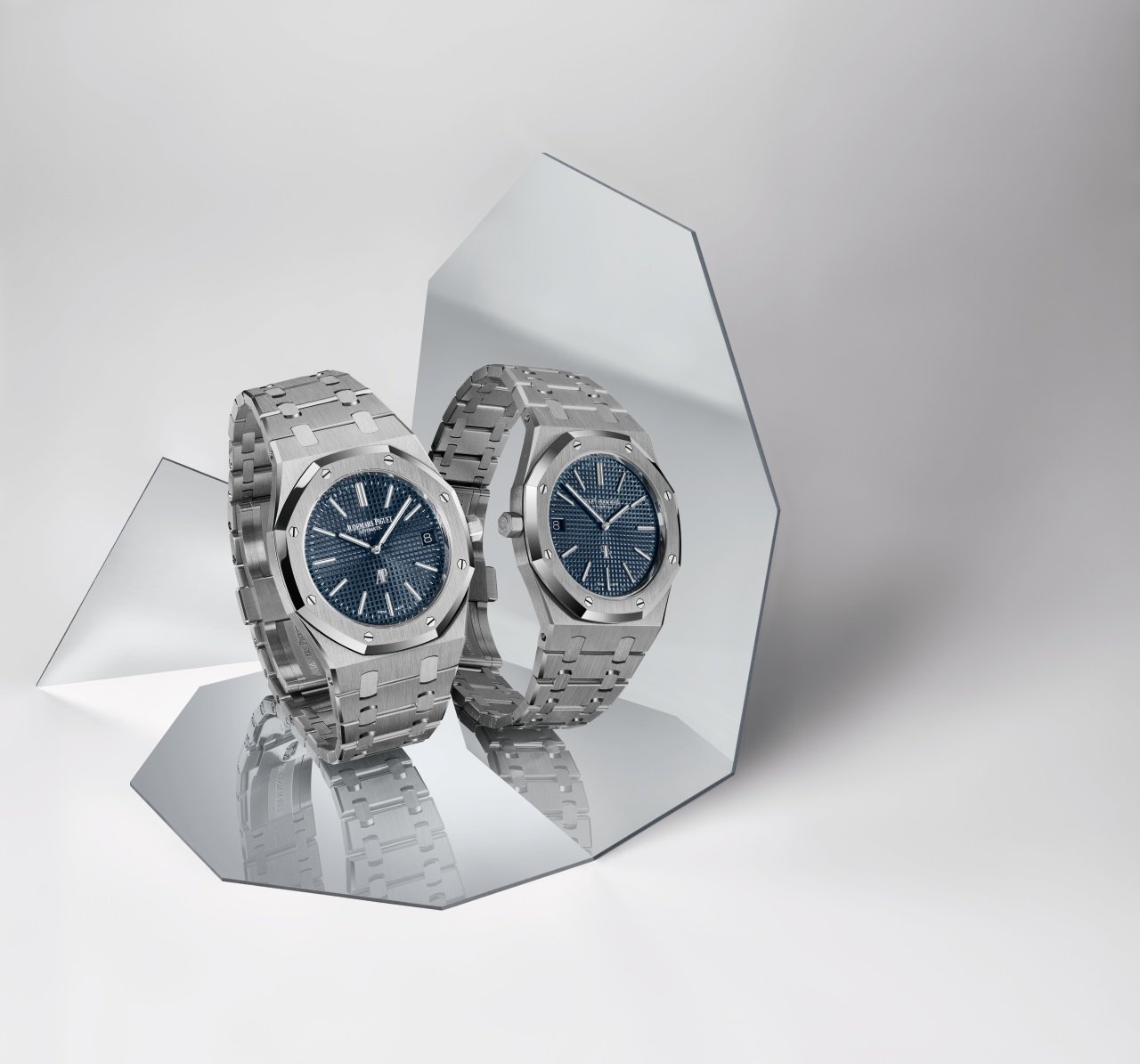 A New Royal Oak Jumbo
There will be a lot of references to older generations and movements, so in case you are more interested in reading some history on the Royal Oak first, click here.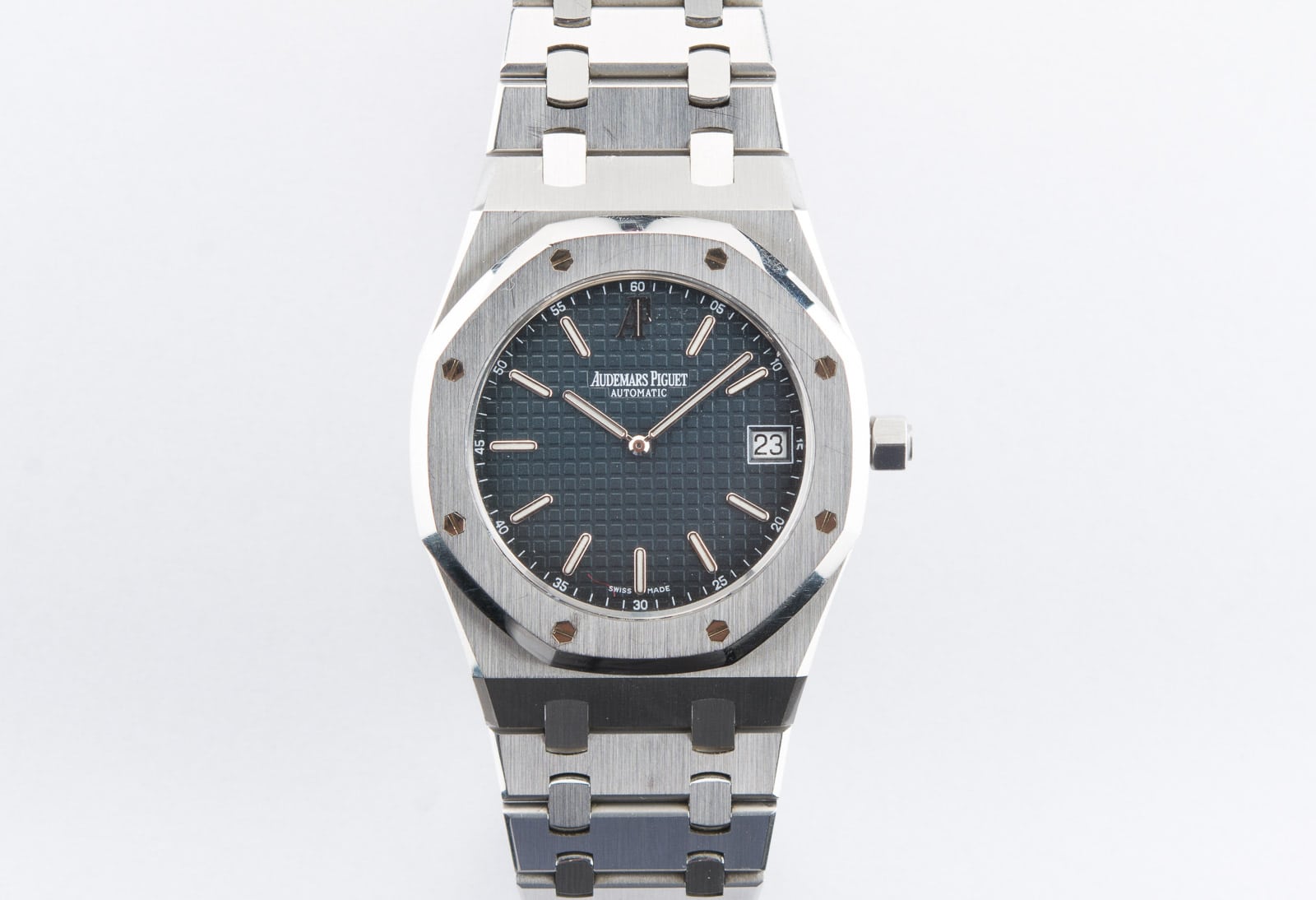 The previous reference 15202 was already in production since 2000, but it received an update in 2012 with the "Extra-Thin". That update was "cosmetic", with a new dial and bracelet as the main points of difference. The dial of the newer 15202 was actually a step closer to the original dial of the 5402. It had AP logo at 6 o'clock and the smaller tapisserie pattern.
The bracelet was a step in the other direction. It became slightly thicker and got a double-folding clasp, like the ones on the 15300/15400 series at the time. Inside was caliber 2121, which served the Royal Oak "Jumbo" or "Extra-Thin" for no less than 50 years.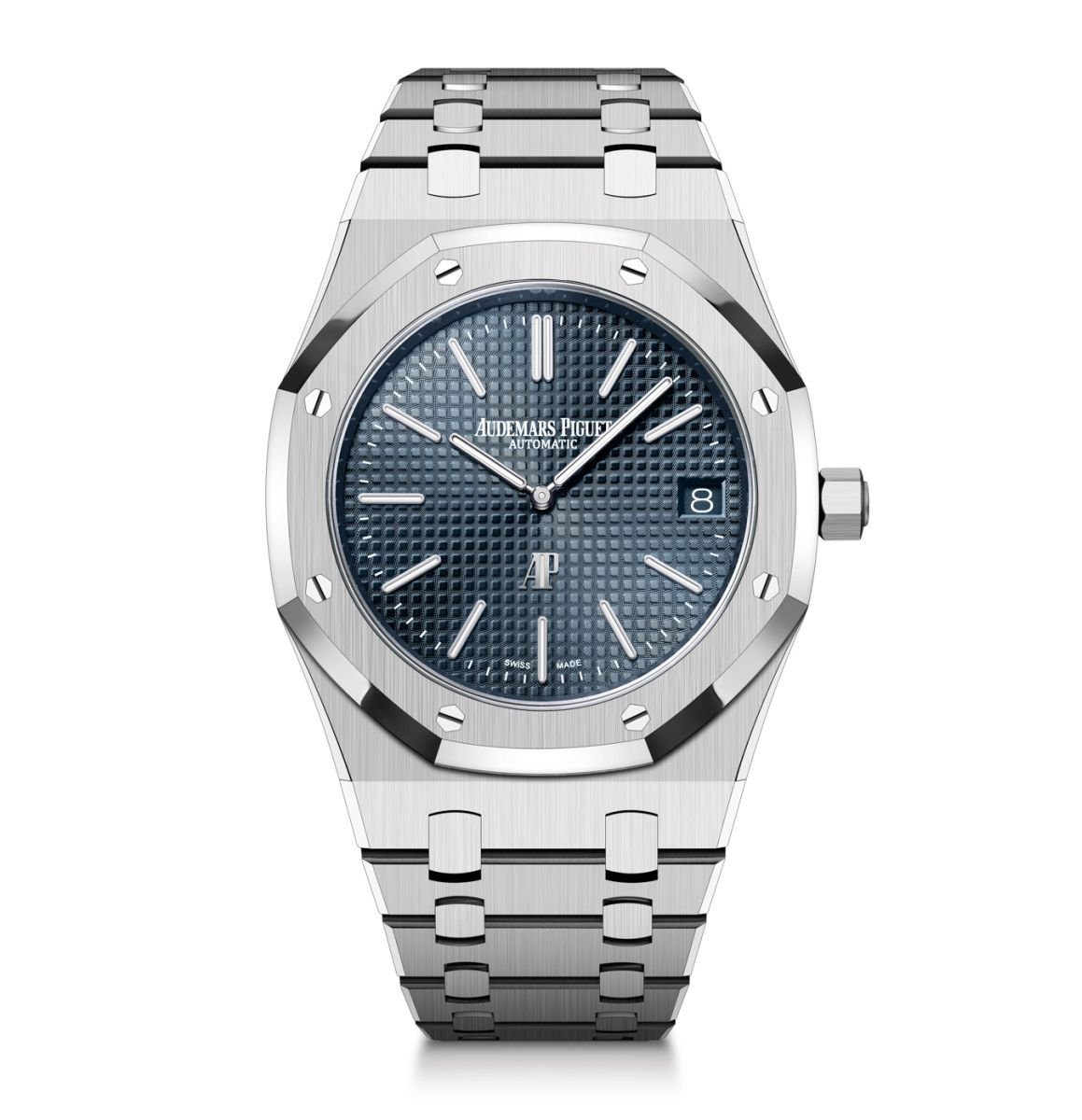 Royal Oak 16202 Jumbo
Now, we are looking at the Audemars Piguet Royal Oak 16202 Jumbo. A daring step, I have to say, as it is not easy to temper with classics. We've seen it go wrong with certain Rolex watches, for example. Omega did it well with the Moonwatch last year, but the modern Cartier Santos line-up with the updated bezel shape isn't exactly a winner. So, with mixed emotions of excitement and anxiety, I watched the presentation given by Audemars Piguet's CEO Francois Bennahmias and his team.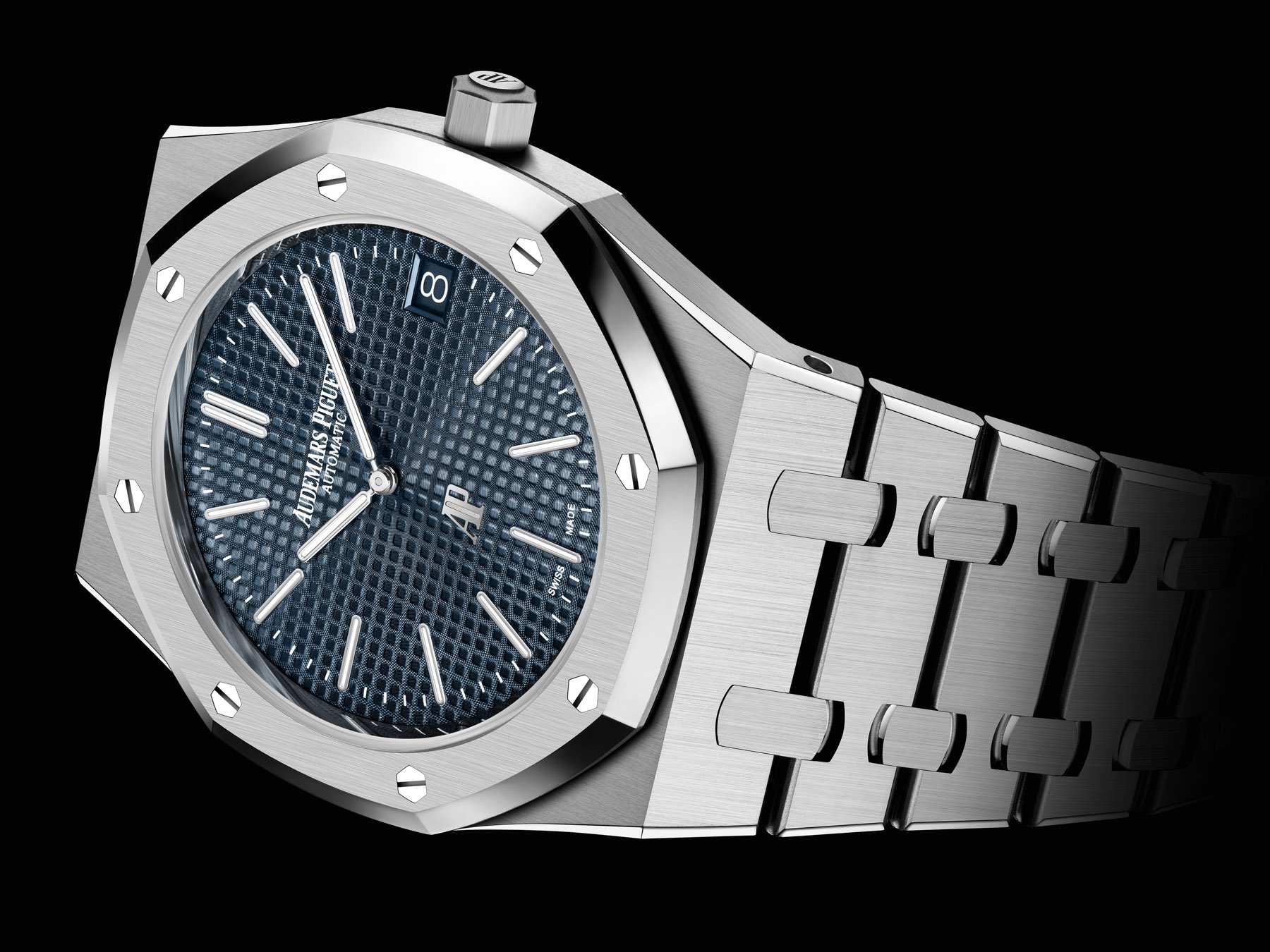 This bag of mixed emotions quickly turned into enthusiasm and a strong urge to want one (again). I owned the pre-2012 Royal Oak 15202 (with the printed minute track and AP logo at 12 o'clock) for a long time. I decided to sell it two and a half years ago for various reasons. But the new 16202 has my heart beating faster. Let's have a closer look.
Caliber 7121 replacing the iconic 2121
AP's new Royal Oak 16202 Jumbo comes in four variations. Some of them even look nearly identical to the previous 15202 collections. Although the new caliber 7121 is larger than its predecessor, the dimensions of the Royal Oak 16202 Jumbo case are identical to the 15202. The diameter of the 16202 is 39mm and it has a thickness of 8.1mm. The movement went from 28.4mm to 29mm in diameter and from 3.05mm to 3.2mm in thickness.
AP's watchmakers also used more components for caliber 7121 than for 2121; the total number went from 247 parts to 268 parts. As a result, the previous 40-hour power reserve has now seen an upgrade to 55 hours. The frequency also increased from 19,800vph to a more modern 28,800vph. Only for this year, the 7121 movement will have a specially decorated rotor to celebrate the Royal Oak's 50th anniversary.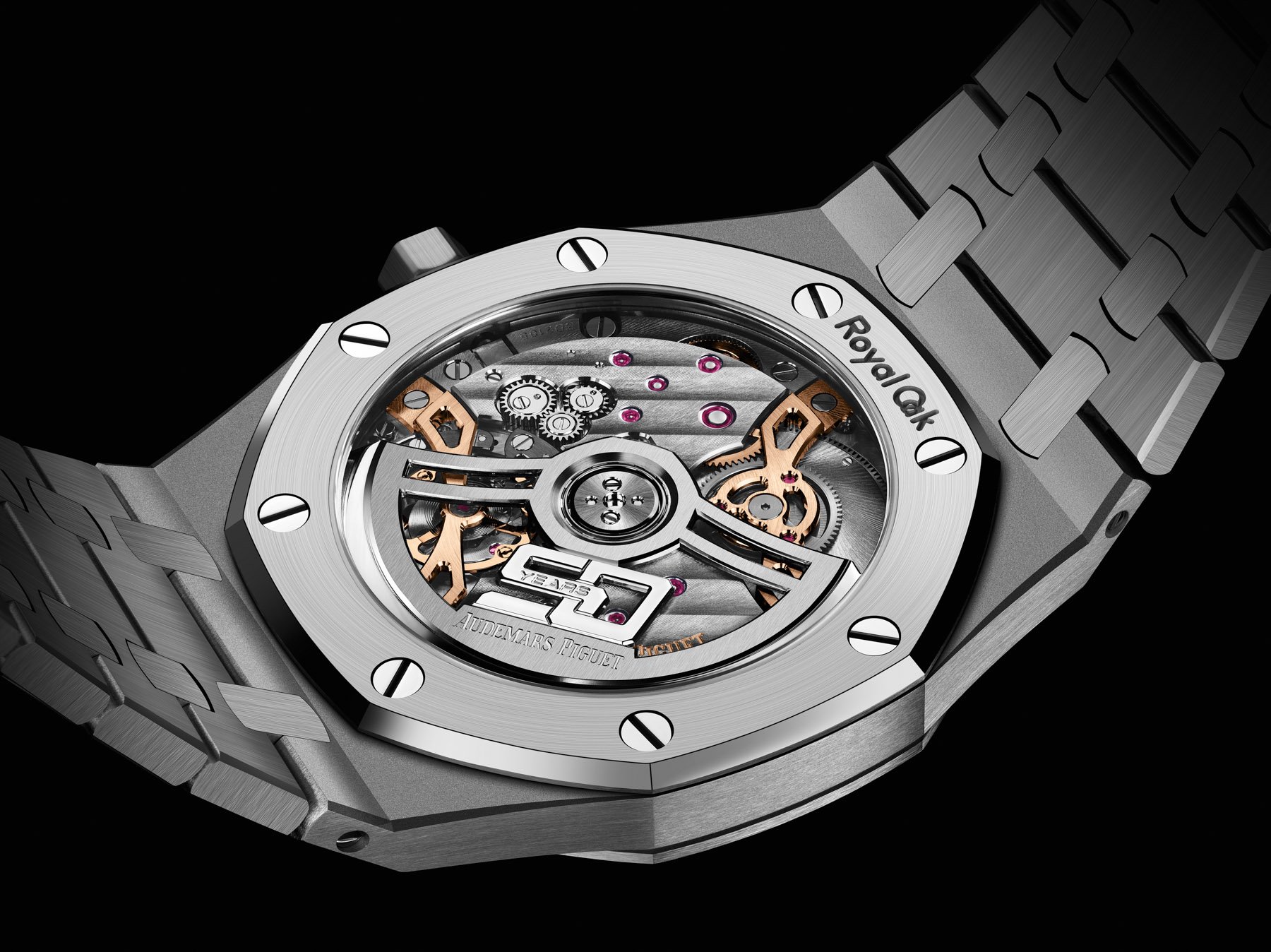 Ball bearings and a quick-set
To me, a large part of the fun of owning the Royal Oak Jumbo was the 2121 movement. The caliber was based on the Jaeger-LeCoultre 920 which, interestingly, JLC never used for itself. It was an incredibly thin and beautiful movement to observe through the sapphire case back, and it was the reason I traded my 39mm reference 15300 for the 15202. The caliber 3120 inside the 15300 was nice as well, but the creation of that movement was more industrialized. Caliber 2121, however, featured hand-finishing, and the construction was slightly different as well. The rotor ran on a rail instead of using ball bearings, which is what allowed the movement to be so thin.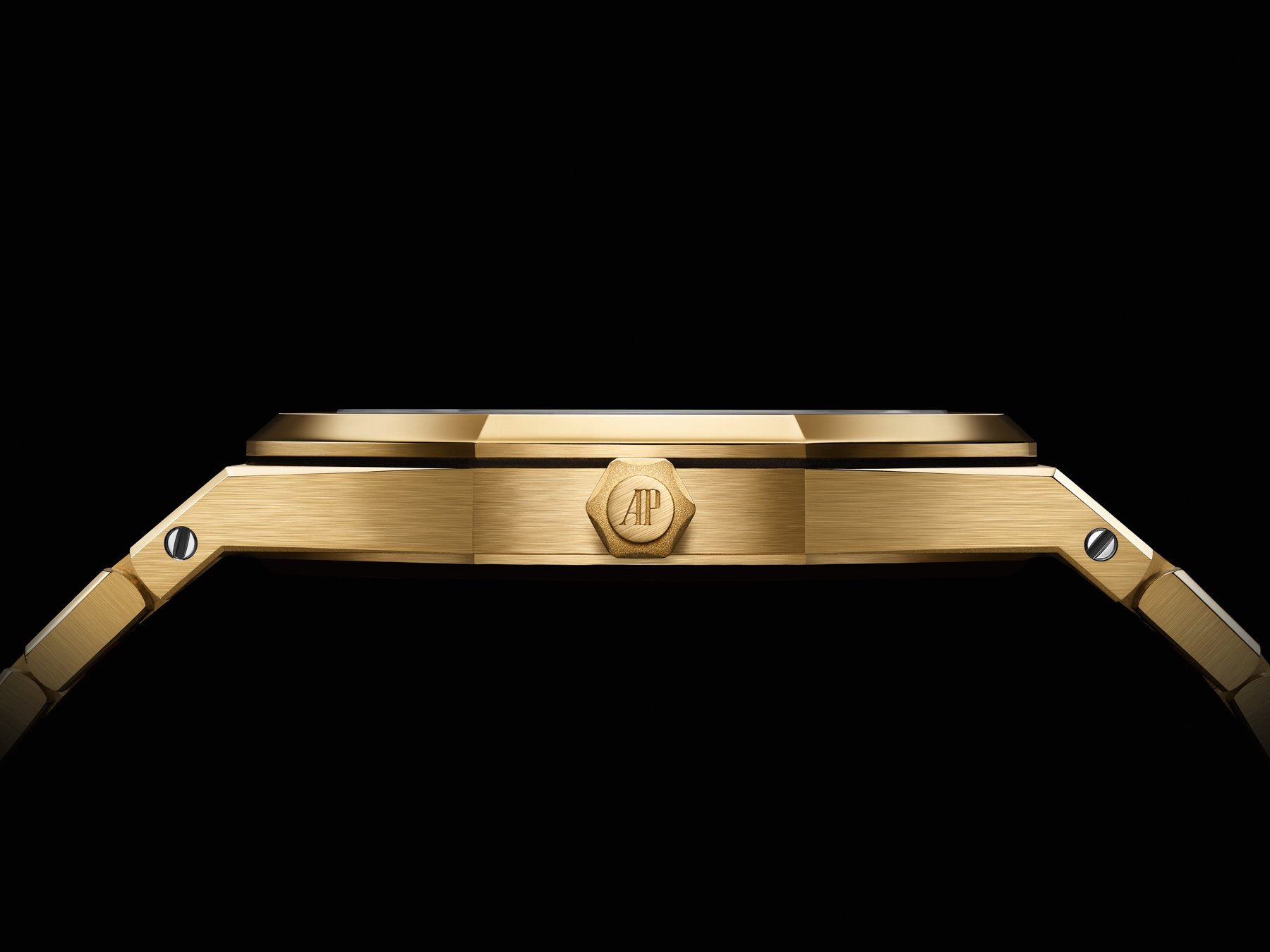 With the 7121, the ball-bearing rotor is back. That's probably what accounts for some of its extra thickness. AP still uses a variable-inertia Gyromax balance wheel, which appears to be more solid than the previous one. Last but definitely not least, the caliber 7121 has a quick-set date. With caliber 2121, this wasn't the case. You had to move the hour hand forward and backward past 12 to at least have some efficiency in correcting the date. This didn't always feel too great, to be honest.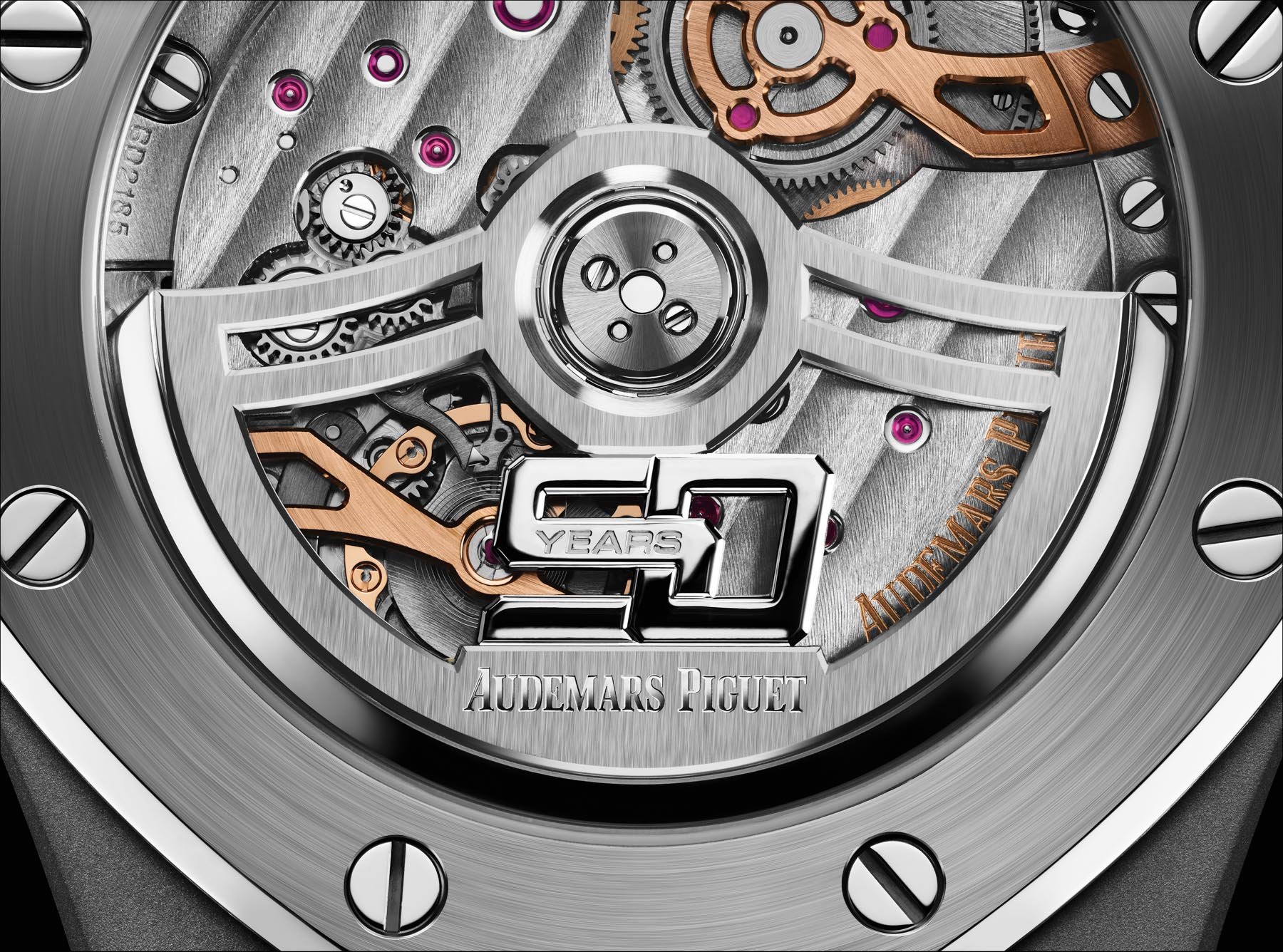 The base for more (complicated) movements
Another interesting thing is that caliber 2120 (the base of caliber 2121) was and still is used in some of AP's complicated watches, like perpetual calendars. AP's R&D director Lucas Raggi stated, "Calibre 7121 has been constructed with the expertise of our engineers and watchmakers, specialized in both simple and complicated mechanisms. This cross-department collaboration resulted in the creation of a robust and powerful extra-thin self-winding movement that seamlessly fits in the slender architecture of the Royal Oak "Jumbo" case, paving the way for a new generation of in-house AP movements." During the presentation of the new Royal Oak collections, Bennahmias already let us know that there's more coming in 2022.

Four variations of the Royal Oak 16202
The four different Royal Oak 16202 Jumbo models have all different dials depending on the materials used for the case and bracelet. AP's Jumbo in steel (reference 16202ST.OO.1240ST.01) will retain its blue dial, or as AP refers to it, "Bleu Nuit, Nuage 50".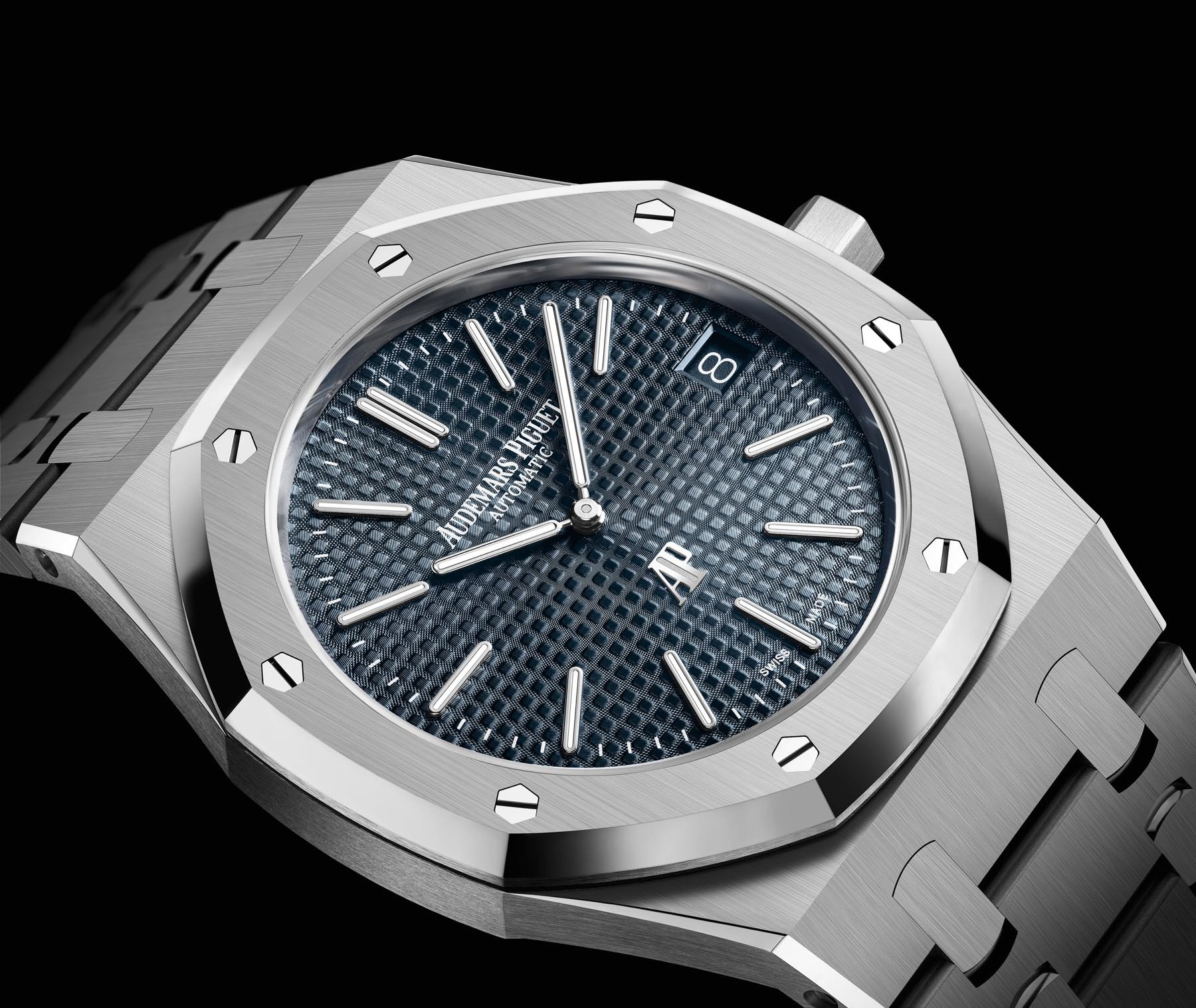 The pink gold version (reference 16202OR.OO.1240OR.01) comes with a smoked gray dial. The yellow gold version (reference 16202BA.OO.1240BA.01) has an incredibly nice smoked yellow-gold-toned dial.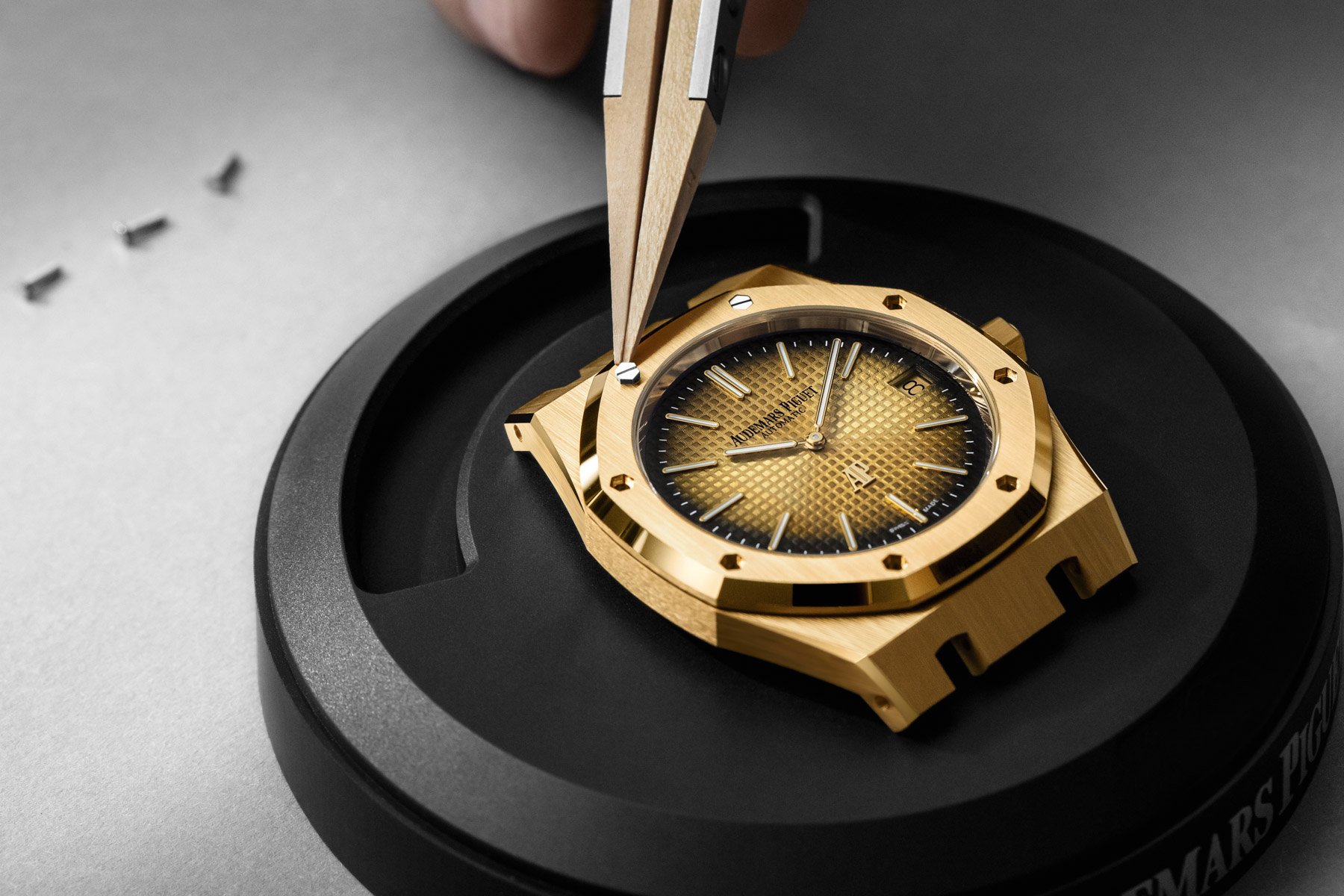 Although I am sort of a purist when it comes to the Royal Oak Jumbo, I think this version is the most beautiful of the bunch. Last but not least, there's the platinum variant (reference 16202PT.OO.1240PT.01) with a smoked green dial with a sunburst effect. We've seen this in the prior reference of the platinum Jumbo as well.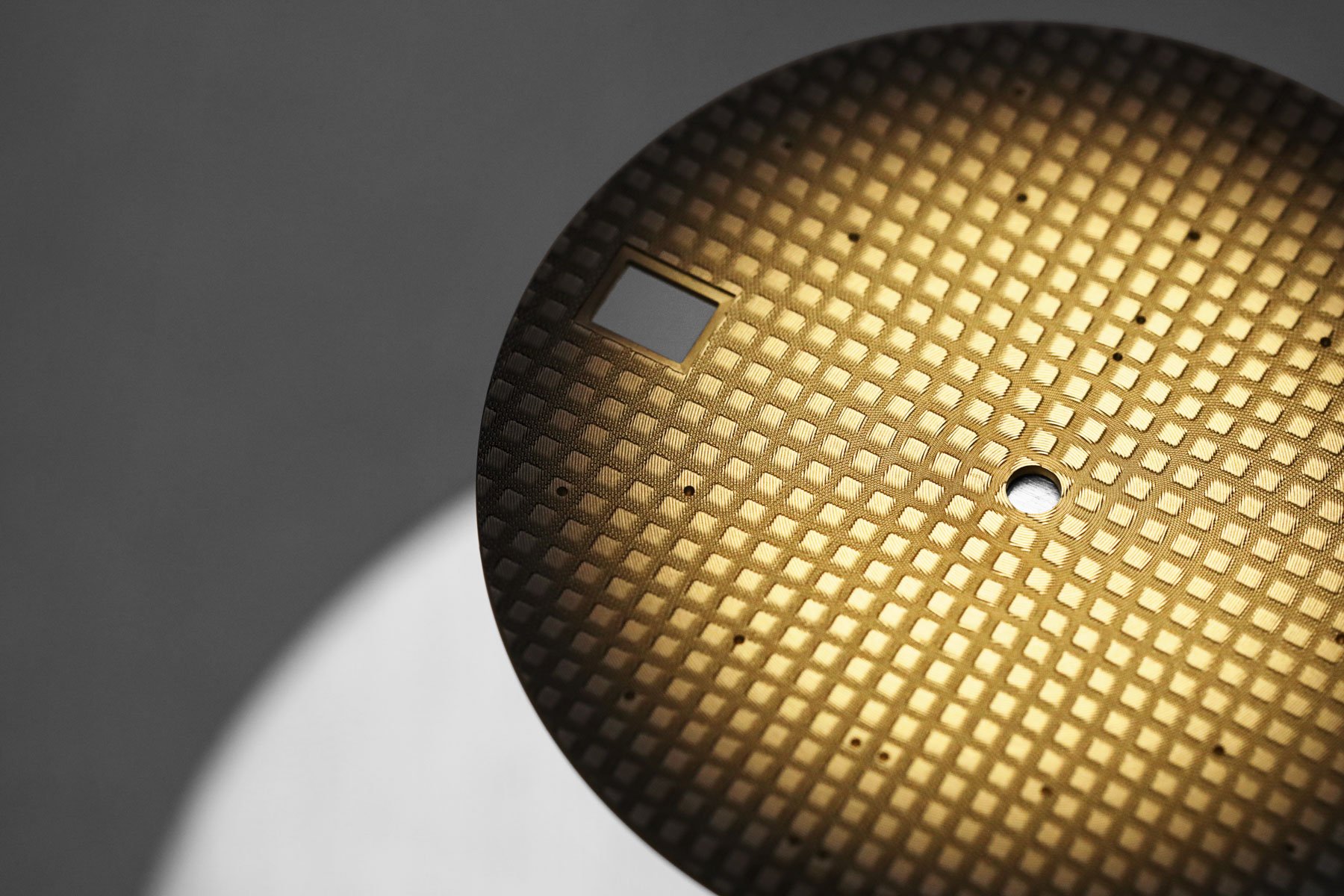 Speaking of the dial, the petit tapisserie motif on the steel and gold versions has been there since the very first reference 5402 from 1972. At first, the dials were produced and supplied by Stern Frères. This company ceased operations in 2016. The production of these petit tapisserie dials, however, had already moved to Audemars Piguet in 2010. AP had bought its own guilloché machinery a few years before and started to develop and train its own staff to perform these skills.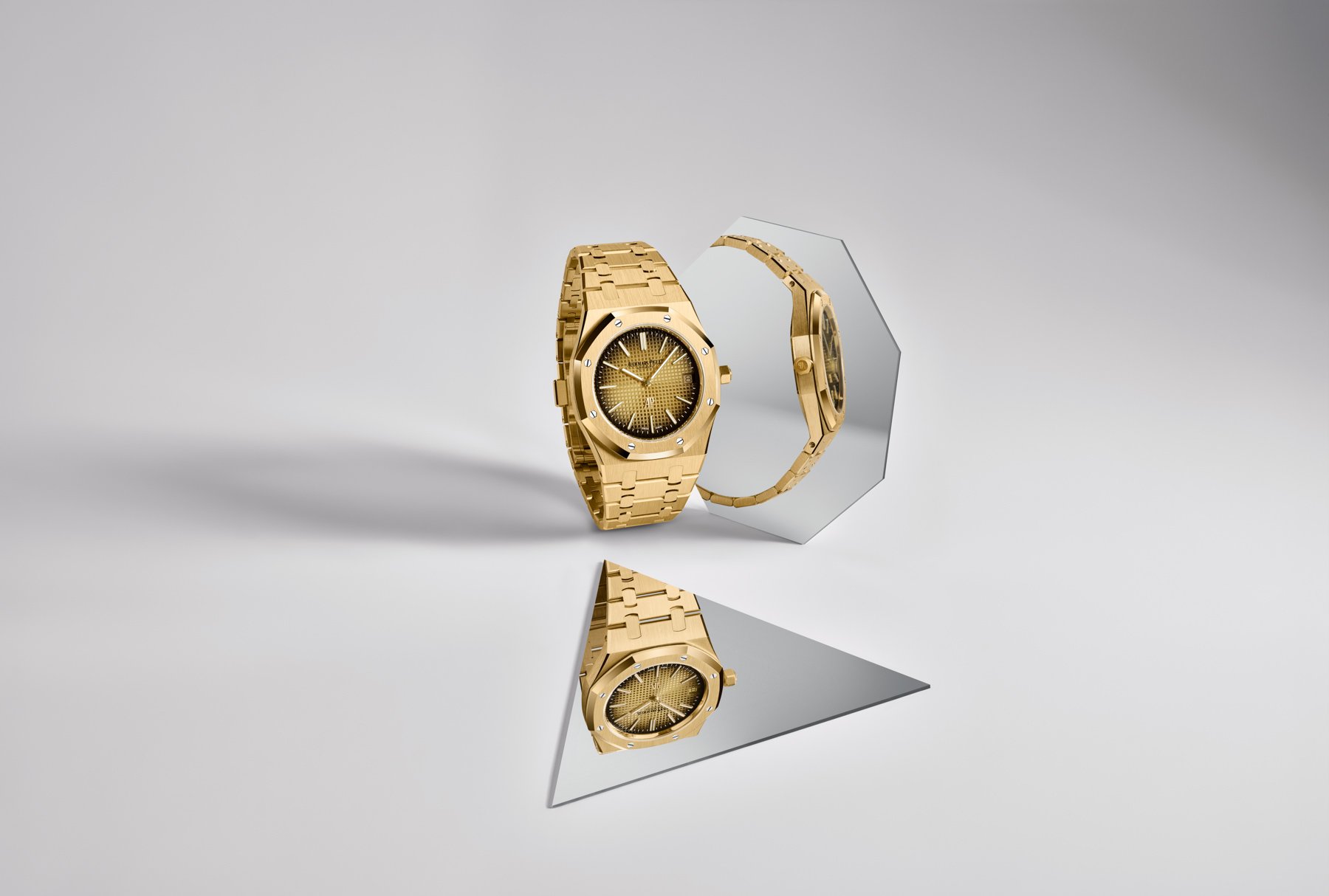 Prices and availability
The prices for these Royal Oak Jumbo 16202 watches increased slightly compared to their predecessors, of course. Here we go for the prices in Euro, including 21% VAT.
16202BA.OO.1240BA.01 (Yellow gold with yellow gold dial) — €68,800
16202OR.OO.1240OR.01 (Pink gold with gray dial) — €68,800
16202PT.OO.1240PT.01 (Platinum with green dial) — €111,400
16202ST.OO.1240ST.01 (Steel with night-blue dial) — €32,400
AP indicated that its production stopped at some point during the COVID pandemic, but it has already been operating full-steam for a while now. These watches will become available soon (the official date of the 50th anniversary is April 15, 2022) and the last one will be produced on December 31st, 2022. After that, the Royal Oak 16202 Jumbo will receive a new rotor.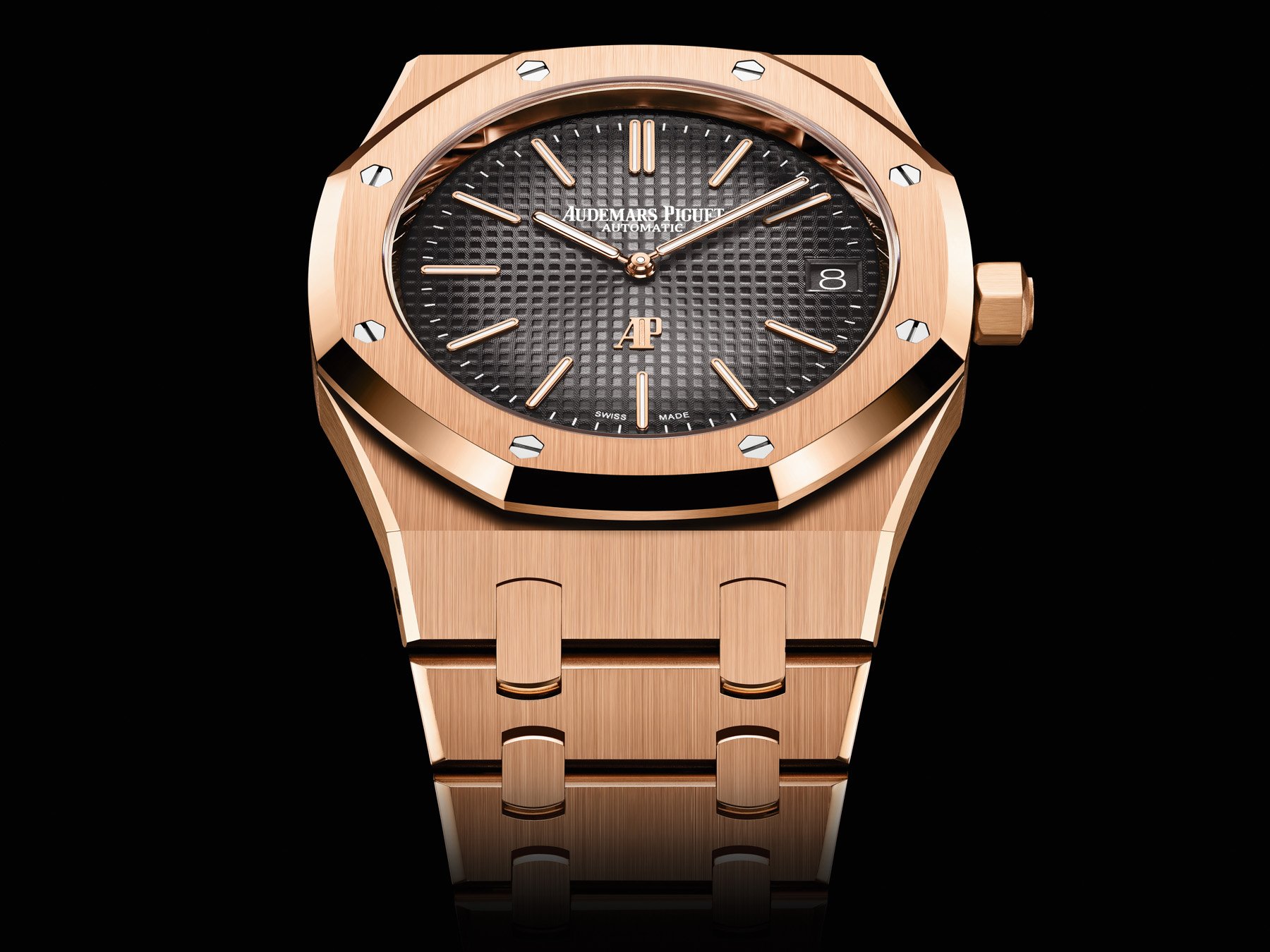 No tying, please
As for their true availability, I am less optimistic. We've seen a steep increase in market prices for the 15202 references, going from around €25-30K in 2019 to a six-digit number in 2022. I don't see AP increasing production on the 16202 Jumbo, and even if there's an increase, the demand will be incredibly high. Certain boutiques and dealers of other brands try to make customers buy another less attractive watch (sometimes from another manufacturer) at full retail before they are "allowed" to buy the watch they actually want to have. This is something I don't hope to see with the Royal Oak 16202. This kind of "tying" is actually forbidden by law, at least here.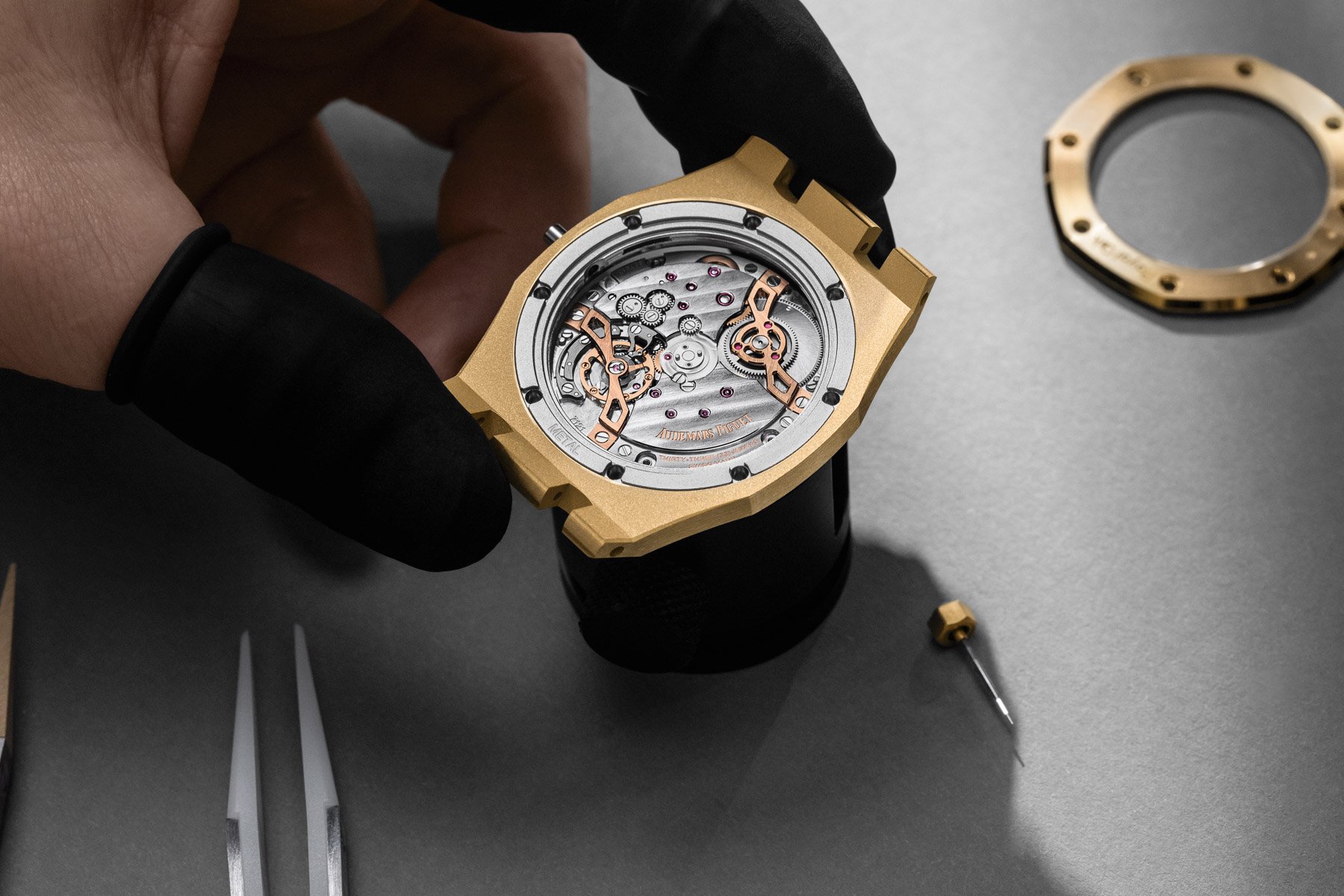 That said, I can also imagine that AP wants these watches to go to the people who truly admire them. As such, the brand wants a built-in mechanism that prevents these watches from being flipped and ending up on Chrono24 for six-digit prices. There's no benefit for AP to see these watches being flipped, other than seeing an increasing demand for them (which they probably can't fulfill anyway). It might be good for the brand's ego to see such high demand and astronomical going rates for a little while. Ultimately, though, it will backfire for sure.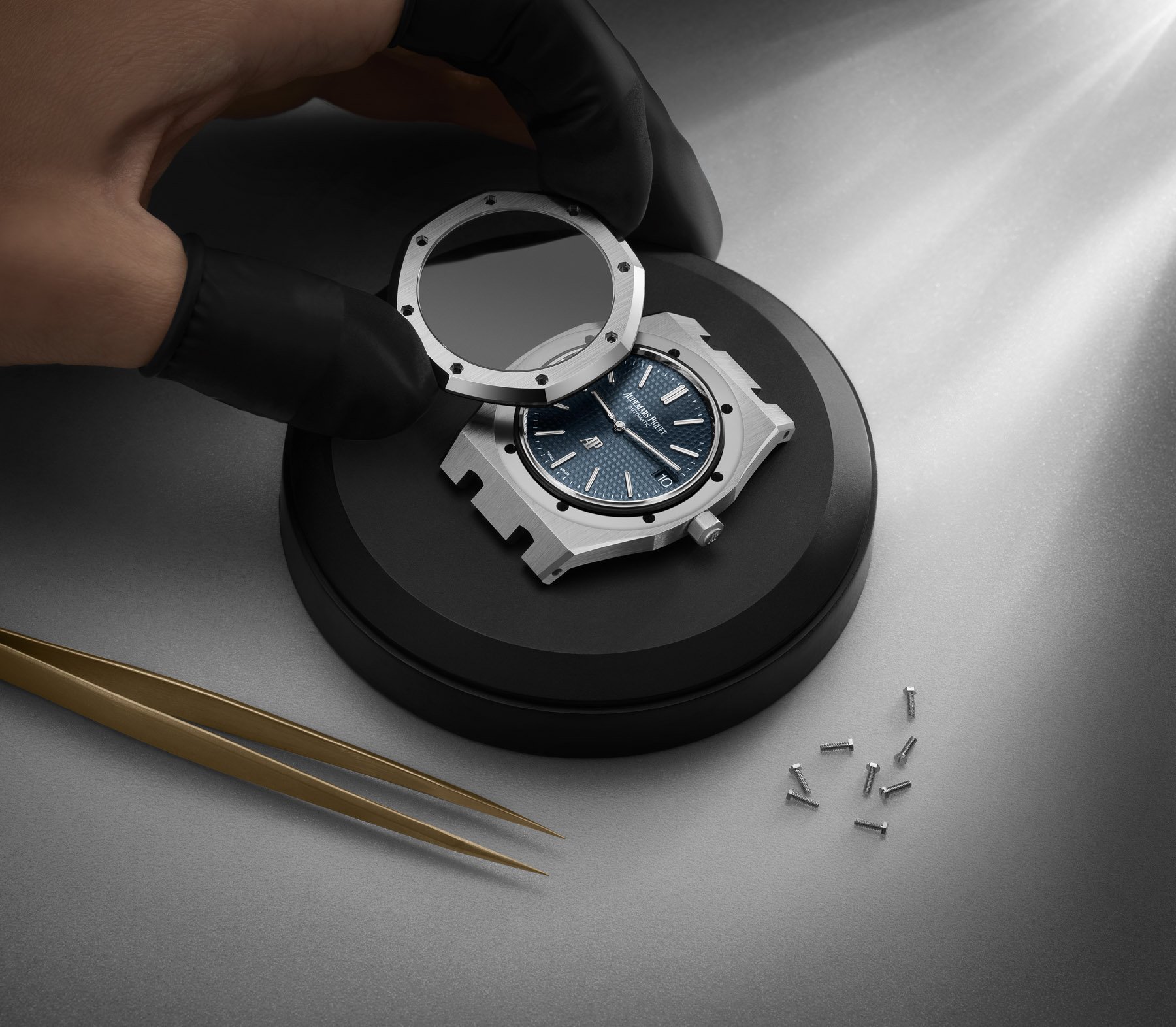 All in all, I am incredibly enthusiastic about this new Royal Oak 16202 Jumbo. The yellow gold version with its smoked yellow-gold-toned dial is my absolute favorite, but given the price point, it will remain a dream. The steel 16202 Jumbo is something I can see myself buying at some point, depending on its availability, of course. It's a worthy successor to my old 15202, with more energy and a stunning-looking dial. The water resistance is still at 50 meters, and that's totally fine for me.
For more information, visit Audemars Piguet online.