Sunday Morning Showdown: PP Nautilus Vs. AP Royal Oak
It's finally time. The Royal Oak dukes it out with the Nautilus. Take your seats. The fight of the century is on...
In this Sunday morning column, two of our writers go head-to-head in an epic showdown for the ages. Strong opinions and hysterical hyperbole are welcome (so feel free to join in with the fun in the comments section below). And don't forget to let us know which watches you'd like to see torn to shreds/effusively exalted next week. We'll try and feature as many of our readers' choices as we can. You asked for it. We (finally) delivered. Perhaps the most hyped punch-up since the Rumble in the Jungle. This week the two RJs go head-to-head. Their champions? The Audemars Piguet Royal Oak and the Patek Philippe Nautilus.
In our efforts to bring something new to the party every week, we can't help but ruffle some feathers along the way. To some, the comparisons of recent weeks have made little sense. Although not always obvious, every pairing has been linked by something, be it aesthetics, intended usage, functionality (relative or objective), or status. This week's duo, however, should need little explanation.
Every single vote will count.
The Royal Oak and the Nautilus share the same designer. They also occupy the same untouchable strata of watchmaking greatness. Do you love one and hate the other? Or do you love/hate them both the same? Either way, sling us a vote (even if you have to toss a coin). This one's going to be close. Every single vote will count. I've teased possible ties in the past. I do NOT see it ending up 50/50 this week, but I honestly have no idea which way the community is going to vote.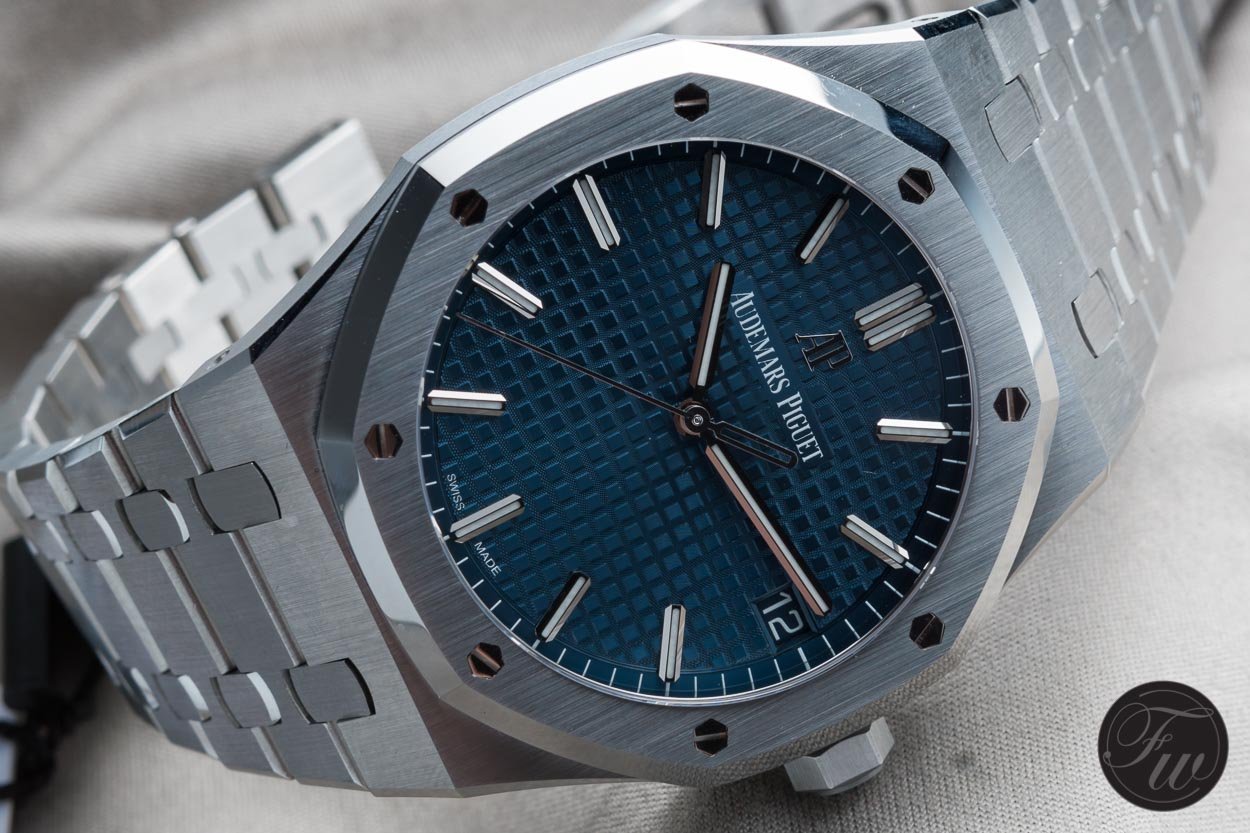 The season so far…
Knowing my luck, you'll be against me when it counts. As infuriating as I'm sure it has been for my victims, I'm on a roll. After stumbling out of the gate to a mediocre 4-6 record, a magnificent seven-game winning streak has seen my W-L ratio jump to 11-6. Last week's triumph was one of the more surprising, as the Grand Seiko "Skyflake" managed to tackle the Rolex Sky-Dweller, sending it crashing down to Earth. I had to call upon my technical reserves (and the best part of 20 paragraphs) to create the necessary separation, but the Fratelli repaid the effort. Thanks! And now I ask for your help once more…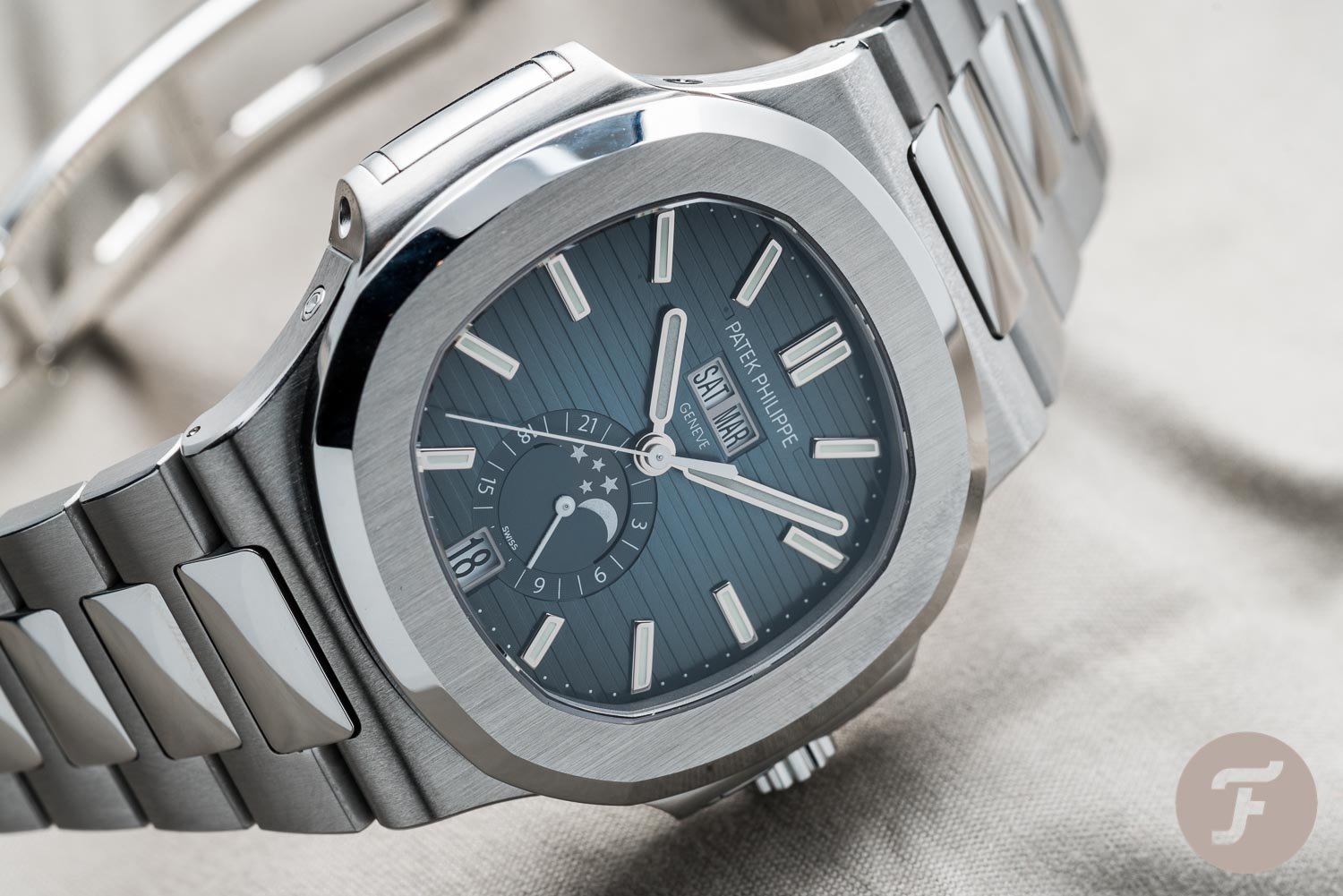 Rob Nudds
The Patek Philippe Nautilus left me cold for years. To say I was a late convert is a bit of an understatement. In our very first Sunday Morning Showdown (which seems like an age ago now), Mike and I dueled over the very same watch. I regaled how my opinion had shifted one "rainy day in Leicester". It has continued to shift further towards the positive ever since…
…who has come close since the very first clock ticked its first tock?
What hasn't been said about Gerald Genta? The man is almost universally regarded as the greatest watch designer in history (I was going to say living memory, but really, who has come close since the very first clock ticked its first tock?). The crazy thing here, though, is that the Genta province counts for naught. Both watches featured this week slipped from the pen of the genius with a double-G.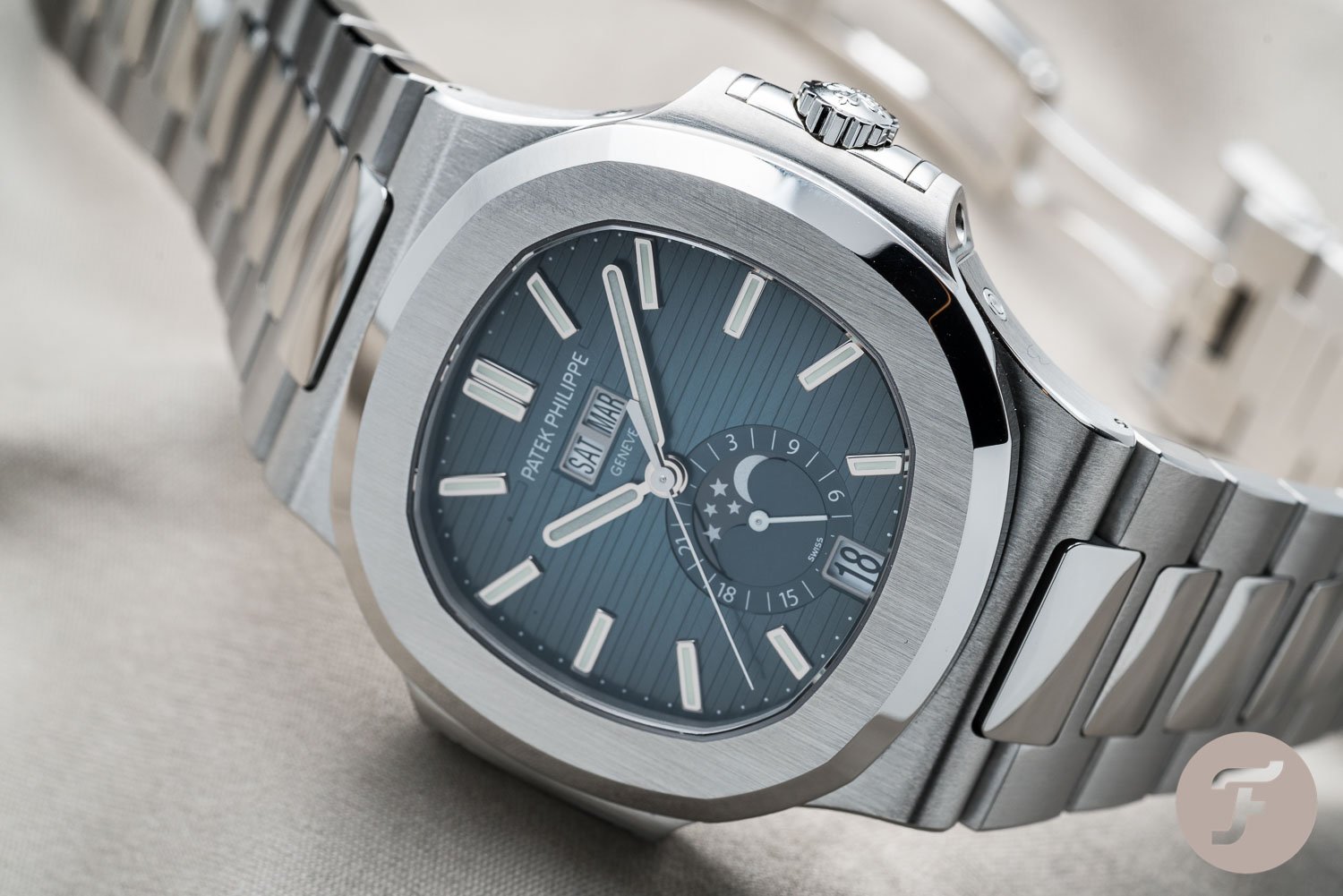 But let's just remind ourselves of something here. The Nautilus came after the Royal Oak. Now, let me be straight with you. I know this fact could easily be spun both ways. Sure, you could say that the Royal Oak is the "original" steel sports watch, and everything that came after is nothing but a pale imitation. But I don't buy that. And I don't think Genta would argue that either.
…a moment of brilliance that changed the direction of luxury watchmaking…
The Royal Oak was a masterstroke. It was a moment of brilliance that changed the direction of luxury watchmaking the moment the ink dried. Recreating that magic would never have been possible. But refining it? That's exactly what I believe Genta did with the Nautilus.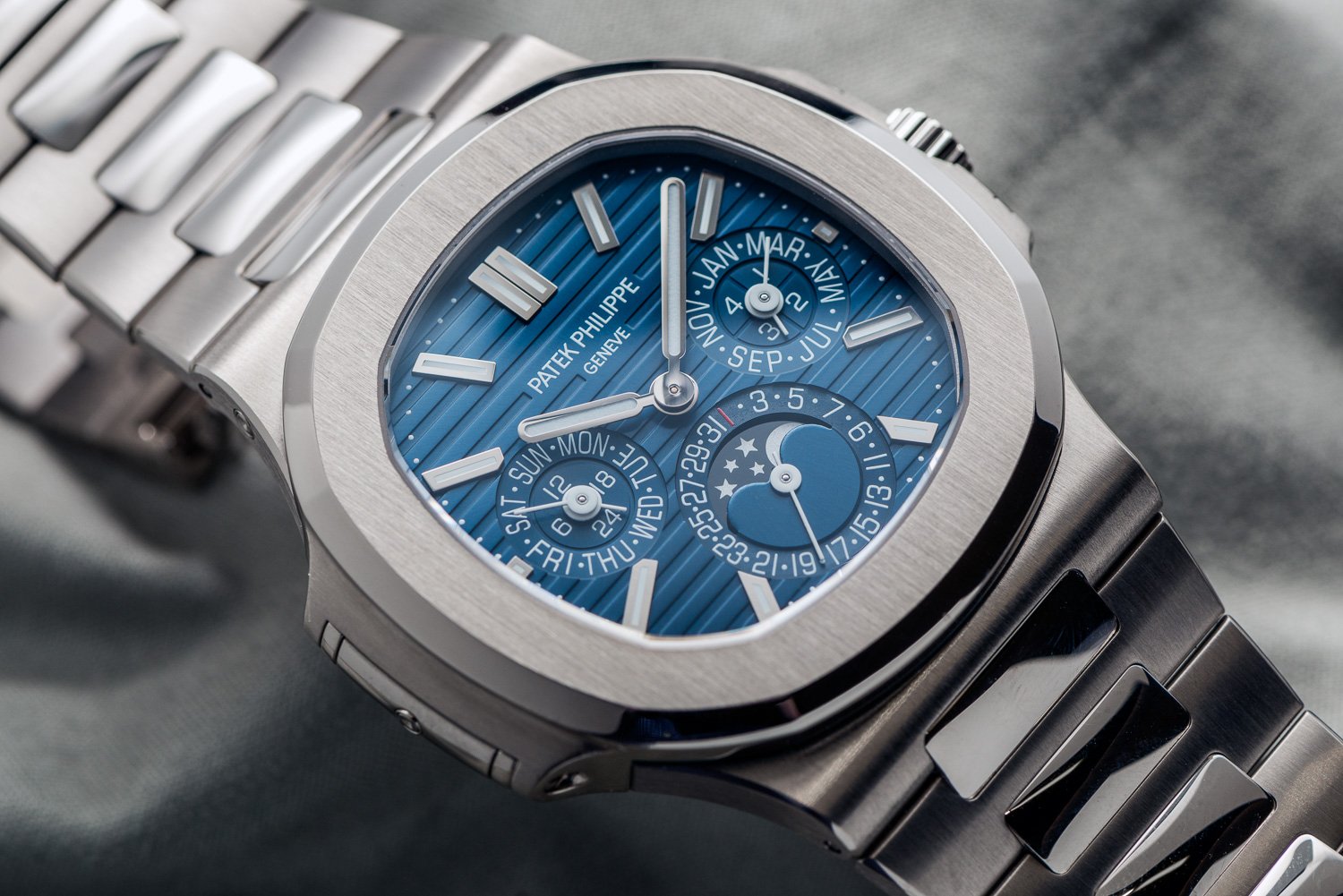 I'm sure many of us have been blessed with some pretty good ideas in our time. Even if an idea turns out to be a good one, do you not often find that later down the line, with a couple of years' hindsight in your back pocket, that you could name one or two things you would change? For me, imagining that Genta didn't look at the Royal Oak and wonder, "What's next?" with every waking thought seems unlikely.
…the triumphant proof that Genta was not a one, or two, or three trick pony.
For a world-renowned designer, being defined by a singular work is a terrifying thing. Remaining relevant, remaining dynamic, remaining influence is what these brilliant minds live for, no? And so, in my mind, the Nautilus is the triumphant proof that Genta was not a one, or two, or three trick pony. But rather, he followed what looked like a career-wrapping release with an apex never before reached.
Remember: Genta had one day to design the Royal Oak (or even less if you believe the stories). He duly obliged. He then had years to consider how to perfect a genre of watch he'd created with a lightning bolt of inspiration. In my opinion, he did it.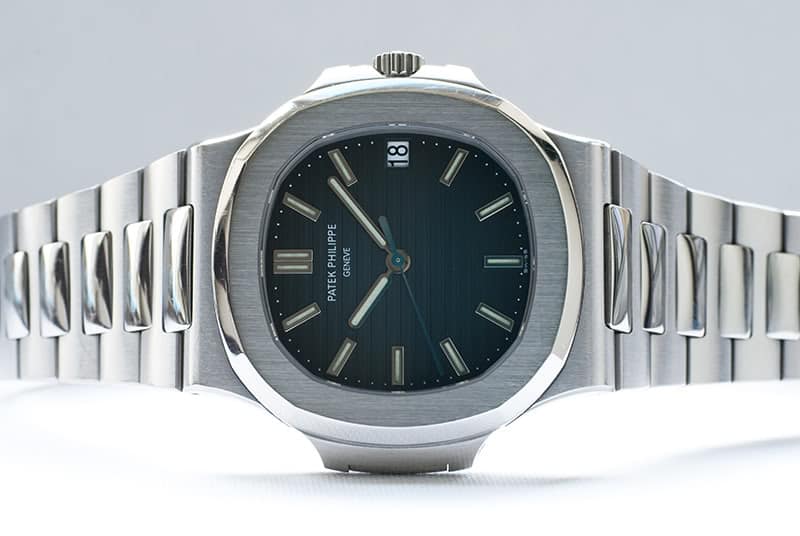 The Patek Philippe Nautilus is the greatest steel sports watch ever made. It has the Audemars Piguet Royal Oak to thank for that fact, but it doesn't change the sweet truth. Genta refused to give up and it paid off. For him, his legacy, and the entire watch community. What do you say to that, Argy-Bargy?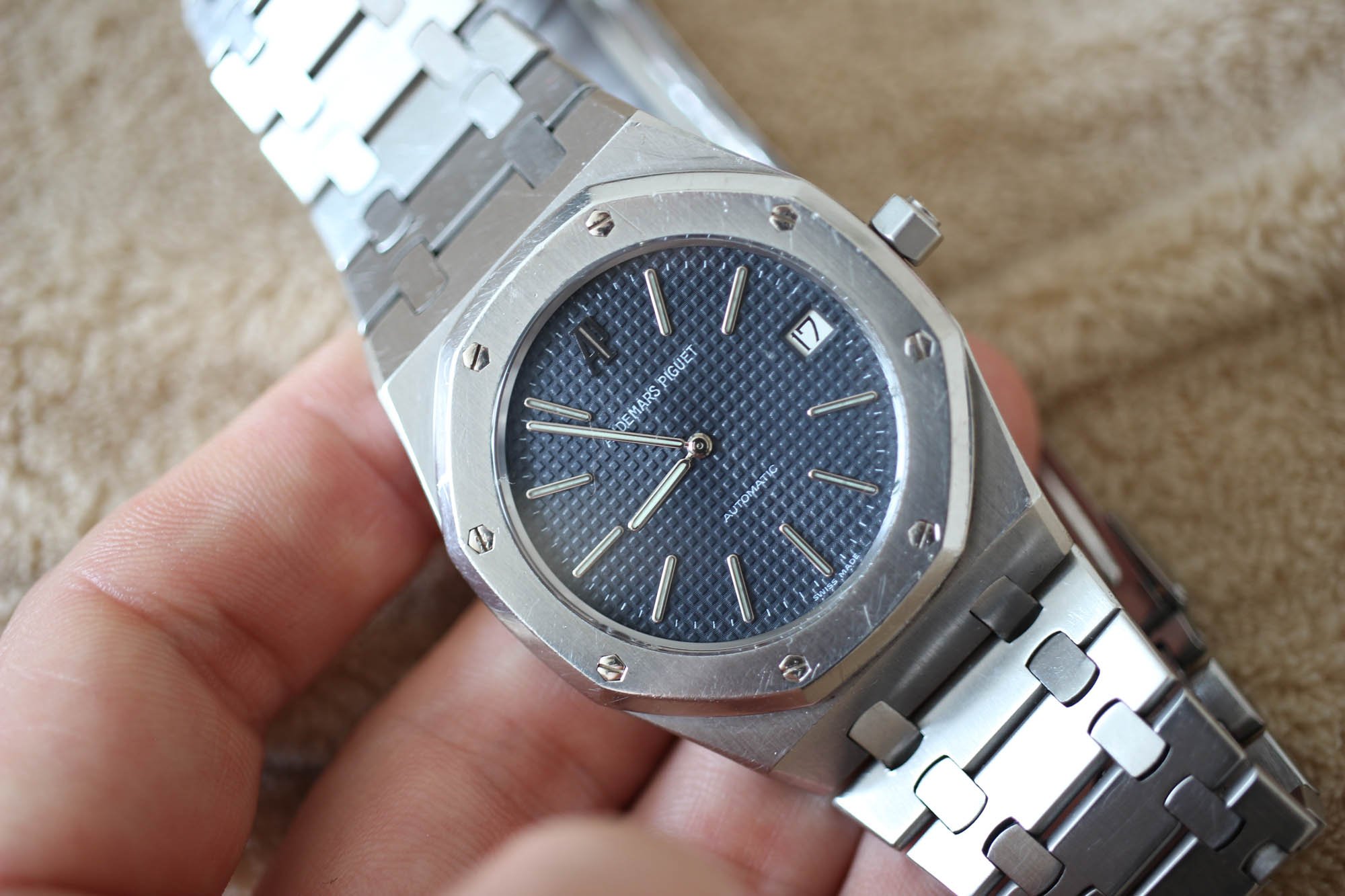 RJ
You either love it or you hate it. Only a few people will come to love it over time when there is no love at first sight. Before I will go into the showdown mode, let me share with you how my love for the Royal Oak started. In the 1990s, when my interest in watches reached a certain level, I was exposed to the Royal Oak. It was love at first sight. What an amazing piece of engineering. Only later on, I learned about the differences between the 36mm and 39mm models. And then, of course, I met the Royal Oak Offshore.
…better than all the ambassador and paid influencer nonsense…
At some point — I think it was 2000 — I received an Audemars Piguet catalog and it had this testimonial inside from one of their clients. This client bought a pre-owned Royal Oak 15202 "Jumbo" in shitty condition and had it fully restored by Audemars Piguet. I think that was a kick-ass move by Audemars Piguet to include a testimonial of someone — Bruno Rubinksi —who bought one pre-owned — better than all the ambassador and paid influencer nonsense we see these days. Anyway, that's a different topic for another time.
Bruno Rubinksi
My road to the 15202
I was impressed by this testimonial in one of the brand's catalogs. It certainly "influenced" me to chase my dream to own such a piece one day. At the time, the Royal Oak 15202 was much cheaper than today but still unobtainable for a student. That changed in 2008 when I was working for an investment bank in The Hague. I finally had some extra money to spend. I decided to take the plunge and purchase the 15300. Admittedly, not a 15202 with caliber 2121 but still an impressive Royal Oak model.
…an incredibly nice-looking self-winding movement.
Then, in 2009, I had the opportunity to trade the 15300 to a 15202, with some cash from my side. In total, I think I paid €7,500 Euro for the 15202ST. The 15202 was — and is — in my opinion, the Royal Oak to have. It is most true to the original reference 5402 Royal Oak that was designed by Genta in 1972. It has the same case dimensions. Keeping it on my wrist is the same thin bracelet. And, let's not forget, it has an incredibly nice-looking self-winding movement. Later on, in 2010 or 2011, I added the Royal Oak Chronograph 26300. I just did it to be sure. That watch wasn't for me, so I sold it two years later. I kept hold of the 15202.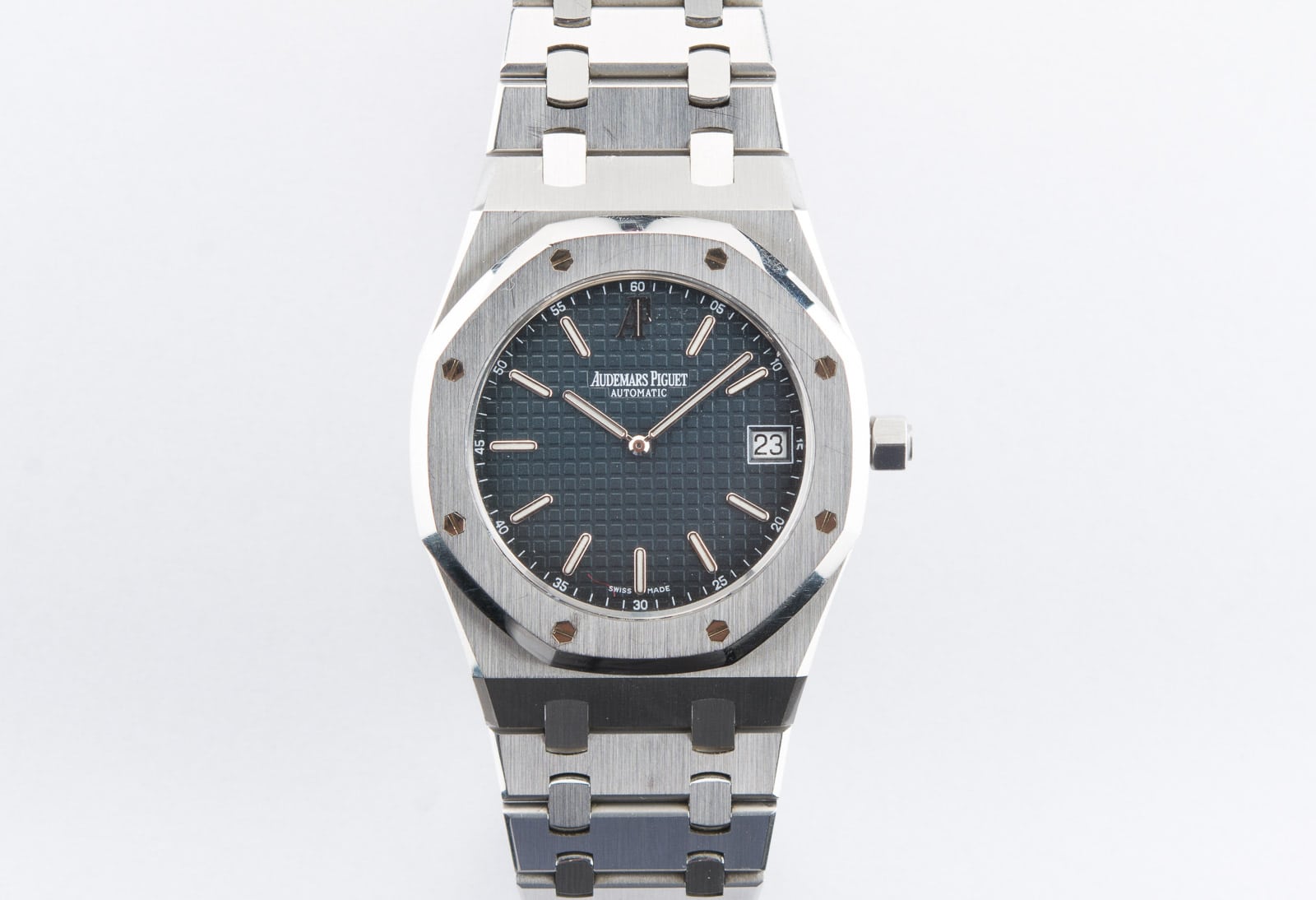 Why I didn't buy a Nautilus
The above explanation is not the full story. It lacks an important component — the Nautilus 5711/1A. At the time, in 2009, the Nautilus had about the same retail price as a Royal Oak. But, it didn't depreciate as much, so where a pre-owned 15202 could be picked up for €7,500, a new (or pre-owned) Nautilus was approximately 13.000 Euro.
The Nautilus was that other watch…
As I share with you above, I worked for an investment bank and the bonuses were not to be sniffed at. At some point, I had the Royal Oak 15300 and had to decide whether I'd trade it up for a Royal Oak 15202 or go for a Nautilus. The Nautilus was that other watch that I really admired. So I reached out to Gerard, who owned one at that time. He gave it to me to wear it for a week or so, to make the decision a bit easier. And easy it was!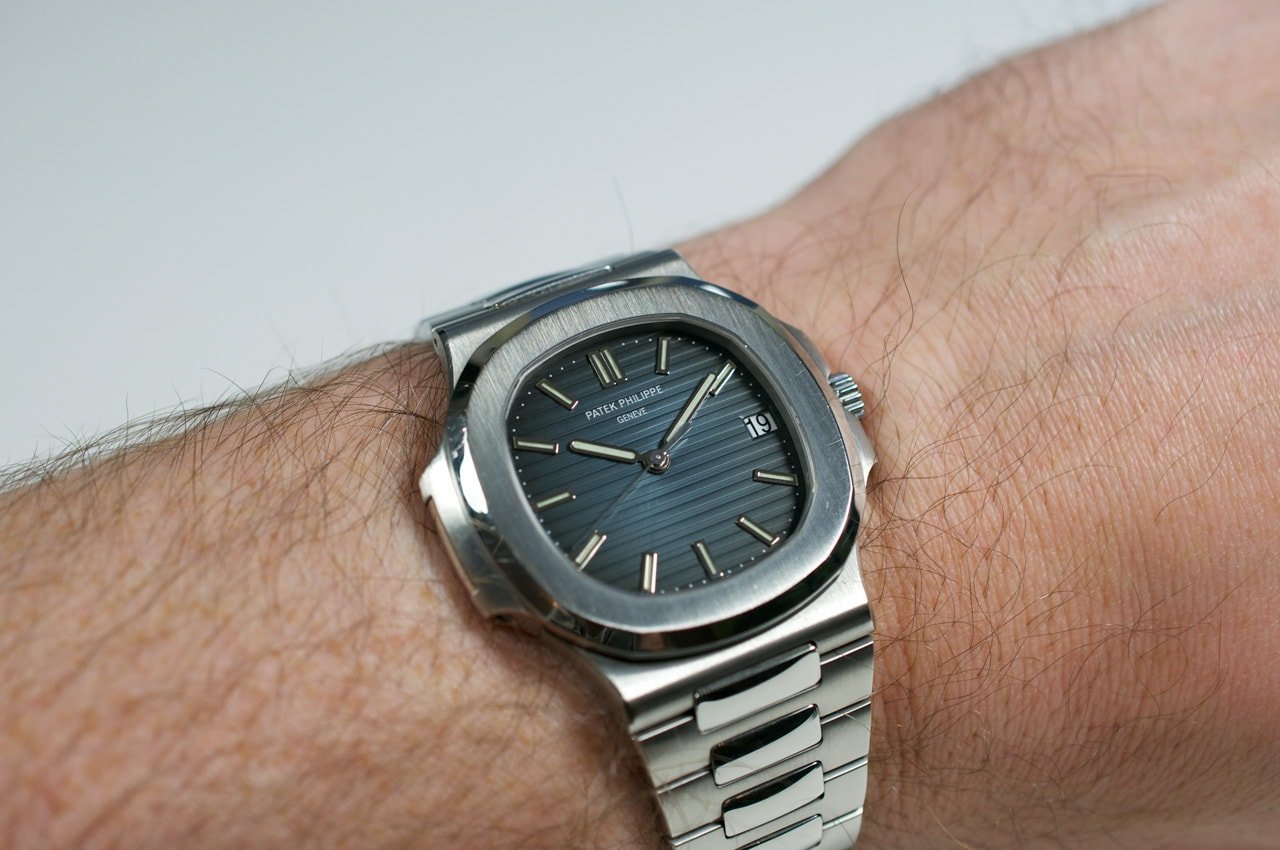 Not for me
Even though the looks of the Nautilus are appealing to me, it had a totally different feel on the wrist. Where the Royal Oak has a properly integrated bracelet, the Nautilus doesn't. The bracelet is nicely connected (for the eyes) to the case, but if you grab the Nautilus by its head, the bracelet will just hang down. The synergy between the case head and bracelet is merely optical, not technical. Also, the Nautilus 5711/1A is not a monobloc case like the first 3700/1A was. The 5711/1A has a bezel, mid-case, and case back. The 15202 has a monobloc case, everything needs to go in and out via the crystal.
Oh, and the Nautilus 5711/1A has a seconds hand. I don't want one on this watch. The 15202 won hands down for me. Besides the truly integrated bracelet, monobloc case, and brilliant self-winding movement (with no seconds hand), the design is a bit more "raw" and true to Gérald Genta's first design.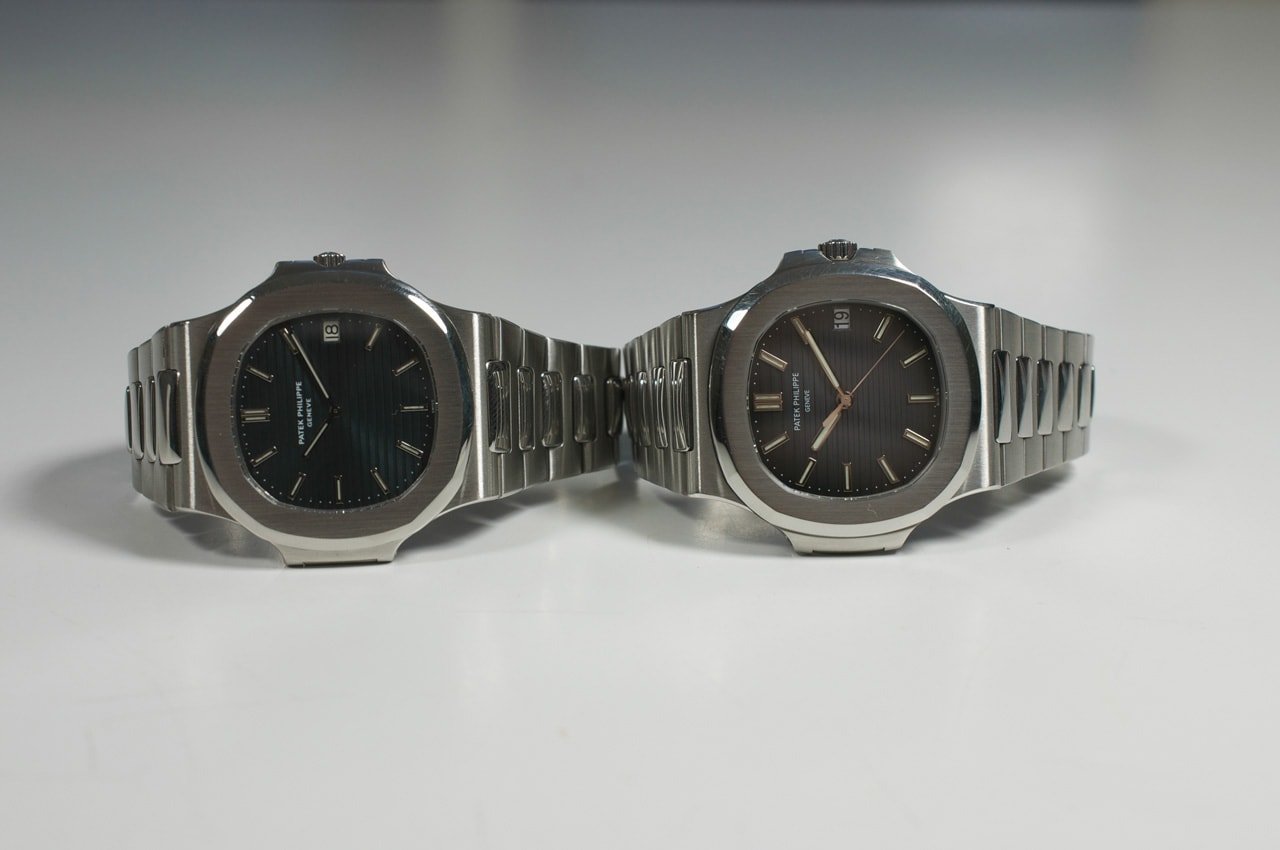 The others
Rob, I have to admit that I don't care much for the other Royal Oak models. It is the 5402, 14802, 15002, or 15202 for me. I respect and like some of the other Royal Oaks, including some Offshores, but the "Jumbo" or "Extra-Thin" — as some marketing genius renamed them — is the one for me. That said, the same applies to the majority of Nautilus (or is it "Nautili" in plural?) models. I either like the 3700/1A, the 5711/1A (but not as much as the Royal Oak 15202), and the rest is nice, but not for me.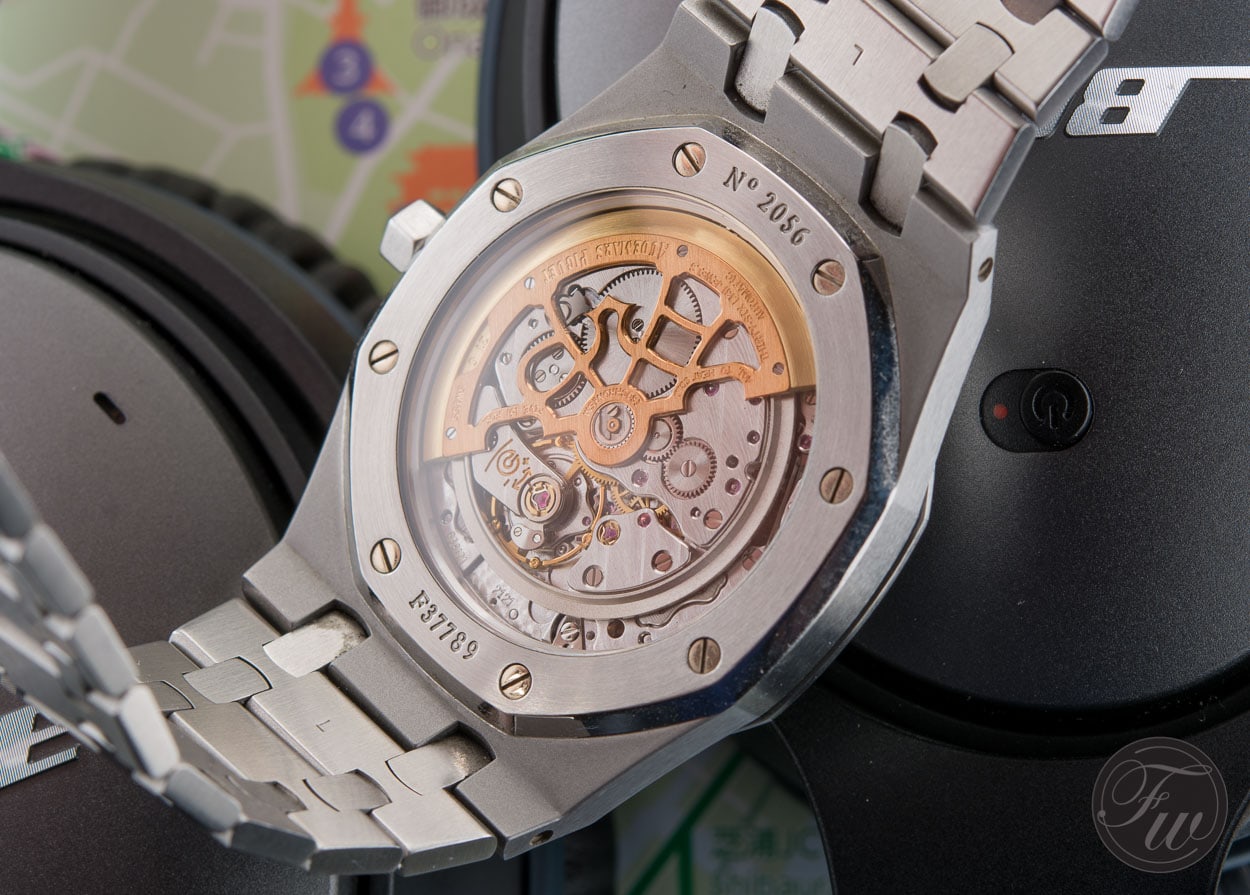 If you make me choose between Nautilus and Royal Oak in general, I will still stick to Genta's first. Just based on personal preferences, I don't care that it was really his first luxury sports watch. Or, better said, the design is more important to me than the story of it being the first. Let me also tell you, Rob, that last year I sold my Royal Oak 15202, after 10 years of ownership. There's too much Royal Oak & Nautilus going on in the world right now, I never wore mine — except during SIHH (now Watches & Wonders) — anymore. The fact that AP's CEO is not the most pleasant person to be around — although I admire him for his success with the brand — also didn't help to make me decide to keep it.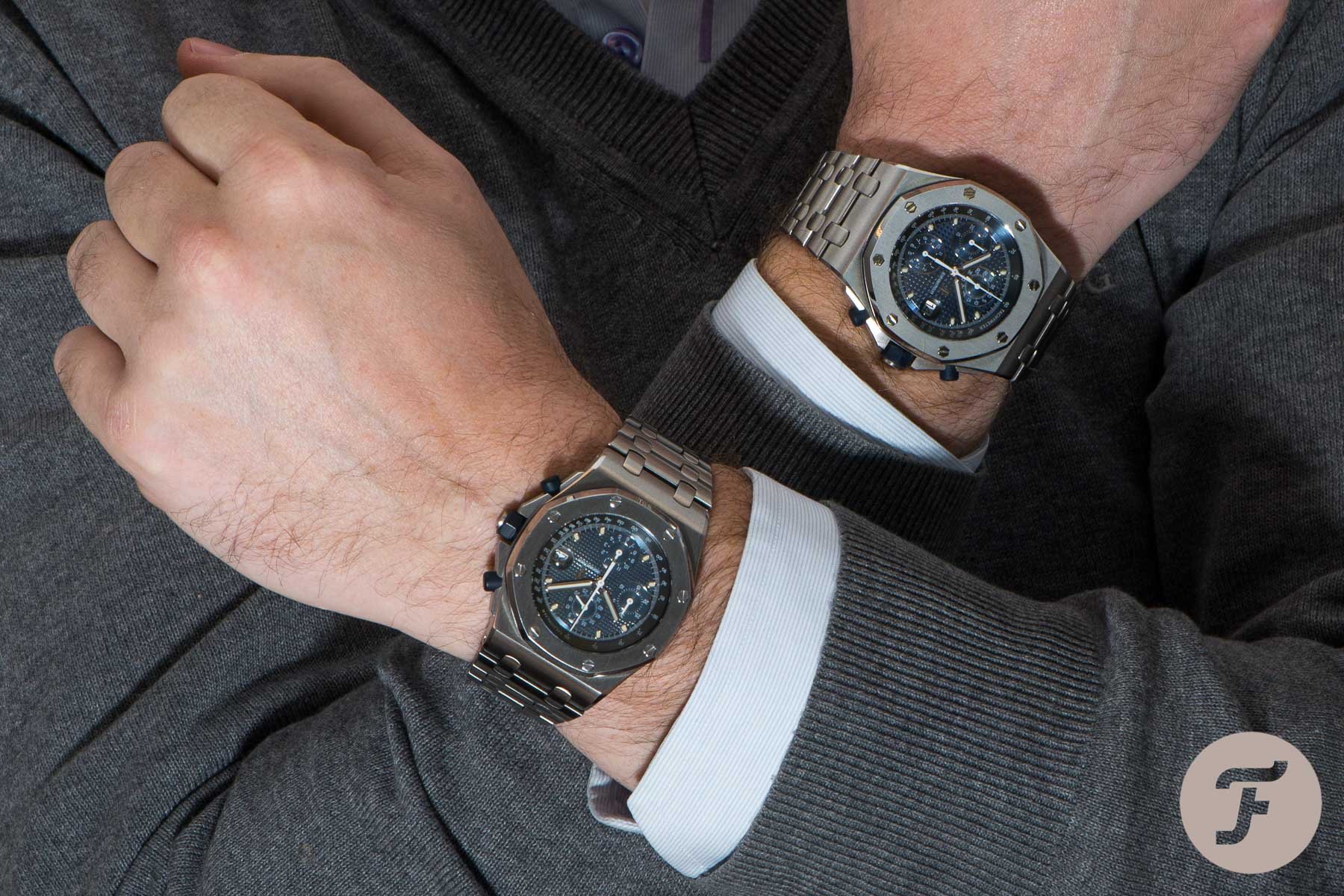 In the end, I think that the Royal Oak is a more versatile watch. Not only the 15202 but also the general DNA. Look at the variety of models the brand makes, its concept watches, the Offshore models. AP doesn't need the Code-11:59 stuff, nobody buys that anyway (or have you seen one in the flesh recently?). For Patek, the Nautilus is just one of their models. But whose side will the Fratelli (not Fratellus) be on this week! Vote now to help settle the age-old argument.
Patek Philippe Nautilus Vs. Audemars Piguet Royal Oak