Baselworld 2015: The New Sinn Watches
When visiting Baselworld, one can't help but be impressed by the size of the displays in Hall 1. This is the home of the big brands: Rolex, the Swatch Group, Patek and on and on. Once you've had your share of the bright lights, though, it's important not to forget the smaller brands sitting in Hall 2. One of the highlights for me every year sits in the "Hall of Small" and that's Sinn. You see, this was my first year attending Baselworld as a member of the Press with Fratellowatches but I did visit as a public attendee the prior 2 years. It was fun for me just to view the watches through the glass but I will always remember that it was Sinn that actually let me handle their new watches without a press pass. Yes, the folks at Sinn are some of the nicest around and their lack of attitude carries through in their purposeful, no nonsense watches. 2015 is no different, so let's take a look at the 7 new novelties.  By the way, pricing quoted is only for the German market or markets in Europe where Sinn has direct sales.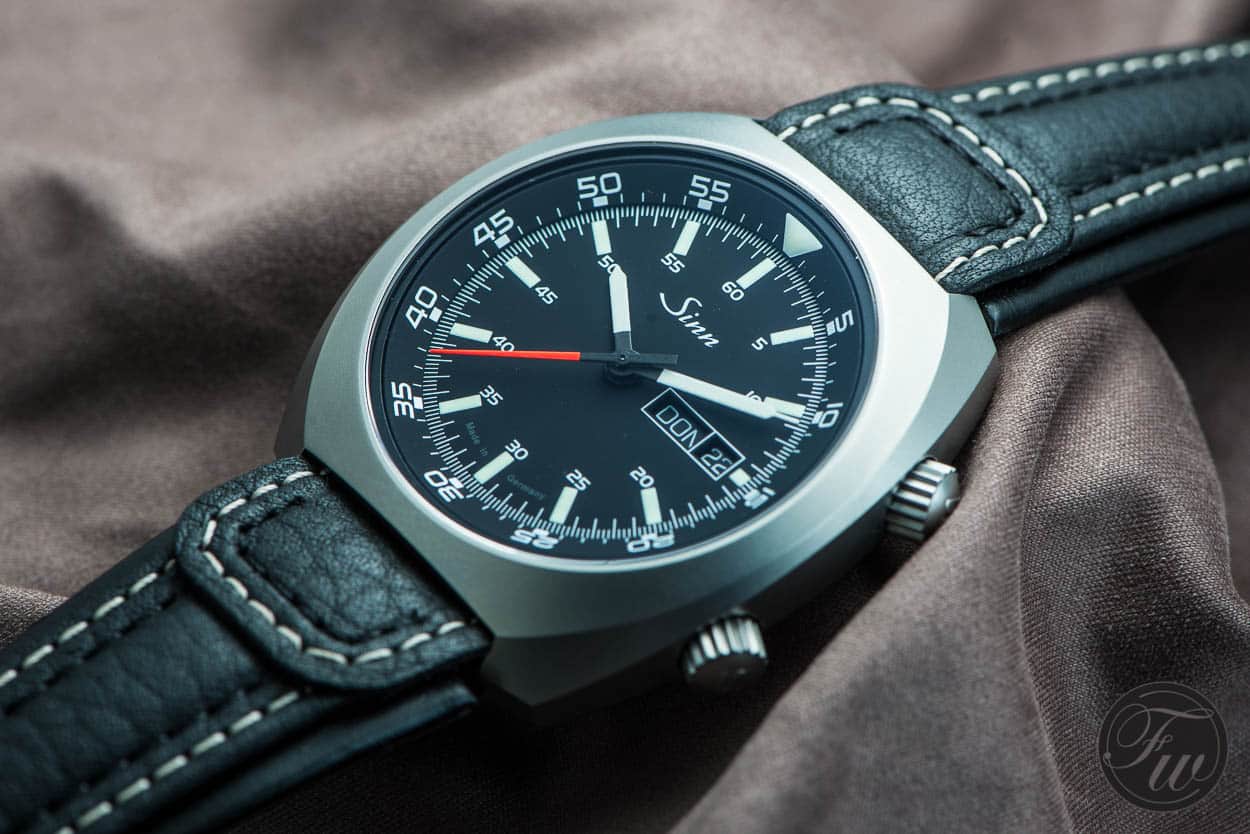 Sinn 240 St
The 240 St comes in at 43mm with an internal rotating pilot's bezel actuated via the upper crown. The case is made of stainless steel and uses a hacking Sellita SW 220-1 with day and date display. 100 meter water resistance and DIN tested shock resistance and anti-magnetic qualities are also featured. Lug width is 22mm. Pricing will be 1,350 Euros on leather and 1,505 Euros on bracelet.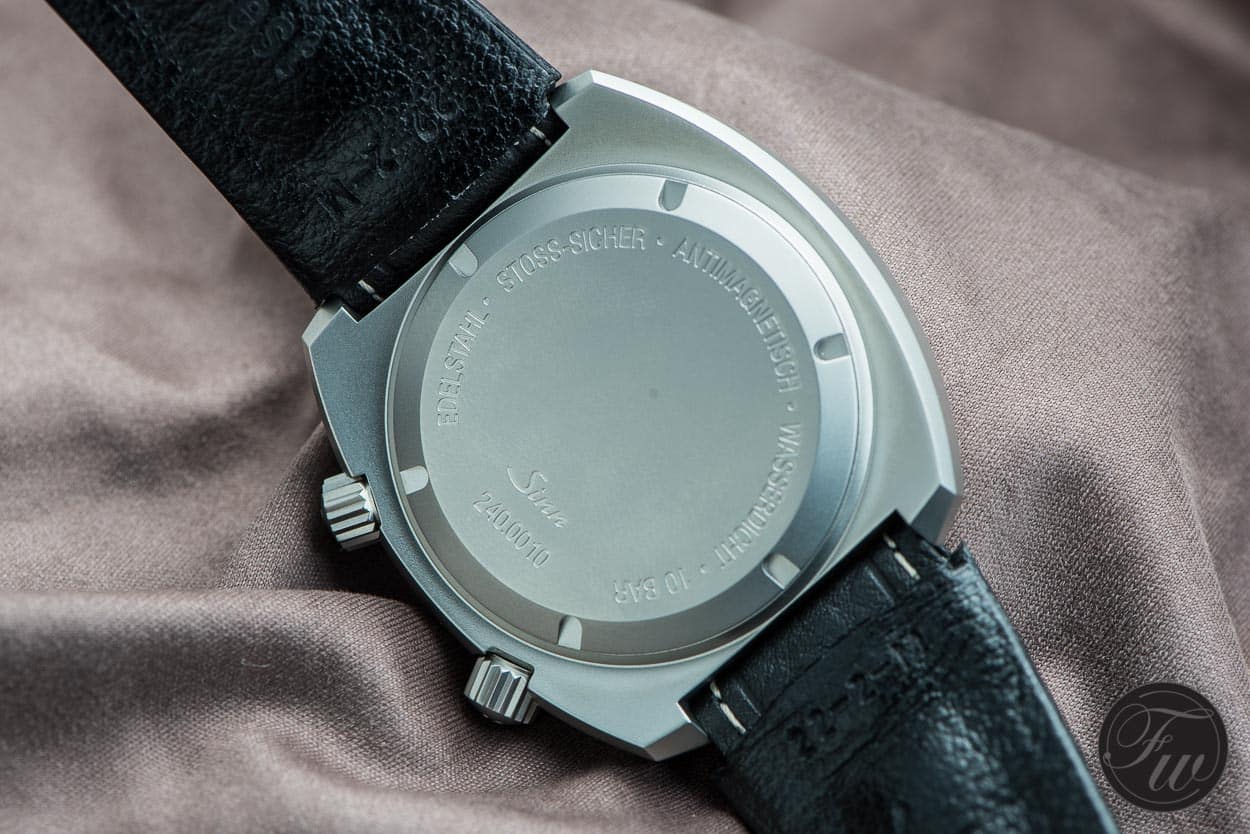 My thoughts: The 240 St should be a big hit for Sinn. It's well-priced and follows the case design of the legendary 140/142 chronographs. Also, super compressor style vintage watches are extremely popular right now and the Sinn 240 St adeptly captures that trend. When I saw it, I immediately thought of a vintage Longines Ultra-chron that I had recently considered for purchase; this could fill the void for me while offering the reliability of a new watch.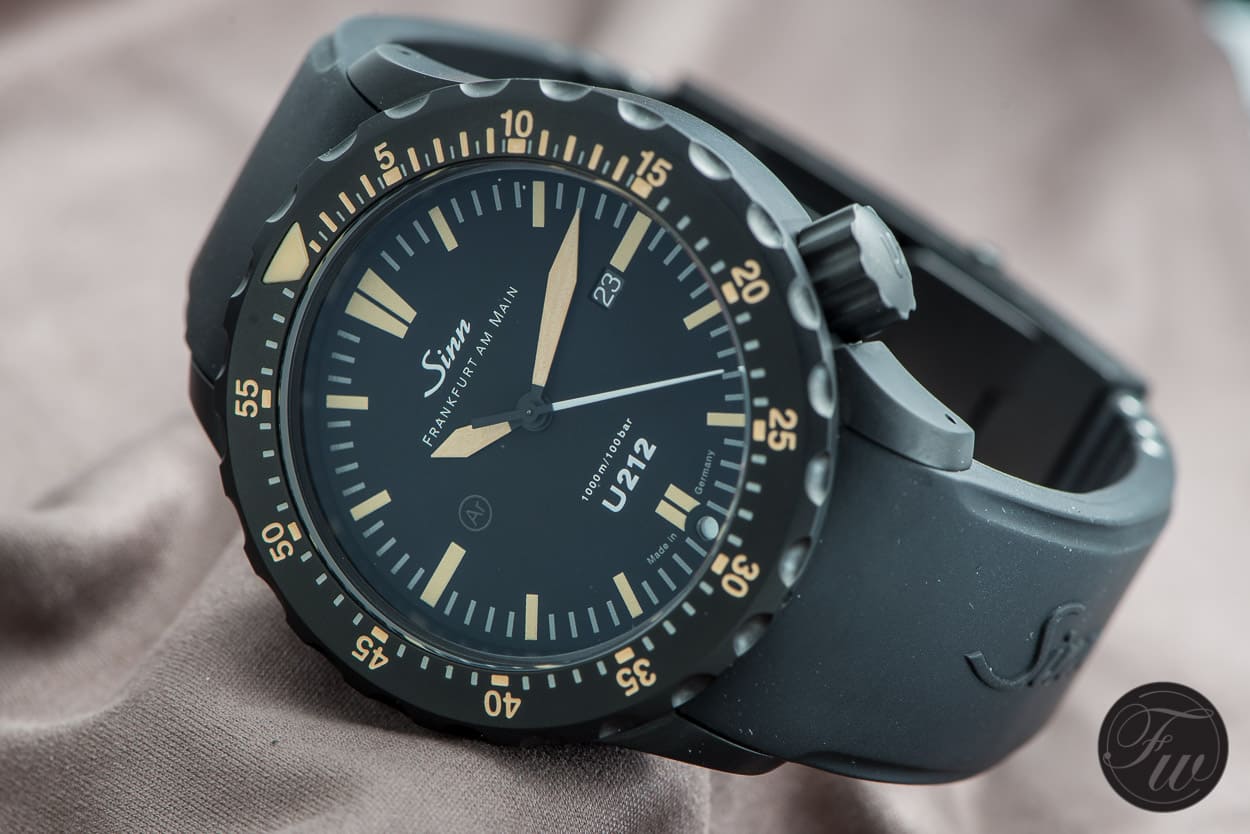 Sinn U212 S E
The U212 S E is a limited edition model of 300 pieces and like others in the U family, it is made of submarine steel. It has 1,000 meter water resistance and features a scratch resistant, tegimented case with Sinn's Ar-dehumidifying technology. The ratcheting bezel is external. Case size is 47mm with a case thickness of 14.5mm and a lug width of 24mm. The movement is Sellita's SW300-1. Pricing will be 2,360 Euros on leather and 2,590 Euros on silicone.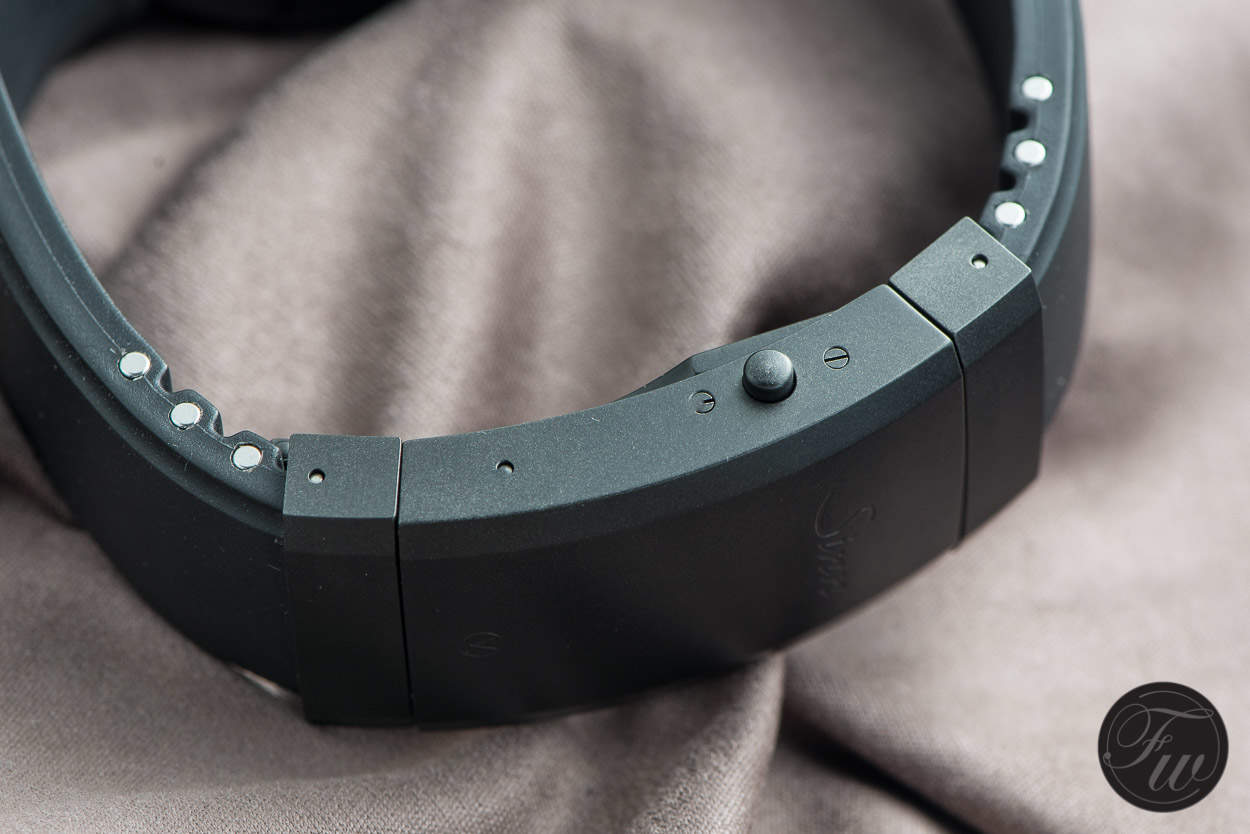 My thoughts: The U-series is incredibly popular amongst fans of the brands it's arguably the collection of watches that put the brand on the map. In this case, you have a rugged looking diver with a black case combined with vintage lume and a destroy crown position. It's an attractive watch, but I'd expect some criticism over the use of what some might call faux patina on an otherwise very non-retro watch. Then again, with a production run of only 300, this should sell out easily.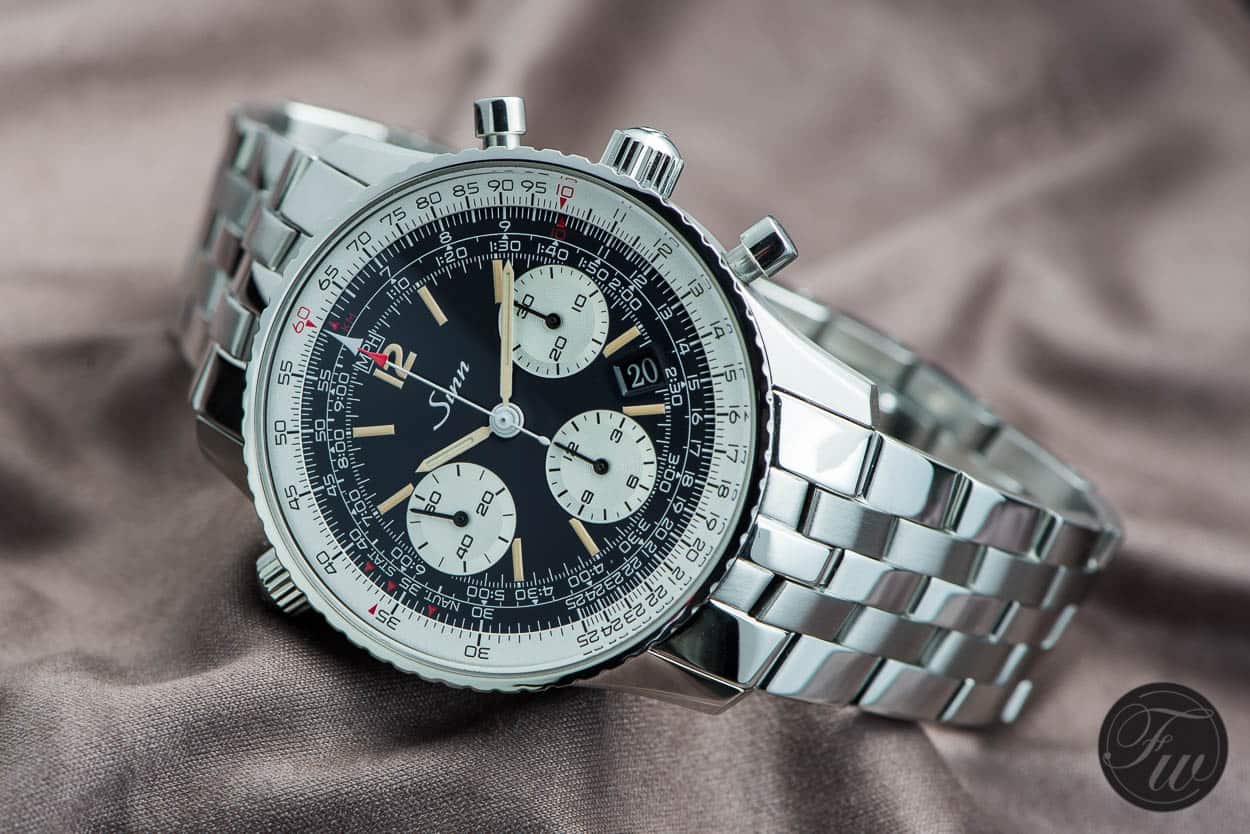 Sinn 903 St B E
The 903 St B E is a tri-compax styled chronograph with date function and internally rotating bezel. It has a navy blue dial and joins a collection of existing similar models that have a white or black dial. The 903 has an automatic movement based on the Sellita SW 500 and can be seen through a sapphire display case back. The case is 41mm in diameter and 14.5mm thick. Lume is done in ivory and the watch has a water resistance of 100 meters.  Pricing will be 2,690 Euros on leather and 2,925 on metal bracelet.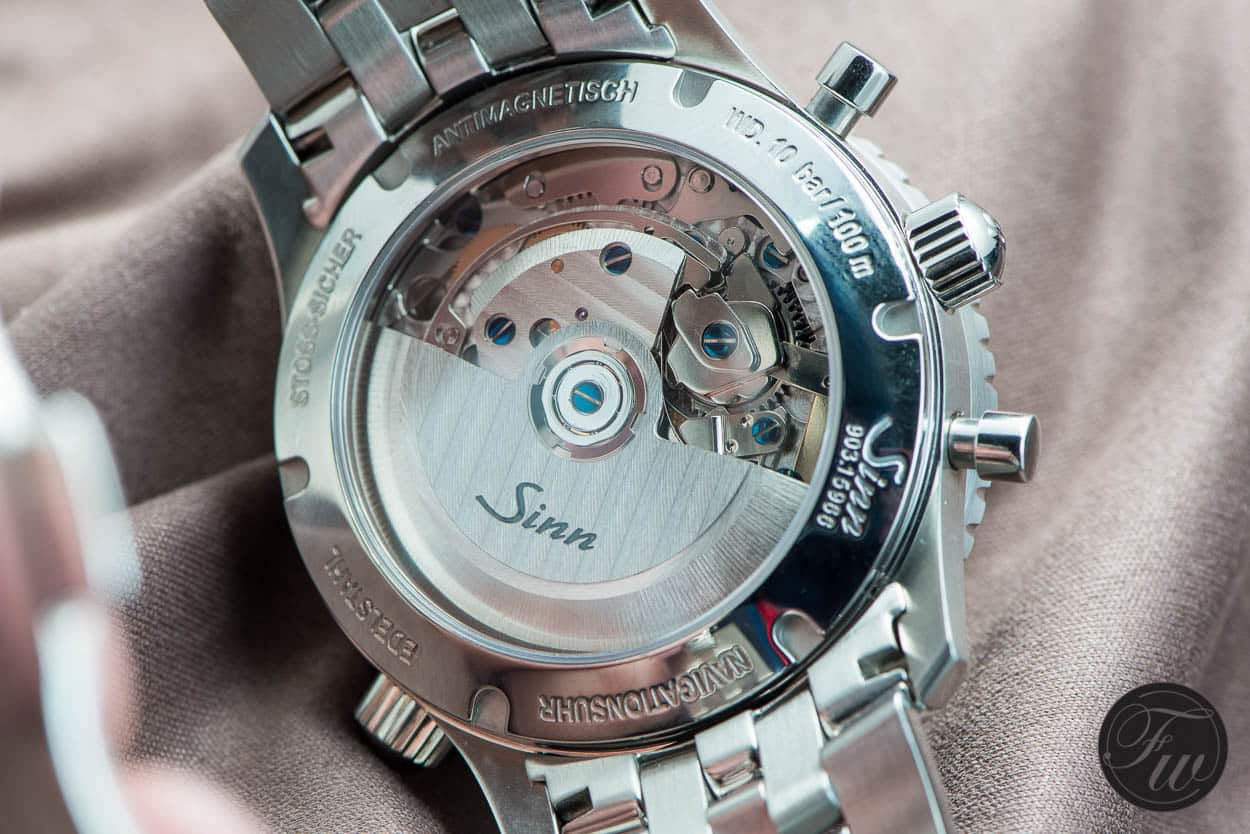 My thoughts: I love this watch. The navy dial looks great and the overall detailing on the dial is of a quality that, in my opinion, easily bests similar competitors (ahem, Breitling). Yes, it does look like a Navitimer, but there are reasons for that stemming from a time of turmoil in the watch industry and, needless to say, Sinn has a bona fide right to make this watch. In any case, while I find the bracelet a bit too shiny, the watch would look great on a strap. The size is perfect for most wrists and this watch looks like it would work for just about any occasion.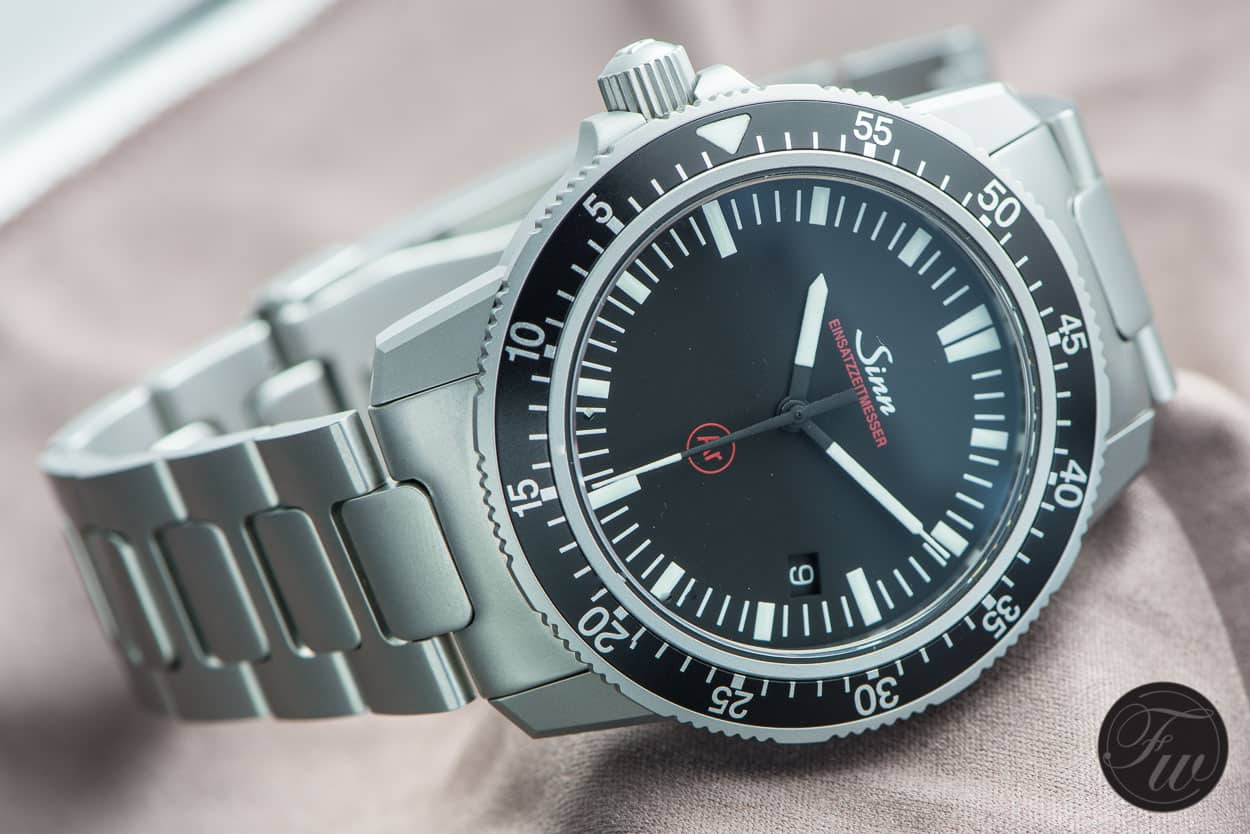 Sinn EZM 3F
Sinn introduces a new model in their EZM series with an external bezel, magnetic field resistance of up to 80,000 A/m and water resistance of 200 meters. The watch features a crown on the left side of the case for added wrist comfort. The bead blasted stainless steel case is 41mm and 13mm thick. Lug width is an even 20mm. Ar-dehumidifying technology is also present. Date display is at a unique 3:30. The movement on the EZM 3F is the ETA 2824-2. Price will be 1,490 Euros on leather and 1,625 Euros on metal bracelet.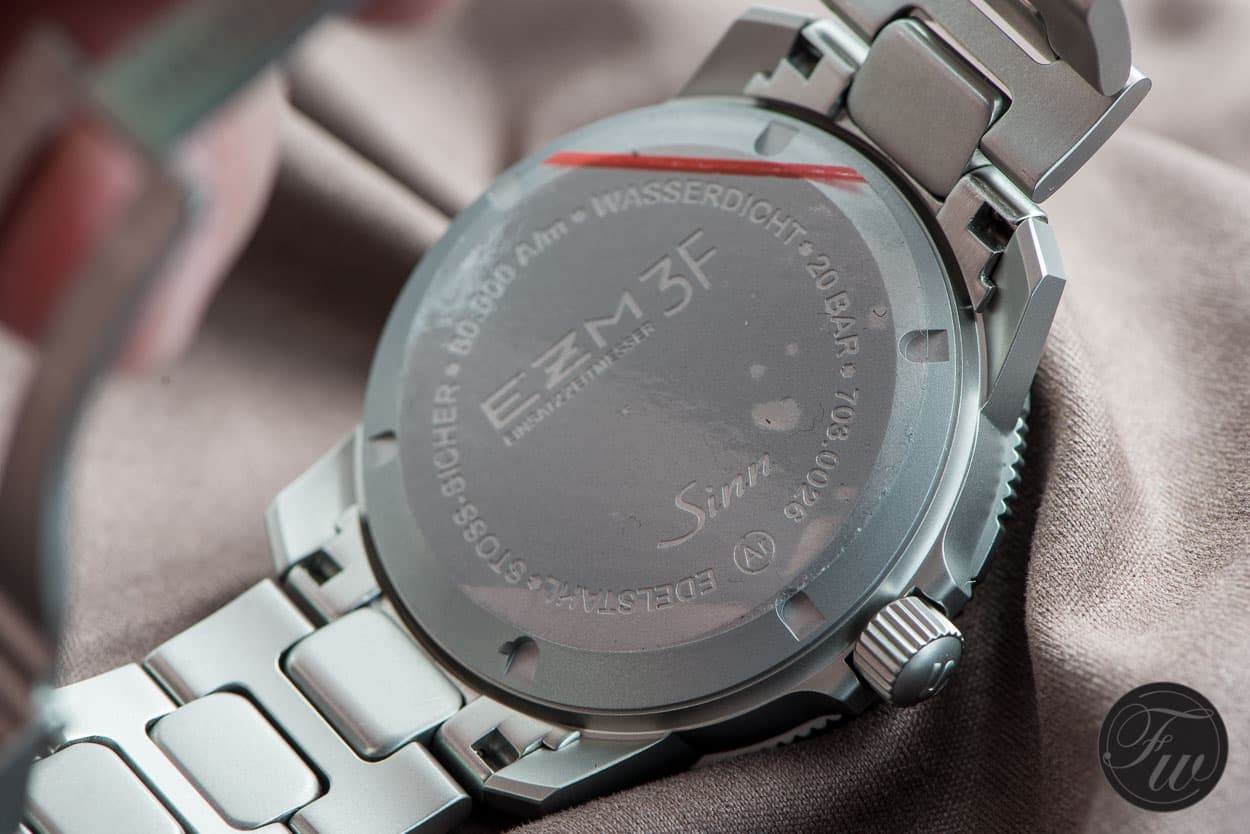 My thoughts: This watch felt perfect on the wrist and while it is quirky, this is a real watch for Sinn-ophiles. I've done some reading on Sinn forums and this watch really seems to be one that the addicts were requesting. There's no doubt that the EZM 3F is a formidable tool-watch with its bezel, water resistance and strong anti-magnetic properties. To boot, the price is very affordable.
Sinn EZM 7 S
Sinn's Mission Timer 7 comes to us in a limited edition of 300 pieces. It contains 200 meter water resistance, 80,000 A/m anti-magnetic properties and Ar-dehumidifiying technology. It has a stainless steel, Tegimented case at 43mm and 12mm thick. The color-coded bezel is easy to use wearing gloves and the colors aid those wearing breathing apparatuses. Essentially, the watch was designed for firefighters. The EZM 7 S contains a GMT function and is powered by the ETA 2893-2. Pricing will be 2,190 Euros on leather, 2,420 Euros on silicone, and 2,485 Euros on metal bracelet.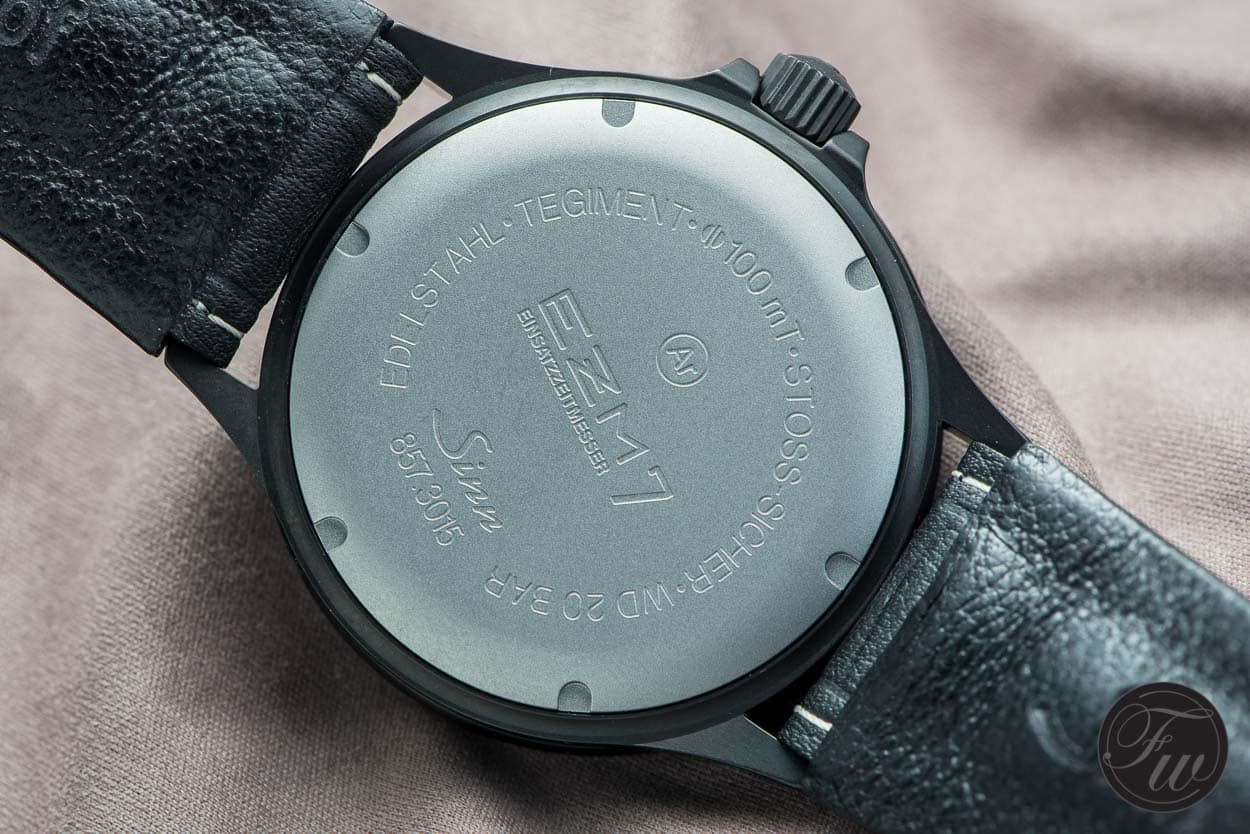 My thoughts: There's no doubt that Sinn designs special watches for niche uses and the EZM 7 S defines this. With only 300 to be produced, I'd expect it to be popular amongst those in the emergency rescue field. Aesthetically, it's a bright piece but looks and feels like it could literally bust through a wall. It probably wouldn't be my choice but there's no doubt that it's well crafted.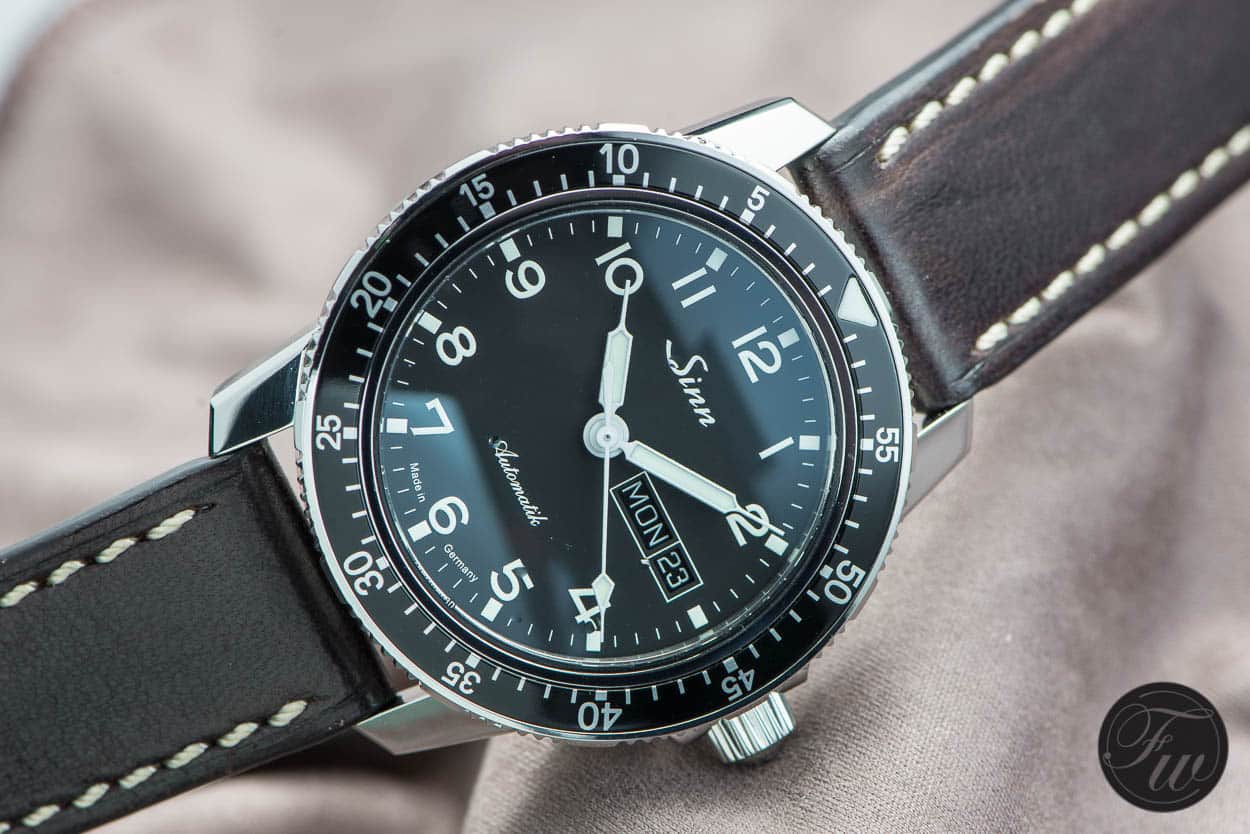 Sinn 104 St Sa
The Sinn 104 St Sa brings a new dial to the extremely popular and inexpensive 104 family. The dial ushers in one with Arabic numeral hour markers. A 41mm stainless steel case with an anti-reflective crystal and display back is present. A screw down crown aids 200-meter water resistance. Hands come in a syringe style while the dial shows day and date. The movement is the Sellita SW 220-1. Pricing will be 990 Euros on leather and 1,225 Euros on metal bracelet.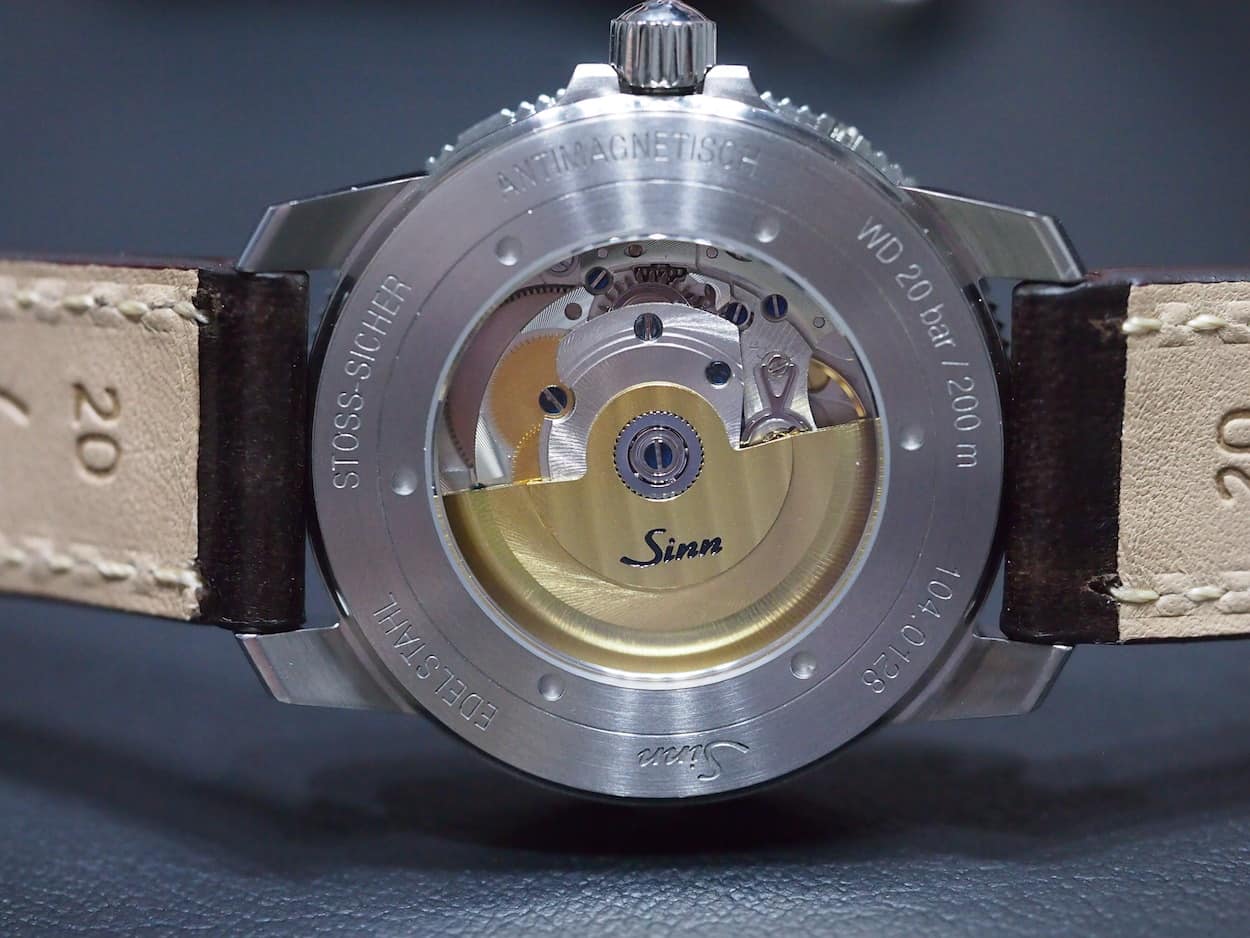 My thoughts: This was a no-brainer and will sell very well for Sinn due to great, classic looks and a great price. I think this is really one of Germany's best pilot's watches. The quality is fantastic and it really wouldn't look out of place at any function. As you can tell, I'd wear this watch happily. In the future, I'd love to see Sinn make this watch without a date: that would really be something special.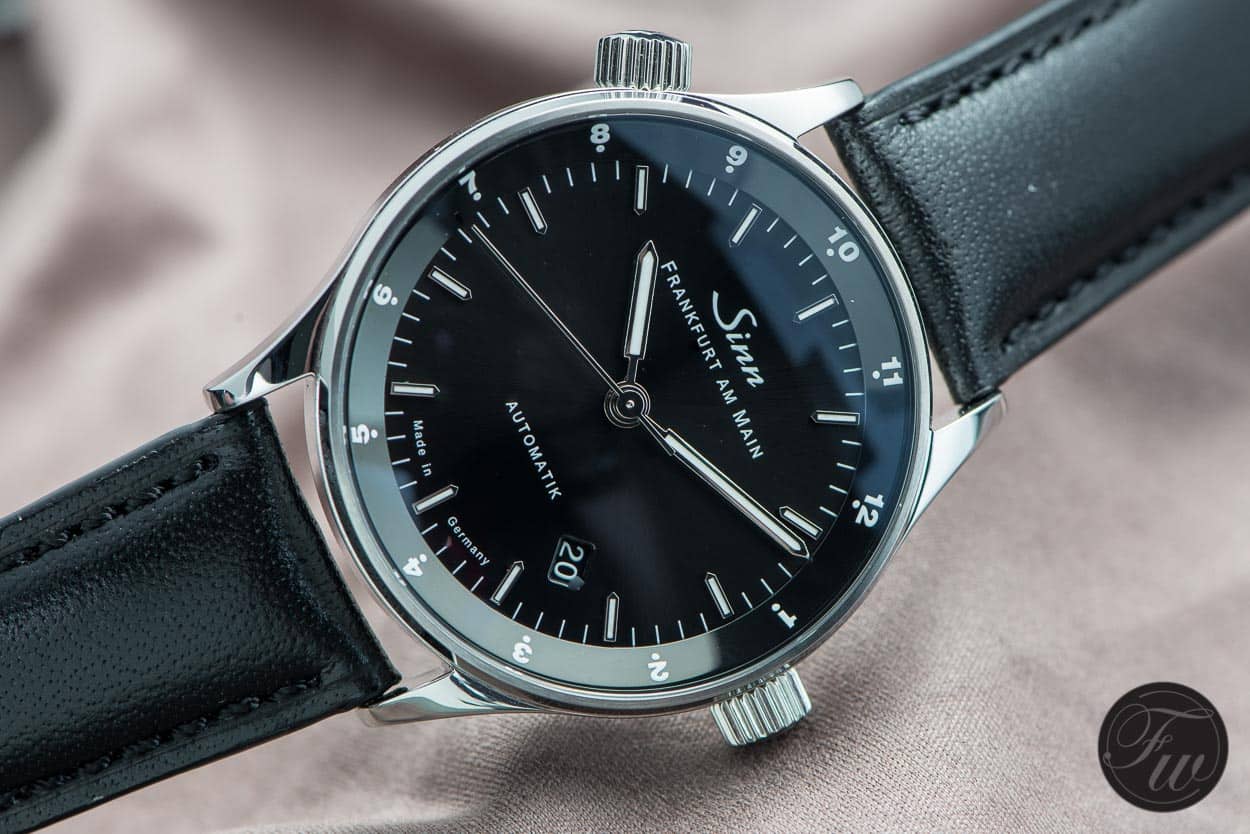 Sinn 6068  
Sinn introduced a new financial district watch with its 6068.  Actually, it's an update based on a prior limited edition watch and moves the date window from 3:00 to 4:30. The watch is a simple 3-handed piece with a date function and an internal rotating bezel used to display a second time zone. The stainless watch features a display case back with a rotor depicting a bull and bear. It is water resistant to 100 meters and has a diameter of 38.5mm. Pricing will be 1,990 Euros and will include both a leather strap and metal bracelet.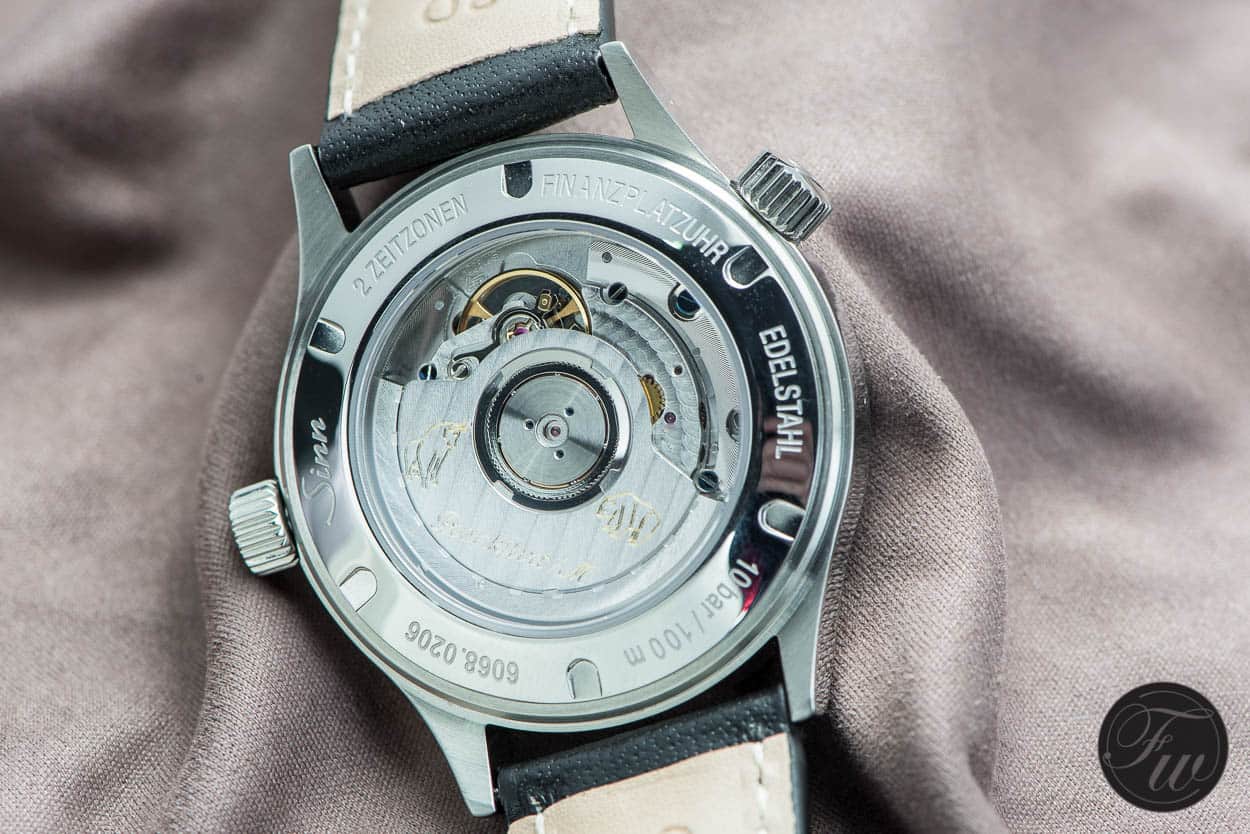 My thoughts: The financial district watches often fly under the radar for Sinn, but they're highly attractive watches with great finishing. Furthermore, they come with serious packaging and accessories such as a bracelet, strap, changing tool, and a massive box. Sinn takes a lot of pride in the fact that "Frankfurt am Main" is on their dials. In fact, the representative met with was very excited about that fact that German bankers love these watches and often have them in their rotation amongst far more expensive pieces. I really like them and have a friend who owns a more complicated version; it's very nice! Furthermore, with a 100-meter water resistance, these pieces aren't resigned to the trading floor!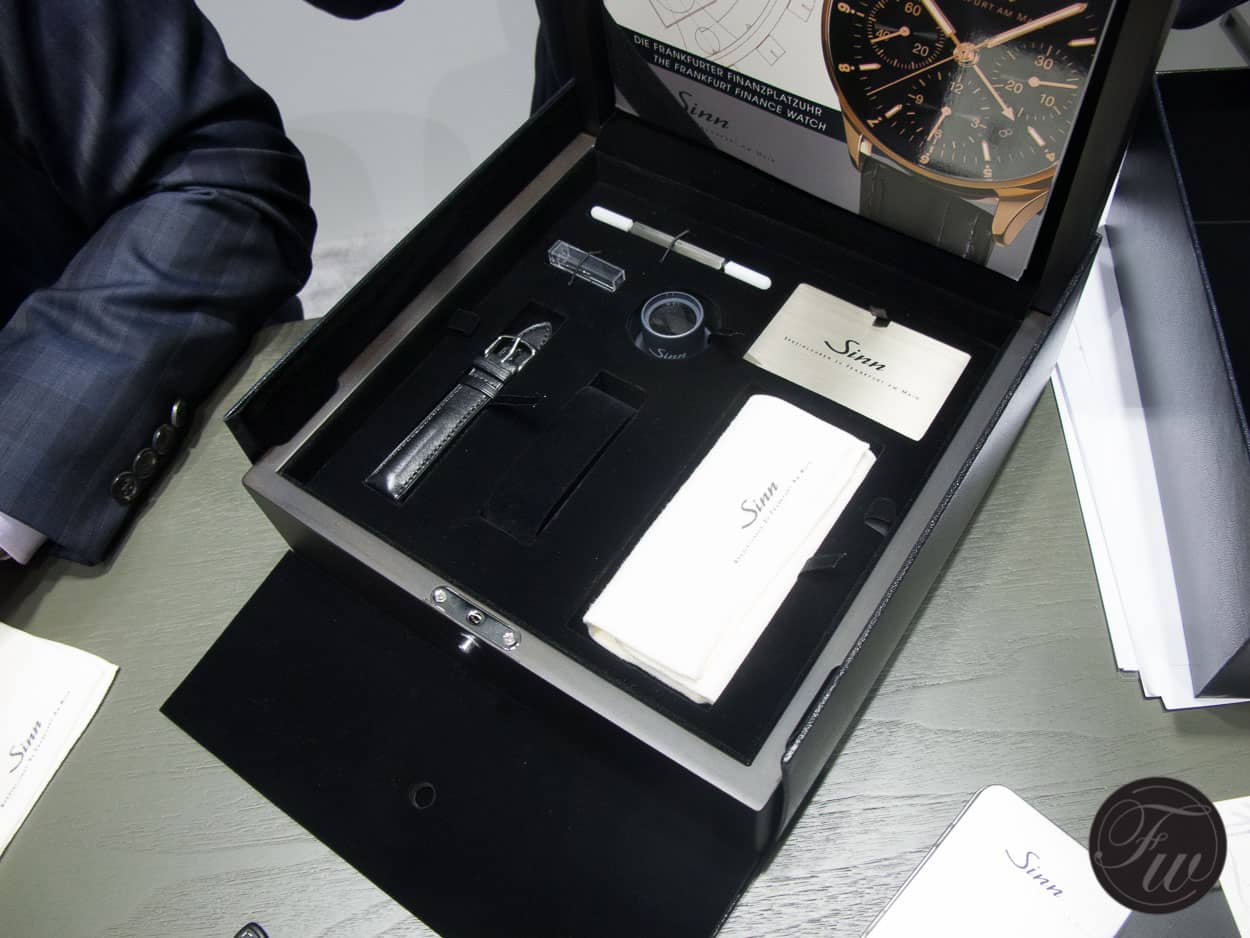 I hope you enjoyed taking a very brief look at the new releases from Sinn. We'll be sure to write more in depth articles once we get our hands on some of these pieces.  Sinn makes some very high quality pieces and they're rather unique in a sea of "me-too's" in the watch industry. Finally, for those of you who have never visited Sinn in Frankfurt, it's a worthwhile experience as they have their watches "out" in their showroom and you can help yourself to try on anything you like…and then buy. Furthermore, Sinn will open a retail shop in Frankfurt's Roemerberg Square this summer. I'd expect it to be another fantastic experience in customer service. Let us know what you think about the new Sinn's below in the comments area.