Breaking: Rare Vintage Heuer Autavia Found!
Vintage Heuer is about as hot as it gets right now and today's news should come as rather exciting for fans of the brand.  People are clamoring for the early manual wind models right now and they are especially focused on the Heuer Autavia.  Well, today, we're pleased to share a brief story behind the discovery and purchase of an extremely rare variant.  It defines fantastic and was located just last week on eBay – where else?- by one of the foremost Heuer enthusiasts on the planet: Jeff Stein.
Yes, some guys have all the luck (as in timing), but it helps to possess a discerning eye as well. Jeff, as most of you know, owns and manages the great resource, On the Dash. He also moderates the Heuer forum on chronocentric.  He gets "a touch" enthusiastic when special pieces pop up and his most recent find fits this precisely. The find? Call it arcane, but trust that it's rare: the Heuer Autavia 2446 2nd Execution "Lume Dial".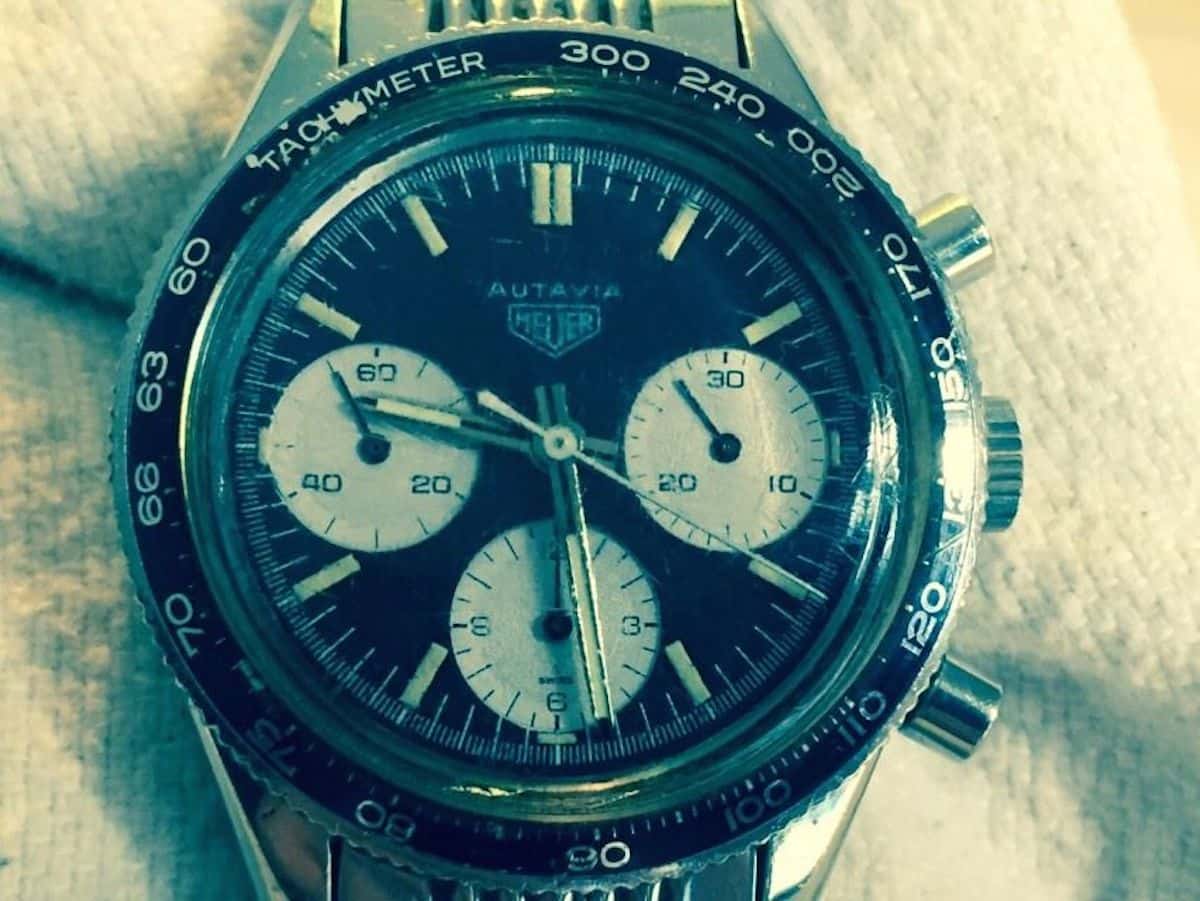 The Heuer Autavia popped up on eBay last week with an opening bid of $5,000 and several grainy pictures that looked as if they were taken in your college dorm room…the kind filled with psychedelic posters and black lights. Jeff, of course, was on the watch when it listed.
He noticed that the watch did, however, contain a nice looking Gay Freres beads of rice bracelet and a rare tachymeter bezel. On the downside, it contained what looked like replacement hands and crown. But there was something else…the dial.
Jeff noticed that instead of the typical applied indices (as on the 2446 "Rindt" above), the dial contained strips of lume instead. The gears started turning and Jeff contacted the seller. The seller informed Jeff that she had purchased the estate of a former jeweler/watchmaker and the Heuer Autavia was one of the items. She mentioned that an offer of $6500 had just been received (a decent but now admittedly low offer for a "Rindt") but knew it was more valuable. Needless to say, Jeff went a touch north of this and the deal was completed.
A couple days later, the watch arrived and Jeff was gracious enough to share pictures. This is really one of only a couple "known" lume dial 2446 2nd Execution Heuer Autavia watches. You can see another picture here. It's so darn rare that it's difficult to place in the chronology of Autavias.
Even the date of the case, starting with "89" puts it in in the middle of standard run pieces, so it is not known if these were special orders, prototypes, the result of supply issues, or something else.
To us, though, we think it's fantastic looking and we're excited that it has landed in the hands of a caring and passionate collector.
First, we wish to congratulate Jeff on his great find and thank him for sharing his story with us. Second, it's a lesson that you truly never know where or when you'll find something interesting. Oh, and by the way, an expert in the field mentioned that $20-30K wouldn't be out of line for this Heuer Autavia at auction…it pays to have a keen eye!
Be sure to check here for updated pictures as Jeff adds them!