The 2022 Bvlgari Octo Finissimo Ultra Is The World's Thinnest Mechanical Watch
Celebrating a decade of record-breaking watches with a 1.8mm (!) high timepiece
Since 2012 Bvlgari broke seven world records with its Octo watches. What better way to celebrate a decade of records with another one? Enter record number eight. The 2022 Bvlgari Octo Finissimo Ultra is the world's thinnest mechanical watch with a height of just 1.8mm — it's the same height as a 20 euro cent coin, but it will cost you €400,000. Will this record ever be broken? Bvlgari thinks it's an absolute record that will probably never be beaten. Let's find out if there's a solid or a wafer thin argument behind that bold claim.
It all started ten years ago when Bvlgari decided to take on Piaget in the ultra-flat watch department. It paid off. The brand scored no less than seven world records with an impressive line-up of watches. It is quite a range of watches. I will just put them in chronological order for you: Octo Finissimo Tourbillon Manual (2014, BVL Calibre 268, 1.95 mm), Octo Finissimo Minute Repeater (2016, BVL 362, 3.12 mm), Octo Finissimo Automatic (2017, BVL 138, 2. 23 mm), Octo Finissimo Tourbillon Automatic (2018, BVL 288, 1.95 mm), Octo Finissimo Chronograph GMT Automatic (2019, BVL 318, 3.30 mm), Octo Finissimo Tourbillon Chronograph Skeleton Automatic (2020, BVL 388, 3.50 mm), Octo Finissimo Perpetual Calendar (2021, BVL 305, 2.75 mm). And now, in 2022, the 1.8mm Bvlgari Octo Finissimo is the world's thinnest watch.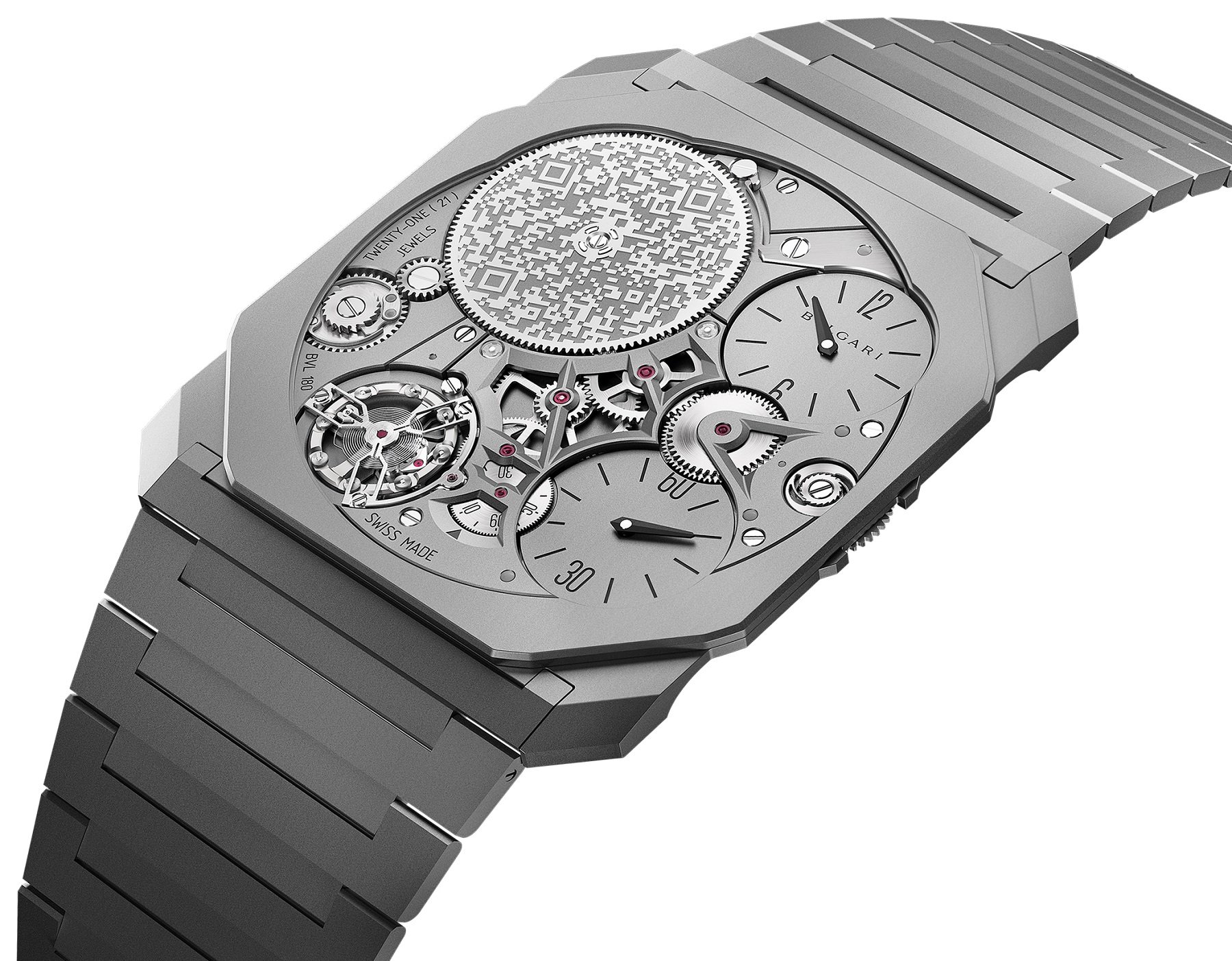 The 2022 Bvlgari Octo Finissimo Ultra — king of a flat universe
Radical watches come from radical ideas. The Octo Finissimo Ultra is a revolutionary watch that combines cutting-edge watch technology with the quintessence of Italian design. You don't create a 1.8mm high watch by using stock components and traditional technology. To set the new world record, no less than eight patent applications were filed. Everything is new and revolutionary. From the watch glass assembly, barrel structure, oscillator module, differential display, modular structure, bracelet, bi-metal case middle/main plate/case back, and the software used. The Octo Finissimo Ultra connects ultimate mechanical mastery with the digital world of NFTs and Blockchain. On the barrel of each Ultra watch, there's an engraved QR code. The ten Octo Finissimo Ultra watches are delivered with an individual NFT that guarantees authenticity. The QR code also offers each owner exclusive access to a dedicated digital universe — I suspect it's a universe filled with flat planets…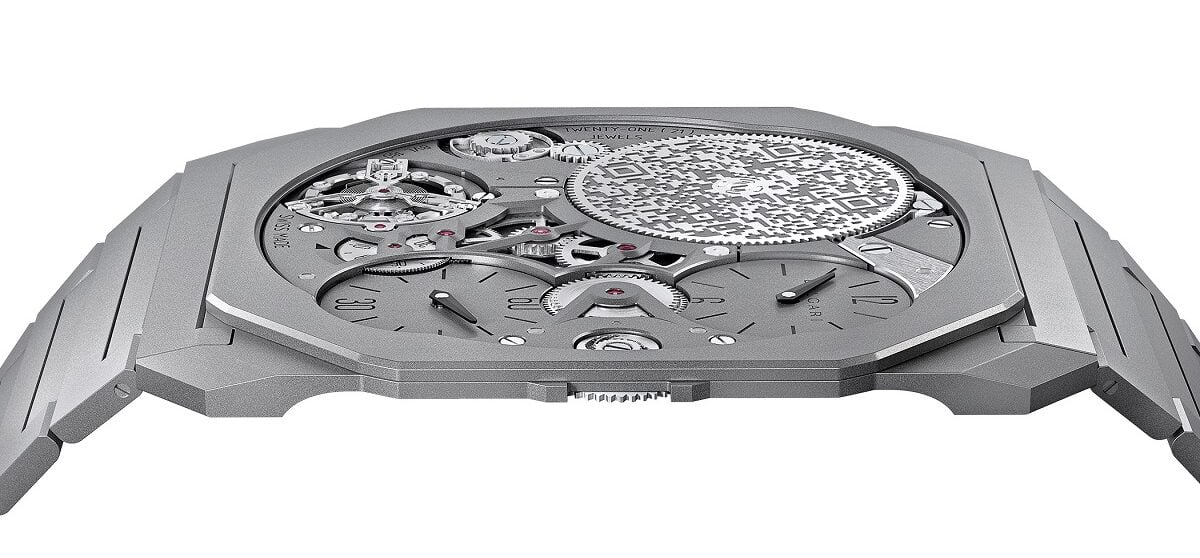 Start from zero, end just above zero
The secret to the Octo Finissimo Ultra's success, is the case back that also acts as a main plate. On that dual-function construction — Piaget also took that road for one of its ultra-flat Altiplano watches — the 170 components of the BVL Calibre 180 are integrated. This manually wound 4 Hz power reserve movement measures a mere 1.5mm in height and the winding and time-setting wheels are made of stainless steel. The movement may be thin, it is by no means weak. On the contrary, the large but ultra-thin barrel stores 50 hours of power reserve. The seconds display is directly on the fourth wheel, and the ratchet wheel shows the aforementioned QR code that is both functional and a design element — the pattern of the code resembles the cobbled streets of Rome, and the angular, geometrical base shape of the Octo is also present to the creative eye.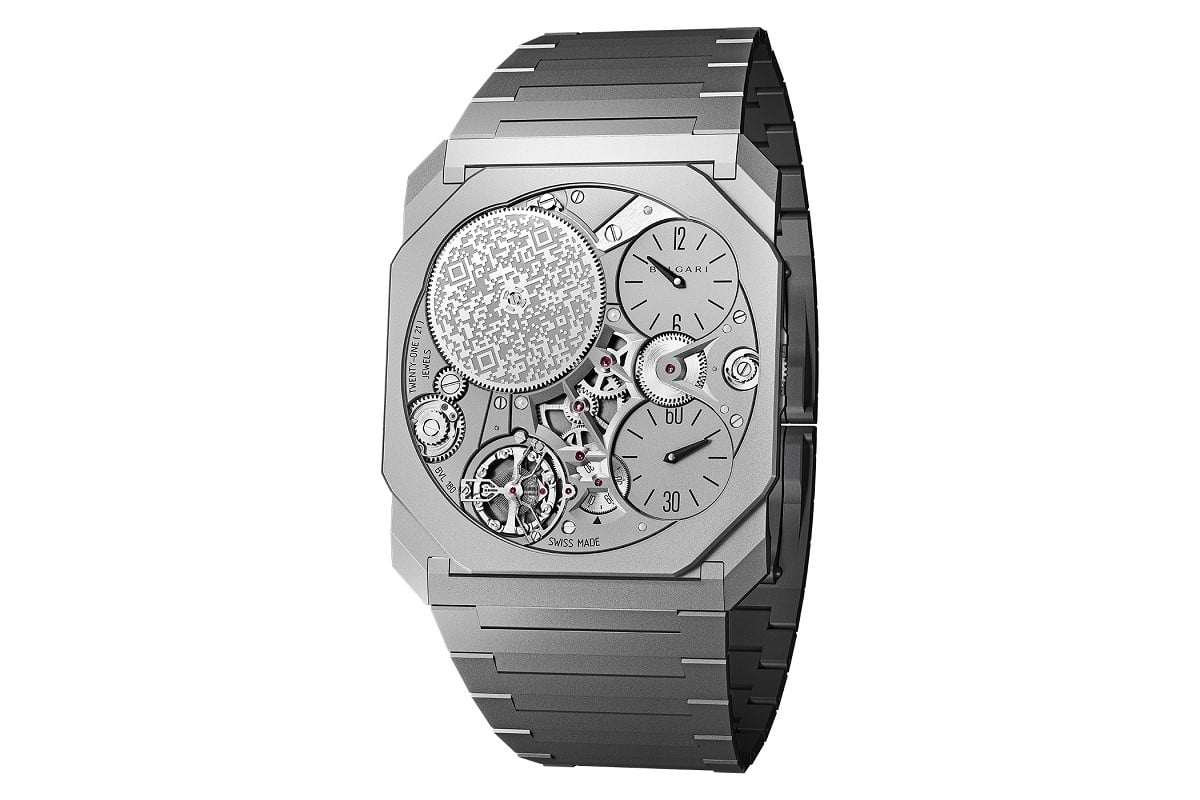 No crown possible
Also interesting is that the vertically placed hours and minutes dials with black PVD-treated hands, not only display time but also serve to hold other components in place. Everything has multiple functions, it seems with this watch. And as you would expect, a traditional crown is missing. Because, where do you put a crown on a 1.8mm high watch? Well, it can't be done because a classic vertical crown would be much too small and impossible to handle properly. The alternative Bvlgari chose was to create two horizontally placed knobs — one for winding at 8 o 'clock and the other for setting at 3 o 'clock — to ensure easy handling when the watch is on the wrist. And it's an ultra-thin and lightweight titanium bracelet with an integrated folding clasp that keeps the watch on the wrist. And what a bracelet and clasp it is. The titanium links are minuscule, but feel nice and kind of solid for something so tiny and thin. The folding clasp, which is open and kind of folds in itself and not on top of itself, integrates with the bracelet. It's a veritable piece of engineering art.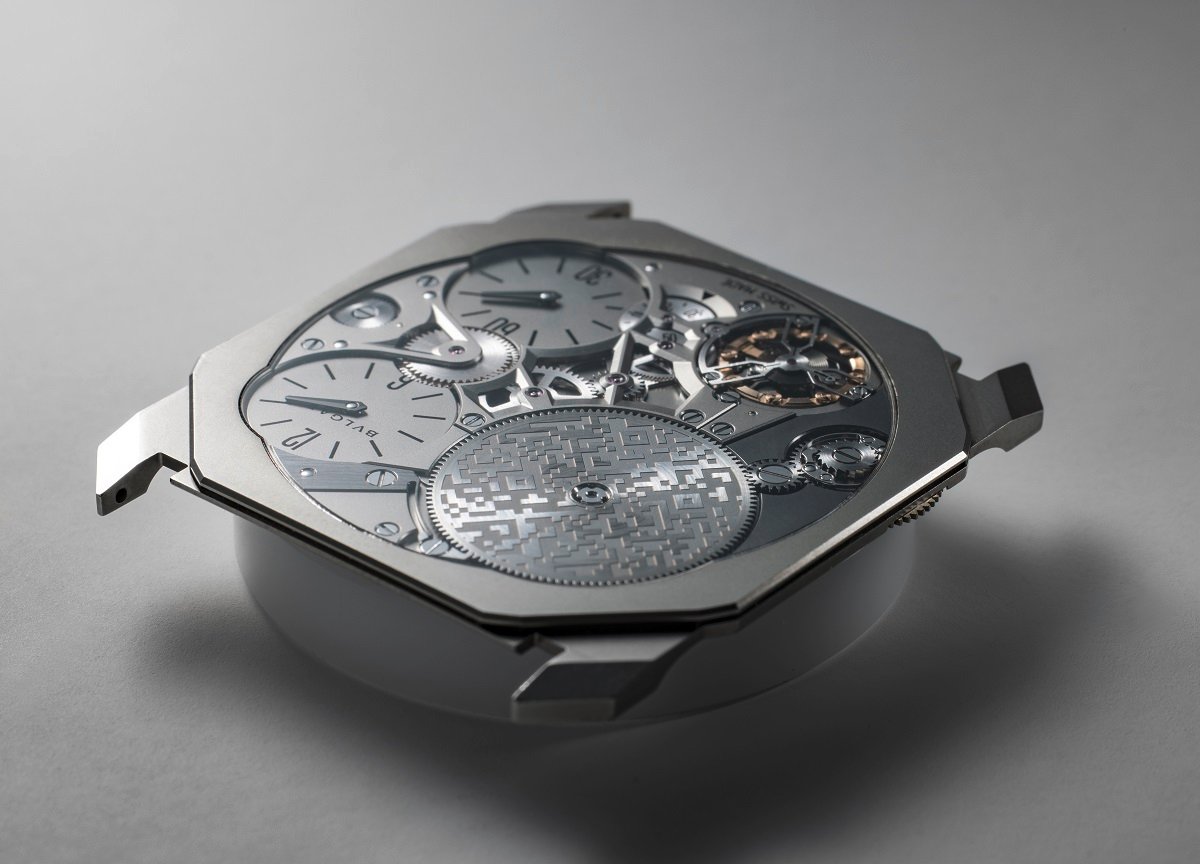 Don't flex it!
Another issue for a 40 × 1.8mm sandblasted titanium watch case is the overall rigidity. If you can bend the watch, you break the movement. Remember the very thin mechanical watches from Jean Lassale from some time ago? Bvlgari tackled the problem by creating a case back/main plate in tungsten carbide. Titanium would just not cut it if used his thin. Tungsten carbide, however, is a particularly dense, hard, stiff, and ultra-resistant alloy of carbon and tungsten steel that provides a stable enough platform for the movement.
Paradoxical dimensions
Fabrizio Buonamassa is Bvlgari's Product Creation Executive Director, and he told me that the new Octo Finissimo Ultra is like a gateway to a new dimension. "It's clearly visible from the front," he explains in Bvlgari's flagship boutique on Rome's glamorous Via dei Condotti, "but it disappears when you look at the watch from the side. Well almost anyway. And what is a great paradox is that although the movement is only 1.5mm thick. But when you look at it up close through a magnifying glass, you will see a three-dimensional structure, however small and delicate."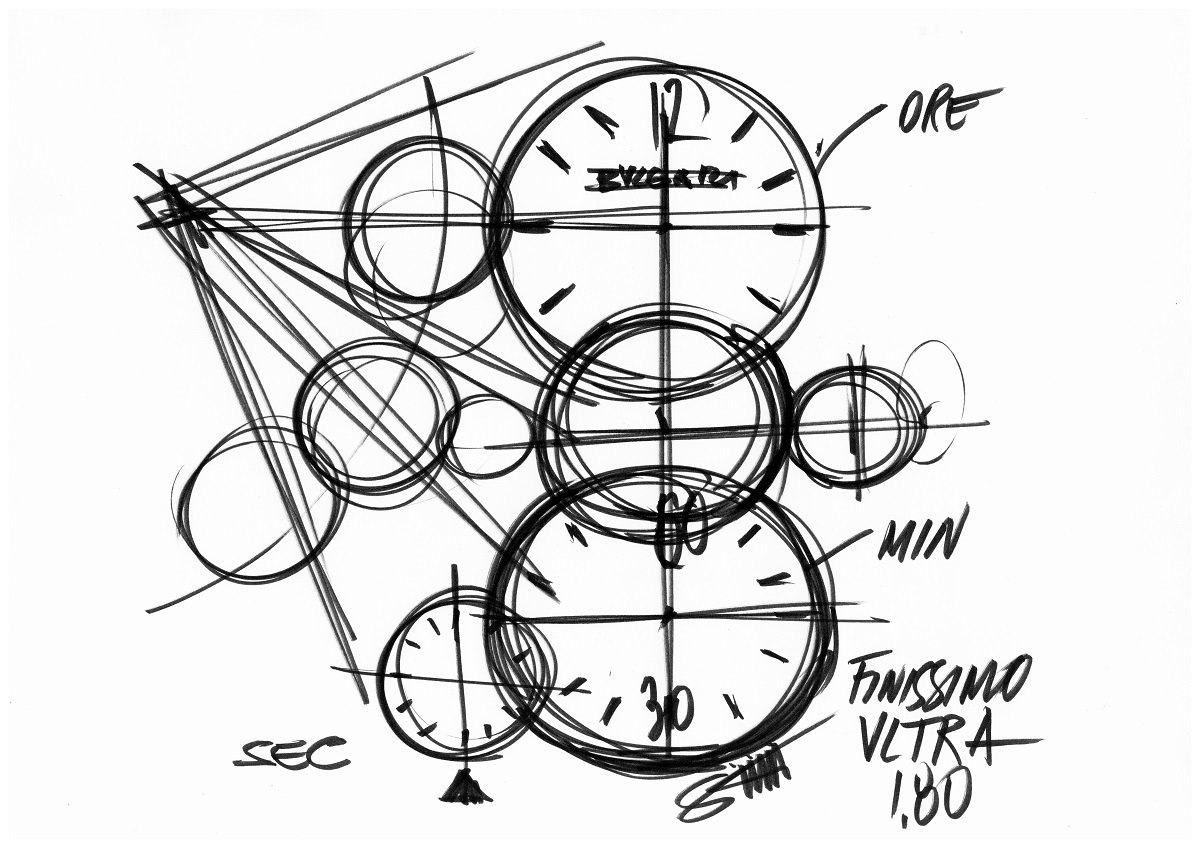 "By using triangular shapes instead of traditional ones for the small bridges, we could open the movement a little. Also, note how the different elements of the watch are side by side to keep the movement flat. But also note how the different round elements break through the round opening of the dial. This creates a whole new look for the Octo Finissimo."
Bvlgari Octo Finissimo Ultra — Price and availability
The ten record-breaking Bvlgari Octo Finissimo Ultra watches will become available within a few months. The price is €400,000. And that is a lot of money, but the 4 million euros Bvlgari will earn from selling the watches won't pay back the development of the watches. The brand would have to make way more Finissimo Ultra watches for that. So, are we going to see for instance black versions of this watch or maybe a ceramic variant? Well, based on the math yes. And also because Fabrizio Buonamassa stated that the Ultra is a gateway to a new dimension. So yes, there's more Ultra to come. It seems to be a voyage Bvlgari is going to undertake solo. Challengers in the ultra-flat realm are still in the world we know, and I don't think they dare follow — too risky, too pricey. So the claim that the wafer-thin Octo Finissimo Ultra is an absolute record, could very well be a solid one.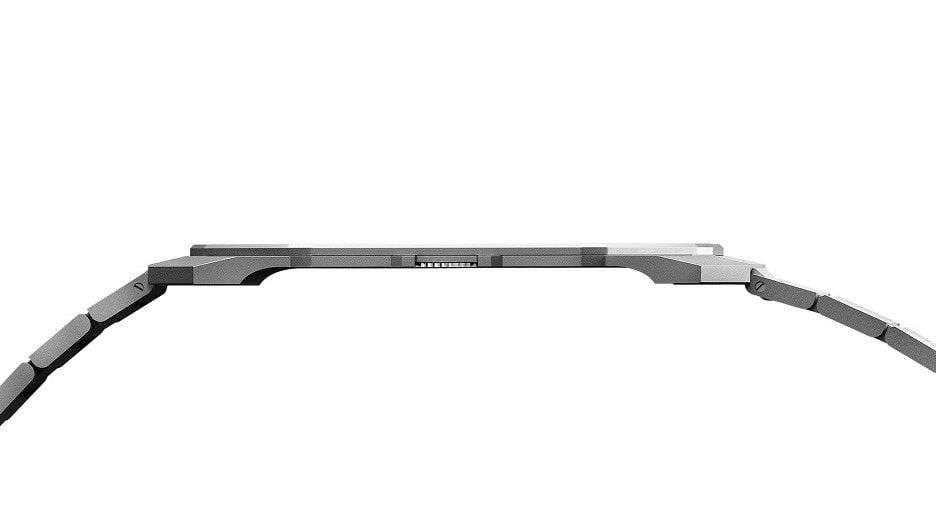 To learn more about Bvlgari and its record-breaking Octo watches, head here.
Please find and follow me at Lex Stolk • Instagram