Bvlgari Octo Finissimo- A Refreshing Roman Design
Last October, I was invited to a Bvlgari event in Rome, Italy. Together with a group of journalists from other watch media, I had a diner with the CEO (Jean-Christophe Babin). During this diner, listening to Babin talk about the (Italian) DNA of Bvlgari and discussing the Bvlgari Octo design, it became clear to me, that watches aren't some side project for Bvlgari, known for its precious jewelry pieces, fragrances and accessories. Heck, there are even Bvlgari hotels.
I don't want to give you a full trip down memory lane, but Bvlgari was founded in 1884 already, in Italy of course. So it is quite an old company with a lot of history, but mainly on jewelry. History on their watch production is a bit shorter, as their high-end watch production only started in 1980. Bvlgari could be find on watch dials a few years before already, since 1977. In 2000, Bvlgari acquired Gérald Genta and Daniel Roth (the brands, not the persons) and in 2001, they hired watch designer Fabrizio Buonamassa Stigliani, who is still on board today. Actually, he was in Rome as well last October. He is actually the person who is responsible for the Bvlgari Octo, the model I will be talking about in more detail.
Bvlgari Octo Design
Although the Octo design was already there for some years (2004), the introduction of the new Bvlgari's Octo collection took place in 2012. Whether the Bvlgari Octo matches your taste, or not, it is a remarkable design. Where a lot of brands seem to have difficulties finding their DNA or create a watch that stands out of the crowd, Bvlgari hit bullseye with the Octo. Quite an accomplishment for a watch this young. You might remember the Bvlgari by Gérald Genta  Octo Bi-retro watch, which had little to do with the master himself (other than Bvlgari acquiring the name) but definitely referred to Genta's preference for octagonal shapes.
The new Bvlgari Octo collection, that dates back to 2012, has a couple of interesting watches.  Let's have a closer look at some of the Bvlgari Octo models, I will start with the big guns.
Bvlgari Octo Finissimo Tourbillon (2016)
Although I am not very much into tourbillons, their Octo Finissimo Tourbillon from 2014 is definitely worth mentioning anyways. A very thin case (5mm) housing the 1.95mm tourbillon movement. The black DLC Octo Finissimo Tourbillon below is their 2016 edition of that watch. It uses Bvlgari caliber BVL 269 that consists of 249 components. During our Bvlgari dinner in Rome two months ago, they gave me this watch to wear that evening. An incredible thin watch that is extremely comfortable on the wrist, despite the 40mm rectangular case. The black lacquered dial contrasts beautifully with the gold hands, logo, markers and crown. Retail price is €115.000.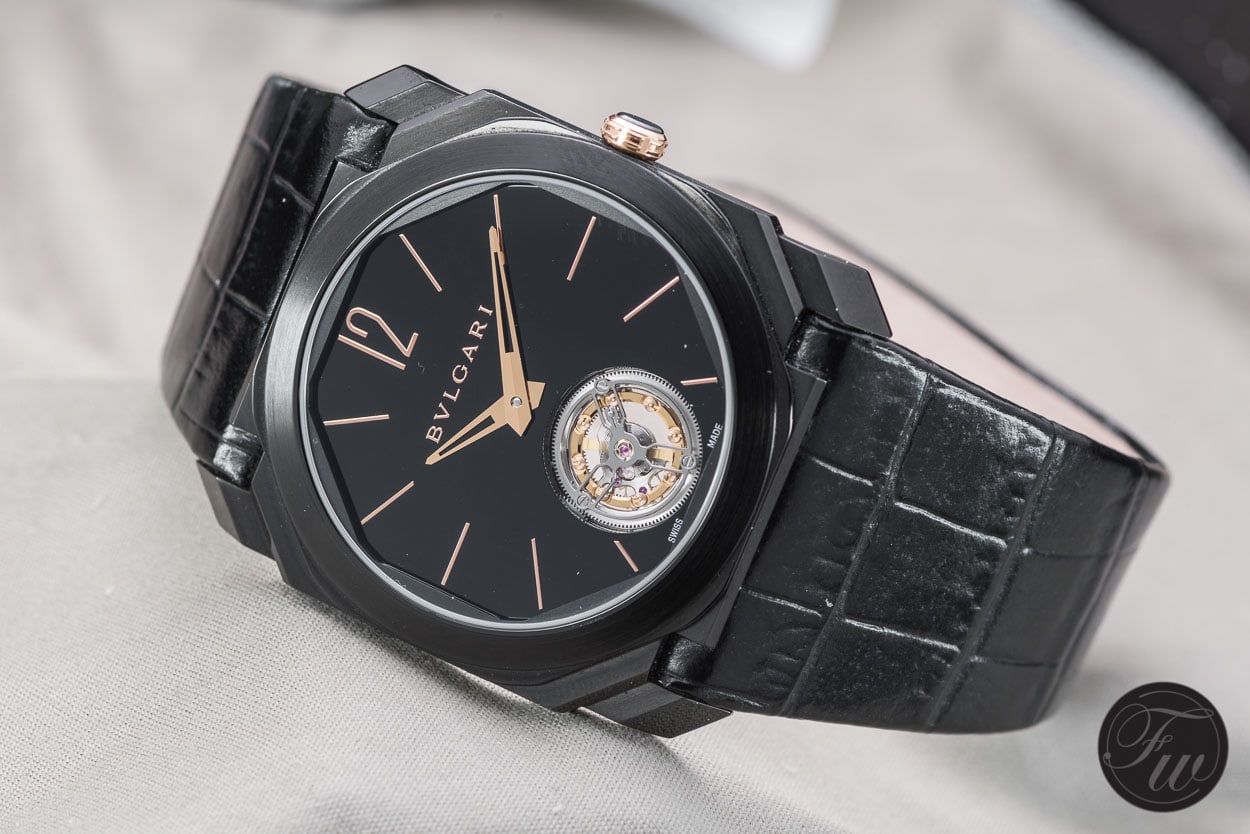 Bvlgari Octo Finissimo Tourbillon Skeleton (2017)
Based on the watch above, this slim tourbillon watch has been skeletonized. A 40mm platinum case houses the Bvlgari caliber BVL268SK movement, consisting of 253 parts. The hand-wound movement delivers 62 hours of power reserve. Bvlgari really took care of the movement's finish, with its hand-decorated Côte de Genève for example. The Bvlgari Octo Finissimo Tourbillon Skeleton watch also won this year's Grand Prix d'Horlogerie Genève prize in the Tourbillon & Escapement category. Retail price of this tourbillon is €140.000.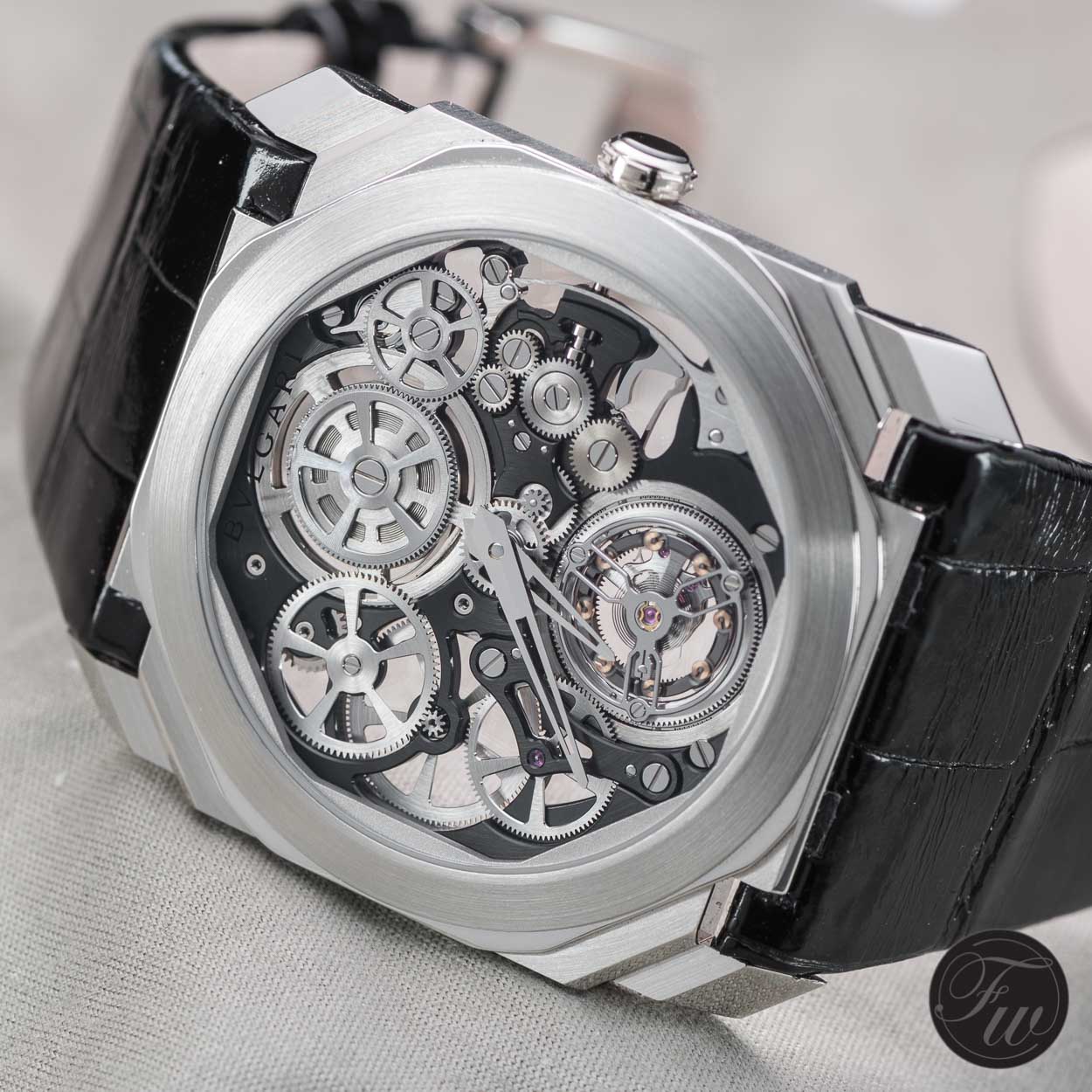 Bvlgari Octo Finissimo Skeleton (2017)
Luckily, Bvlgari also has some more affordable models in their Octo collection. This year, Bvlgari showed us this Finissimo Skeleton watch that retails for €25.000. A beautiful finished (and skeletonized) Octo with hand-wound caliber BVL128SK movement. Just 5.35mm thick (movement: 2.35mm) and having a power reserve of 65 hours. The 40mm case is made of DLCed stainless steel, with an 18 carat rose gold bezel. There's also a full titanium version of the Octo Finissimo Skeleton which retails for €20.900.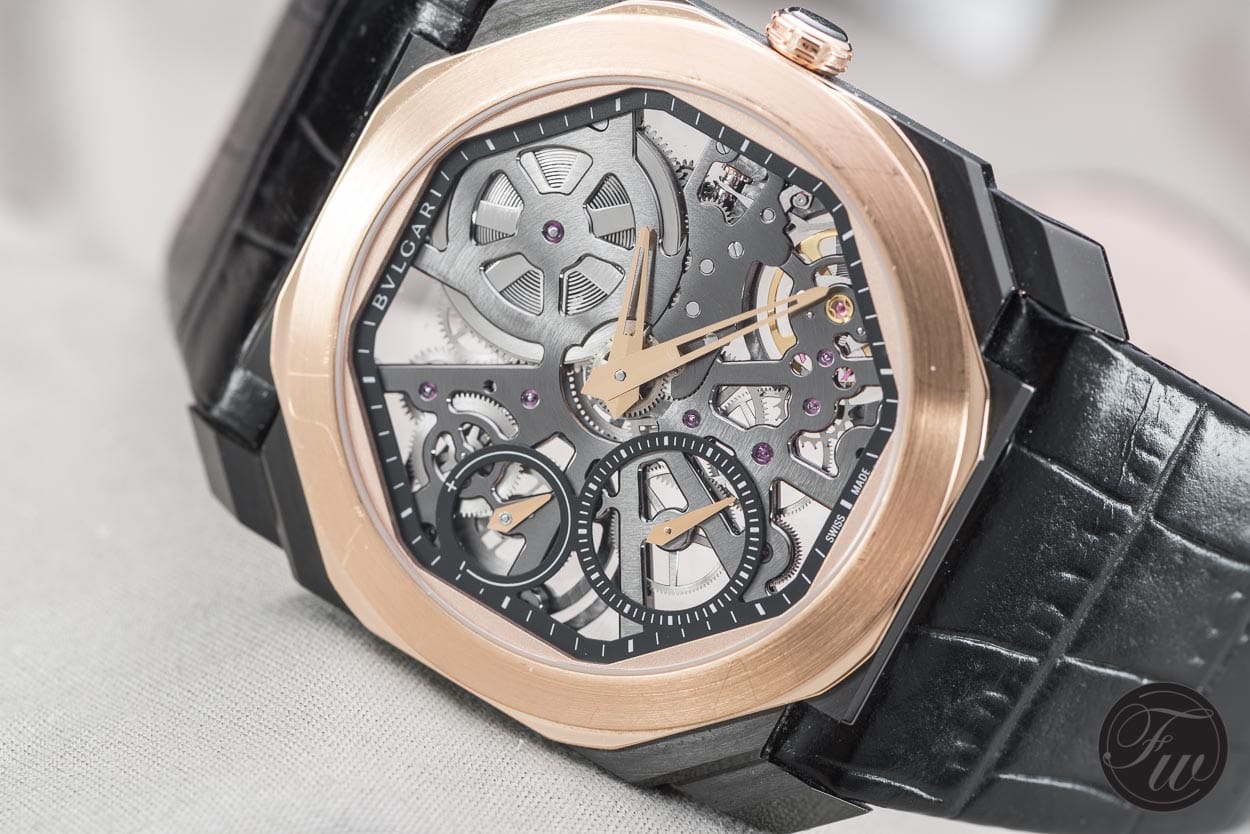 Bvlgari Octo Finissimo Automatic (2017)
Only 5.15mm thick – while being an automatic watch – and 40mm in diameter. An ultra-thin Bvlgari Octo Finissimo Automatic was introduced earlier this year and I've found it to be a very pleasant surprise. The watch – like the ones above – is actually so thin, that it worried me a bit if it can handle a bit of abuse. The smallest bit of friction might distort proper functioning of the movement, but Bvlgari ensured me that they tested it very well. The case and bracelet are made of titanium and inside we'll find Bvlgari caliber BVL138 with a 55 hour power reserve. The movement has this nice looking micro-rotor, which I truly like. The retail price of this Bvlgari Octo Finissimo Automatic is €13.500. The version on leather strap retails for a €1000 less.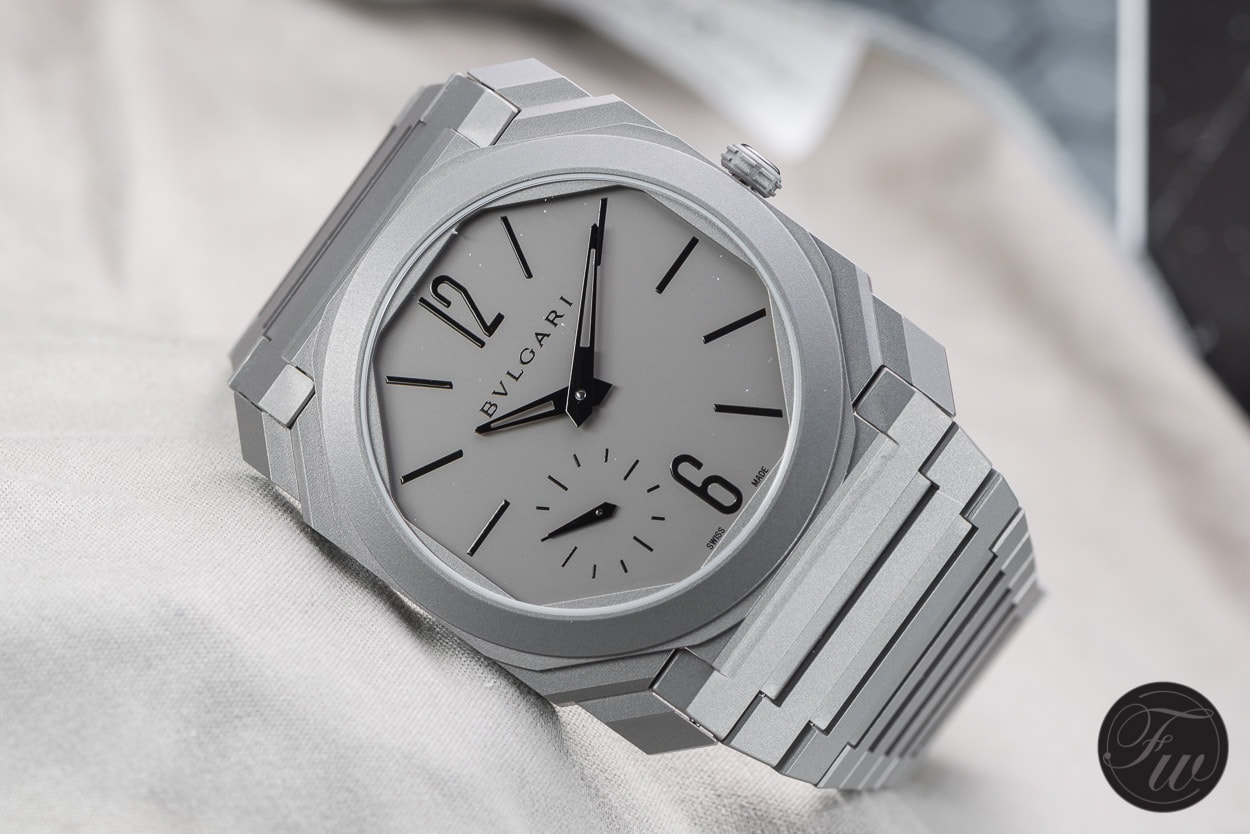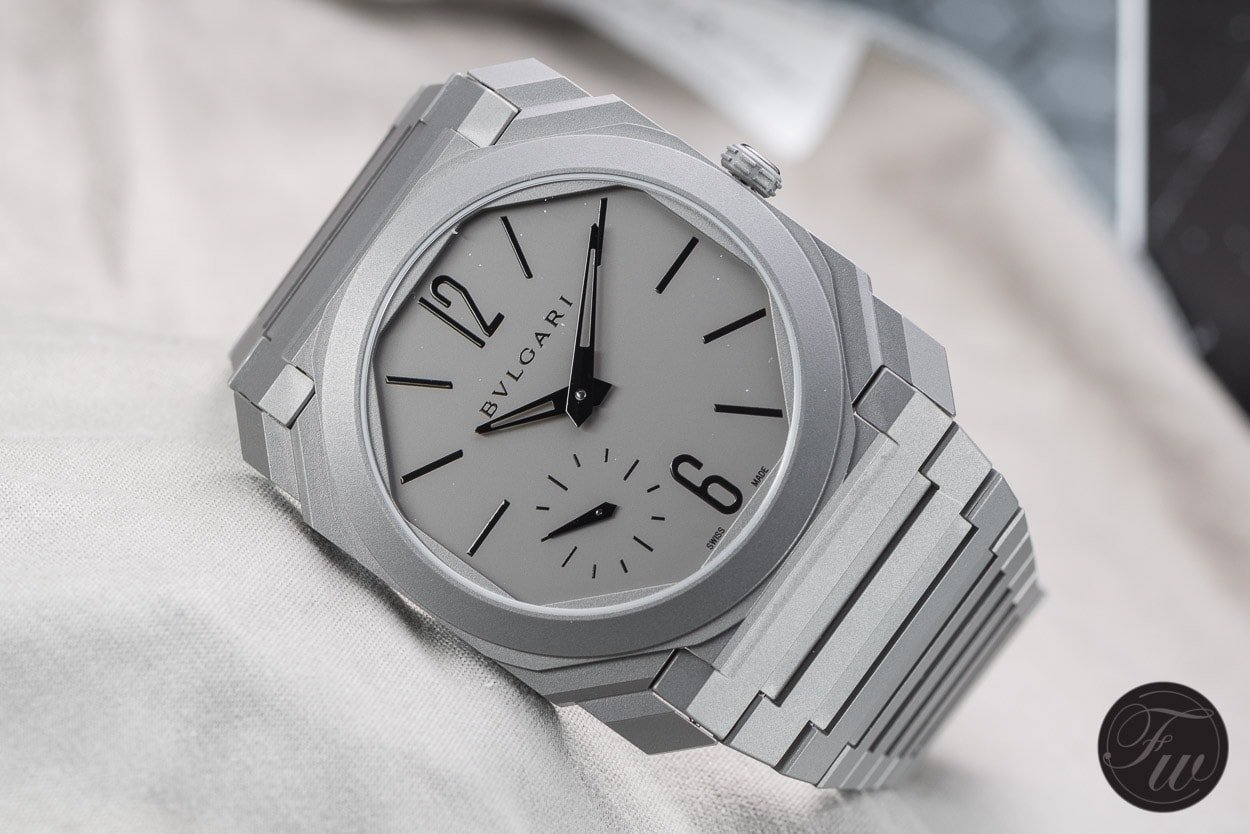 Not that long ago, my friend Alon Ben Jospeh from Ace Jewelers, an on-line authorized dealer of Bvlgari and many other brands, lend me his Bvlgari Octo Velocissimo with Zenith El Primero chronograph movement. Both brands belong to the LVMH group, so Bvlgari seems to have (easy) access to these high-beat movements. Anyway, it struck me that although I normally am not a fan of wearing rectangular watches, this Bvlgari Octo was rather comfortable and 'different' than other ones I've tried.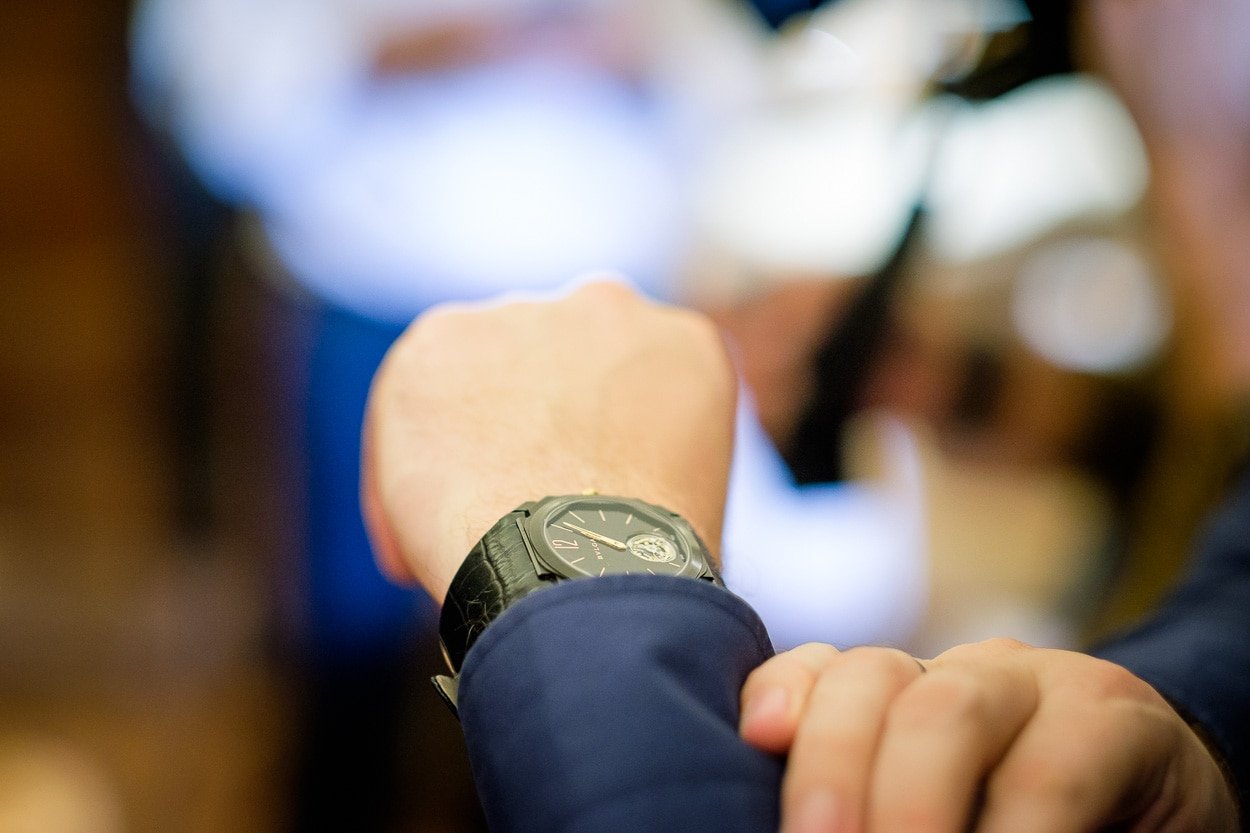 And then again, last October, I tried this ultra-expensive Bvlgari Octo Finissimo Tourbillon in black with gold elements – as discussed above – and I was amazed by the comfort of this watch. The Octo Finissimo collection comes at a certain price though, but if you like the Octo design, there are some alternatives.
The Bvlgari Octo Solotempo has a similar design to the Finissimo, and features an in-house movement as well, but is just thicker with its 10.4mm. It is also heavier, as it is made of stainless steel instead of titanium. These watches start at €6500 for the 38mm version (also available in 41mm).
I want to end this article with a little note about the bracelets. If you are a regular reader of Fratello, you known I am very picky with bracelets. In terms of comfort, but also when it comes to design. In my opinion the design of a bracelet is perhaps almost as difficult than the design of a watch case, at least if you want to be original (and comfortable). Bvlgari got it right I think, as the bracelet looks good, has an original design and gives a lot of comfort.
More information on Bvlgari Octo can be found here.
A big thank you to our friends from Watchonista for the wonderful time in Rome.