Carl Suchy Waltz No1 Collection
Amazingly detailed watches with Viennese roots
At a huge show like Baselworld, sometimes the most satisfying meetings are the ones you don't expect.  I had one such experience when sitting down with the owner of Carl Suchy & Söhne, Robert Punkenhofer, to take a look at the Carl Suchy Waltz collection.
With all the questions about Baselworld and its future, one of the most concerning outcomes of a full cancellation would be the lost opportunity to discover – and go hands-on with – the smaller brands that are doing some very creative things.  Now, not all brands actually display within the conference hall, but if the official conference were to end, those brands that book space in nearby hotels would also likely have little reason to come.  One such example of a brand is Carl Suchy & Söhne and its Carl Suchy Waltz Collection of watches.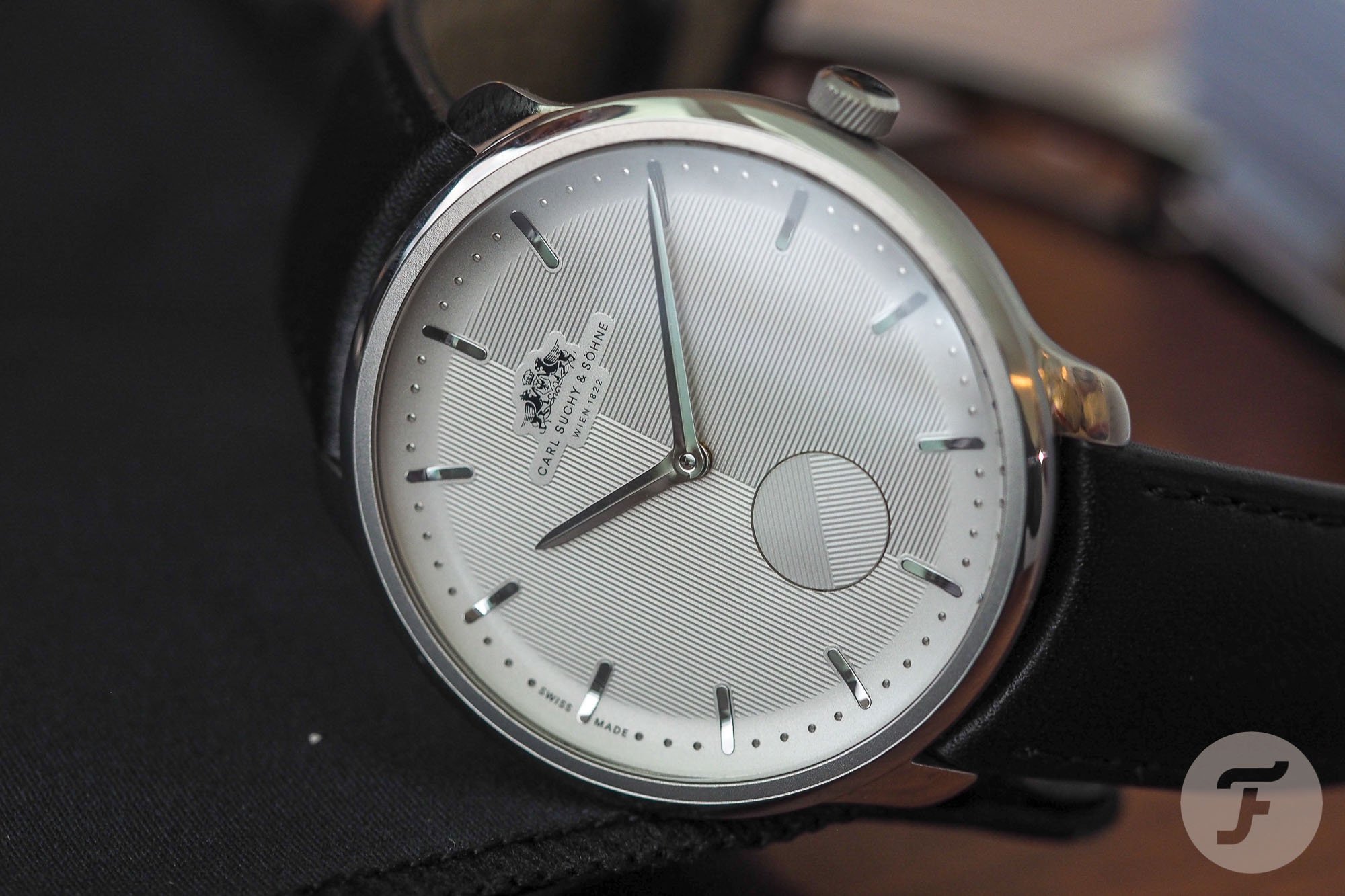 Carl Suchy & Söhne – Rejuvenated in 2016
I had the chance to meet with the force behind the rejuvenated brand, Robert Punkenhofer and it was a delightful meeting.  He has an interesting background as a diplomat and a real patron of the arts.  Carl Süchy & Söhne itself was quite the historical name as an official "supplier" to the Royal court during the 1800's and into the early 1900's before the fall of the Austro-Hungarian Empire essentially ended the company.  Robert shared some impressive photos of not only royal family members wearing Suchy watches, but also famous figures such as Sigmund Freud.  In fact, since Freud used a pocket watch for timing many of his experiments, it's more than likely that a Suchy was involved.  And so, it was only in 2016 that Punkenhofer decided to resurrect the brand – there was no purchasing of the brand, but setting it up was a chore in itself – and come out with classical watches with a more modern twist.  The Carl Suchy Waltz collection is the product of that mission.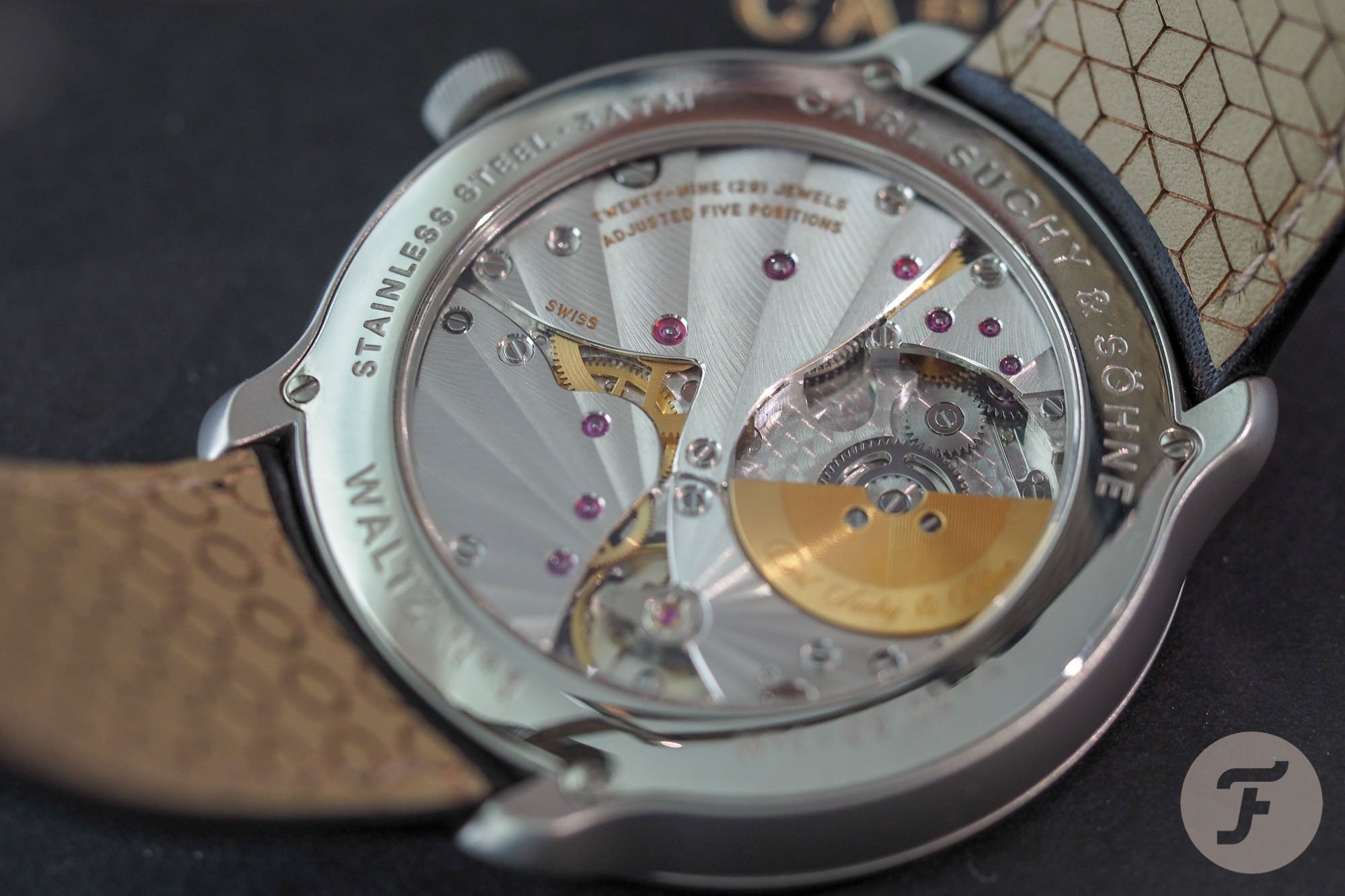 Entirely Swiss Made with Viennese Inspiration
Before we get into the Carl Suchy Waltz models, let's spend a minute on a few other details about the company.  Similar to the original brand, Carl Suchy & Söhne is located in Vienna, but the watches are made entirely in Switzerland.  That includes everything from the straps, buckles, cases, dials and movements.  All of the watches in the Waltz collection – actually the Waltz No.1 collection that we see here – feature a cal.5401 Vaucher Fleurier Manufacture automatic micro rotor movement.  No matter the case material, the watches measure 41.5mm in diameter and 9.3mm in thickness.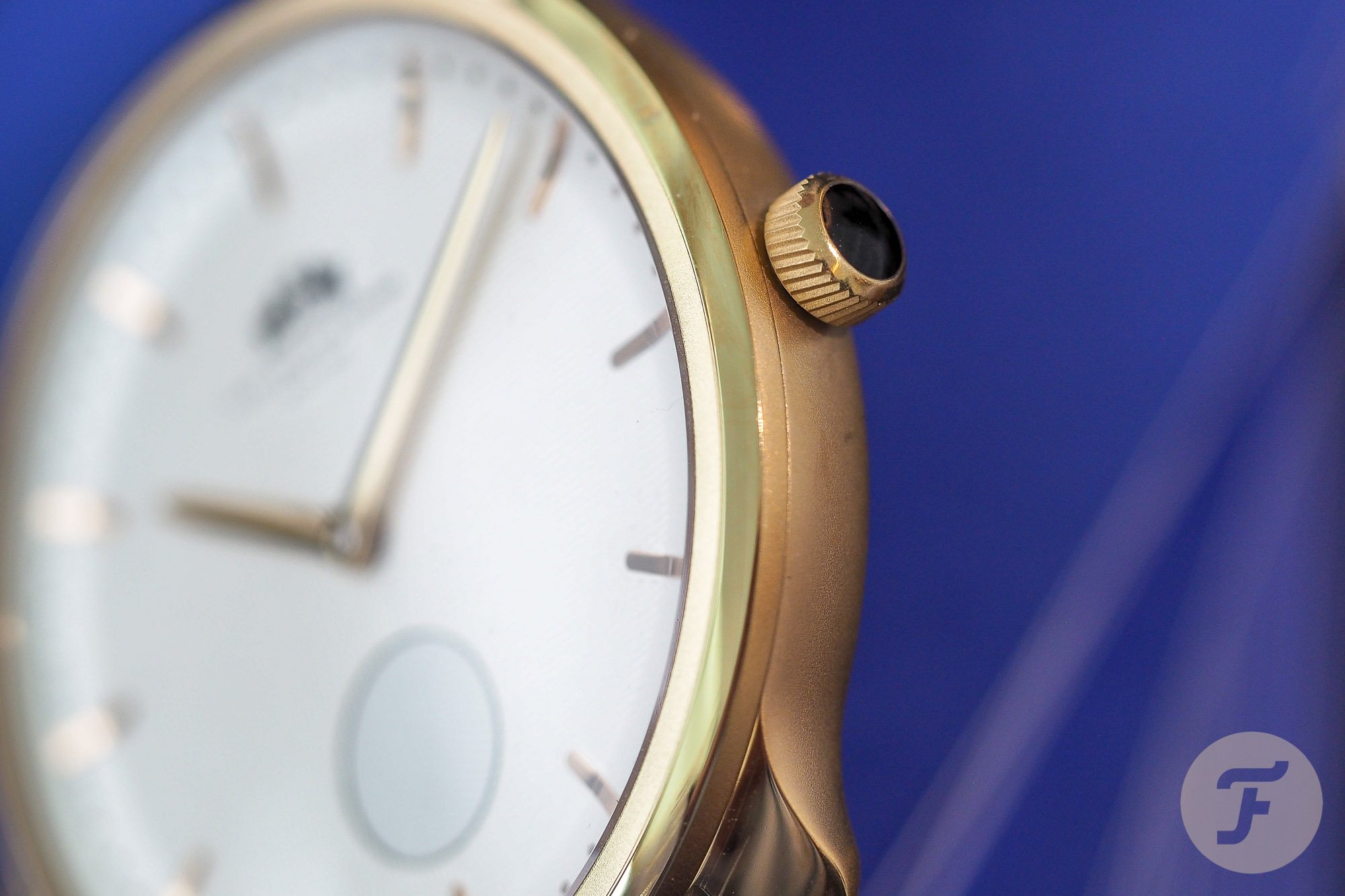 The Carl Suchy Waltz Collection
We've mentioned the Carl Suchy Waltz collection more than once on our This Week in Watches installment and I have to admit that when looking at the various emails we receive during the week from brands, I took a look at this one and almost passed this small brand off as yet another uptight dress watch maker.  The operative word here is "almost" because I decided to take a deeper look and what I found were dials unlike other watches.  Inspired by the famous early 20th century Austrian architect Adolf Loos, the Waltz line brings in his minimalist style with some very modern touches.  The dial, for instance, with its horizontal striping on one half and vertical on the other, very much represents the Loos style.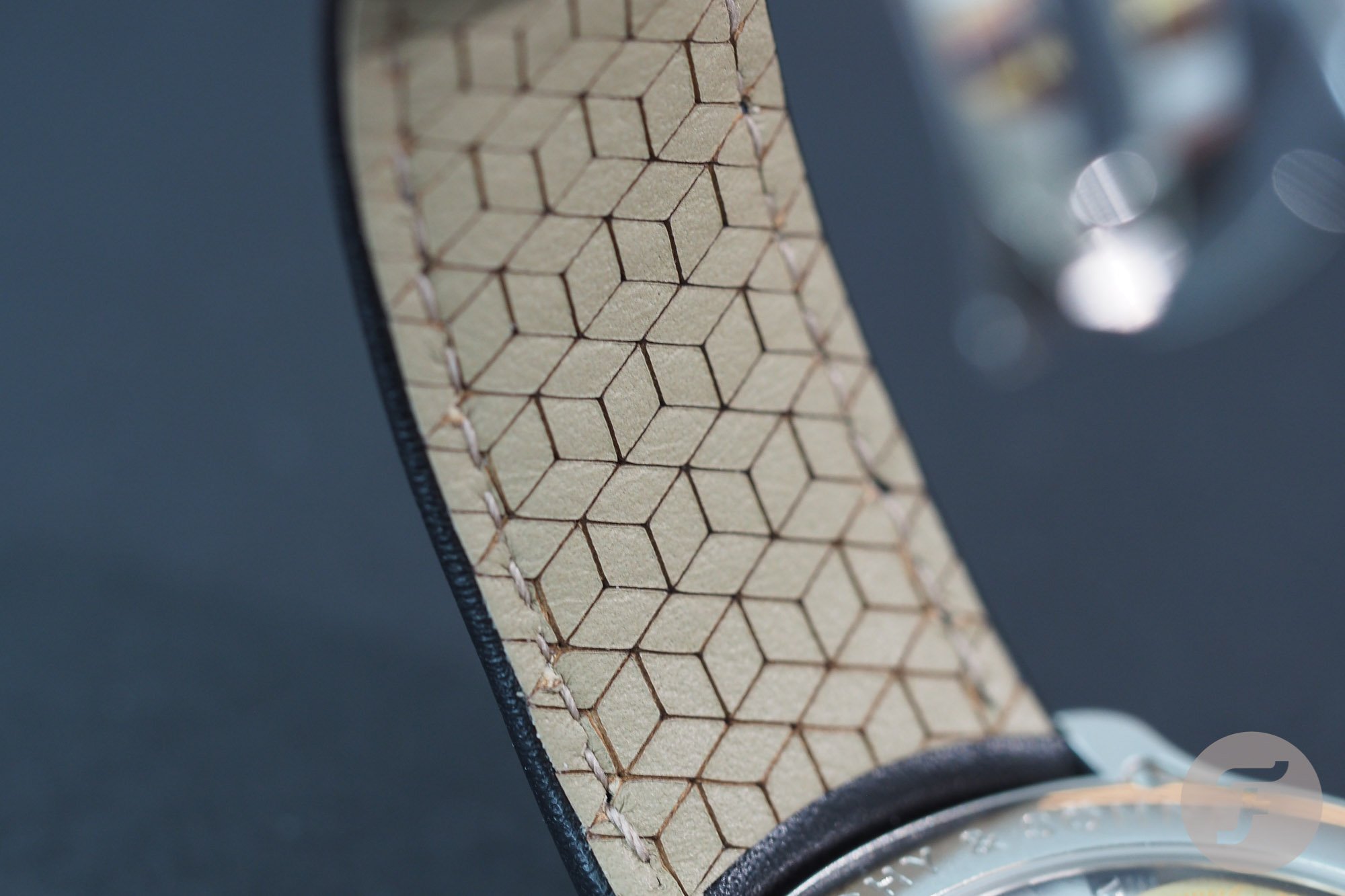 As a side note, I had to chuckle a touch as one of the first places I ever visited in Vienna about 8 years ago was "Loos American Bar".  No, I didn't visit because I'm an American, but more because it's a historic place and the interior was actually designed by Adolf Loos (my friends and I also received a "friendly" welcome for carrying in bottles of water from the 90+ degree heat, but that's forgotten).  Have a look on Google and you'll see a lot of the same geometric patterns in his interiors as you'll see on this watch.  The underside of the strap is especially evocative of the Loos style with a unique cubic pattern.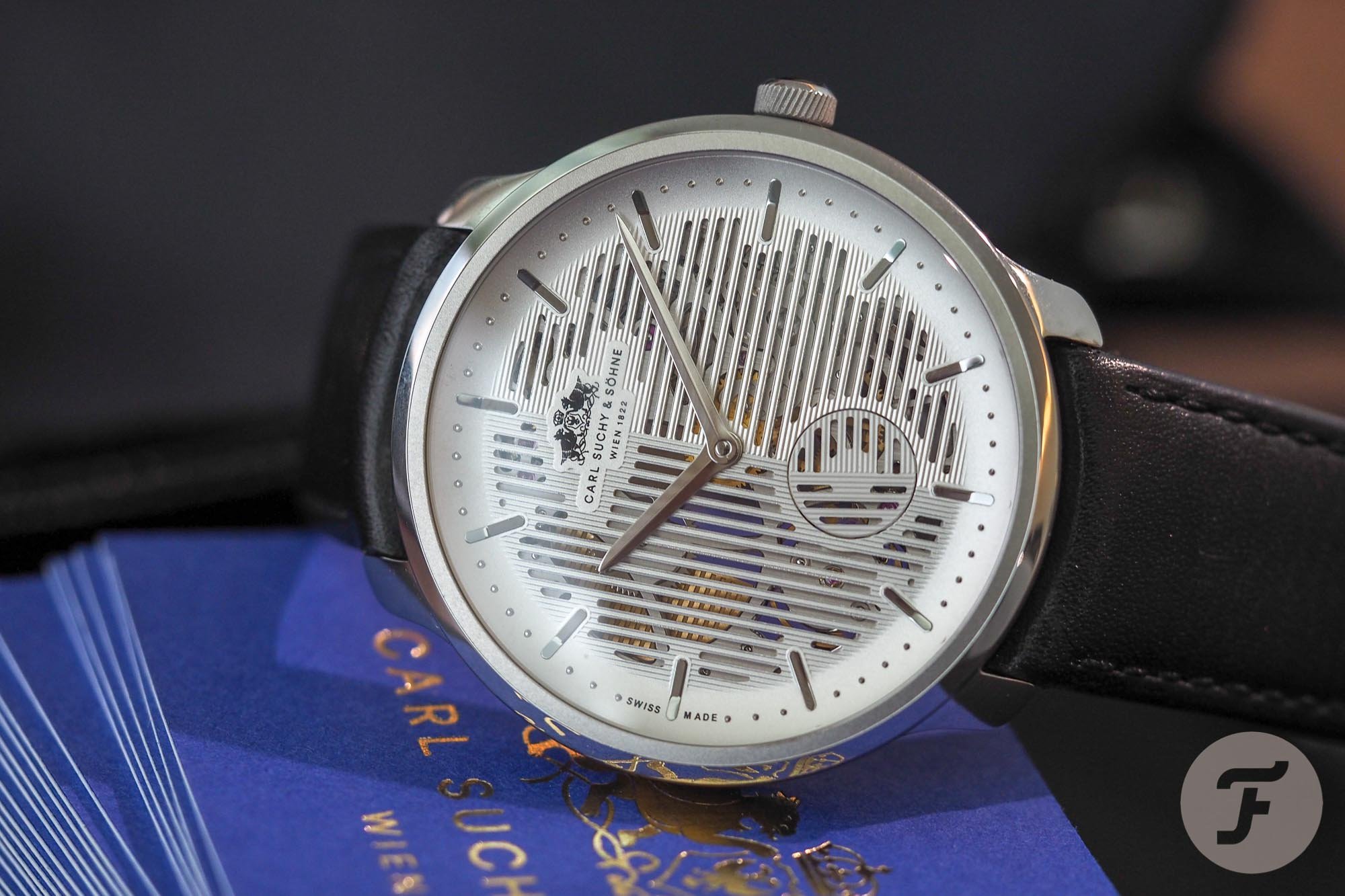 Incredible Detailing on the Cases and Dials
So, the dial of the Carl Suchy Waltz watches looked interesting from renders on the internet, but what I didn't realize is that it's actually bowl-shaped.  If you recall last year's Nomos Autobahn watches, this is similar but done at a higher, less playful level.  And then there's that unique sub seconds "hand".  The disc actually happens to encompass the same set of halves with lines running perpendicularly and as Punkenhofer told me, it embodies a real Viennese trait where not every second counts.  Personally, I didn't know that the Viennese were a slightly less punctual Germanic-speaking culture, but that sounds fantastic to me!  Whatever the case, the sub seconds disc is a real trademark of the watch and sets it apart from most designs I've seen.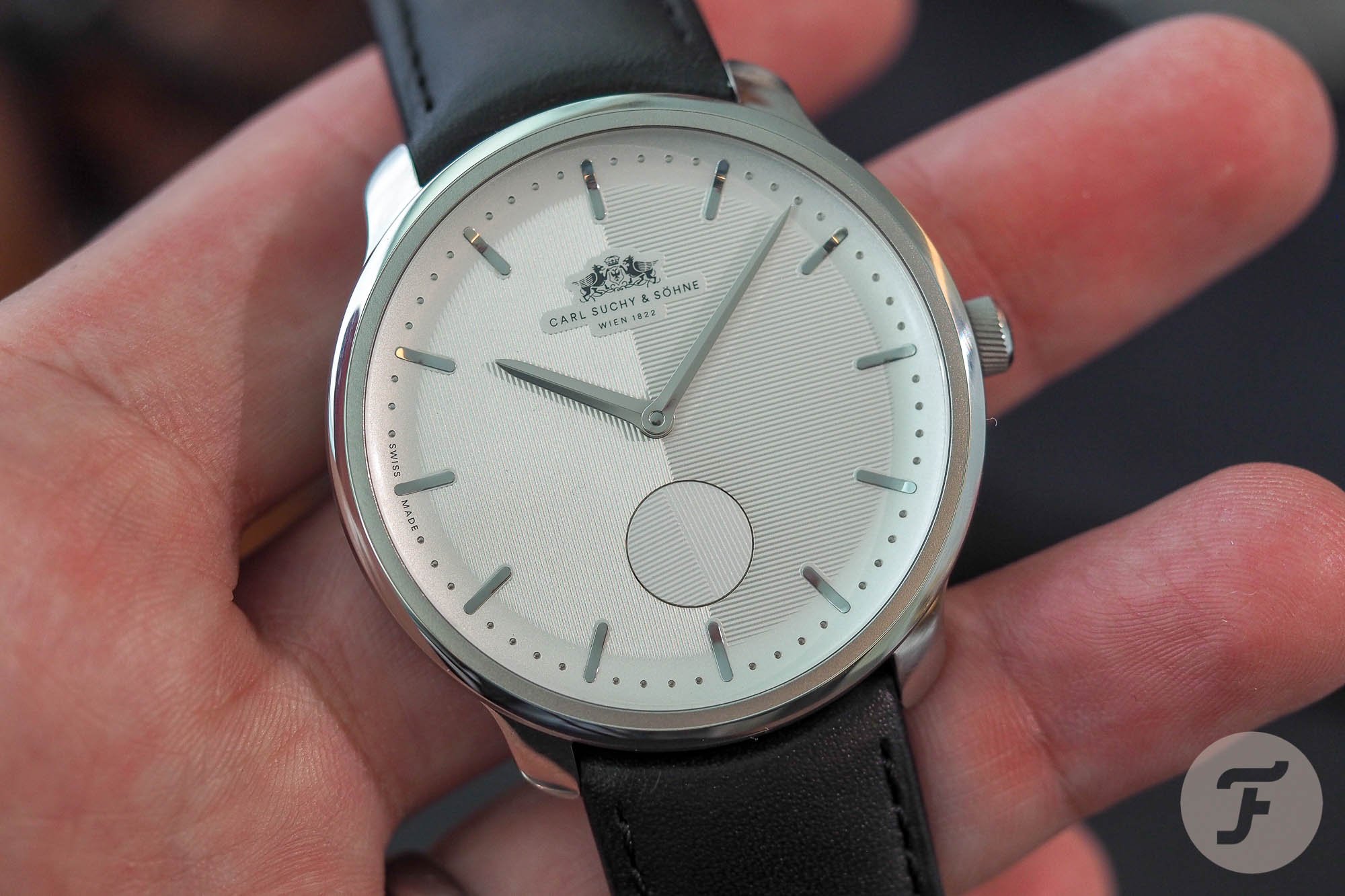 Modern Minimalist
The other surprise for me within the Carl Suchy Waltz collection were the cases.  Here again, I assumed that they were somewhat traditional, but there's a modern touch of bead-blasting on the sides of the watch.  It's extremely fine and contrasts beautifully with the highly polished surface found on the top side of the case.  And then there are the stubby lugs that really are a joy to behold from different angles.  A slightly rising sapphire crystal helps maintain the clean, swept look of the watch.  Finally, the crown is knurled diagonally and appears to be lacquer-filled.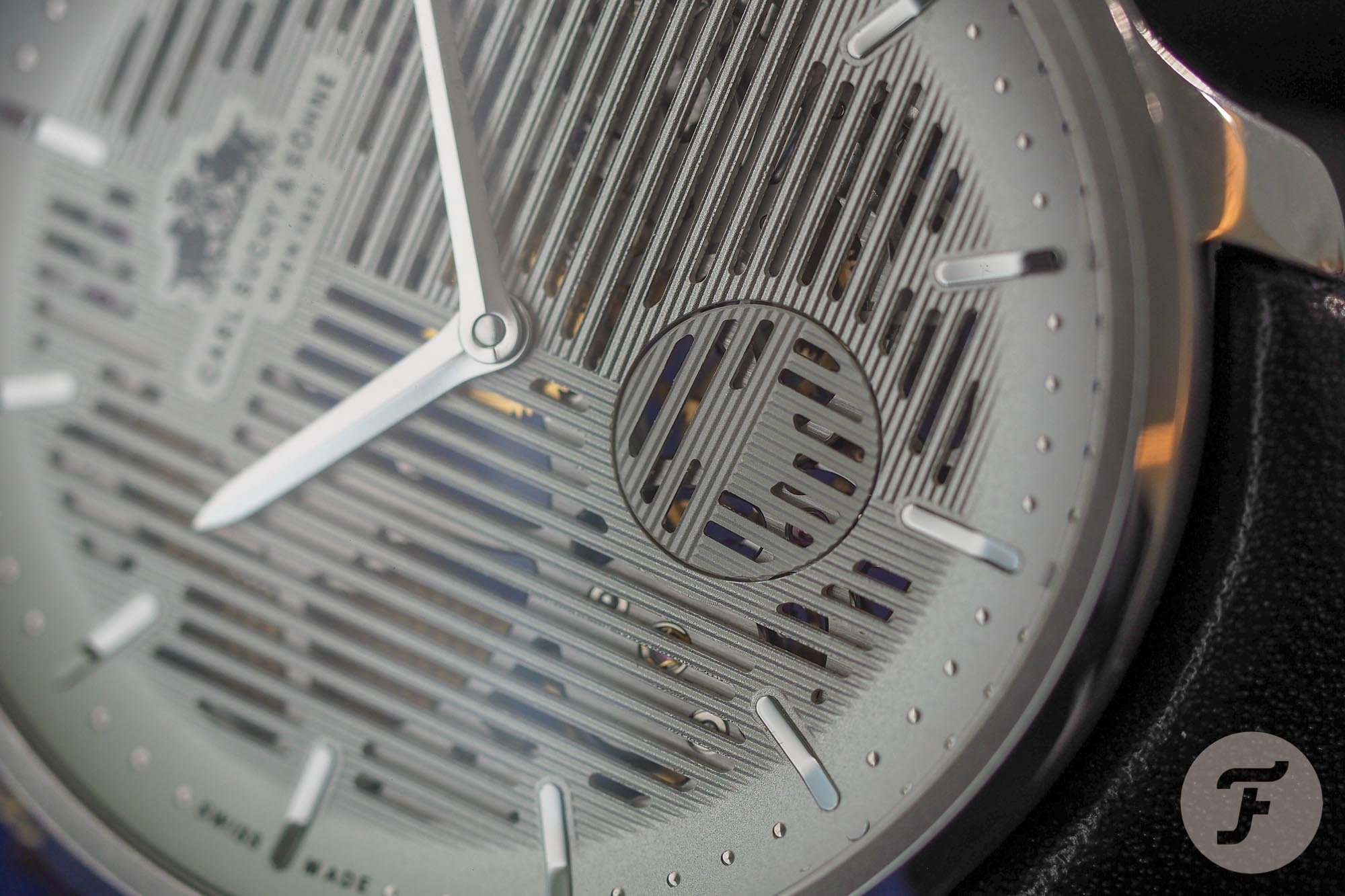 A Sublime Skeleton
You can see that I photographed a couple different models and with cases made of both steel and 18K gold.  The primary difference is in the dials where the open version carries the "Skeleton" name.  I saw a lot of open-worked dials at Baselworld and even more from photos at SIHH.  It's generally not my thing, but this louvered look is a whole lot more subtle and tasteful in my opinion.  Hopefully from some of my pictures, you can see that it's executed at a very high level. Additionally, all of the movement plates and bridges have been skeletonized by hand and PVD coated.  They're gorgeous and expensive works of art.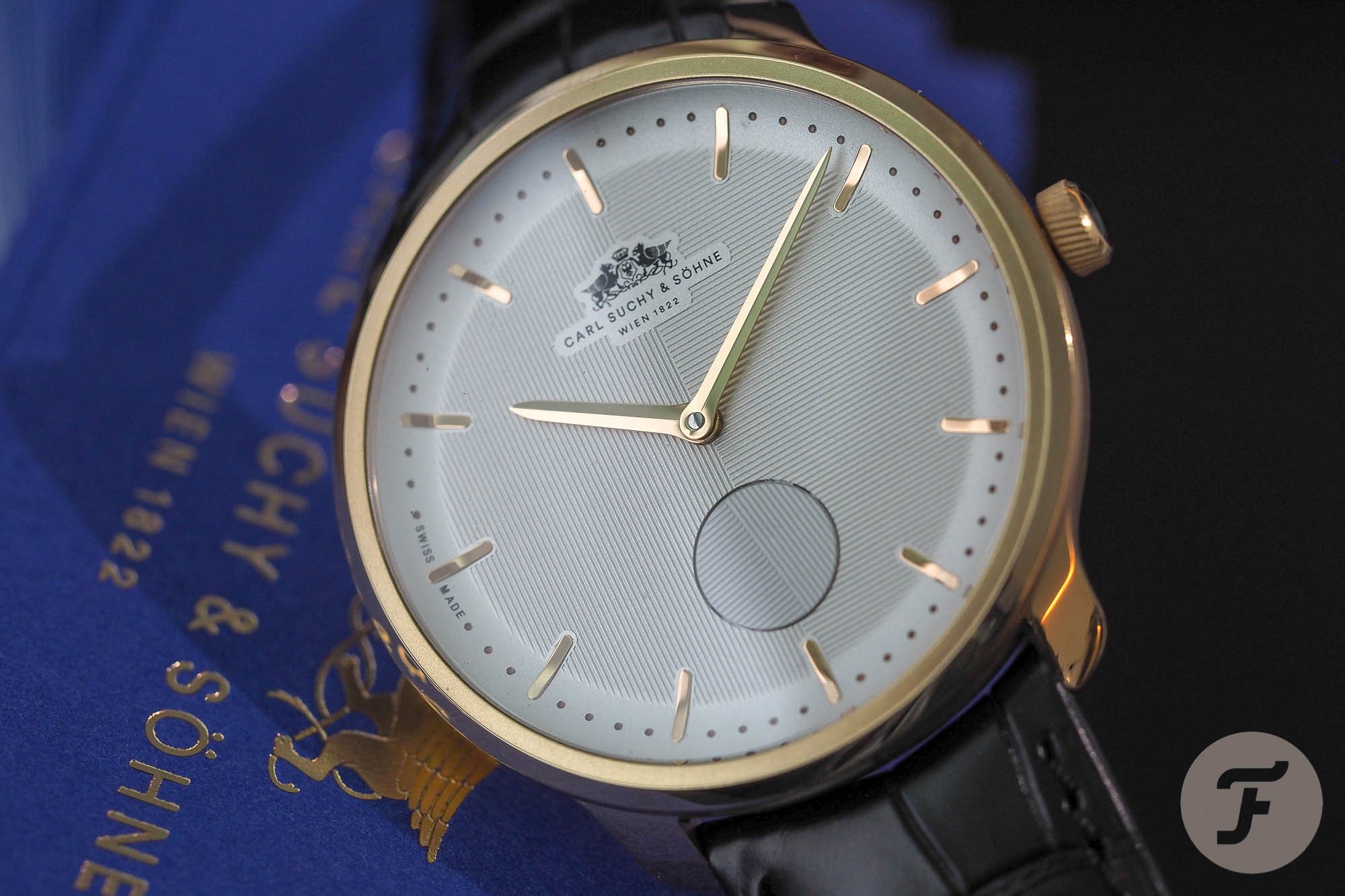 Small Production, Global Demand
Carl Suchy & Söhne doesn't make many watches, but they do seem to be doing well.  I asked if the bulk of sales were being done in Austria, but it seems interest has been quite global with most Carl Suchy Waltz limited pieces selling out rather quickly.  In looking on the site, the brand will do its best to work with customers on custom dial colors, etc.  If a piece is a normal production model, delivery times are quotes as 2 to 10 days.  The gold pieces, by the way, are highly limited to 5 pieces.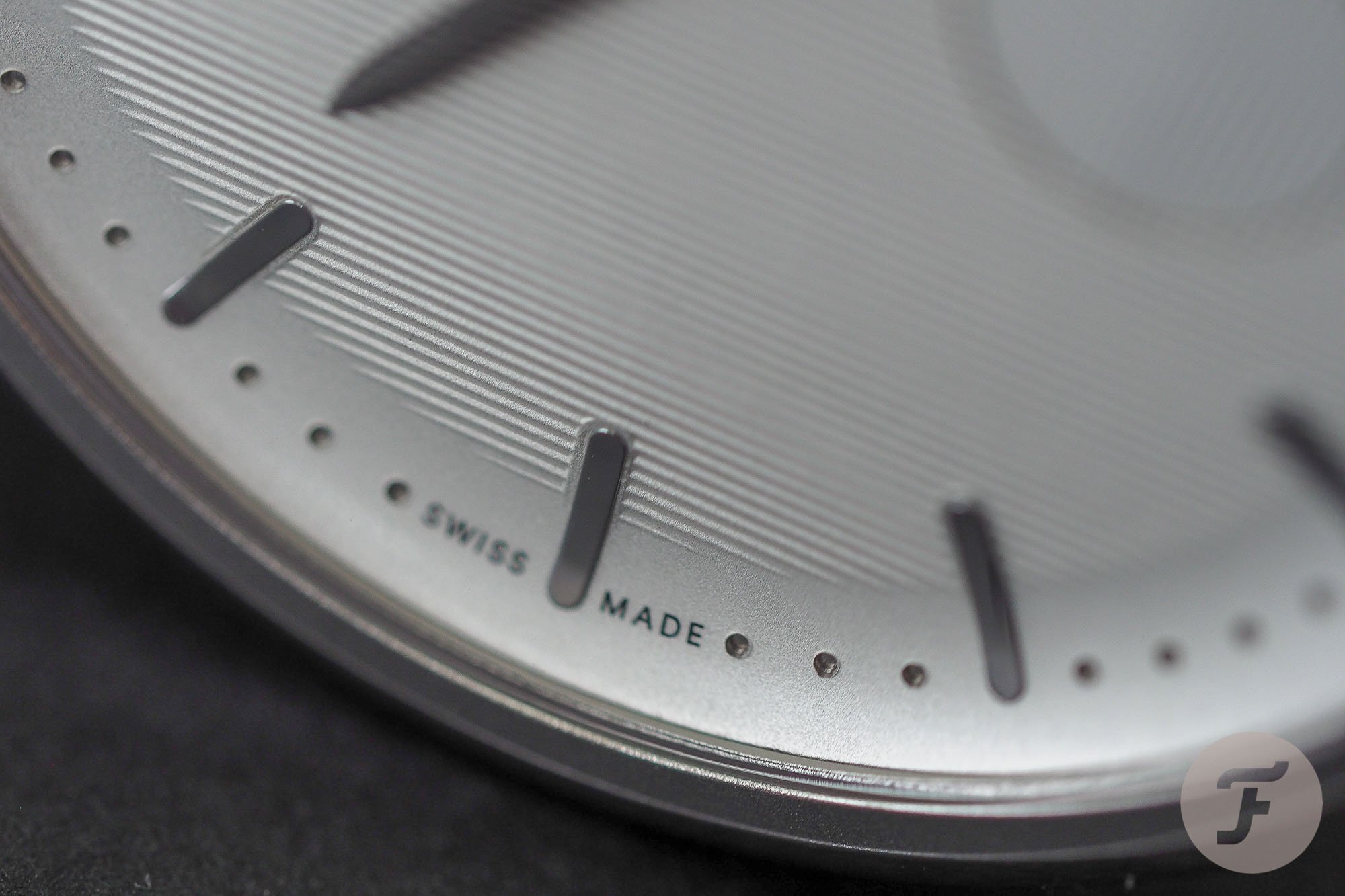 Pricing and Final Thoughts
Pricing on the Carl Suchy Waltz collection varies depending on the model and case material.  Stainless models with a closed dial retail for 8,495 Euros, while the Skeleton stainless becomes far more serious at 24,995 Euros due to the high amount of hand-finishing involved.  Finally, the gold models retail for 18,945 Euros.  Contacting the brand directly on its official site or visiting its headquarters in Vienna is a good way to order or handle the watches.  Also, the brand works with a number of high-end retailers throughout the world as indicated on its site.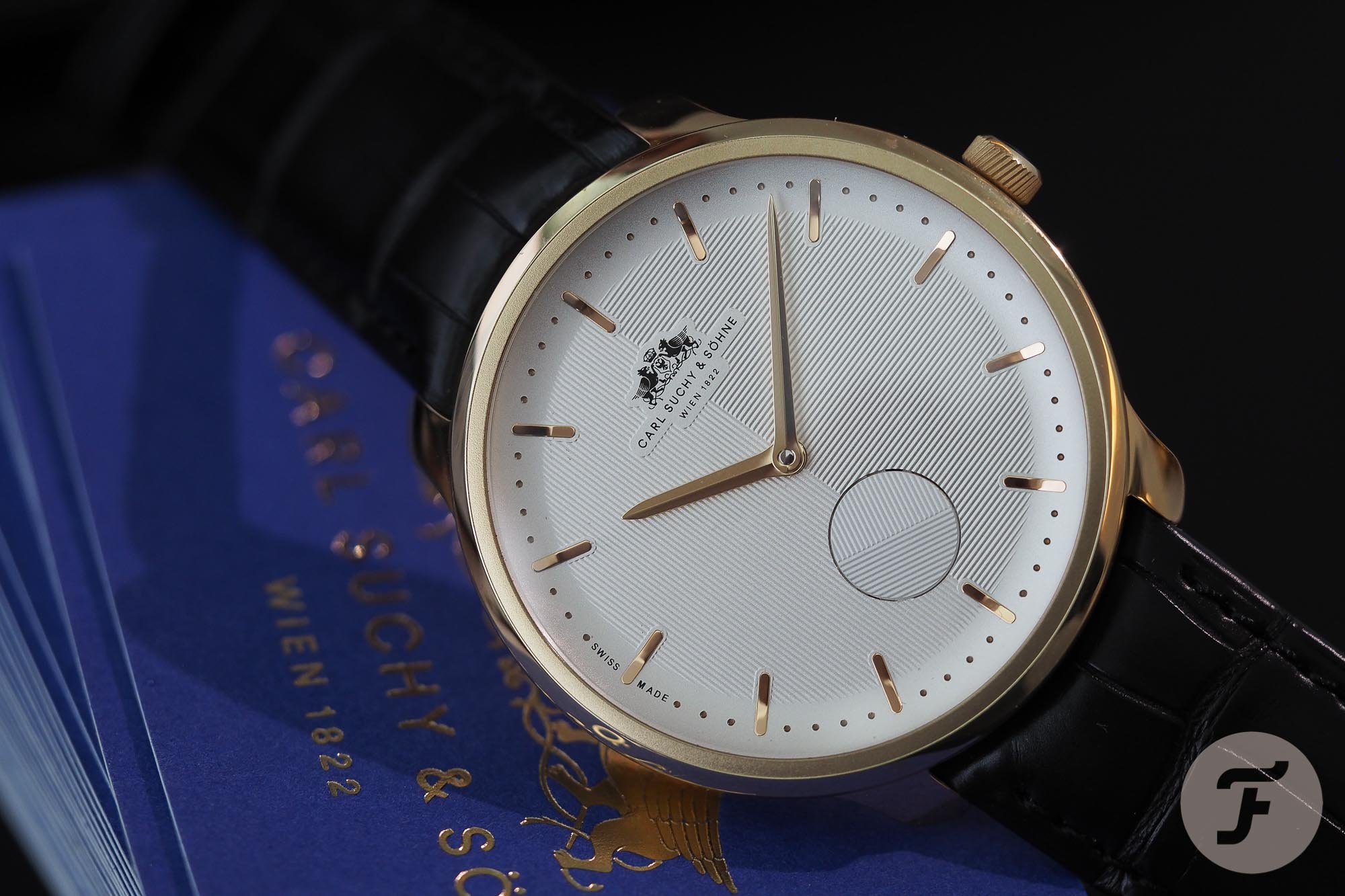 I don't often get too excited about independent higher end watches, but the Carl Suchy Waltz collection is different.  I could actually envision myself wearing one of these.  Meeting with the owner was also a highly enjoyable experience.  He was extremely laid back, humorous, yet passionate about his watches.  We'll definitely look forward seeing future releases from the company and I now have one more reason to visit Vienna aside from our favorite Fratello food: the Wiener schnitzel.
For more information on the Carl Suchy Waltz collection and the brand in general, visit their official site.
Watch specifications
Model
The Waltz No1 (including Skeleton and Gold)
Case Material
Stainless Steel or 18K Yellow Gold
Case Dimensions
41.5mm Diameter, 9.3mm Thickness
Crystal
Sapphire - Non-reflecting
Movement
Caliber 5401 by Vaucher Fleurier Manufacture, automatic winding, 29 jewels, 48 hours power reserve, micro rotor
Strap
Leather with folding clasp
Functions
Time (HH:MM:SS)
Price
€8.495,- Stainless Steel, €18.945,- Gold, €24.995,- Stainless Steel Skeleton