Casio G-Shock GPW-1000RAF – Hands-On Review
Casio with its G-Shock concept has over 30 years of history when it comes to toughness. In 1981 a team of only three members led by Kikuo Ibe was formed to produce a watch which could fulfil the Triple-10 concept; able to resist a 10 meter fall onto a hard surface, water resistant to 10 bar, 10 year battery life. In 1983 and over 200 prototypes later, Ibe's team came with the first G-Shock, the DW-5000.
Despite the enormous achievement it was in those days, when a watch was still considered a delicate instrument, G-Shock has evolved tremendously. The watch we're reviewing here is one of G-Shock's latest creations and is a very good example of the G-Shock evolution.
The Casio G-Shock GPW-1000RAF is a limited edition in the Gravitymaster series, designed in cooperation with the British Royal Air Force and color/contrast-wise inspired by its Chinook helicopters. It's said, by Casio, to be the first watch ever to have radio- and GPS-signal reception for correct time setting (including daylight saving time) of the watch in any country or region you should reside. Besides the time indication, and like any other G-Shock, the GPW-1000RAF has a lot of additional functions. That's where this hands-on review really starts, and it might be one of my most controversial reviews to date.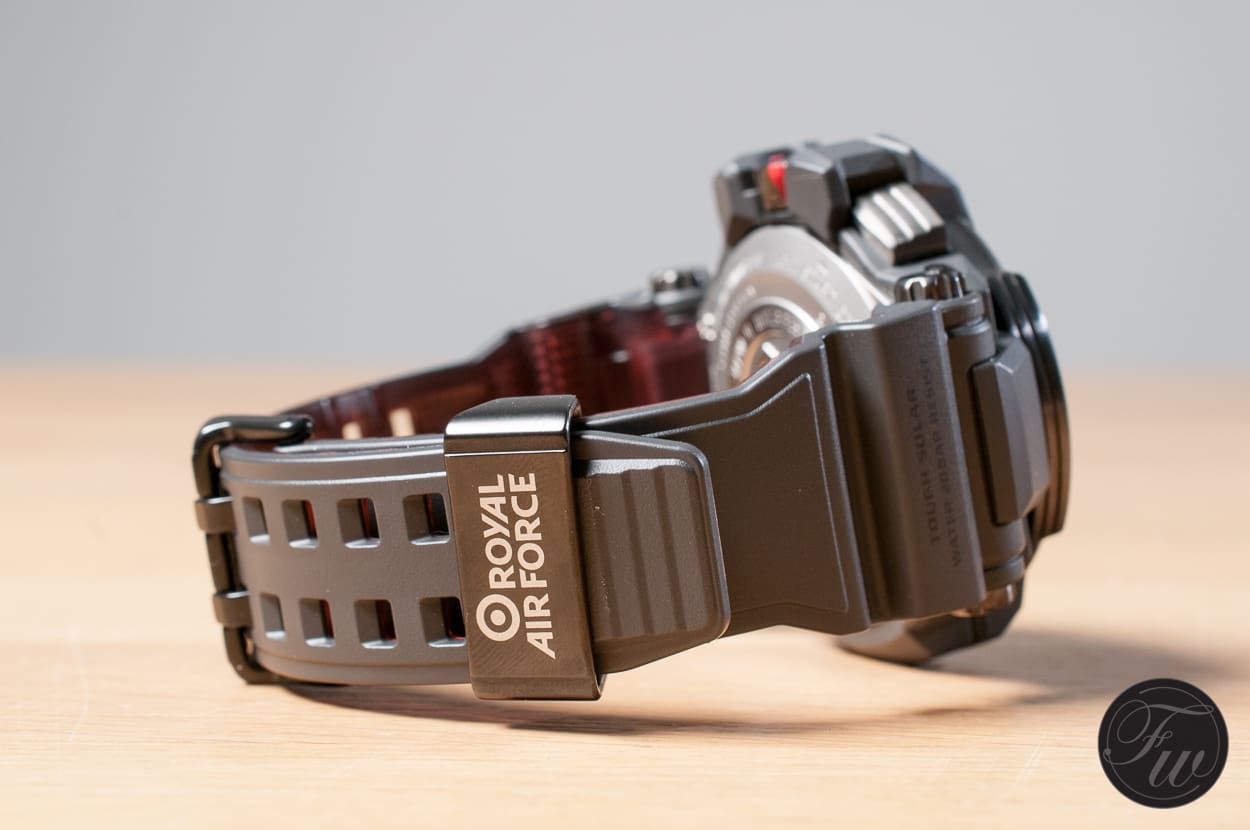 On First Wear
What a big, instrumental, mean but at the same time good-looking, as well extremely readable piece of machinery! It's huge in diameter (56 mm) and hight (18,8 mm), the weight's just fine (126 g). The strap seems long enough to fit two wrists, and certainly would fit over a flight-overall. Whatever functions it might further have, the time is readable under almost all lighting conditions. And even in pitch-dark a super bright auto LED light can be activated automatically as you turn the watch toward yourself. The luminous Neobrite material of the hands and 3D indexes provides long-term illumination in the dark after only a short exposure to light.
Huge buttons, big screws, a carbon/resin-mix easy fitting and easy adjustable strap. A thick metal buckle and rider with RAF logo and name. A big 12 and 6 to keep good orientation at the dial, below an anti-reflective sapphire crystal. No matter what I already like it now!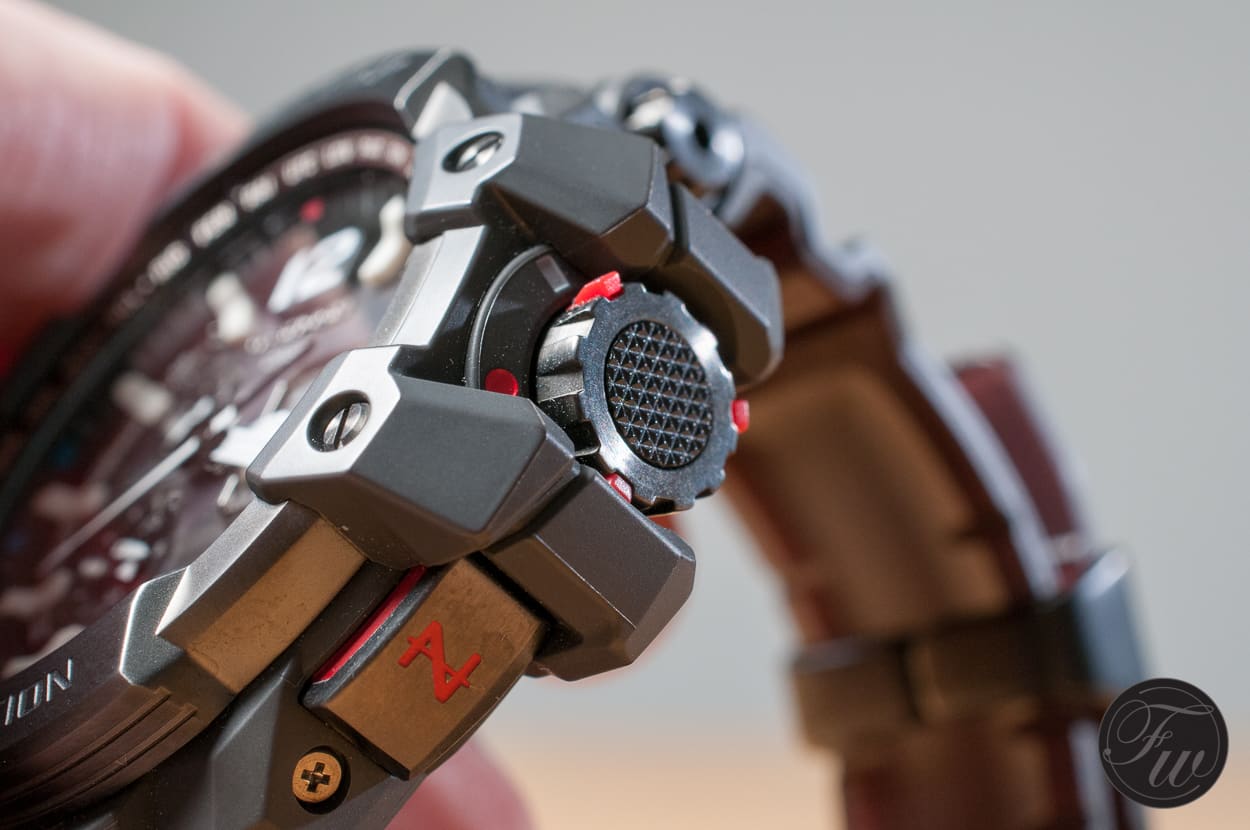 After Wearing It For a While
So then let's go on and explore this Casio G-Shock GPW-1000RAF. Three push-buttons and a big 1/6th turn quick-lock crown are laughing at us. Where to start? This not being my first G-Shock I guess that the bottom-left pusher must be the mode changing. Click, and yes, the mode indication hand at 3 o'clock moves forward from indicating the current day of the week to ST, meaning 'Stopwatch'. For those not familiar with operating a G-Shocks, Casio engraved the functions of the pushers at the beautiful metal case back.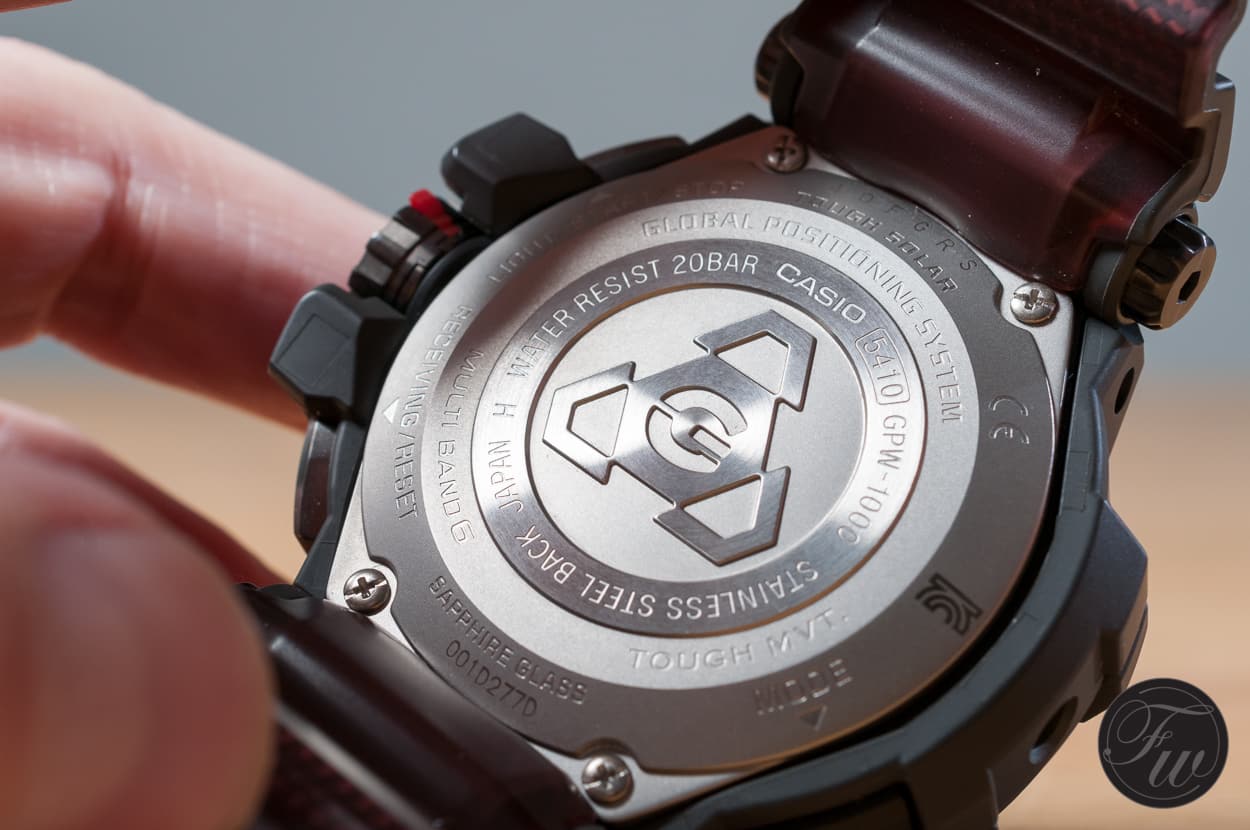 After the mode pusher, starting the stopwatch is done by pressing the top-right pusher; no surprise here. The indication of seconds and minutes of the stopwatch is done in the sub-register at 8. However it takes quite a while before the hands in this sub-register have set to zero, so you can't just set the function to ST and start the stopwatch; depending on where the little hands are in the sub-dial it'll take quite some seconds before you're able to operate the stopwatch. -1.
Then hopefully the large and quite voluminous time minute and/or hour hands are not anywhere between 6 and 9 at the dial, because in that case they will obstruct the stopwatch sub-register for a great deal, disabling you to functionally use the stopwatch. -2.
When operating the stopwatch you'll see the large second hand of the watch rotate 360 degrees in one-second intervals. It's stoppable at 1/20th of a second and does this fast rotating for the first 30 seconds of the use of the stopwatch. After 30 seconds the 1/20th second hand resides at 12 and will spin to the exact 1/20th of a second when stopping the stopwatch. Every time you stop the stopwatch and restart it again without resetting to zero, it'll run for 30 seconds. Nice.
As the seconds and minutes of the stopwatch are indicated on the sub register at 8, which is originally the second time zone dial of the watch, I'm curious what will happen after 24 minutes when the 24-hour scale of the dial ends. Here's what happens; the stopwatch just stops at 24 minutes – it stops! 24 minutes… that's all it does. 1/20 of a second accuracy nice, however only able to record times up to 24 minutes is hardly usable as a serious stopwatch. -3.

On to the next function TI, the 'Timer'. Engaging this function is easy, however what about the setting? Here's the first challenge which makes me in need of the watch's 'Operating Guide'. There's a little booklet that comes with the watch, however I prefer to download the PDF-file which is easier to read. The number of the module in this watch is QW-5410 and Google-ing brings me quickly at Casio's QW-5410 manual.
I won't get into details which can be found in the operations guide, however setting is pretty easy. When starting the timer, again through the top-right pusher, the large second hand starts quickly rotating counter clock-wise towards the set time. The remaining time can be read again at the sub-register at 8 (again when not obstructed by the time hands). In the end and when not listening careful the timer noise might be not loud enough to notice at all. -4.
On to the third mode, the daily 'Alarm'. There's 'only' one daily alarm on this G-Shock while most others sport five alarms. Not much to worry about, but for a high-end (probably even the highest-end) model of G-Shock a bit strange to learn. Setting needs the 'Operating Guide' again, and is done pretty the same way as setting the timer. The alarm time is indicated again at the sub-register at eight (indeed, most of the time). Setting the alarm on and off is done by the pusher at 4 which makes the large second hand point at a blue printed 'on' and 'off' in the watch' bezel. In the end I want to point out that again the noise level isn't what to expect from a professional watch. -5.
That's pretty much about the extra functions of this watch, and observant readers might have mentioned that all the extra functions are more or less useless. Reluctant to operate, difficult to set, hardly readable and not loud enough to be useful. Absolutely not something you would expect from a 'professional' Royal Air Force dedicated watch.
After Wearing The G-Shock GPW-1000RAF Somewhat Longer
Back to basics. I still love the watch and don't want to take it off my wrist. So why is that? All functions s*ck,  except for the look and feel. And that's exactly why I still love it. In daily life, what you use is reading the time and probably the date. This is what this watch is excellent in, very clear to read while looking great on your wrist; what else do you need from a € 900,= watch?
€ 900,= for this Casio G-Shock GPW-1000RAF? I thought a G-Shock was a € 100,= watch? Yes indeed it was. However this evolved G-Shock has so much technology on board – GPS and radio time reception for automatic time zone and DST time swapping, shadow dispersing solar panels, 7 months power reserve (without further exposure to light), perpetual calendar till 2099, and not to forget anti-reflective real sapphire crystal – that I think it's really worth it's price tag. And this Casio G-Shock GPW-1000RAF is a highly exclusive Royal Air Force limited edition (regular GPW-1000 models retail for € 100,= less).
Other Observations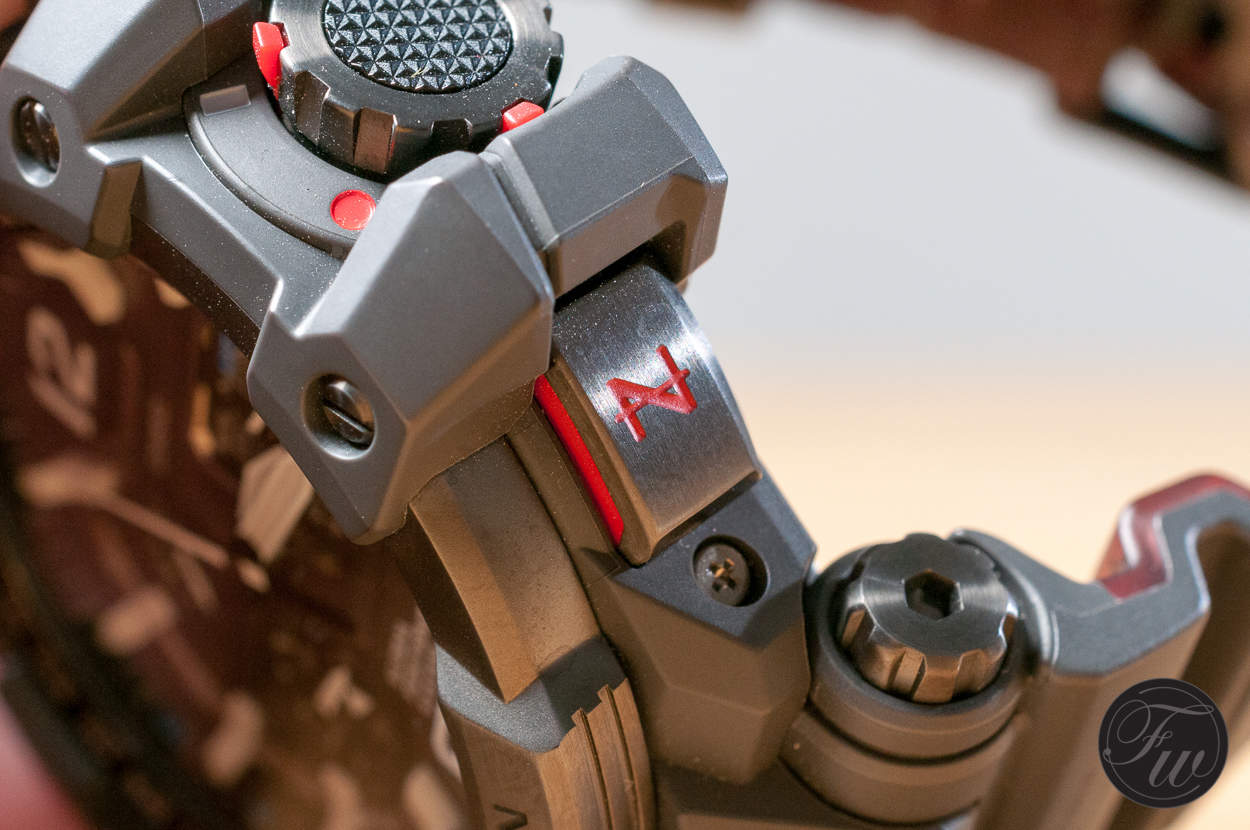 On the pusher at 4 o clock there's an interesting Z printed in red on it with a line, like a meridian, from top to bottom through it. When looking at it I immediately knew what it was meant for. One push button access to Zulu (or GMT) time. What else could this button on a professional Royal Air Force watch be meant for? Well… not for indication Zulu time at the press of a button unfortunately. Pushing it once indicates if the watch has received it's signal to synchronize the time, Yes or No. Longer pressing forces the watch to look for a time synchronizing signal. Totally useless to point a special button for this; even if not synchronized the watch keeps time within 15 seconds a month. -6.
As mentioned in the beginning, the watch has a beautiful and very clear LED Super Illuminator Light for use when it's pitch dark. It operates when pressing the upper-right pusher. However… only when in time-only indicating mode. When in any of the other modes, ST, TI or AL, it doesn't work and so you can't use the functions, nor read the time when using other modes than just the regular time. -7.
Positive. As mentioned there's a sub-dial at 8 permanently indicating a second time zone in 24-hour format. This is a nice and functional feature; the watch has 40 time zones to choose from.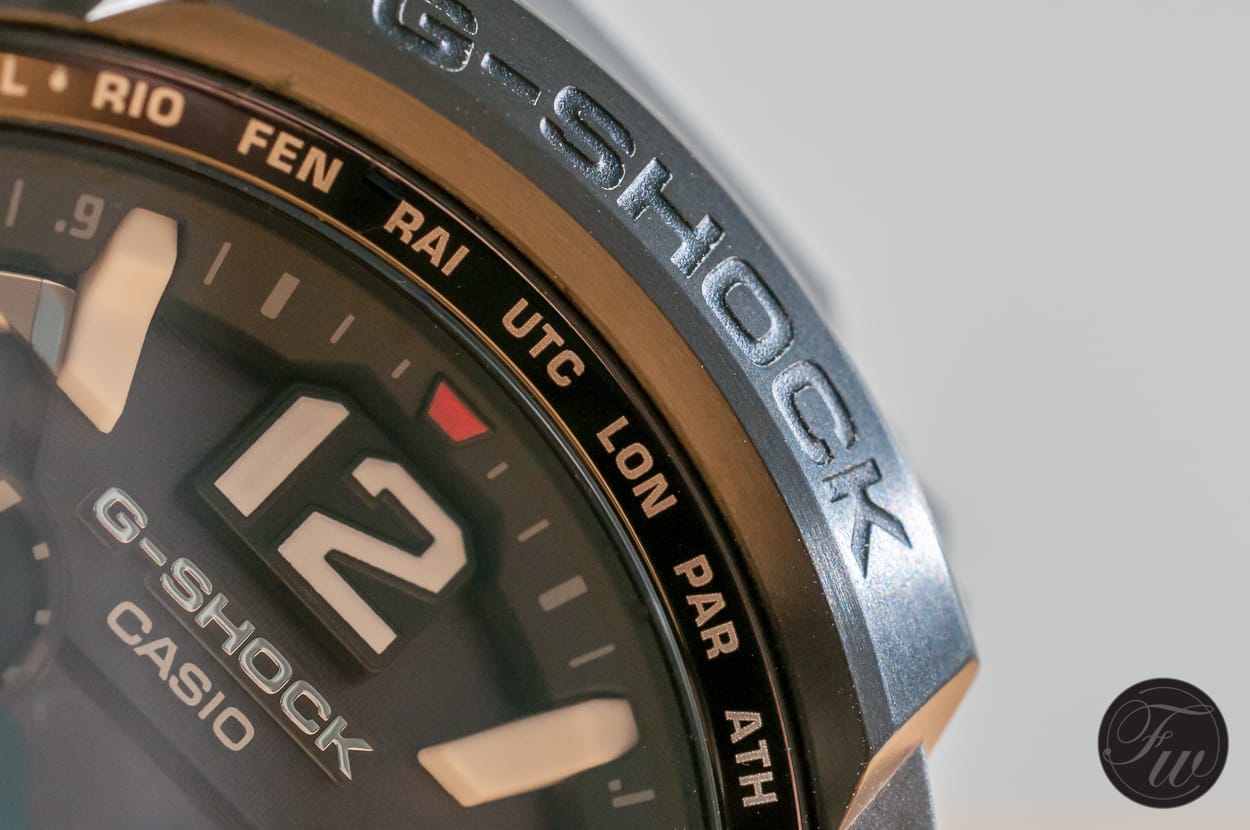 Positive as well. At 11 there's an even smaller third sub-register which I didn't mention before as it didn't do anything with the watch' other functions. This sub-register in 24-hour format shows the current indicated time in 24-hour format. Although pretty difficult readable and often hidden by the regular time hands, this might be a nice option for you and certainly is useful as a day/night indicator.
Conclusion
So why would this be one of the most controversial reviews I did to date then? Well I've never had to bring so many negative points about a watch in my reviews, while liking it so much.
Bringing this Casio G-Shock GPW-1000RAF as a professional Royal Air Force instrument is absolutely ridiculous. There's hardly any additional function to the regular time keeping which is properly suitable. I can imagine Royal Air Force personnel want to use a proper stopwatch and have readable access to Zulu (GMT) time at the least.
But then, the watch looks absolutely gorgeous. The construction, colors, contrast and readability (of the time) are beautiful and perfect. This is a watch which will be positively noticed, and is very exclusive (I've heard that only around 1.000 pieces have been supplied worldwide). It's more than enough sturdy and even sports real sapphire crystal. And all that for under € 900,= / $ 1,000.-. Would I recommend the GPW-1000RAF? YES I do! Even with all the flaws you won't regret it. The problem will be where to find one…