Chopard Chimes In With The L.U.C Strike One In White Gold And Four Alpine Eagle Summit Gemset Models
Finery is on display in Dubai
Today, we have news from Chopard, and it couldn't be more different. The L.U.C Strike One is an innovative beauty that should delight admirers of serious watchmaking. The Alpine Eagle Summit Gemset models are sparkling variations of the popular dress-sport pieces. Both will be on display in Dubai, and we're happy to cover them.
The L.U.C Strike One is a very different watch from the gem-set Alpine Eagle models we will preview today. I like to think of the disparity as a great showing of how Chopard brings a wide breadth of offerings to the market. Whether one is looking for high-end watchmaking, exquisite stonework, or both, the brand has your number. I'm certainly more at home with the L.U.C, but I can certainly appreciate these new Alpine Eagle models.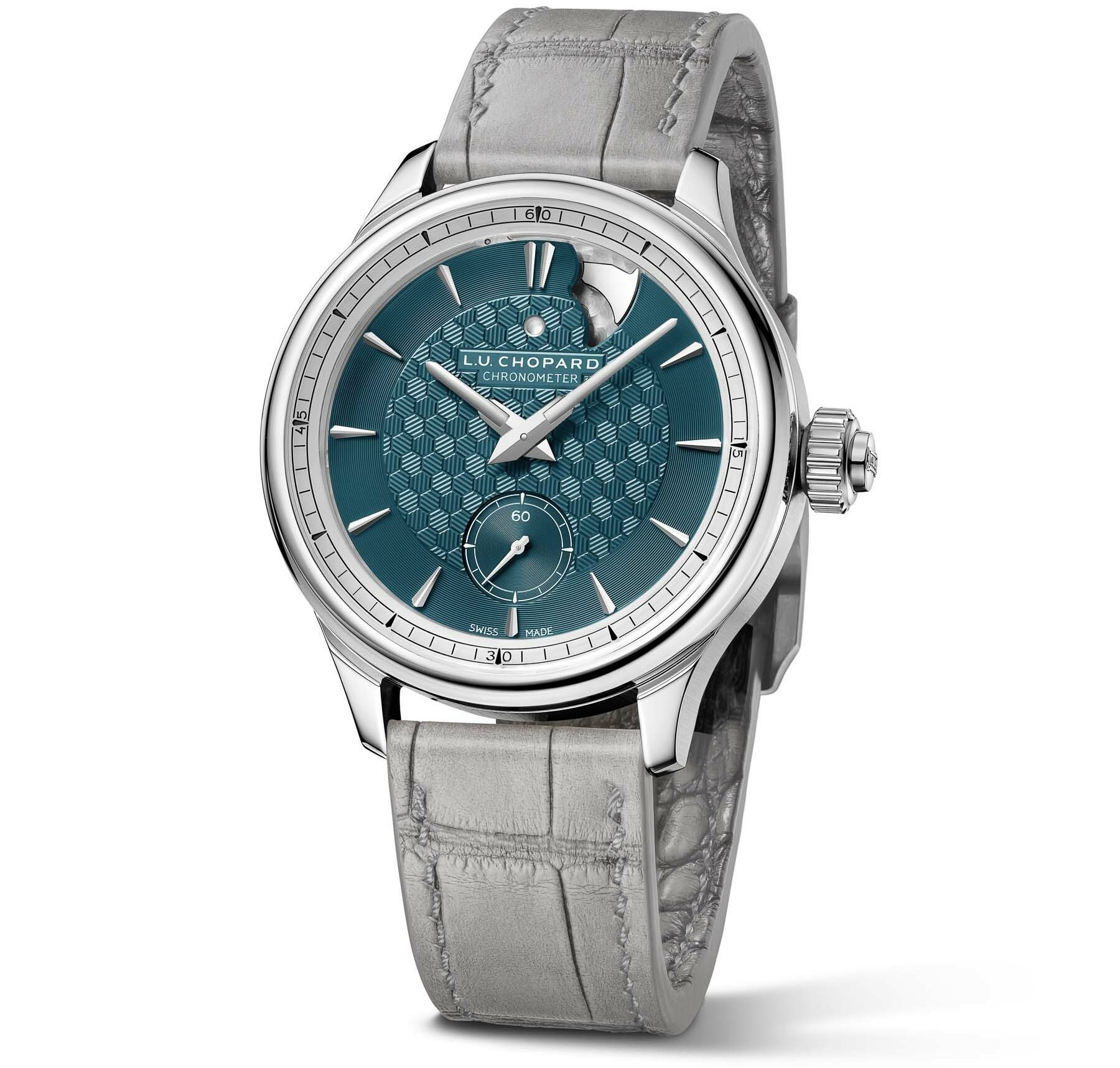 Chopard L.U.C Strike One
The latest L.U.C Strike One is an 18K white gold timepiece that serves as a sequel to last year's release in rose gold. Just like that one, this version is an auditory delight that chimes 24 times per day upon the hour (sonnerie au passage). The watch is a "relative" of 2017's Full Strike model and follows suit with a hammer that actually strikes against the edge of the watch's sapphire crystal to create sound. I've watched videos of the Full Strike (like this one), and the complication and the sound are both marvelous. This newest piece, however, has a micro-rotor caliber called the 96.32-L, which is only 5.6mm thick. The double-barrel chronometer-certified movement has a 65-hour power reserve and an integrated crown-mounted pusher to switch the chiming mode on and off. The movement allows the 40mm watch to come in at just 9.86mm thick.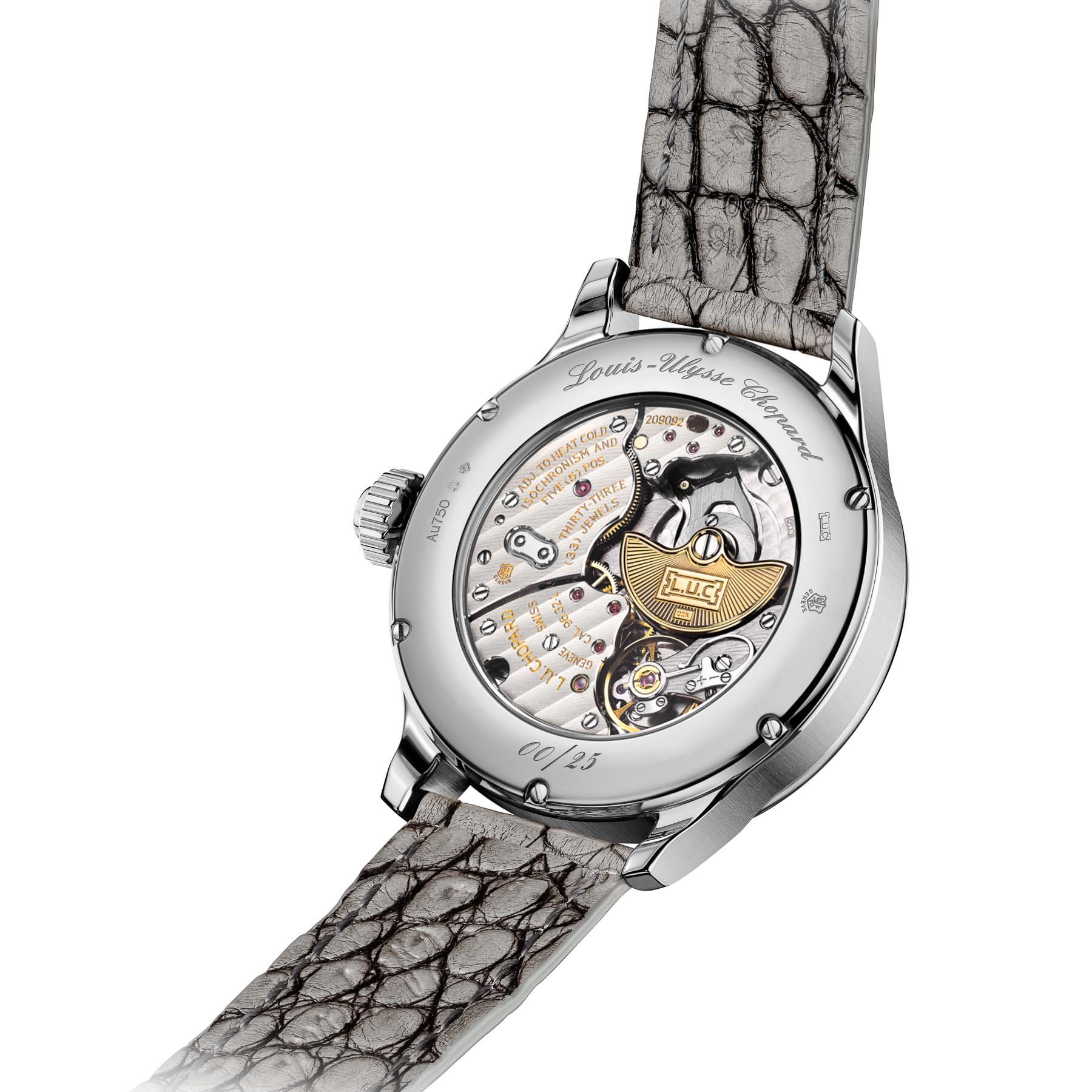 Aside from the movement, there's more splendor at work here. The 18K white gold dial has been galvanically treated to a green shade. It features hand-engraved guilloché in a motif that evokes the brand's well-known beehive trademark. The dial has an opening between 12 and 1 o'clock, allowing a view of the striking hammer. Interestingly, the minute track is engraved into the underside of the sapphire crystal. Chopard will produce just 25 pieces of this stunning watch. The price will be CHF 64,000.
The Alpine Eagle Summit Gemset models
Following the Strike One, we have the new Alpine Eagle Summit Gemset models. Chopard is releasing four new 41mm pieces in three shades of 18K ethical gold — white, yellow, and rose. The pieces will sell for €90,800 or CHF 82,000 except for the rose gold model, which will retail for €82,500 or CHF 74,500. First, there is a white gold model with blue and purple sapphires. It has a "Zinal" blue dial that is achieved via a PVD process. It is meant to remind us of a Swiss glacier of the same name. The second model is in rose gold and contains spessartites and white sapphires with a "Pink Dawn" dial.
Following that, there is an additional white gold model with tsavorites and white sapphires with a "Vals Grey" dial. Finally, Chopard includes an 18K yellow gold variant with pink and white sapphires and a "Golden Peak" dial. All of these 9.7mm-thick models come on an integrated bracelet, are chronometer certified, and use the brand's 31-jewel 01.15-C automatic movement with 60 hours of power reserve. It is on display via a sapphire window on the gold case back. Amid the upscale lapidary work, the watches contain Super-LumiNova on the hands and dial and are water resistant to 100 meters.
With the Strike One and the newest Alpine Eagle models, Chopard has certainly given us variety. If you will not be in Dubai, visit a Chopard boutique or the brand's official website for more details.