The Echo/Neutra Averau 39 "Fasi Lunari" Moon Phase Model Is A Matte Black Delight
Eyes on the Moon... Or should that be moons?
Do you know what the world needs more of, besides love? It needs more moonphase watches in it. Truth be told, it needs a lot more. Fewer modern watch brands attempt pulling off this complication than you would think. Fewer still do it in a way that feels fresh and modern. A lot of us "luna-tics", as I call anyone as obsessed with the moonphase complication as I am, are totally over the crescent-shaped aperture display commonly found on dress watches. Double-moon displays, showing both the northern and southern hemispheres feel hyper-modern in comparison. That's exactly what Echo/Neutra brings to the table today in this hands-on review of the PVD-coated Averau 39 Fasi Lunari.
No prizes for guessing that the name of this watch translates directly from Italian to "moonphase". I've never seen or heard it in Italian before, and thus it seems like a pretty classy moniker for this stout, sporty iteration of the standard model. What's different about this model from its core-collection peers? Well, that's quite simple — its black case and moss-green moonphase indicator give it a much moodier and broodier appearance. I've had it on my wrist for one week now, so let's see what I make of it.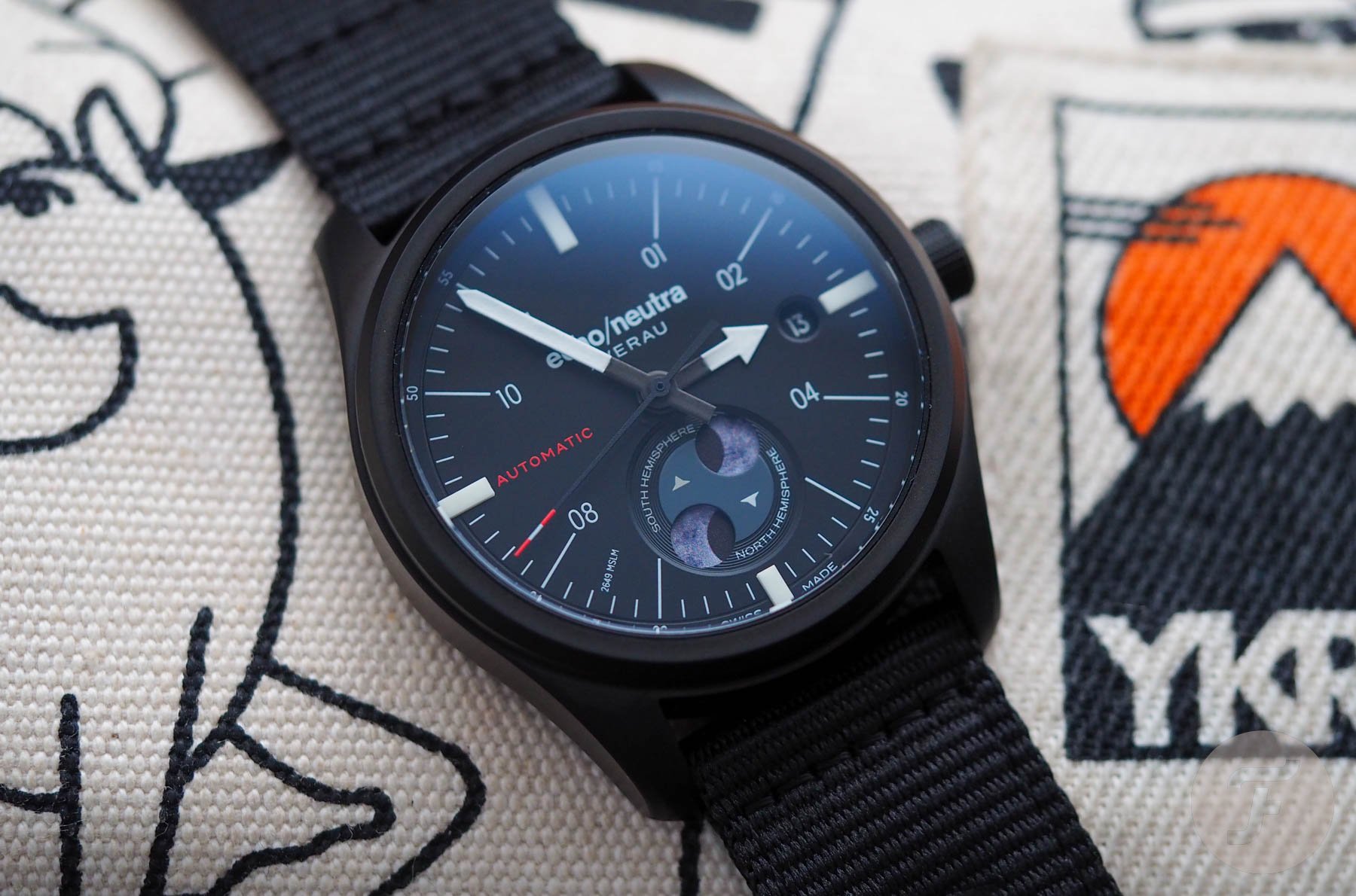 The two musketeers
Interestingly, Dave Sergeant also picked up one of these watches, but he went for the steel-cased version. His review will follow in January, and I'm going to make a point of telling him to not read this before he writes up his take on it so we can compare our thoughts and see where we agree and disagree. Oddly, we've ended up picking watches more typical of the other for once. Dave loves black, futuristic watches. I tend to gravitate toward more traditional sports styles. This is only the third black-cased model in my collection (joining a Bremont S500 and a Synchron Military) so it is a bit of a rarity for me. Whether Dave and I stick to our original selections or end up swapping them remains to be seen. For now, though, I must say I am rather satisfied with this acquisition.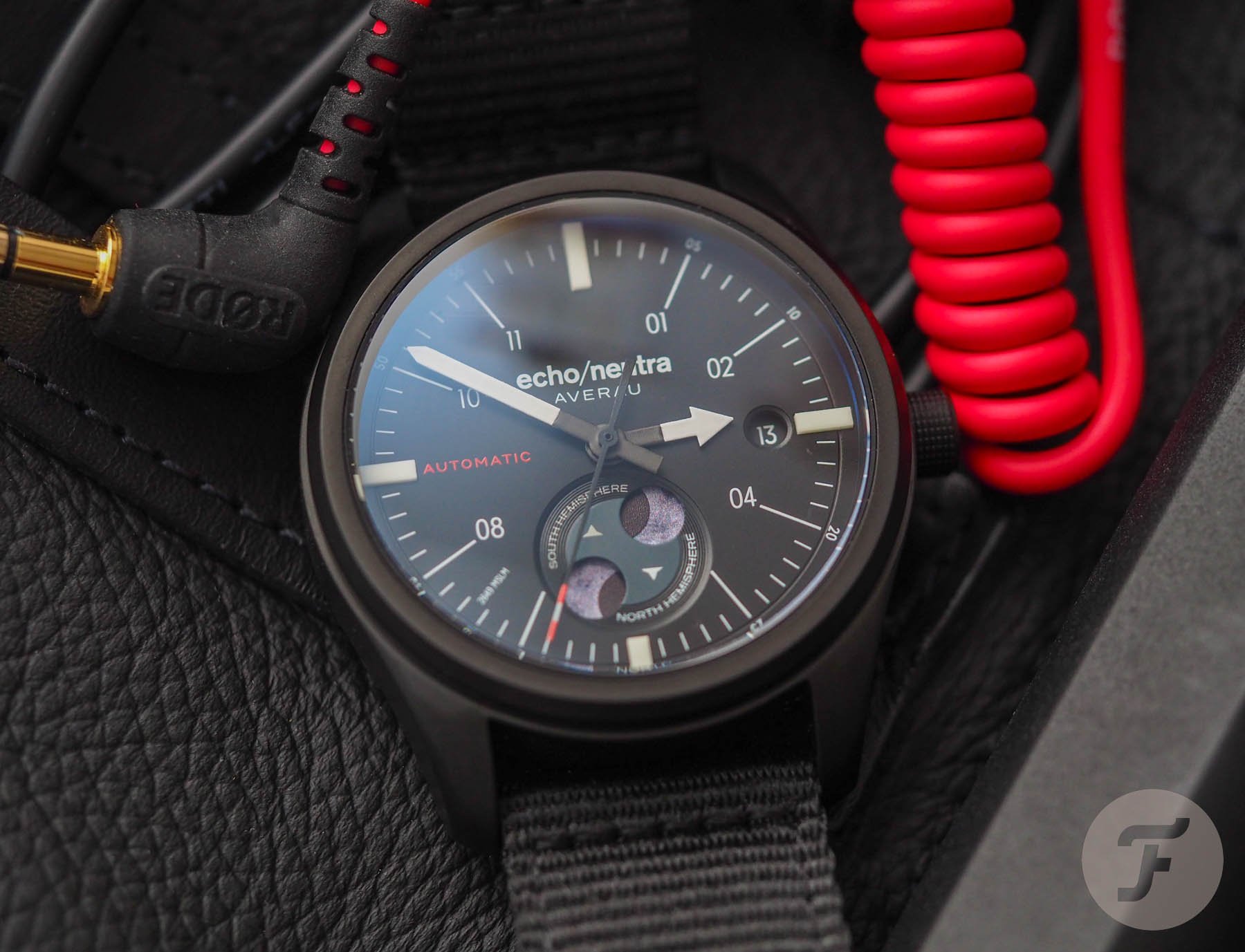 This is my third Echo/Neutra. To be totally honest, it is my second favorite of the three. I prefer the Cortina Chronograph. I absolutely adore that watch and wear it on a style-appropriate tan rally strap from Terrycrafted (as reviewed by Balazs here). Additionally, I own the original Averau 39 with a blue dial. When comparing this to that, I am very pleased to say there has been a marked improvement in the brand's execution.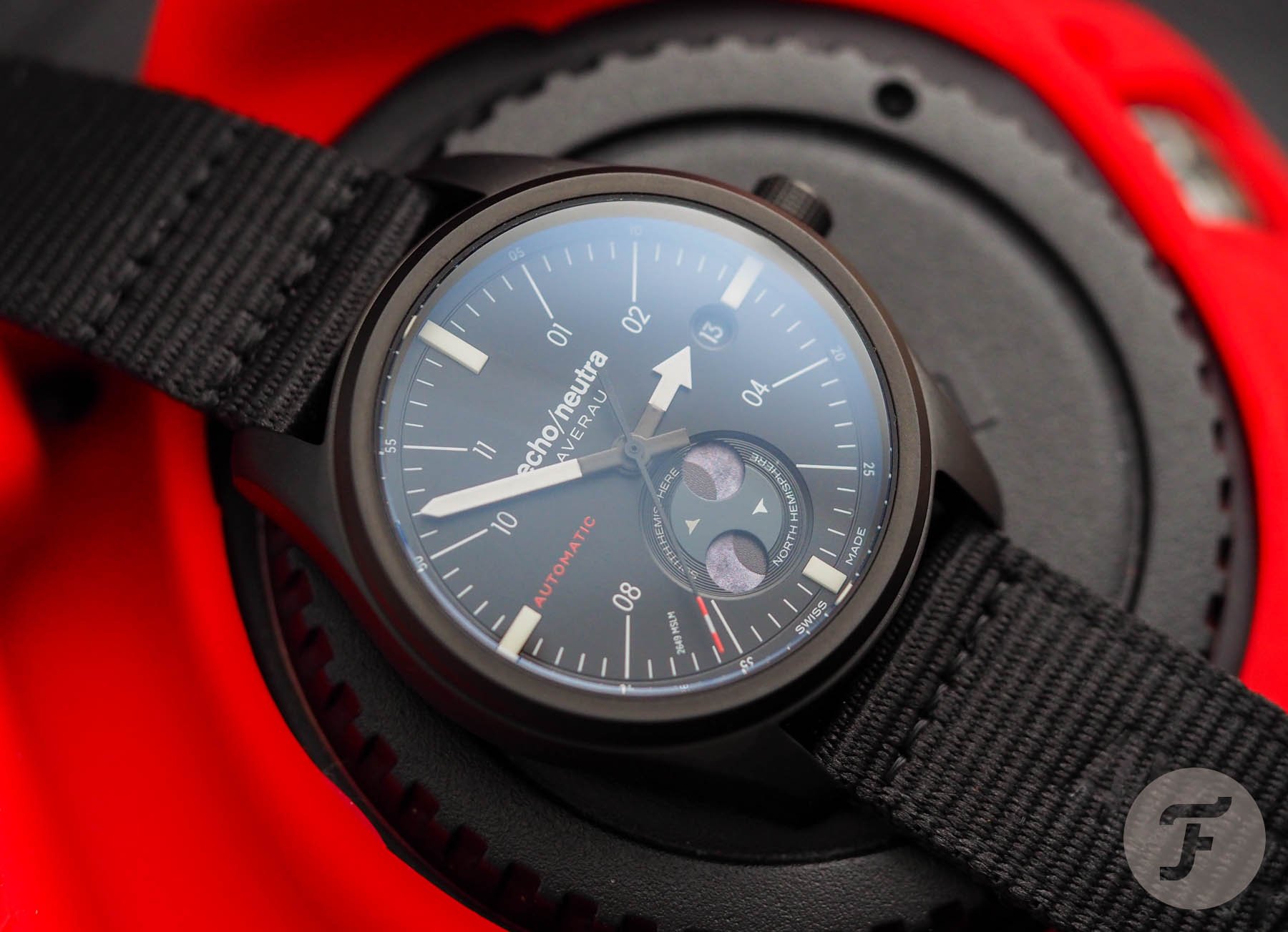 Brighter and bolder
The red printing on this model seems a shade or two brighter than it did on the older models. That is a great update, in my opinion. The date window is small and subtle and doesn't interfere with the rest of the dial's layout. Two elements leaped out at me as massive, massive improvements, the first of which is the longer seconds hand. It now satisfyingly meets the seconds track around the outside of the dial. Secondly, that track is now interrupted by beautiful block hour markers at 12, 6, and 9. These solid luminous chunks are applied to the dial. This gives the dial more depth and also improves the glow homogeny between the dial markings and hands. And the hands themselves are also much crisper in execution and finished much better than on the older models.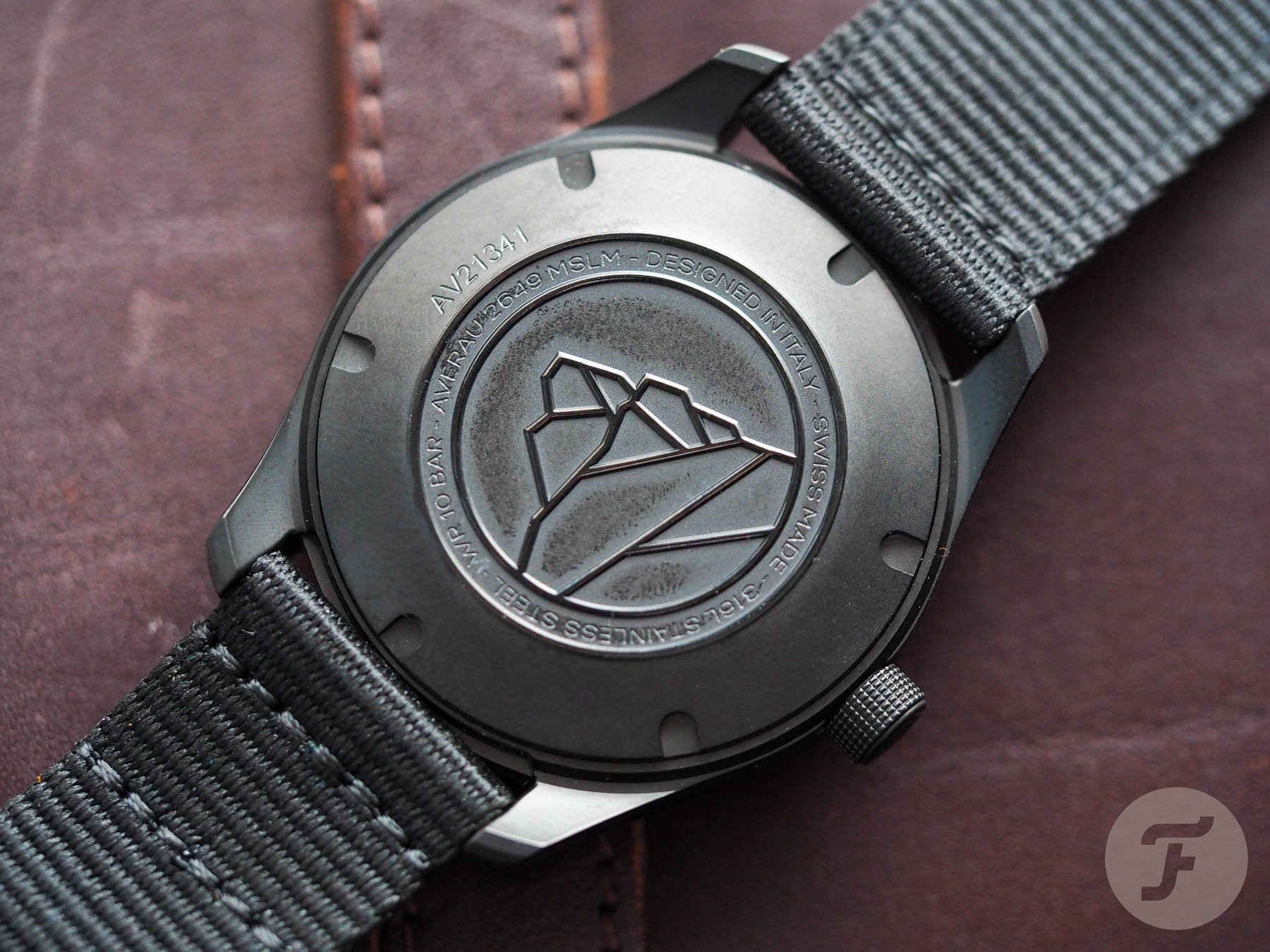 This 39mm wide watch takes a 20mm strap (I'll get to that in a moment), stands 13.5mm tall on the wrist, and boasts an approachable 46mm lug-to-lug measurement. My one real criticism of this watch is that I think it is a bit too thick for its diameter. It makes the watch sit up quite a bit. This gives the impression that it is much smaller than its stated 39mm. That's especially true of the blackened version. If you're looking for something stealthy, these attributes make the Echo/Neutra Averau 39 "Fasi Lunari" Moonphase a great choice, but do be prepared for it to wear a little smaller than you expect.
However, that modest lug-to-lug means this is a very comfortable watch. It continues the brand's early tradition of making very wearable timepieces in more classical diameters.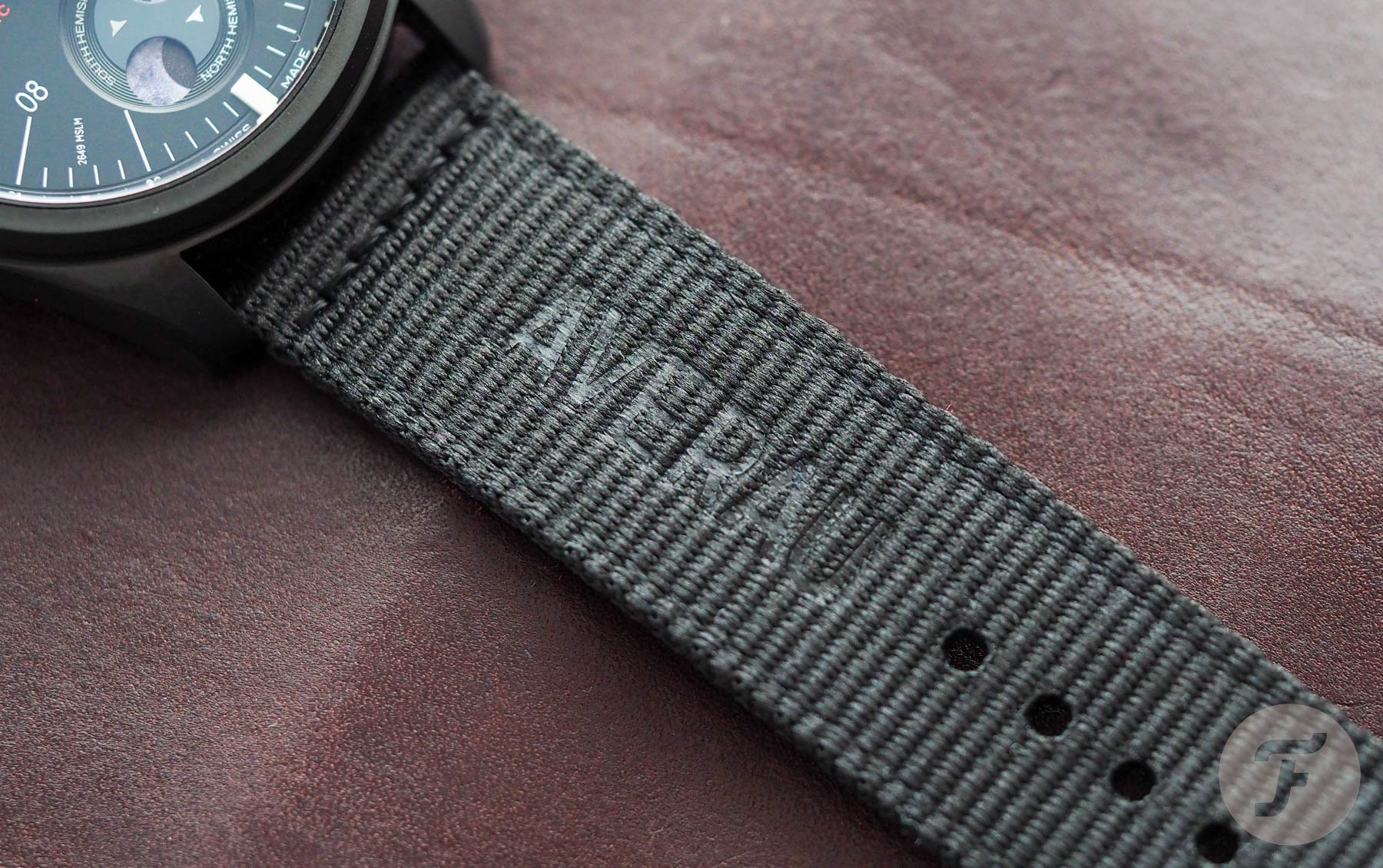 A strapping option
On to the strap. This fabric two-piece is tough as old boots. Or, to put it more accurately, it is as tough as the kind of webbing you'd expect to find on mountaineering backpacks, hammock straps, and support harnesses. As such, it feels like a really appropriate material choice here. I don't love the polished hardware next to the black case, but I do very much appreciate the sliding metal keeper. It's a really nice touch that adds tangible quality to the set-up. I would do away with the "timeproof" engraving on it, however, as I find it more distracting than enhancing.
Another thing I love is the heat-debossed (basically melted-in) Averau wordmark on the 6 o'clock side. This is, again, very on-brand and firmly within the genre of "climbing tool". What I would love to see, in all honesty, is this material used to create a four- or (preferably) five-ring ZULU strap with super basic loop hardware in matching black. For me, that would definitely put this piece over the top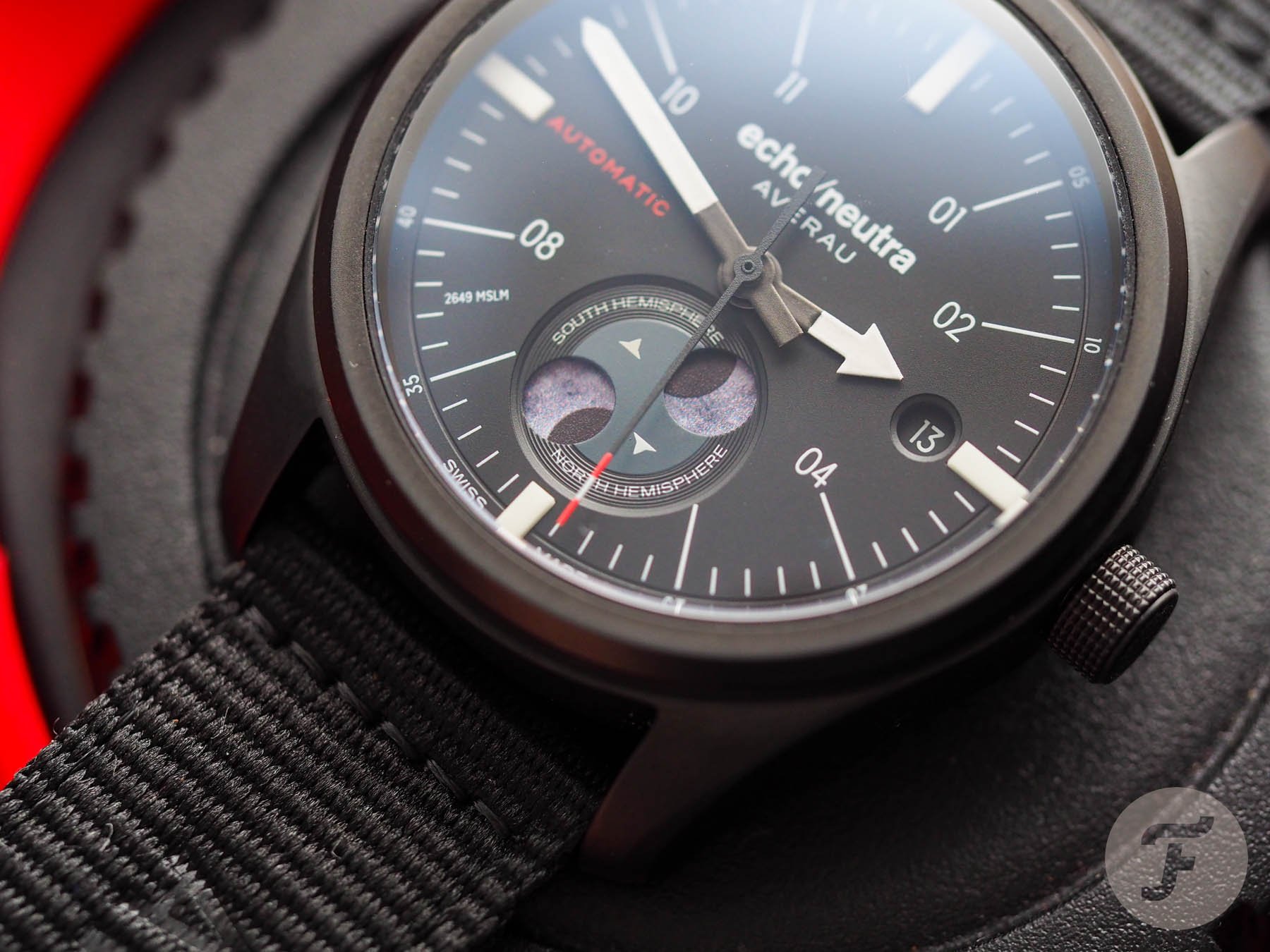 Why did I choose the black case?
Despite not generally leaning toward black cases, I chose this model because of the "mossy green" moonphase indicator. I love dark, earthy greens mixed with bright reds. I think the blackness of this piece serves as the perfect canvas for this unusual color combo. Yes, it may be outside my regular wheelhouse, but I like to experiment with watches in this price bracket. I must admit, I have not been disappointed with the result of this gamble.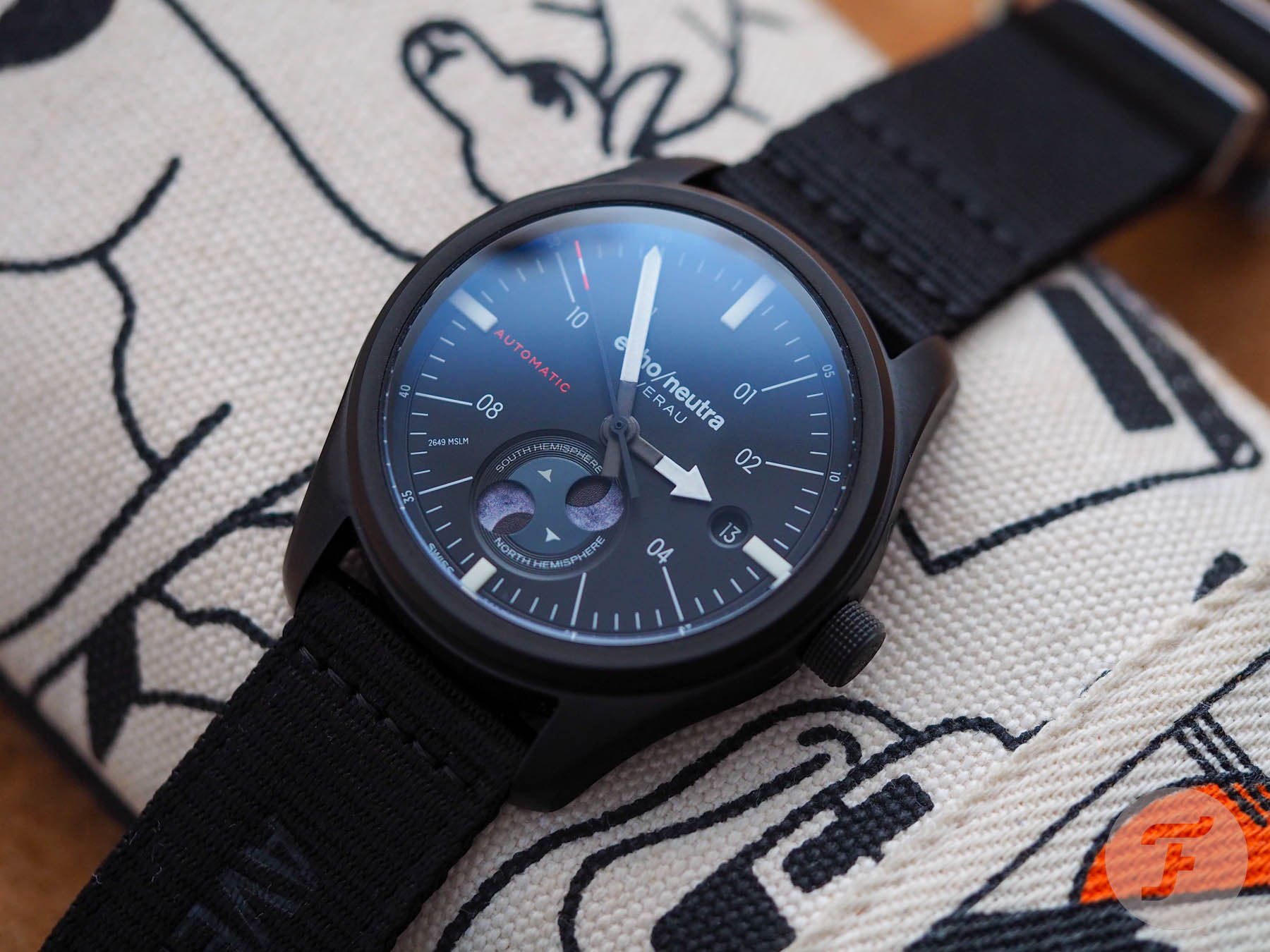 Given that I seem to be building a solid little collection of Echo/Neutra watches, I am pleased by how different this model is from my other two pieces. Although the Cortina will continue to command the most wrist time, this is a fun curio that shows the phase of the moon in both hemispheres simultaneously. Yes, it suffers from the usual "problem" all flat double moon displays seem to have — that is the gibbous moon is not accurately depicted — but it makes a darn good fist of things while keeping production costs reasonable. And talking of cost, the regular retail price is €840 (with the textile strap). If you prefer buffalo leather, the price goes up to €880. If a blacked-out bracelet is your thing, however, expect to pay €910. This model has been made in a small batch, so move fast! Learn more about Echo/Neutra here.