Shades Of Bulova: Forstner A-12 Watch With Bullet Bracelet Has Its Eyes On The Stars
A classic silhouette returns, this time produced by the famous American bracelet specialist.
The Forstner A-12 with Bullet Bracelet is as close to a 1:1 aesthetic reproduction of the Bulova Astronaut as it can be without being one. And it is truly amazing.
Sometimes, it's plain to see. Faithful re-editions of watches are rarer than they should be considering the wealth of unabashed heritage mining that goes on in our industry. When brands really have the guts to pull a page from the copy-and-paste playbook and successfully meld the desirable quaintness of old-timey designs with modern manufacturing techniques it can be glorious. There will be some who find that approach less ambitious than watches "inspired by" past models. But to them, I say, "we have plenty of those; now let's have more of this!"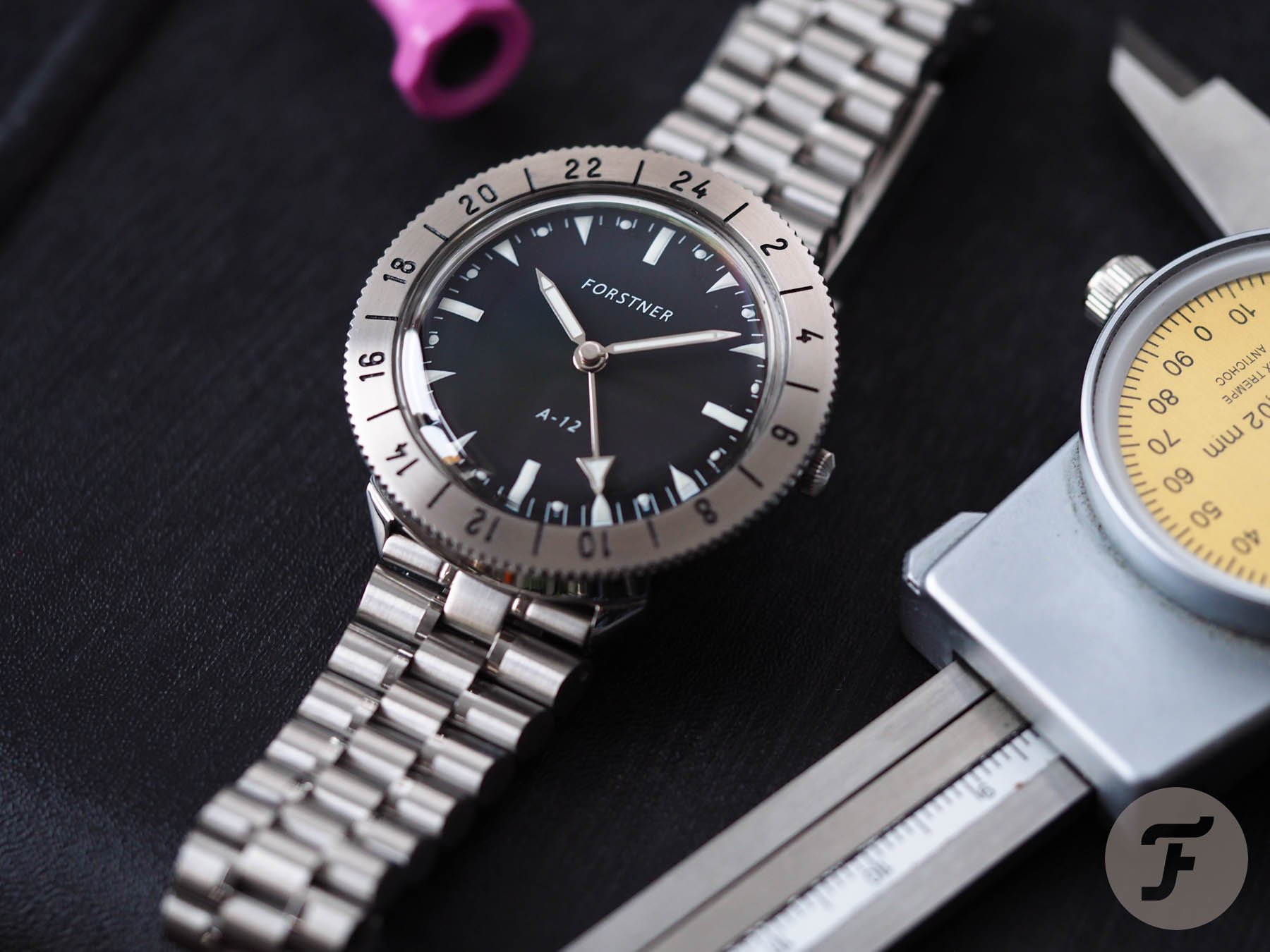 An out of the box stunner
I'll gush about the looks of this thing in a moment. Right off the bat, however, I want to talk about what I see to be the Forstner A-12's biggest weakness and perhaps biggest strength. The weakness? This model is powered by a quartz movement. As a confessed quartzophile myself, I have no issue with that. However, if any watch journalist finds themselves presented with a heritage-inspired piece that isn't rocking an era-appropriate movement and can't already hear the detractors' calls for authenticity, it's probably time to hang up the keys. So I'll say it: this watch doesn't have a tuning fork movement like the original Bulova Astronaut did and that's going to tick some people off. And you know what? That's totally cool. I'd love to have seen that. I'd probably have paid a ton of cash for such a novelty. But that would have sent the cost through the roof, which leads us to the next point…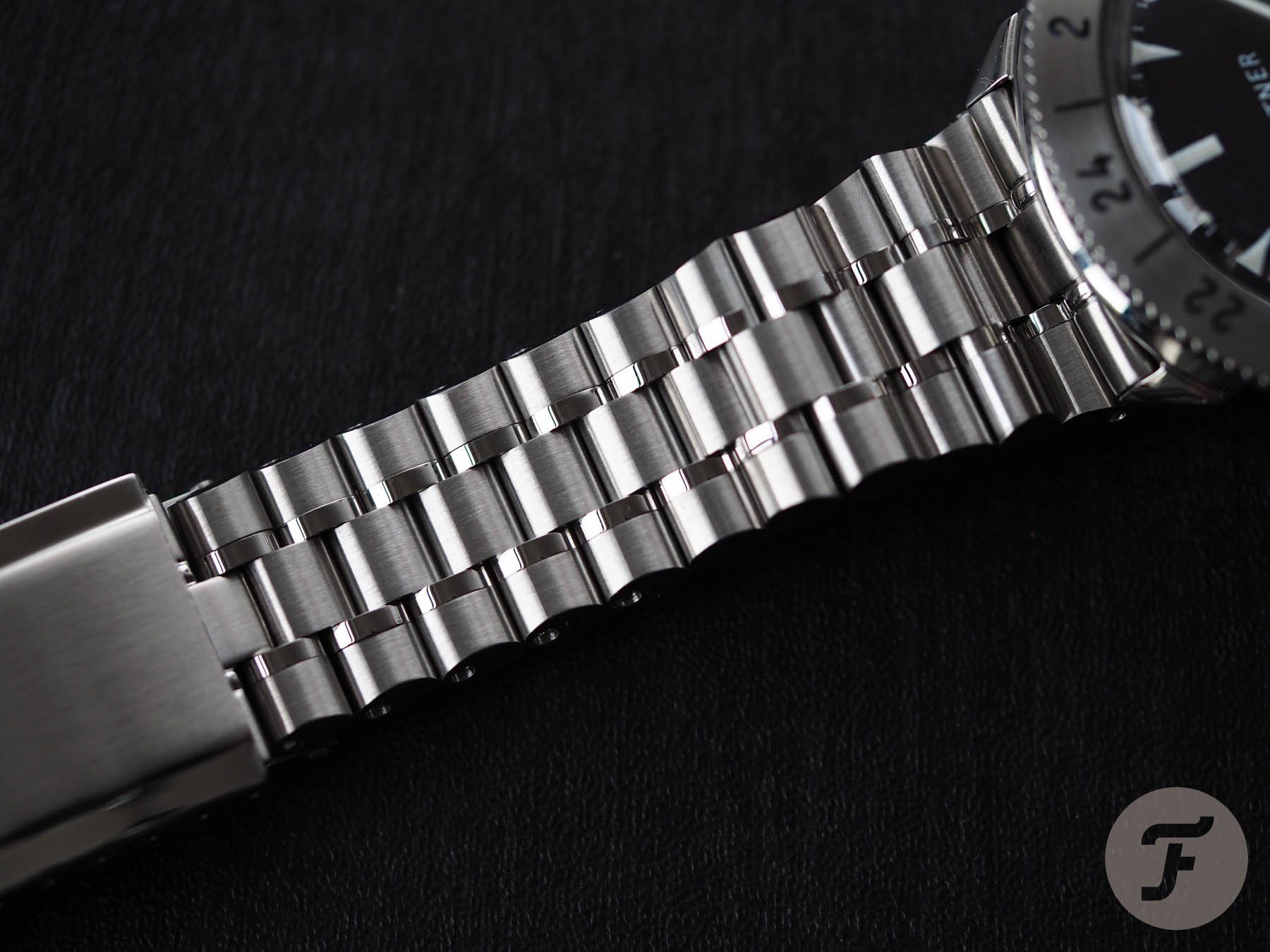 But here's the big save: the Forstner A-12 is, thanks to that reliable battery-powered movement, nice and affordable. Now, I know this is my regular schtick when it comes to the Forstner bracelets (a point that I know not everyone agrees with), but this watch, which incidentally comes on a Forstner bracelet that would retail for at least $125 without the watch head, will be available on pre-order for something like $475. That means the quartz-powered GMT watch head is costing you just $350.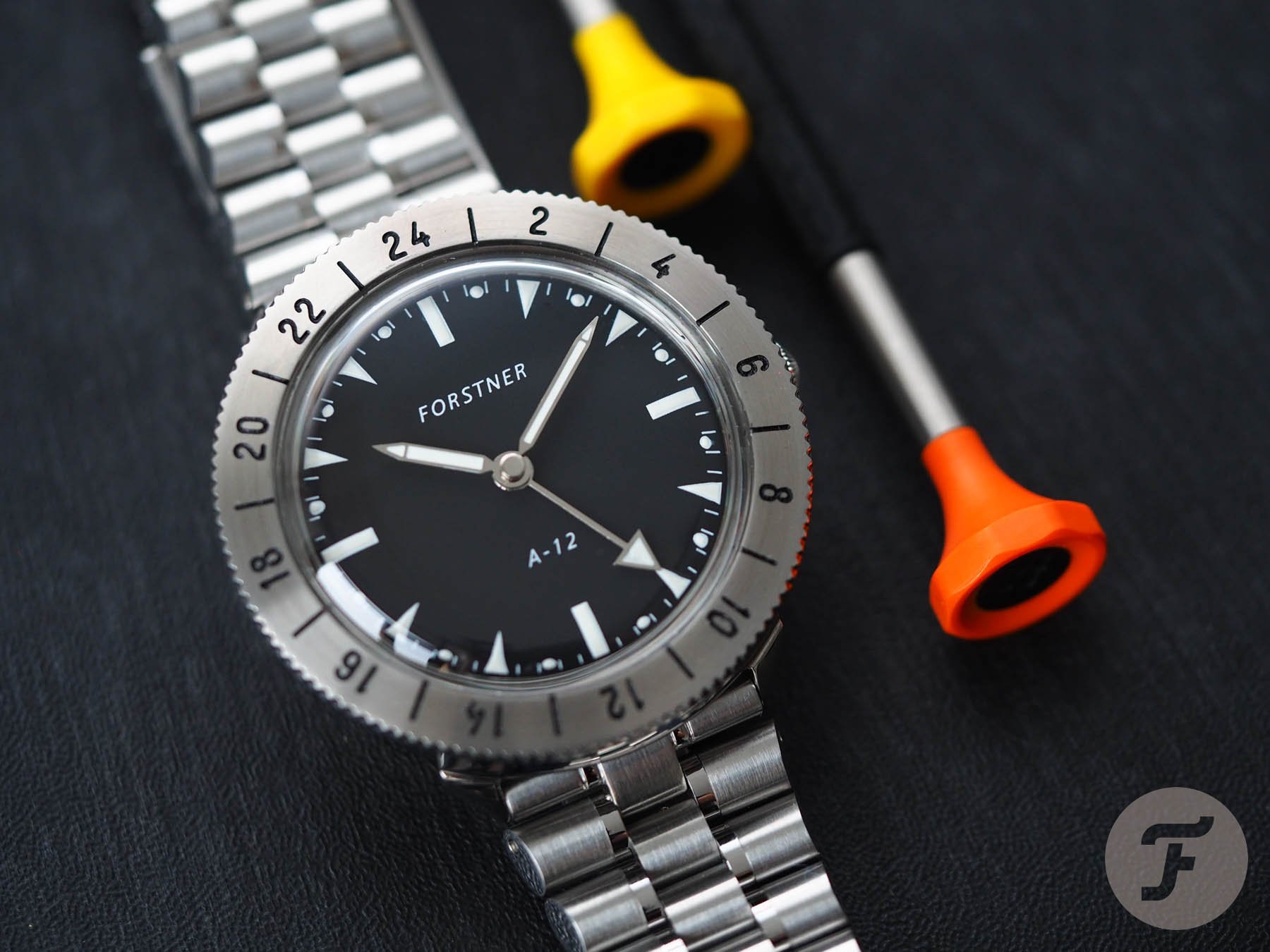 Aha, you noticed…
What's that I hear you thinking? Did he mean to write GMT? This watch only has three hands! Surely Forstner didn't get rid of the seconds hand and keep the GMT? Oh, but Forstner did do exactly that and the decision means the biggest visual reminder of the movement inside (the ticking seconds hand of a standard frequency quartz movement) is eliminated. And, as with most things in watchmaking, changing one thing has a knock-on effect elsewhere. In this case, kicking the seconds hand out of the equation means the watch can be slimmer! All in all, that turned out to be a pretty smart choice, in my opinion.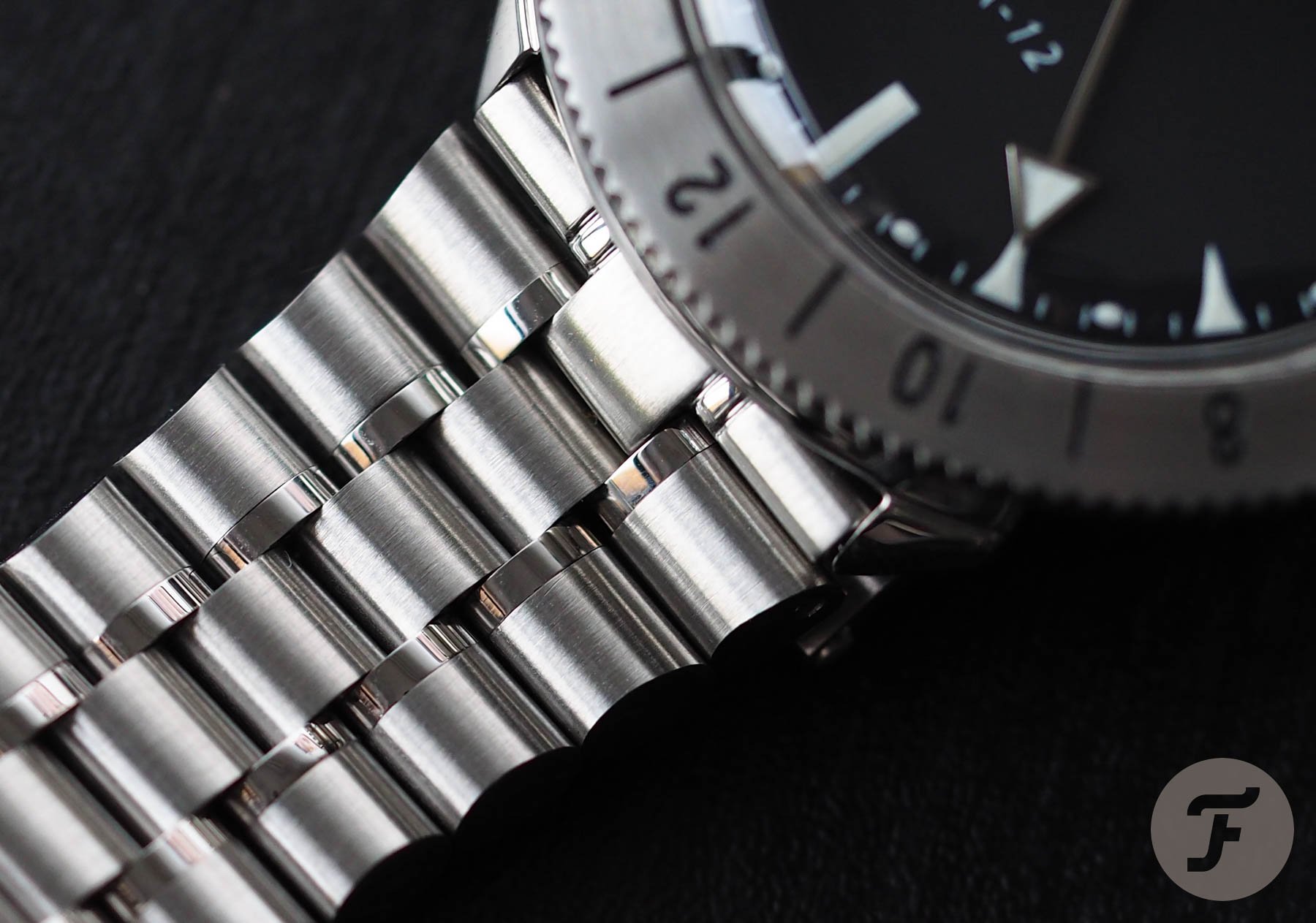 Now, of course, the original watch was made by an entirely different brand (Bulova), which means there has to be one very obvious visual difference: the wordmark. Echoing the simplicity of the original, Forstner opted to go with a slightly italicized vintage font with pinpoint kerning to great effect. The sparse dial printing leaves the Forstner between 12 and center and the "A-12" mirroring its position on the south side of the dial plenty of room to breathe. Better still, this exercise in restraint means those spiky hour markers leap out at you with no apology. It's a "simple" design but the kind of thing that is so hard to get just right. And, in my opinion, Forstner got it just right here.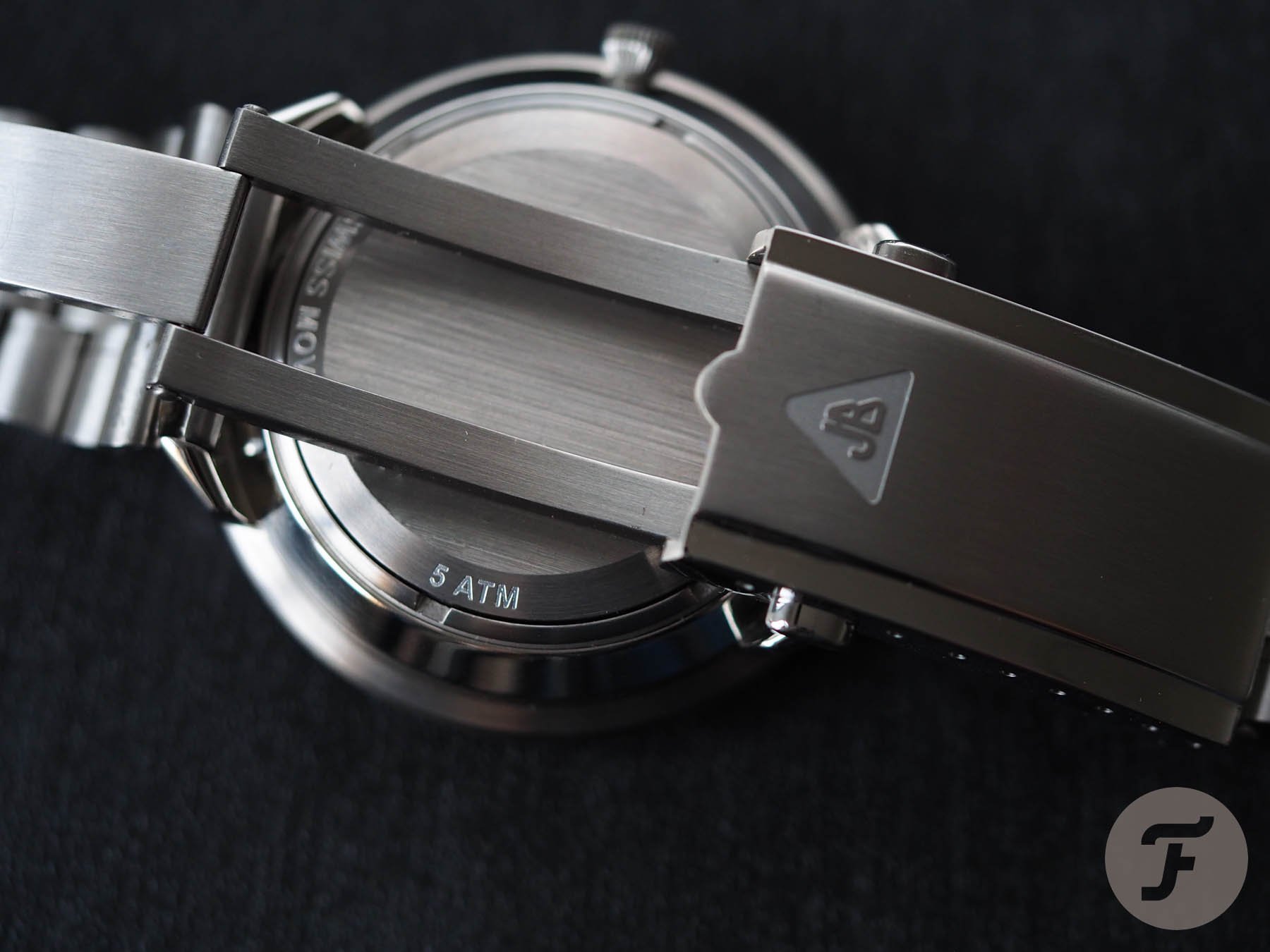 A new case back
The old Astronaut case back was comedically "of its time". It featured a massive, unabashed battery hatch glaring at you like Sauron's all-seeing eye every time you flip it over. The modern version is far nicer. It is a simple, threaded case back that hammers home the watch's tool vibe.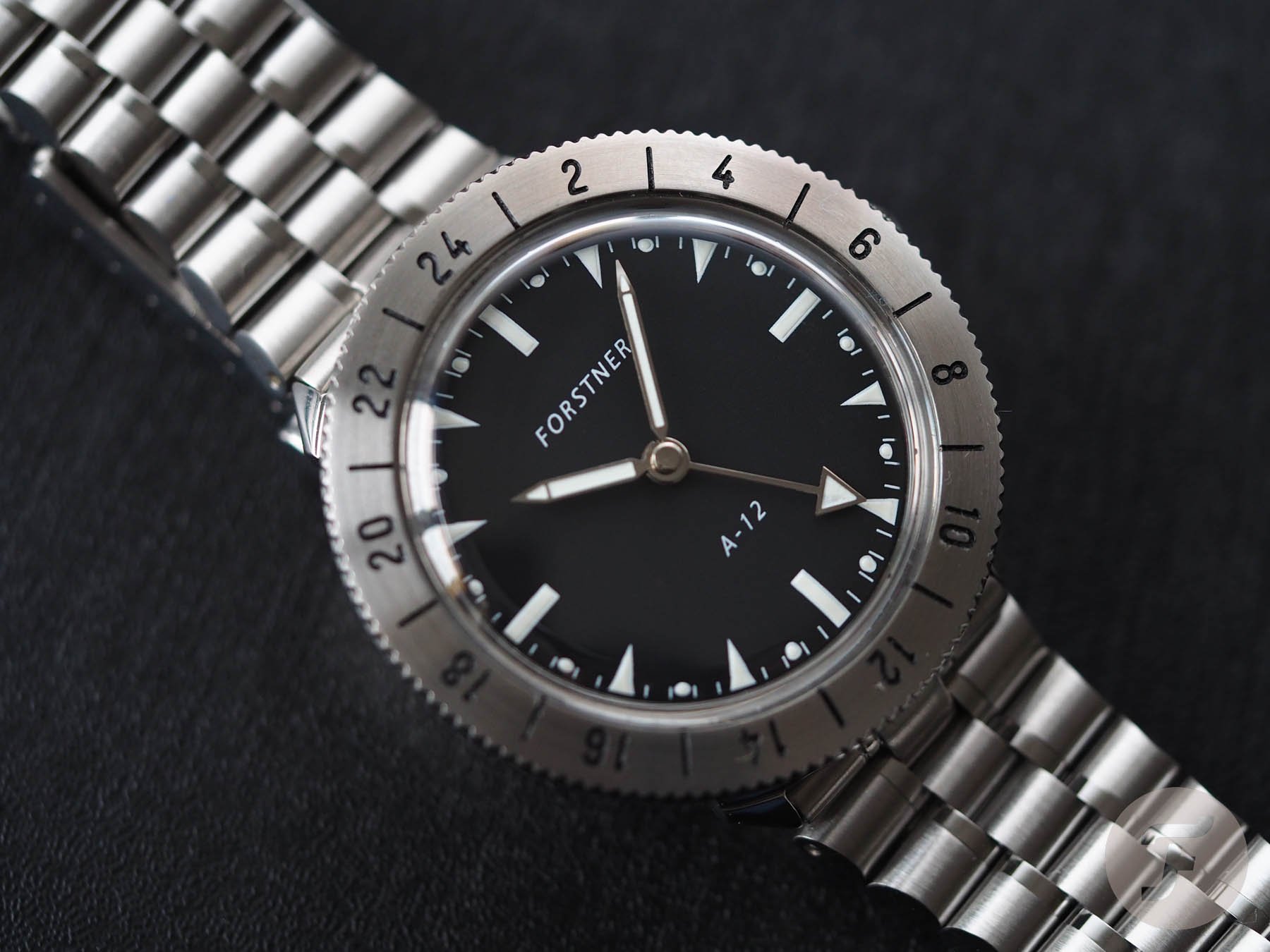 Friction is everything
The friction fit 24-hour bezel is a joy to interact with. It is smooth, relatively easy to use, but never gives the impression of looseness or insecurity. Along with the flat black dial, the pared-back use of text, and the unobtrusive crown and lugs, this monochromatic bezel plays its part to perfection. The result? A flying saucer of delight hovering on your wrist, held in place by the best bit of all: the new Forstner bullet bracelet.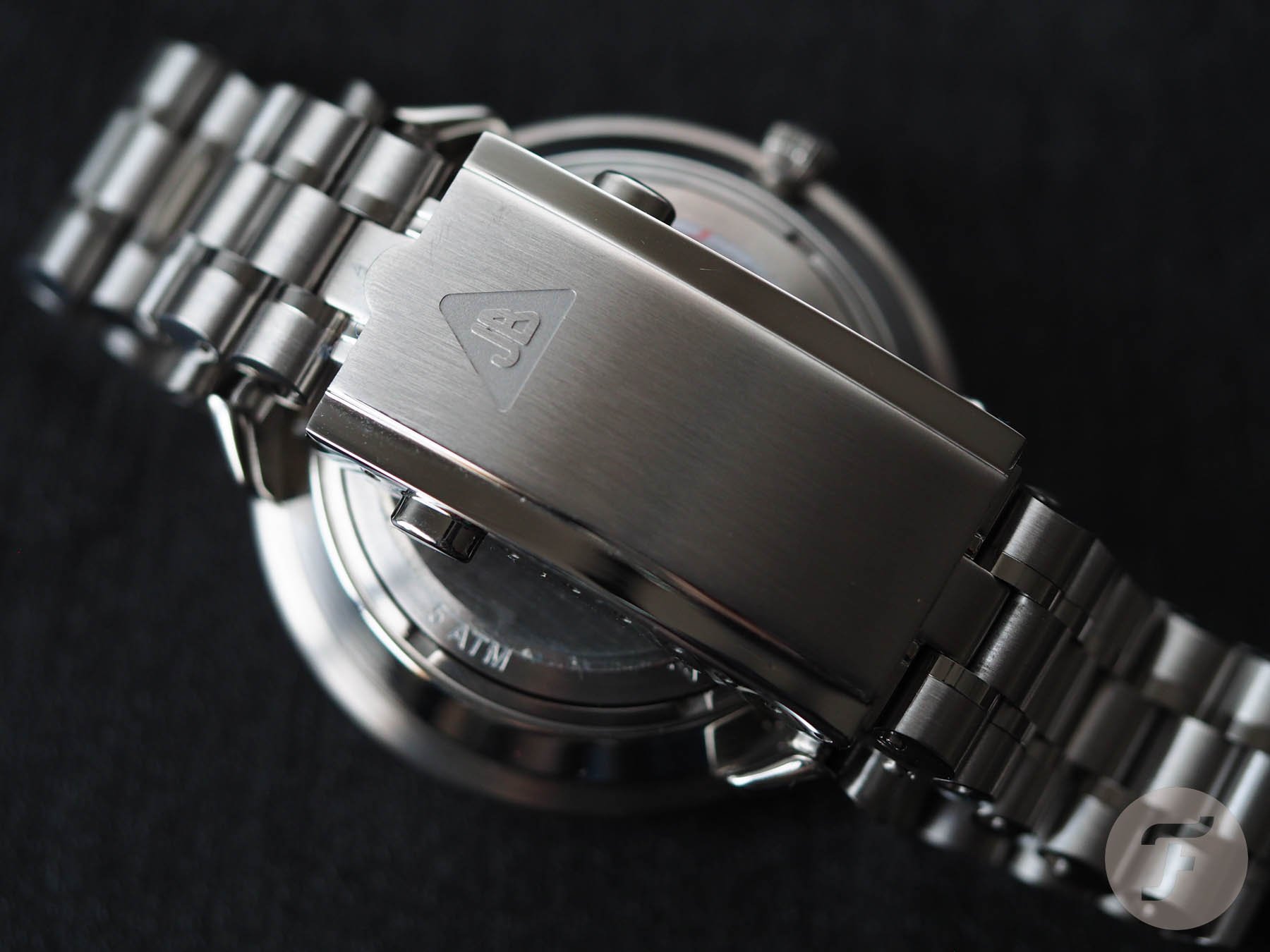 The bracelet
Just, wow! Yes, I love Forstner. Yes, I talk about the brand a lot and wear more than ten of my watches on Forstner bracelets. But this one is the best. It might, in time, even manage to overtake the Komfit "JB" Mesh as my personal preference. But preferences aside, the bullet bracelet is the best yet for three simple reasons: the finishing (both polished and brushed) is sublime; the screw links are a joy to adjust (and I mean that), and best of all, the buckle has a two-button release and looks more akin to an Omega PloProf buckle than it does its own progeny.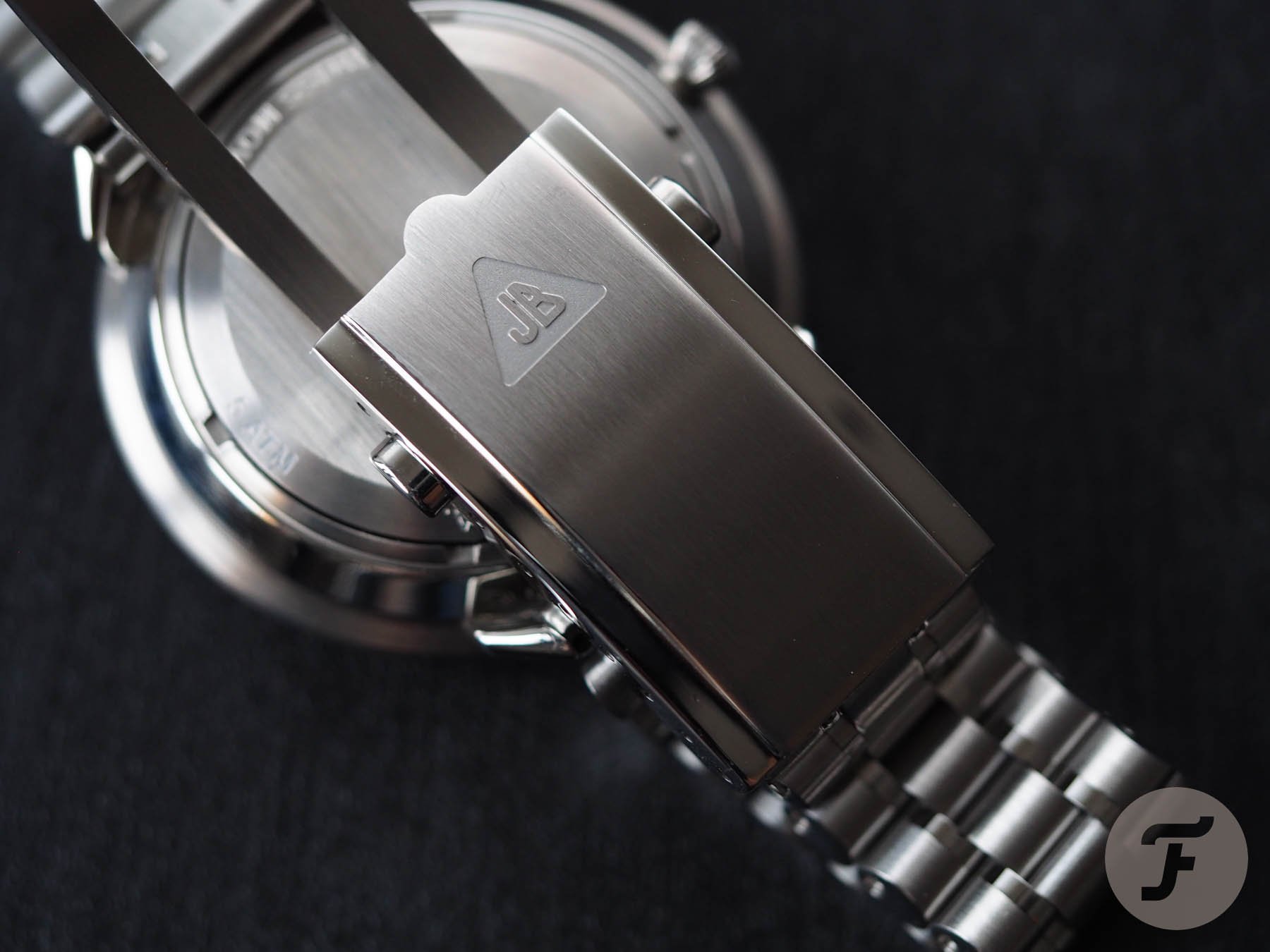 The small links (about 5mm) and six micro-adjustment holes (set 3mm apart) in the buckle means you should be able to get a comfortable fit even in the absence of the stretch links (which I'm glad to see in this case). The weight of the buckle in comparison to the lightness of the watch head makes for an incredibly balanced wearing experience. I am truly hopeful (and will do what I can to encourage Forstner in the matter) that this bracelet pops up with more end-link options. I noticed the slight flaring of the first link means this 18mm bar may not fit with all watches that have particularly deep-set spring bar holes (case in point, I tried it on my 39mm Omega Speedmaster MK40 because I thought the two were made for one another, but no dice).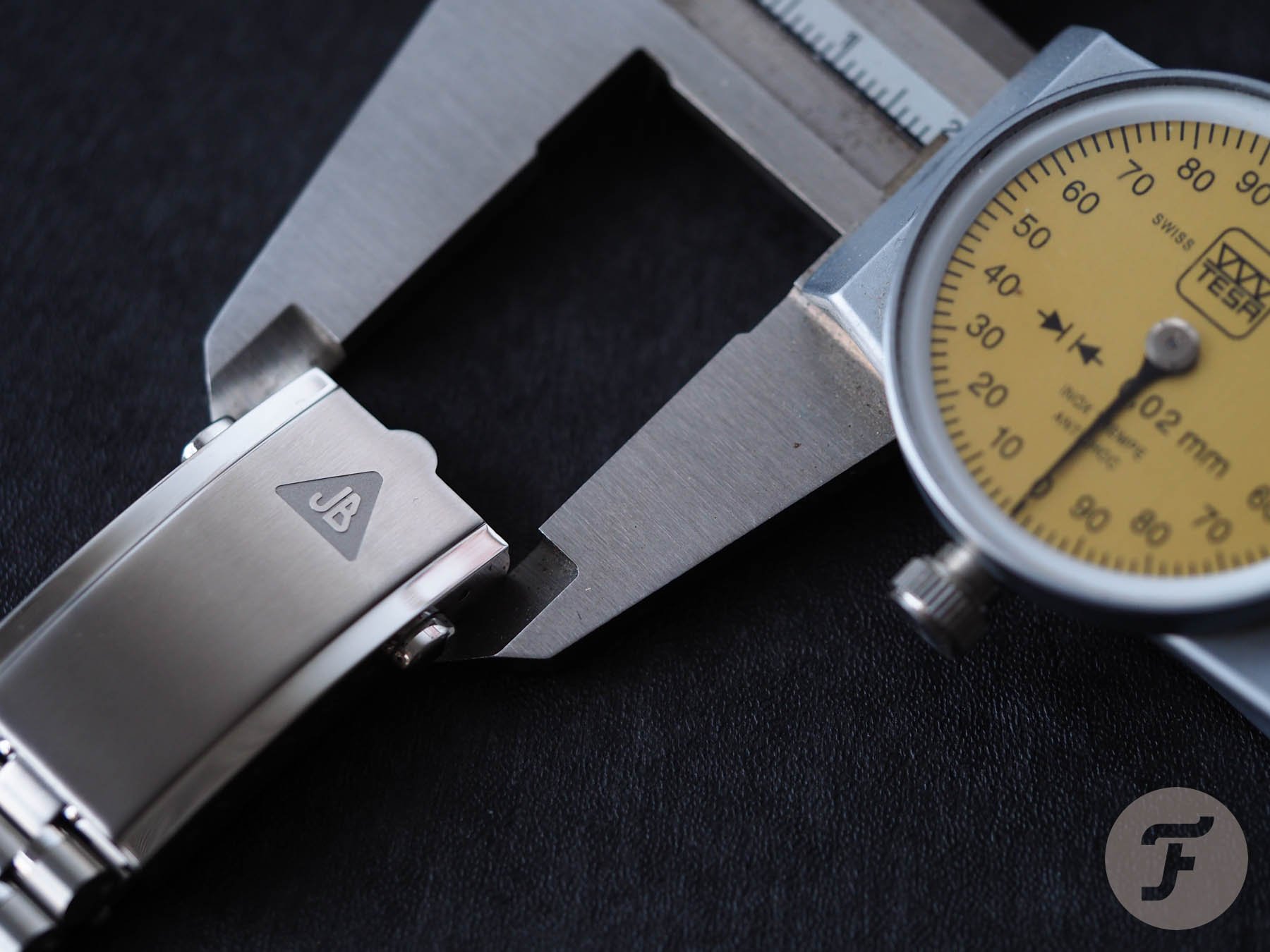 The 18mm lug bar is immediately followed by a 19mm first link, which then tapers all the way down to 16mm at the buckle, which itself flares out once more to 19mm (which I measured with my vernier in the photo above. Its 39mm by 12.6mm stainless steel case is water-resistant to 50 meters, and has a remarkably stout lug-to-lug length of just — wait for it — 39mm. That's right, due to this incredible measurement, the watch wears small and tall on the wrist for an undeniably vintage aesthetic.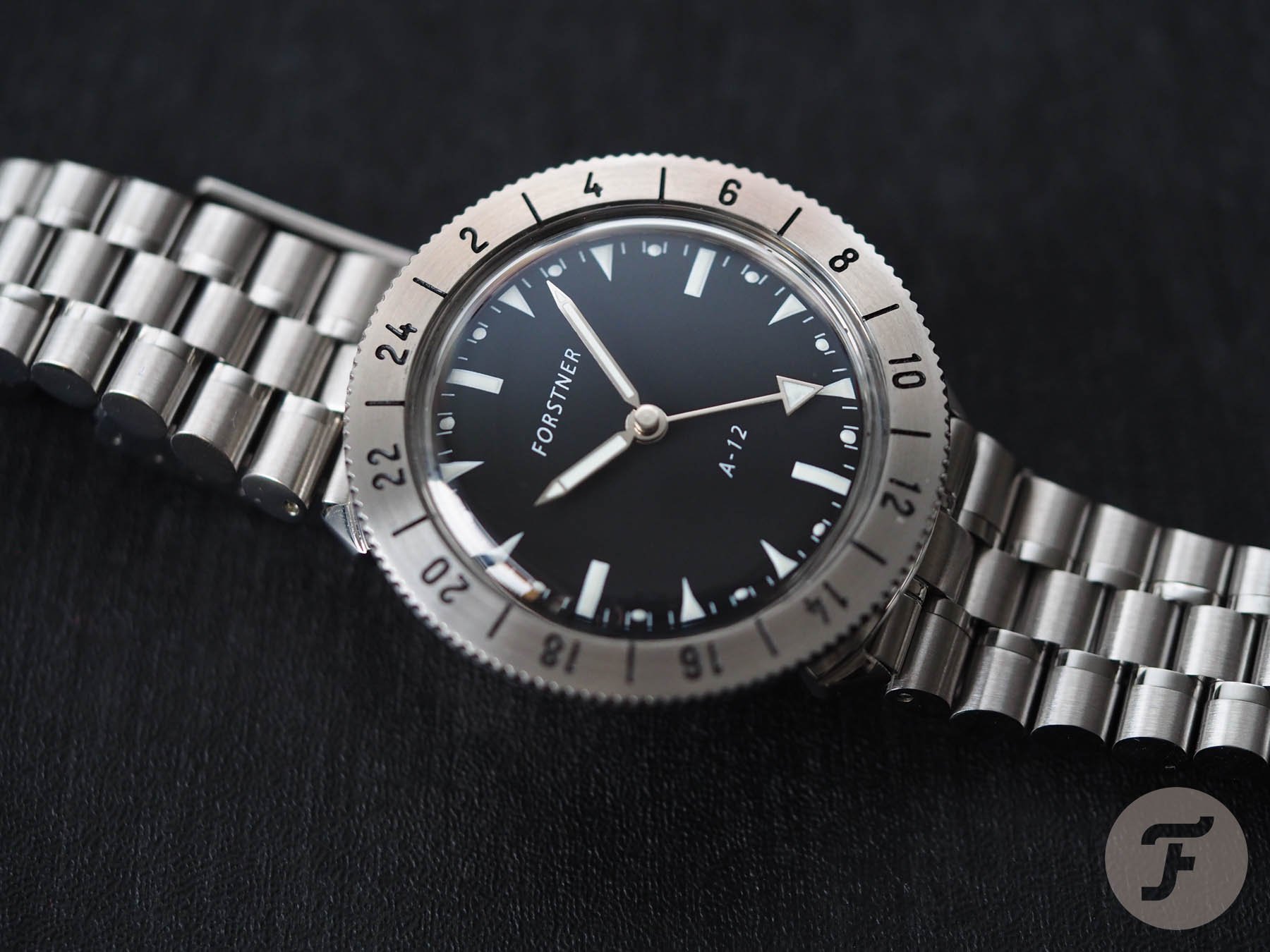 Conclusion
To summarize, I think Forstner has completely crushed its first attempt at watch production, supporting the potentially distracting release with the debut of the brand's best engineering feat yet. I am seriously impressed with the looks and comfort, as well as the ease of adjustability of the bullet bracelet. It certainly does the Forstner A-12 watch proud in the execution of its duty. The smooth, brushed finish of the underside of all links also means that this model, which looks on paper to be a hair puller, is nothing of the sort.
This brand is going places. Next stop? The moon! Learn more about Forstner here.
Follow me on Instagram @robnudds.