Fratello Father's Day Special: My Grandfather's Rolex Datejust 16220
Yes, a watch can serve as a timeless reminder of someone special
To be honest, Father's Day isn't one of those holidays where my family drops everything and "celebrates Dad." Perhaps a nice barbecue or a slightly more relaxing day is in order, but it has always been fairly low-key. So, when I was asked to consider a watch-related article for Father's Day, I decided to discuss a special watch I own. The Rolex Datejust 16220 is a nice watch by any standard. The one in today's article is a special one, though, because it was my grandfather's.
I'm truly lucky to have a fantastic family. When I think about my close relatives, it's hard to come up with many negative thoughts — something that's rather uncommon for most clans. Of course, there are closer bonds with some family members than others and that forms today's Father's Day article. I was always close with my grandparents on my father's side. They lived in South Florida just like us and that allowed my sister and I to spend a lot of time together with them. As a young boy, I naturally gravitated toward my grandfather.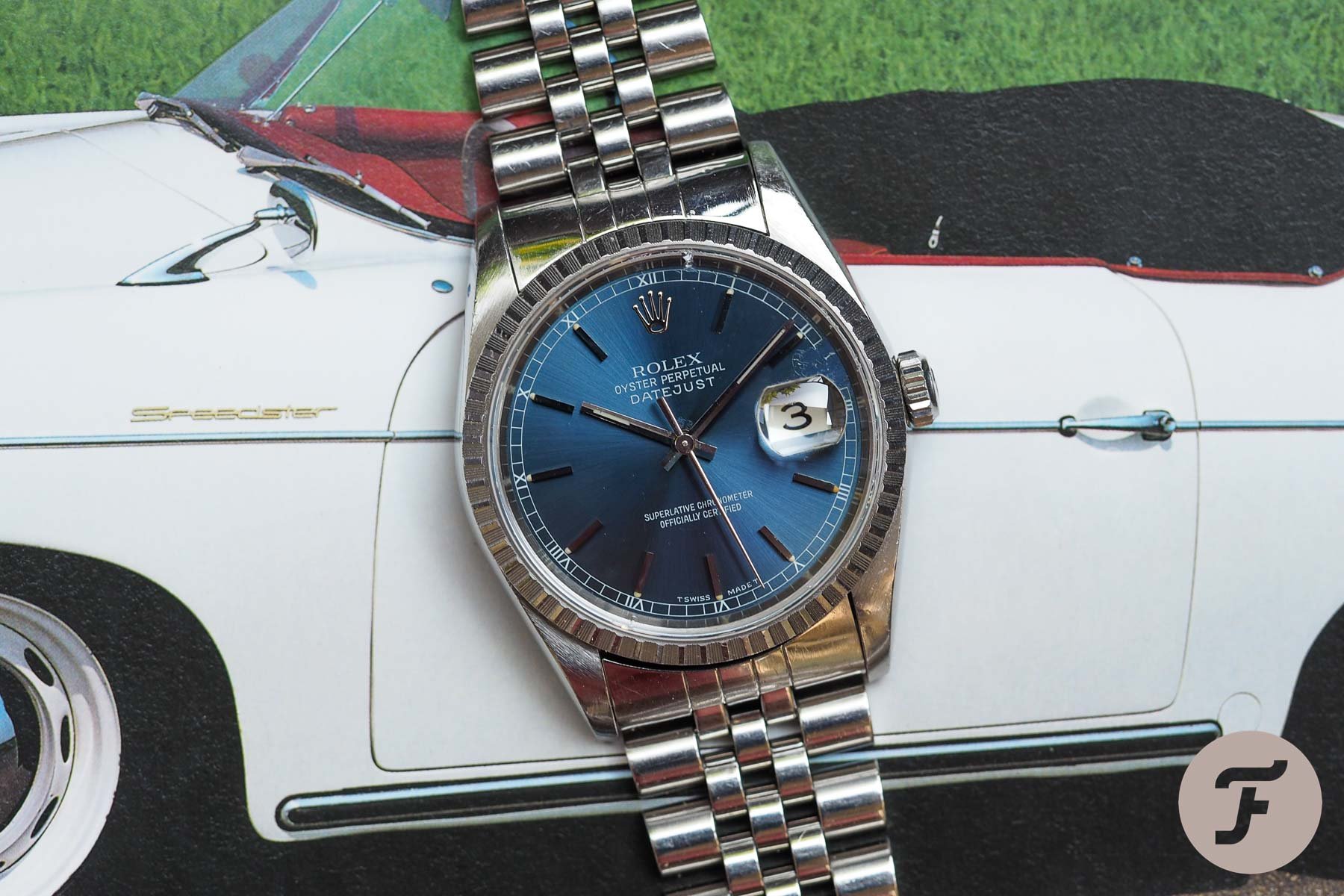 My grandfather was a really cool guy
He was a really special guy (actually, all of my grandparents were) and lived a fascinating life. He would regale us with stories of seeing baseball games as a kid in Chicago during the '20s and '30s and helped me develop a real love for the history of the game. Yes, I was a nerd at a young age talking about Hall of Fame players that none of my friends knew! He also liked cars and passed that interest on to my Dad and me. Stories of going to Nassau Speed Week or the cool convertibles he owned were just some of the fun things I recall. Unsurprisingly, he was also a collector of many cool things, but watches didn't really fall on that list.
We've often heard stories about people who can afford a nice watch but choose not to buy one. It boggles the mind for folks who read a site like Fratello, but my grandfather was very much that person. He did have a few gold watches, but they were from smaller, less prestigious brands like Hamilton or Mathey-Tissot. He didn't have a Rolex or an Omega, though. I don't know the exact reason why, but we all draw the line somewhere.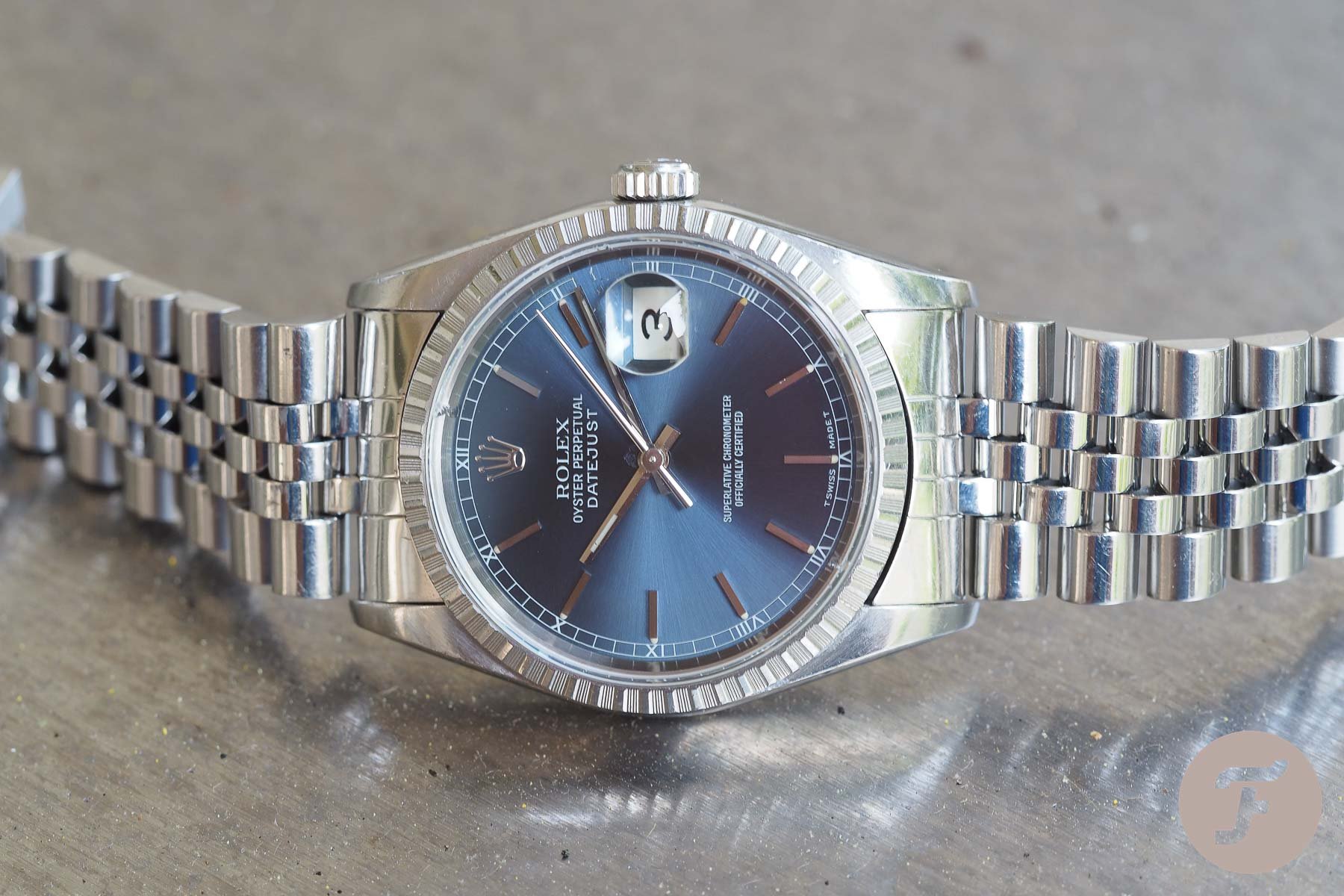 There was a bit of a funny start with Rolex
While my Grandfather didn't own a Rolex, he did travel to China on a tourism trip back when it was properly uncommon. I remember he returned with a fake Rolex, but it was a funny one. It was more of a dress watch and my Dad and I howled with laughter because there was glue on the dial oozing from under the coronet. So, perhaps there was some interest. Some years later, I had the chance to visit New York City with my Aunt and Uncle and, of course, there were fake Rolex watches. We decided it would be funny to buy him a truly garish replica gold Submariner. It was all in good fun, but our family could tell that he was starting to desire a real one.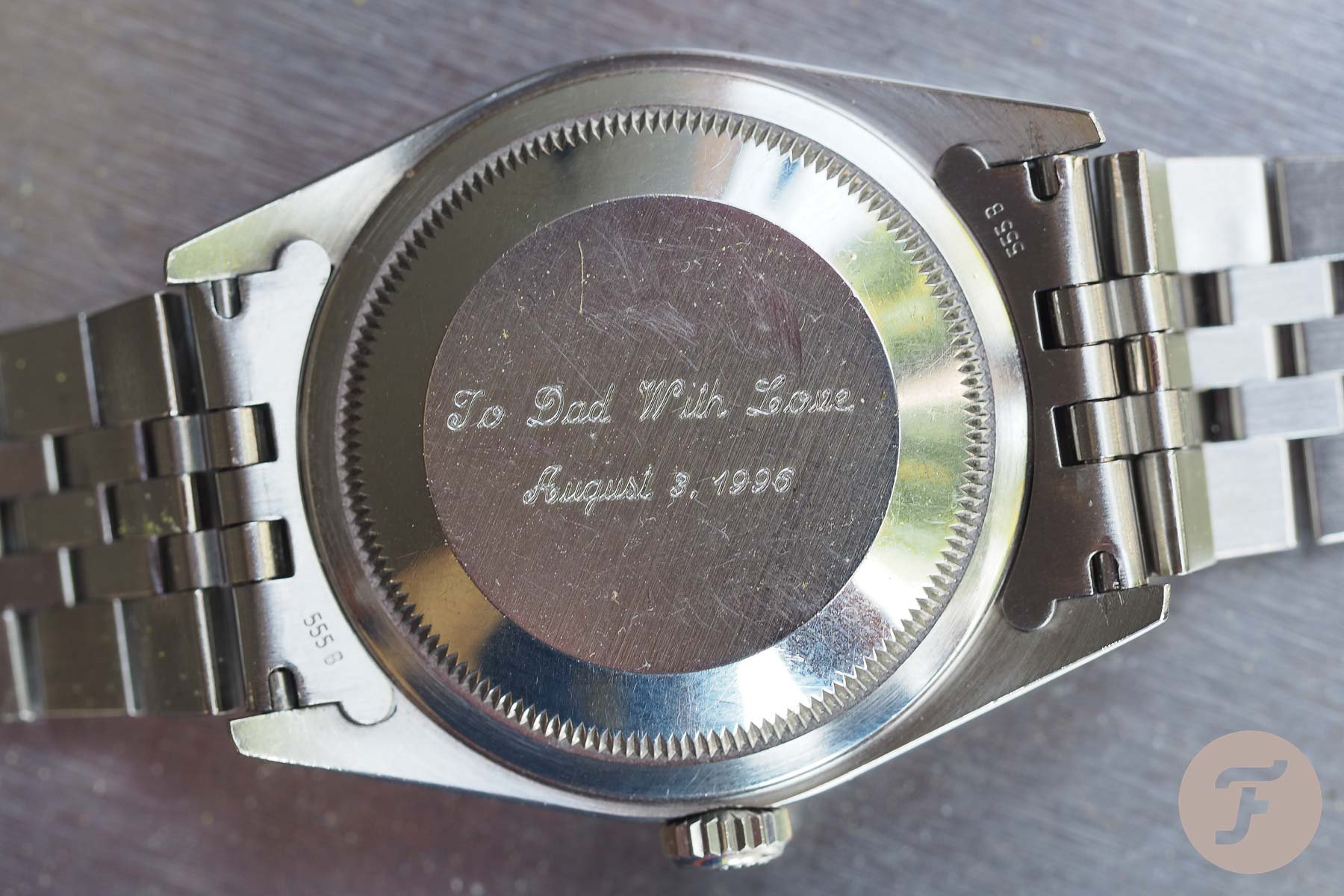 80 was a magic number
When my grandfather turned 80 in 1996, parts of my family came together to give him a real Rolex. He was a dapper guy and loved the color blue, which helped narrow down the choices. Ultimately, a Rolex Datejust 16220 with a blue dial was chosen. I still remember when he opened it, and his eyes did sparkle. While some would say that 80 years is fairly late to acquire something like this, my grandfather lived a healthy life to just shy of 97. What I can tell you is that his Datejust was worn day in and day out during that entire period.
If we fast-forward to a few years later, when I turned 40, I was fortunate that my parents made the trip to see me in Germany. One evening during their visit, my Dad handed over a small box to help mark the occasion. When I opened it, I saw the Datejust 16220 for the first time in several years. It looked as if my grandfather had taken it off moments before — we'll get to that shortly! I was honored that this was now mine and even more so that it was handed to me by my Dad.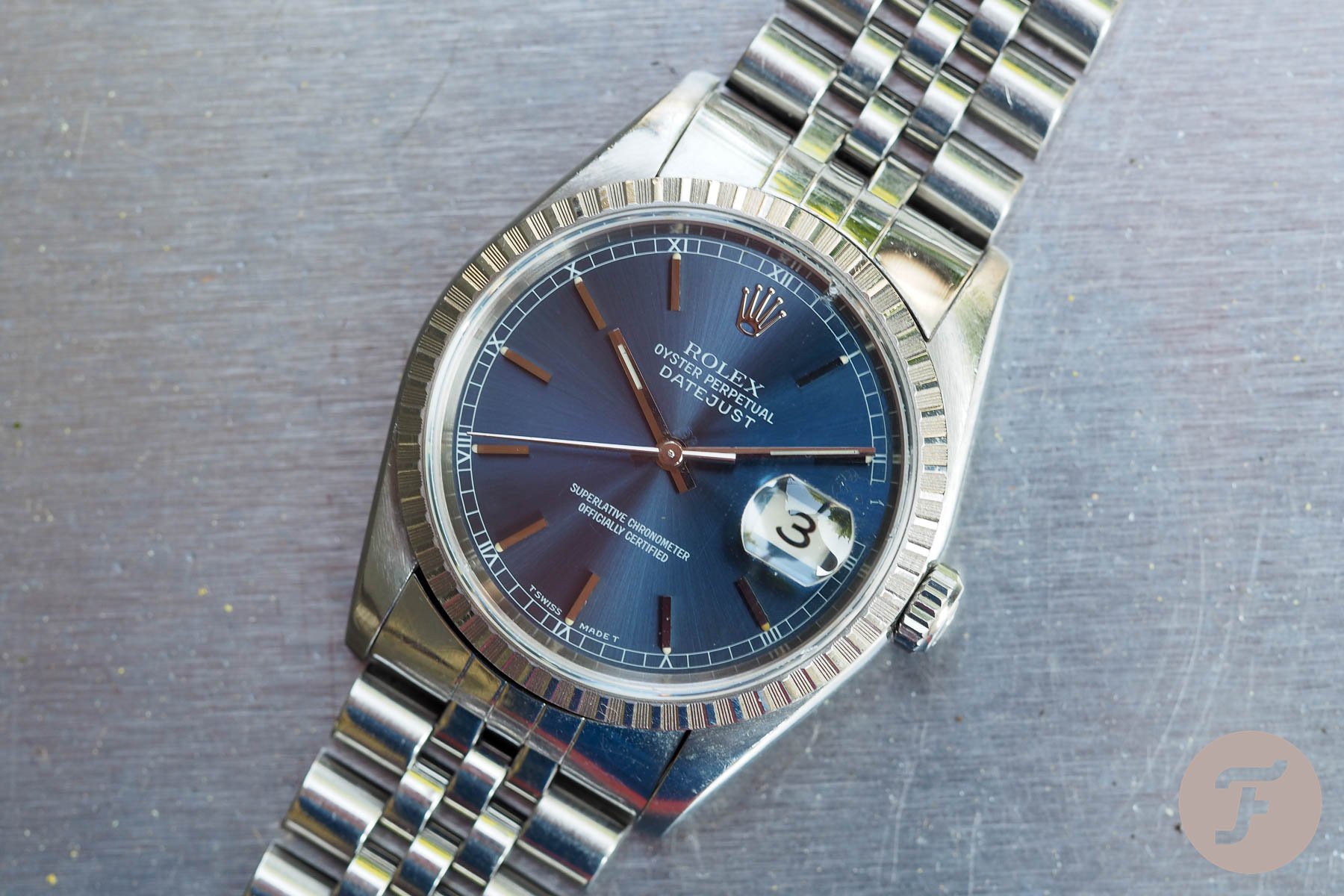 The Rolex Datejust 16220
There are some (many) people who baby a nice watch like a Rolex despite its ability to handle 99% of life's situations. Well, my grandfather wasn't one of them! He wasn't exactly performing heavy-duty construction, but he wore his watch no matter what. He likely removed it for the pool and golf, but otherwise, it was a fixture on his wrist. So, how did it look? Well, after 17 years of consistent wear and no servicing, it was awfully dirty! The bracelet was pretty nasty, and there was black grime around the backs of the lugs. Then, the crystal was a little cloudy and chipped. Finally, the crown wouldn't fully close. The bracelet definitely showed signs of stretch even though he wore it without the typical South Florida "dangle." In other words, it was a time for a visit to the watchmaker.
Soon after receiving it, I shipped the watch to Paul, our watchmaker. He went to work pretty quickly on the Datejust 16220, and a truly funny question came in almost immediately. Paul asked something like, "Did your grandfather like to wear green sweaters?" Keep in mind, Paul is in the Netherlands, and we all know that there are some funky legal substances there! Still, I inquired further, and he sent me a picture of some funny green fuzz. I thought about it, and then the light bulb went off!
When wearing habits leave a mark
My grandfather was a dentist (I broke the line as my Dad was one as well), and, as such, he was an avid flosser. In support of this, he always brought along a bit of dental floss to use in the restroom at a restaurant or if he was away from home. His favorite was green, waxed mint and where did he store the floss? It was quirky yet effective because he'd put a small coil of it under his watch! Somehow over time, the wax wore onto the watch and even affected the screw-down crown. Then, you guessed it, some of the green threads from the floss worked their way into the case through the crown threads. You can't make this stuff up! He did have healthy teeth, though! Unfortunately, the wax was also responsible for the under-crystal fogging, and it ate away at the white minute marker paint above the date window. It's not obvious, though, because the Cyclops obscures it at certain angles, but it's there as a constant reminder of his habit.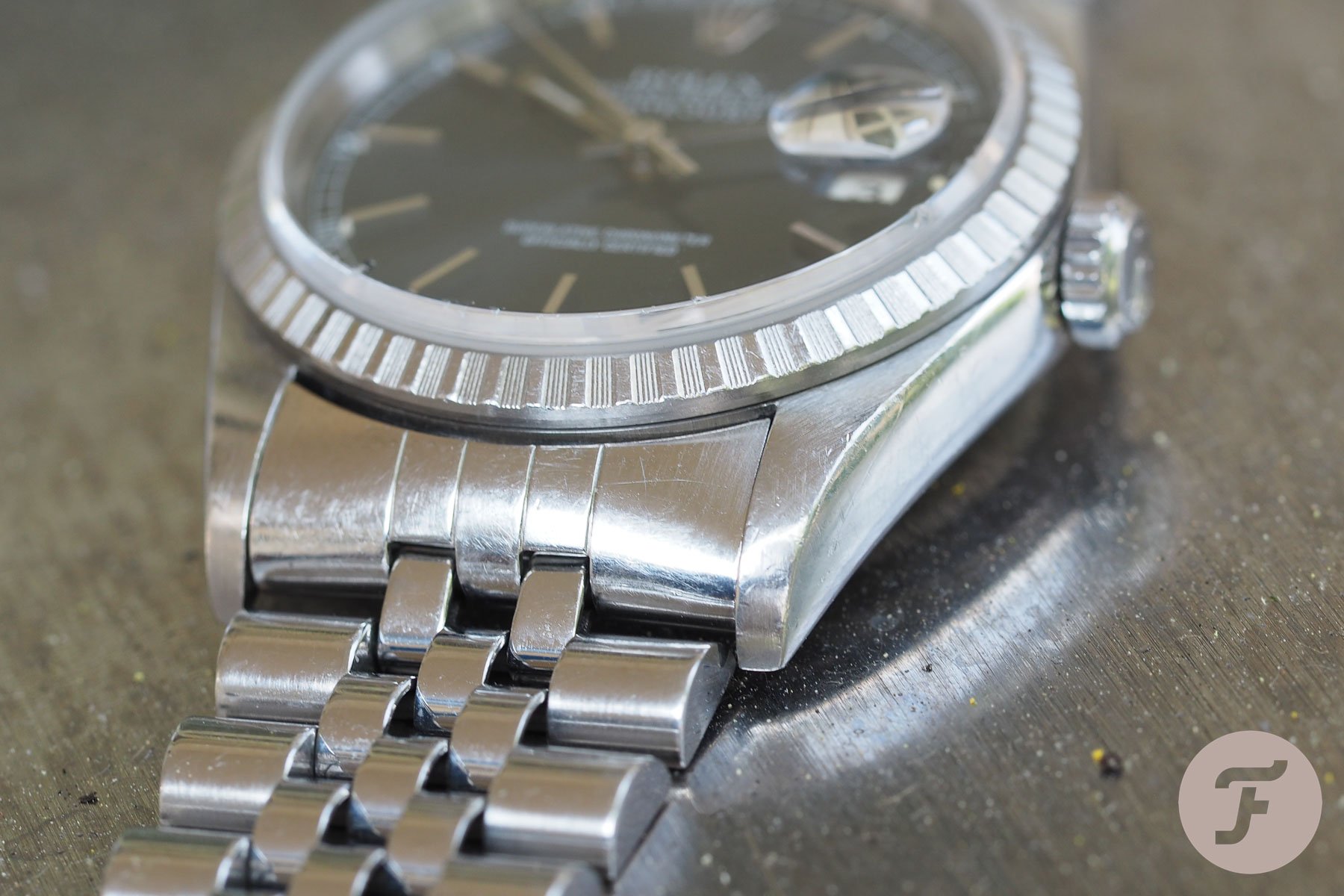 Other signs of wear
The original sapphire crystal also contained some chips on its edges. Paul mentioned that this would be an easy and inexpensive OEM replacement. However, I wanted to keep the watch exactly as my grandfather wore it. Besides, the main viewing surface of the crystal was clear. Similarly, the case showed real "sleeve wear." We hear this term often on vintage watches, but I can assure you that my Grandfather never had this watch polished. The edges are still sharp, but much of the original matte striations are long gone. Here again, I wanted to keep the watch exactly as he wore it.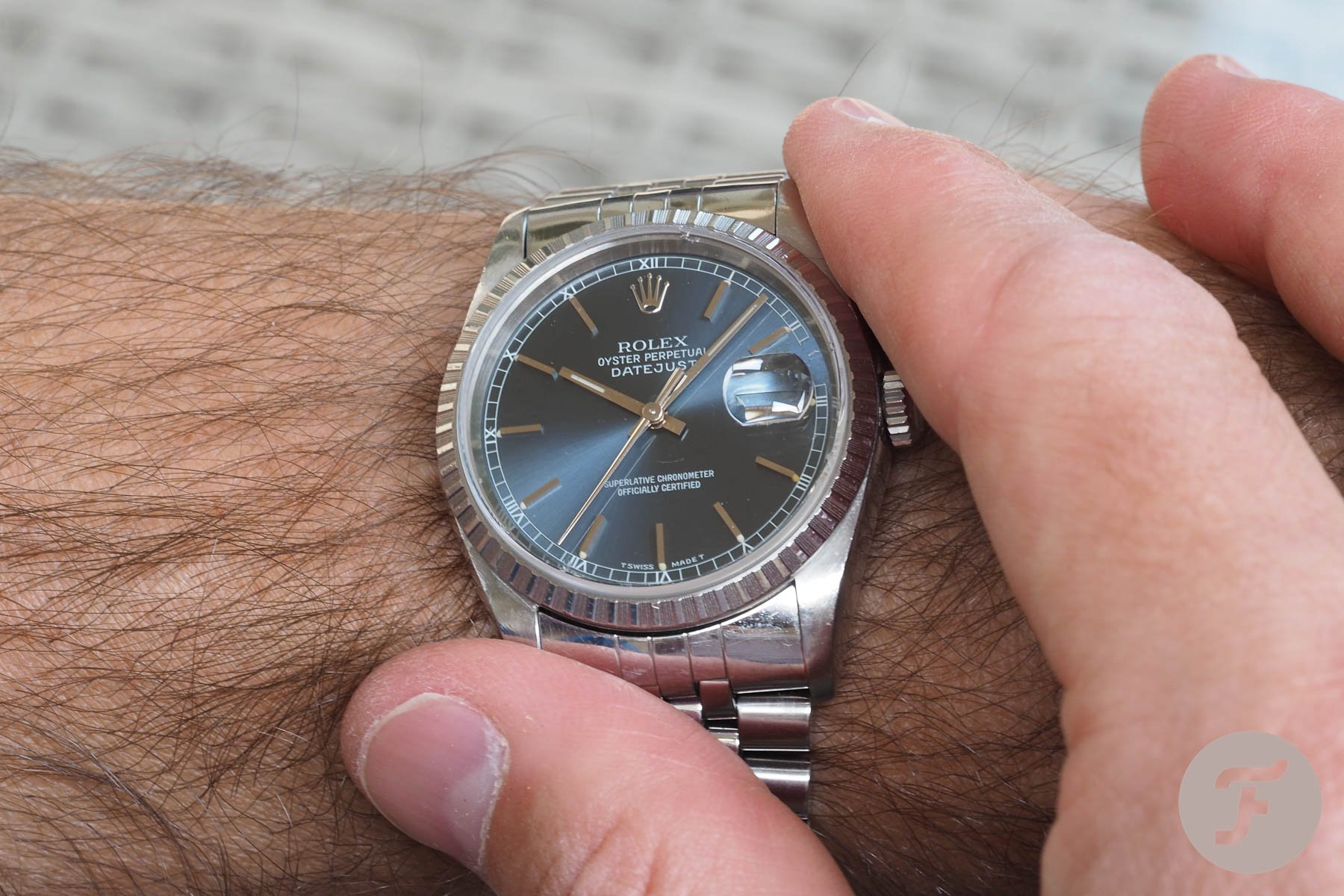 The Datejust 16220 is a lovely watch on the wrist
I won't spend too much time on the specs related to a '90s Datejust 16220, but the high points are a 36mm case with 20mm lugs. The movement is the reliable, chronometer-certified caliber 3135 that features hacking and a quick-set date function. I feel like a broken record, but an Oyster case of this size is about as easygoing as it gets. When paired with the 62510 Jubilee bracelet, it's simply sublime. I also like the engine-turned bezel as a period option to the more typical white gold fluted variety.
The Datejust 16220 was produced beginning in the late '80s until the mid-'00s. Little things changed along the way. The lume material made its way from tritium to Super-LumiNova, and the case lost its drilled lug holes. This 1996 model is somewhat of a hybrid with its old-school lume and newer case. When it comes to my treatment of this watch, I consider my grandfather's Datejust 16220 as a regular part of my rotation. Aside from the family connection, the fact that it's a 36mm Oyster case makes it a sweet spot for me. I've even taken it on two-week business trips because it's the type of watch that works with just about everything. Also, it's modern enough to wear it exactly as my Grandfather did. Like him and my Dad, my favorite color also happens to be blue, so there's a final endorsement.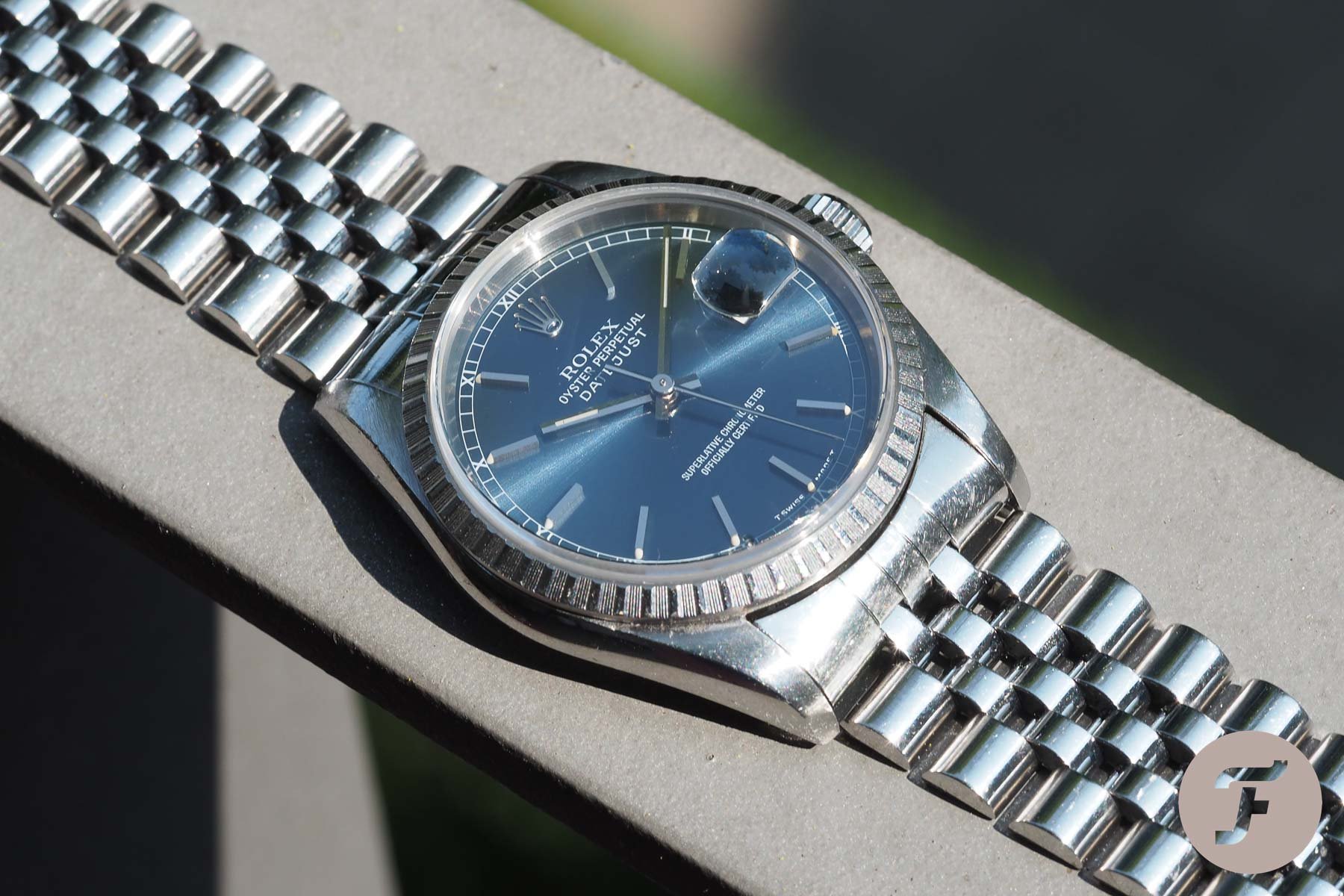 Final thoughts on a special Datejust 16220
The Datejust 16220 from my grandfather isn't a special one-off bespoke piece. It's also not something unearthed from a drawer or worn only on Sundays. It was his watch, and it also came from his family. Therefore, I feel honored to own it. For sure, I have other things from my grandfather that I love and think about or see almost every day. His watch, though, represents a great intersection of one of my passions and something that he felt very proud to wear. I'm sure my story isn't overly unique on this Father's Day (well, maybe the dental floss!), but it's yet another example of how the stories around the watches are often more important than the watches themselves. For those who are celebrating, Happy Father's Day!