New Release: The Girard-Perregaux Laureato Eternity Edition — Enamel meets steel in two classic colorways
Guest post by Laurits Eilgaard
By means of a sport-focused utilitarian background, the Girard-Perregaux Laureato stands out in today's upper-tier luxury steel sports watches. It is based, though very broadly, on the Girard-Perregaux Deep Diver. This cushion-shaped, no-nonsense dive watch had a standout design feature — a 14-facet bezel. It was a design feature that brought no value other than aesthetics. After all, who wouldn't want to look good under 20 meters of water? The quartz Laureato debuted in 1975, at a time when a steel sports watch was the watch to have. The Laureato Eternity Edition is its latest iteration, released at a time when luxury steel watches are more popular than arguably ever before.
A steel, luxury sports watch with an integrated bracelet sounds like par for the course in today's watch market. At first glance, the Laureato is just that — a nicely finished, high-quality, steel sports watch. Look a little closer and you can start to make a case for a watch like this. Some might be tempted to say it's a watch you buy because the luxury sports watch you had your eye on wasn't available. In many cases, I would agree, but that doesn't mean that a watch like the Laureato Eternity doesn't have a place in the world.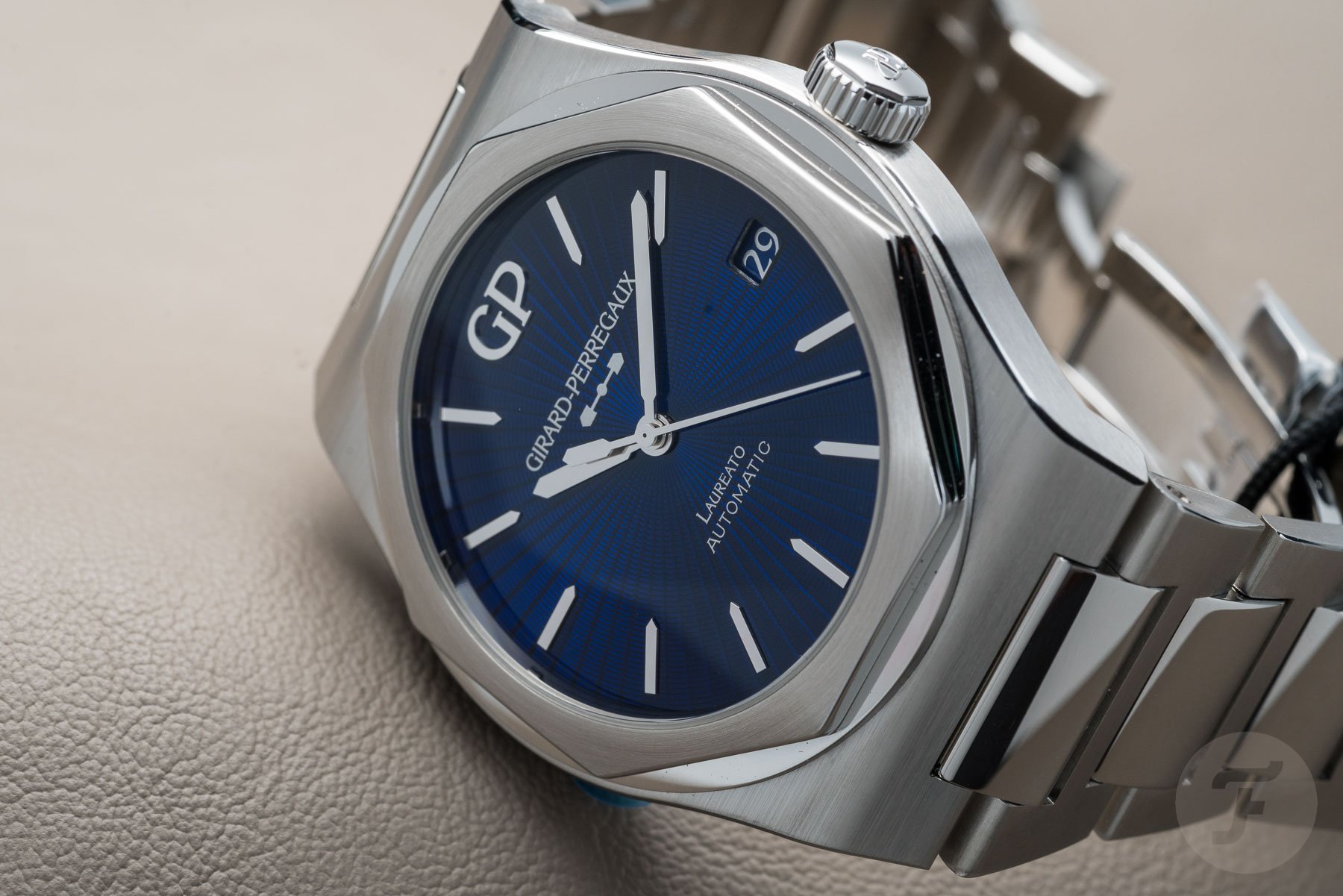 Steel meets enamel
A key feature of the Eternity edition is the grand feu enamel dial. In fact, the name "eternity" stems from the fact that the dial colors won't fade over time. In the words of Girard-Perregaux, "Their beauty will remain eternal, destined to be enjoyed by those in the future." Of course, if there is anything we have learned in the last years, it is that a faded watch dial not only tells us a story about the watch but also can make a watch become more desirable. Despite this, one must applaud Girard-Perregaux for going in another direction. This is a watch that not only despises fauxtina but also makes patina, at least on the dial, much less likely. The process of producing the dial is very impressive. The grand feu enamel dials are made in-house and completed using a long and difficult process prone to produce aesthetic imperfections.
The enamel is comprised of a mixture of silica, minium, potash, and soda. In order to reach the desired color, different metal oxides are added as needed. The enamel is produced by grinding the ingredients into a fine powder and dusting them onto the dial. The dials are then fired in an oven at roughly 800 degrees Celsius. This process is repeated five to ten times, and here lies the tricky part. Due to the repetitive nature of the process, it is prone to bubbling, cracking or color imperfections. As a result, many dials are discarded, and the success rate for a flawless dial is low. Girard-Perregaux says that the dials promise "eternal joy." That's something that I am not entirely sure about, but it is hard to argue with the fact that they look beautiful.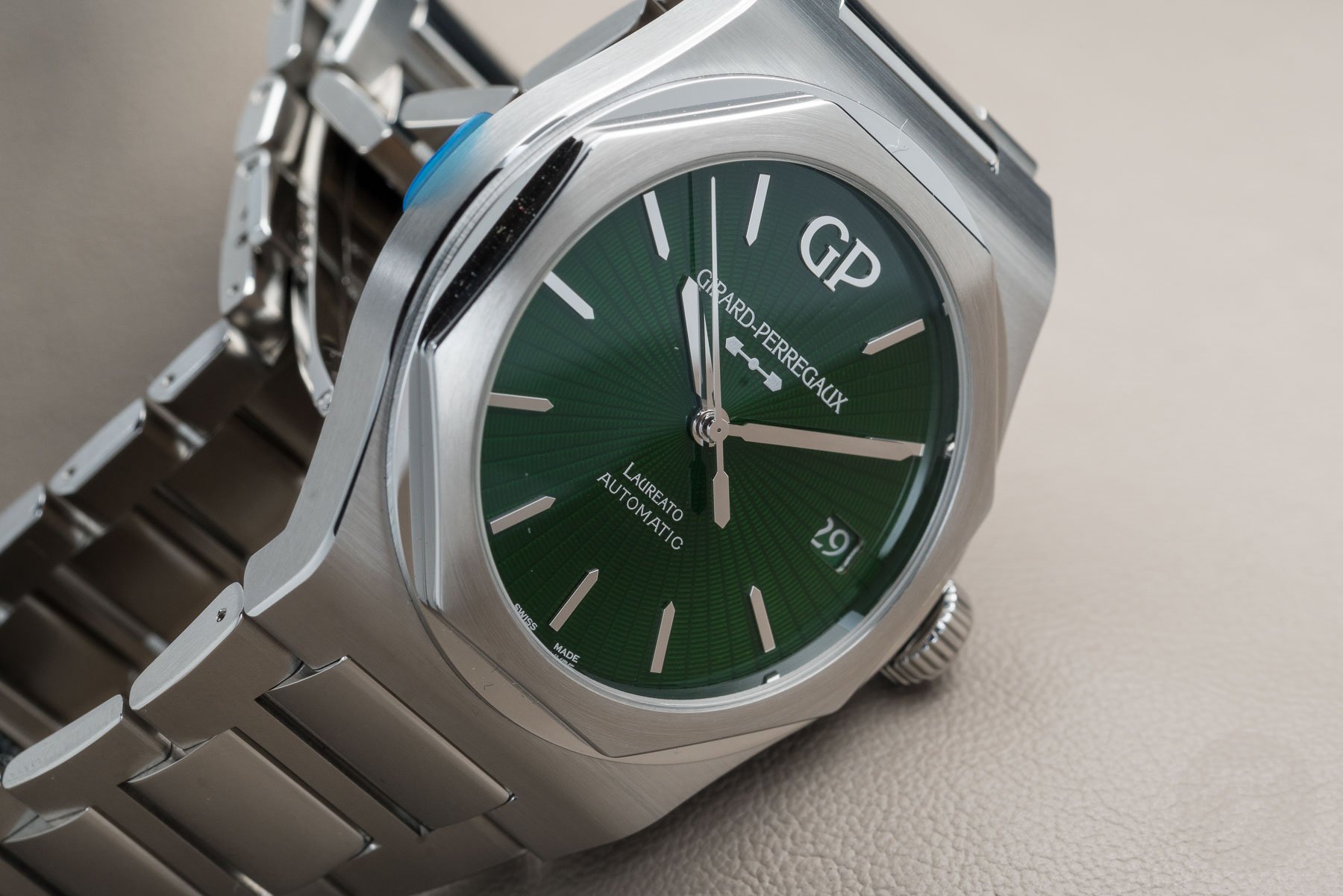 The Girard-Perregaux Laureato Eternity Edition
The hands, hour, and minutes markers have no lume, which, for a watch like this, is a choice I respect. Though this is a "sports watch," I believe Girard-Perregaux has read the consumer well enough to see that a watch like this will never be used in a sports situation. The date window is small, subtle, and matches the color of the rest of the dial. It is non-obstructive, and I never get the feeling that the watch would be better off without it. The watch features an integrated bracelet and looks nicely finished with subtle, rounded edges and nice play between polished and brushed elements.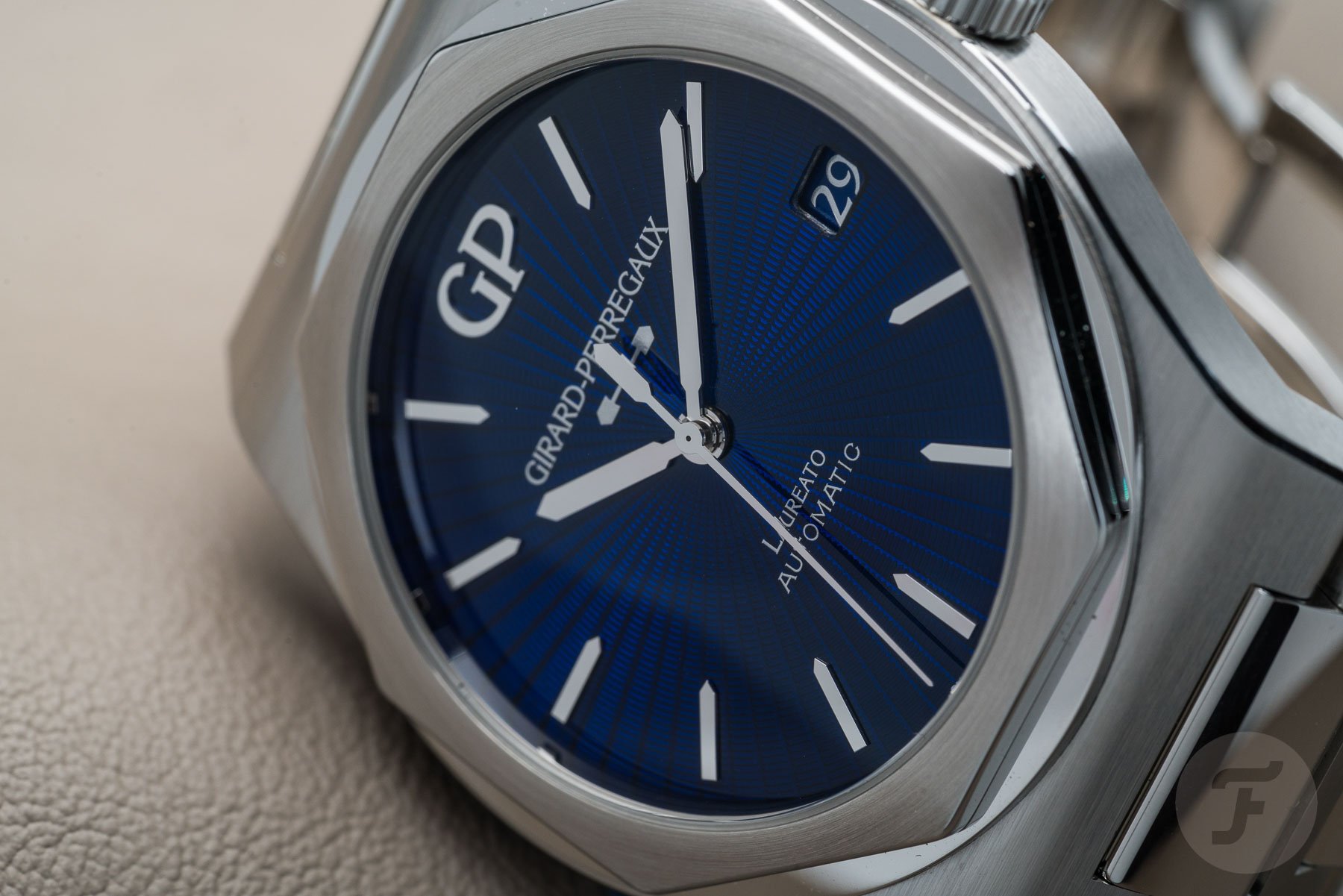 The movement is consistent with previous iterations of the Laureato. It features the in-house manufactured automatic GP01800-0004 movement, beating at a standard 4Hz. It sets itself apart from other versions with a pink gold rotor with circular Côtes de Genève, bridges with straight Côtes de Genève, beveling, and mirror-polished screws.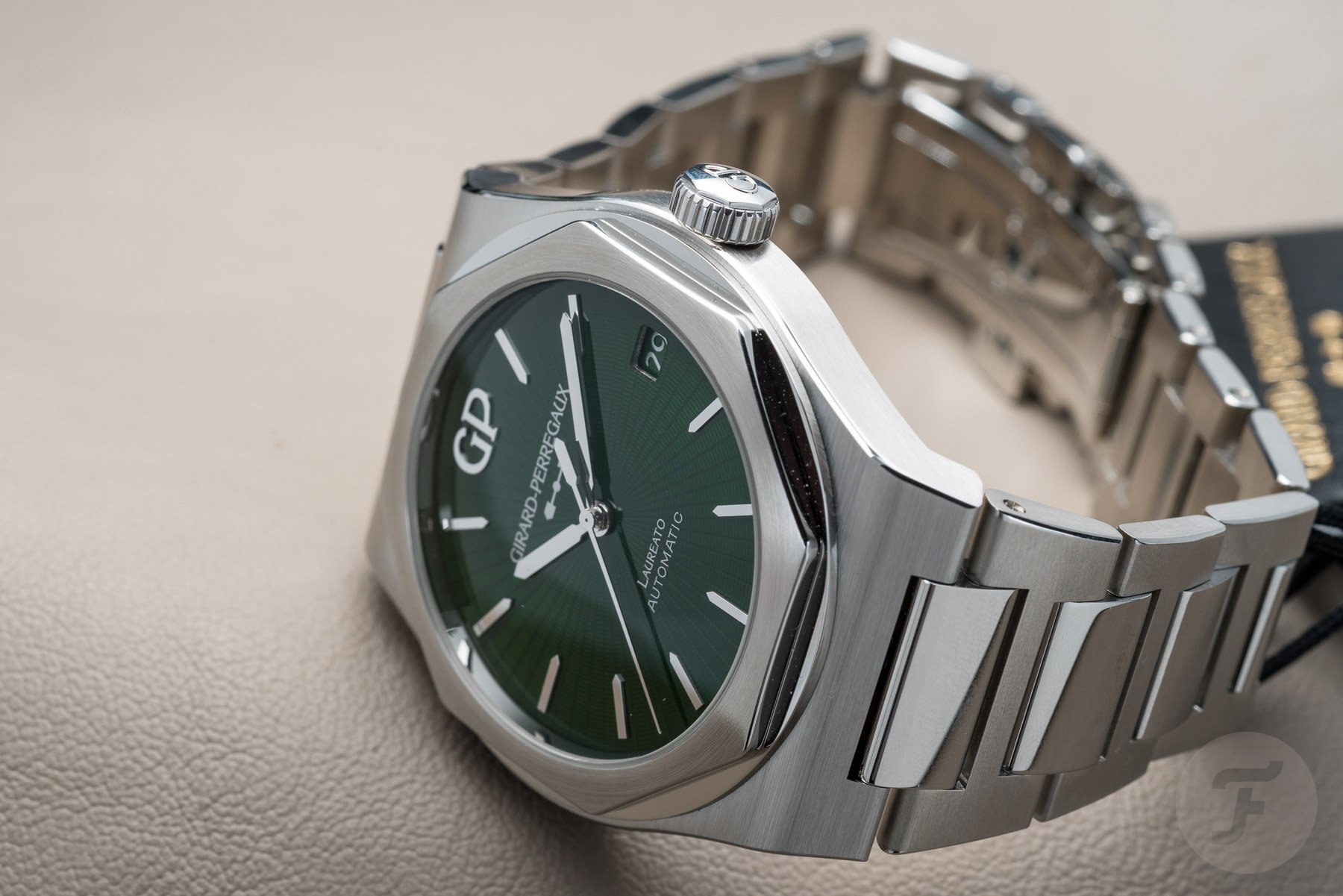 Final thoughts
The Laureato is by no means re-writing the luxury steel sports watch rulebook. But it is offering an interesting and different value proposition in comparison to many other watches in this segment. At CHF 13,460, it is priced well below a standard Nautilus, or even Moser's Streamliner priced at CHF 19,900. It manages this price while offering similar historical value and quality. Maybe, just maybe, could this be a watch you would want on its own merit, and not just because you weren't able to find any of the others.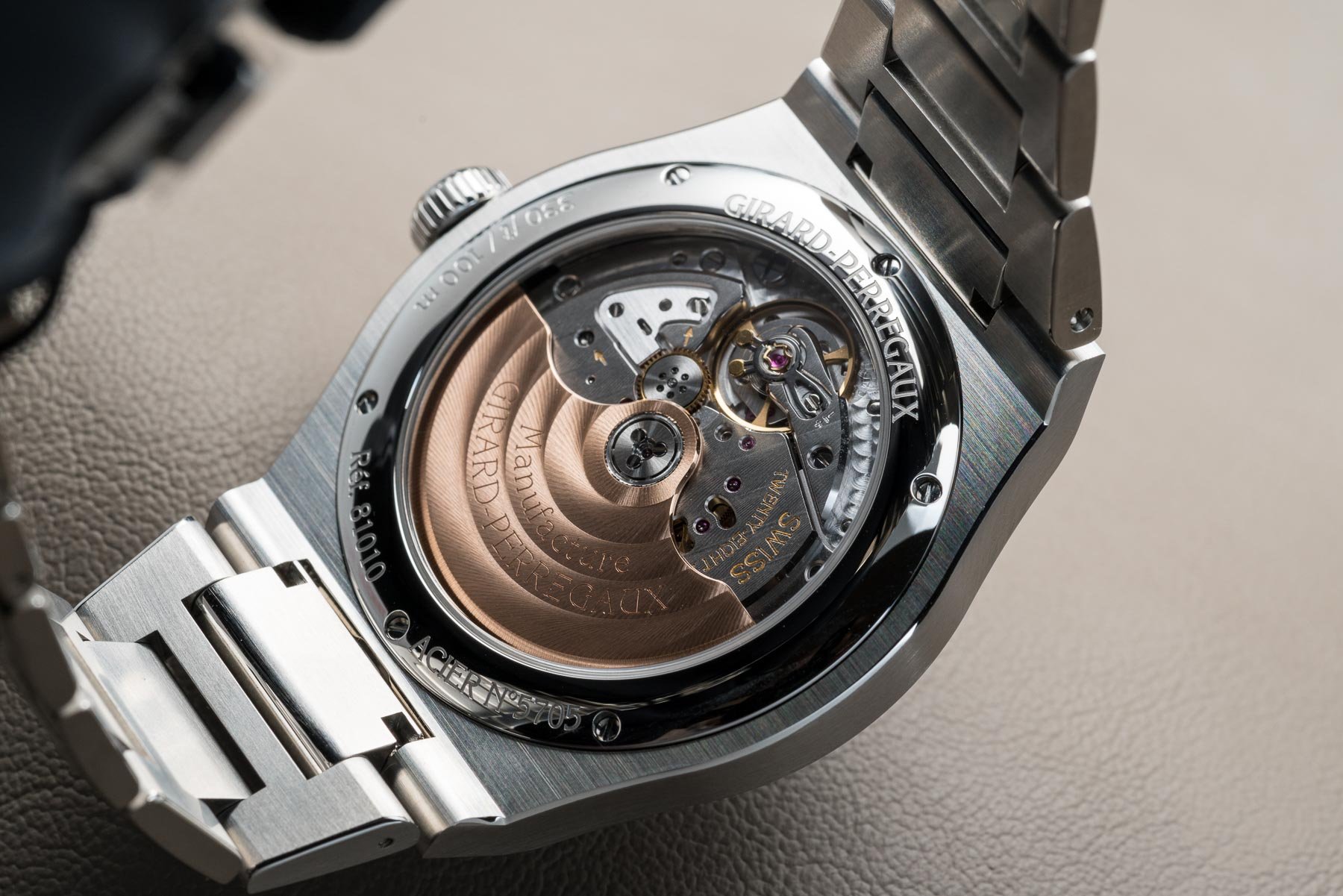 The Laureato Eternity editions will be available in December 2021, exclusively at Seddiqi. The watches will be limited to 188 pieces in each color and will be offered in blue and green. For more information, check the GP website here.
We hope you have enjoyed this guest post written by Laurits Eilgaard.