Hands-On With The Glashütte Original Sixties Collection
Glashütte Original Sixties Collection
The Glashütte Original Sixties collection is based on the caliber 70.1 and 70.3 watches that this manufacture produced in the, well, 1960s. Personally, I know Glashütte Original best for its Senator collection and collection of sports watches that they produced years ago, by the name of Sport Evolution. That has been discontinued a while ago, and Glashütte Original now focuses on more classic watches. One of these collections is the Sixties collection, consisting of three different timepieces.
A classic three-hand piece simply called Sixties, one with big date called Sixties Panorama Date and a Sixties Chronograph. Glashütte Original gave us the opportunity to give all three a spin for a while and we decided to cover all of them in this article about the Sixties collection.
Sixties 1-39-52-01-01-04
Let's start with the Sixties model with three-hands. The most basic version, but I personally like three-hand watches without a date. Basic goes for the lack of complications, as this 18 carat rose gold piece is far from being basic.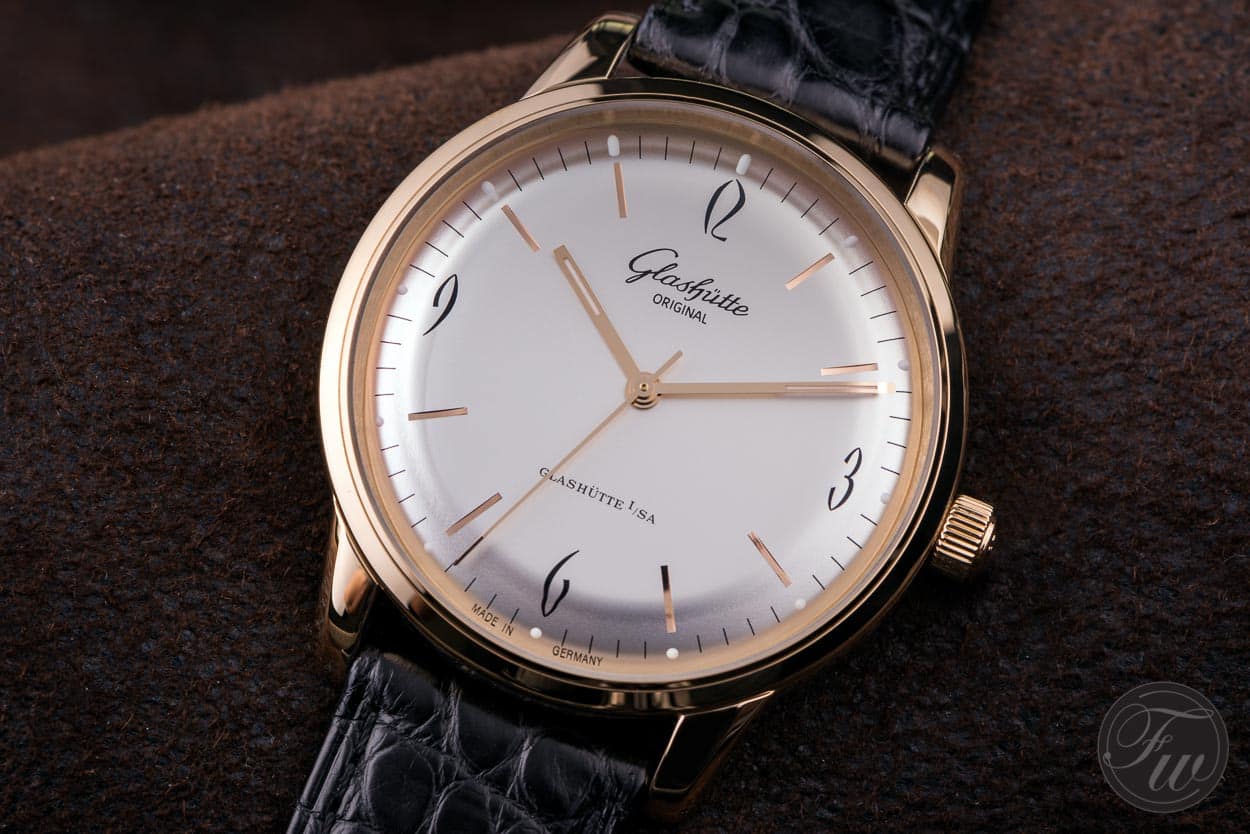 The case and dial looks very similar to the Glashütte Original caliber 70.1 and 70.3 from the 1960s. Using modern technology, the case of the Sixties is a bit more complex and up-to-date. The dial is also a tad bit different. The Arabic numerals '12', '3', '6' and '9' are using the same typography, but today there is – of course – no mention anymore of the number of rubies inside. The watch is also larger than its original 36mm version, it now measures 39mm. The perfect dress watch size for many. With a height of 9.4mm, it has a nice presence on the wrist. Especially with a gold case, I might add.
Caliber 39-52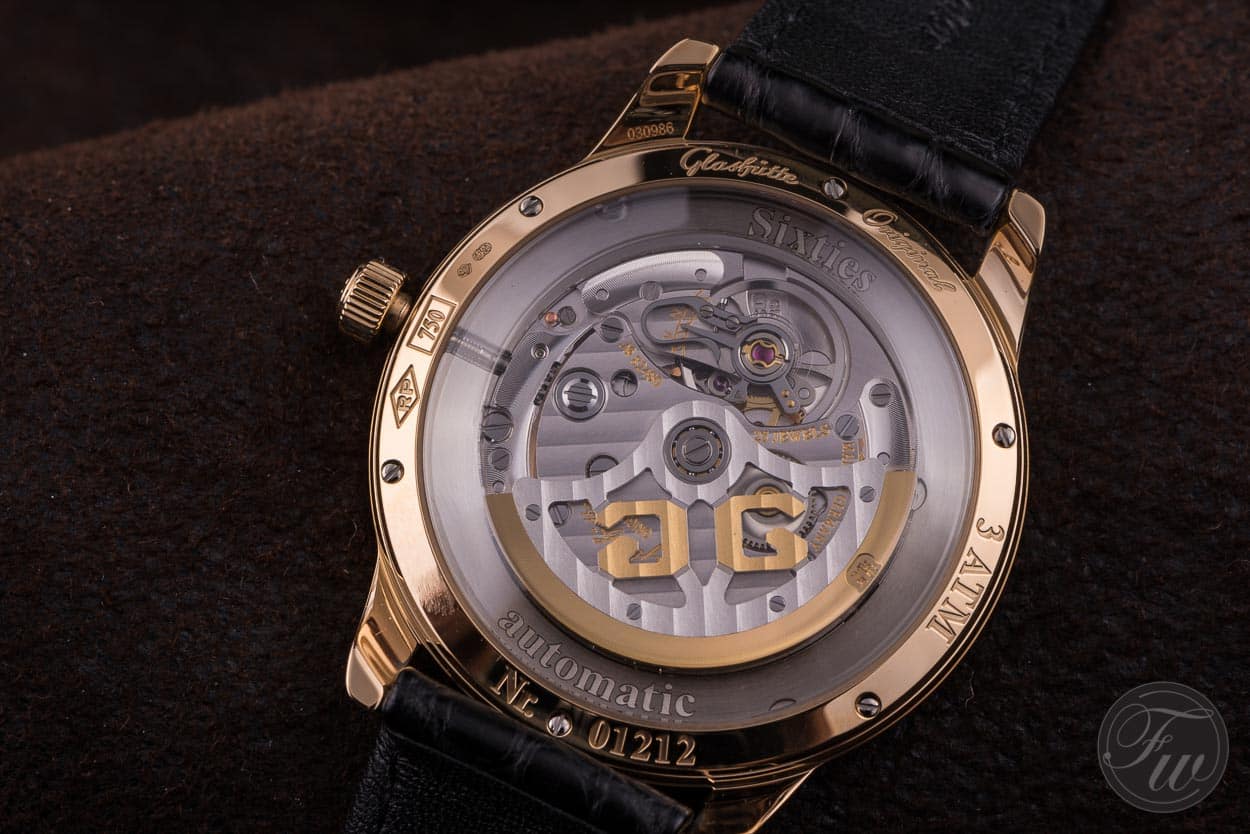 The caseback has a sapphire crystal as well, to show you the caliber 39-52 movement. Unlike the original caliber 70.1 and 70.3 movements, the caliber 39-52 is a self-winding movement. Although Glashütte Original is part of the Swatch Group, these movements are in-house developed and produced.
Even though the rotor is blocking the view, the main plate of the movement is a 3/4 one. This is a typical movement design for watches from Glashütte. The skeletonized rotor has two G's in gold. The rotor also has a gold weight attached by screws for the proper mass required. The movement has beautiful striped finish, beveled edges and a swan-neck regulator for adjustment.
On the Wrist
As said, the Glashütte Original Sixties has a nice wrist presence, partly due to the gold, but also because of the design and large dial. It is a very clean looking watch. The typography of the numerals need to be your kind of thing, as it hugely influences the design of the watch. The alligator strap that comes with the watch (and a rose gold buckle) wears great and is of high quality, as you expect for watches in this price range. The watch is heavy due to the solid gold, but not overly heavy. I think a solid gold watch should have some weight, it is part of the 'experience'.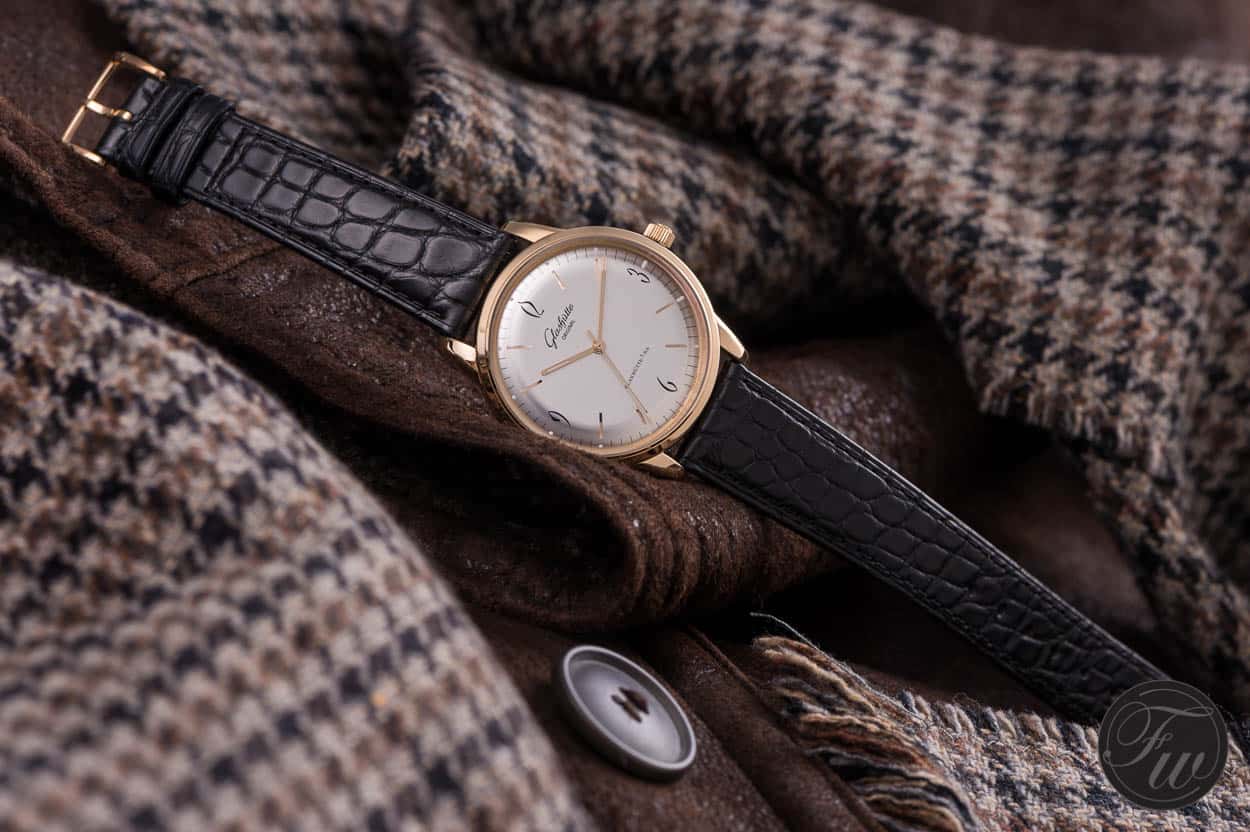 Price and Variations
The crown on the watch is very easy to grasp and use to correct the time. I do have to say that I wouldn't have mind a crown that is more flat on an automatic dress watch. This 39mm reference 1-39-52-01-01-04 Glashütte Original Sixties has a list price of €12.900.- (including 21% VAT) This rose gold model is also available with a black dial. The Sixties three-hand model also comes in steel with several dial and strap colors to choose from. The stainless steel versions start at €6.500,- Euro (including 21% VAT).
Sixties Panorama Date 2-39-47-06-02-04
If you like complications, or somewhat more 'action' on a dial than just three hands, meet the Sixties Panorama Date. The stainless steel Sixties Panorama Date has a slightly larger case than its Sixties three-hand model I covered above. It measures 42mm instead of 39mm. In my opinion not a bad thing, as we have the stainless steel version here instead of the gold model.
Blue Dial
The dial of the Sixties Panorama Date is stunning. It is domed and has this sun-ray finish as you can see below. The Panorama Date is located between the center pinion and the Arabic '6' on the dial. The domed dial gives this beautiful effect with light, the dial appears to be darker near the rehaut. If you look carefully, you will notice that the Panorama Date has two discs, and both in a blue color that corresponds with the dial. It is all very subtle and that is what makes it a great dress watch in my opinion.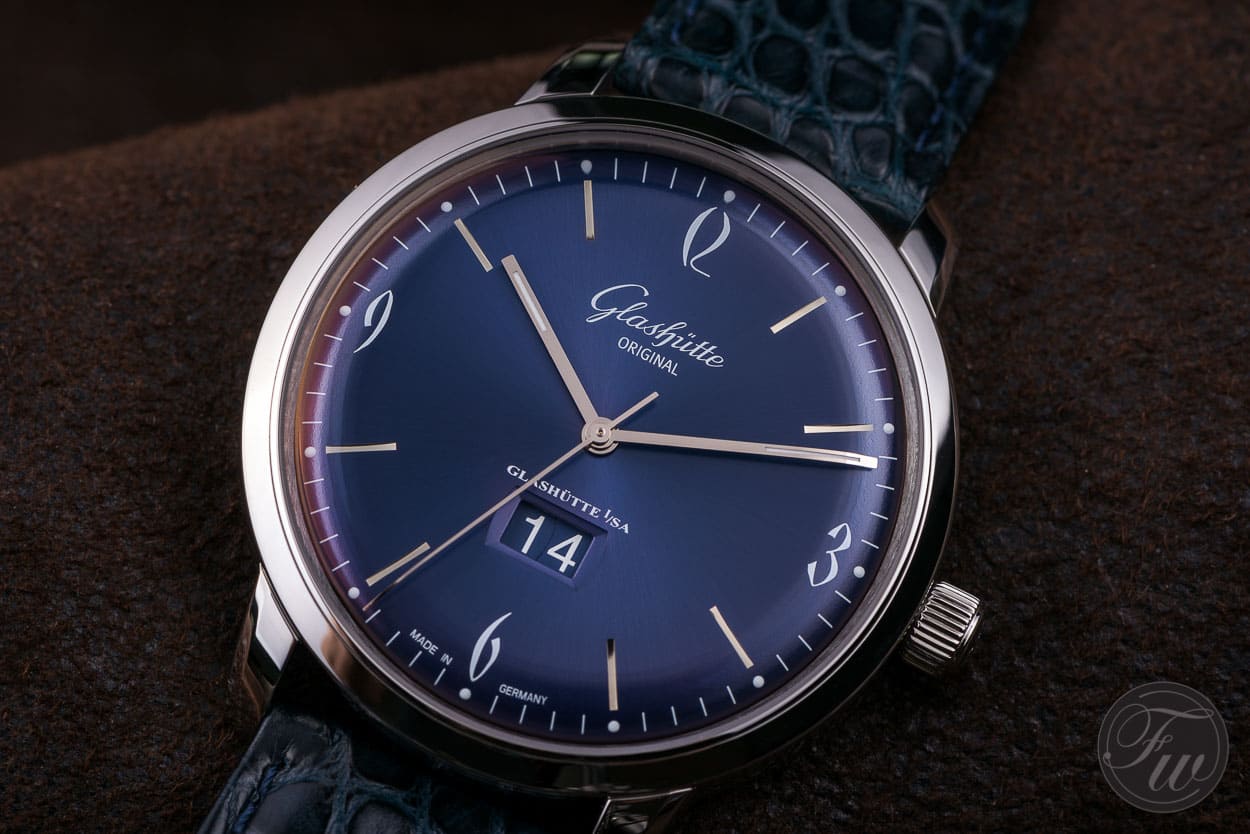 Caliber 39-47
The movement is based on the same caliber 39 as the one from the Sixties with three-hands. They are all part of the caliber 39 family. This 39-47 has of course a Panorama Data complication, resulting in 39 jewels instead of 25. The finish is equal to the caliber 39-52 of the regular Sixties. As the case is a bit larger, and the movement has the same diameter of 26.2mm, there is a bit more room between the caseback bezel and the movement itself. It isn't disturbing though. The gold double G logo and 21 carat gold rotor mass give a nice contrast with the stainless steel case and the other rhodinized movement parts.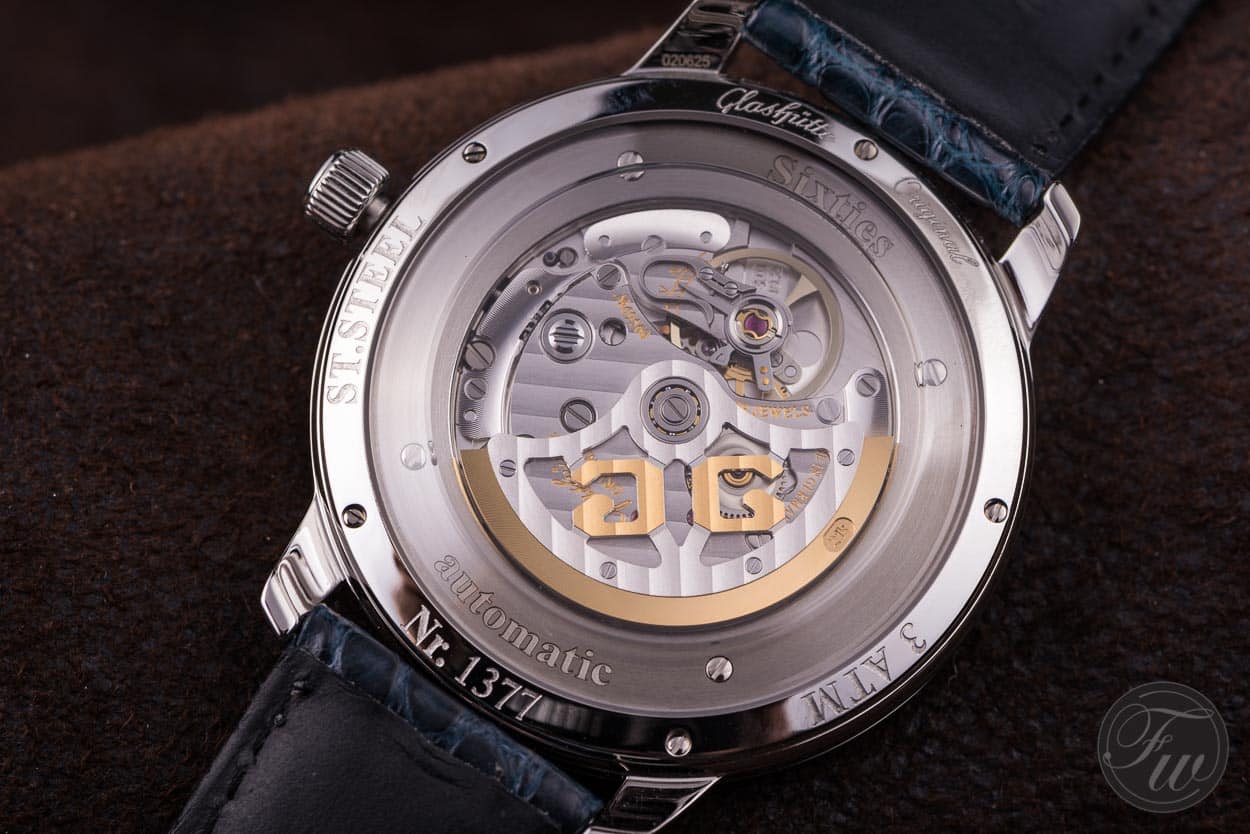 On the Wrist
Personally, I have to say that I can live without a date on a dial, but if there needs to be one, a big date is very nice. It makes the watch perhaps a bit more playful and less 'conservative'. If that is your game, the rose gold three-hand version in 39mm is for you. The 42mm fits me perfectly, and I guess it will do with most men. The relatively large space between movement and caseback bezel did not disturb me. As some of the loyal readers know, I am not a fan of display backs in general. But the manufacture movement by Glashütte Original is worth looking at!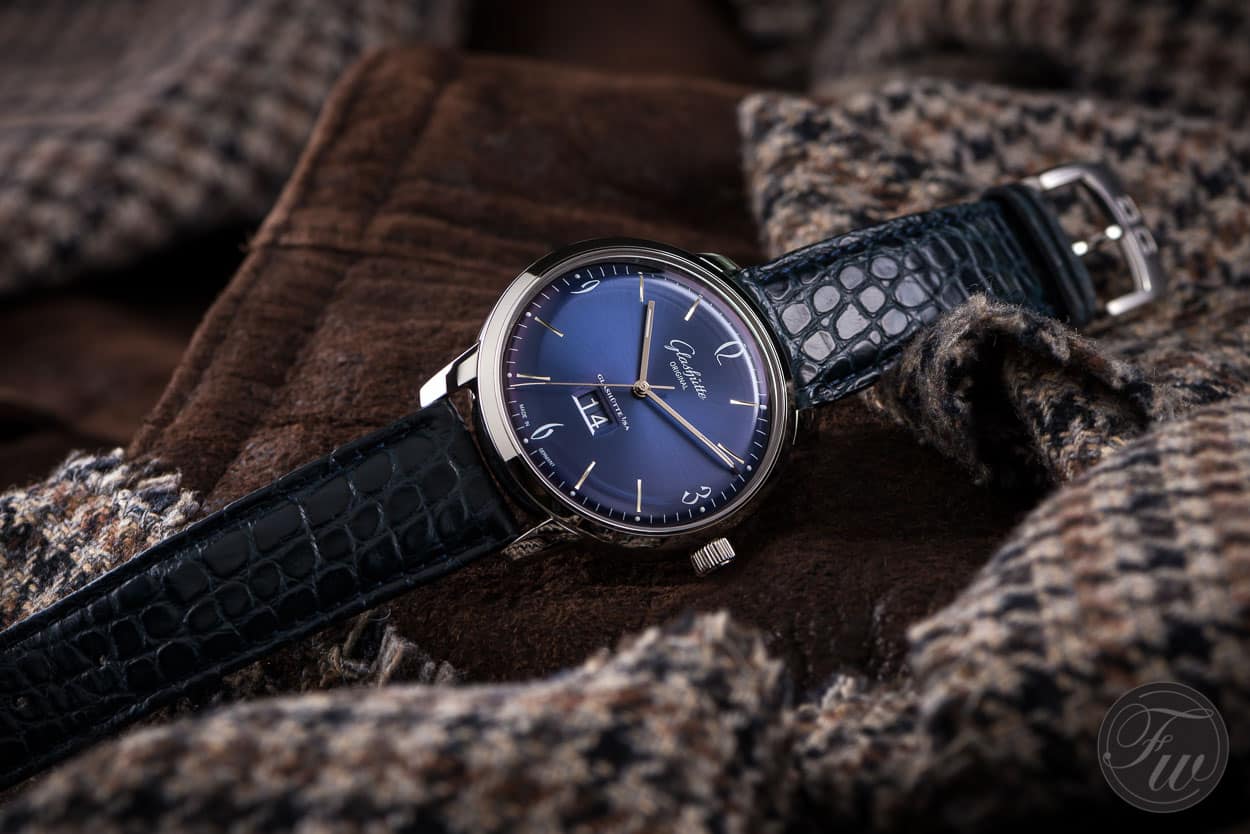 Price and Variations
I have a weak spot for blue. This stainless steel Glashütte Original Sixties Panorama date is also available with a silver and black dial, but for me personally it becomes a bit 'boring' with those. The blue gives a great contrast and the alligator blue strap matches perfectly. The retail price of this Glashütte Original Sixties Panorama Date 2-39-47-06-02-04 is €8.000,- Euro (including 21% VAT). The gold references start at €16.500,- Euro(including 21% VAT).
Sixties Chronograph 1-39-34-02-22-04
Last but not least we show you the Glashütte Original Sixties Chronograph, in stainless steel with a black dial. With a round case, as there's also a Glashütte Original Sixties Chronograph with a square case. The chronograph also measured 42mm (the square model is 41.35 x 41.35 mm) and 12.4mm in thickness.
Two Register Chronograph
Two large sub dials are located on the black galvanized dial at 9 and 3 o'clock. A long and slender chronograph seconds hand and a small running seconds at 3 o'clock. The white gold hands give a great contrast on the black domed dial. Two pump pushers on the side of the round case are easy-to-operate and you can measure up to 30 minutes (no hour recorder as you can see). Sufficient for most daily operations that need to be timed. However, I personally do like to time some of the traveling I do, and an hour recorder comes in handy in that case.
The Arabic '9' and '3' have been replaced by the sub dials, but the watch is still easy to recognize as a Glashütte Original Sixties watch.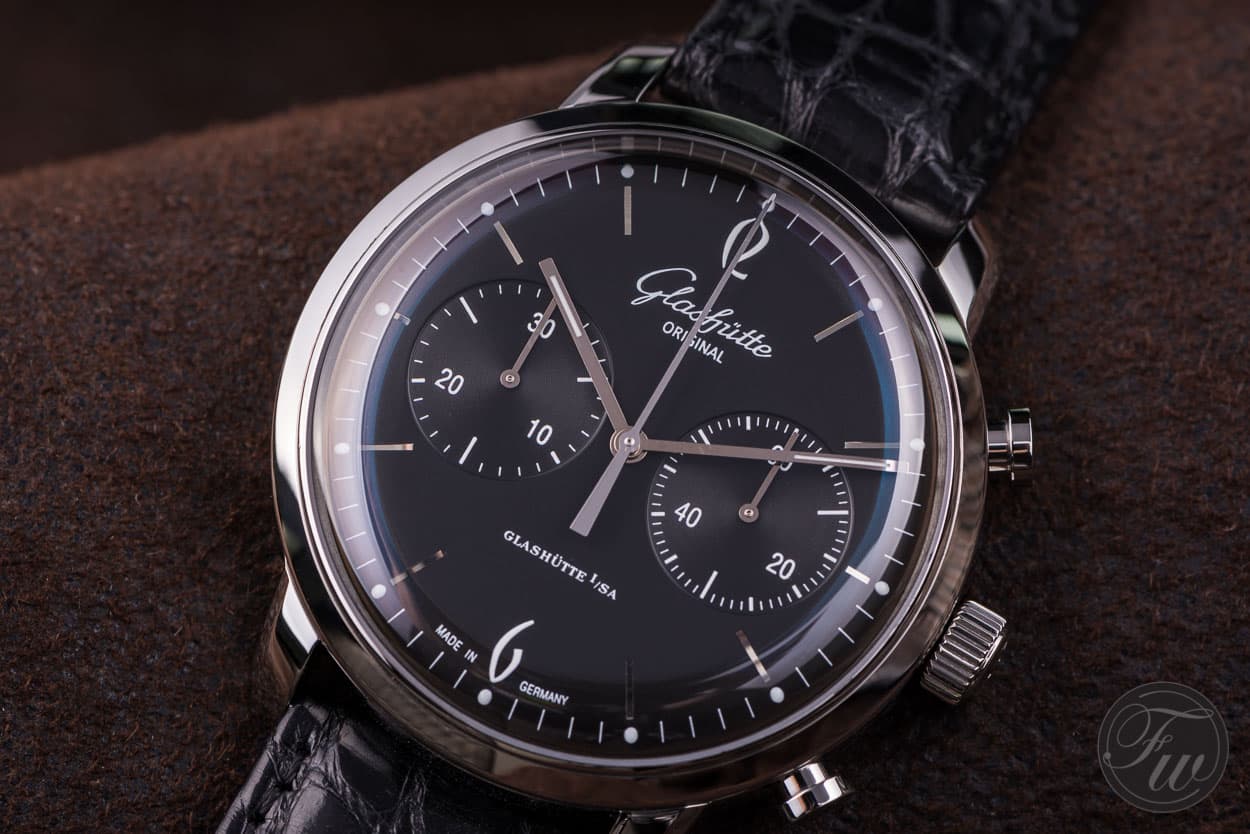 Caliber 39-34
The caliber 39-34 is based on the 39 family like the other two movements above, but in this case, it uses a third party add-on module.
51 Jewels
This module is developed by Dubois-Depraz, who you might know from other brands like Omega and Audemars Piguet for example. Easy to recognize as the winding crown and chronograph pushers are not aligned, as the chronograph module is on top of the base movement. Is that an issue? No, perhaps for aesthetic reasons it might be to you. However, at a certain price point (+$20K AP RO Offshores), I expect brands to use a dedicated chronograph movement instead of an add-on module movement. That's based on emotion though, not a rule of thumb. An add-on module like this also explains the high number of jewels used, 51 in this case.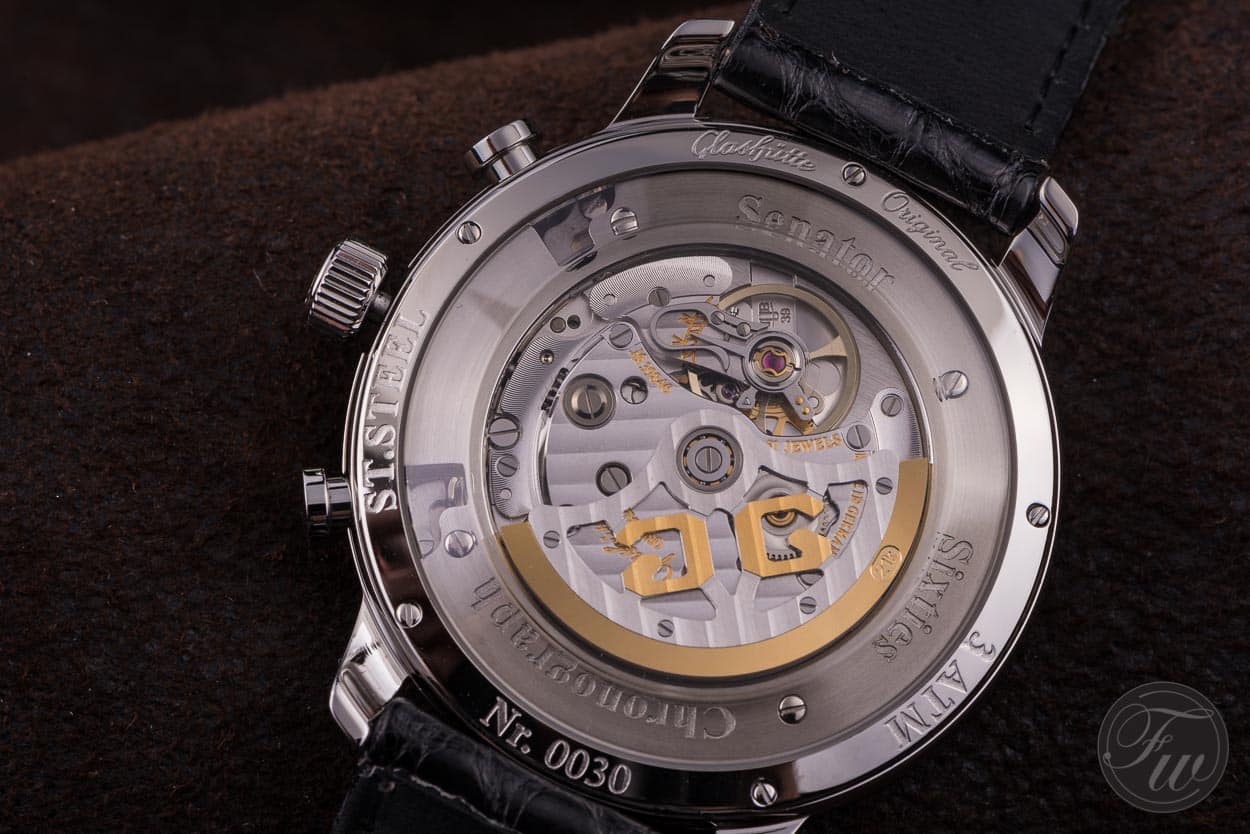 On the Wrist
The chronograph wears a bit different on the wrist than the Panorama Date, despite the same dimensions. It probably has to do with aesthetics and the two pushers at 2 and 4 o'clock. I am a sucker for chronograph watches and this Glashütte Original Sixties Chronograph is quite pure. There are not much distractions on the dial, no date feature or no use of all sorts of colors and texts. It is even more easy on the eyes than something Max Bill. I also love the absence of crown guards, which probably would look rather weird on a watch like this to be honest.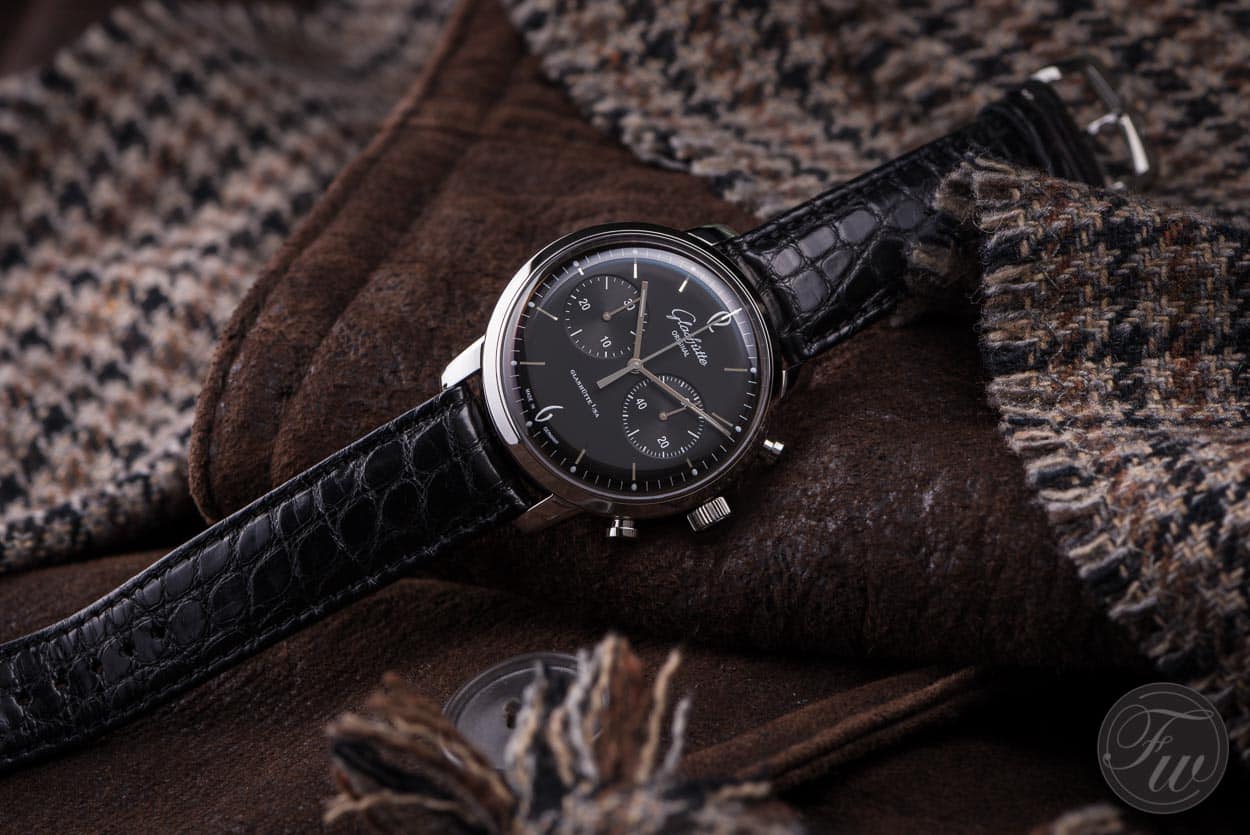 Prices and Variations
As mentioned above, the Glashütte Original Sixties Chronograph comes in two dial variants and in two different case shapes. The silver dial version comes with rose gold hands and hour markers, which gives it a bit more color. A matter of taste, really. The black dial and white gold hands enhance this dress watch with a bit of a sporty character. The retail price of the Sixties Chronograph 1-39-34-02-22-04 is €8.000,- Euro(including 21% VAT).
Some Thoughts
If you've been to Glashütte in Germany, you will know the long street that has watch manufacturers on both sides. Although there is of course competition going on between those brands, they all share the passion for German – perhaps Glashütte – watchmaking. A brand like Tutima even decided to move back to Glashütte after many years. It has a specific meaning to be there for watch brands. And for clients, perhaps even more important in the end.
German watchmaking is praised as much these days as Swiss watchmaking, due to brands like Glashütte Original who are capable of designing, developing and producing their own movements for example. When you are in the area of Dresden (perhaps Berlin even), it is recommended to pay this small village a visit to see some of the magnificent brands located there.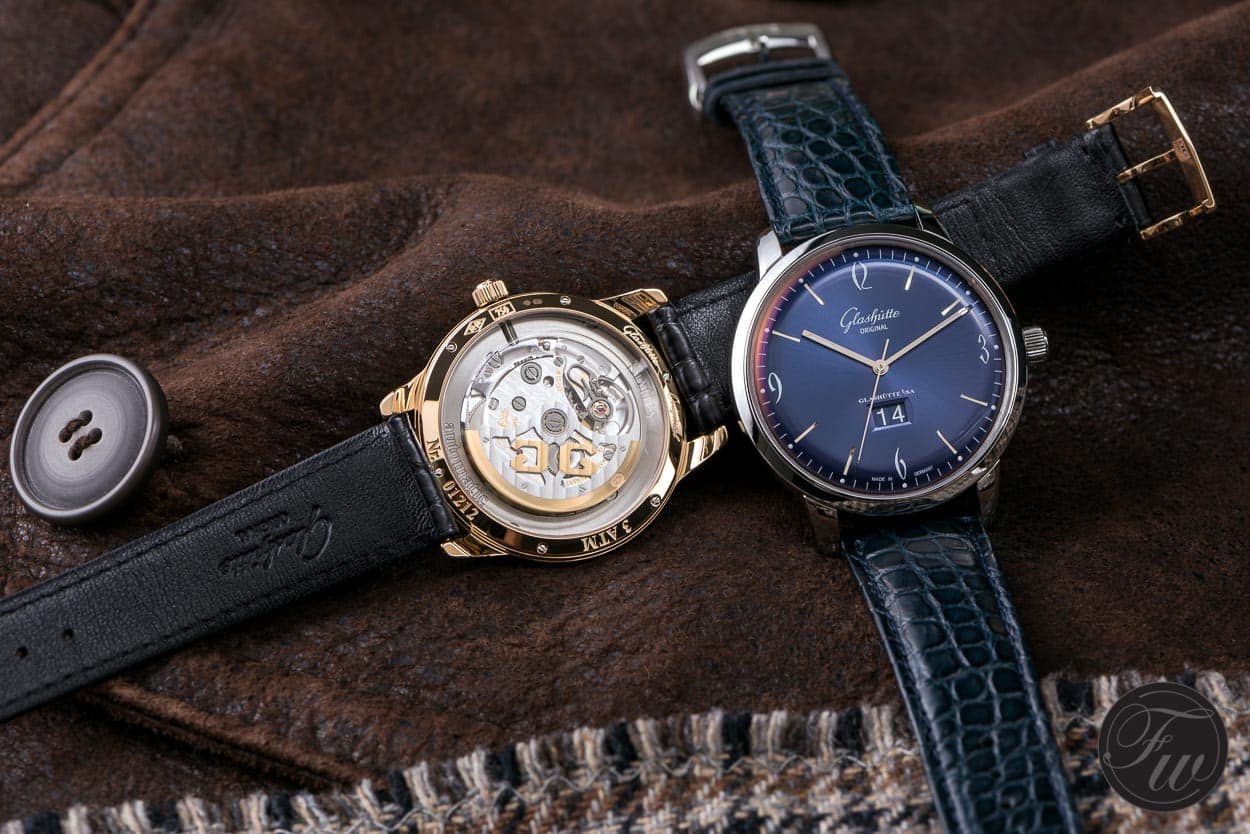 Icons
Some brands have iconic models, that people will recognize from miles distance. Other brands are not that fortunate and need to put a lot of effort in focusing on other things to make their watch attractive. Glashütte Original has and does both. Not only is their Sixties models an icon for the brand, for German watchmaking even, but they also put a lot of effort in getting things done right. The Sixties watches are by no means cheap timepieces, but they do offer a lot of quality. This quality can be seen in every aspect of the watch. The strap and buckle, the case and crown, the dial and of course, the movement.
More information can be found via Glashütte Original on-line.