Glycine (founded in 1914) introduced a multiple time zone watch in 1953, the Glycine Airman. These watches were meant to be for travellers and pilots that needed a watch that enabled them to read two different time zones. Through all these years, the Airman watch was never absent from the Glycine collection, but it changed a bit every once in a while. Purists will swear by the original vintage Airman model (nicked 'Old Airman') that was in production from 1953 till 1973. This model was embraced by the military (chopper) pilots during the Vietnam war with its useful second time zone and AM/PM indicator. These first models had a Felsa caliber 692 movement and was succeeded in 1960 by an A.Schild movement.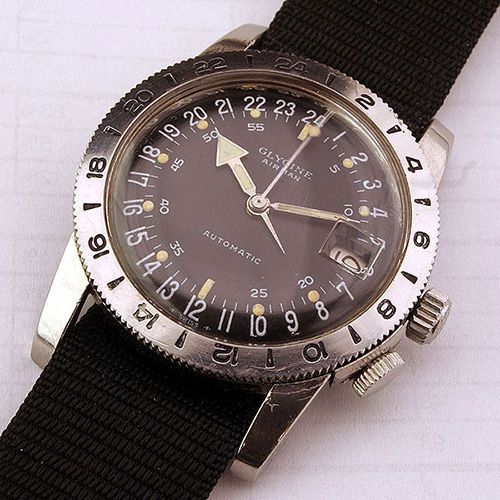 Picture courtesy of Ron Engels.
Above a picture of this first batch of Glycine Airman watches, a 1960s model. Now, in 2010, Glycine introduces a successor that comes very close to these first 'Old Airman' models, the Airman Base 22. Base stands for air-base or a military air field and the 22 stands for the 22nd generation of Airman watches, which this watch is. During my stay in Basel, Frank and I visited the Glycine booth and had a talk with Katherina Brechbuehler, CEO of Glycine Watch SA. She told us that this watch was something collectors of Airman watches have been longing for ever since the original Airman was succeeded by more modern versions.
The Airman Base 22 (ref. 3887) will be available in three versions. The basic version that resemblances the model pictured above, second is a GA-version that allows the owner to change the time zone on the main hour hand without having to hack the movement as home time is indicated by the secondary hour hand. This watch is capable of displaying three time zones.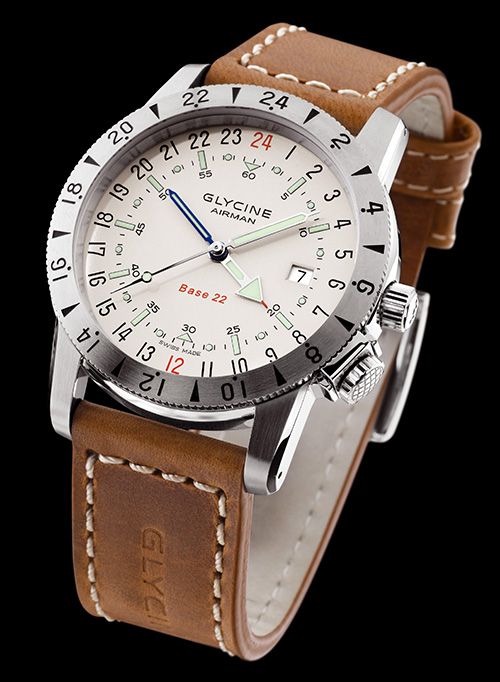 The Glycine Airman GA version. Photo courtesy of Glycine.
Third version is a GMT version with 3 time zones and red GMT hand. Just like the GA version, it is capable of showing three time zones, but the movement will stop (non-hack) when setting the hour hand.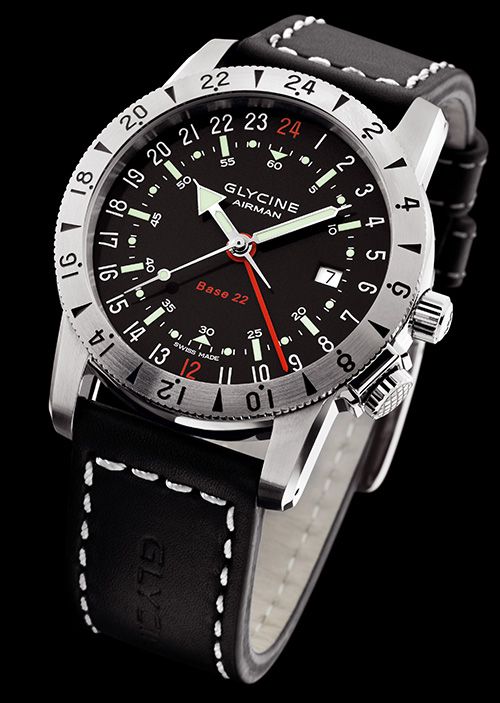 Glycine Airman GMT version with 3 time zones. Photo courtesy of Glycine.
The most interesting model to me is the purist's version, the one that resemblance the most with the original with a 24 hour display and two time zones. Glycine introduces these models in both black dial and white dial version. Although black dials seems to be more popular, the white dial version is a tribute to the first Airman ever, which actually had a white dial. I was able to fiddle around with the Base 22 normal 24h version and I was truely impressed by this time piece. These timepieces have a price tag of 1800 CHF / 1260 Euro (add 100 CHF for a stainless steel bracelet) which makes them even more interesting in my opinion. With all the +10.000 Euro watches introduced during BaselWorld 2010 with a questionable quality and a made-up story to create a cult or hype around them, it is very refreshing that a true cult watch like the Glycine Airman Base 22 has a normal price tag.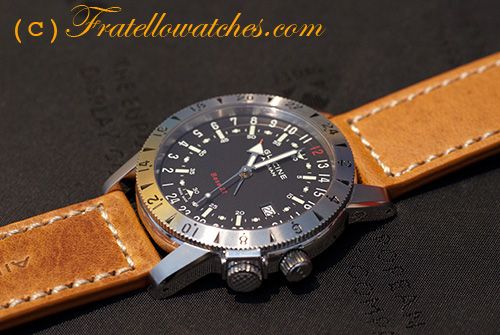 The tan soft leather calf strap with the embossed Airman logo was amazingly soft and reminded me about the cool vintage Panerai straps you often see. The 42mm watch case wears actually very comfortable, even with normal sized wrists, this is probably because the lugs are shaped downwards and the height of the watch is only 11.2mm. As you can see below, the white dial version looks terrific as well although white may not be the pick for everybody.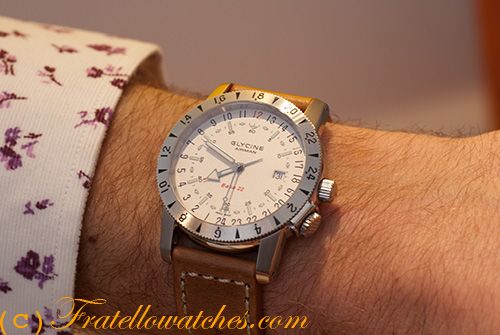 The movement inside is an ETA2893-2, based on the famous ETA2892-A2 but with an extra time zone feature. This movement has been used in a lot of other watches as well, such as the (out of production) Omega Seamaster Professional GMT (also both available in white and black dial) and last year's introduced Linde Werdelin 3-Timer. The difference between the 3-Timer and the Airman for example, is that with the 3-Timer you can't set the normal hour hand separately from the minute hand to a different time zone and only use the 24-hour hand to another time zone. Watch collectors tend to call this a so called Office GMT watch instead of a traveller's GMT watch. The Airman is capable of setting the regular hour hand to a different time zone (since this is the 24-hour hand), using the other one for home time.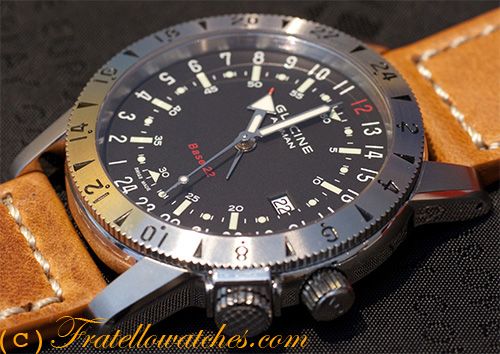 Is there nothing negative to say about the Glycine Airman Base 22 ref.3887? Well, actually there isn't and especially at this price level, if you want a traveller's watch and don't mind reading a 24-hour dial, this is your only logical option in my opinion. The finish on the case is very nice, with both polished and brushed parts, the ETA movement is sturdy and has proven itself over time. I would definitely pick the tan leather strap and a black dial, since this combination really makes the dial stand out and gives the watch a bit of a vintage look. The cult status of this watch is also amazing and just recently a book has been published on the Airman by subject matter expert and fellow Dutchman Andrr Stikkers. A 132 page book filled with useful information about the history of the Airman, the Glycine Airman collection over the years and how to identify the fake models that are being offered. This book can be ordered for 37CHF (+/- 25 Euro) at the official Glycine website.
Although I blew my budget for watches already this year, an Airman Base 22 will be a serious option if I can free some extra money 🙂

Robert-Jan Broer, born in 1977, watch collector and author on watches for over a decade. Founder of Fratello Watches in 2004.

Latest posts by Robert-Jan Broer (see all)