Hands-On With The Seiko Prospex SRPE33 And SRPE39 Dive Watches
For once, I struck (blue) gold!
On land or beneath the waves, the Seiko SRPE33 and SRPE39 dive watches are faithful companions with an attractive price and an even more attractive dial decoration, celebrating the brand's partnership with the Save the Ocean charity…
Overseeing the scheduling and creation of the 960+ articles we publish every single year on Fratello is a lot of fun, but it is easy to get confused by all the references floating around. Months ago, I agreed on a publishing plan for this year's Seiko novelties with the brand directly. At that point, I dished out the serial numbers to the team to cover. Occasionally, I would pick-up a random straggler myself.
It isn't until I come to spend some time with the watch that I look-up what I've landed in the lucky dip of life. This time, I couldn't believe my luck. As fate would have it, I've ended up with the only Seiko I actually bought this year — the SRPE33 and its turtle-shaped friend, the SRPE39. Here's a nice lume shot of the turtle-shaped one below: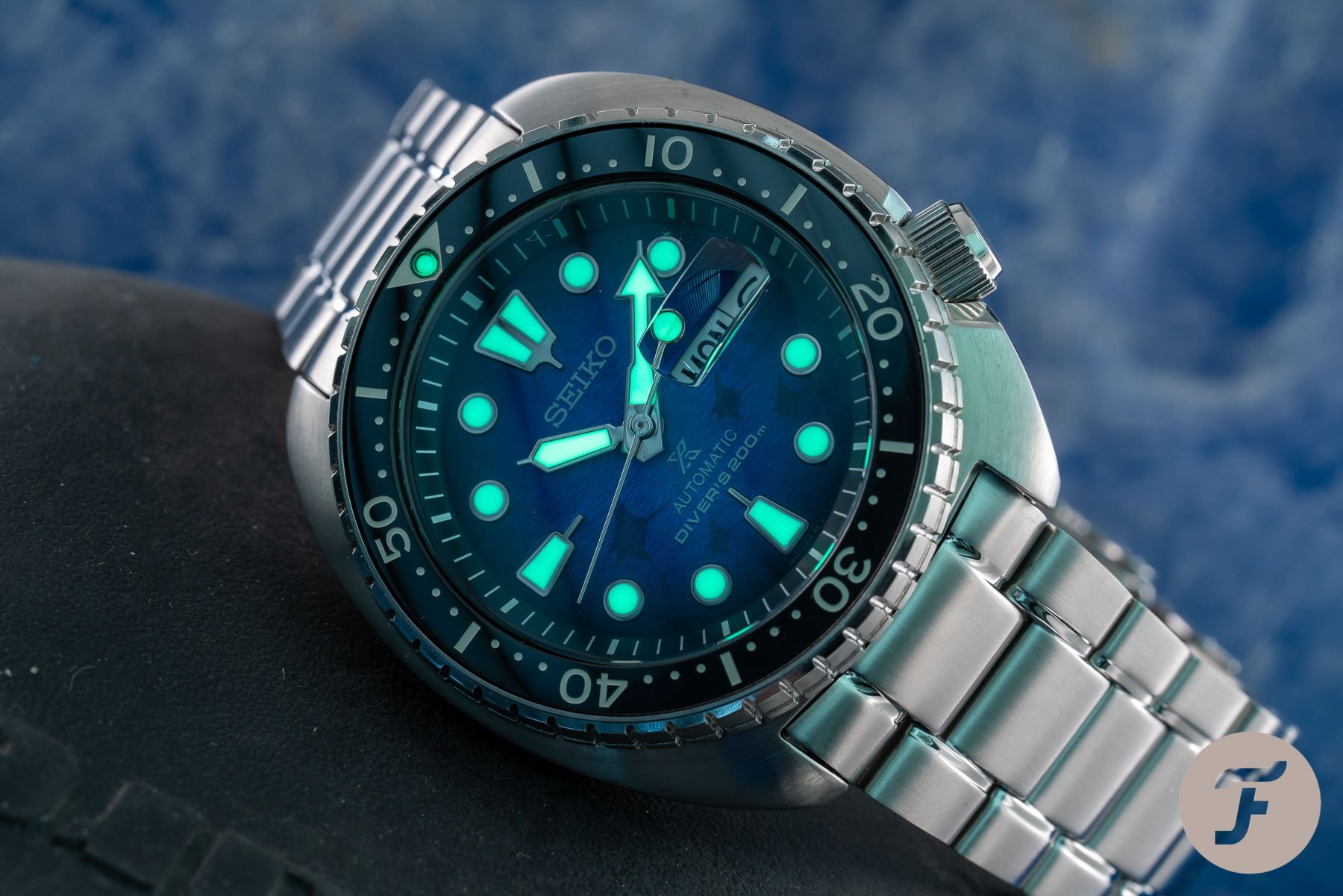 This shouldn't work
You know the drill. We've been here before. I'm going to tell you something shouldn't work and then reveal (shock horror) that it works infinitely better than I thought it ever could. I don't even know why I'm surprised anymore, but I suppose it has something to do with the huge amount of rubbish out there polluting our eyes and wrists.
Ahem, "this shouldn't work." I mean, can you even imagine the board room meeting when this idea was first bandied around?
Picture the scene…
"So. It's time to do our annual 'Save the Ocean' pieces. Last year we had quite a lot of success with blue. The year before, we did pretty well with blue. I'm thinking maybe we stick with blue again for 2020. Is everyone alright with that?"
Janet raises her hand…
"Yes, Janet? You have something to say?"
Janet shifts uncomfortably in her chair. She feels the weight of twenty pairs of narrowed eyes upon her… It's never easy being the only genius in the room…
"Well, I was thinking that maybe this year, we should consider putting some Manta Rays on the dial…"
As she ran from the room in tears, she wasn't sure if the seeing din of laughter would ever leave her memory…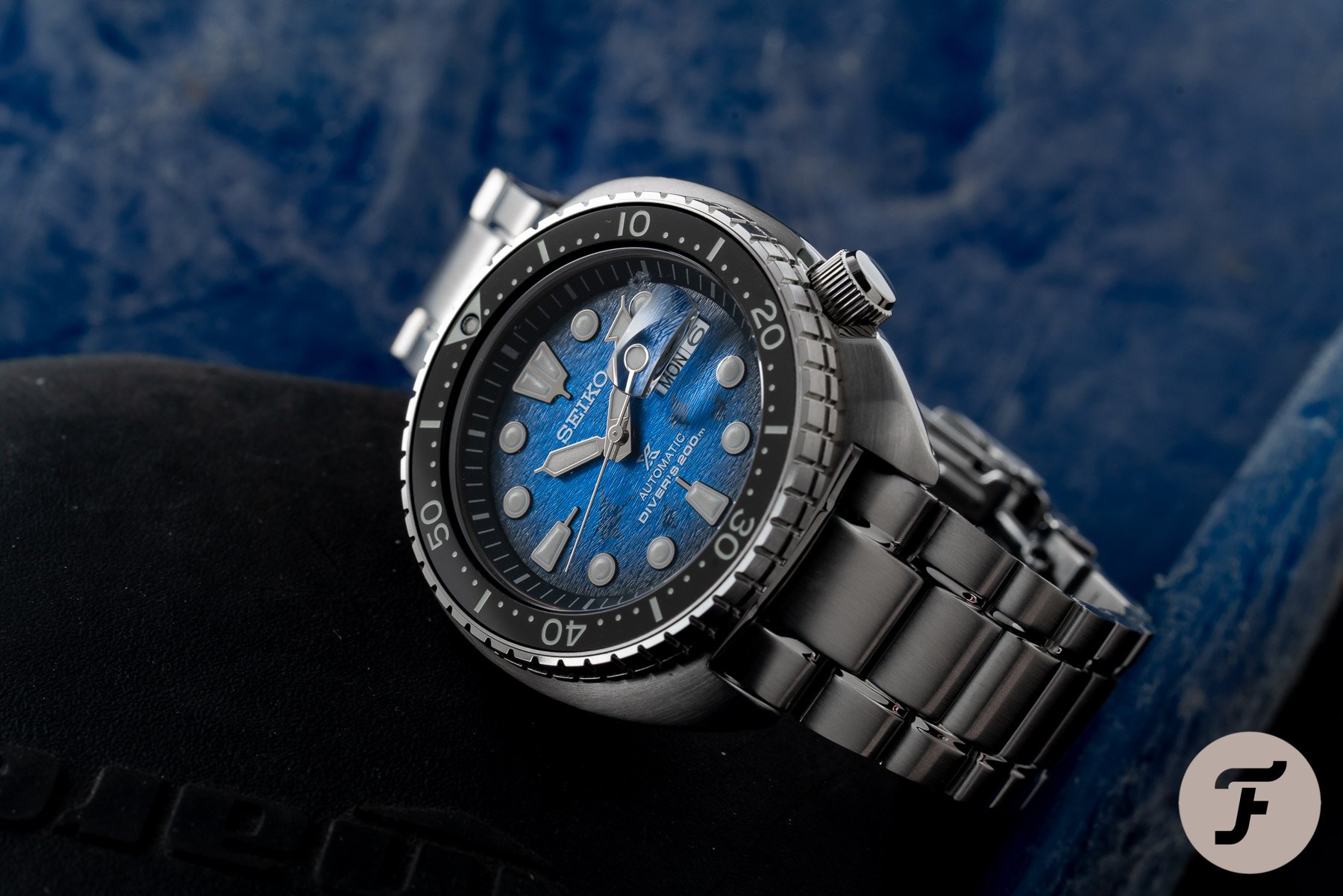 Employee of the year
As it turns out, the imaginary Janet should have won employee of the month. Nay, year. This has been an absolutely rollicking year for Seiko. Make no mistake, in a year that has been fully upended by happenstance, Seiko has come out of it smelling of roses. The most the majority of brands could have hoped for was to stand still, to not lose too much ground, to not go backward. Seiko has continued to push ahead with a slew of stunning releases that speak to the Fratello team on multiple levels.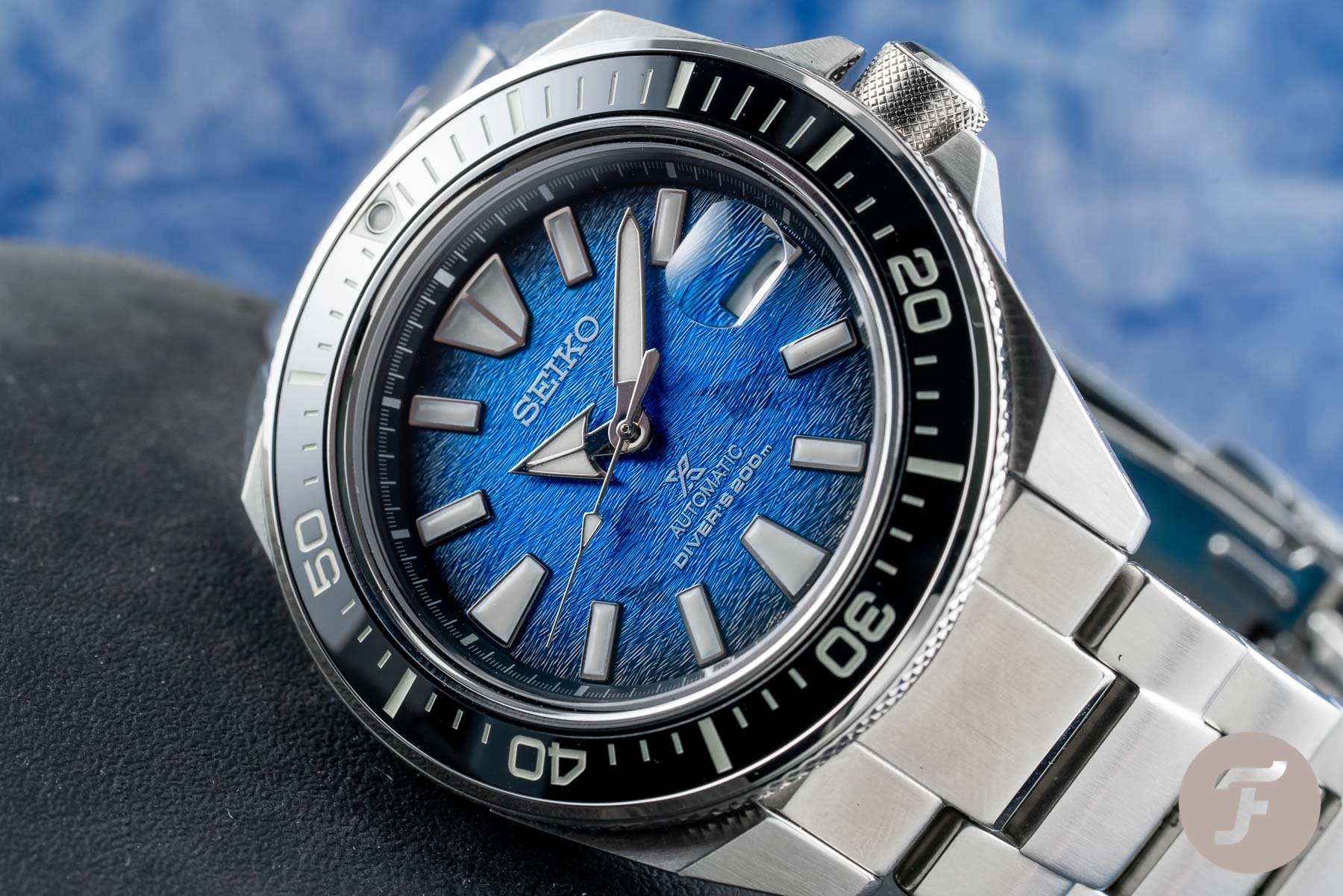 I actually did put my money where my mouth is
I talk a lot about watches. It's my job, obviously, but it is also my passion. My seemingly limitless reserves of passion are often spread liberally over new releases I dream of adding to my collection. But the truth is, I do not buy everything I see. This year, I've bought a few vintage pieces for small change. I finally received the Aquadive Poseidon I reviewed recently. The top of the year saw me buy an Omega Speedmaster Broad Arrow to celebrate joining the Fratello team. Recently I put an order in for the new Snoopy. And then I bought this bad boy, the SRPE33 (Samurai). Of the aforementioned, it has had the most wrist time since I added it to my collection.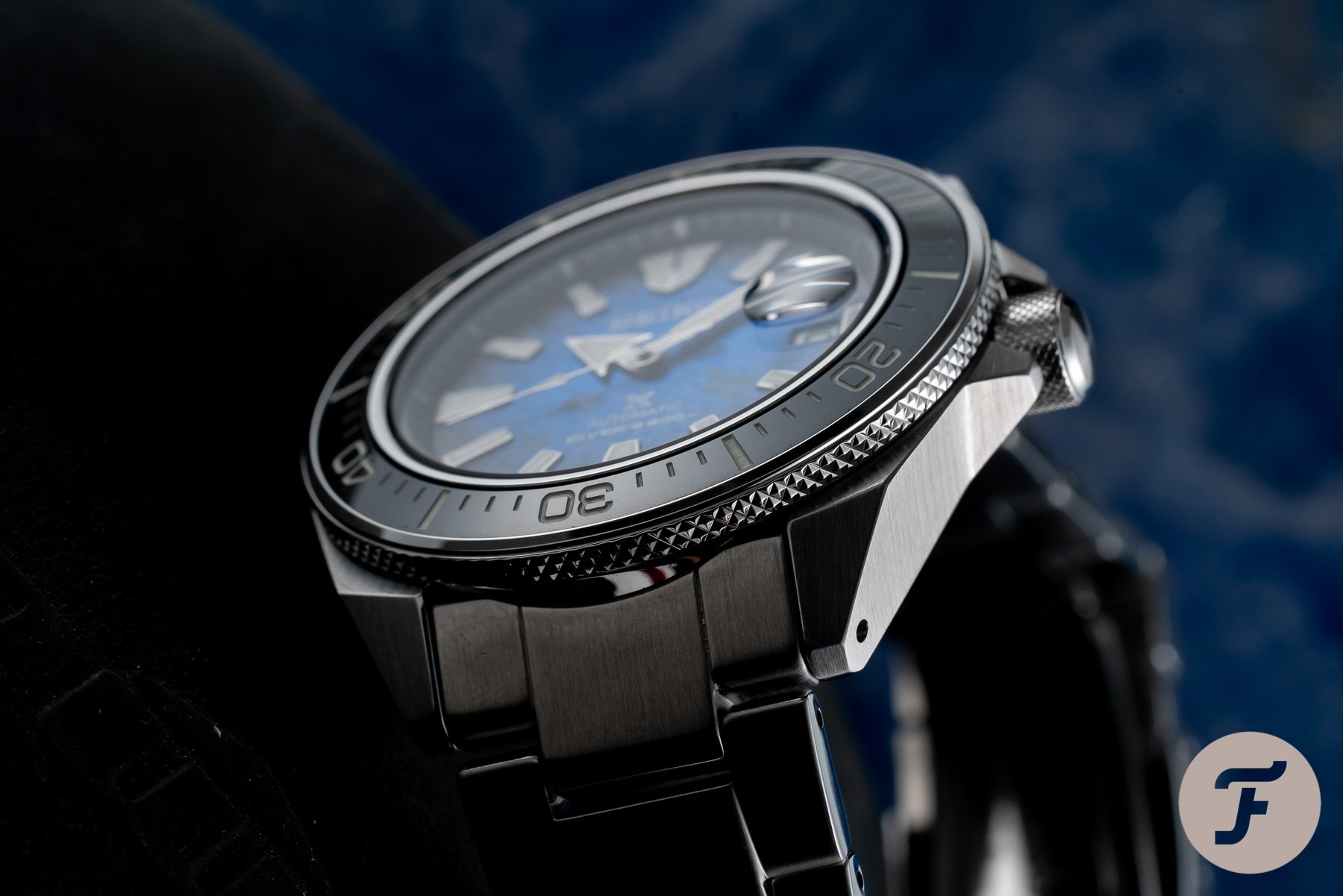 It is big, uncompromising, and totally unlike all but the Aquadive in wearing style. To reduce the overall weight a bit, I ditched the bracelet after a couple of days. Instead, I slipped it onto my customary brown 5-ring ZULU that's spent time on pretty much every 22mm lug-width watch I own.
I bought it blind (before I had a chance to compare it with the SRPE39 Turtle you can see in this article also). I do not regret my decision at all, but, and I'm serious here, I might buy the '39 as well.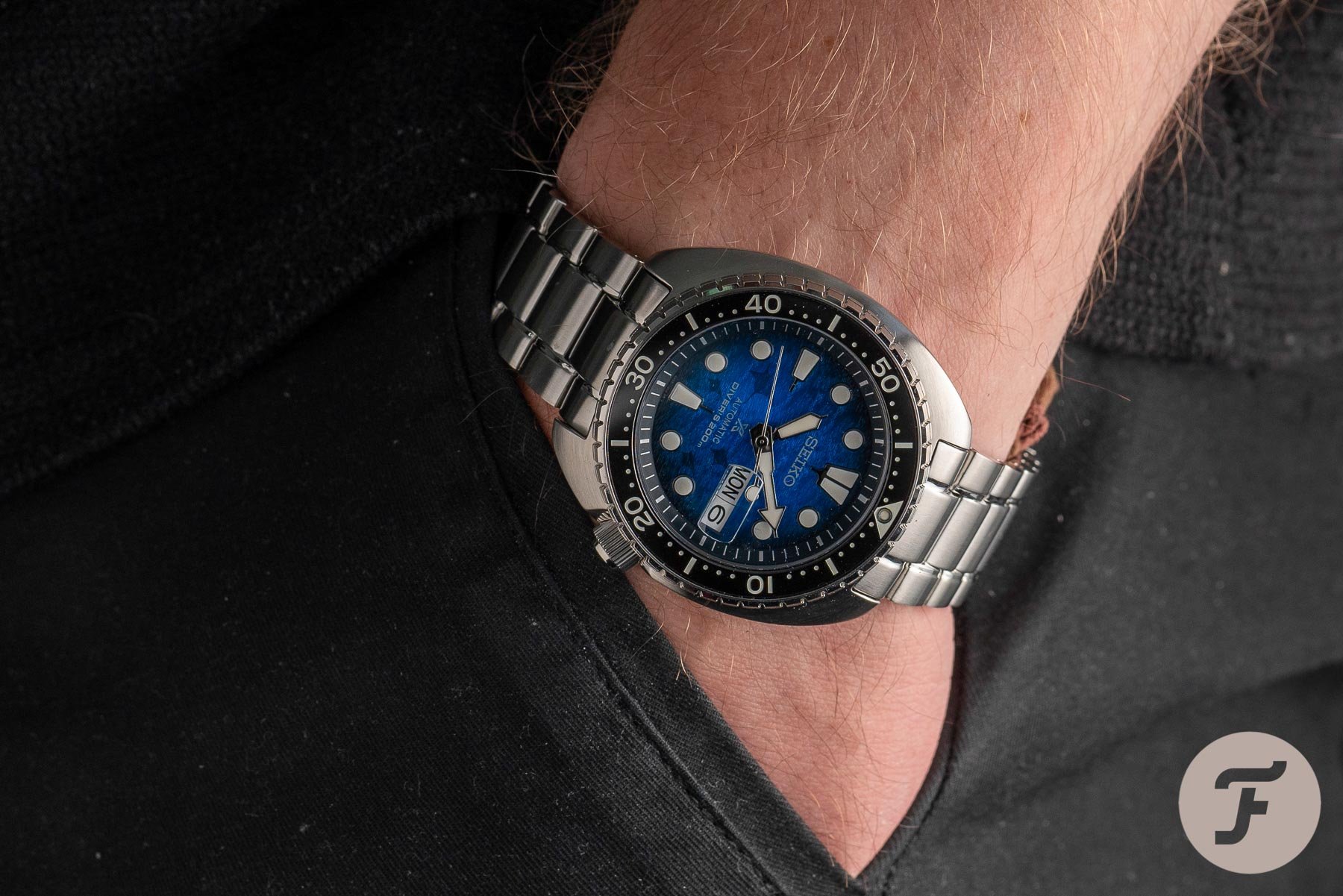 Crazy is as crazy does
You might think me crazy for considering buying effectively the same dial in two different cases, but hear me out. The reason this watch has received so much wrist time is because the dial in question is just so damn compelling. I never thought I would like such a creative "out there" display until I got one on my wrist. The Manta Rays are far from distracting as I was concerned they might be. Furthermore, the position of the rays on the SRPE33 differs from those on the SRPE39 and I think they would look nice next to one another as a result…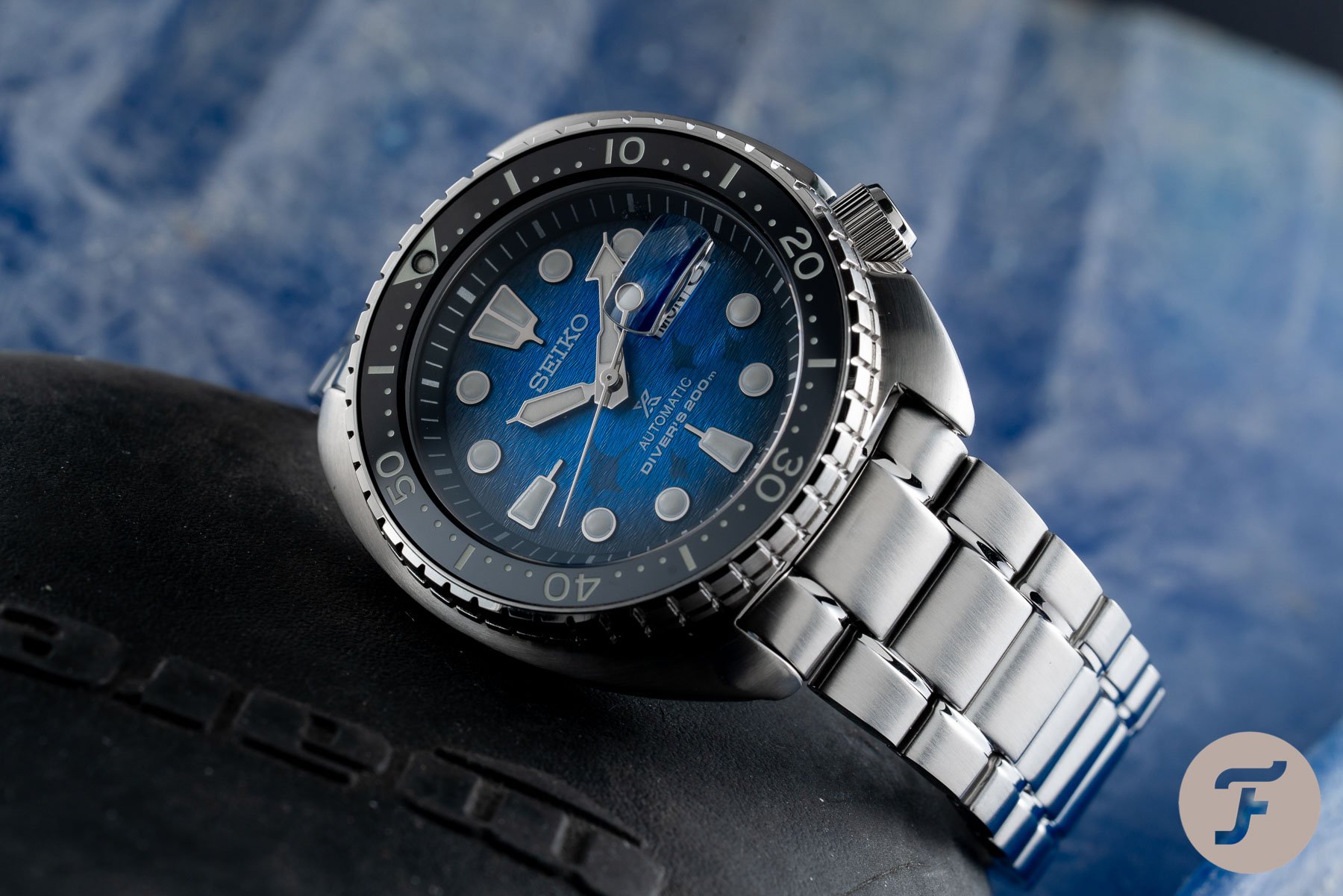 Rather, I find myself tilting the watch in natural or artificial light, trying to get a better look at them. The rich blue of the dial is gorgeous (to say the least), and the way it fades to black at the edges really does give the impression of looking through a small window to the briny deep.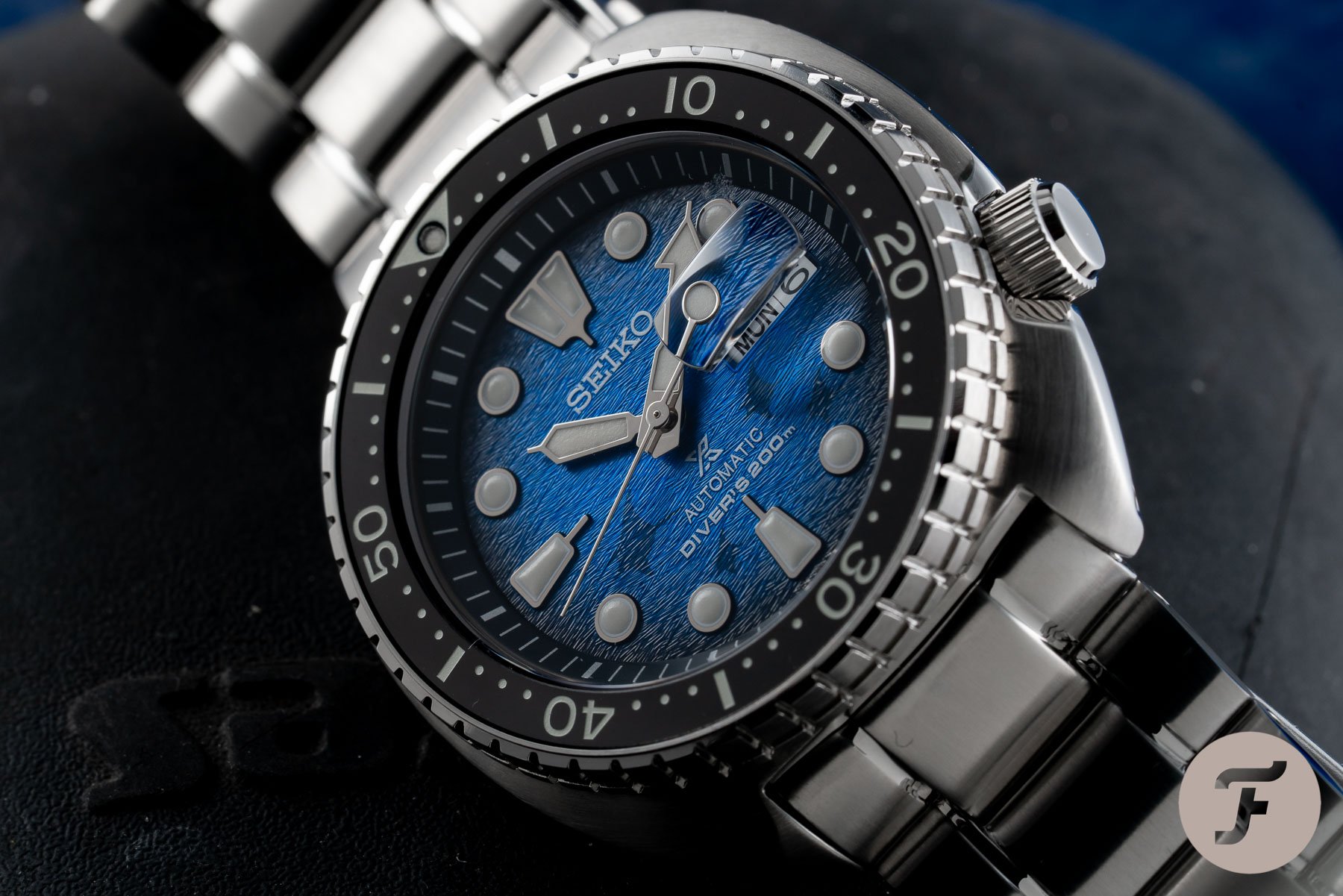 And besides, the Samurai and the Turtle are very different watches. Different hands, different markers, and different cases (and bracelets). When it comes to bang for your buck, also, it is hard to grumble. I could see myself picking up the SRPE39 and sticking it on a blue or black rubber NATO for a completely different look and simply rotating between the two as I felt like mixing up my affordable dive watch game.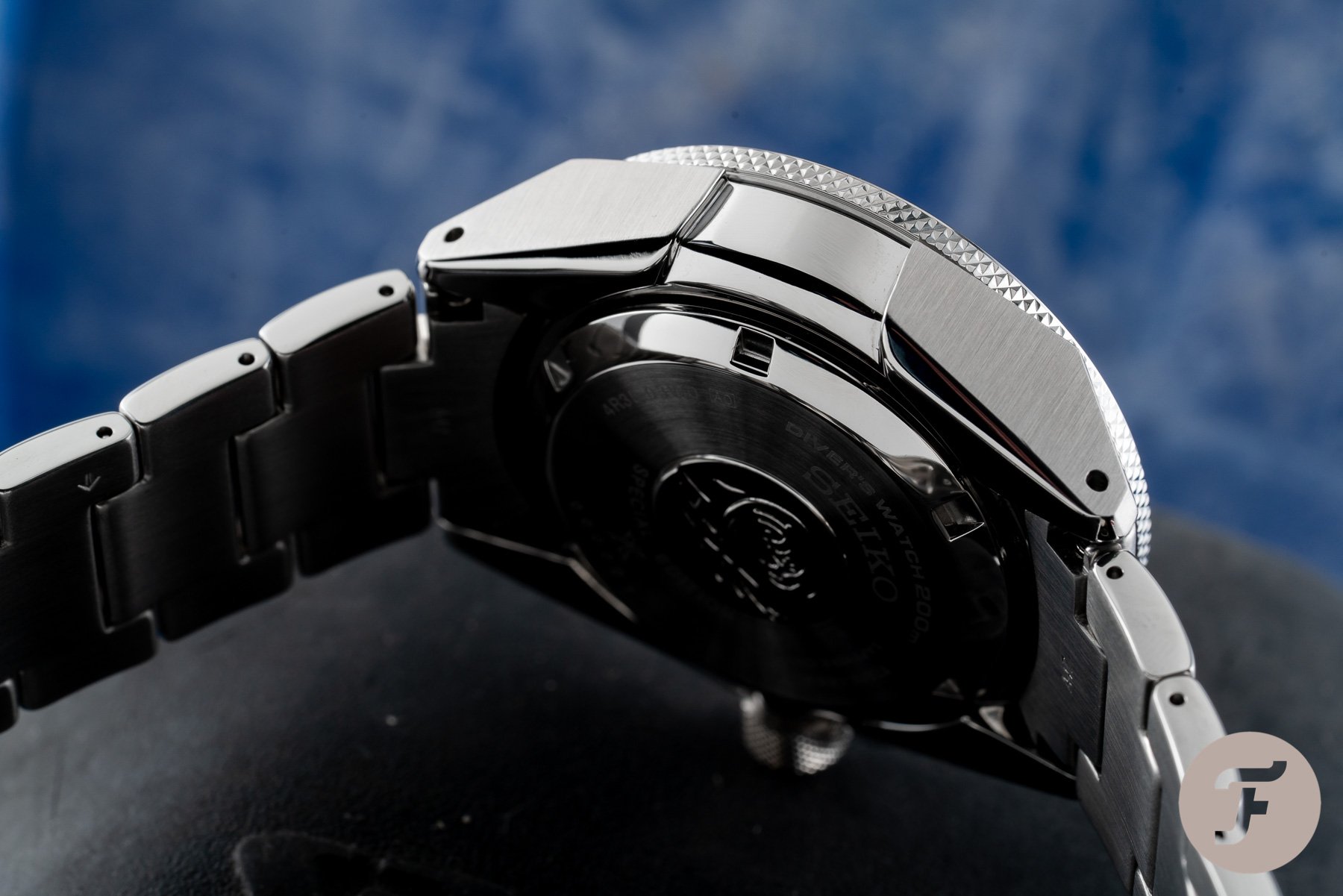 The nitty-gritty
The Seiko Prospex SRPE33 "King Samurai" Save the Ocean special edition is 43.8mm wide, 12.8mm thick, and a robust 48.7mm lug-to-lug. The stainless steel case is water-resistant to 200m. The included bracelet is fitted with a safety fold-over clasp and is of good quality for the price (as we'd expect from a brand like Seiko).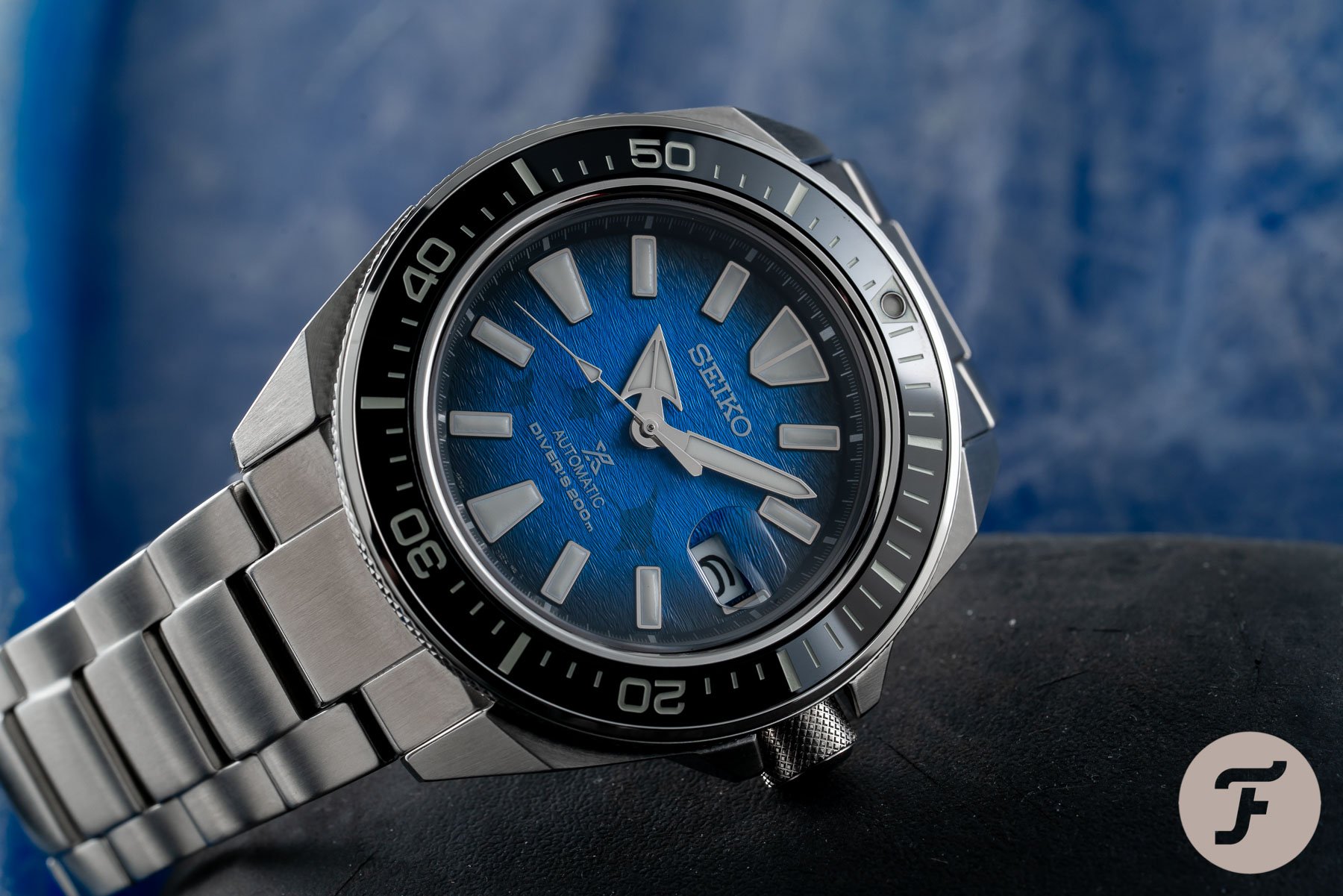 My decision to shelve the bracelet of the SRPE33 is nothing against it per se. I wear just three of my 75 watches on bracelets (and all three are 31mm manuals on Forstner JB Komfit bands). Bracelets just aren't my thing. And while I appreciate they are a must for many sports watch lovers, I would compel anyone that buys this watch (or the SRPE39) to try it on a strap. I like ZULUs or NATOs for dive watches. They work in both rubber or leather depending on your preference. You may not like it, but I think a lot of people may be surprised to see how versatile such a stylistically eccentric dial can be.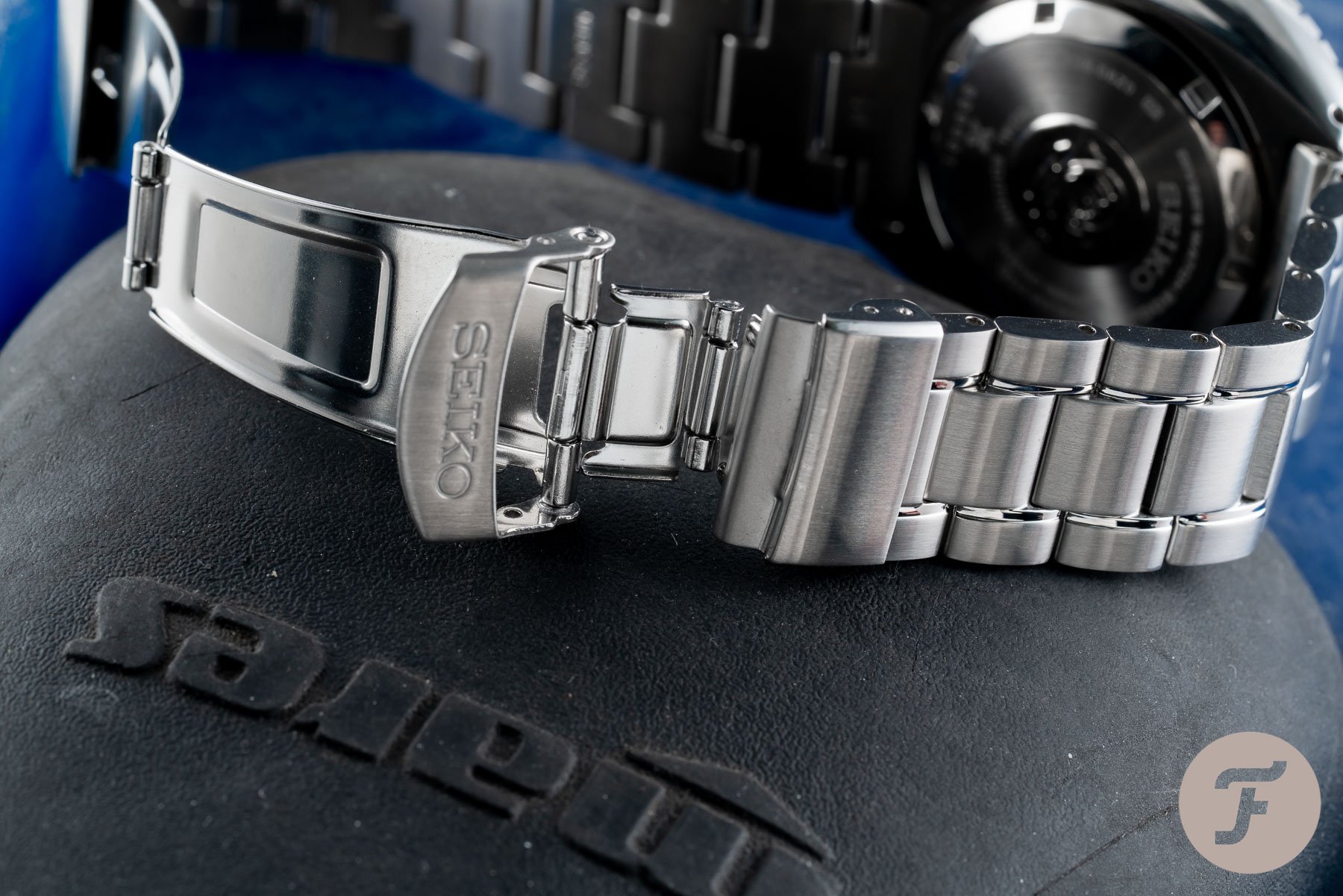 Beneath the waves…
Our other sumptuous sea creature, the Seiko Prospex SRPE39 "Turtle" Save the Ocean special edition, is a hulking 45mm wide, 13.4mm tall, 47.7mm lug-to-lug, but the Turtle definitely wears a lot smaller thanks to its "lugless" design. The big difference between the movements used in these watches is that the Samurai is date only (driven by the 4R35 movement), while the SRPE39 is a day date (utilizing the 4R36). Both movements have around 40-hour power reserves.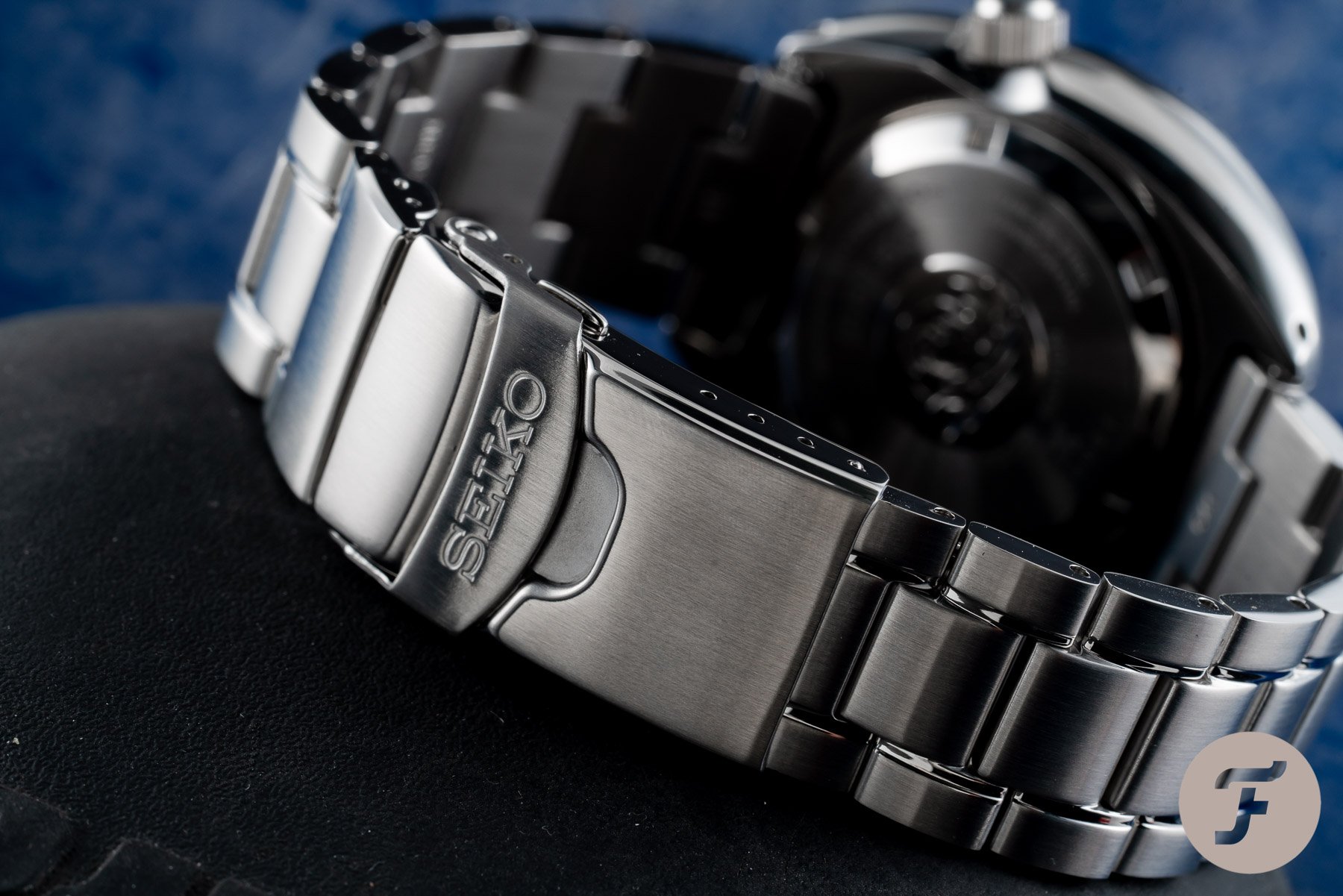 With ceramic bezel inserts, sapphire crystals, nicely-decorated closed case backs, adequate movement credentials, and artful dials, both the SRPE33 and SRPE39 are absolute steals at €650 and €640 respectively. As with all Seiko dive watches in this price point, the bezel alignment of the 120-click timing ring can be a bit iffy sometimes, so take a good look at it before you leave the boutique to make sure you're comfortable with how it sits.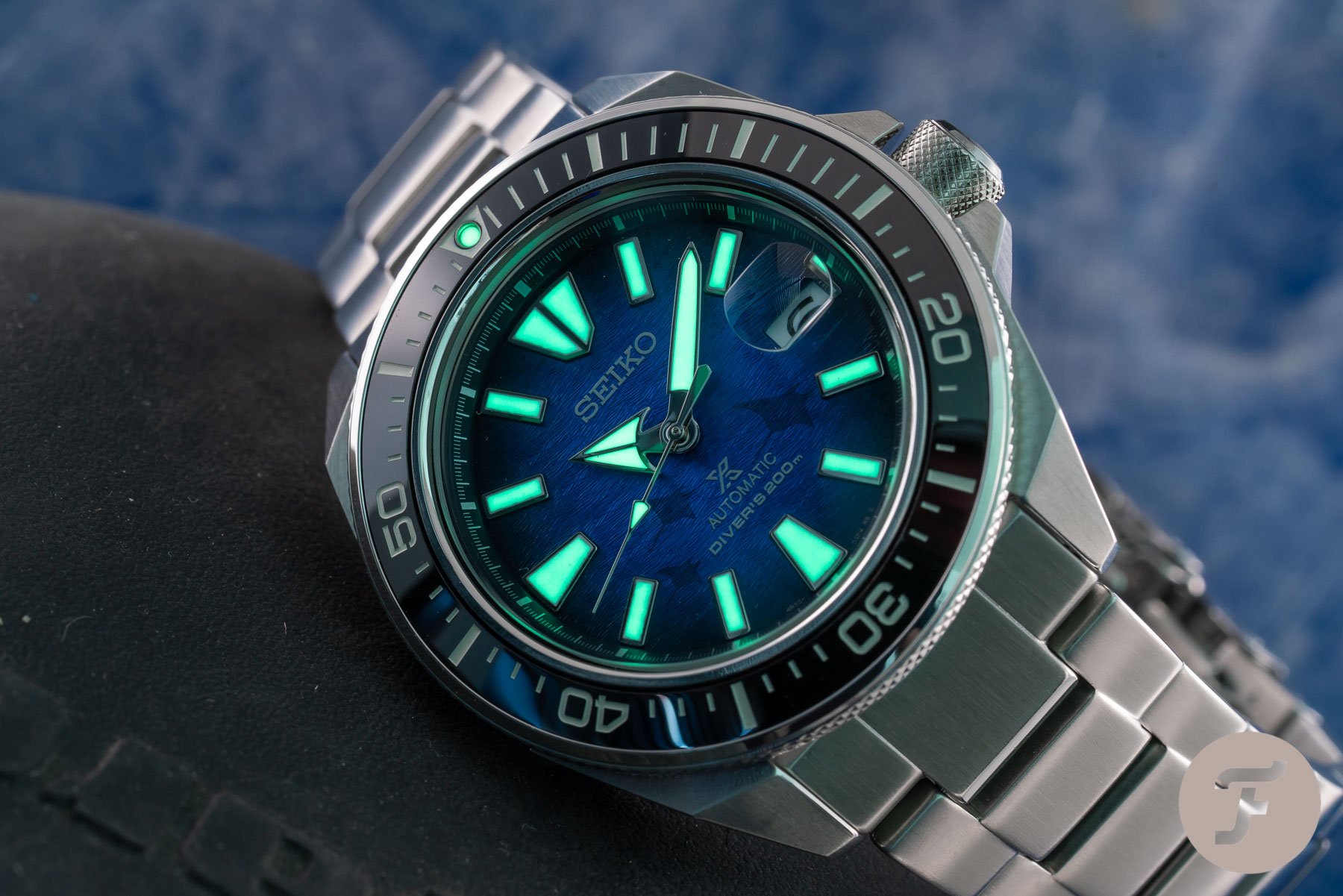 One thing that never disappoints, however, is the LumiBrite lume. It's so bright that it's nearly taken my eye out on more than one occasion. This thing goes nuts while the lights are still on. It's crazily good for this kind of investment. It is also another reason I'll probably end up adding the SRPE39 to the stable very soon. Learn more about Seiko and its catalog here.
Watch specifications
Model
Prospex King Samurai and King Turtle Save the Ocean Special Editions
Reference
SRPE33 and SRPE39
Dial
Patterned blue degradé ocean scene with a family of charming manta rays
Case Material
Stainless steel
Case Dimensions
Samurai: 43.8mm wide, 12.8mm thick, 48.7mm lug-to-lug Turtle: 45mm, 13.4mm tall, 47.7mm
Case Back
Closed and decorated with the Seiko wave pattern
Movement
Samurai (date): 4R35 Turtle (day/date): 4R36
Strap
Stainless steel bracelet
Price
SRPE33 €650; SRPE39 €640