Hands-On: The Squale 1521 Montredo Diver Limited Edition
Be quick; there are only 50 pieces available
"A diver that's as at home on the streets of Berlin as it is off the coast of the Mediterranean," says Montredo CEO and co-founder Philipp Budiman, speaking about the collaboration watch they've done with Swiss watch brand Squale.
In front of me is a Squale 1521 Diver, limited to 50 watches, and only available through Montredo. For those who are not familiar with Montredo, it's a platform that sells watches from brands directly (like this Squale) and a selection of brands from their authorized dealer network. Montredo CEO Budiman is also CEO for Watches of Switzerland GmbH and Les Ambassadeurs in Switzerland, both official retailers of many luxury watch brands. Let's have a closer look at the project that Squale and Montredo did together.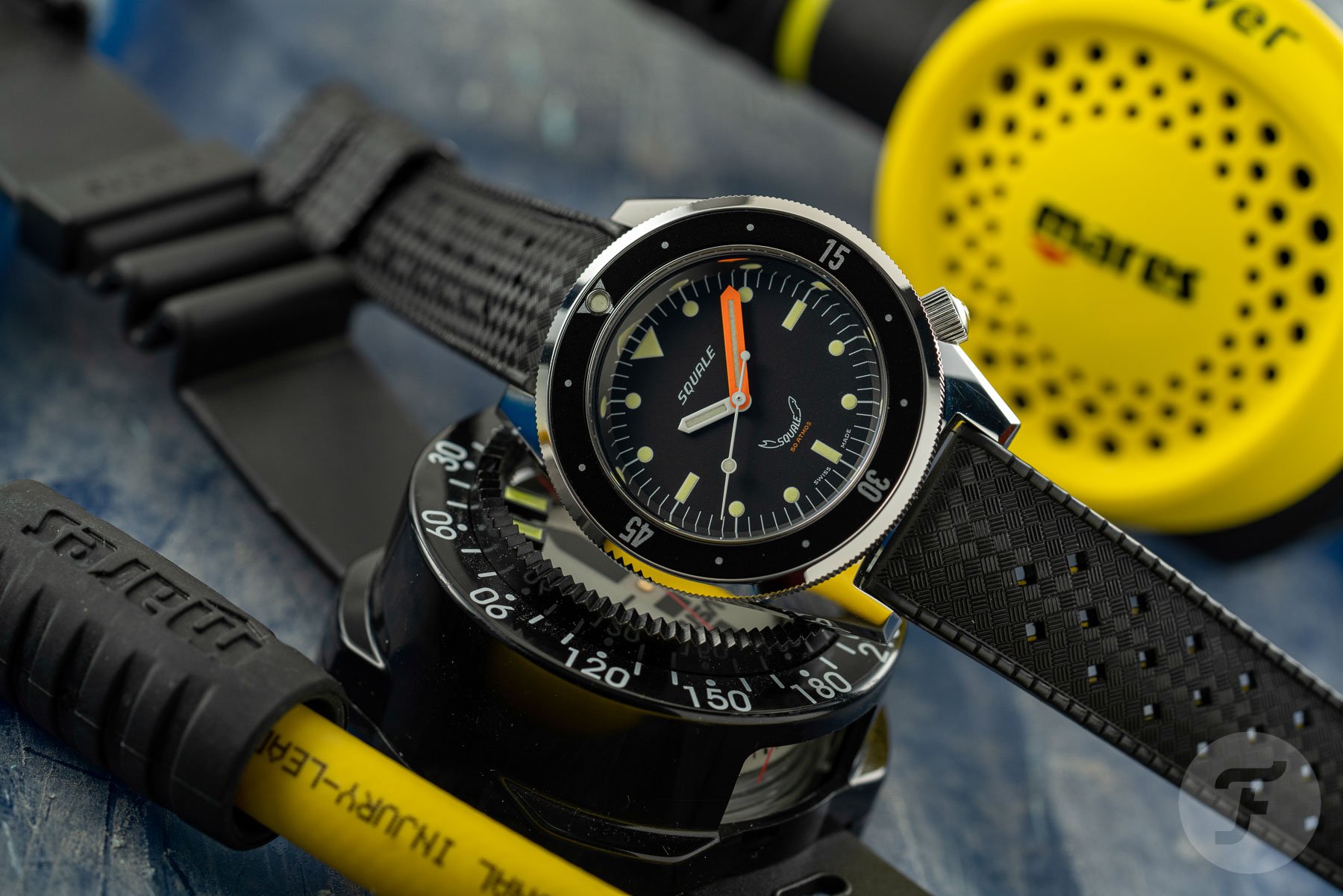 Squale 1521 Montredo
The 1521 model from Squale has a number of variations, but the original 1521 model dates back to the 1960s. This Squale 1521 Montredo Diver took inspiration from some of the other existing 1521 editions in the catalog, but also added — or removed — some design elements. What's interesting is the uni-directional diving bezel with 120 clicks, and with a scale that has been reduced to the bare minimum.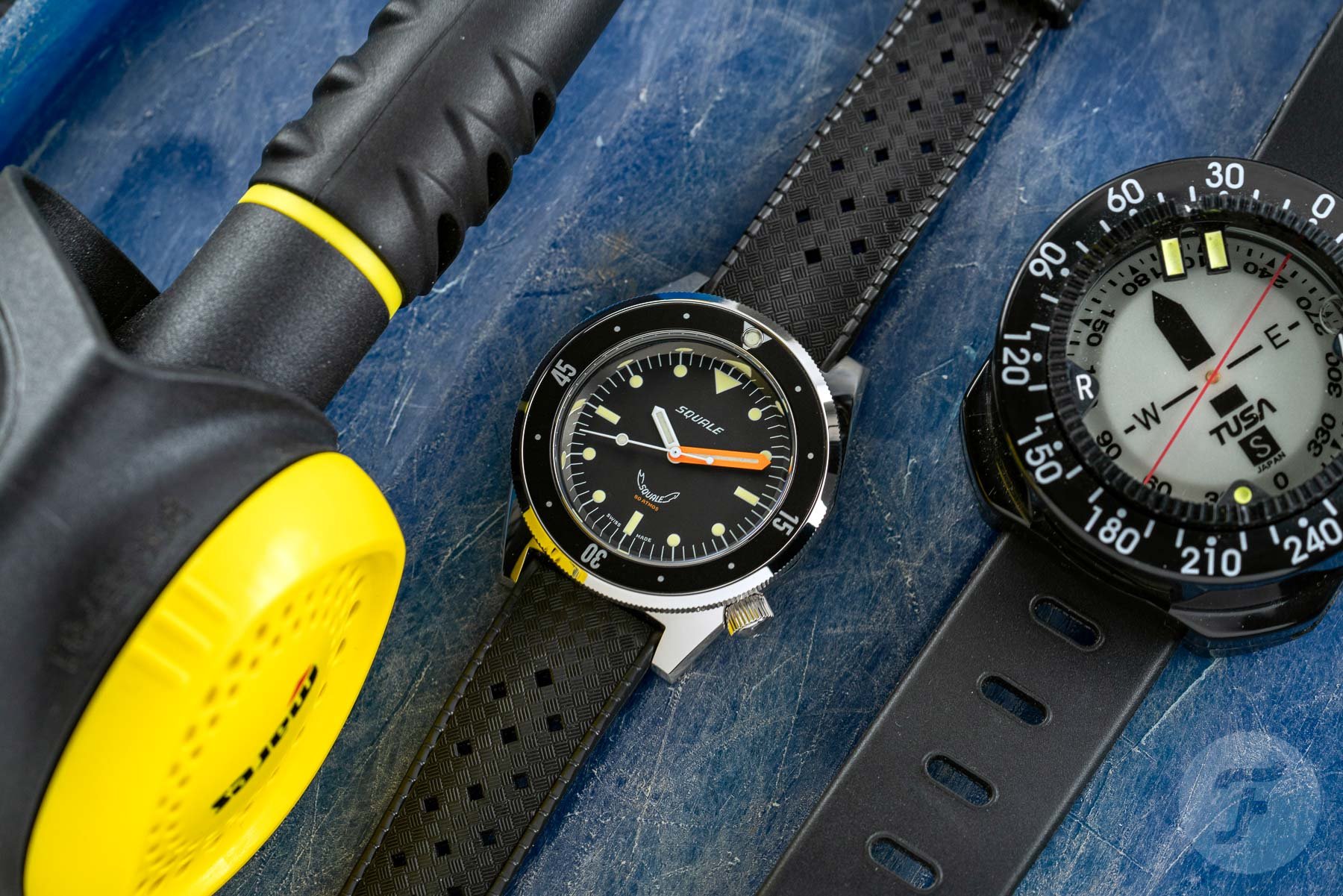 Only the 15, 30, and 45 are on there as well as dots on every five minutes. At 12 o'clock, you will find the triangle with lume pip. Another small change that has been made to the watch is the lume pip on the second hand. Instead of a rectangular luminous part, there's now a round lume pip.
The Squale 1521 Montredo dial
For the dial, Squale and Montredo decided on using a combination of round and rectangular hour markers. The Squale logo is located at 6 o'clock, and it indicates a pressure resistance of 50 atmos, or 500 meters. Then, there are the typical large hour and minute hands, the latter in bright orange. Below is a photo with some lume action happening.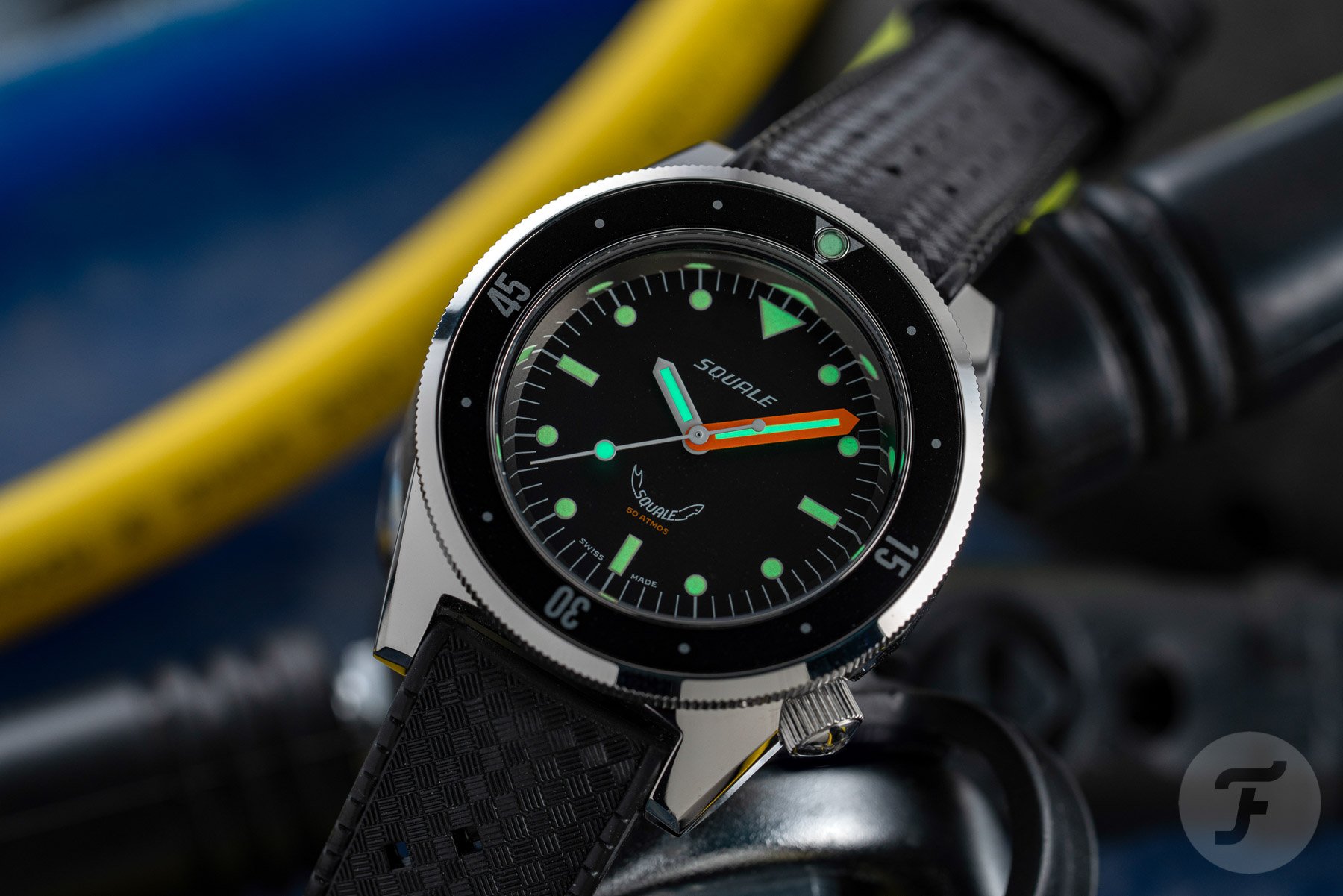 Polished finishing
I do have to get used to the all-polished finish on the 42mm 316L stainless steel case. For tool watches, like a diver's watch, I am used to more toned-down cases with a brushed or sandblasted finish, but Squale offers this 1521 with a polished case. This is certainly not for everyone, but somehow, it does look nice. Don't be afraid of very visible fingerprints and scratches, though.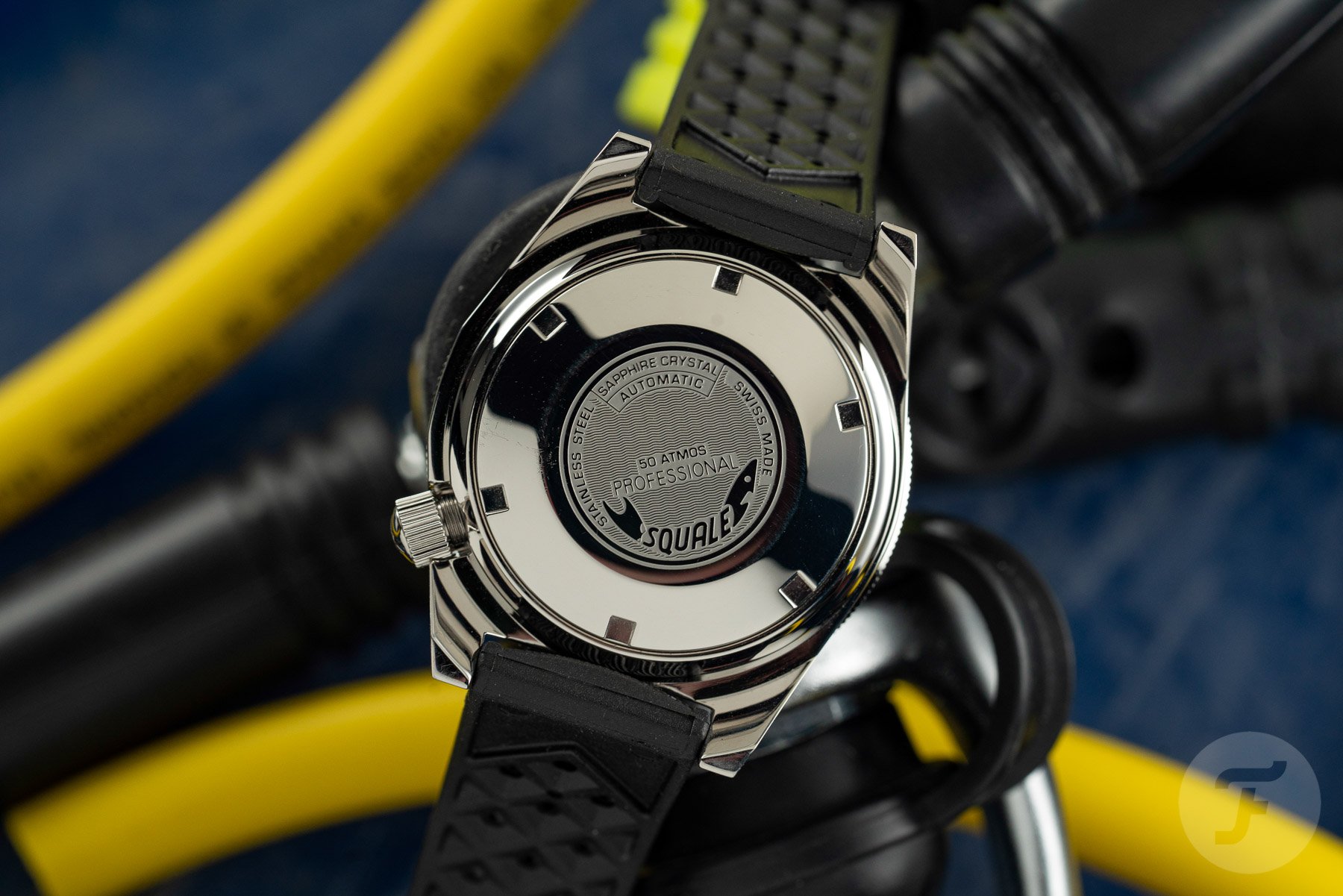 Sellita inside
Inside this Squale 1521 is a Sellita SW200-1 movement, good for 38 hours of power reserve. On the screw-in case back, there's a medallion in the center with a wave pattern and the Squale logo. I am not particularly a fan of all sorts of specifications engraved in a case back, but I guess it also has to do with a well-balanced design. At 4 o'clock is the signed screw-down crown, ensuring this watch is water-resistant 500 meters.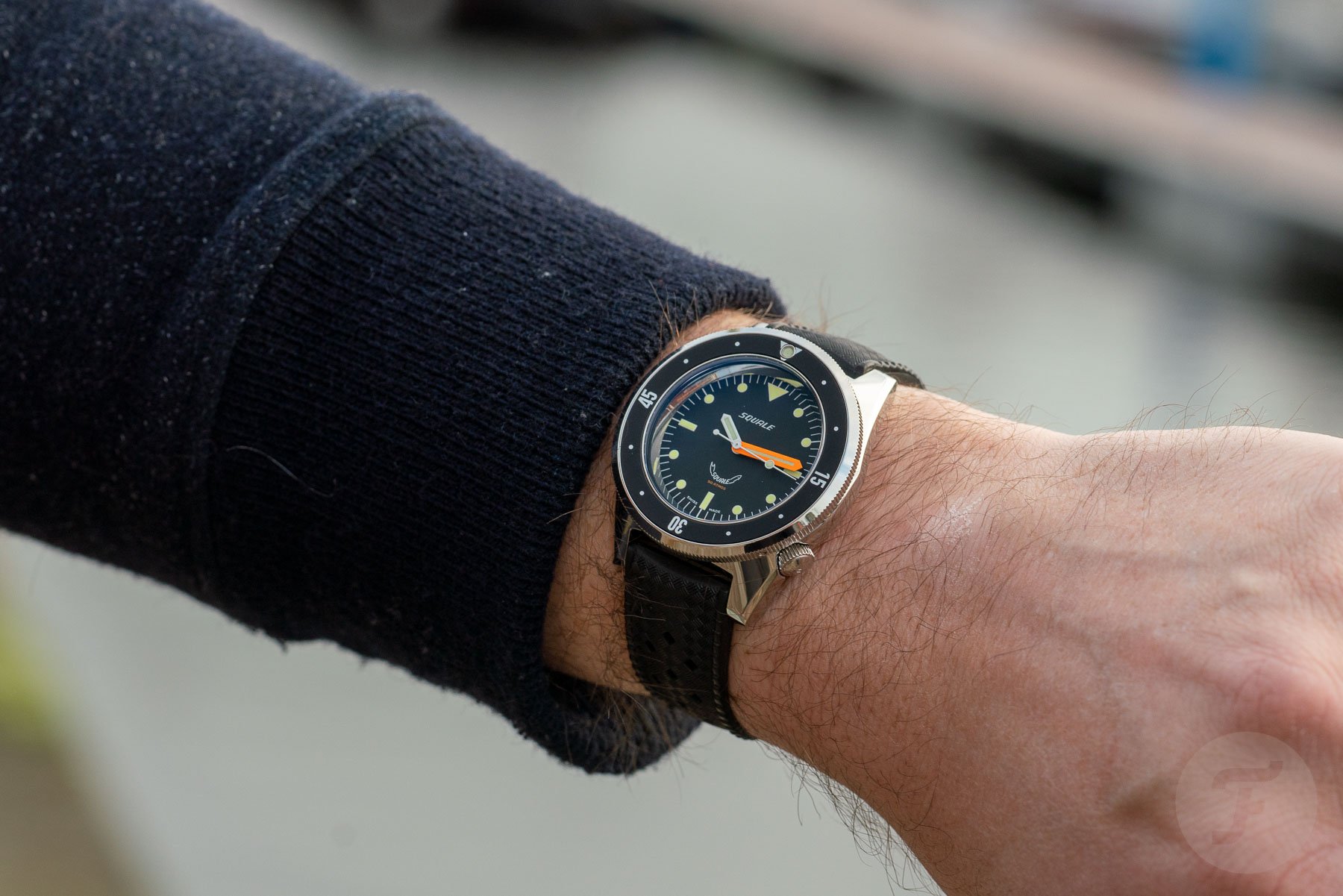 On the wrist
When I put the Squale 1521 on the wrist, it definitely has this vintage feel to it. Of course, it's not entirely vintage, as this watch comes with a sapphire crystal. The use of sapphire also causes the dial to turn blue sometimes, as it is only treated with an anti-reflective coating on one side. It doesn't bothering me when wearing the watch, only when I try to take pictures of it. The simplified bezel scale combined with the clean dial makes this watch very easy on the eyes. Due to the use of a polished rehaut, the dial looks bigger than it actually is. It does create a little bit of reflection of the hour markers though when looking at the dial at certain angles.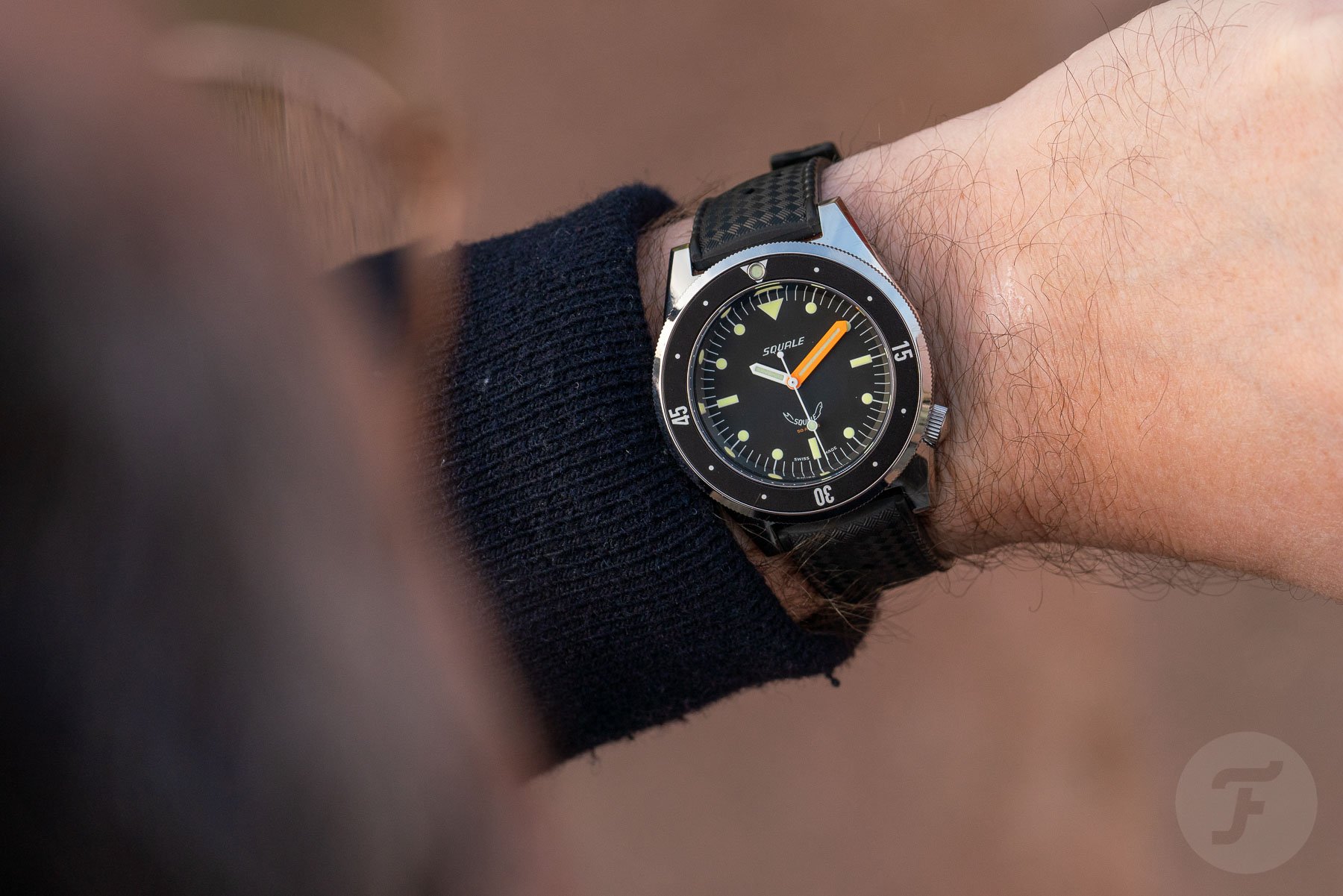 Given the €1,099 price tag, I am very impressed by the build quality of the watch. It is not always easy to tell from pictures or convey in words how a watch feels on the wrist, but Squale got it right. The screw-down crown feels solid, the 120-click bezel is robust, and the case is well done. Thankfully, there are no sharp edges — which annoy me so often — and the 1521 provides great wearing comfort.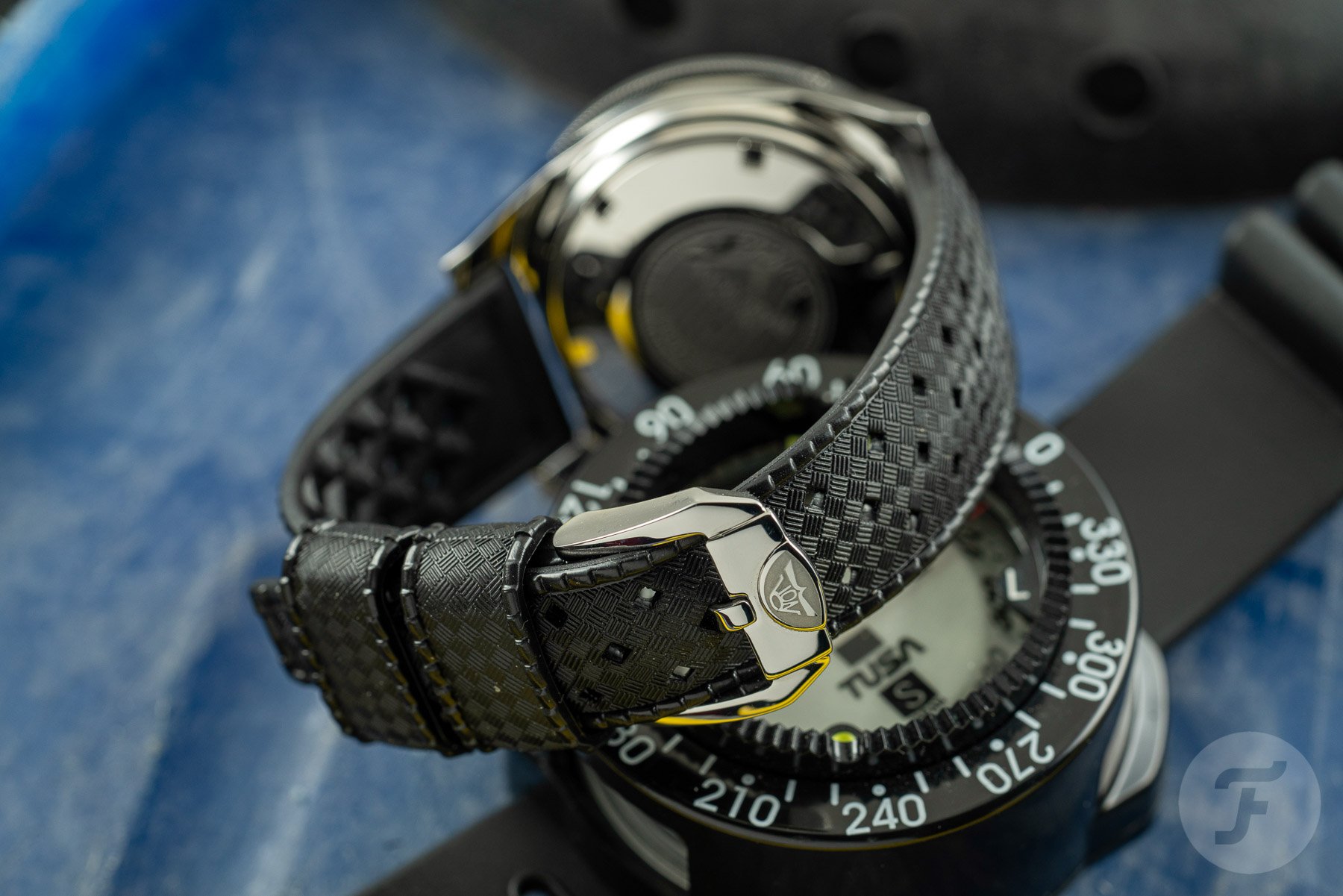 Tropic strap
Squale delivers this 1521 Montredo Diver on a 20mm black rubber tropic strap with a polished steel signed buckle. The retail price of the Squale 1521 Montredo Diver is €1,099 (including VAT).
Again, there are only 50 pieces of this watch available. If you're interested in picking one up, be quick, and head on over to Montredo online.