Hands-On: The Brew Metric Chronograph — Huge Retro Vibes For Lovers Of Coffee And Watches Alike
A guest post by Vincent Deschamps
I like a nice vintage-inspired watch once in a while. You know, something that takes me back to the 1950s or '60s but with a modern movement and construction. But sometimes I feel I should be mindful of what I wish for. Some watches may be a tad too vintage and super niche. Take, for example, a parking-meter chronograph with a very specialized usage or, in the case, of the Brew Metric, a way to time the perfect espresso shot. Between all of you and me, I'm not a coffee expert, but I do appreciate a funky backstory. I'm also new to the world of chronographs, but I find myself smitten by the Metric's distinct retro vibe. 
Decades ago, there were cool watches out there that had a very particular function. The vintage Vulcain MinStop, for example, was designed to keep track of the remaining time on a parking meter to avoid getting a ticket. I could have justified owning this watch when it first came out, long before the existence of smartphones. I find the idea of a chronograph that keeps track of my parking meter super cool. So why not make a dedicated chronograph for the espresso lovers out there? In this article, I would like to introduce you to Brew, a brand you may not have heard of, and its latest re-release, the Metric Retro Dial.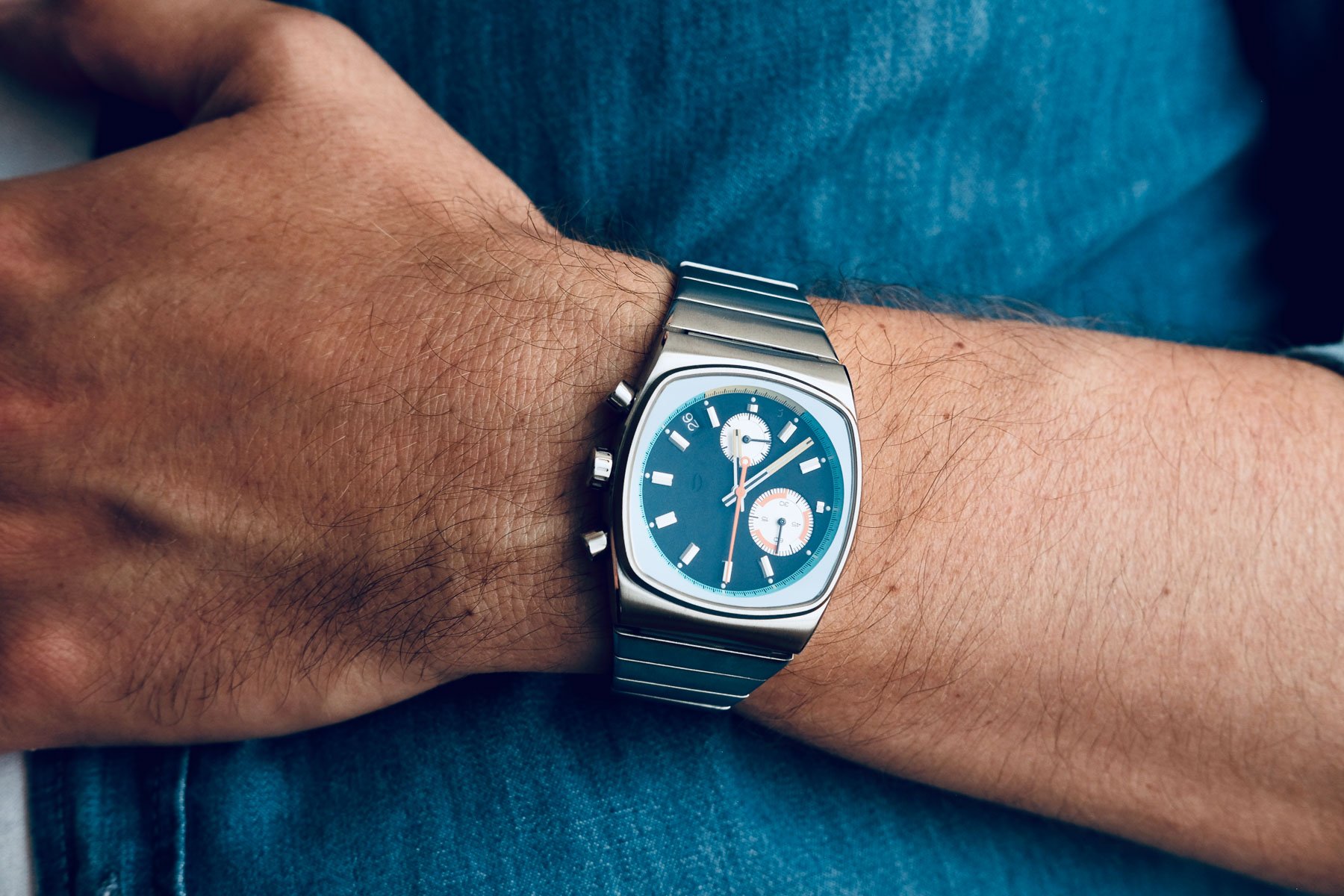 A little bit about Brew
Brew was founded in 2015 by Jonathan Ferrer, a New Jersey-based industrial designer. The entire brand's philosophy revolves around industrial espresso machines and certain iconic designs and shapes unique to that world. Although it might sound a bit gimmicky at first, Jonathan was inspired by the ritual of slowing down from the drudgery of everyday life around a cup of coffee — having a good time with friends, family, and co-workers and having the right tools to make the perfect espresso. Jonathan had been in and around the world of horology for a decade before creating Brew. As such, Brew is a brand that can be best described as made for watch enthusiasts by a watch enthusiast.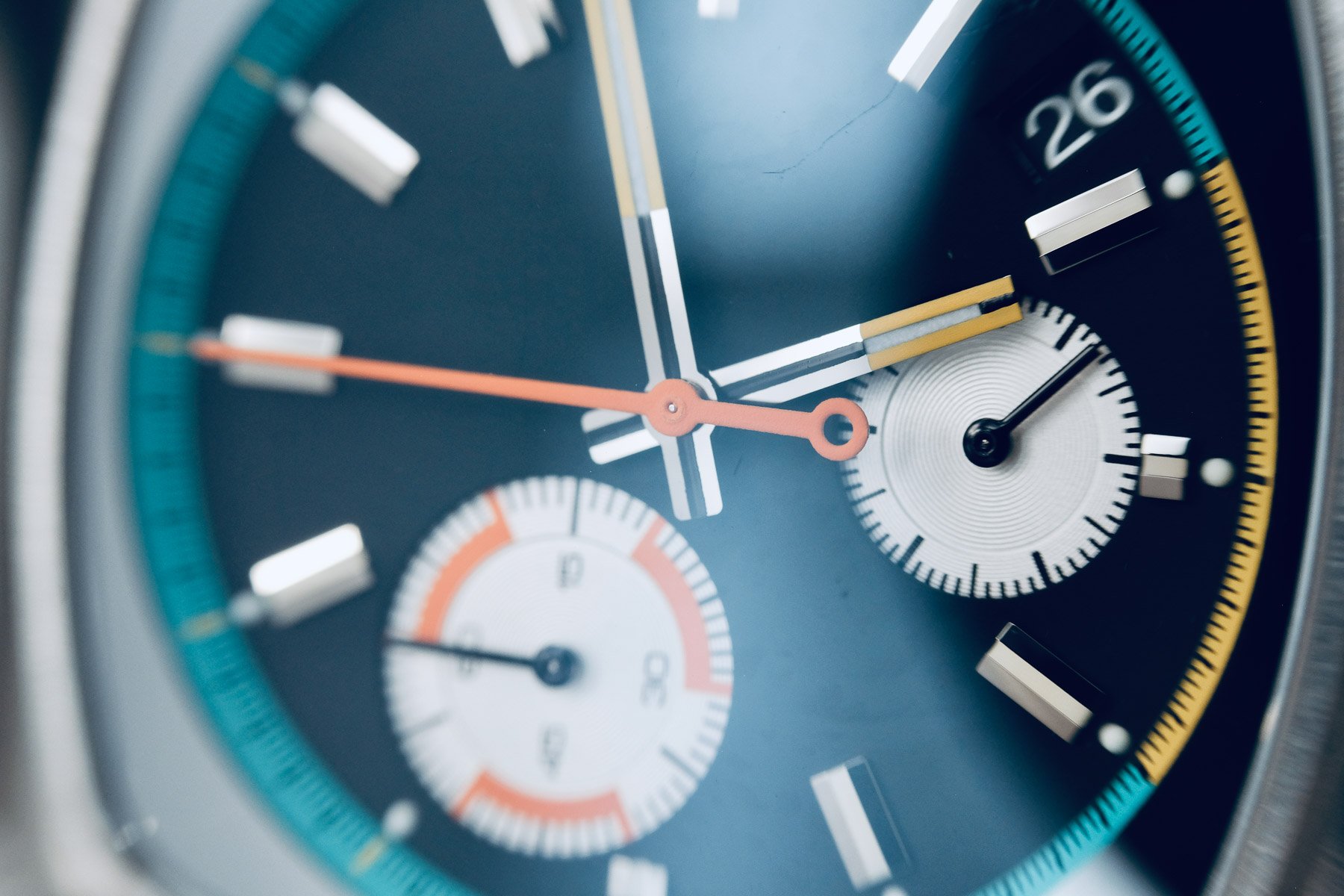 All of Brew's collections have strong vintage vibes, and the brand mostly produces meca-quartz chronographs. In the past, Brew also released a few three-hand automatic watches with date complications. Looking at the brand's website today, however, there are currently only two meca-quartz collections that each come in different color variations. Now that you know a little bit about Brew, let's talk about the Metric.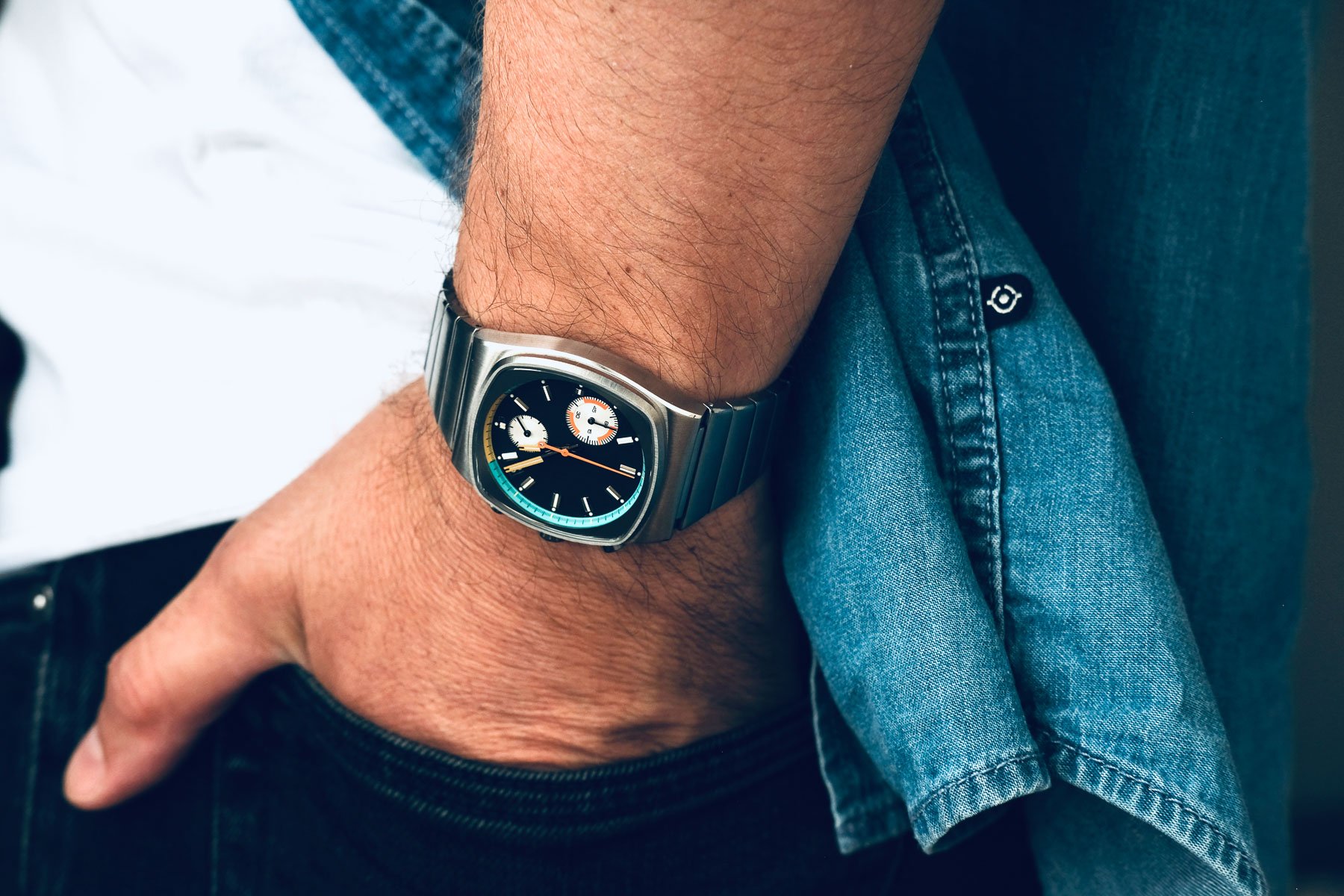 Small and funky 
We can all agree that the Brew Metric is outlandish at first glance. It's as if it belongs to a century-old brand that dug into its past to revive an odd, super-vintage model. I didn't know how to describe the watch design until a chrono-aficionado friend told me it's called a "TV" dial. Now I can see it. You know those old TV sets that looked like the Metric, rectangular with rounded corners? This shape might be enough to keep you from ever buying a Brew watch. All of the brand's models have a variation on this form, so if you don't like this one, you probably won't like the others. On the other hand, we rarely see this kind of case shape nowadays, and a break from the norm can be really nice.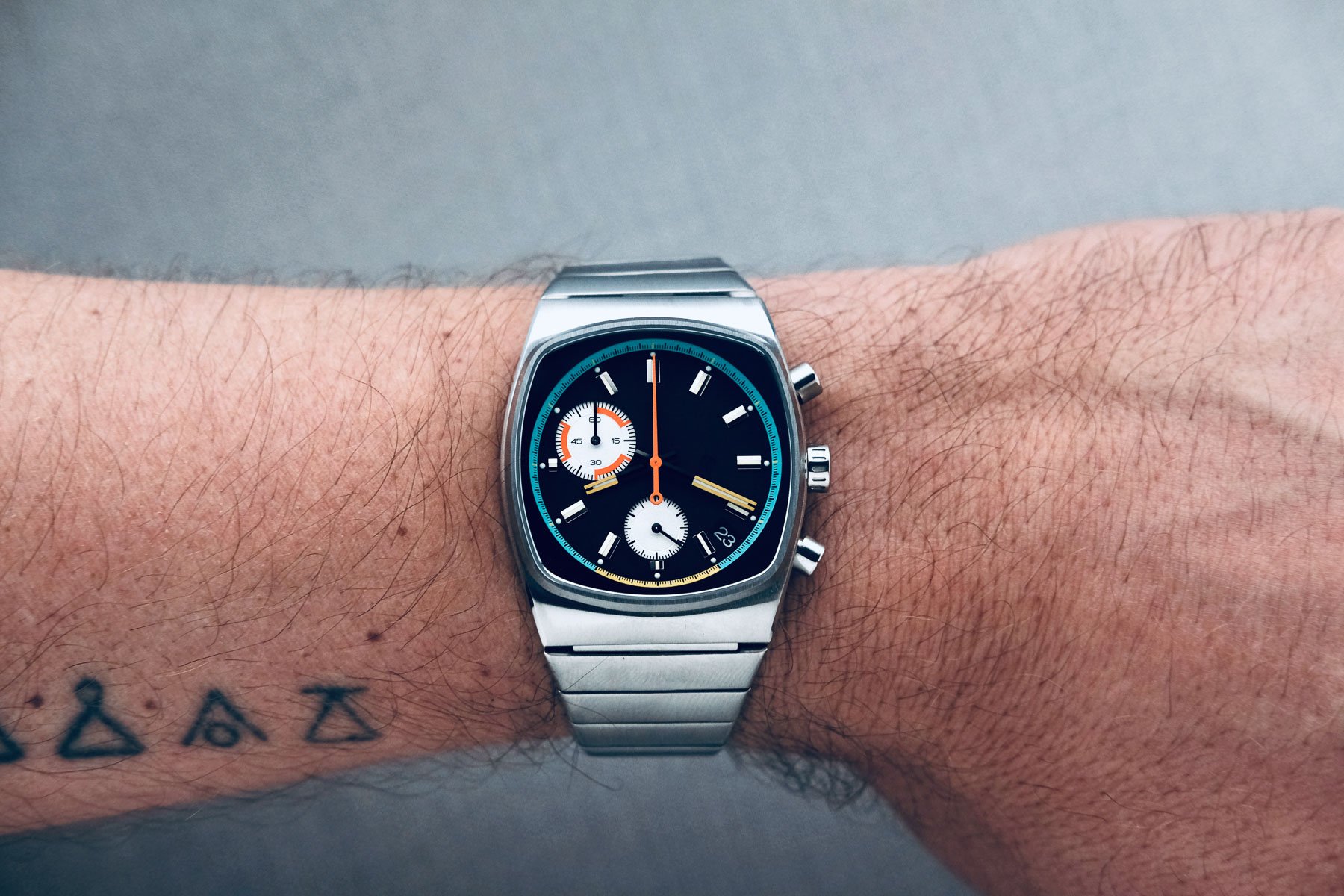 Going beyond the case shape, the Metric is endowed with many details that make it visually interesting. It's the kind of watch that you need to look at several times to appreciate. Like wine, for some of us, it's an acquired taste. Perhaps the greatest evidence of this is the positioning of the two sub-dials and the difference in their size. The smaller one at 6 o'clock is the running seconds indicator and the one between 9 and 10 o'clock is the 60-minute totalizer. Making two sub-registers different in size is a way to emphasize one over the other. Clearly, the 60-minute counter is the more important one here. Both registers, however, showcase a radial pattern that makes them a bit more interesting to look at. The Metric is also a colorful watch. My personal preference is for high-contrast dials—black on white or vice versa. At times, I feel there's too much going on in the Metric.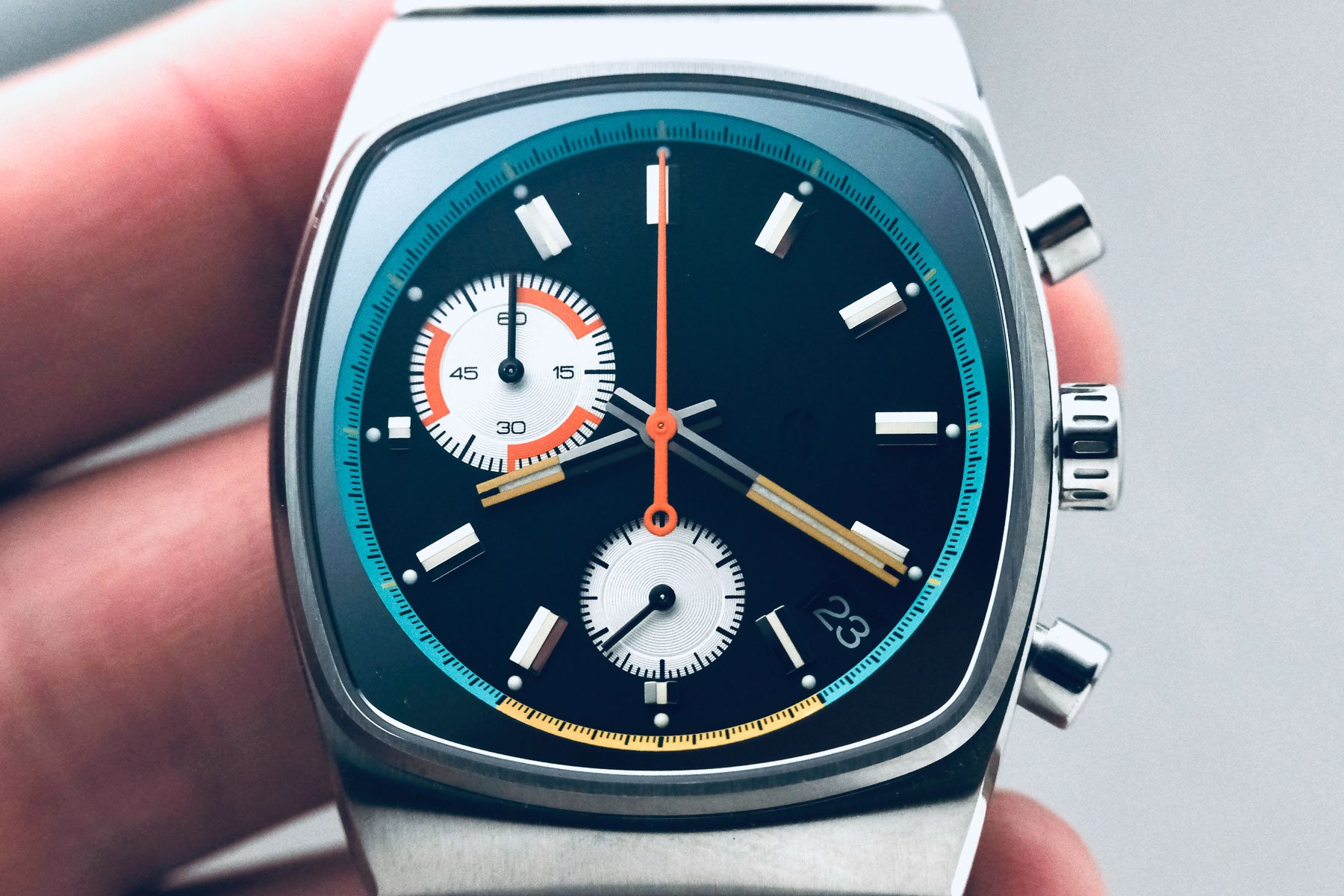 The Brew Metric
And yes, there is a lot happening here, from the orange accents on the 60-minute sub-register and chronograph seconds hand to the dual-tone rehaut and yellow accents on the hour and minute hands. Most of the rehaut has a bright bluish-green color except for the portion between 25 and 35 seconds, the ideal time to brew an espresso. Unlike many watch enthusiasts, I'm no coffee expert, so that's as far as I'll take the coffee reference.
Perhaps one of the most striking visual elements is the bezel. It has a two-step construction — two sides, if you will — that angle towards one another. Both are brushed, and the model I have shows a slight irregularity in the finish. It is as if it had been done by hand, or that particular construction made it difficult to get an even finish. Other interesting visual elements that contribute to making the Metric funky can be found on the bracelet and dial retainer.
The former is utterly retro and has an interesting construction. Each link is made of three parts that are only visible from the back. The bracelet has a dramatic taper and is equipped with a double-pusher deployant clasp. The dial retainer, for a lack of a better term, refers to the section of the front of the watch between the rehaut and the bezel. It's flat and has a mirror finish. If I didn't know better, I would think that Brew actually put a mirror around the dial, as it works like one. It made photographing the front of the watch a bit challenging as the camera showed up everywhere. Last but not least, the crown features shallow knurling and displays the brand's coffee bean logo. The crown is surrounded by the chronograph pushers that come with high-polished caps.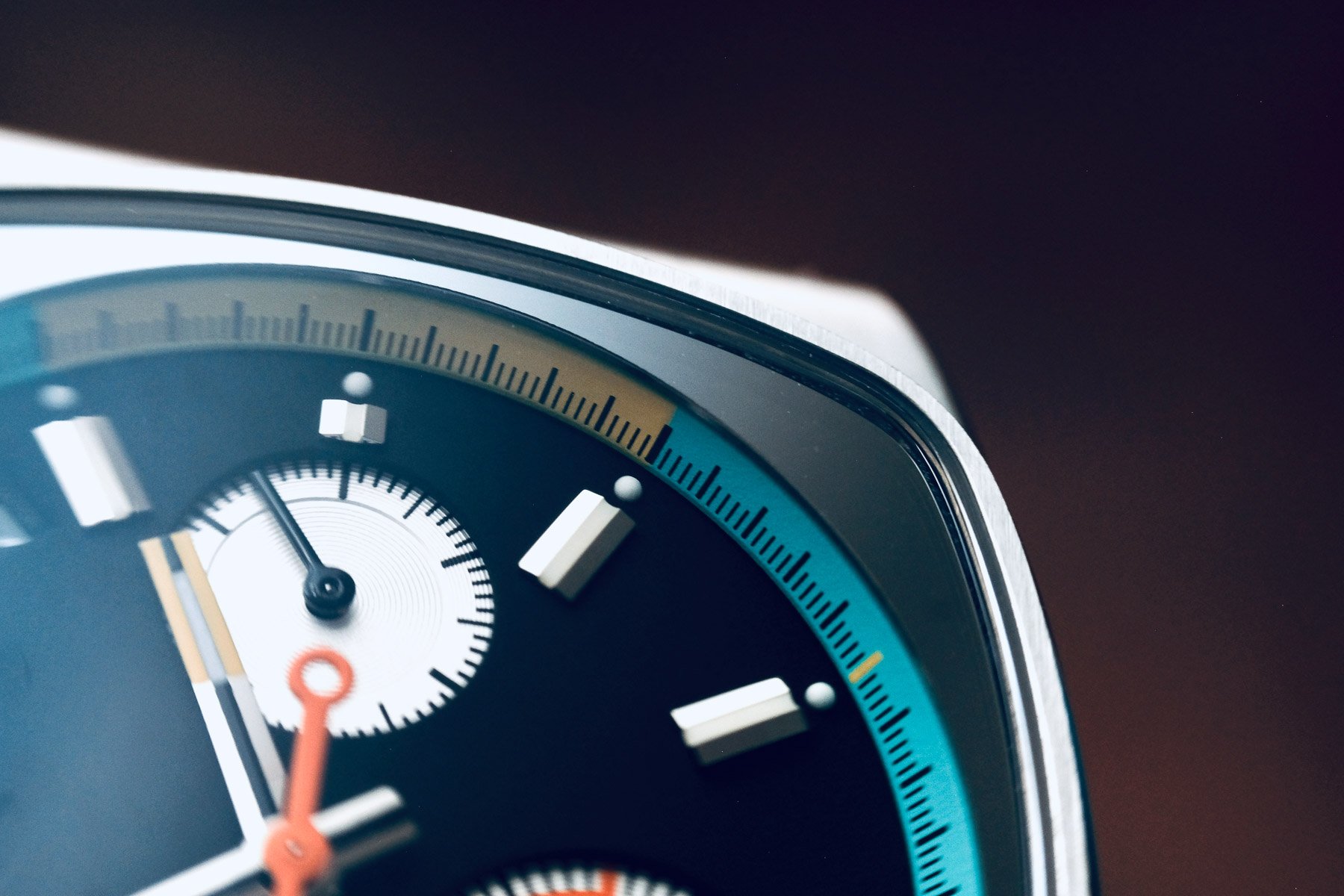 Useful specs
If you've read some of my articles before, you will know that I'm a sucker for everyday watches. My definition of this type of watch varies from time to time. But at its core, it always had (and always will have) some critical specifications that the Metric also has. First, it needs an accurate movement which we do find here in the Seiko VK68 meca-quartz chronograph caliber. Second, it should have smaller proportions. The Metric's 36mm case diameter, 41.5mm lug-to-lug, and 10.75mm fit the bill there. Finally, it needs a date complication, which we find here, nestled between 4 and 5 o'clock.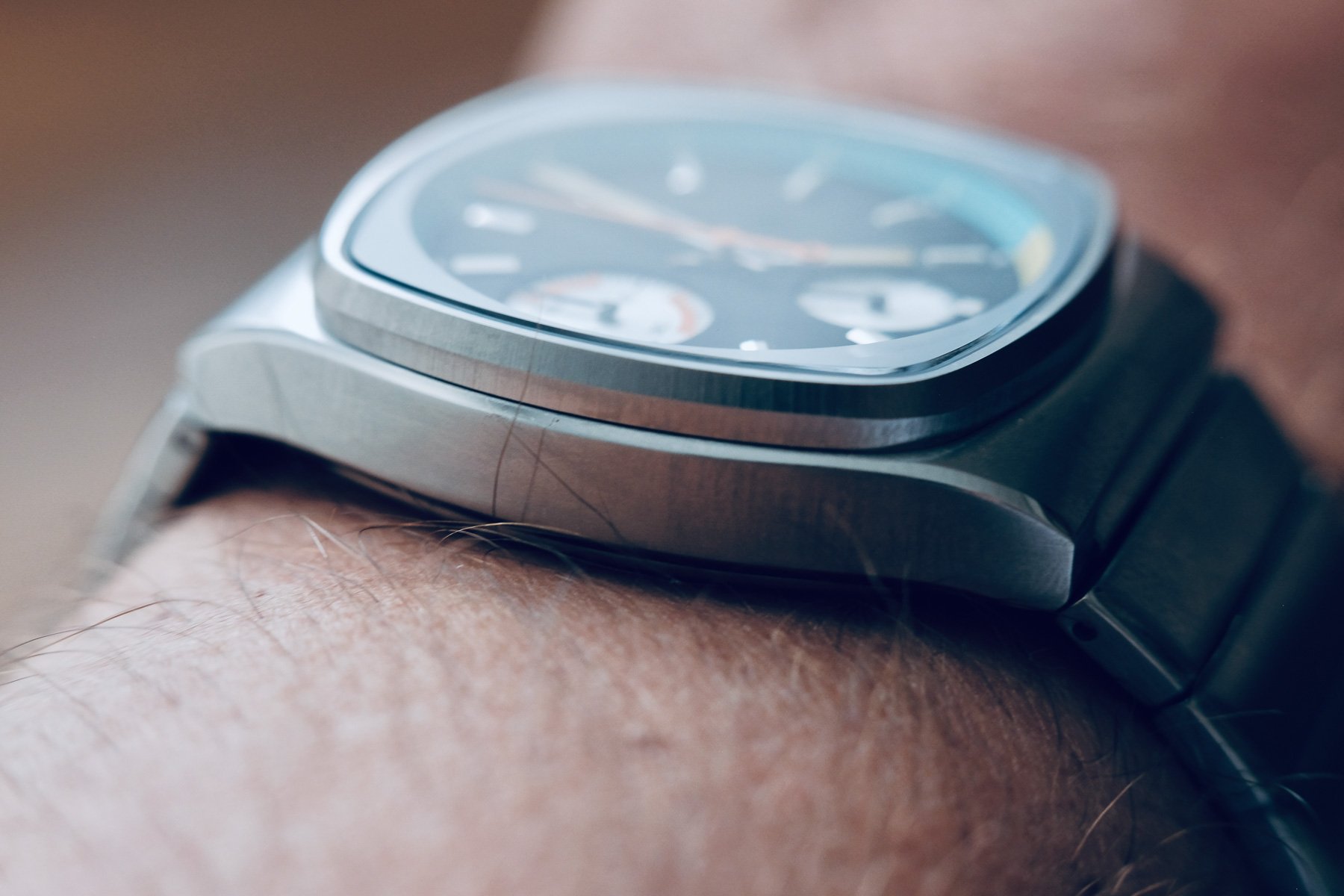 Having a meca-quartz movement means that the chronograph hand sweeps across the dial as it does with a mechanical chrono. It's smooth. And having a quartz-regulated caliber also means great accuracy of fewer than ±20 seconds per month. The dial is covered with a piece of sapphire crystal and the retro-inspired bracelet comes with solid links and end links and a double-pusher fold-over clasp with four micro-adjustment holes.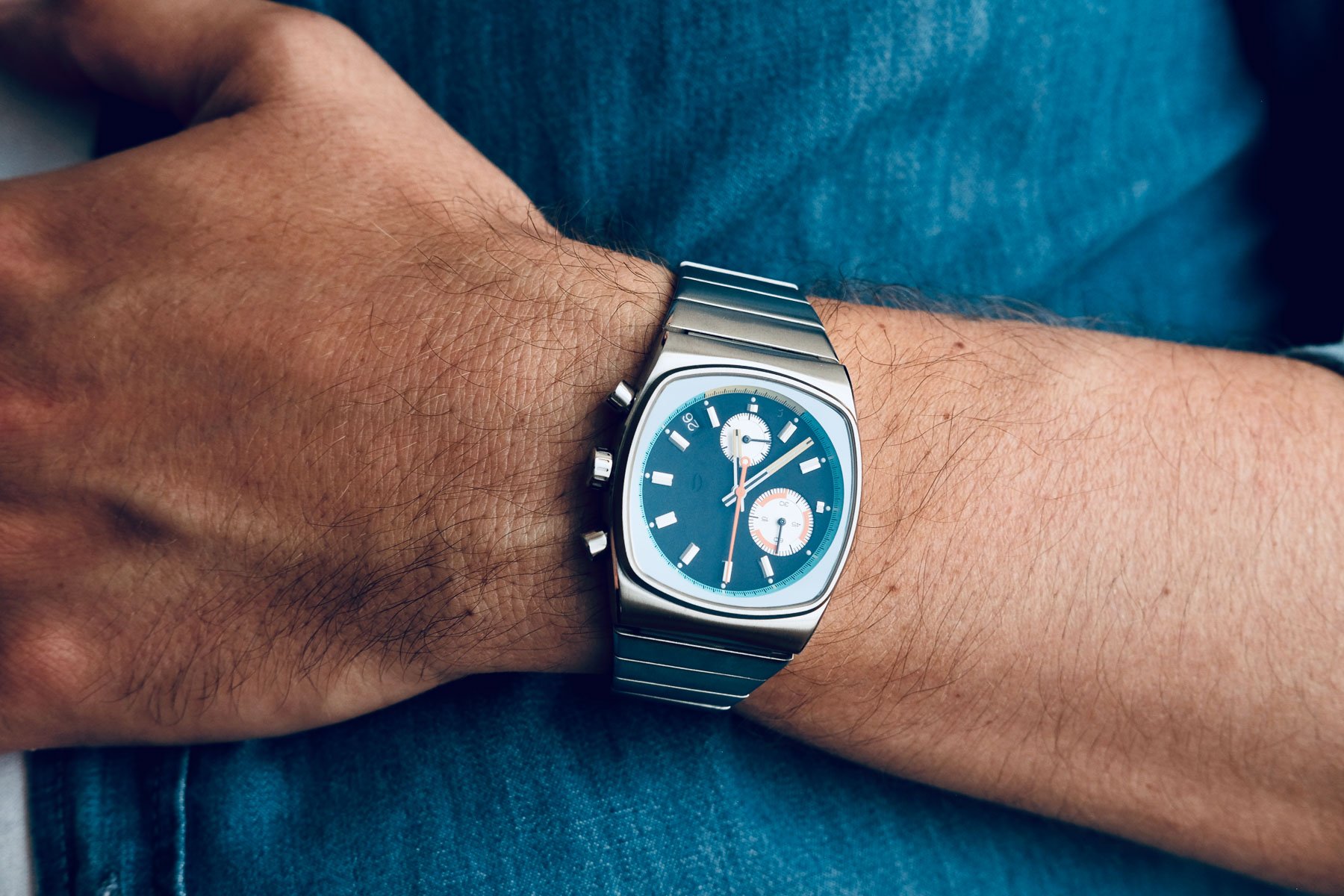 Among other specifications, we will find multi-faceted applied hour markers. Luminescent plots encircle the dial, and because the rehaut is mostly green, it looks lumed too (an effect I can't explain but that is visible with the naked eye.) One thing the Metric is not is a dive watch or even a field watch. It only comes with 5 ATM (50 meters) of water resistance. Maybe that is enough to wash your hands or get caught in a rainstorm. However, this isn't the watch to use to time your dive.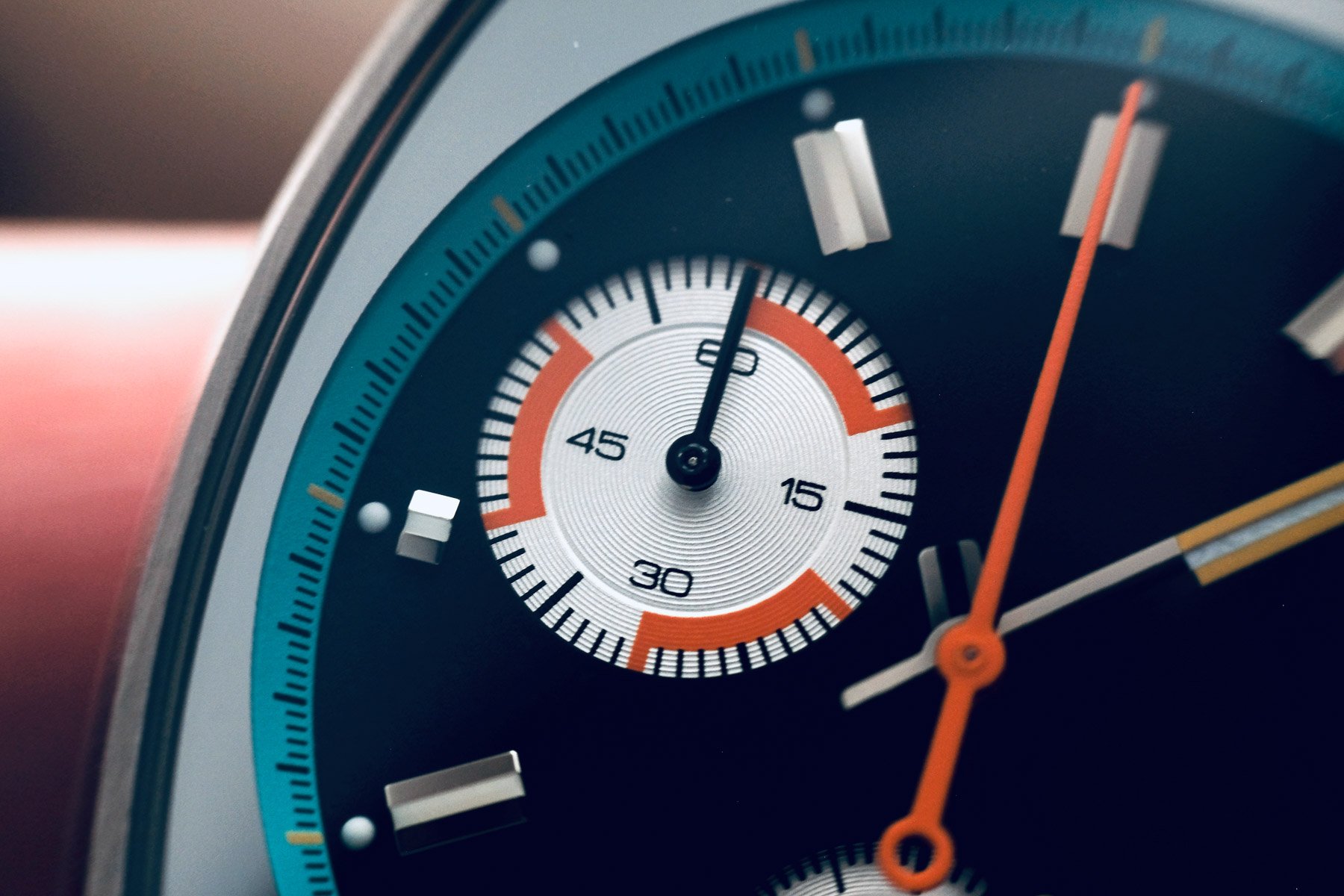 Final thoughts
If you are into vintage-inspired and niche chronographs, I gather you may have read the review till the end. You may want to know about the watch's price and availability. The Metric Retro Dial retails for US$425 and it is currently sold out (Brew regularly re-stocks, though, so sign up for the brand's newsletter to get notified). Now, I have a confession to make: I bought the Metric because I was curious about the brand. The name Brew has been buzzing around for a while, and I wanted to know what the brand is all about. Was I going to be disappointed? Is the Metric a watch that comes with its own merit? Or is it just homage to several old references put together and called an original design? 
To be frank, I didn't like the watch at first. The day I received it, I opened the box, took a look at the watch, and closed the box again. I didn't get back to it until a few days after my first impressions had receded. After talking to my chronograph-expert friend, he challenged me to give the Metric another chance. I did, and I'm glad I took another look at it. Now I can admire the Metric for its intrinsic visual qualities. It's odd, but it's different, and as Nacho has said, it's nice to do things differently once in a while. 
What are your thoughts on the Metric? Is this the kind of watch you would buy for yourself? Please leave your comments below.