Hands-On With The Byrne Gyro Dial Zero — A Transformer On The Wrist
And an enduringly intriguing piece of horology
As a young kid, I played with Lego blocks, miniature cars, and trains, but when Hasbro released the Transformers toys and an animated TV show alongside them, I was hooked. This was before the first game console or computer entered the Broer residence. I still have most of my Transformers, some of them more complete than others (they had a lot of pieces!), but I cherish them as they remind me of my happy childhood.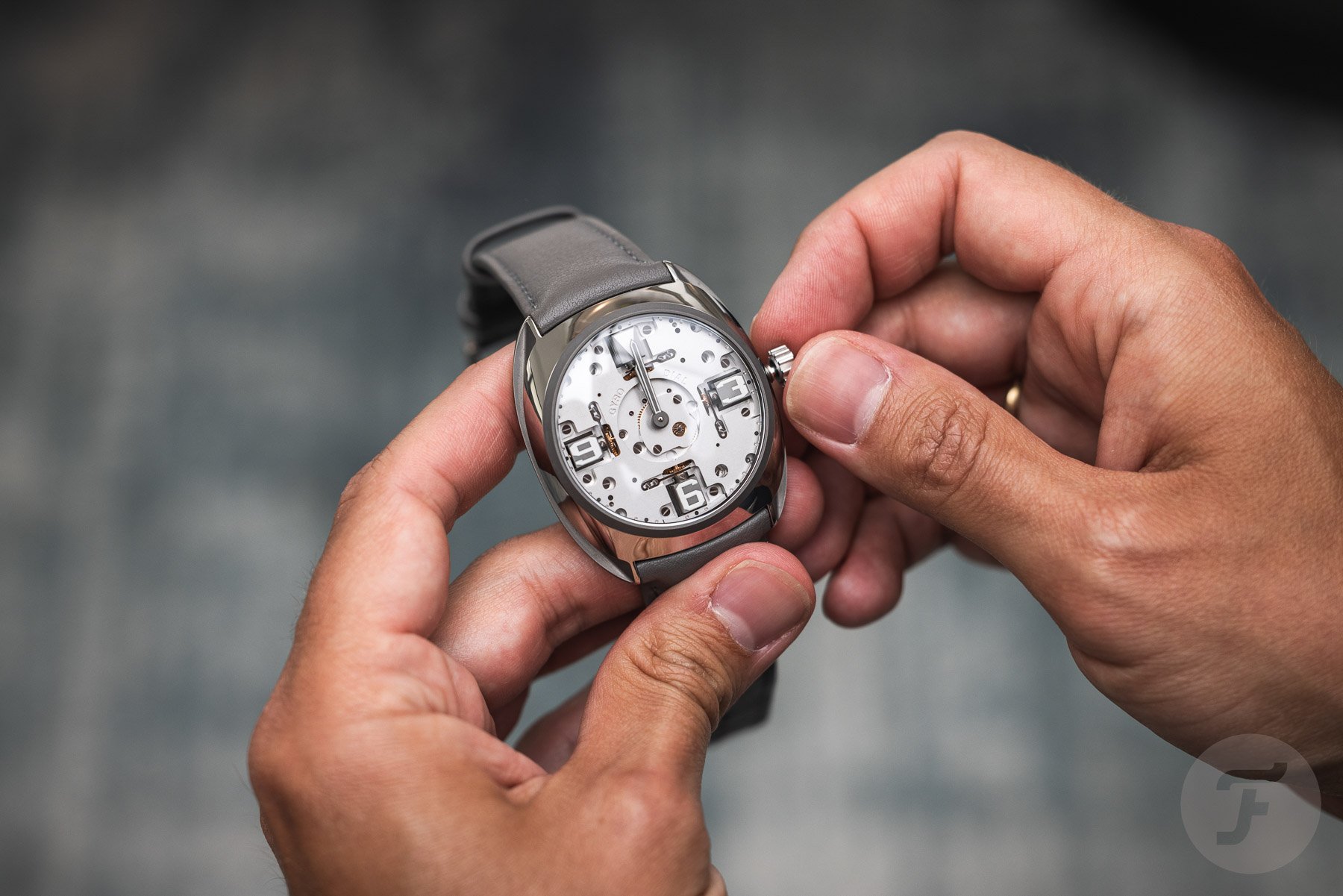 Byrne Gyro Dial Zero
When I opened the box we received from Byrne with this Gyro Dial Zero, I had a little flashback to the mid-1980s when I was sitting on the floor playing with Optimus Prime, Tracks, and Inferno (you can all look them up on eBay). Now, the Byrne Gyro Dial Zero is far from a plastic toy or a toy in general, but this watch, with its constantly changing face, immediately reminded me of the good times.
The Byrne Gyro Dial Zero is a very impressive watch at first sight. The Grade 5 titanium case measures 41.7mm wide, 48.1mm long, and 14.45mm thick. But Byrne's Gyro Dial doesn't have a round case, so reading those dimensions is at least a bit deceiving.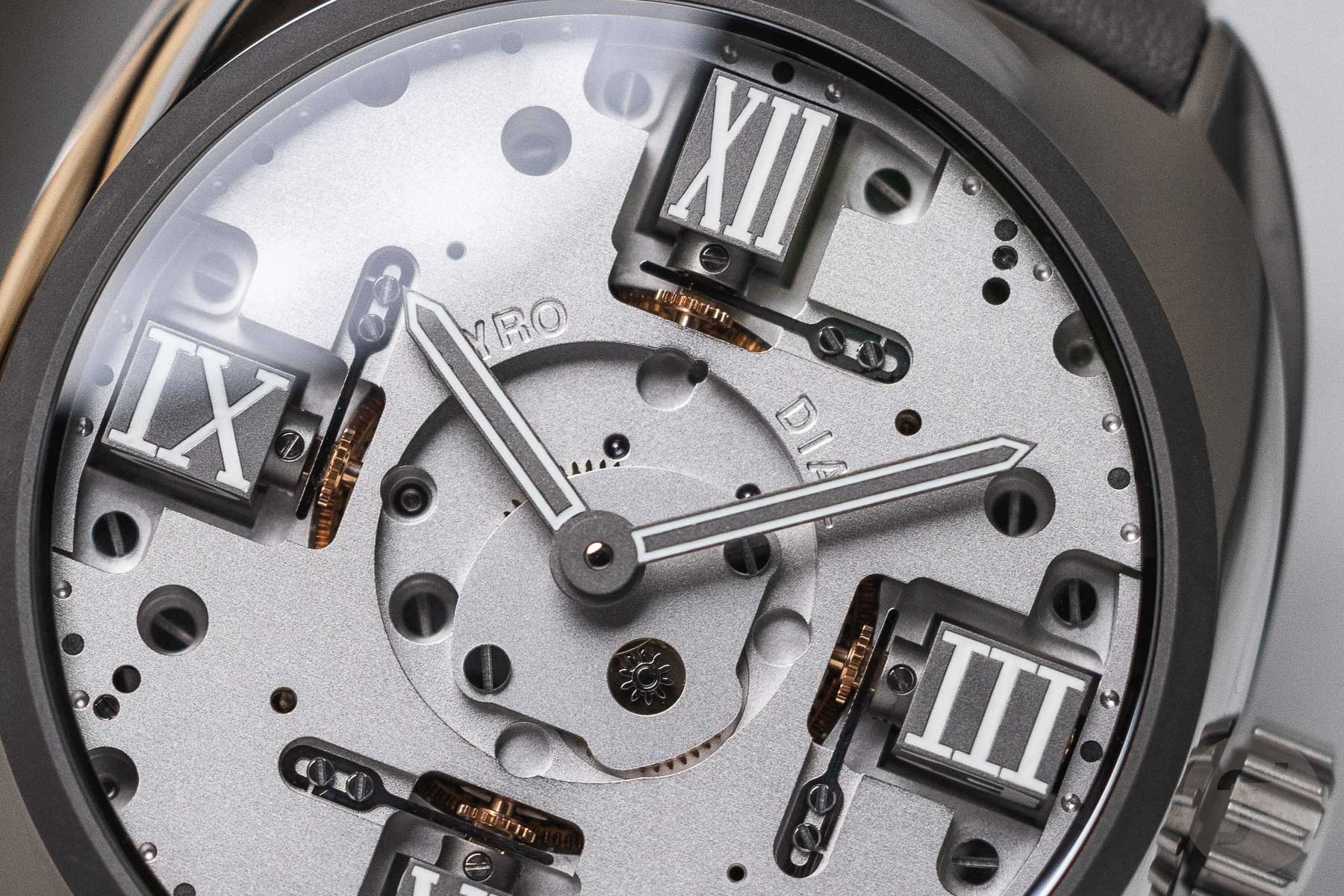 Caliber 5555 is visible from both sides
According to Byrne, the case has been finished by hand, using both polishing and sandblasting on the different surfaces. You'll find a sapphire box crystal on both sides of the watch, through which you look directly at the movement.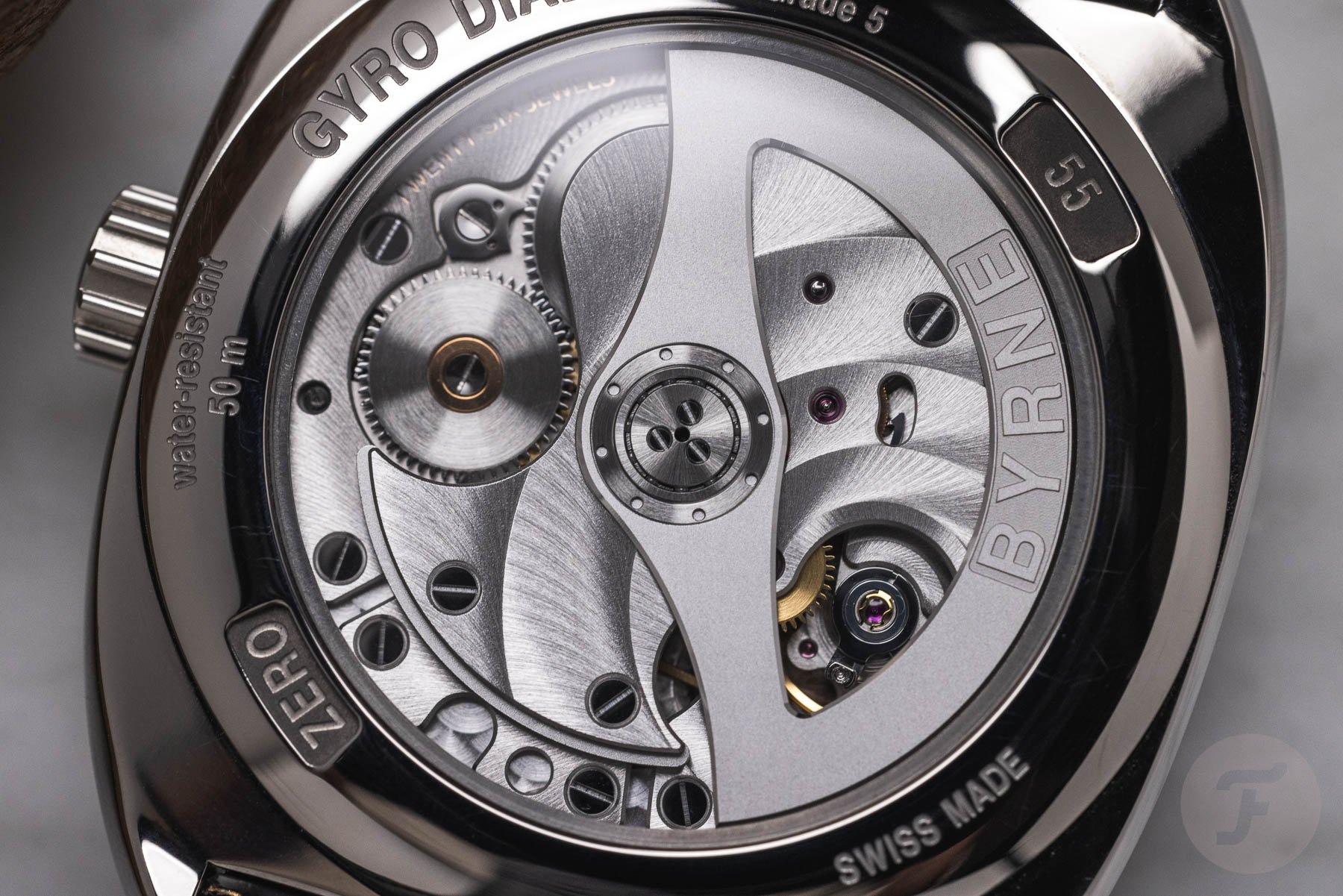 This is Byrne's caliber 5555, featuring sandblasted finishing along with rhodium-plated bridges and plates. On the back side, you will find Côtes de Genève decoration and beveling done by hand. The rotor has a large aperture, so you have a nice view of the movement and its manual finishing. Caliber 5555 has been developed at Le Temps Manufactures in Fleurier, Switzerland.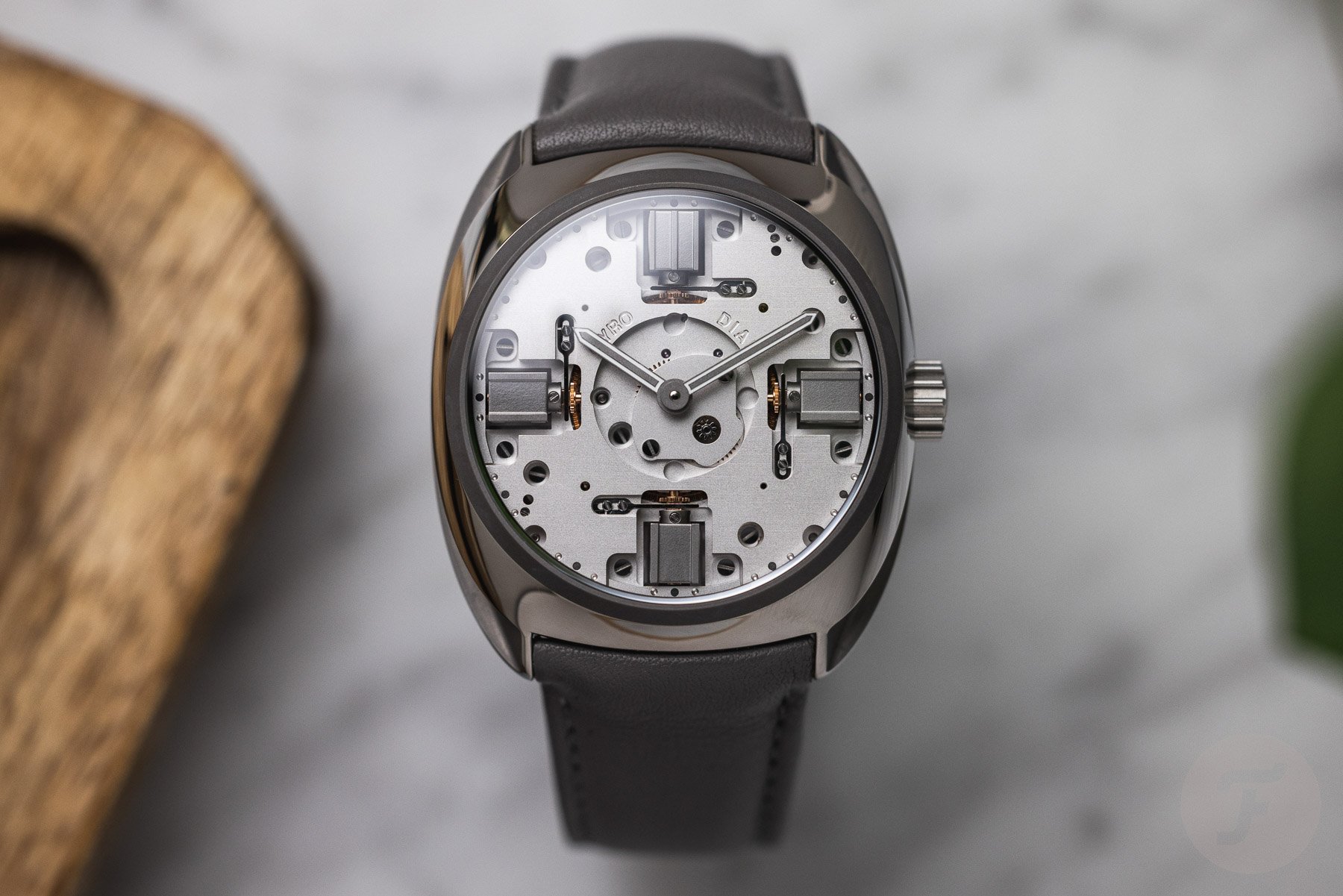 A dial with animation
This movement consists of 261 components, 42 of which are jewels. It has a power reserve of 60 hours and ticks at a 28,800vph (or 4Hz) frequency. What these specifications don't tell you is that the movement is the dial and that it shows a beautiful animation. The four indexes at 12, 3, 6, and 9 o'clock will rotate at midnight, noon, or on demand by simply using the crown. The four cubes will rotate instantly, each showing a new side with Arabic numerals, Roman numerals, or "fantasy" indicators. The hands and indexes all have an application of Super-LumiNova as well.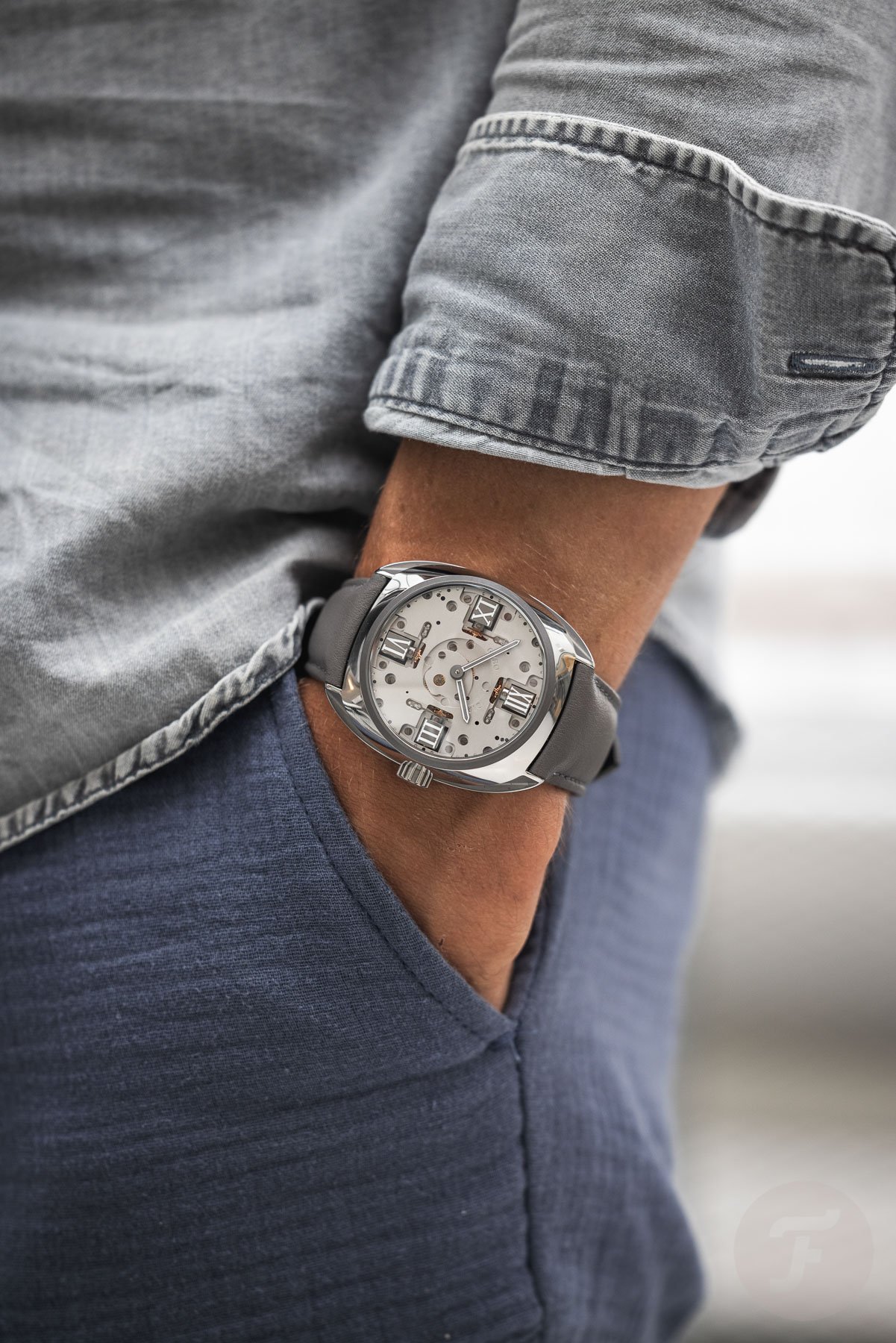 All the cubes change instantaneously, which requires some power, but the LTM-based caliber 5555 is up to the task. Due to a dedicated spring, the mechanism works flawlessly and has enough power to make the change.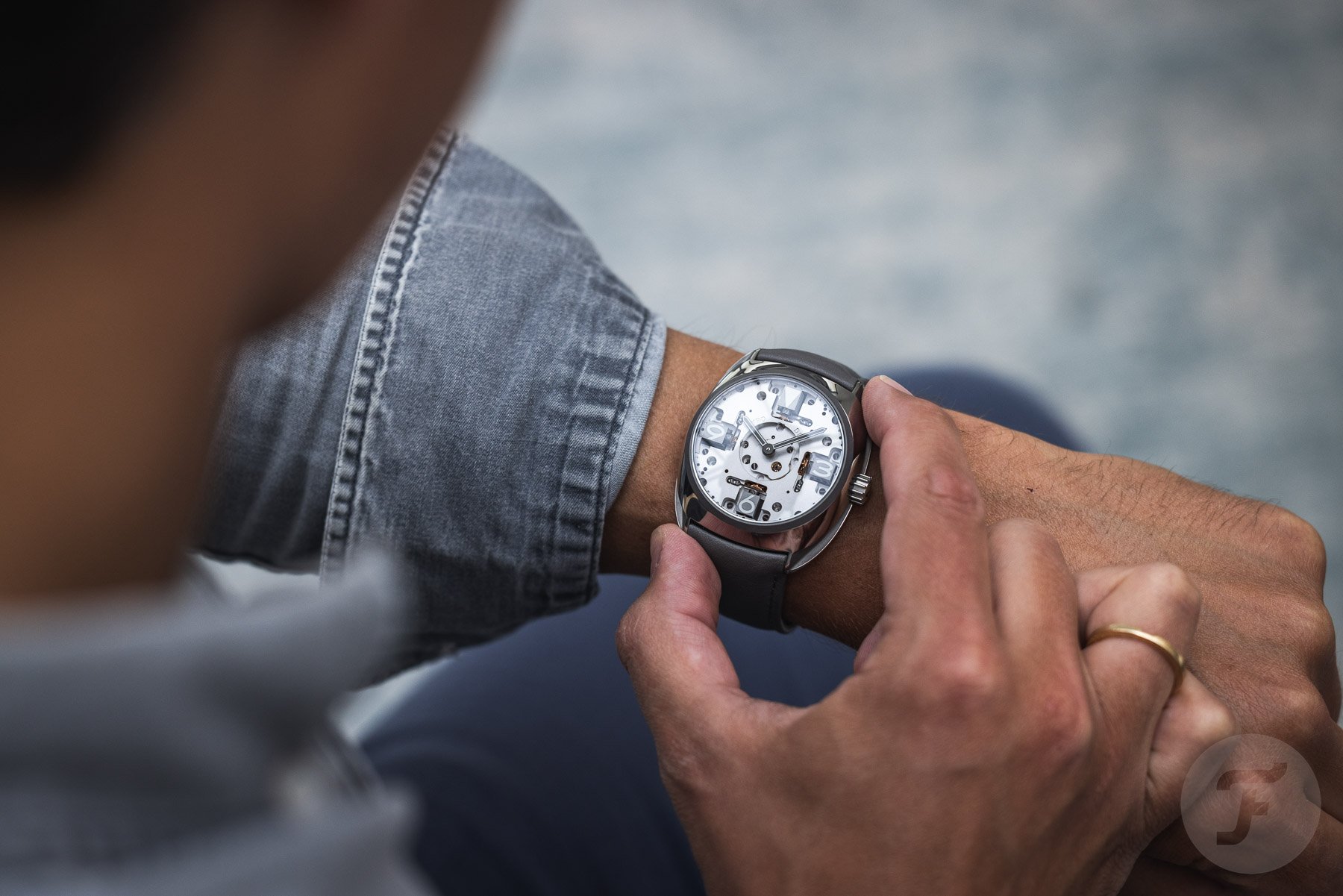 The Byrne Gyro Dial Zero on the wrist
On the wrist, this watch reminds me of a UFO with curves and a polished top surface. From the side, you will see a cavity with a sandblasted finish. The bezel of the Byrne Gyro Dial Zero also has a sandblasted finish, ensuring some contrast with the polished surface below.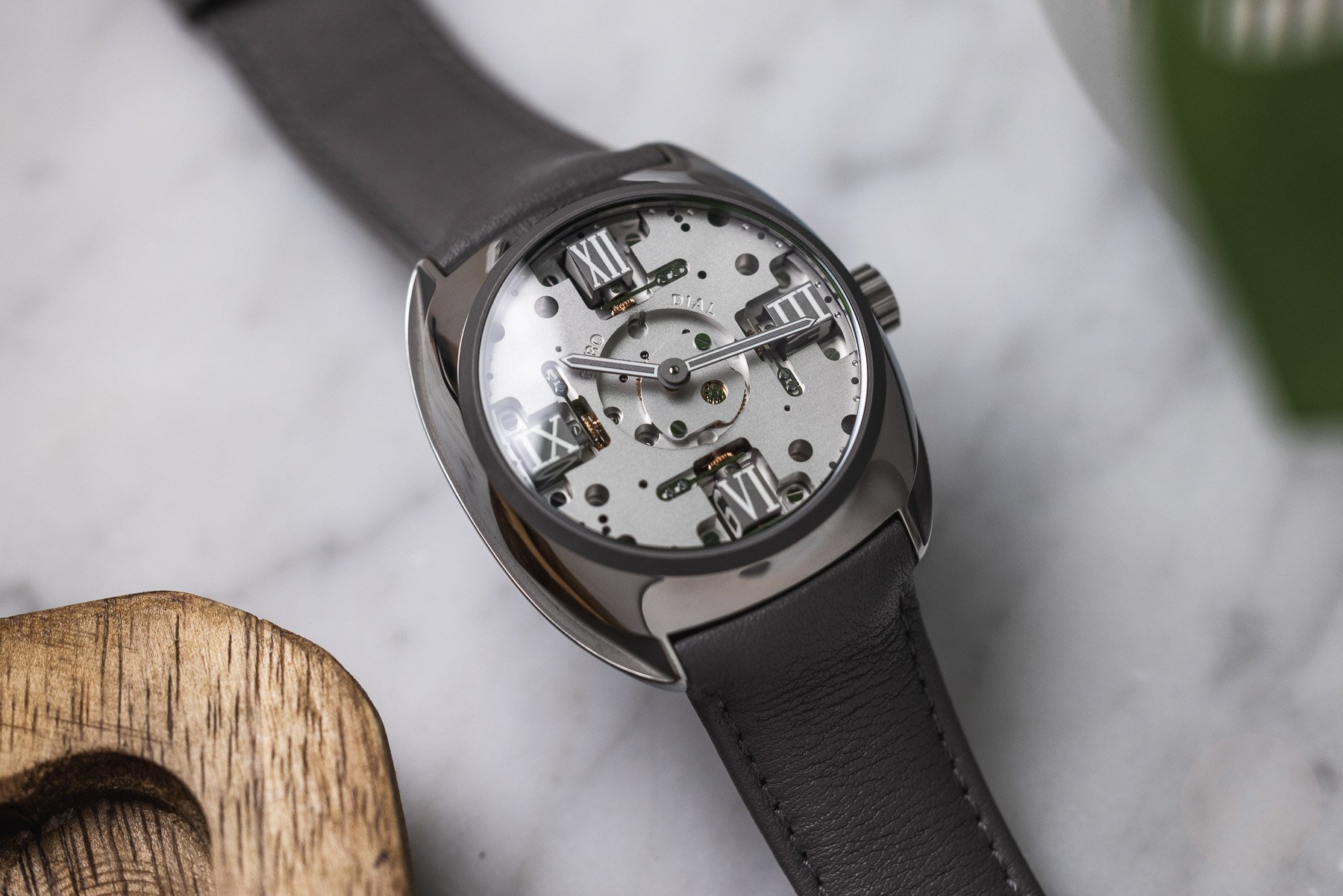 Because you look directly at the movement, the watch has a very industrial look. Combined with the futuristic case, it has a unique and distinctive appeal. This watch can't be mistaken for anything else, and it almost forces you to look twice to see both what it is and what it is doing. The four cubes are all visibly connected to the mechanism that rotates them. All the cavities, the screws, and the sandblasted finish add to the industrial look and feel of this Byrne Gyro Dial Zero.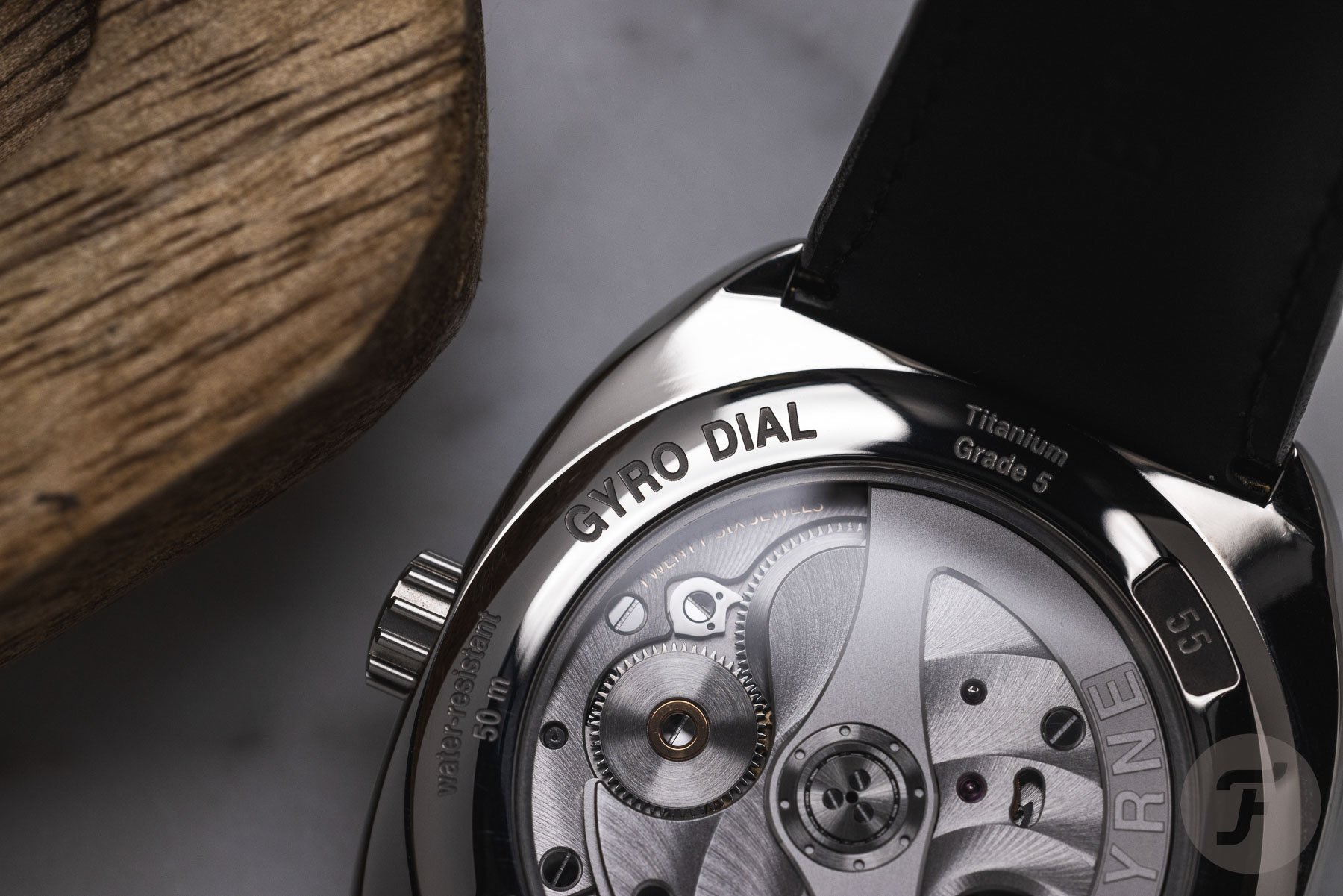 With such an entertaining front side, there's hardly any reason to turn the Byrne Gyro Dial Zero over to check for the movement. However, if you do, you will see a nicely decorated caliber and a rotor with the Byrne logo embossed. Engraved on the bezel of the case back, you'll find the number of the watch, the model name, and the fact that it is water resistant to 50 meters.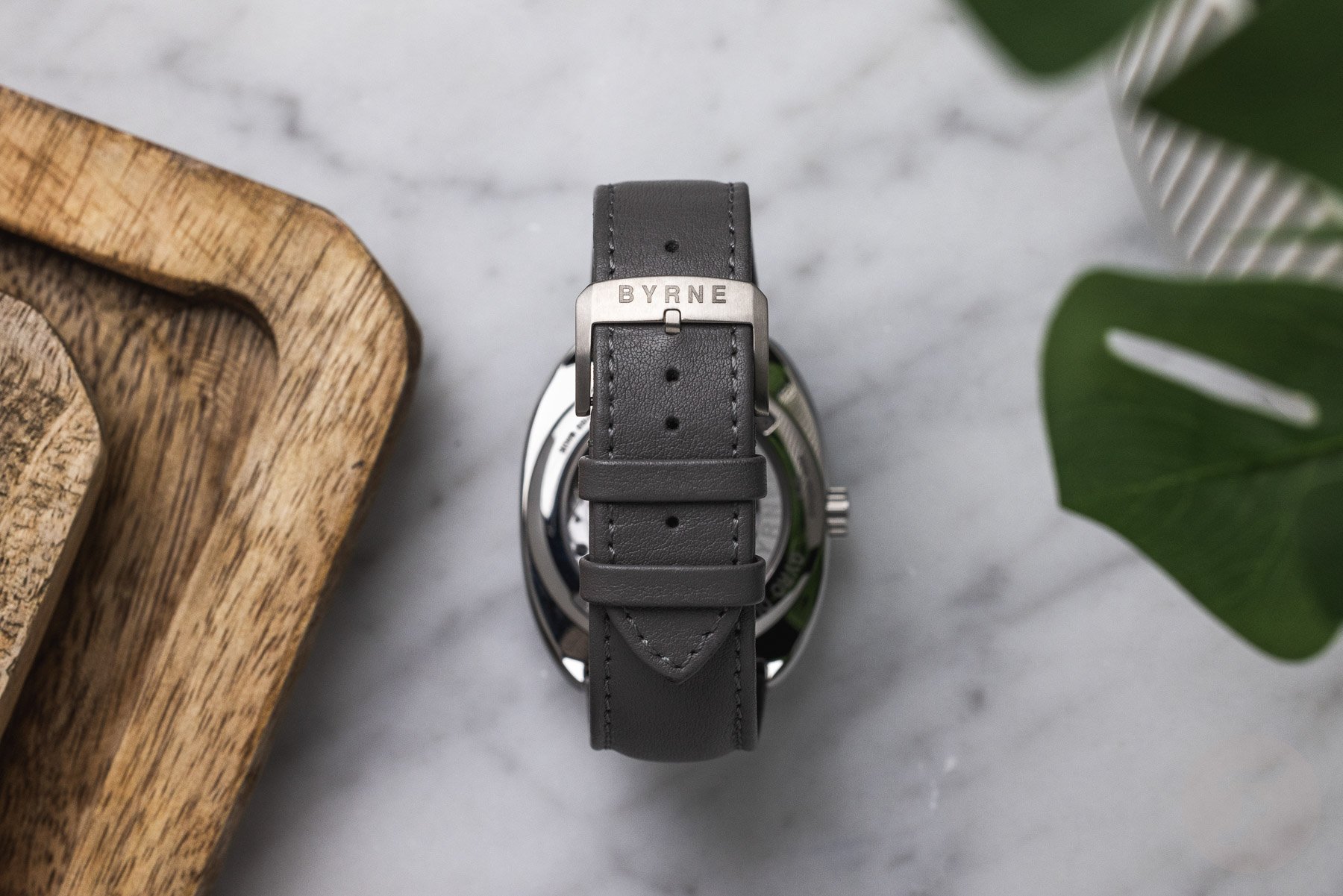 Finally, the watch we have here comes on a gray leather strap with a Grade 5 titanium pin buckle.
Some afterthoughts
After playing with this Byrne Gyro Dial Zero and wearing it for a while, I have to say that I was just as intrigued by it when we had to box it up to send it back as I was when we received it. And it's not only the "transforming" dial but also the case shape, the level of finishing, and the wearability that I find refreshing, to say the least.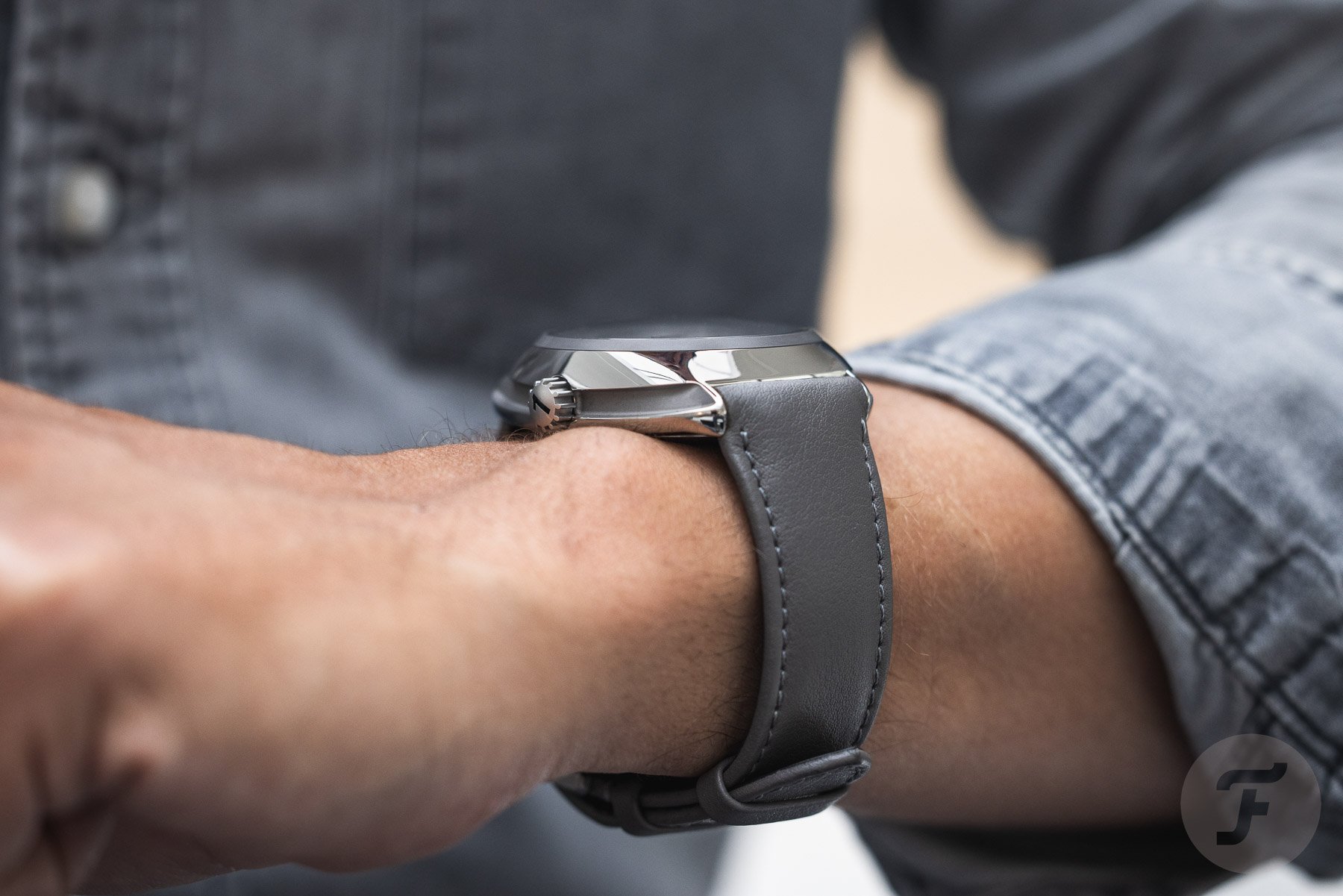 We often get watches in the Fratello office that do not stick with me for long, but this Byrne is different. And it's different enough from what else is out there to make me want to try it out again in the future.
Byrne's Gyro Dial Zero has a retail price of €18,500 / CHF 18,500 / US$19,500 (excluding VAT).
You can find more information on Byrne's official website.
Watch specifications
Dial
Gray with rotating hour markers
Case Material
Grade 5 titanium with high-polished and sandblasted finishes
Case Dimensions
41.7mm (diameter) × 48.1mm (lug-to-lug) × 14.45mm (thickness)
Crystal
Box-shaped sapphire
Case Back
Grade 5 titanium with box-shaped sapphire window
Movement
Le Temps Manufactures 5555 — automatic winding, 28,800vph frequency, 60-hour power reserve, 42 jewels, rotating hour cubes, hand beveling
Water Resistance
5 ATM (50m)
Strap
Gray leather with titanium pin buckle
Functions
Time (hours and minutes)
Price
€18,500 / CHF 18,500 / US$19,500 (excluding VAT)