Hands-On With The Kurono Calendrier Type 1 Proves A Sweet-Sized Point
And it might be the closest I'll get to owning a perpetual calendar
My love of Japanese independent watchmaking is no secret, but it took me a while to acquire a Kurono. While I am a staunch advocate of online purchasing, when it comes to lesser-known brands at over €2,000, I still like to touch something first. And if I can't experience the model in question, then I do like to see another piece of their work. With small brands that do limited-production runs, that is always a challenge. But going hands-on with the Kurono Calendrier Type 1 might prove a sweet-sized point.
To be honest, when it comes to Kurono, it is a case of being too late to the game for me. I've fallen for the brand's smaller three-hand models long after their half-minute sell-out windows. And yes, they are rather more expensive on the pre-owned market, but that's life. This time, the stars aligned, and I, now part of the Kurono-tiered family of fans, had my purchase window open. I love a good twin-register chronograph and was mighty close to pulling the trigger on the last €3,500 Chronograph. With this watch, the registers are still two, but the functionality is much more useful for me. And I can admit that this is probably the closest I'll ever get to owning a vintage perpetual calendar.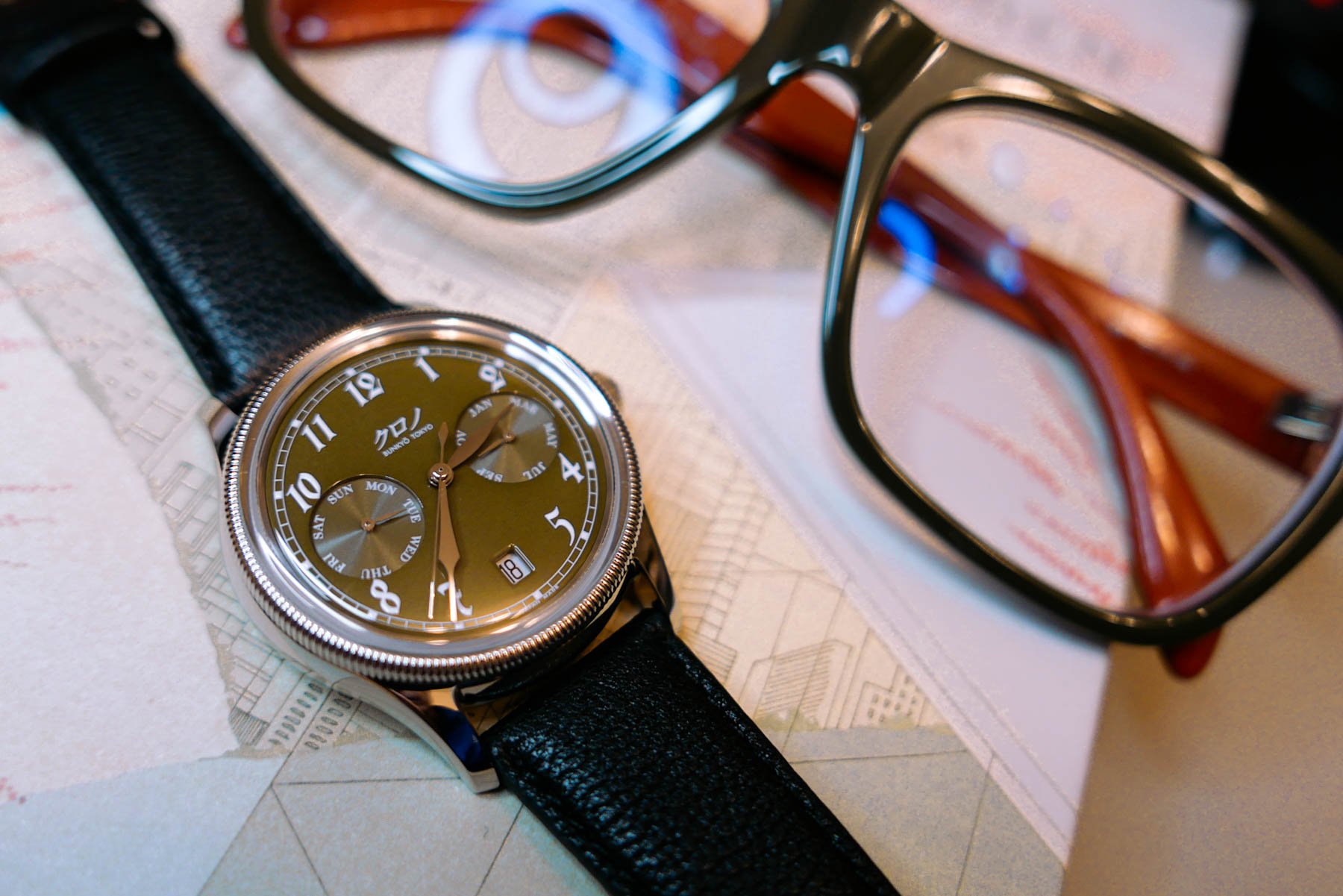 The Kurono Tokyo Calendrier Type 1 is rather good
Let's start with the fact that I am not the oracle of watch sizing. What, to me, are large watches at 43-44mm are back with a vengeance, and that's just peachy. Kurono, through Hajime Asaoka's flair, follows its own path and a love for what I find is a magic 38mm case size. The Calendrier Type 1 is just a hair under 46mm from lug to lug, and for me, it's a sweetheart. The case itself is clearly from Hajime Asaoka's deft hand, but it has a few twists. For the first time, there is a delicate coin-edge bezel that emphasizes the vintage cool. This sets it apart from the brand's three-handers and Chronograph models. The execution is right up there with Grand Seiko and the top-tier Swiss, and it wears smaller than 38 due to a barrel-sided design.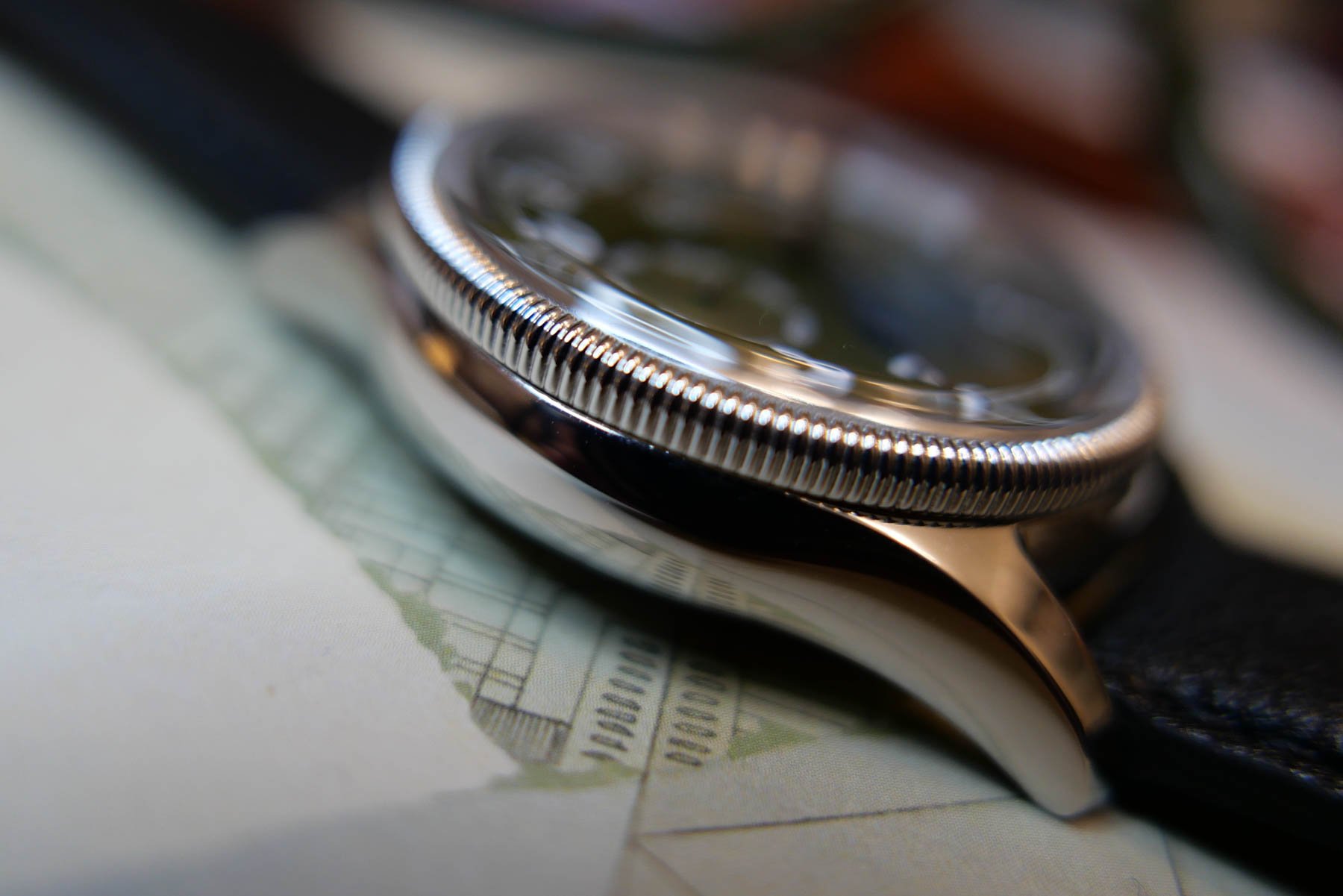 A non-perpetual full calendar
This is where it gets quirkier than you'd expect. When we see a vintage-looking dial with registers at 3 and 9 o'clock, we all expect a Chronograph. But hey, there are no pushers, just a smoothly integrated flush button akin to a Patek QP. Yes, this is a calendar watch, but with the seldom-seen, manually set Miyota 9122 caliber. Without the complexities of a perpetual-calendar movement and its foibles (and service costs), it is eminently usable. Mine runs at ±3–4 secs per day, which is vastly better than Miyota's Seiko-esque estimate of -10 to +30. It is solid, reliable, and Japanese like the watch itself, and do you know what? I love the looks of a chronograph, but I don't time a damn thing. So this is as unusual as it is practical, and for once, I can appreciate both the look and functionality of the style.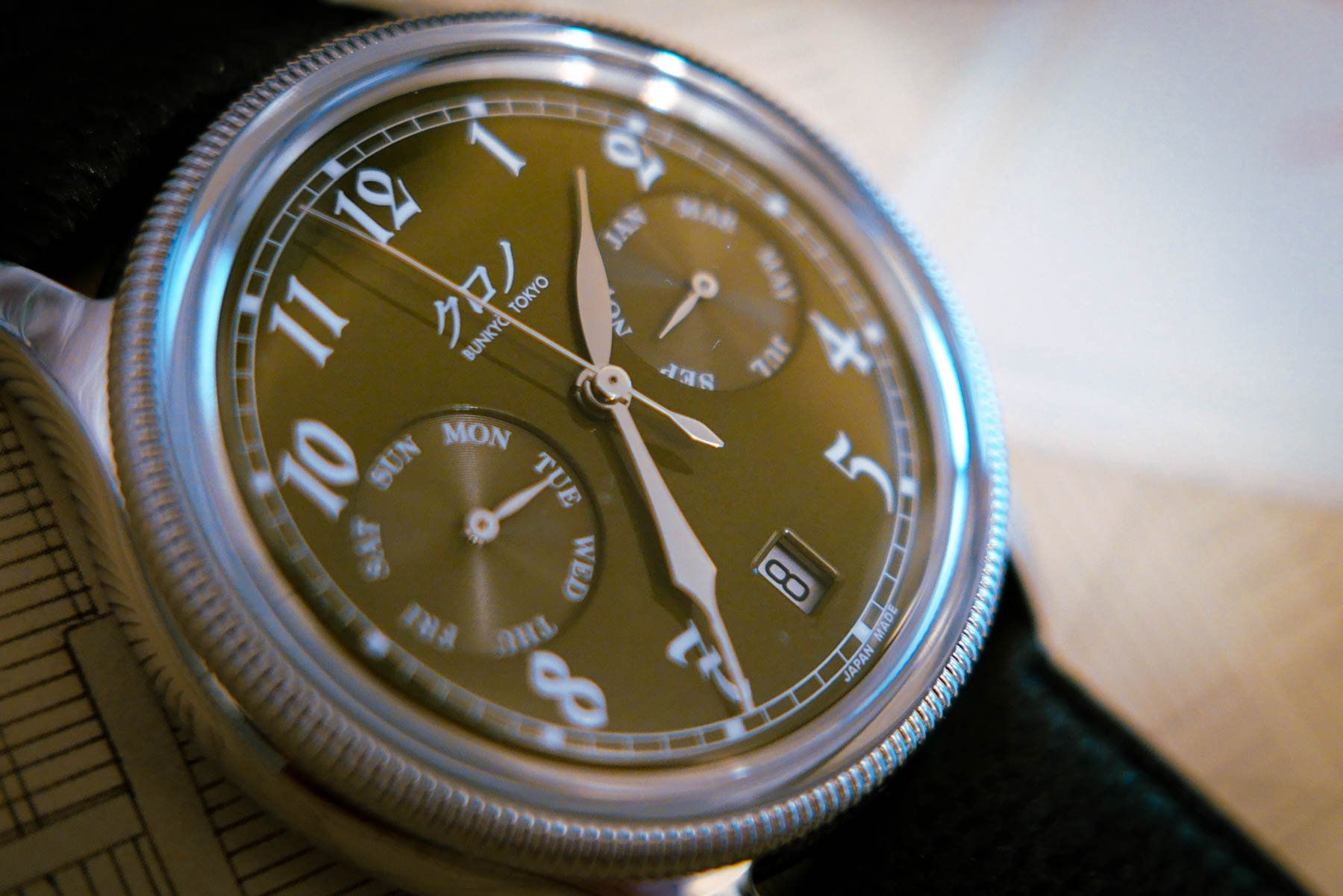 A dial of studied contrasts
Kurono Tokyo is the sub-brand of master watchmaker Hajime Asaoka, but his hands-on approach shows in the details. In fact, one of the reasons I'm keeping the black strap on for now is a story on Instagram of Asaoka-san doing his own product photo shoot to keep the standards. This close-knit, ever-so-obsessive approach shows in the khaki green lacquered dial, that's for sure. The deep lacquer of the hand-polished surface has a smooth gloss, with the sunray brushed registers recessed at three and nine. The old-school pad printing is multi-layered, giving the numerals a distinct thickness, and they form a charming ninesome. These extravagantly serifed gothic numerals are a dramatic counterpoint to the classic case. Some of you might find them odd within the classic lacquered landscape, but for me, this is quirky perfection. Especially with the (for Kurono) quiet dial with its indefinably green tinge.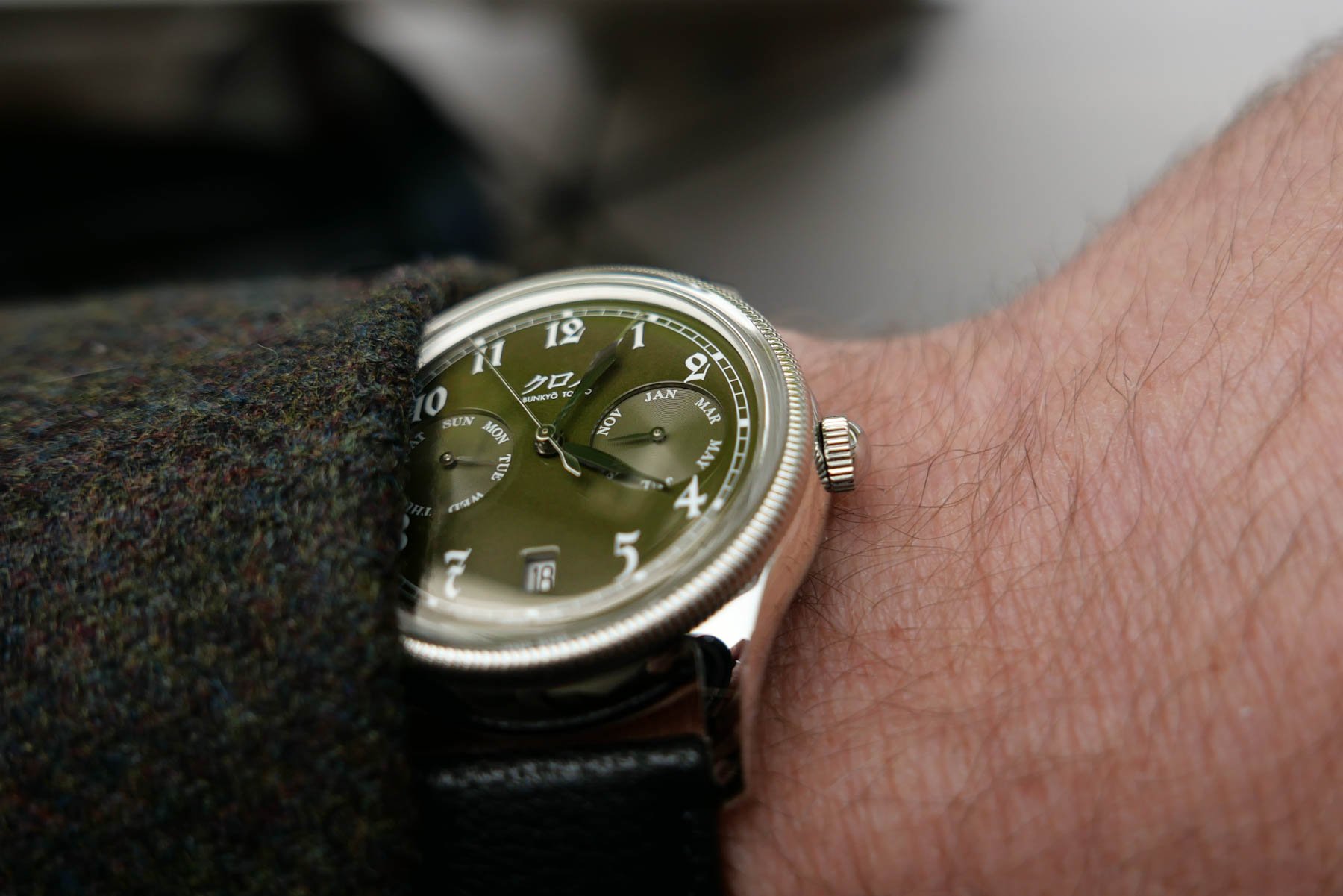 Will there be more Kurono watches on my wrist?
I can definitely say yes, as the feuille and sword-totemic hands have worked their magic on me. I love the fact that the Art Deco inspiration I first saw in Asaoka-san's own creations is delightfully apparent. Here it has kept its distinct language, with Asaoka's reasoning for the calendar complication clear: "Time is the most basic determinant for modern life, and the full calendar is the embodiment of this importance." I quite agree, actually, and even with the white-backed date at six, I embrace the innate practicality and charm of not having to refer to my cell phone for the facts. The 11.5mm total thickness with the custom box sapphire feels comfortably slim, and 5 ATM is plenty of water resistance for a dressy watch that doesn't want to go swimming anytime soon
The smooth, polished surfaces of the Calendrier are a tactile delight. The watch comes on the textured black leather strap that we've seen on other Kurono models before, and it also does look rather swish on a matching olive Horween I have. But the quiet nature of the soft black strap makes the dial the star, as it indeed is. This quirky but polished design language surely isn't to everyone's taste, but that is the beauty of fiercely independent watchmaking. Kurono will never be able to produce value and craftsmanship at the scale of mass-appeal Swiss, and that's a good thing. For me, the thoughtful, crafted, quirky, and sometimes odd details add up to an instant favorite. At roughly ¥243,000 (~US$1,640) plus taxes, the Miyota-powered Calendrier Type 1 might seem a tall order for some. But trust me, there's magic in the details, and movement snobs will most certainly miss out.
So, Fratelli, could the next Kurono drop be something for you, or are you happy checking your calendar on your iPhone? Let me know in the comments below.
Find me and follow me: @thorsvaboe