Hands-On With The Maen Brooklyn 39 Automatic
Quartz watches only interest me when they have something special of specific to add. Like a multifunction watch such as the Breitling B55, the Omega Speedmaster X33, Tissot T-Touch, a G-Shock or something special like the discontinued OysterQuartz models from Rolex or one of the beautiful finished Grand Seiko watches with a caliber 9F movement. I don't want to sound like a watch snob, but a quartz movement makes shifting through the pile of press releases and announcements we receive in our mailboxes every day relatively easy. For Maen I didn't make an exception to be honest. Although their watches look very attractive, the fact that they have a quartz movement inside makes them less interesting for me. And to most of you, I would assume.
But very soon, Maen will offer their Brooklyn 39 model also with a mechanical movement. Hooray! This changes the game entirely. I received one of their prototypes, as the new Brooklyn 39 Automatic needs to be announced on Kickstarter first. The watch I have here has a mechanical movement, but not in the execution that the final Maen Brooklyn 39 Automatic will have.
Without further ado, let's have start with our sneak preview of the Maen Brooklyn 39 Automatic.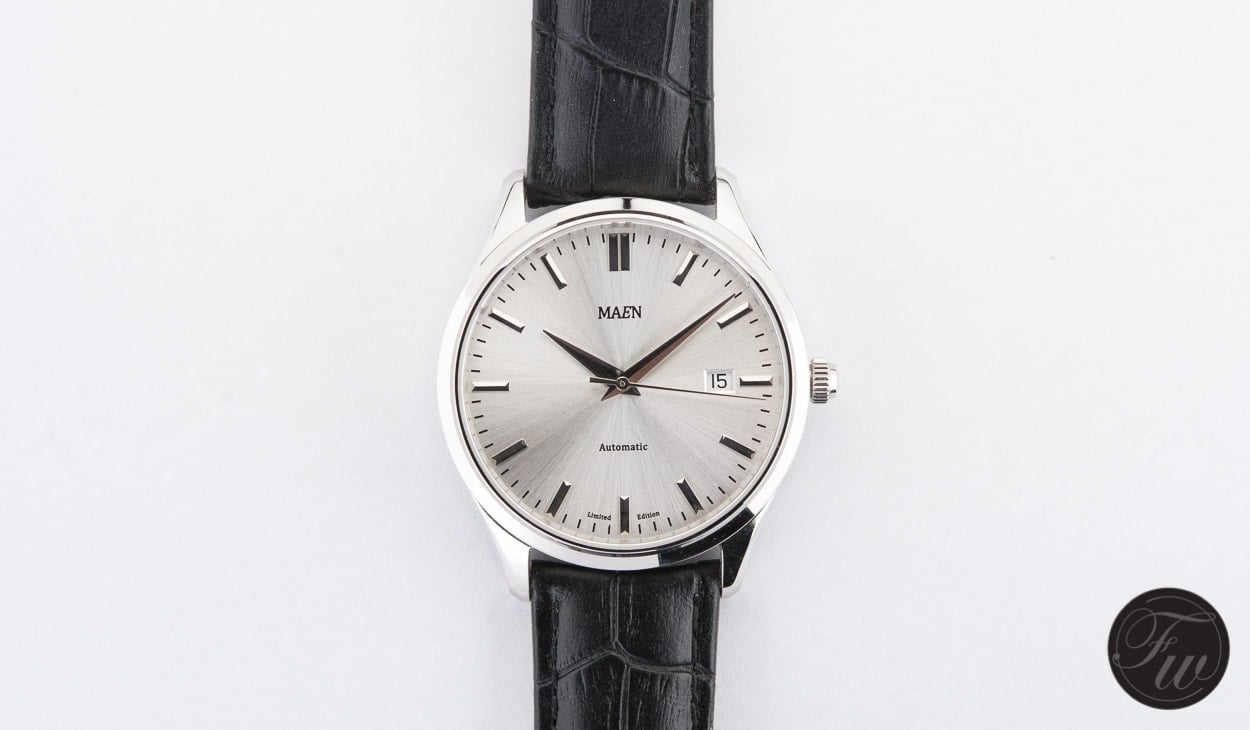 Maen Brooklyn 39 Automatic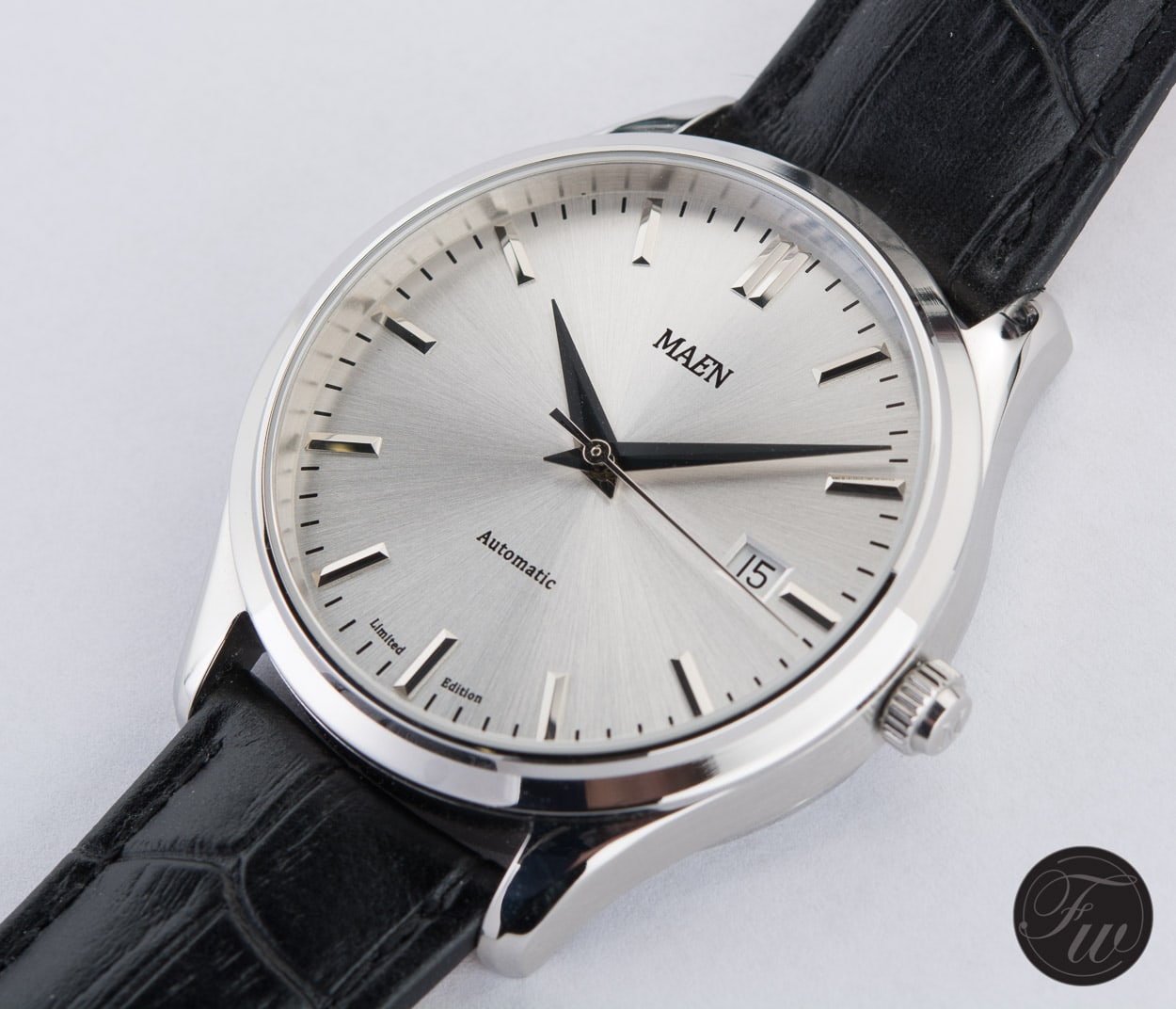 This first automatic Maen watch will have a retail price of €465 (early Kickstarter backers receive a €116 discount though, which makes it €349), which is an important factor to this watch. With the quartz models till now, the Maen collection was simply a good looking watch but – for me – out of scope due to the battery. The use of a mechanical movement changes a lot for me, and I would reckon that it will be the case for many of our readers. The price, be it €465 retail or €349 for the early birds, is surely attractive but Maen is not the only brand operating in this price range of course. What does the Maen Brooklyn 39 Automatic has to offer?
For starters, the overall design and aesthetics are pretty impressive. The watch has brushed mid case, a polished bevel and the top of the lugs are polished as well. The lugs slightly bend towards the wrist to give it a bit of a classic shape. The stepped bezel also has a polished finish. Both sides of the watch feature a sapphire crystal, flat. Not domed. A domed crystal would have added a bit of 'extra' to this classic looking watch, especially for €465 this would have been nice.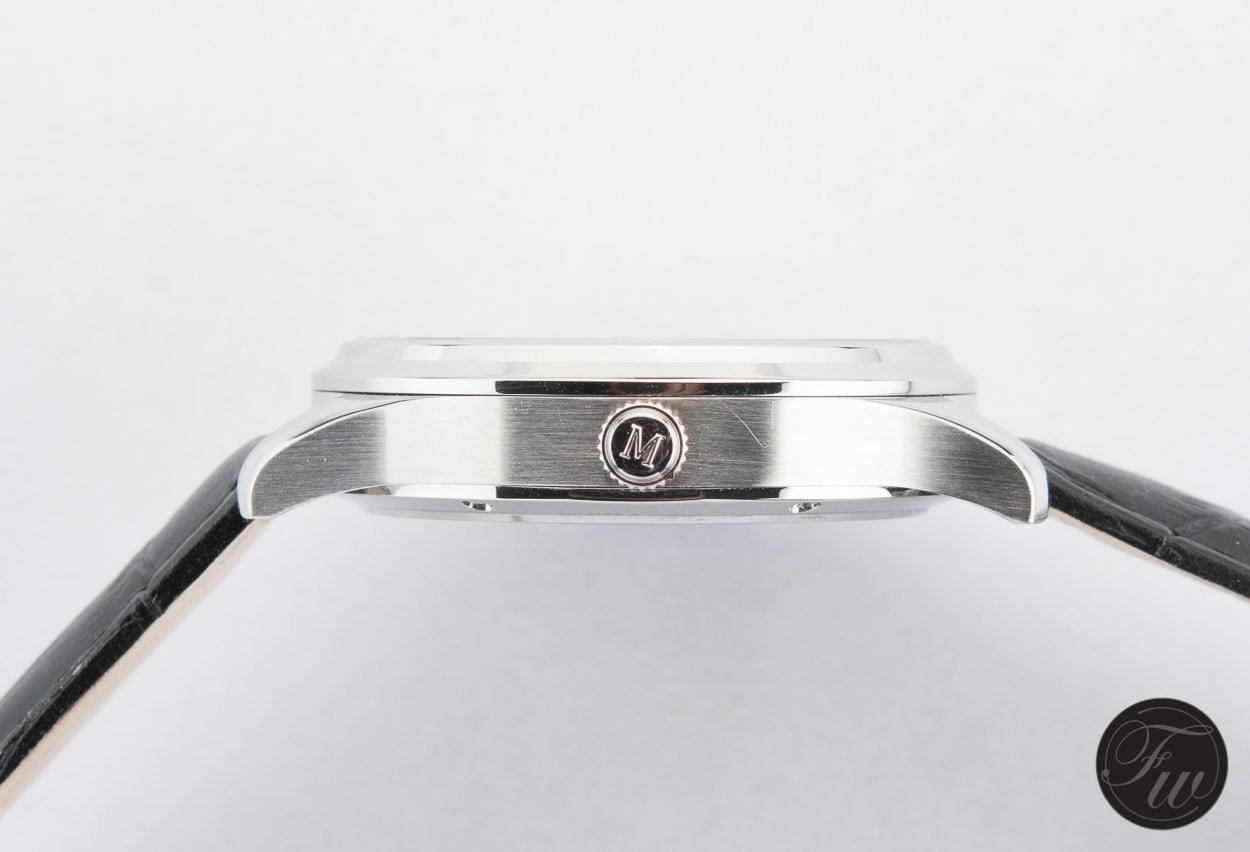 You will find that the Maen Brooklyn 39 Automatic will become available with different dials, but we have their ice grey model here. A brushed sun ray dial, that changes from silver to grey depending on the light and angle. A very handsome dial I must add. The Maen typography is done very nicely and is located at 12 o'clock, below the applied double hour marker. Entirely below, at 6 o'clock you will find the 'Automatic' wording where-as the quartz models have 'Brooklyn' written here. A date window is very practical, but often ruins a perfect dial. I will let you decide here, but for me a date window could have been left out. A pair of dauphin hands complete the face of the Maen Brooklyn 39 Automatic. This type (or shape) of hands is the only way to go, they look so good! Next to the 6 o'clock hour marker, you will find 'Limited Edition' written. This prototype indicates on the case back that there will be 500 made of them, but not sure this is the final plan for this watch.
Mean's first automatic watch uses an ETA 2824-2 movement, a true work-horse and easy to operate. Pull the Maen signed crown in 1st position to set the date, and in 2nd position to correct the time. As written above, the copper colored movement inside the watch I have here is not the final execution. It will be a version with rhodium plated finishing and a Maen engraved rotor. In this price category, I really think it adds something nice to the game to have a transparent case back.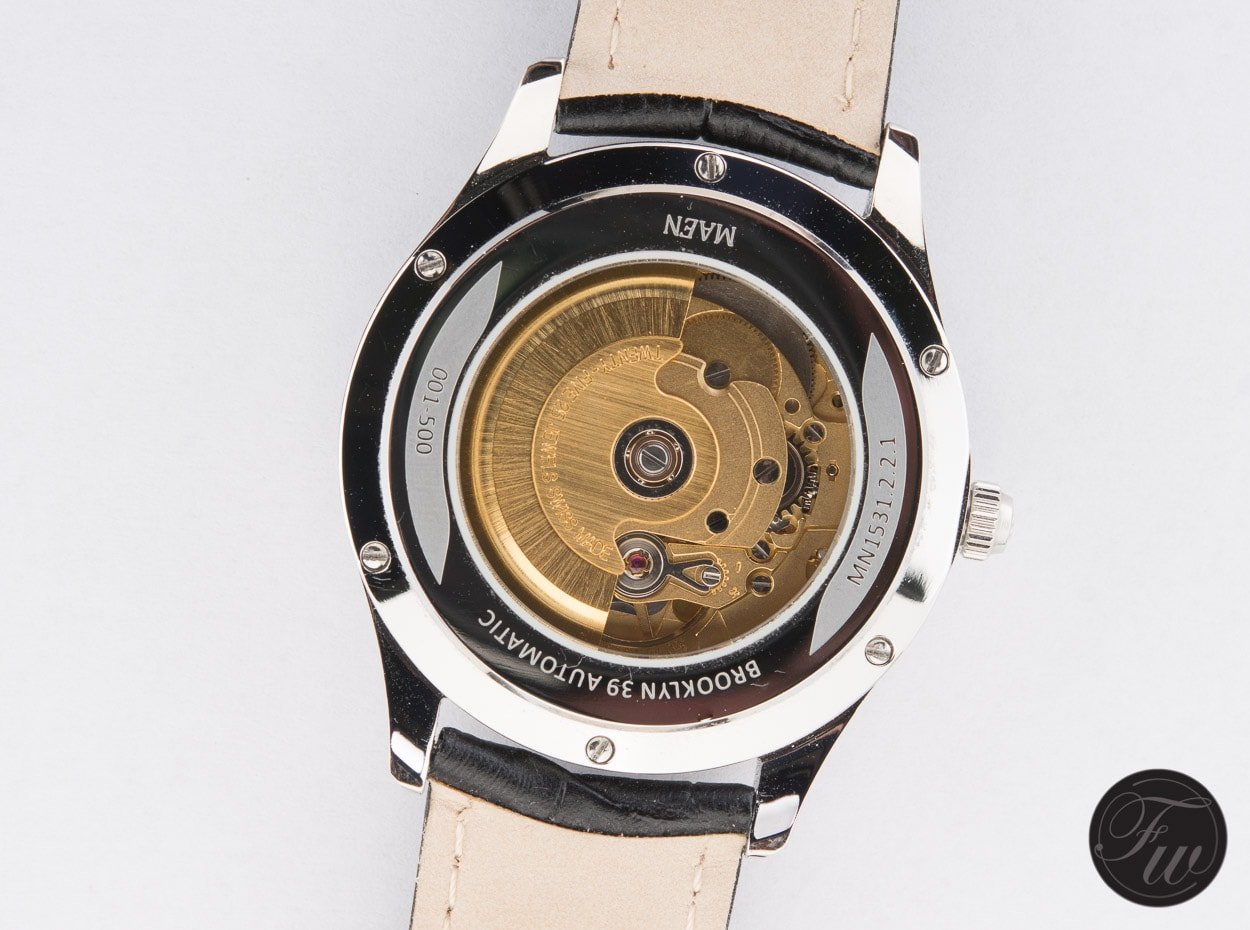 On the wrist, the Maen Brooklyn 39 Automatic is very pleasant. Only 9.9mm in height but wears even thinner I would say. As you can see, the Brooklyn 39 comes with a black leather strap. A calf strap with alligator print (or grain). The strap is a bit stiff, but most probably will break-in after some time. I am not a fan of grain or print straps, but giving it a few thoughts extra it is at least a more pleasant thought that no alligator had to loose life over a few straps. The double folding clasp is signed 'Maen' and works like a charm, using the two pushers on the side to release. It is quite a generic folding clasp and can be found on many more watches out there, but it does the trick. I wouldn't have mind a pin buckle, as it wears less bulky.
Verdict – Maen Brooklyn 39 Automatic
The young company from Sweden sent me a beautiful looking watch with this sun burst grey dial (additional versions will be blue and black). 39mm is a perfect size for a dress watch, as I've written here many times recently. The case is well designed and the finish is what you should expect from a watch with a €465 price tag, it is all nicely done and the combination of brushed and polished parts make it definitely interesting. The dial in combination with the dauphin hands and applied hour markers give the a watch a classy appeal. The date aperture is a bit of a let-down for me, but I can imagine this is a requirement for a lot of people. Maen should at least consider putting in a silver/grey colored date wheel, as the white looks a bit cheap-ish. Same for the crown, it is easy to grasp and has been signed, but the shape looks like it could be on any cheap watch out there.
The caseback is nice and gives a view on the ETA2824-2 movement. As written above, the finishing of the movement in the version I have here is not the same as the one that will be in the final product.
The Maen Brooklyn 39 Automatic is a handsome watch with an attractive price tag, the early bird discount is what you should aim for if you like this watch. €349 is a no-brainer if you like the looks of the Maen Brooklyn 39 Automatic.
More information via Maen on-line.