Hands-On With The Seiko Prospex SNR045 Limited Edition
Antarctic moss pillars on the wrist
One of the great things about Seiko is the fact that it makes watches at many price levels. That's something you won't find with a lot of brands. Many try to maintain a certain spot in the market while looking at the competition to make their products more (or less) appealing. Yet Seiko has a wide range of watches from the affordable to the high-end (and even higher with sister-brand Grand Seiko). Being a fan of dive watches in general, it was great to find the limited edition Seiko Prospex SNR045 (fitted with a Spring Drive movement) on my desk for a review.
Something I've always noticed is the build quality on Seiko watches. The SNR045 did not disappoint on that front. Of course, you can set apart a Grand Seiko diver from an entry-level one. But, in general, you can safely say that what you get is definitely worth the money. Even some of my dive watches around the €500 mark have impressed me. But this diver is on another level for sure.
Prospex SNR045
This watch is part of the Seiko LX line which consists of watches designed with sport in mind. It's short for LUX. According to Seiko, the name hints at the Latin word for light. That's something that can be found in reflections on the various flat surfaces of the case. And the case is certainly one of the things that makes this watch look so impressive. The combination of different surface finishes — alternately polished and brushed — gives this Seiko Prospex SNR045 a lot of contrast. It is probably one of many reasons these watches leave such a positive impression on me.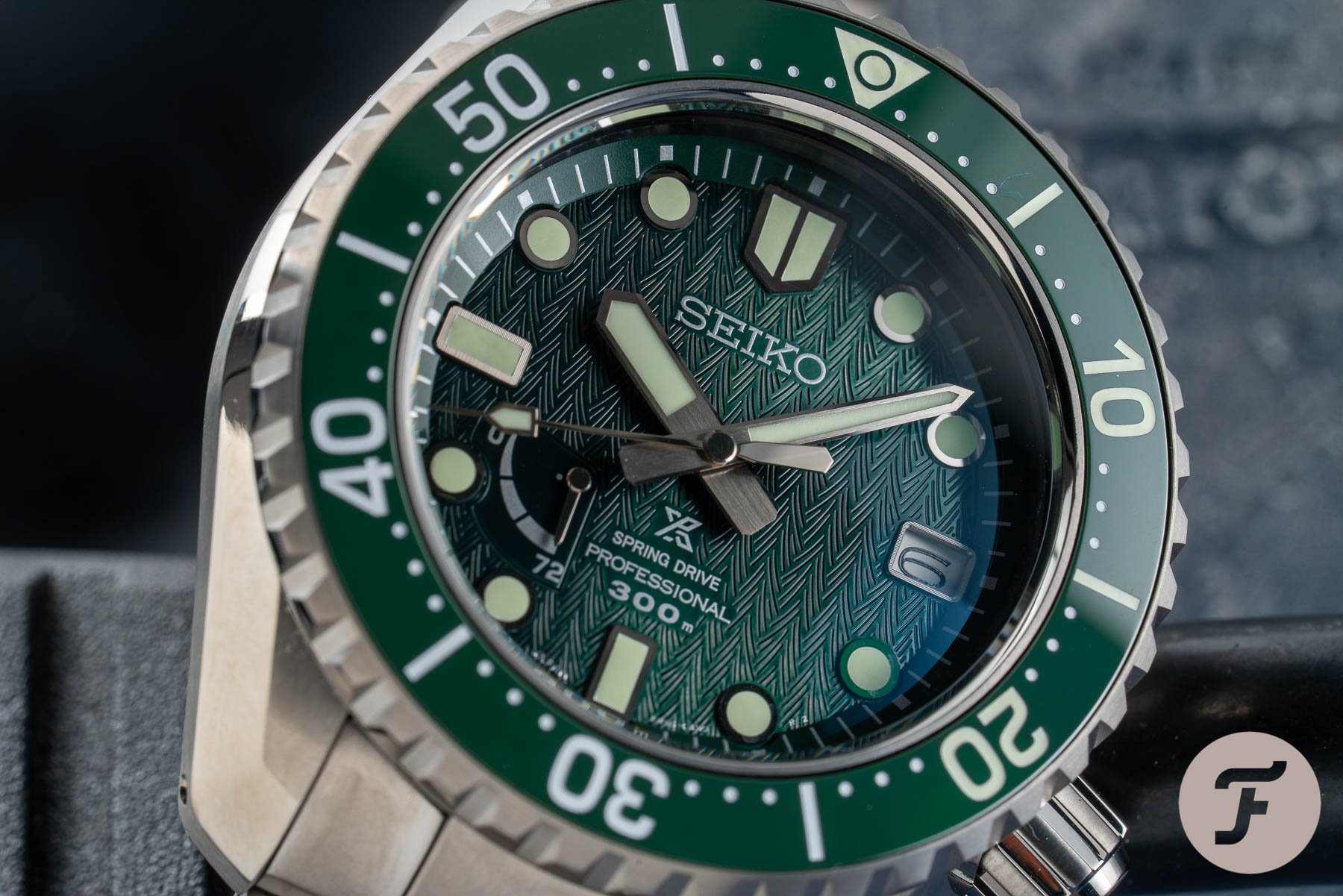 Yes, I am slightly biased as my taste in watches is rather straightforward. This makes it both easy and difficult at the same time. Due to my profession, the design of a watch and its looks are definitely one of the first things I notice. But that's something I think should be the main reason for anyone to buy (or skip) a watch in the first place if you ask me.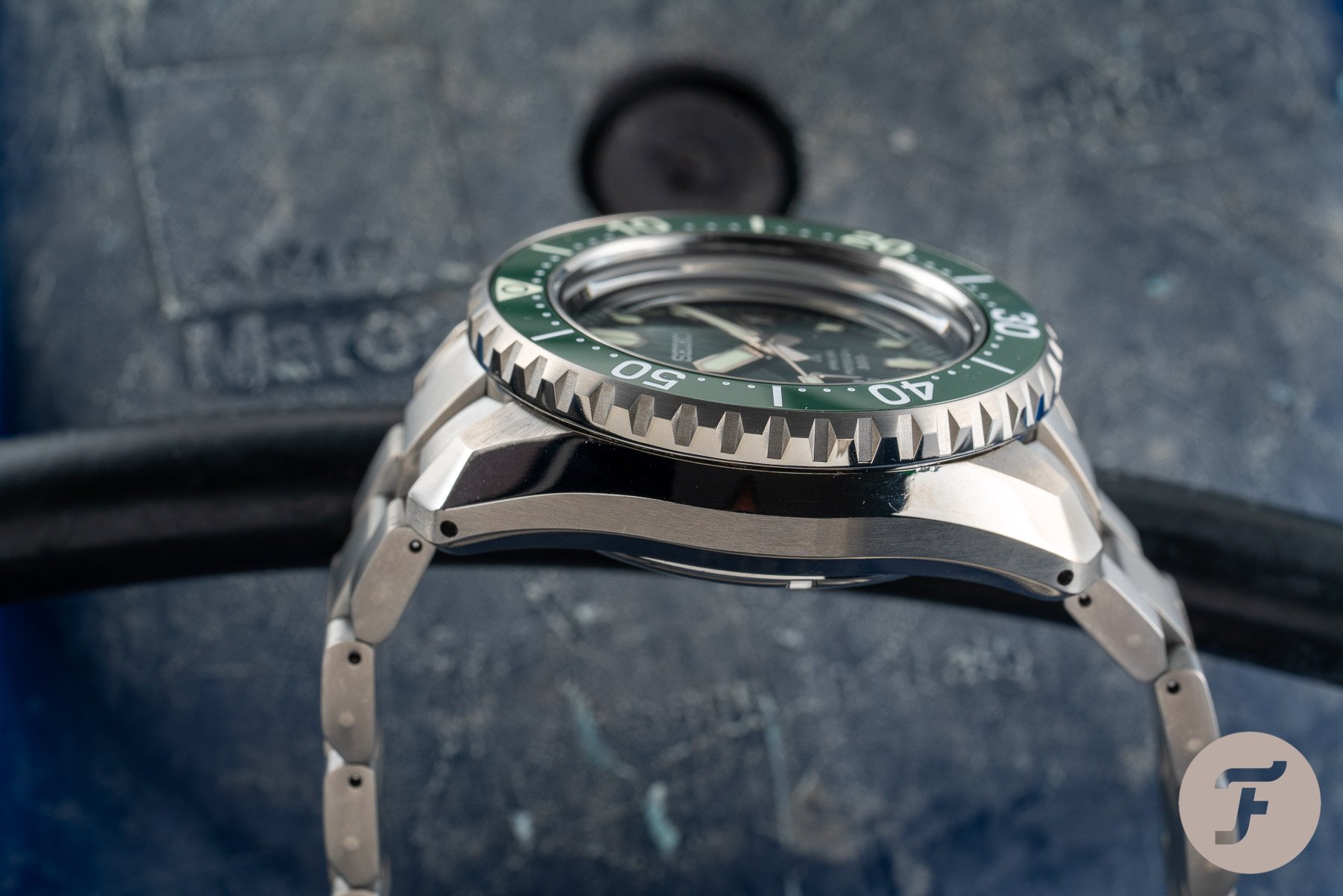 Most watches from the Prospex collection tick a lot of boxes in my book and so does this version. And that's despite the 44.8mm diameter and 15.7mm thickness. I'm aware that I often repeat that 40mm is about the perfect size for a watch, but I say it often for a reason — I believe it to be (mostly) true. And although every single millimeter of deviation generally makes it harder for me to like a watch, there are exceptions to that personal rule. And this diver is definitely one of them.
Ken Okuyama Design
Seiko's LX line has been designed in collaboration with legendary designer Ken Okuyama. He has an impressive track record of iconic cars and other high-profile products. His aim was to combine simplicity, harmony, power, and presence. For this model, inspiration was found in Antarctic Exploration. That is reflected in the texture of the dial and the green color scheme used for this watch.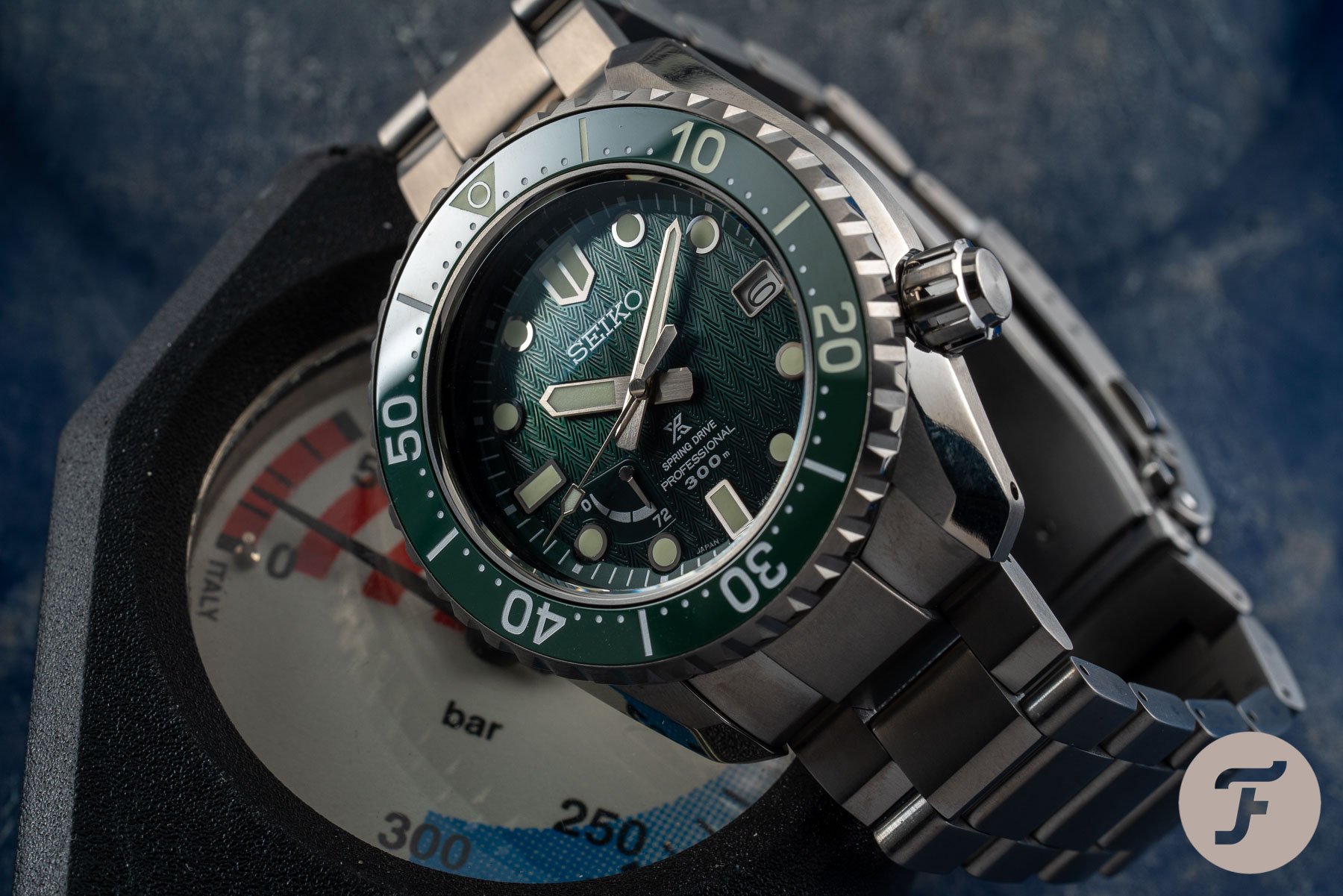 And this inspiration is what sets this watch apart from many others. Seiko doesn't only bring you many colorful dials, the brand is also uncommonly comfortable playing with various textures to make them stand out. For this Prospex SNR045 inspiration comes from 'kokebozu' which are moss pillars at the bottom of a lake in Skarvsnes Foreland. Although these kinds of links don't really matter to me personally, the well-executed dial does. 
Technical Specifications
The design of the case dates back on Seiko's historic 1968 diver. This watch shares the 300-meter water resistance with its forerunning inspiration. Unlike its vintage predecessor, this watch comes with a ceramic bezel in green which matches the dial. This green color resembles the "breath of life cultivated over a long period in the Antarctic ground". Although it is marketing spin at its best, there is no denying that this green is stunning. Succinctly, who cares about the "why" when the "what" is so cool.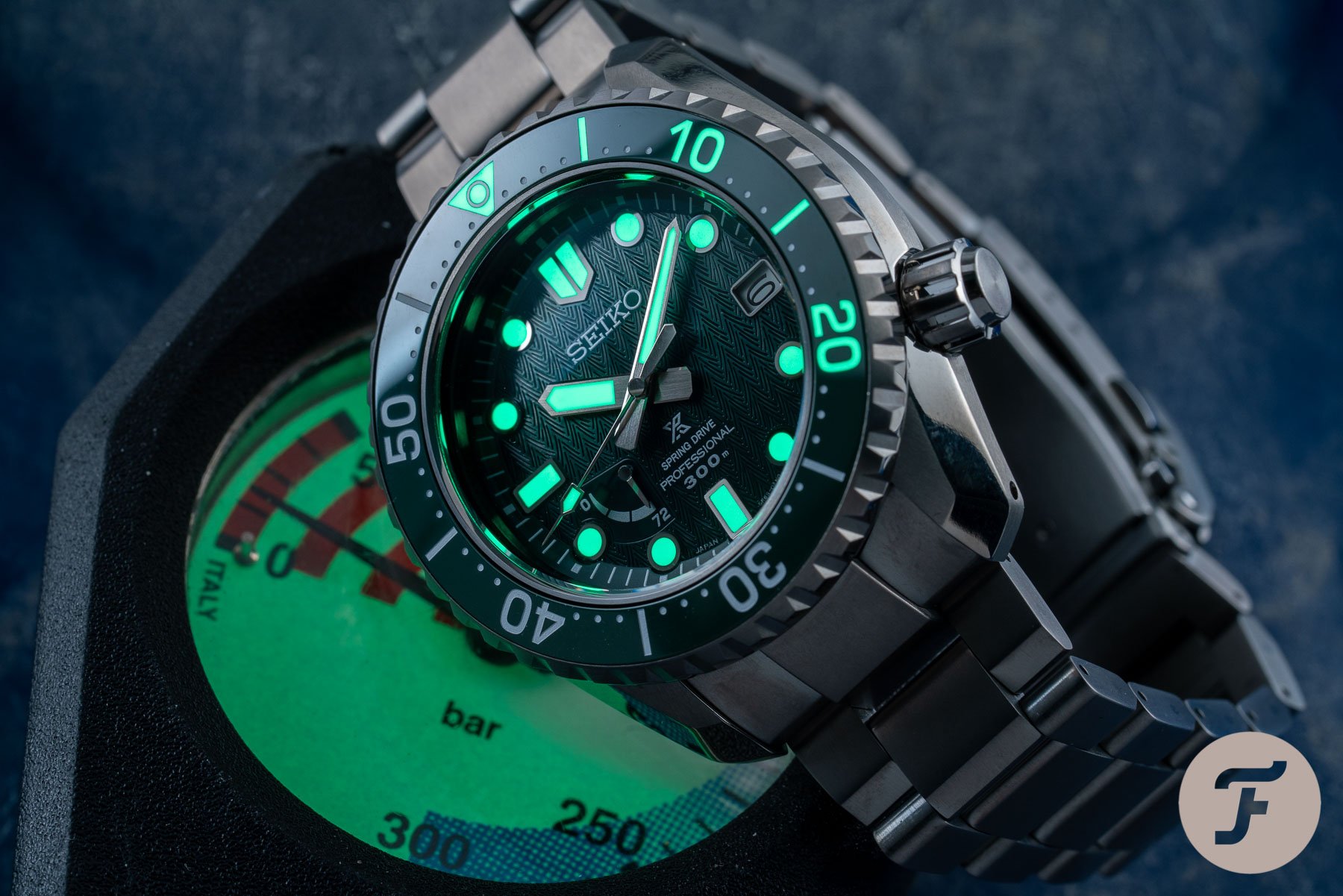 Besides the time display, there is a date window at 3 o'clock and the usual spring drive power reserve on the bottom left part of the dial. This is probably the only thing that doesn't work for me. Those who know me are aware that I am not a fan of these indications in general. To me, a power reserve indicator is not something I need. And if there is one I prefer to see it on the back. Unfortunately, that wouldn't make sense here, as the Seiko Prospex SNR045 comes with a closed case back.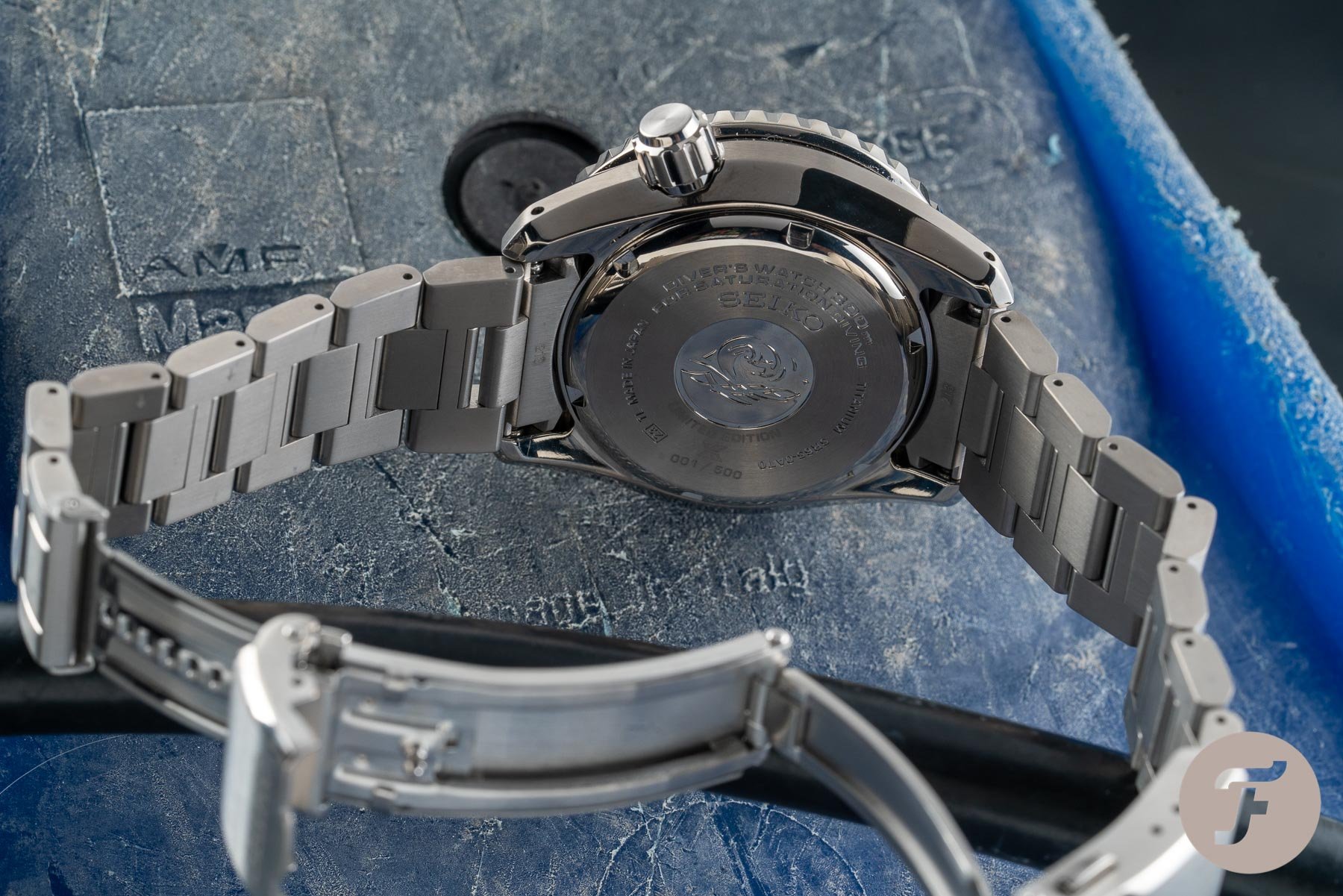 Behind that case back the Seiko Spring Drive Calibre 5R65 resides. This brilliant movement has a precision of plus-minus 1 second a day on average. That translates to an expected maximum deviation of 15 seconds a month with a power reserve of up to 72 hours or three days. Those are impressive specs for an impressive watch. The bracelet has an easy to change micro-adjustment clasp for those moments where you need a bit more or less space for your wrist.
Final thought
As mentioned in all honesty I am slightly biased when it comes to Seiko dive watches and this one is no different. Even the price tag of just over €6,000 on this Seiko Prospex SNR045 doesn't push me away from liking it. Seiko did a great job on this limited edition in my book. But would I buy it? Probably not but this mainly has to do with the power reserve indicator. If the brand decides to produce this style again without that complication taking up space on that beautiful dial, you can put my name on the waiting list. This is another stunner from the Japanese giant. But what do you think about it?
Watch specifications
Case Material
Stainless Steel
Case Dimensions
Thickness: 15.7 ㎜ Diameter: 44.8 ㎜ Length: 50.9 ㎜
Crystal
Curved(inner) sapphire
Case Back
Closed Case Back
Movement
Seiko Spring Drive 5R65
Water Resistance
300m / 30 ATM
Strap
Stainless steel bracelet, three-fold clasp with secure lock , push button release with extender
Functions
Time, Date and Power reserve
Special Note(s)
Limited Edition of 500 pieces