Hands-On With The New Yema Urban Field Watch
Yema drops a cool new hand-wound field watch in two sizes and a variety of colors
Yema is a busy brand! It feels like every month or so brings a new release from the plucky French restart, and today, we take a look at the surprising Yema Urban Field. As you'll see, there's possibly something here for just about everyone due to the sheer variety on offer.
Yema has been making all sorts of interesting watches since its "return" over the last several years. Chronographs and divers have been the most prevalent, but we've also seen watches outside of those genres. The Wristmaster plays in the integrated-bracelet competition, and an upscale version even boasts an in-house micro-rotor movement. Today, yet another interesting entrant comes along in the form of the Urban Field. This is a neat watch, although I do have a couple of quibbles that I'll mention later in the article.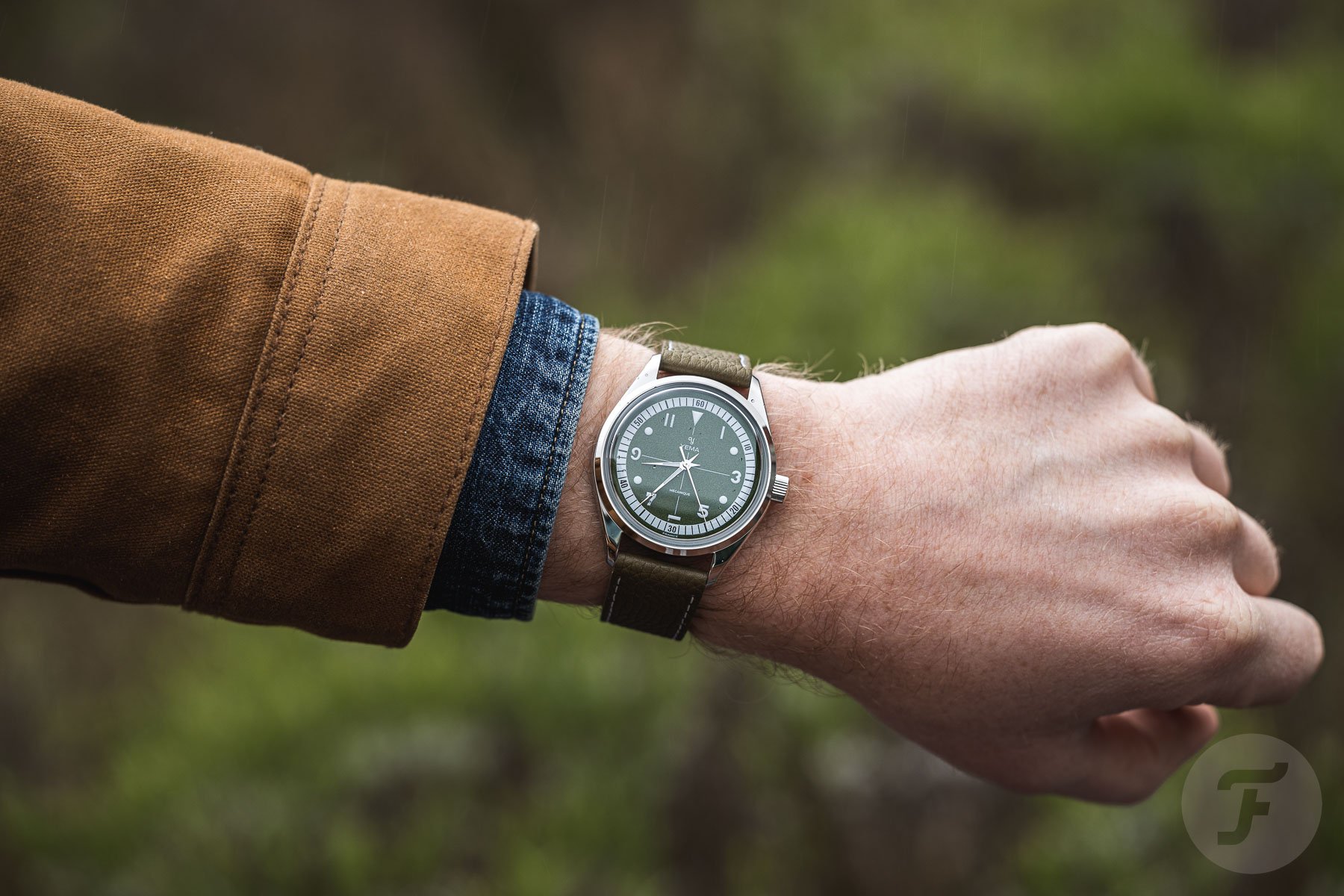 Field watches and such
The Yema Urban Field is, as the name states, a so-called field watch. Ah, this definable yet hard-to-define category of watches is back again! At their core, field watches stem from military pieces that were legible. They were also designed with some level of durability, lending them a tool-like vibe. No matter how we define this curious category of watches, they're known to be versatile and can play the part of semi-dressy or sporty. Due to my smaller wrist, a field watch is a pretty typical choice for me.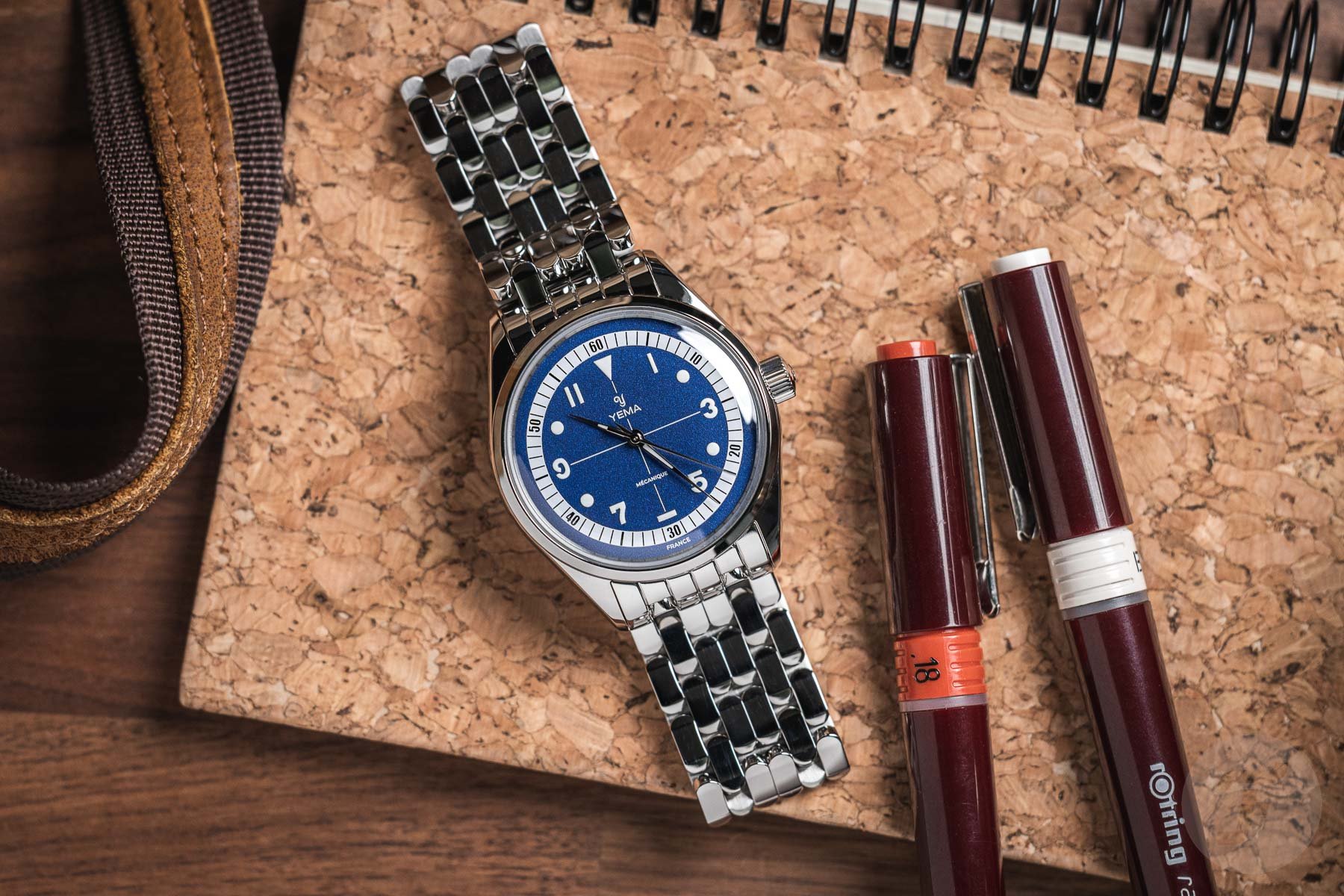 The Yema Urban Field
Regarding the new Urban Field, Yema has made some interesting decisions. Let's start with the fact that there are five(!!) dial colors for these watches. Silvery white, golden brown, green, black, and blue are all available, and all have a sandblasted finish. In a move that should satisfy most customers, Yema is offering the watch in both 37.5mm and 40mm diameters. Both cases come in at 9.6mm thick including the double-domed sapphire crystal. The smaller version has a lug-to-lug of 45mm and the larger stretches to 48mm. All in all, both are extremely wearable.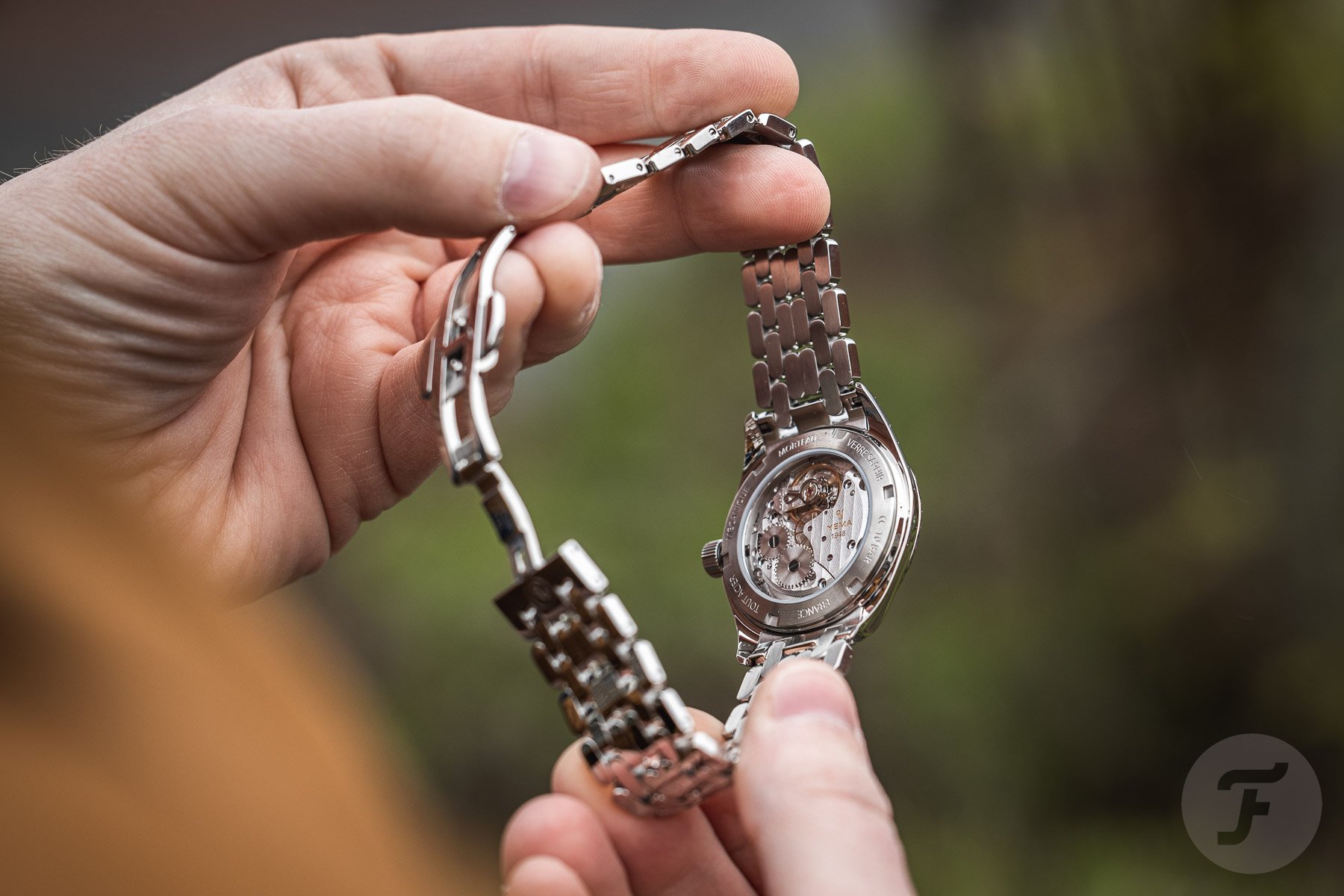 To keep the variety coming, there's also a choice of either a 20mm Bonklip-style bracelet or a polished beads-of-rice bracelet. No matter which bracelet (or watch diameter) one chooses, an 20mm leather strap comes with the watch as well. Now, my favorite part of the Yema Urban Field relates to the movement. An automatic caliber would have been the easy choice, but Yema has gone with the hand-wound Sellita SW210-1b, and it's finished with blue screws and Geneva striping. The movement is on display via a screw-in display back, and it looks great.
A recognizable yet fresh dial
When creating a field watch, it's hard not to fall into the trap of creating yet another 3-6-9-12 dial that harks back to some military reference. The Yema Urban Field does contain Arabic numerals on its dial, but the look is fresh. Interestingly, the designers chose to print the odd numbers on the dial, and that gives it a different vibe. A mix of triangles, dots, and dashes makes up the remaining hour indices. The dial itself is segmented into quadrants with thin lines emanating from the center. The printing is either in black or white depending on whether the dial color is light or dark. This printing is also used for a minute track on the edge of the dial. Finally, Yema chose polished dauphine hands filled with Super-LumiNova BGW9. They're small but legible enough against the dial surface.
If it sounds like a lot is going on, there is! Somehow, though, the dial doesn't look too busy or too sparse. Kudos to Yema for keeping the writing to a minimum to maintain symmetry and balance. Is the Yema Urban Field an absolutely new design among its small-brand competitors? No, but it has enough of its own style to make it stand out in a crowd, and the use of a hand-wound caliber makes a big difference.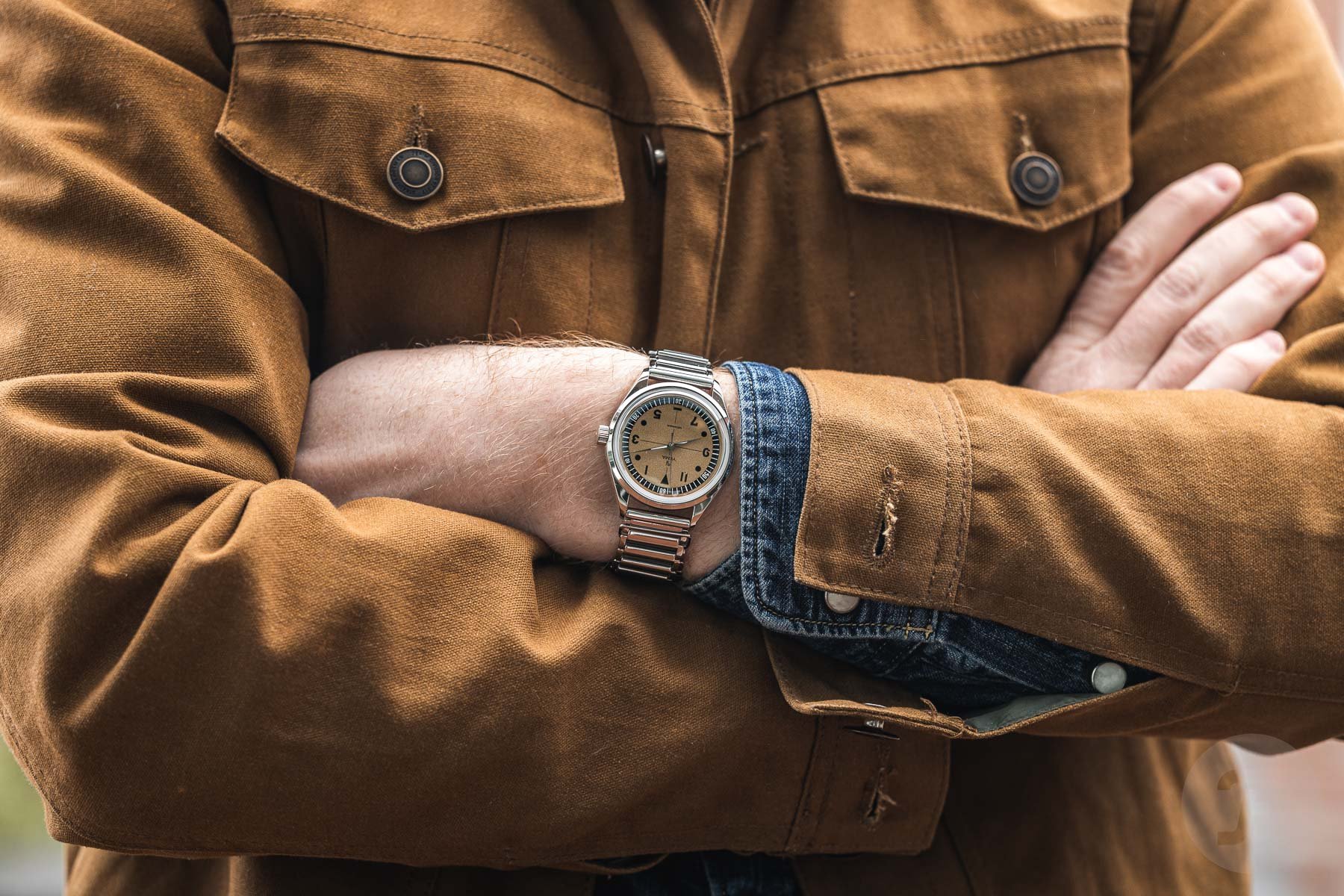 Wearing the Urban Field
From a case perspective, the Yema Urban Field hits a real sweet spot in terms of wearability. This is one of those watches that melts onto the wrist. For my small wrist, the 37.5mm version is the way to go, but even the larger edition works well due to its moderate length. When it comes to my questions and concerns, they all have to do with the heft and brightness. Let me explain…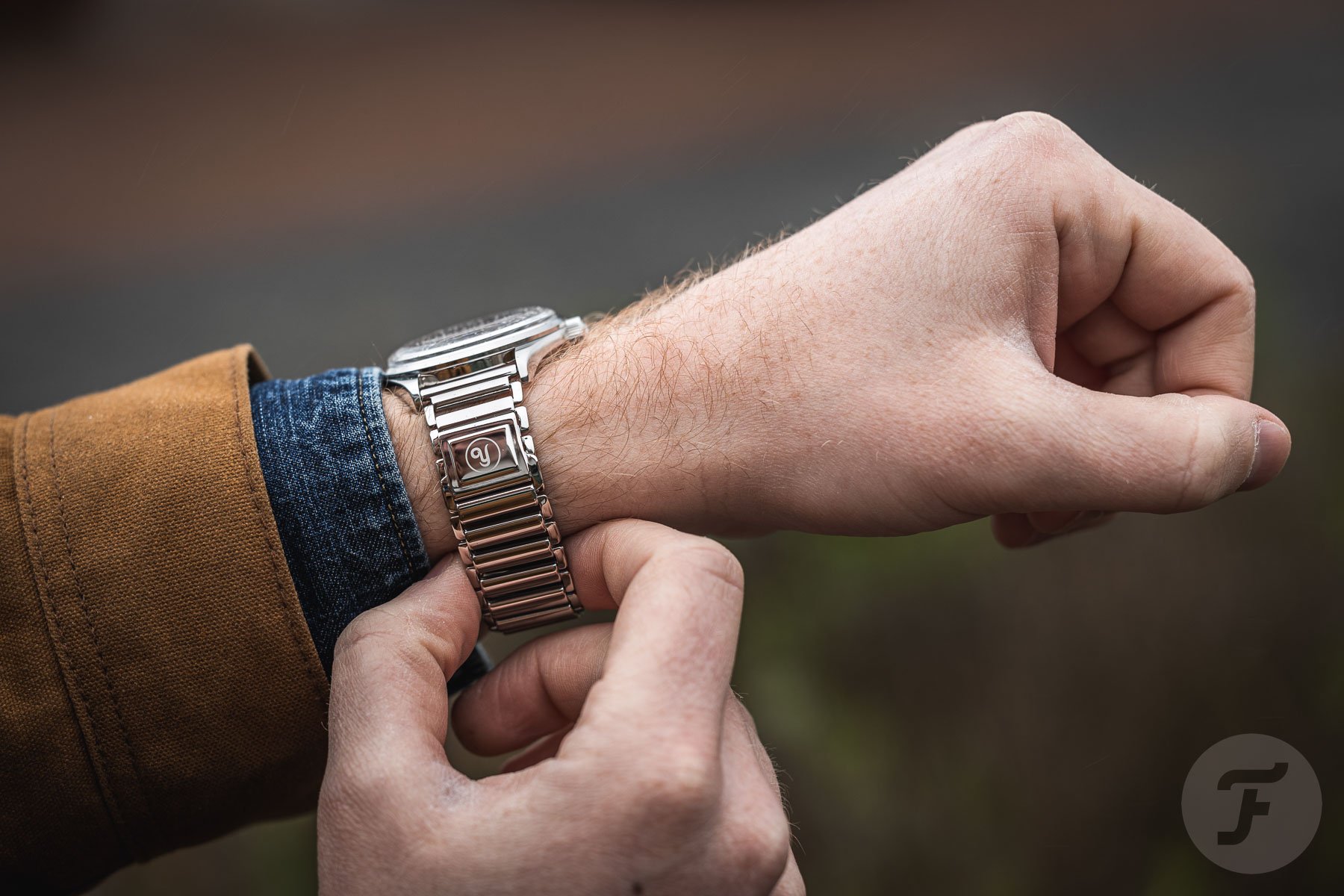 Yema has made a big deal about offering its own Bonklip bracelet design as a throwback to vintage military watches, and it does look the part. What's important to note about bracelets of this style is that they're very light. In fact, they're so light that they can feel fragile and fiddly. Plus, the clasp uses a hook system that also feels very light, but the bracelet is highly adjustable. Again, these aren't issues with Yema so much as they're issues with the original Bonklip design.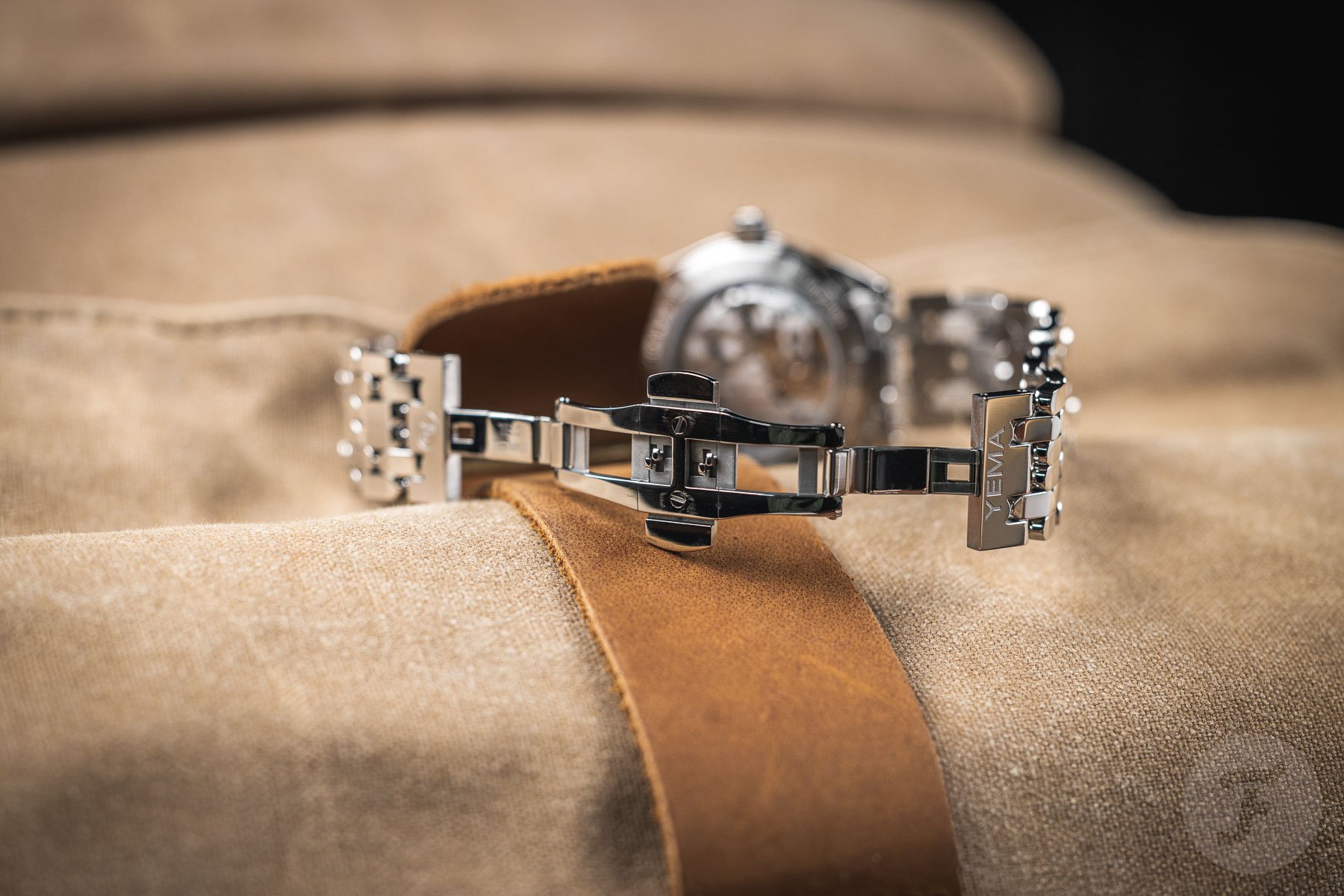 Highly polished
The other option for the Yema Urban Field is a newly designed beads-of-rice bracelet. Here, Yema touts the fact that each link is milled out of stainless steel and polished by hand to match the polished case. It uses a butterfly clasp that is actuated via push buttons on either side of the clasp. The positive aspect of the bracelet is that it is well fashioned and also curves well around the wrist. My beef with it, however, is the highly polished look. In fact, it shines a light (no pun intended) on the highly polished case.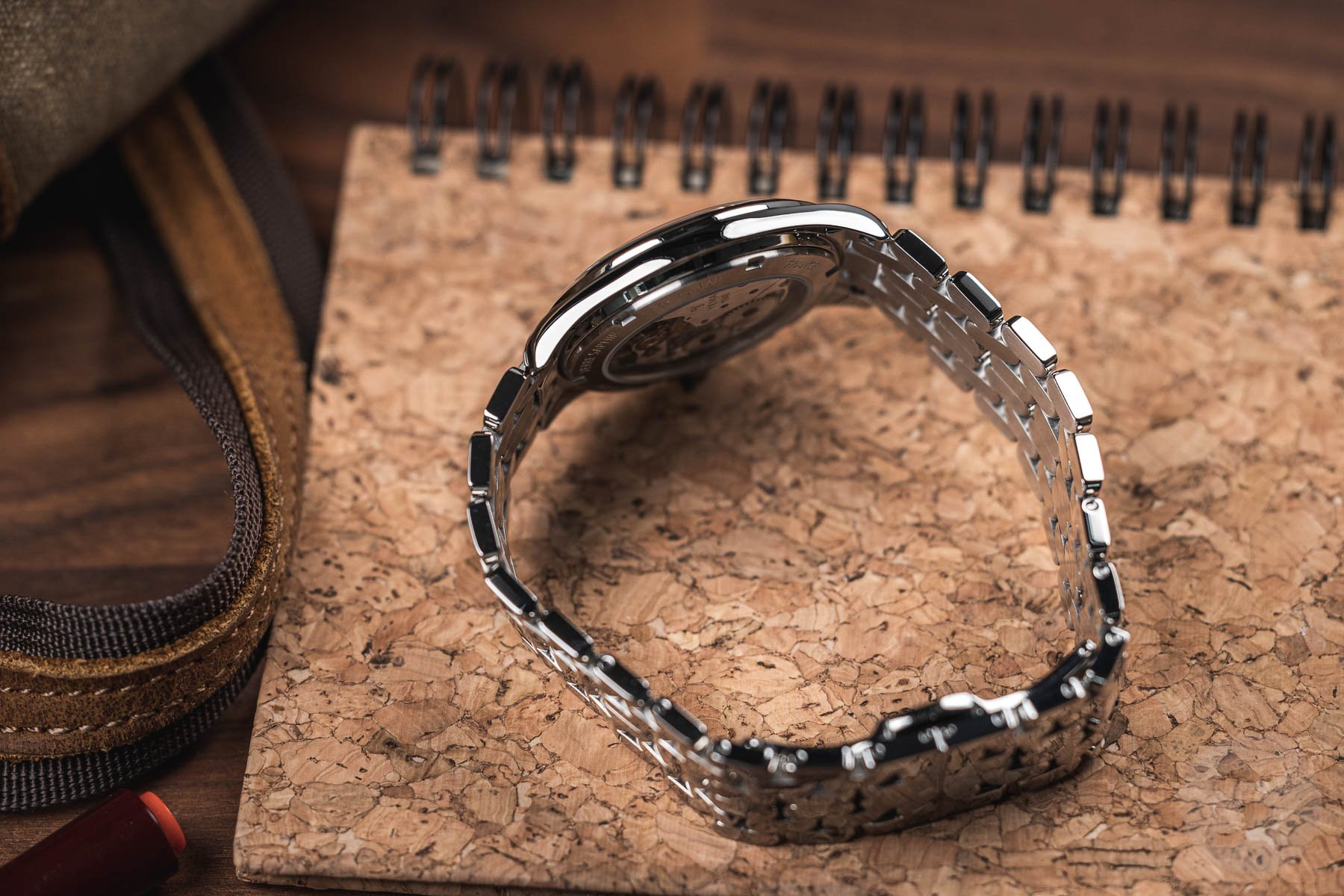 Now, I think that using polished surfaces helps sell the "beach to boardroom" use case, but I would have liked the tops of the lugs in a matte finish. To me, it adds a more durable look to the watch and also wards off pesky fingerprints. Plus, the watches are truly loud with the beads-of-rice bracelet. The look is less pronounced on the Bonklip, but it lights up on a leather strap again. Watch designers make choices — whether we fall in love with them truly comes down to personal preference.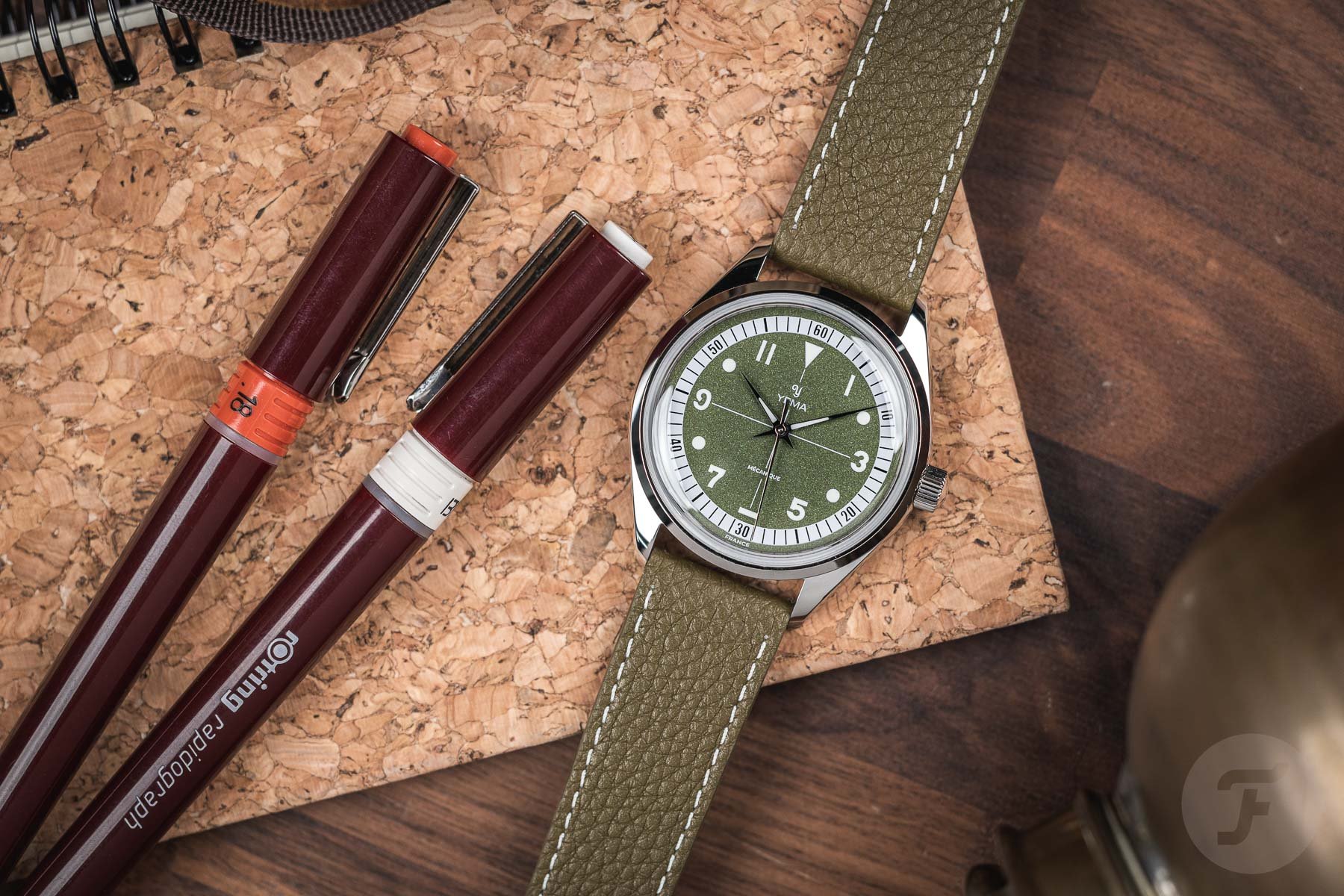 Pricing and availability
The Yema Urban Field in either diameter is available for €949 on a leather strap or €999 on the Bonklip bracelet; buyers can choose from either a 20cm or 23cm length. The beads-of-rice bracelet brings pricing up to €1,129. The watches can be ordered now via the official Yema site, and the first 300 pieces are set for delivery in June 2023.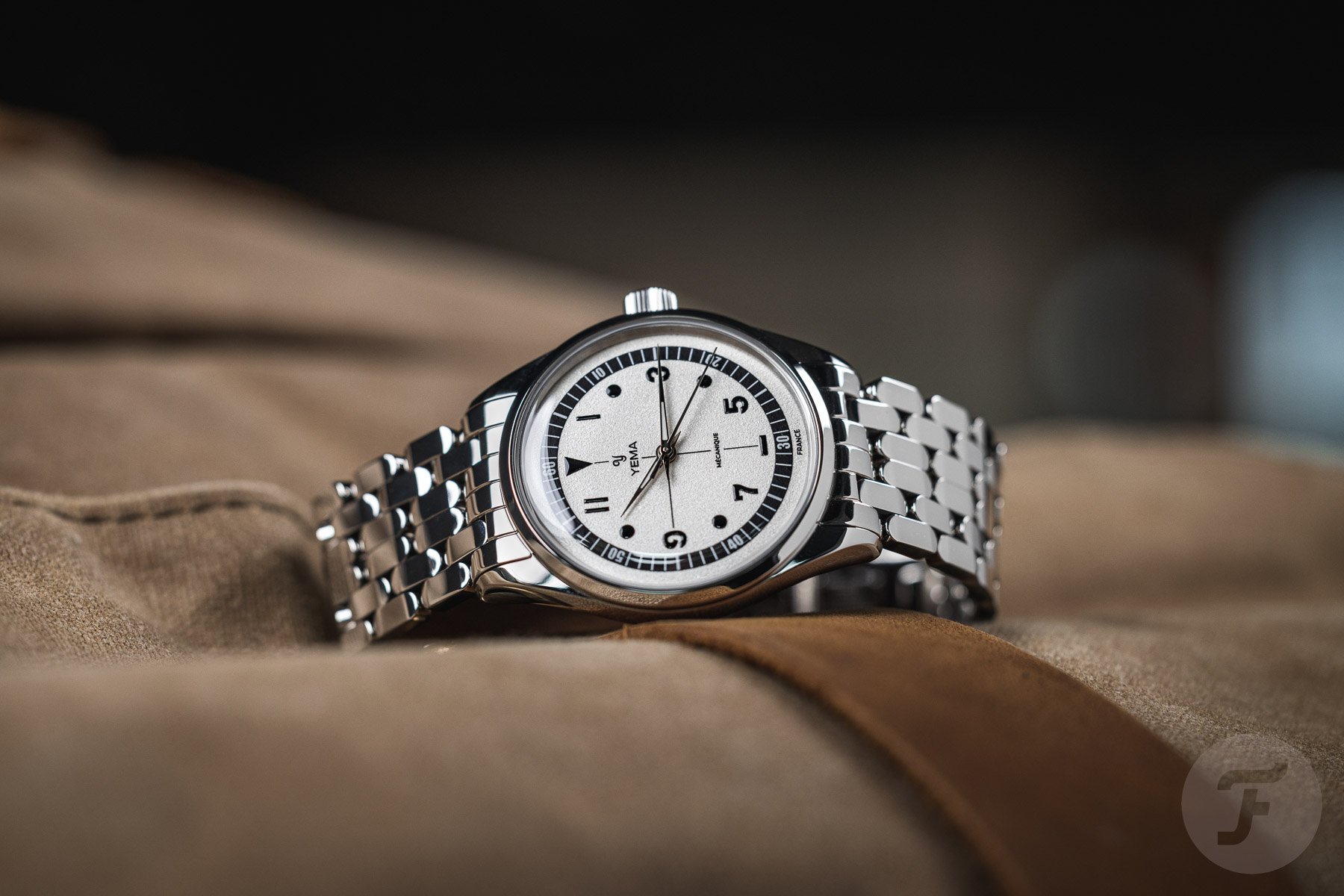 Final thoughts on the Yema Urban Field
I raised my hand to review the Yema Urban Field as soon as I heard about it. This is my style of watch, and the fact that it's using a decorated hand-wound caliber makes it all the more attractive. I credit Yema for offering so many attractive combinations and two different sizes. Do I love the fact that the watch is highly polished? Not really, and the bracelets aren't necessarily my favorite designs either, but perhaps I'll be in the minority with those sentiments. Regardless, there are far more positives than negatives here, and I'm pleased that watch buyers now have such a wealth of options. What are your thoughts about these new pieces and how do you rate them versus other field watches? Let us know in the comments section below.
Watch specifications
Dial
Available in golden brown, silvery white, black, blue, and green. Sandblasted finish, printed markers, steel hands with polished finish, Super-LumiNova BGW9 Grade A.
Case Material
Stainless steel (316L)
Case Dimensions
37.5mm (diameter) × 45mm (lug-to-lug) × 9.6mm (thickness) × 20mm (lug spacing) / 40mm (diameter) × 48mm (lug-to-lug) × 9.6mm (thickness) × 20mm (lug spacing)
Crystal
Double-domed sapphire crystal
Case Back
Screw-in display back
Movement
Sellita SW210-1b — Élaboré grade, hand-wound mechanical, 28,800vph frequency, 46-hour power reserve Daily rate +/- 7 seconds, Maximum rate +/- 30 seconds
Water Resistance
10 bar (100 meters)
Strap
Bonklip-style bracelet (20cm or 23cm length available) or stainless steel beads-of-rice bracelet. Includes leather strap with pin buckle.
Functions
Time only (hours, minutes, central seconds)
Price
€949 on leather / €999 on Bonklip bracelet / €1,129 on Beads-of-rice bracelet