Hands-On Sinn 140 St S Review – The Space Chronograph
Sinn 140 St S Review
If you are not familiar to Sinn or the story behind this 140 St S model we are about to review, you might have frowned your eye brows when reading those two words in the title of this article. Space Chronograph. Wait, wasn't that about this other brand? Yes, but of course the Omega Speedmaster wasn't the only watch worn in space. ESA astronauts – other than NASA astronauts – made their own decision about the watch they wanted to wear. Some ESA astronauts bought Seiko watches (the Seiko A829-A6019 to be precise), some have worn Casio G-Shocks and ESAvastronaut Reinhard Furrer bought a Sinn 140 S in those early 1980s. He wore it during the D1 Spacelab Space Shuttle STS-61A mission in 1985. As far as we know, he bought it himself at Sinn. Asking for a mechanical self-winding chronograph. Our Sinn 140 St S review will give you some insights into the successor of Reinhard Furrer's watch from the 1980s.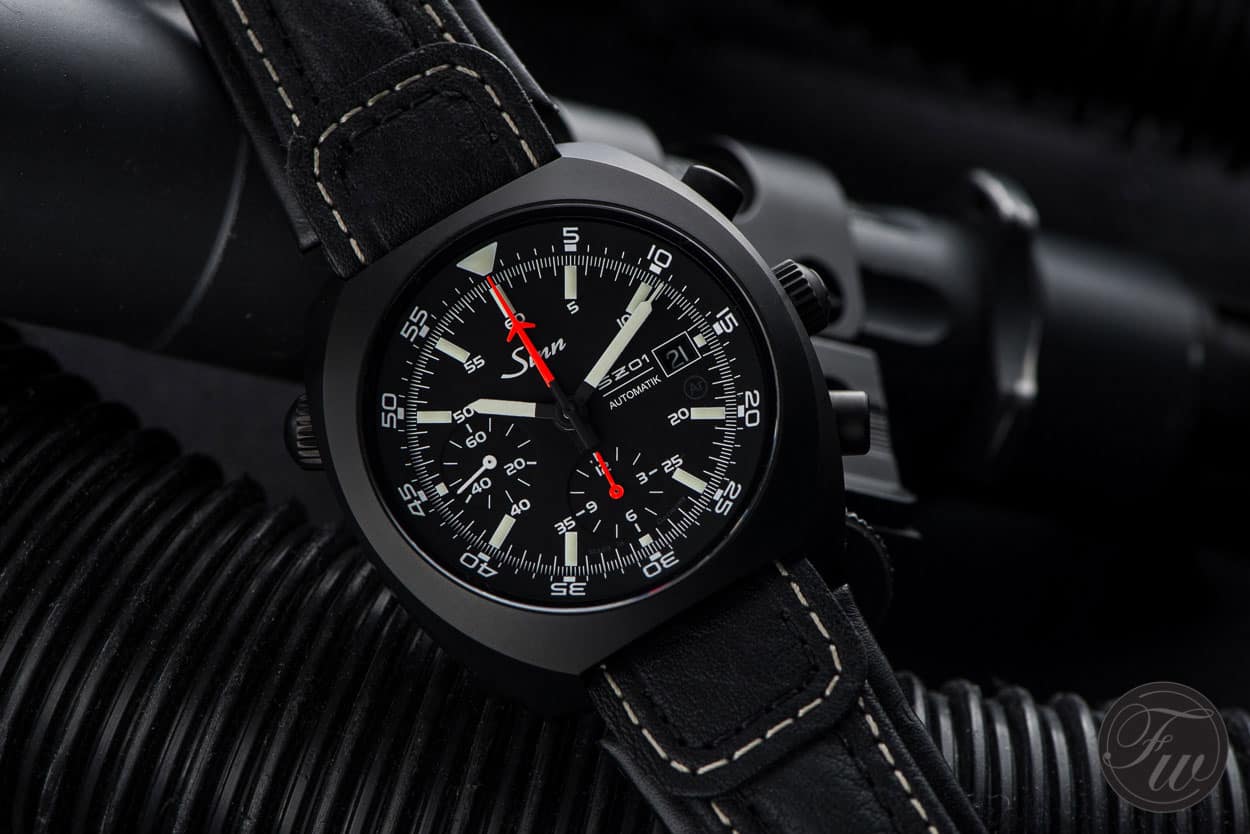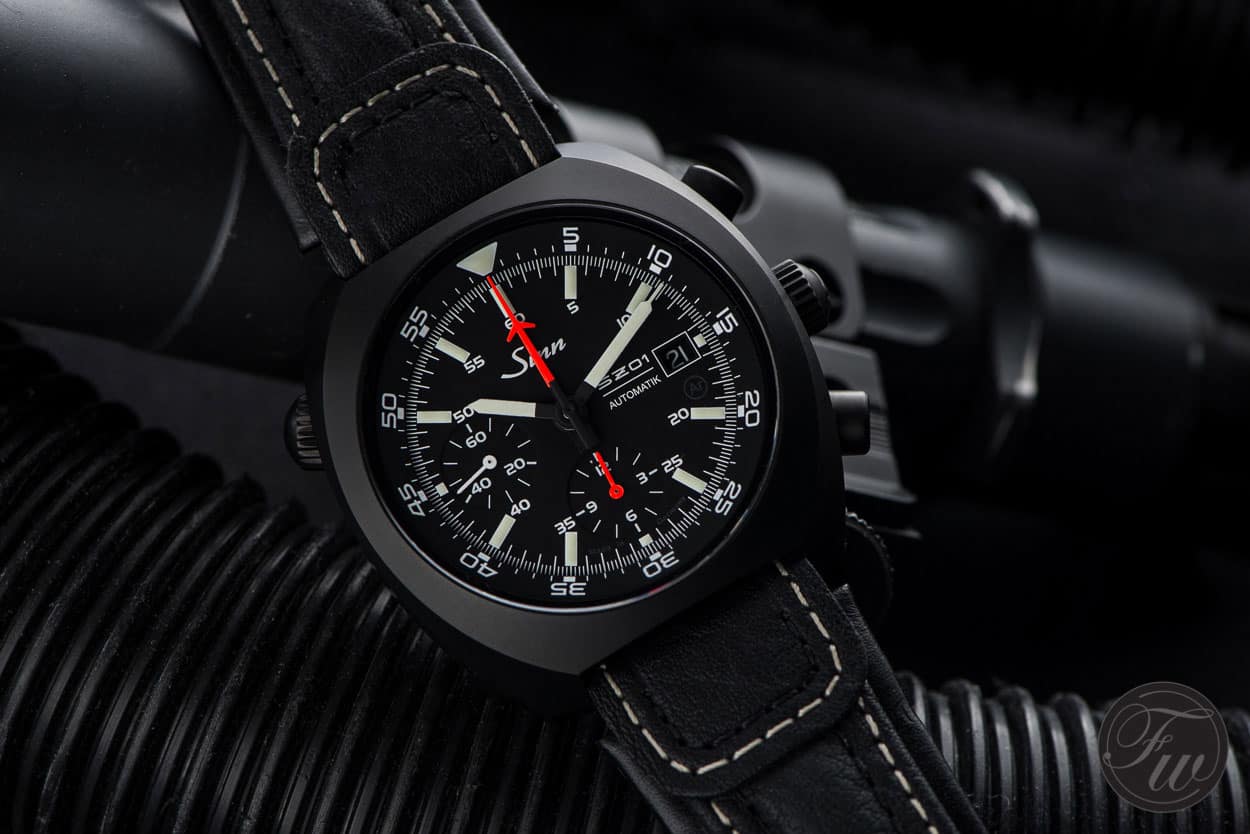 The Sinn 140 St S we had for review is not the same watch, but an up-to-date version of the 140 S model that Reinhard Furrer used to wear. As you perhaps can see on the photo below of Reinhard Furrer, the original 140 St S had a day and date indicator and used the famous – but discontinued – Lemania 5100 movement. Although normally the Lemania 5100 movement also has a 24 hour indicator, it was removed for the Sinn 140.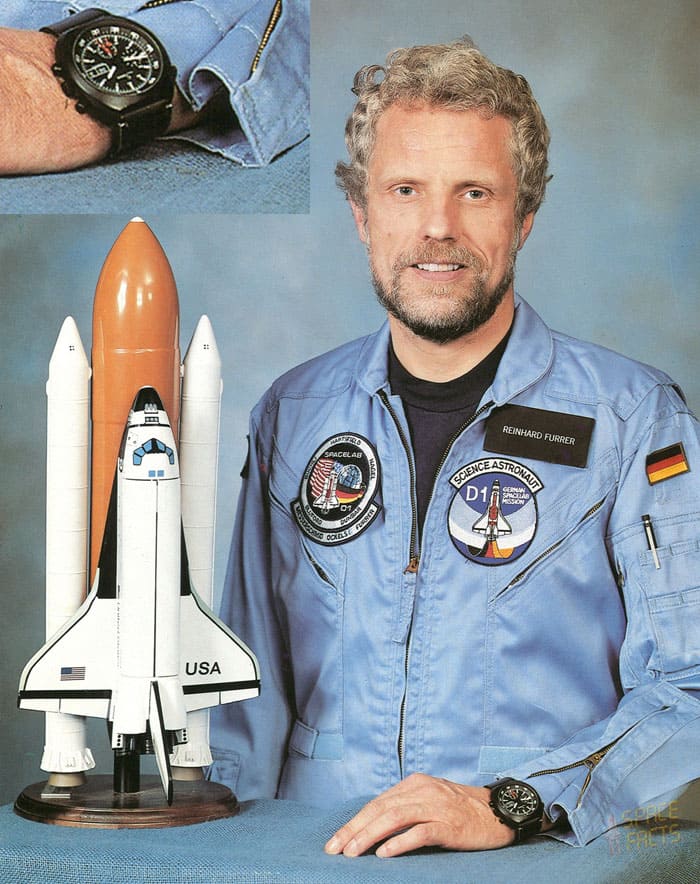 Well, this Sinn 140 St S review is of course about the new model and not about the Sinn 140 S that Reinhard Furrer was wearing (did you know he also had a NASA supplied Omega Speedmaster Pro? We've found it some time ago and publish an article on this astronaut's Speedmaster).
I have to admit that during the period of wearing this Sinn 140 St S, I started to regret that I sold my own Sinn 142 St S some time ago. The Sinn 142 St S also had a Lemania 5100 movement, but did feature the 24 hour indicator. I bought one somewhere in 2005 and about a year later I sold or traded it for another watch.
When I unpacked this new Sinn 140 St S I immediately felt again how I felt when putting on that 142 St S. Upfront I was a bit worried that this new 140 St S with its Sinn SZ01 chronograph movement (based on the proven ETA 7750 movement) couldn't live up to my expectations as I pretty muched projected that Sinn 142 St S as being one of the most perfect tool watches. Although the Lemania 5100 movement was certainly not free from any errors, it was hailed by many chronograph collectors and enthusiasts.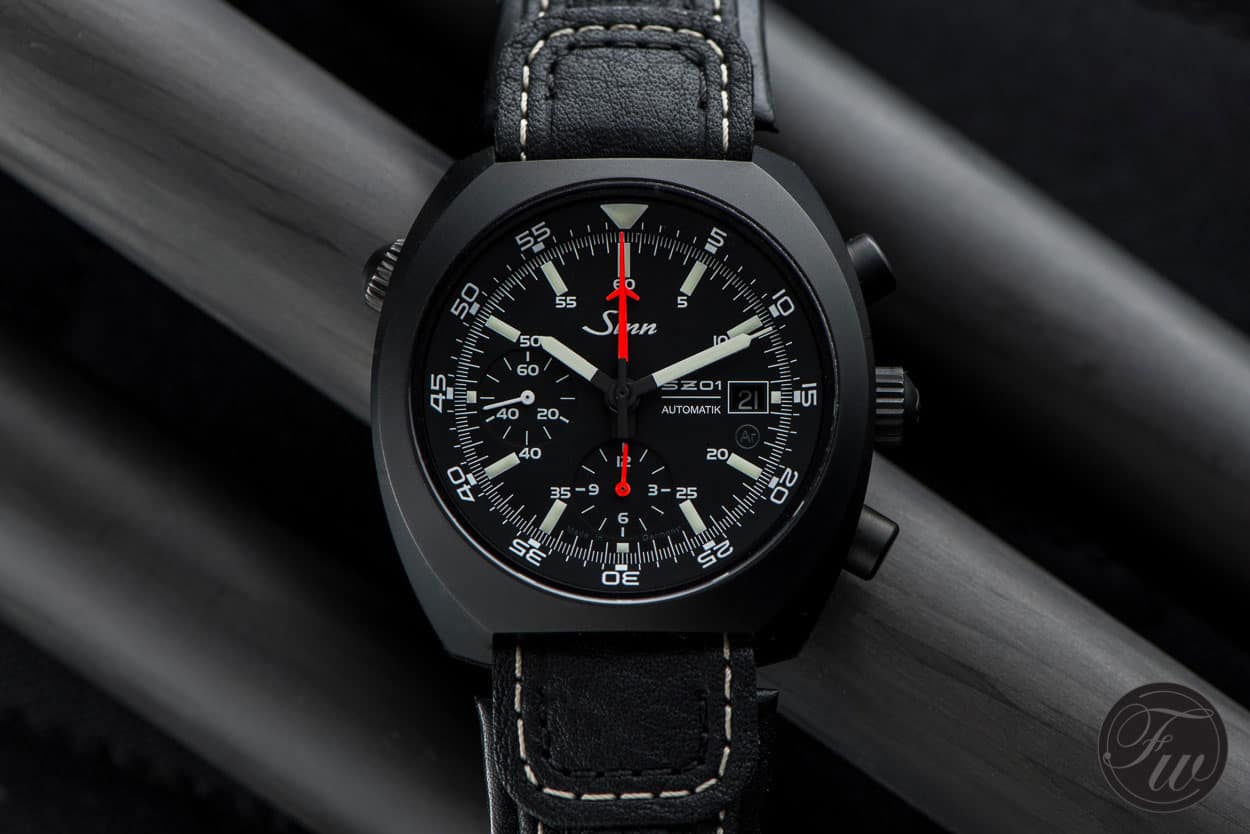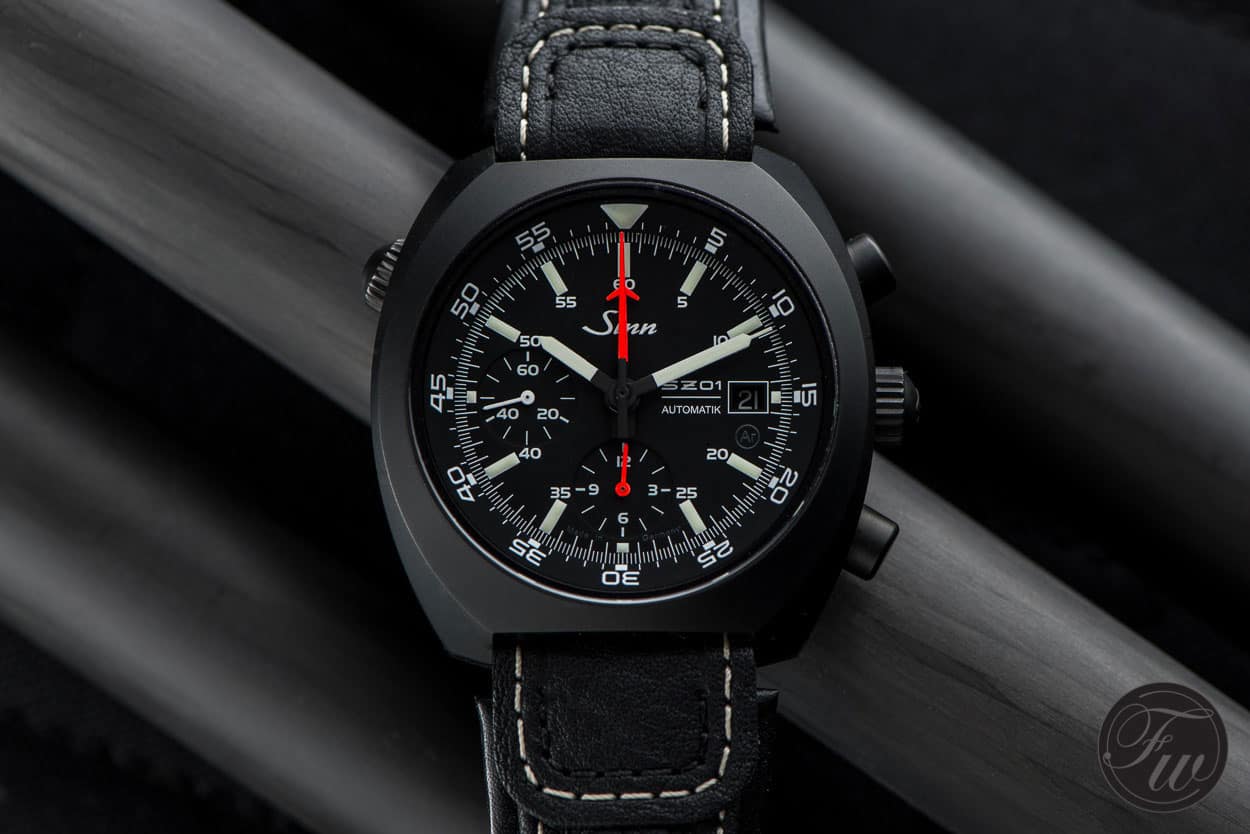 Interesting to mention is the letter that came with the package from Sinn SpezialUhren in Frankfurt, Germany. Not only did it come with the box and instruction manual (we get a lot of watches wrapped in special travel cases, no instructions or whatever), there was also a sheet with all technical specifications including some background on its flight history as well as a letter that contained the test results of this specific watch (matching serial number) performed by the fine people over at Sinn. Note: Normally Sinn is not providing these documents to consumers. It is being done for editors & journalists who do not have access to a device for accuracy tests.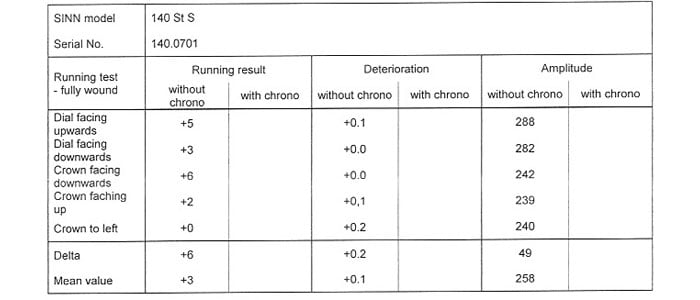 It shows how serious Sinn takes its business and wants to deliver high quality functional timepieces. This new Sinn 140 St S is actually a totally different watch from that vintage Sinn 140 we refer to all the time. Sinn specializes in functional watches and solutions for real problems you (can) encounter as a wearer. This means we are not talking tourbillon or minute repeater here (nevertheless great useless solutions), but solutions to prevent watches from fogging up, from scratching, pressure resistant, shock resistant, anti-magnetic and so on. Sinn even makes sure these solutions are done according to official DIN standards (DIN 8308 for shock resistancy, DIN8309 for its anti-magnetic solution, DIN8310 for being water resistant).
The black hard coating on the stainless steel case of the Sinn 140 St S is done using their Tegiment technology. The Ar-Dehumidifying Technology is there to prevent the watch from fogging. In short, it means that it prevents the oil of the watch from aging due to the moisture of the air inside the watch. Although the entire solution is quite complex, one of the elements is the use of a drying capsule. This capsule is filled with copper sulfate that absorbs the moisture from the air inside the watch case. The drying capsule will indicate the level of absorbed moisture from the watch by its sapphire crystal that enables the wearer to see whether the copper sulfate has turned blue (meaning the absorption of moisture). On the Sinn 140 St S reviewed, the drying capsule is located in the lug at approx. 7.30. See below.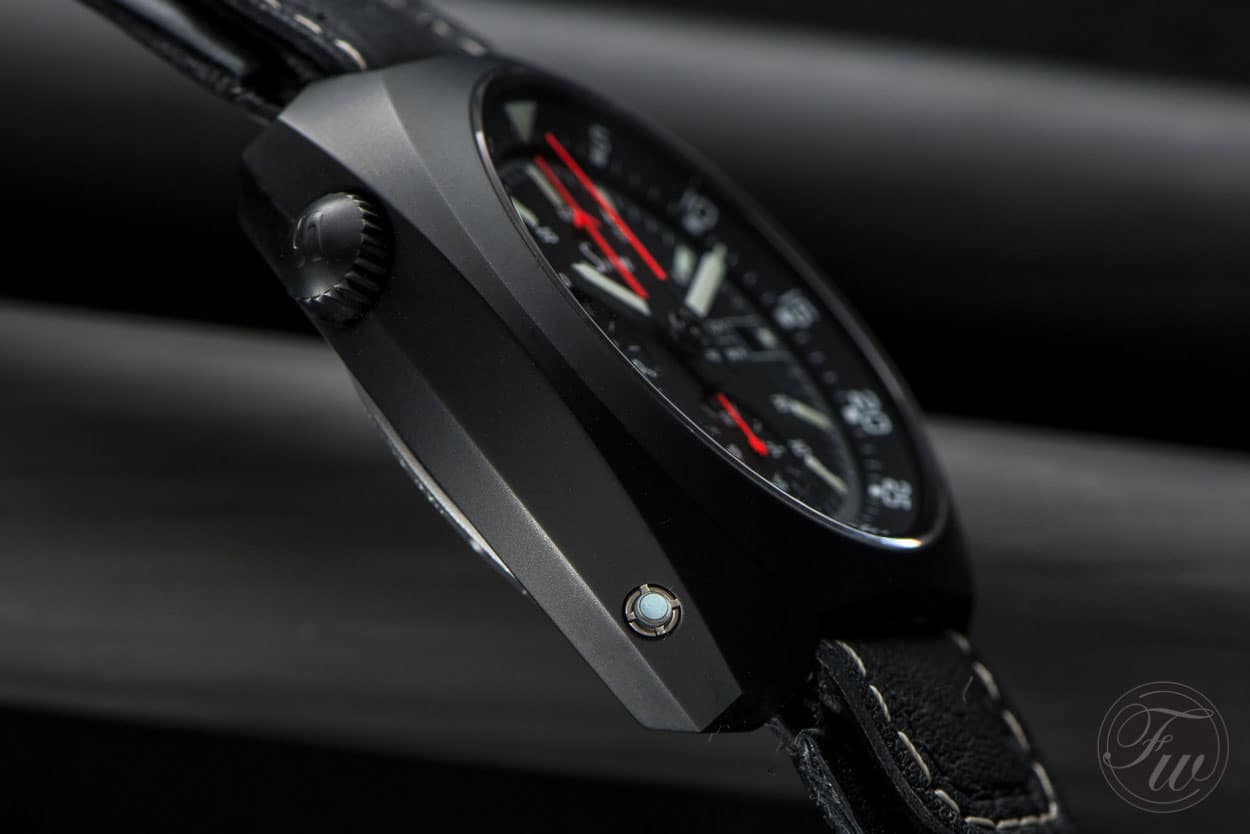 The SZ01 movement is – as written above – designed based on the famous ETA/Valjoux 7750 movement. The free spinning direction immediately unveiled the use of this Valjoux 7750 movement. Some like the typical wobble this movement generates, others don't. It is a matter of getting used to it basically. As you can see, the movement has been redesigned in such way that it has a centralized minute chronograph hand. According to Sinn they have worked on the development of the SZ01 movement since 2003. It does resemble the look & feel of the original Lemania 5100 movement to a certain extent. A job well done.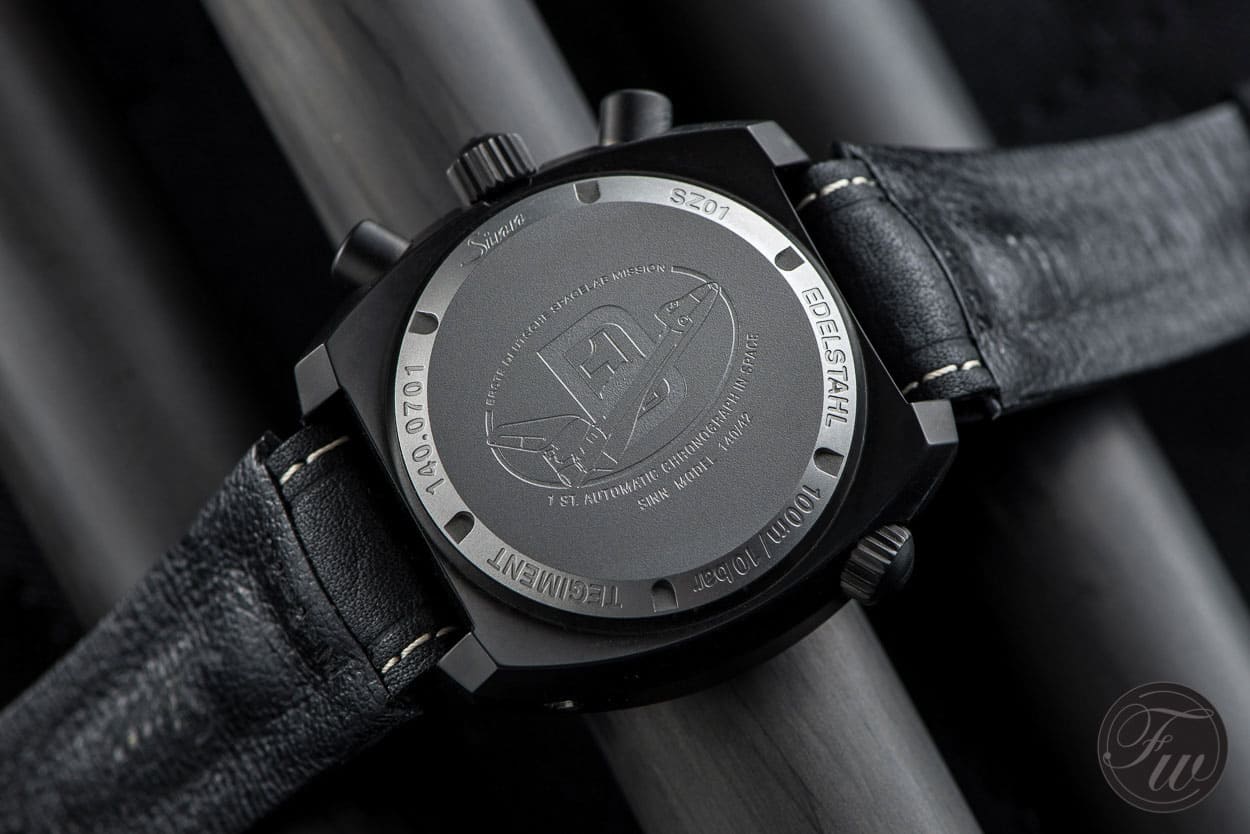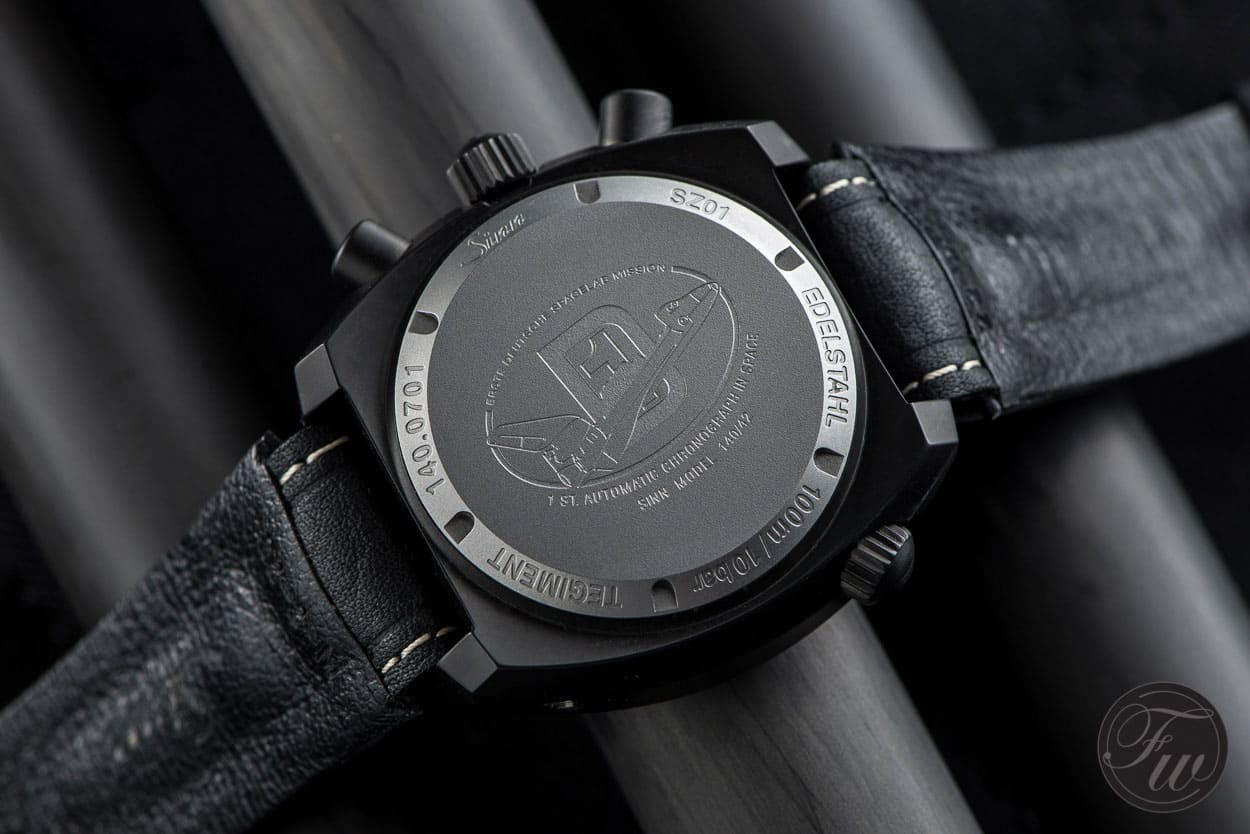 The case back shows an inscription of the aforementioned D1 Spacelab mission as well as some of the specifications of the watch.
A functional watch mostly means a cluttered dial, but Sinn masters the art of designing watch in such way that they are very easy on the eyes. Very readable, so to speak.  The matte black dial has luminescent hour markers, time-only hands and the chronograph hands are painted with a bright colour for perfect readability in daylight.
The crown at 10 o'clock is used to rotate the inner bezel of the watch. Both crowns are signed with Sinn's logo.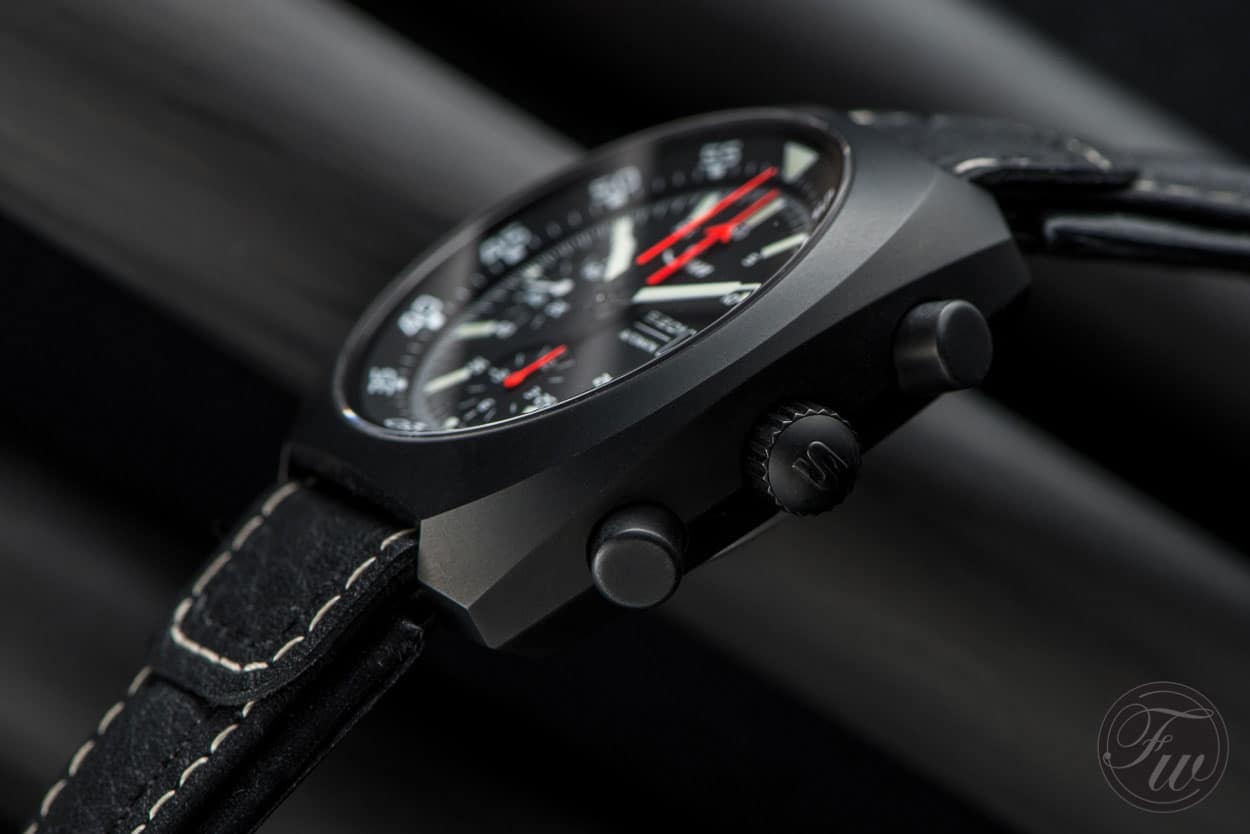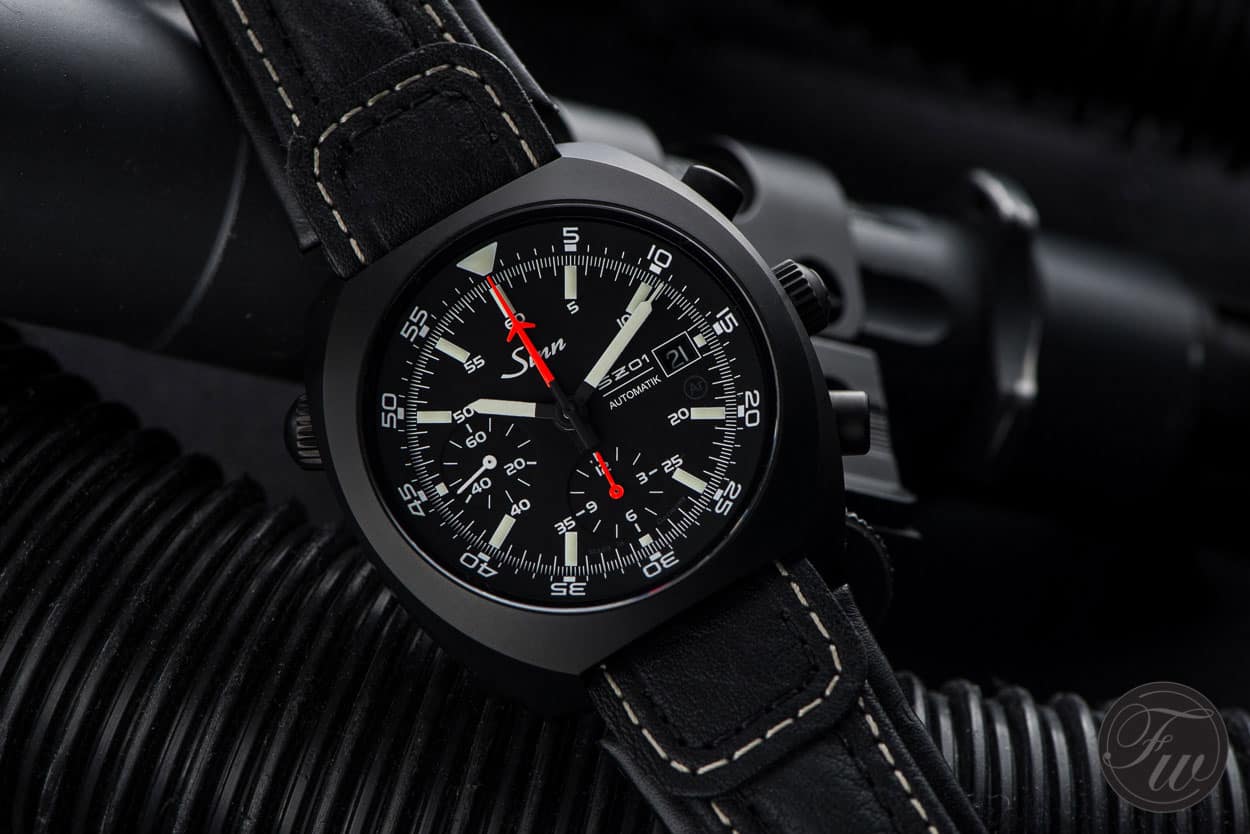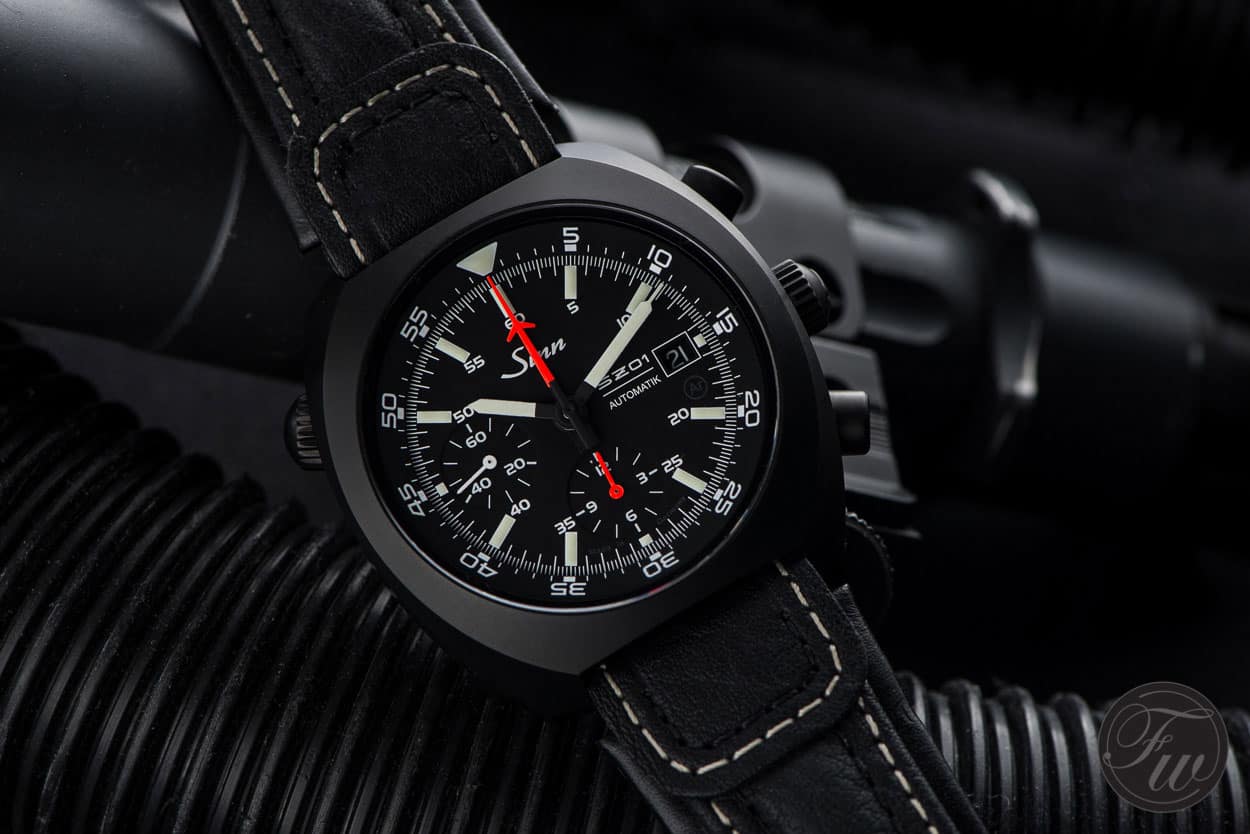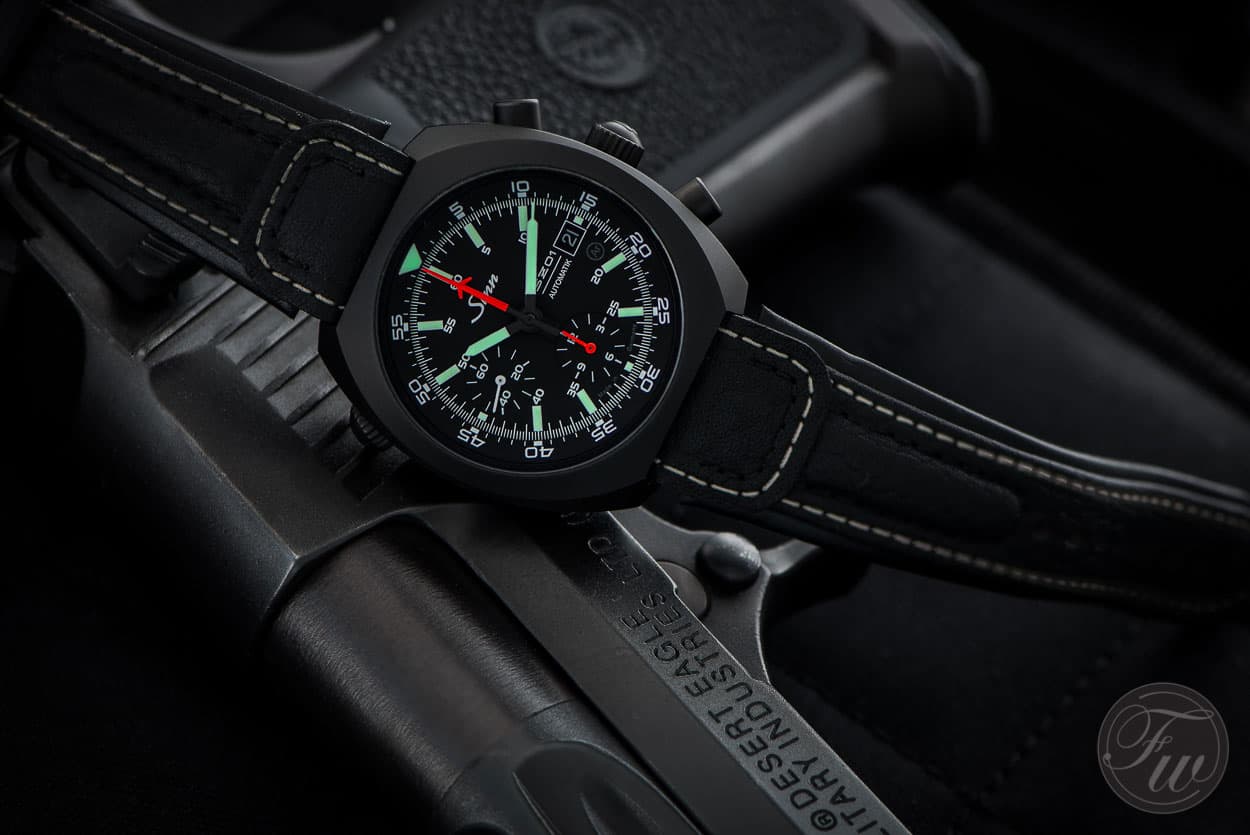 Although it is very tempting to rant on about the functions and engineering of the watch in general, I guess you want to know how this watch wears and whether it is a good buy. That's basically what this Sinn 140 St S review is for, as the technical specifications and explanation can be found in detail on the official Sinn website.
The size of the watch is 44mm x 22mm and it measures 15mm in height. It is not a small watch by all means, but certainly wearable. We had the version with the leather strap but this watch can also be ordered with a stainless steel black bracelet. The strap seems to be very similar to the Chronissimo strap from Di-Modell. A very soft and comfortable leather strap that matches the sportiness of the Sinn 140 St S.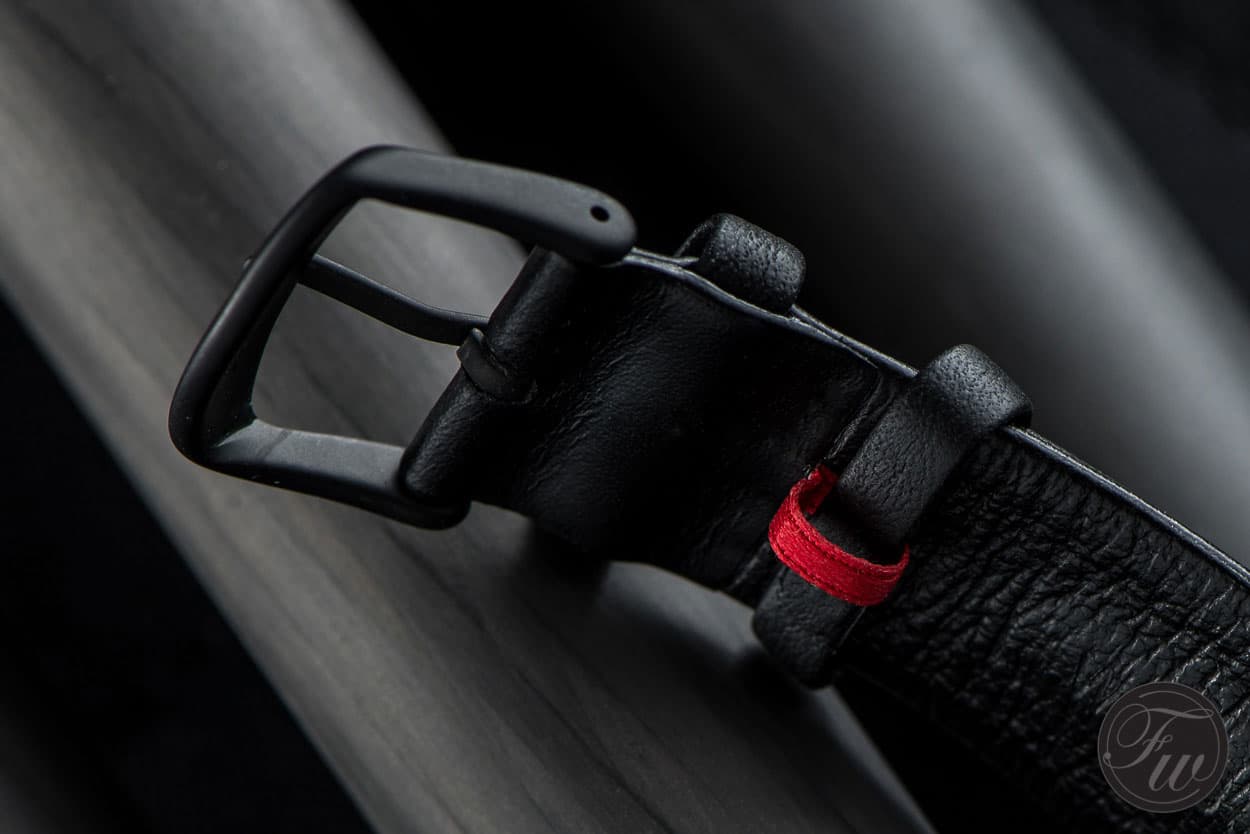 I wore this watch myself for over a week non-stop and it is a great daily wearer. I didn't have use for the inner bezel, but I do occasionally use a chronograph. I love the central minute hand on a chronograph, as I have them on my Omega Speedmaster 125 and Mark IV (both Lemania 1342 based movements) as well. The pushers worked all the time, very snappy. It is not as soft a pushing a column wheel chronograph button, but it does feel solid. Perhaps that is a good description of the Sinn 140 St S in general, a good and solid watch. If you take its list price of 3490 Euro* (leather strap version) into consideration, you are getting a timepiece with a lot of technology inside. The big plus is of course its history with Reinhard Furrer (astronaut Klaus-Dietrich Flade wore a Sinn 142 model in 1992 on the Mir-92 mission) for all those space nuts out there. The Sinn 140 and 142 are iconic watches in a way, but yet only known by watch aficionados. On the other hand, try to get an original Lemania based Sinn 140 or 142, it will be a tough job. Sinn fulfils this gap and demand with their line-up of new Sinn 140 watches.
*Price based on the list price for German and European customers who order directly at Sinn. In other parts of the world Sinn works with a classic distribution which causes the prices to be higher in some cases.
Our photographer Bert also strapped the watch to his wrist for a couple of days and we are both think that it is a very cool watch to own. To be honest, although it would be nice to own an original 140 or 142, this model will do the job perfectly as well. Unless the Lemania 5100 is really your thing, there is no rational reason not to go for the new Sinn 140 St S. As you can see on the photos, we decided to stay in the black theme, but the Sinn 140 St S will look good with a colourful summer outfit as well by all means.
If you have any comments on our Sinn 140 St S review, leave them in the box below. All photos in this article can be clicked for larger versions.