Hot Take: Longines Master Collection Moonphase
Available in 40mm and 42mm
There wasn't much Longines news this year. After their move from Baselworld to 'somewhere else', it remained very silent and the 'somewhere else' is yet to be discovered.
Instead of 'somewhere else', we received an e-mail with some novelties: the new Master Collection. Downloading the press kit in English leaves us with a technical specification sheet in Turkish (bravo!). As I can read some German, I've tried that one instead, and it worked. Enough with the complaining, but it just baffles me how a brand like Longines gets surpassed in professionalism by the average Kickstarter brand when it comes to these things.
We received two new models, but apparently, there are quite some references available. The technical spec sheet in German, indicates there are 15 new references for these two new models. These differences are mainly to be found in the dial execution and the choice for strap or bracelet. All these models can also be seen on the official Longines website. But click on them, and it leads to an overview of all Longines Master Collection models, and not the new references. Well done. There's a solution to this, though. I was on the "international" website, click a country (like the United Kingdom for example, or the USA), and it is fixed. Be careful, though, not all countries 'work'. Let's hope they will fix this soon.
Anyway. After having spent 20 minutes and 200 words on this, let's move on with the watches.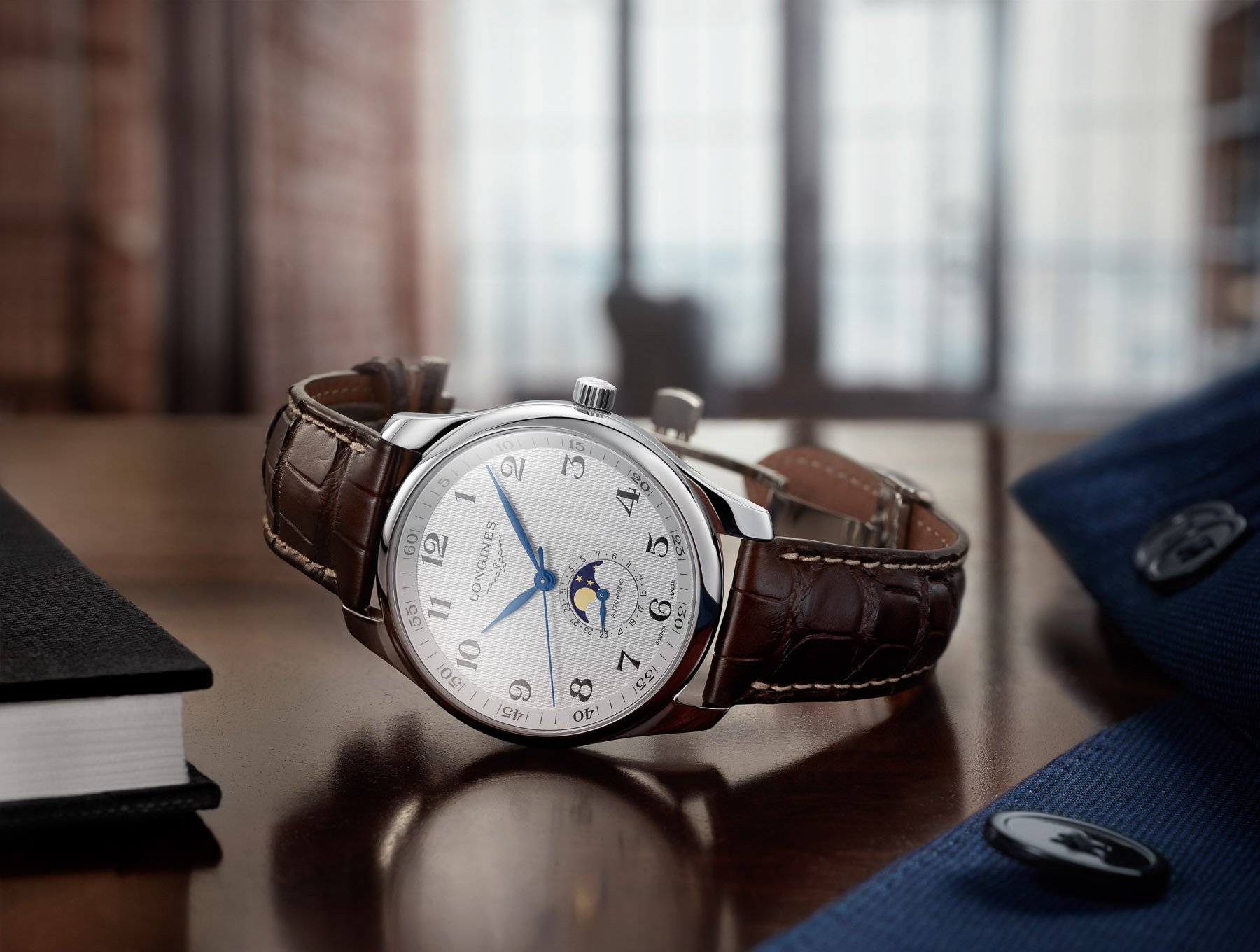 Longines Master Collection Moonphase
Longines is known for creating watches in the affordable segment. And what's more fun than to have an affordable watch with a beautiful complication? One of the nicest complications in my book is a moon phases indicator. It isn't very useful, but it speaks to one's imagination for sure. Another cool thing, which you might disagree with, is that Longines offers them in 15 references, so there's enough to choose from.
There are three dial colours available: blue with a sunray finish, silver with a barleycorn motif and black with a barleycorn motif. The silver and black dials are perhaps a bit more classic, where the blue dial is a bit more playful. The Longines Master Collection Moonphase is available in two sizes, 40mm and 42mm.  On top, for the 40mm version, Longines added dials with diamond hour markers. Once you're done with those, you need to select the strap colour of your choice (black, blue or brown) or go with the stainless steel bracelet.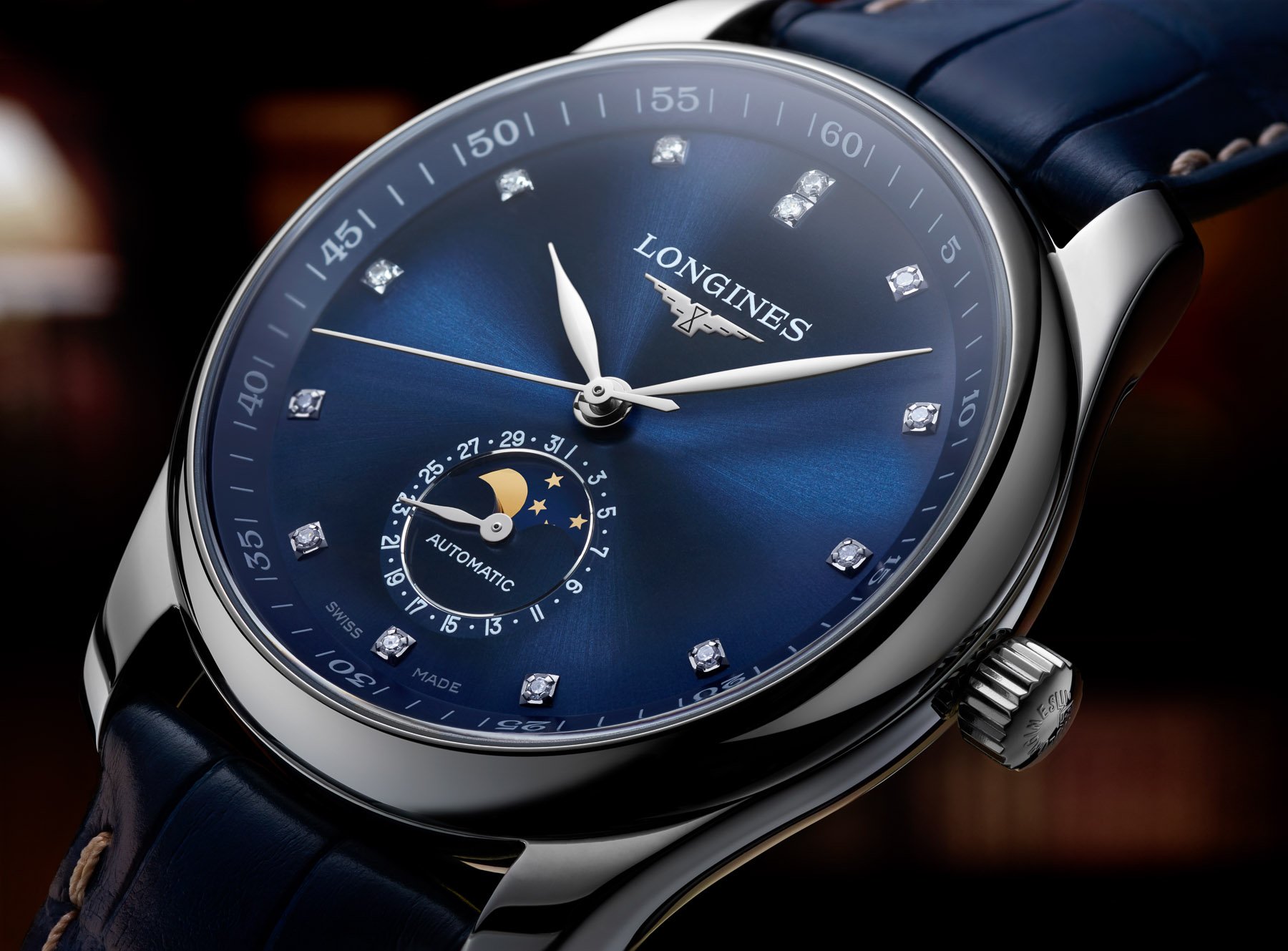 My favourite version is the 40mm edition with blue sunray finish dial and a blue alligator leather strap. The Longines Master Collection Moonphase watches with a leather strap, also come with a double folding clasp. As no pricing in Euro was available (or at least not without clicking 12 times), I will use the USD price. This model start at a very attractive (and aggressive) $2350USD.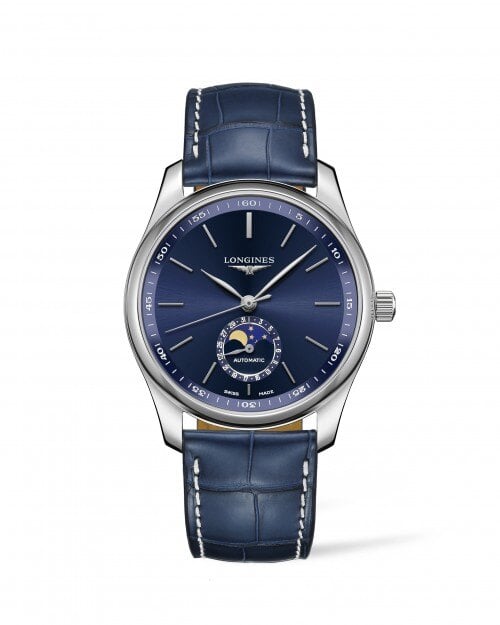 All Longines Master Collection Moonphase models come with the same caliber movement, regardless whether you go for the 40mm or 42mm version. Since 1984, Longines relies on its ETA movements and stopped using their in-house movements. According to CEO Walter von Känel, Longines will not go back to developing their movements in the (near) future. Instead, Longines will be supplied with movements by ETA and sometimes, like in this case; it will be a movement exclusively developed by ETA for Longines. I am talking about the caliber L899 movement (based on ETA's A31.L91). Caliber L899 has a power reserve of 64 hours and ticks at 25200vph, but most important of all, it has the moon phase indicator complication. Besides that, it has a pointer date at 6 o'clock (around the moon phases indicator). The movement is visible through a transparent case back.
Prices start at $2350USD for the 40mm version ($2750USD for the ones with diamond indexes) and $2450 for the 42mm version. The choice for a strap or stainless steel bracelet makes no difference in price. If you go for the bracelet, you can easily add a strap later on (lug-size is 21mm).
For $2350/$2450USD, you purchase a wonderful classic looking watch, with a moon phases indicator. A stylish piece, especially on a leather strap. Hard to beat at this price.
More information via Longines online.