Hot Take: The Rolex Deepsea Challenge In RLX Titanium
A commercial version of the 2012 James Cameron Prototype
Today, Rolex introduces its Deepsea Challenge. It is based on the 2012 prototype Deepsea Challenge developed for filmmaker and explorer James Cameron. That watch accompanied him on a 10,908 meter (35,787 foot) descent into the Mariana Trench on March 26th of that year.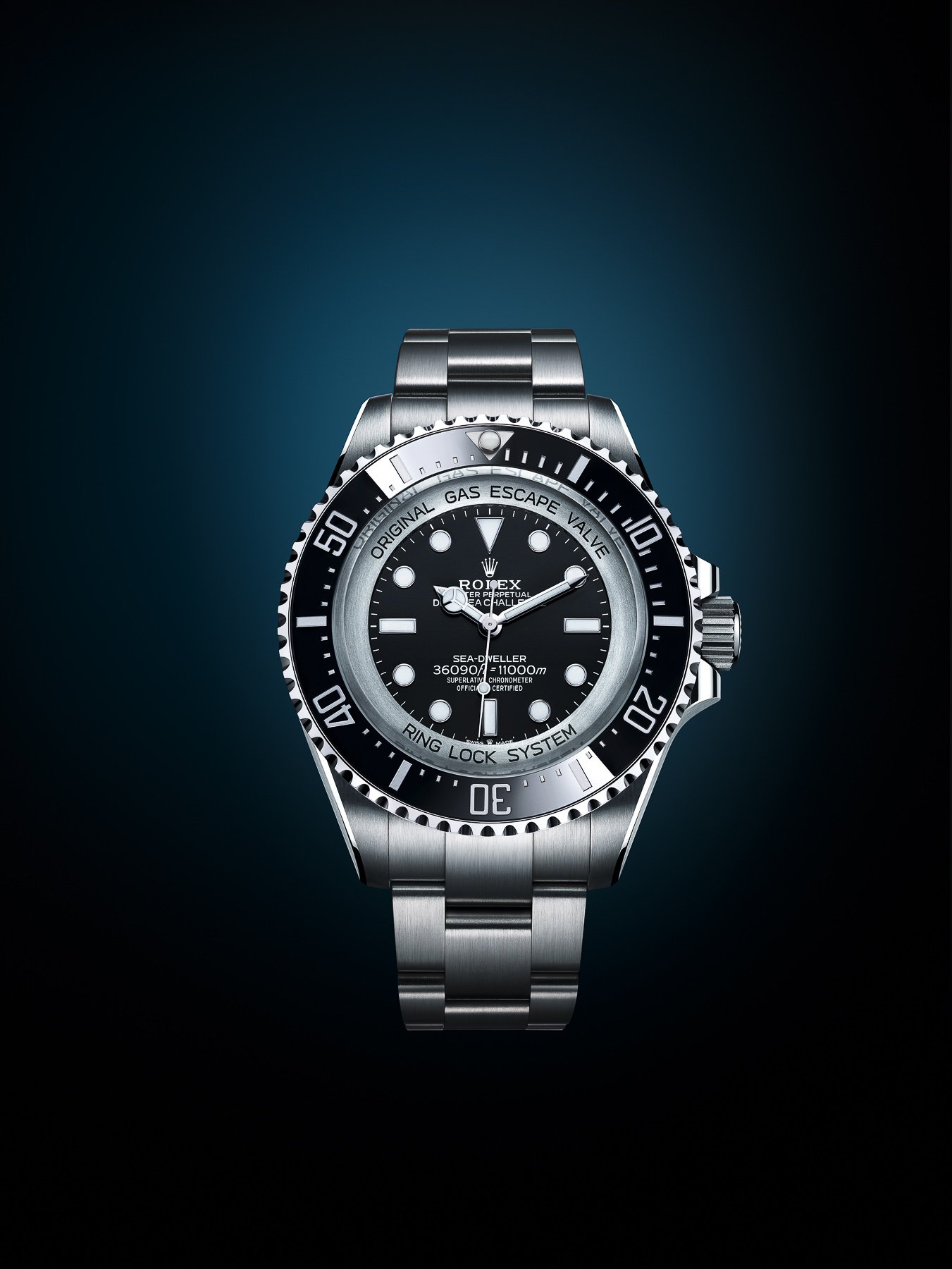 And now, after ten years, Rolex shows us the commercial version of that prototype. It's the Rolex Deepsea Challenge made entirely from grade 5 titanium, a first for Rolex. Where 904L steel became Oystersteel, bi-color is referred to as Rolesor, and the titanium used for the Deepsea Challenge is called RLX Titanium. This watch weighs 30% less than the steel prototype version from 2012. A necessity, you could say, as this new Deepsea Challenge has a case diameter of 50mm. It's not for the fainthearted!
Sea-Dweller Deepsea Challenge
In 2012, the prototype watch was fixed to the manipulator arm of James Cameron's submersible. However, this new commercialized version of the prototype is — according to Rolex — made more wearable than the one used to descend into the Mariana Trench. Rolex ensured they used their divers watches' expertise to develop this Sea-Dweller Deepsea Challenge. There's the helium escape valve featured in all Sea-Dweller references, the Triplock crown, Chromalight luminous material, and, of course, the Ringlock system that ensures the watch deals with the enormous amounts of pressure under water.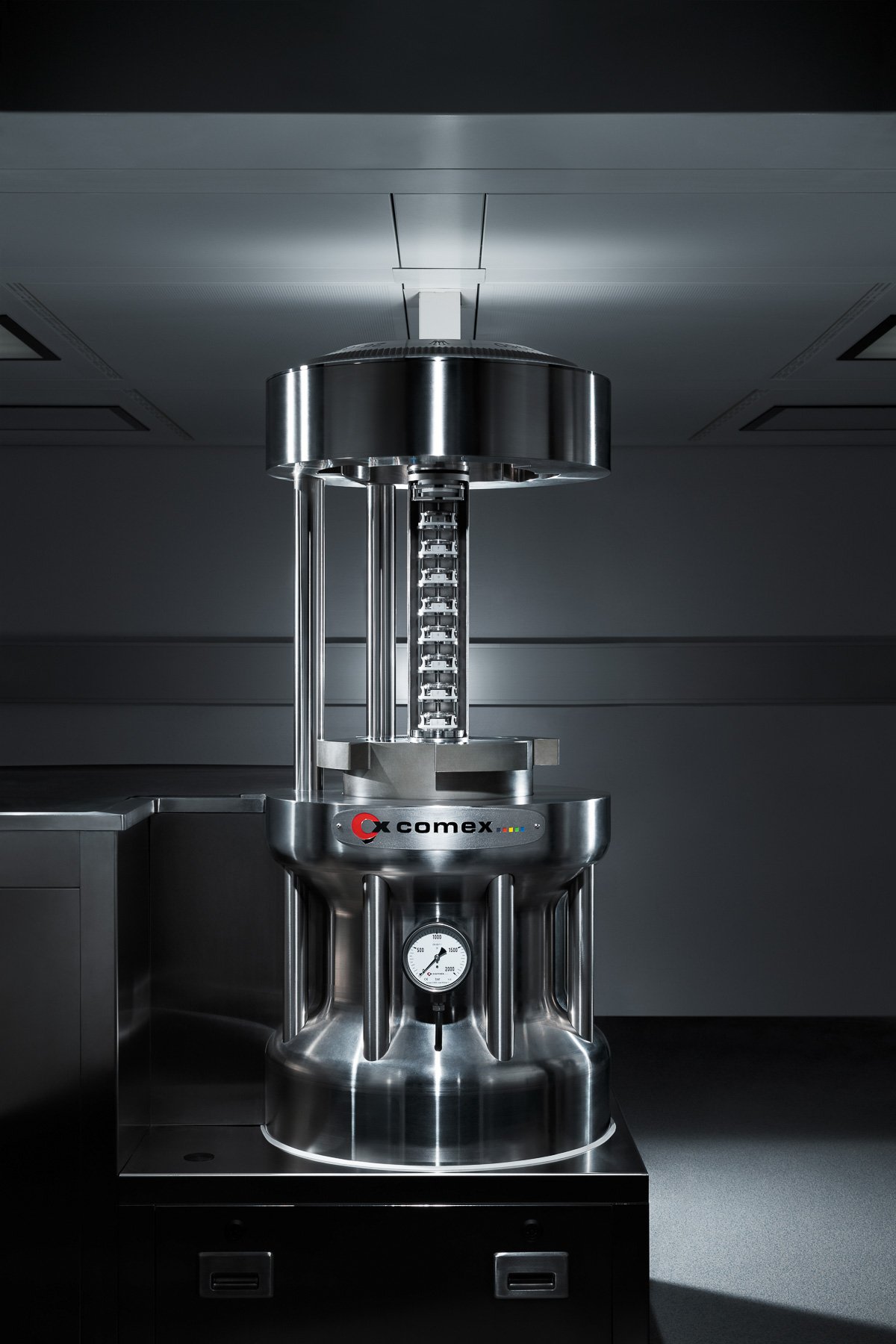 It all resulted in this RLX titanium watch that can go as deep as 11,000 meters. To test the Deepsea Challenge against these kinds of depths, Rolex and COMEX developed an ultra-high-pressure tank that can test watches for pressure compared to 13,750 meters (45,112 feet) underwater. The sapphire crystal alone of this Deepsea Challenge is 9.5mm thick (the watch in total measures 23mm in height).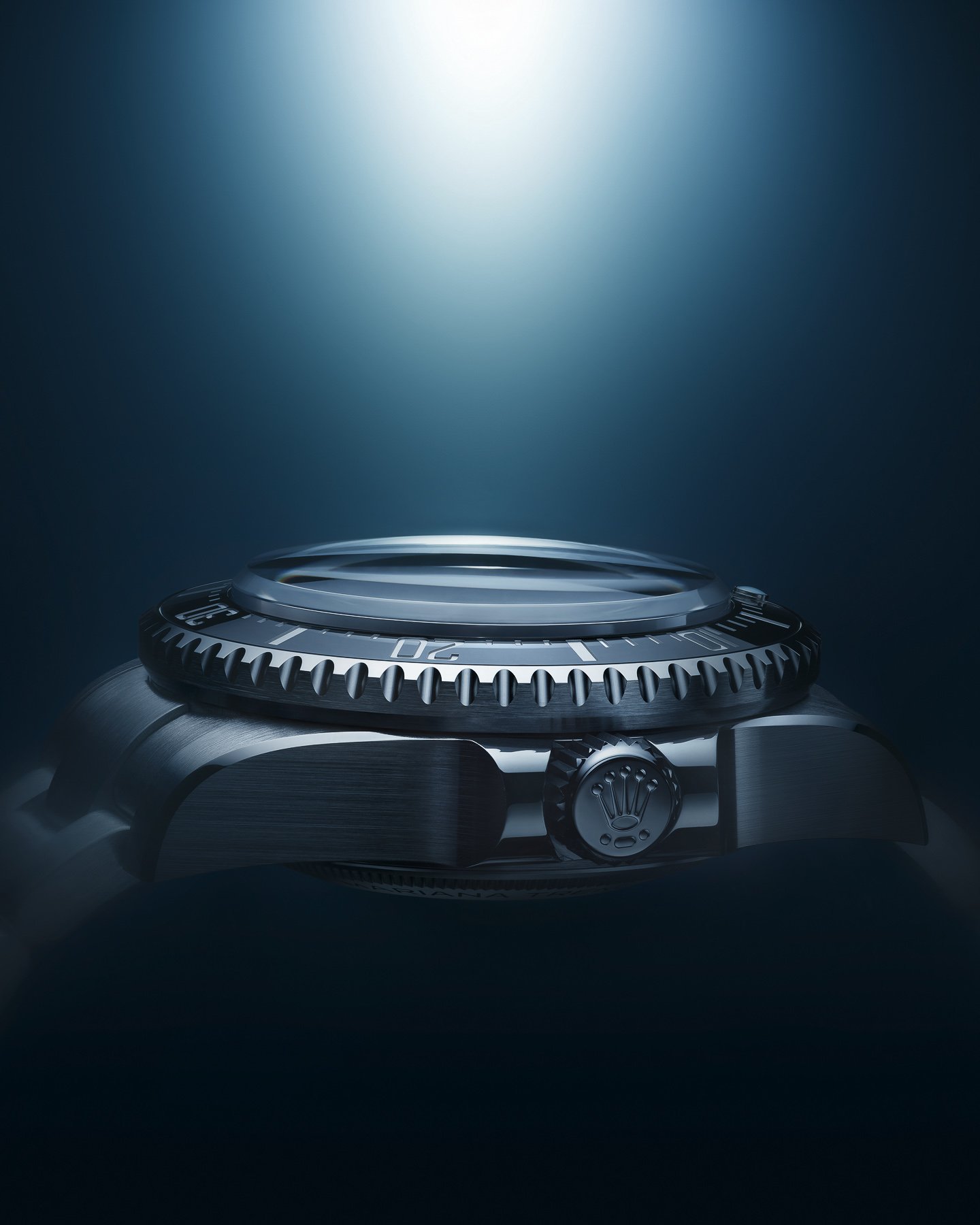 Caliber 3230
I very much believe that most Rolex wearers are not particularly interested in the technicalities of the movement inside their watch; they just know it's good. And in the end, that's what Rolex is aiming for. A worry-free movement that keeps ticking. As watch enthusiasts, we are more interested in the whys and hows. The titanium Rolex Sea-Dweller Deepsea Challenge is powered by their caliber 3230.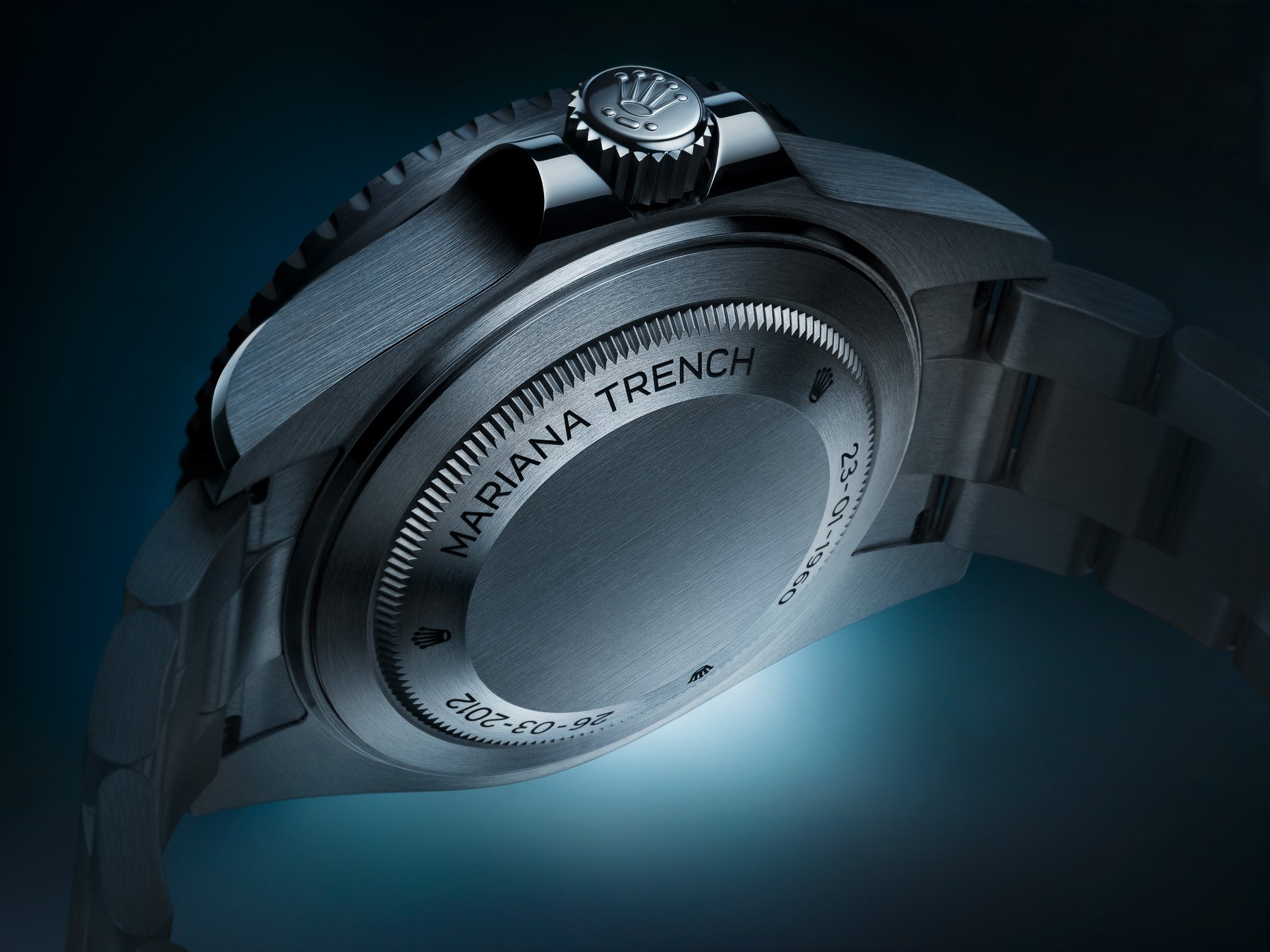 Interestingly enough, it is the first Sea-Dweller not to have a date display. Caliber 3230 is the latest result of their movement development and includes technologies such as the Chronergy escapement, Parachrom hairspring, and Paraflex shock absorbers. All this results in a shock-resistant and anti-magnetic movement (or watch), with a power reserve of 70 hours and incredible accuracy of -2/+2 seconds per day, on average. All watches are not only chronometer-certified but are also checked after the movement is being cased. As you know, the official chronometer certification (by COSC) is only done on the movements (with dial, hands, and crown), not on the entire watch. Some brands, like Rolex, do an additional test or certification after the movement has been installed into the watch to create a real-life situation.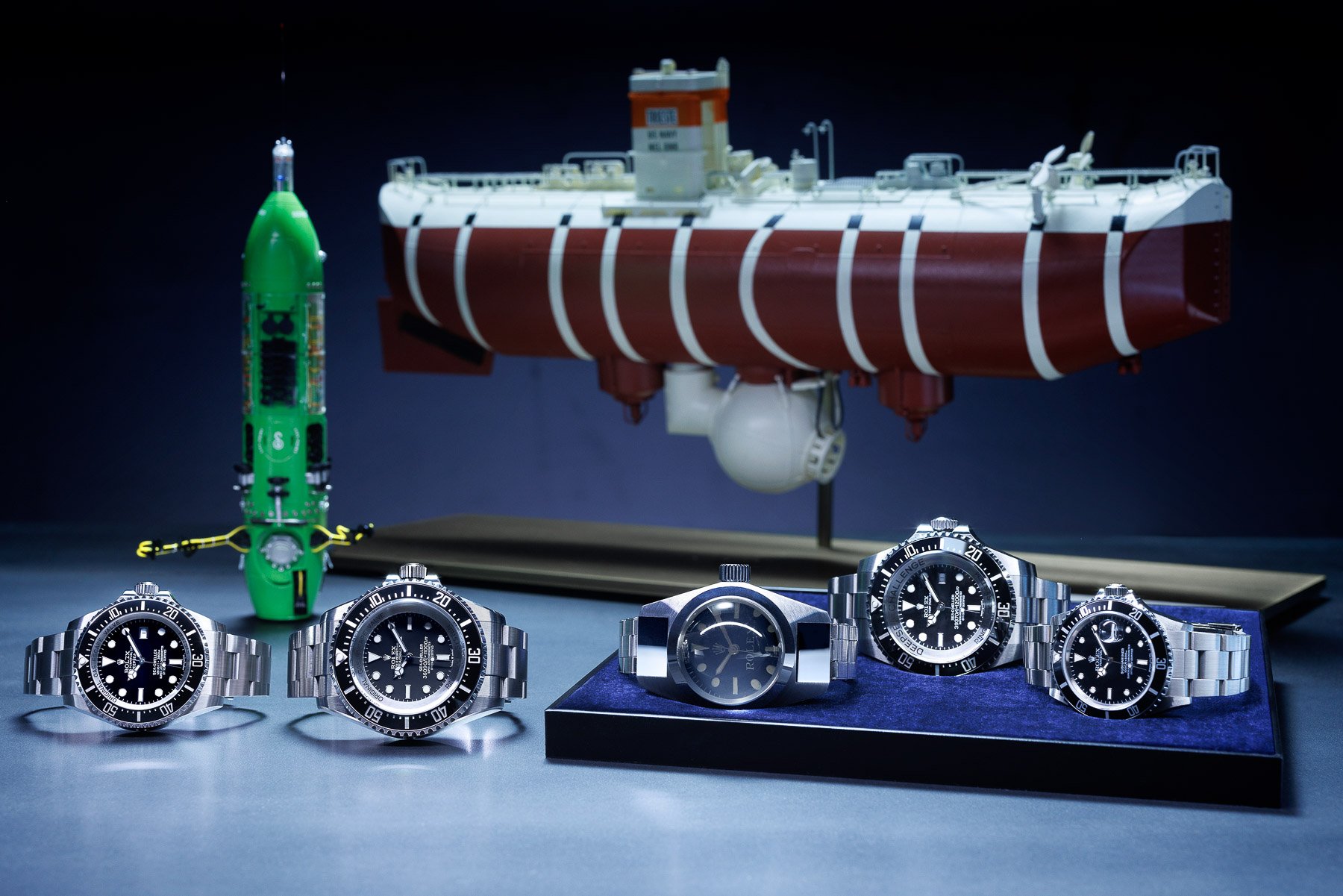 To wear over the thickest drysuit
The Deepsea Challenge comes on an RLX titanium bracelet and features the same bracelet extension systems as the Submariner, and Sea-Dweller watches, for example. I am talking about the Rolex Glidelock and the Fliplock extension link. This extension link will make it possible to wear the watch over a diving suit up to 7mm thick. Diving suits are usually available in three different thicknesses, 3mm, 5mm, and 7mm.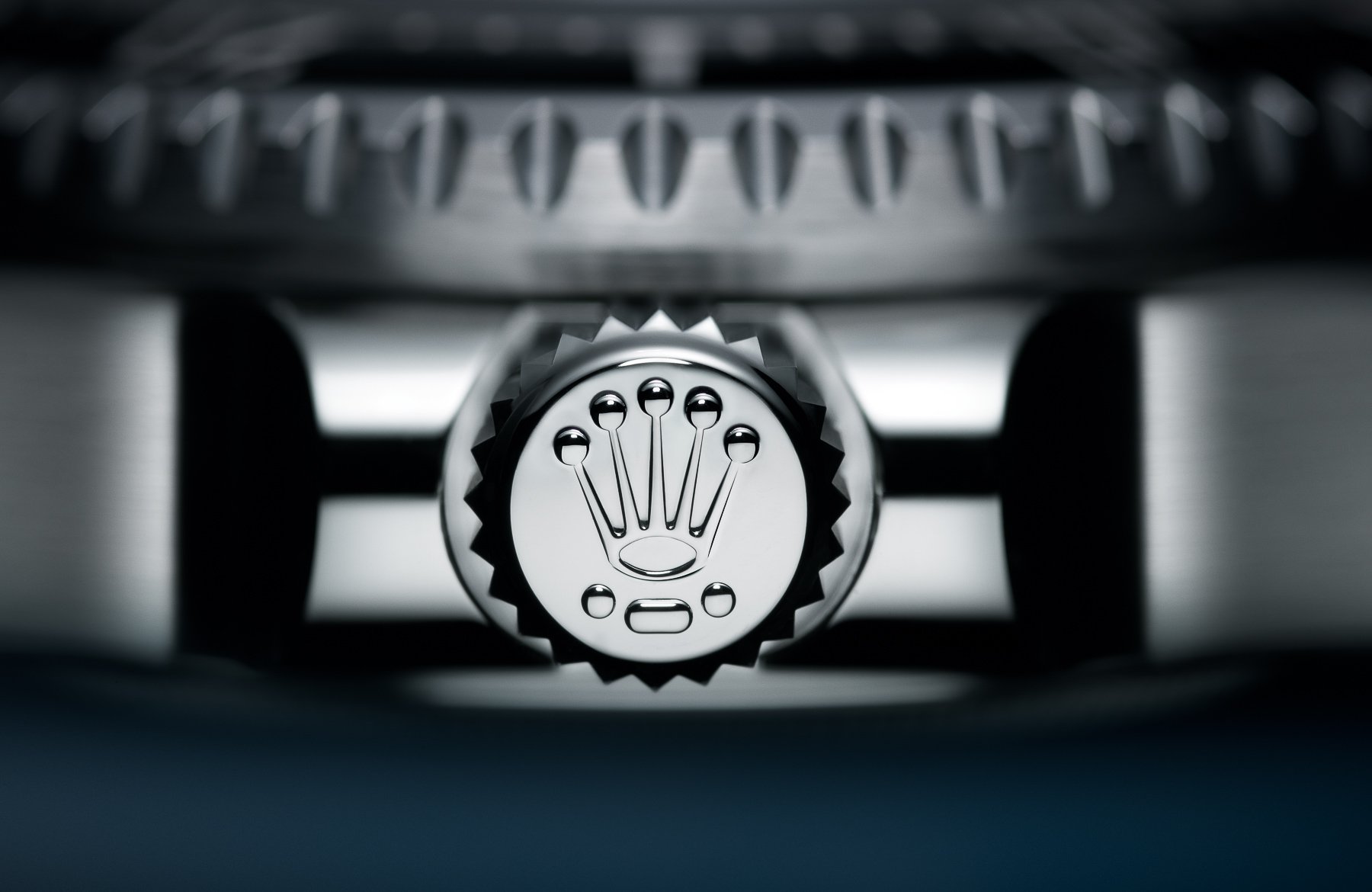 As one of the few Rolex watches, the Sea-Dweller model has a case back with an inscription. This new addition to the Sea-Dweller collection is no different, but it has a special engraving. It is engraved with "Mariana Trench," "23-01-1960," and "26-03-2012", paying homage to the two historic dives into the Mariana Trench. The first date refers to the dive by oceanographer Jacques Piccard, and the second date refers to the solo descent by James Cameron. At both dives, Rolex provided special (prototype) watches for them.
All this innovation also comes at a certain price, of course. The retail price of the Rolex Deepsea Challenge reference 126067 is €25.950 / $26,000. It's not a limited or special edition, but available (no pun intended) in their standard collection.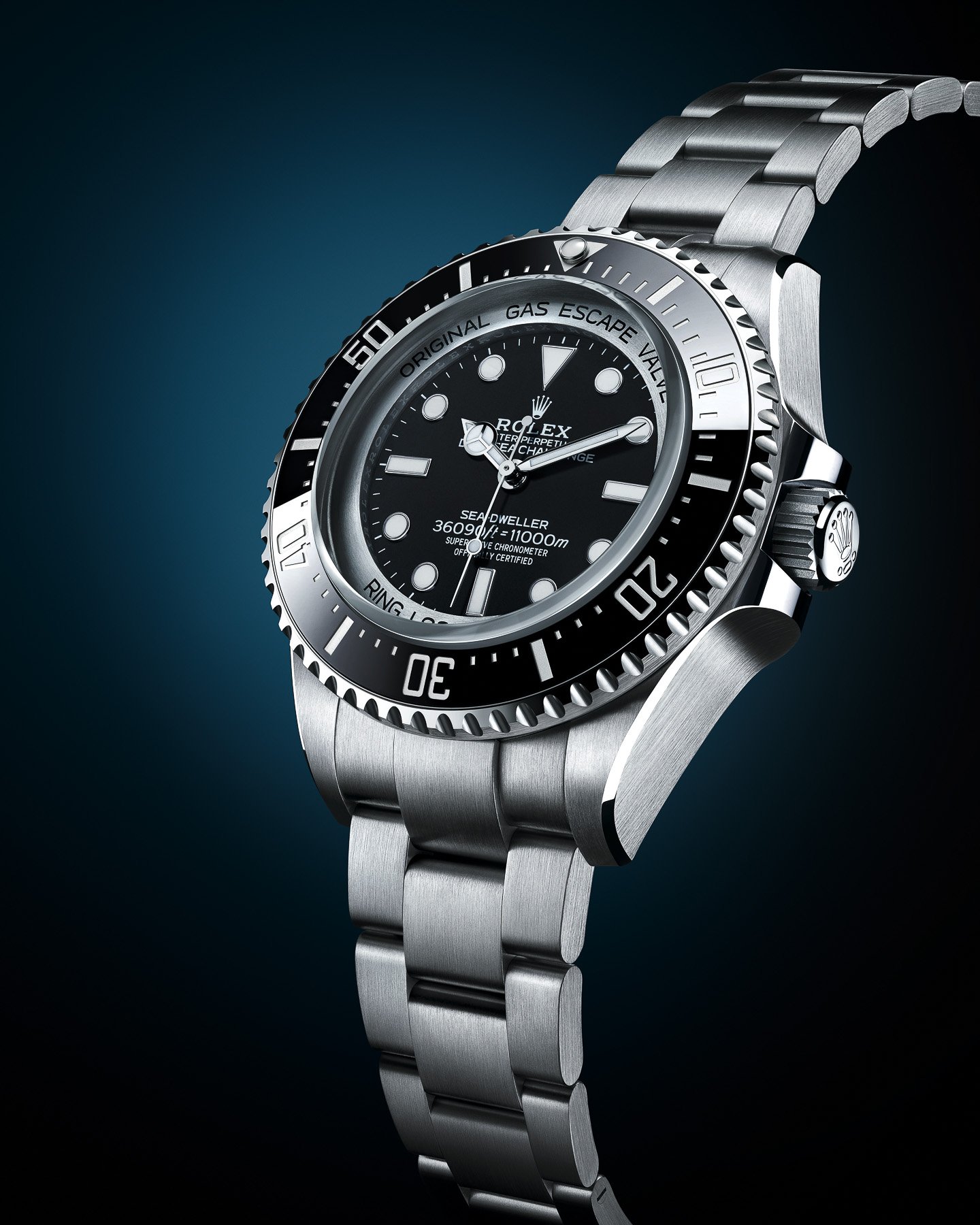 Our Take on the new Deepsea Challenge
The DeepSea Challenge is an incredibly "technical" watch, meaning that it has been designed and developed to fulfill a very specific purpose. And when I saw the news on this Deepsea Challenge, I thought it was another prototype. But no, Rolex is making this watch available to their clients. Many Rolex sports models were initially developed as purpose (or tool) watches. Except for the Yacht-Master, perhaps. Later on, these watches turned into luxury watches, with high demand from the masses, due to the name and fame Rolex had built over the years as making "a very good" watch.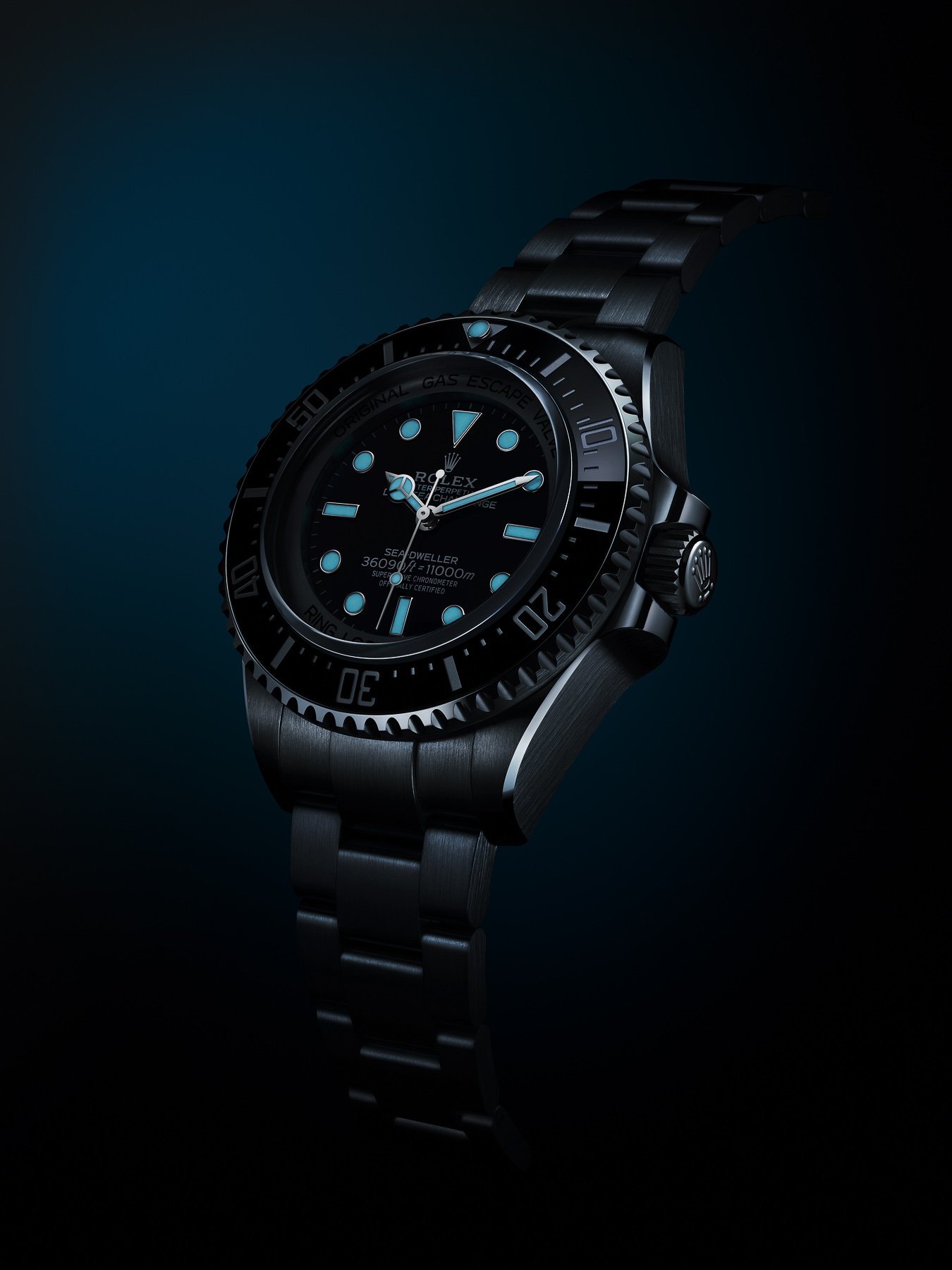 I respect Rolex as a watch brand, but even more so for the watches (I hate the word "product") as such. They develop and produce incredibly good watches. This Sea-Dweller Deepsea Challenge is another incredible milestone for the Geneva watchmaker, who developed and created a watch that can go to great depths. The fact that you probably don't dive 11,000 meters is, of course, completely irrelevant. You also don't dive 300 meters, and most probably not even 100 meters. It's about showing what your watchmaking company is capable of and that this watch is pushing the limits of what's possible in today's watchmaking. It is also interesting that Rolex only uses titanium when it makes a difference. In this case, saving 30% reduces quite an amount of grams. A 50mm watch in stainless steel (with a bracelet) can hardly be fun for daily use.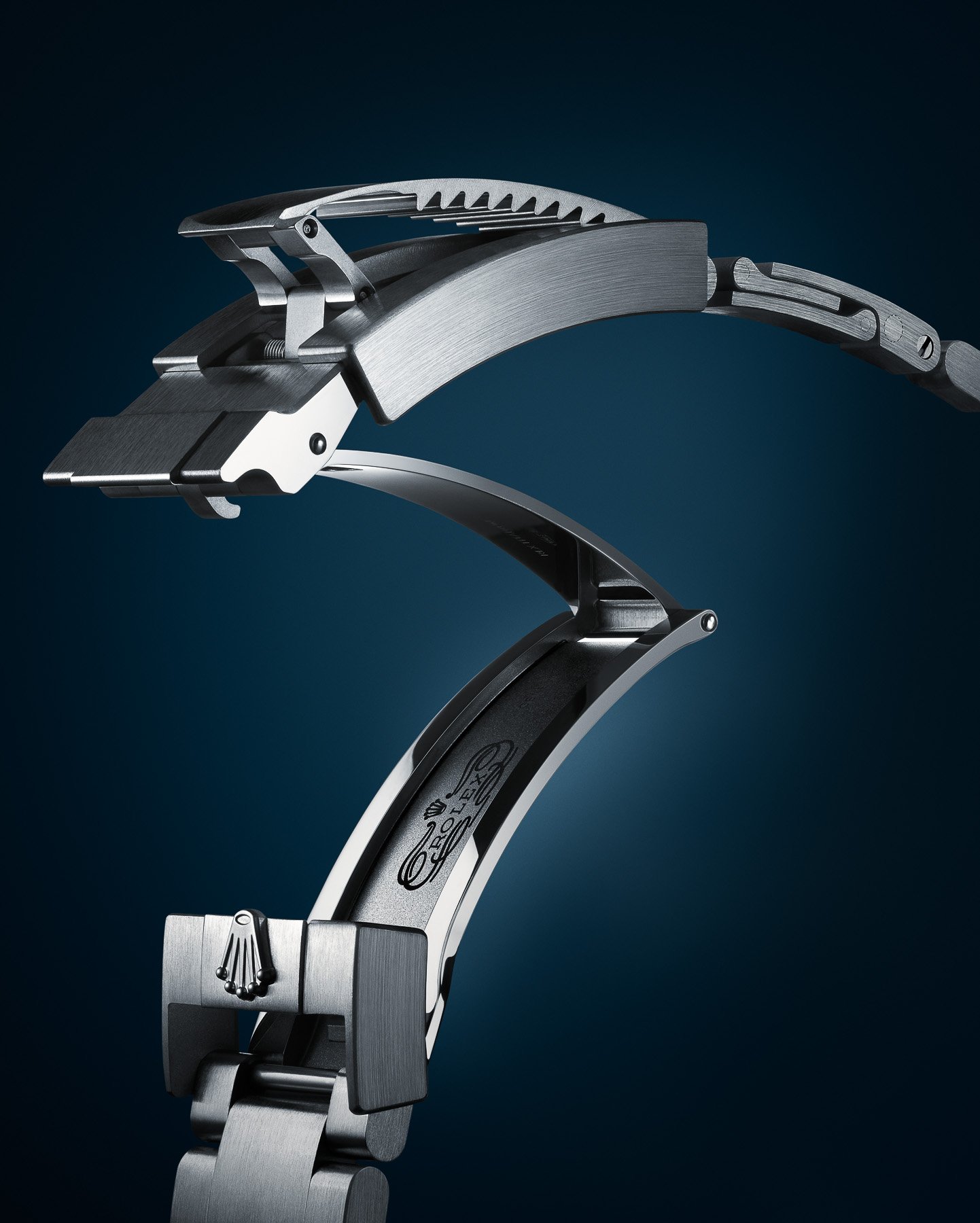 Availability
As for availability, you know how it is with Rolex these days. The "For exhibition only" signs in the windows of the authorized dealer will also be used for this new Sea-Dweller Deepsea Challenge. In this case, though, it might make sense. If all other Rolex were available for purchase, I can imagine that this Deepsea Challenge would be something that's "on special order" only. This Rolex watch is not for everyone, but it's a nice piece of engineering.
More details about this Deepsea Challenge can be found here.
Watch specifications
Model
Sea-Dweller Deepsea Challenge
Case Material
RLX (grade 5) titanium alloy, Cerachrom insert in ceramic, numerals and graduations coated in platinum
Case Dimensions
Diameter: 50mm, Thickness: 23mm
Crystal
Sapphire (9.5mm thick)
Case Back
Titanium, engraved case back
Movement
Caliber 3230, ticking speed: 28,800vph, chronometer-certified, accuracy of -2 / +2 seconds per day, power reserve: 70 hours
Water Resistance
11,000 meters / 36,090 feet
Strap
RLX titanium bracelet with glide-lock and flip-lock
Special Note(s)
Automatic helium valve