Hot Take: Two New Breguet Type XX Watches
Breguet introduces the new Type 20 (ref. 2057) and Type XX (ref. 2067)
For some of you, Breguet is most famous for its Classique collection or perhaps even the Tradition line, which debuted in 2005. However, for many others, it's the Type 20 (or Type XX) that sings to them most when talking about Breguet watches. The French Air Force commissioned this chronograph in the early 1950s, and it has won the hearts of numerous enthusiasts since.
Seventy years ago, the French Air Force needed a chronograph wristwatch for its pilots. A watch was an important piece of equipment for calculating remaining fuel and flight time, doing specific maneuvers, and so on. These intense mid-air operations required an accurate watch with a chronograph complication. The French Air Force created a set of requirements for such a watch and called it "Type 20." Among others, the specifications included a black dial with luminescent numerals, luminescent hands, a rotating bezel, and a flyback function. Furthermore, the watch needed to withstand the changes in acceleration of the planes and, of course, be able to deal with pressure differences.
The French Air Force and Type 20 watches
Breguet was not the only brand that was able to fulfill this request. Several brands got the green light to produce Type 20 watches for the French Air Force. The watch brands that had military contracts to produce these pilot's watches were also allowed to make them for the consumer market. For Breguet, these watches got the "Type XX" designation, while the Air Force models kept the "20" in Arabic numerals. Admittedly, the market for watches back then was nothing like it is today. By 1970, for example, only about 2,000 Breguet Type 20/XX watches had seen the light of day.
In 1953, the French Service Technique de l'Aéronautique approved the prototypes that Breguet had submitted the year before. And in 1954, the French Air Force was finally ready to order no less than 1,100 pieces of the Type 20. This two-register chronograph featured an unsigned dial and only mentioned the Breguet manufacture and "Type 20 – 5101/54" on the case back. All 1,100 watches were then delivered between 1955 and 1959. This chronograph (Breguet No 7211) had a case diameter of 38.3mm, and three of these first Type 20 watches were produced in gold.
It doesn't mean there weren't any three-register chronograph Type 20 watches, though. Breguet delivered 50 pieces to elite French test pilots that had a 15-minute totalizer and an additional 12-hour totalizer at 6 o'clock. An additional 30 models only had the 15-minute totalizer, and all watches for these elite French test pilots were numbered from 1 to 80.
Breguet's Type XX was also for other military branches and civilians
But it doesn't stop here. On January 13th, 1960, Breguet delivered 500 Type XX watches to the French Navy. These watches are different from the very first Type 20 models in that the 15-minute totalizer was in a sub-dial that is significantly larger than the other two. On its case back, it had "BREGUET – MARINE NATIONALE – AERONAUTIQUE NAVALE – N° X / 500" engraved (ref. 2988). This watch measured 38.3mm in diameter and housed the Valjoux caliber 225.
A new era for the Type XX
In 1971, Breguet made some drastic changes to the Type XX model. The new version came with a black rotatable bezel and featured a chunkier stainless steel case with fat lugs. This ref. 21326 was mainly for the consumer market (800 pieces in total), except for 50 pieces for the Royal Moroccan Air Force. The watch stayed in production until 1986, and the production of Breguet's Type XX watches stopped there until 1995. I believe most of you are somewhat familiar with the Type XX models that followed thereafter.
There was the Aéronavale ref. 3800 without a date and the Transatlantique ref. 3820 with a date. These models harked back to the aesthetics from the 1950s and '60s, both featuring a steel bezel and mushroom-shaped pushers. Additionally, they were equipped with a flyback chronograph, but this time with a self-winding caliber for practicality. Later on, Breguet started to roll out several variations, including the Type XXI and Type XXII models. To be honest (and I also did a quick poll here in the Fratello office), the absolute favorite modern Breguet pilot's watch is still the Type XX ref. 3800.
The newcomers
Today, we joined Breguet in Paris for the introduction of two new "Type" models. We sighed in relief when we saw that they are closer to the models from the 1950s and 1960s than the previously introduced Type XXI and Type XXII. Something for the enthusiasts, at last! The two new watches models are inspired by the two different executions from the 1950s and 1960s. The new Type 20 Chronographe ref. 2057 is based on the original "Type 20" (again, mind the Arabic numerals) with just two -registers on the dial. The other model is the Type XX Chronographe ref. 2067, which is directly based on the civilian models that came about in 1957 and later years (ref. 2988).
Both new watches are equipped with a brand-spanking-new movement from Breguet's manufacture in the Vallée du Joux (L'Abbaye, to be precise). The self-winding calibers 728 and 7281 are identical except for the hour totalizer in the latter for the Type XX ref. 2067. The additional 11 parts (for a total of 350) in caliber 7281 provide a 12-hour totalizer at 6 o'clock on the dial.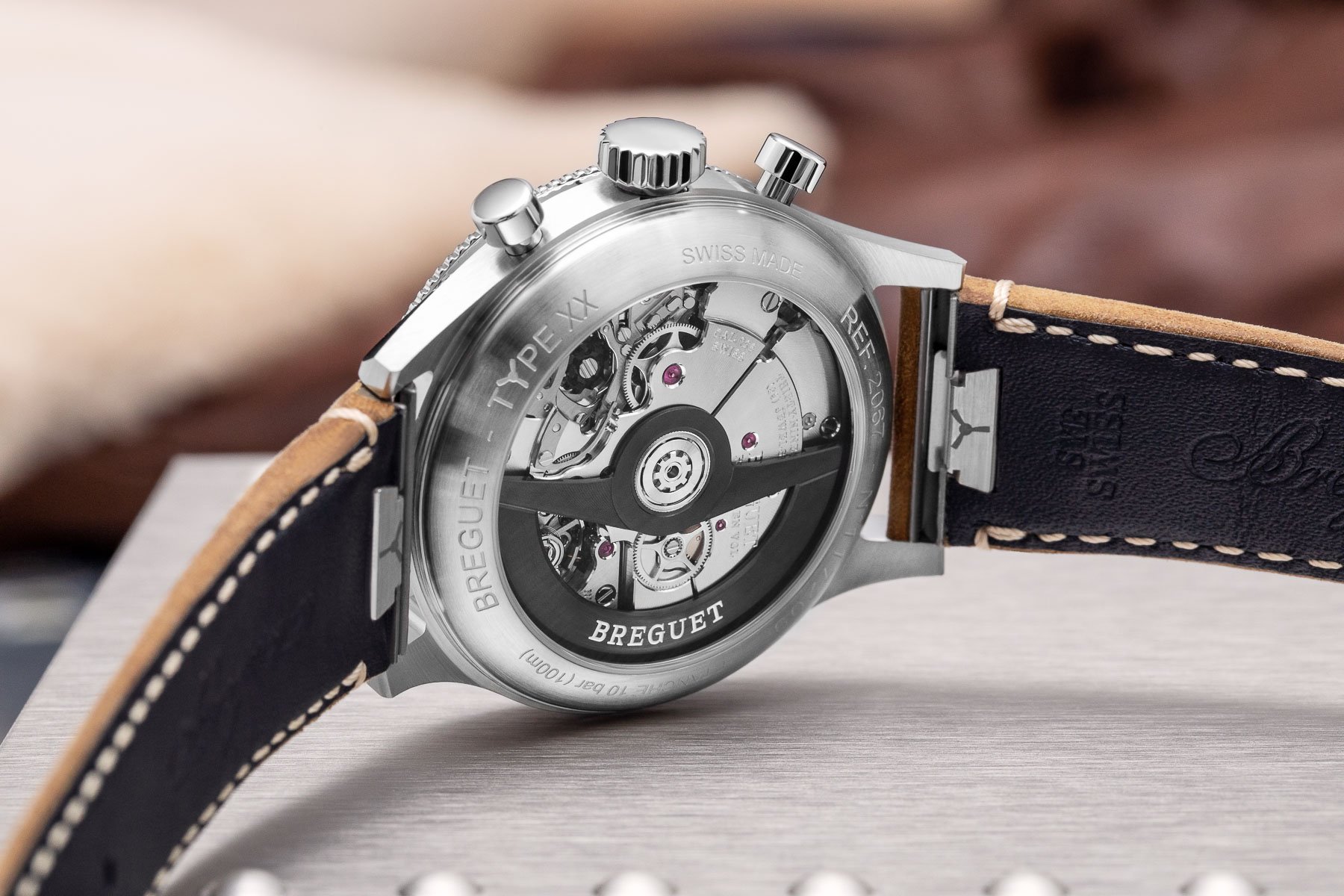 These two new Breguet chronograph movements are high-beat calibers, ticking at 36,000vph (5Hz). They're equipped with a column wheel and several silicon parts (hairspring, escape wheel, and pallet-lever horns) to withstand magnetism. Caliber 728 and 7281 have a power reserve of no less than 60 hours, and both feature flyback functionality.
That's not all…
Yes, there's more! Breguet claims that it tackled the issue of chronographs that jerk a bit upon activation. The brand has designed and developed a mechanism that will prevent this from happening. The chronograph will immediately start with no initial jump from the central seconds hand. Furthermore, the pressure that you feel when operating the pushers will be the same on both.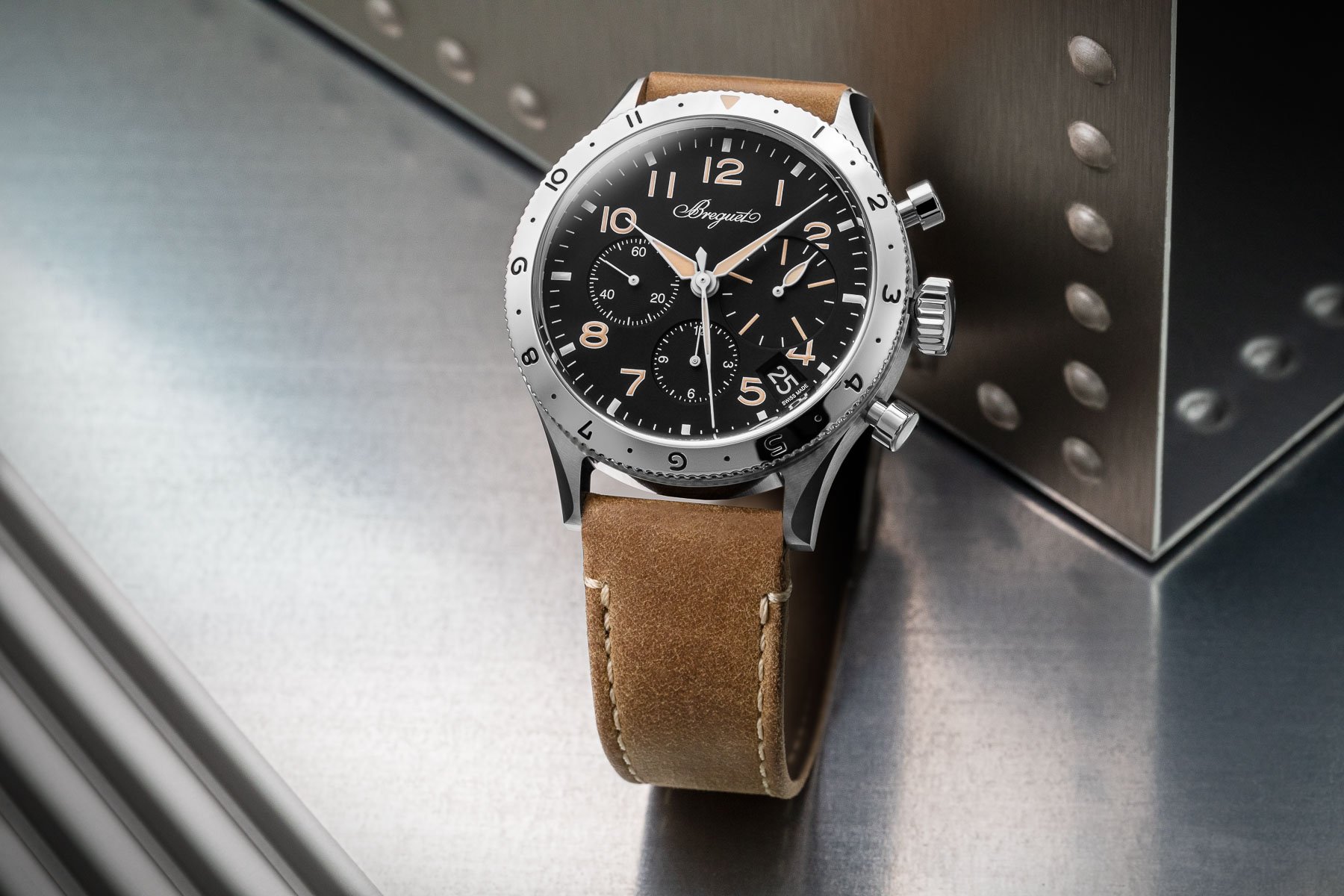 The new Breguet Type 20 (2057) and Breguet Type XX (2067) are fairly identical when it comes to the design of the case. Both have a 42mm diameter and a 14.1mm thickness. The crown shape is different, though. Whereas the ref. 2057 has one that should remind you of the onion crown of the original two-register models from the 1950s, the ref. 2067 has a classic straight crown similar to the ones on the Type XX for the civilian market. The new Breguet watches have a water resistance rating of 100 meters (10 bar), which many watch enthusiasts and collectors will appreciate.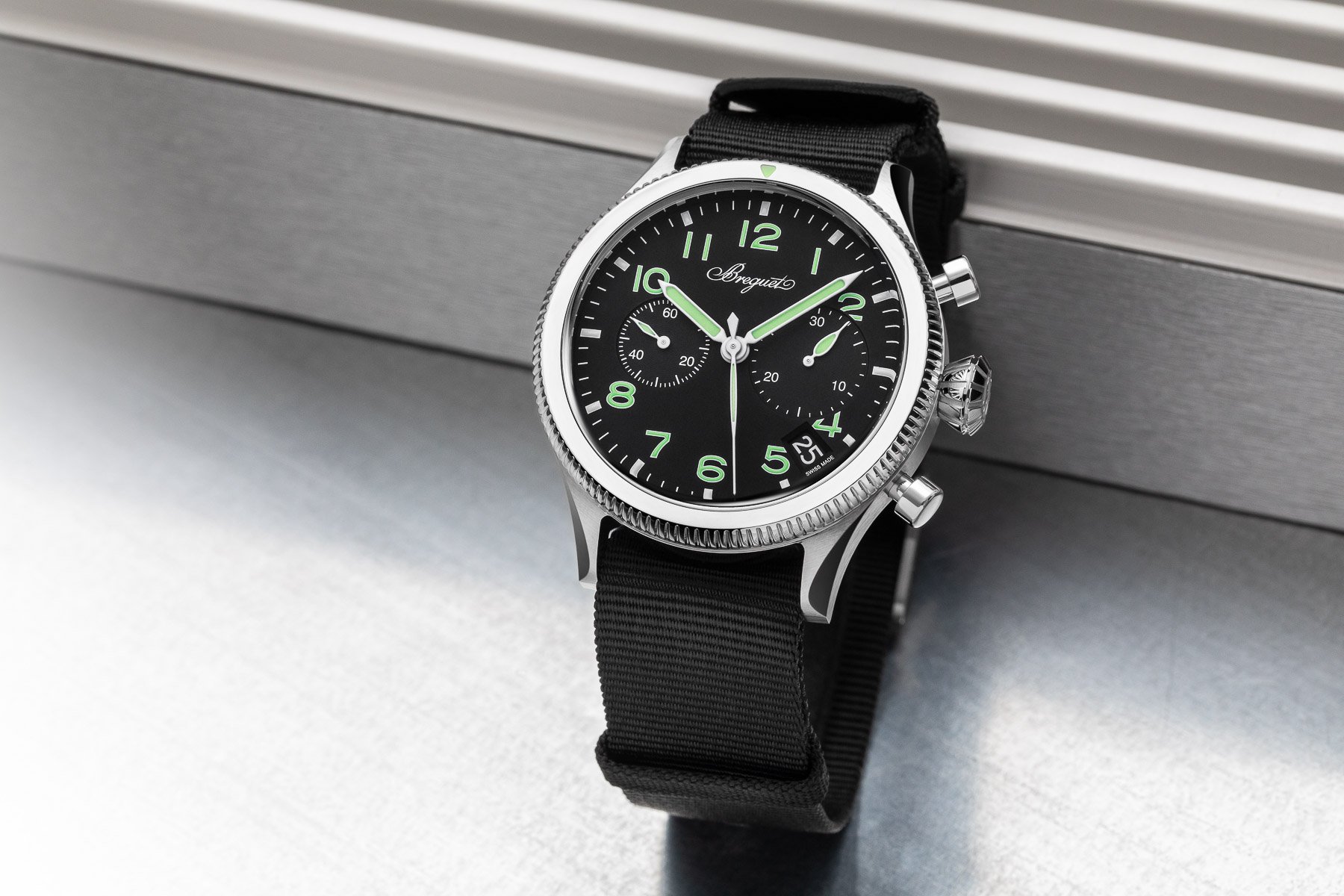 Some thoughts on the new Breguet Type XX and Type 20
We will do a hands-on article later this week, but based on my first impressions, here are some initial thoughts on the new Breguet Type XX and Type 20. What I absolutely love about these watches is the case shape, which I think comes closer to the original than the Type XX ref. 3800 from 1995 and its later variations. The scalloped lugs look very cool, and the shape of the pushers is also more historically correct than the 1990s models.
The high-beat movements (caliber 728 and 7281) are a joy to look at and are finished to Breguet standards. Their column wheels are also very visible due to this part's black DLC treatment. The cream-colored lume on the Arabic numerals and hands of Breguet's Type XX ref. 2067 is not disturbing to me at all. I know "fauxtina" is not to everyone's liking as it often pretends to be something it's not, but it does look good here. The Type 20 ref. 2057 has mint green for all of its luminescent elements. I am less of a fan of this color, but that is, of course, very personal.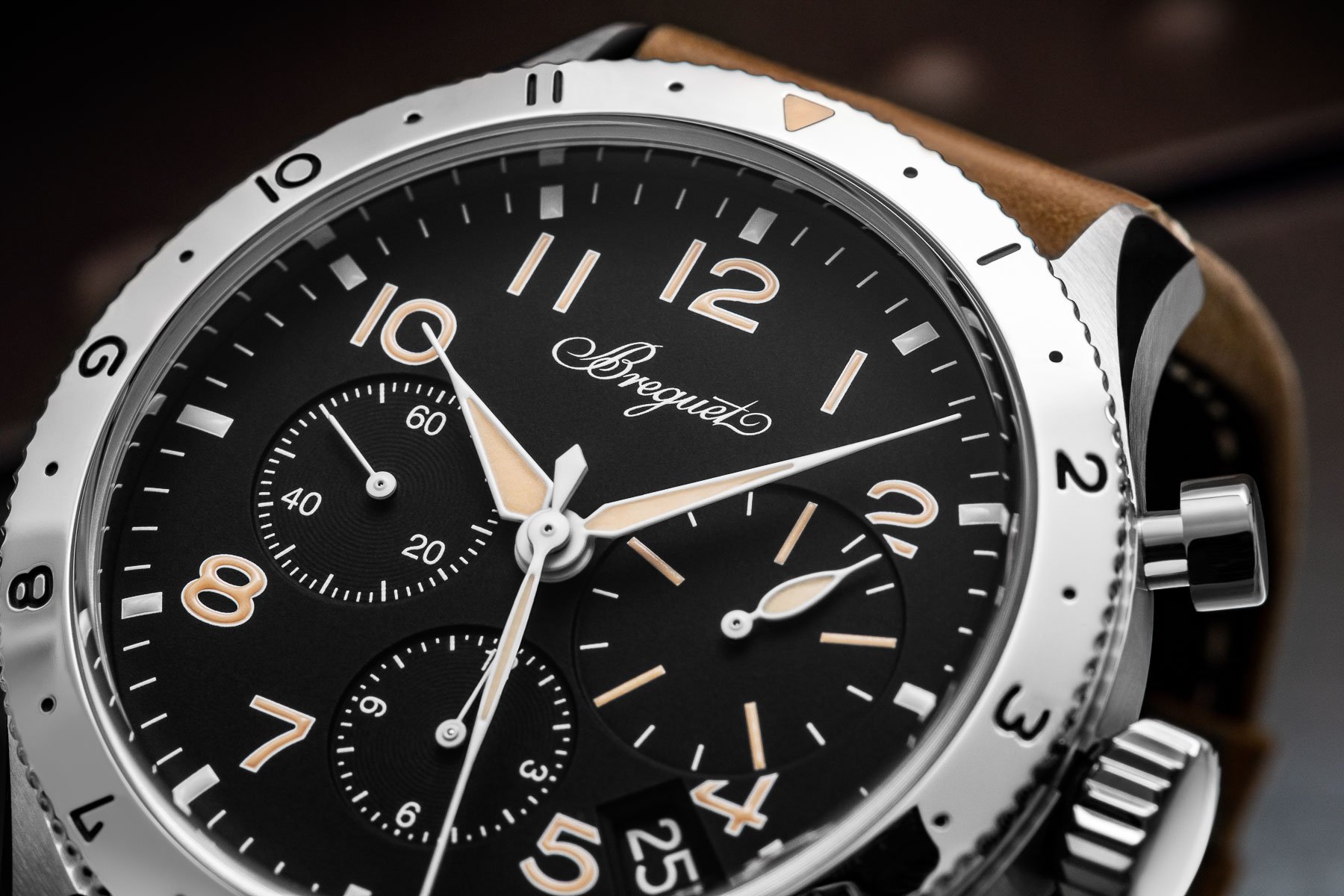 My reservations
Compared to the original Type XX models, I do feel that the hour and minute indices are a bit too prominent. But the new Type XX doesn't have to be an exact copy of the original, of course. Perhaps it's even better if it's not. What I absolutely don't like about the new Type 20 and Type XX are the date windows. They mess up the beautifully designed dials, cut off the Arabic "5", and if that weren't enough, Breguet found it necessary to put "Swiss Made" below the date window. One can also argue that the case size, at 42mm, is a bit too big for today's standards (as opposed to the 38.3mm original). I could have even lived with the 42mm diameter as long as the date window wasn't there.
That said, perhaps Breguet looked at the outcome of a survey that proved that most people are looking for a watch with a date. I vaguely remember a similar answer from former Longines CEO Walter von Känel when I asked him about the date window on the Legend Diver. Then again, this is Breguet. Breguet should not bend to statistics but simply create the most beautiful watches. The Type XX with no date and a slightly smaller diameter would've hit the bullseye and made the watch world go nuts. Now, well, I guess we'll let the market speak.
These models will have a price of €19,300 and will be available as of this week. For more information, visit Breguet's official website, and share your thoughts on the new Type 20 and Type XX in the comments.
This is a preferred-position post. Learn more.
Watch specifications
Model
Type 20 Chronographe / Type XX Chronographe
Reference
2057 (Type 20) / 2067 (Type XX)
Dial
Black with mint-green Super-LumiNova numerals / Black with beige Super-LumiNova numerals
Case Material
Stainless steel
Case Dimensions
42mm (diameter) × 14.1mm (thickness)
Case Back
Stainless steel with sapphire exhibition window
Movement
Breguet 728 (Type 20) / 7821 (Type XX) — automatic winding, 36,000vph frequency, 60-hour power reserve, column wheel
Water Resistance
100m (10 bar)
Strap
Both watches come with a set of two interchangeable straps, 1 in calfskin leather, 1 in NATO fabric.
Functions
Time (hours, minutes, small seconds), date, flyback chronograph with central seconds, 30-minute counter (Type 20), 12-hour counter (Type XX)