Introducing Hermès Arceau Into The Canadian Wild
The haute couture of horlogerie for women.
Hermès has, for years, given us extraordinary craftsmanship rooted in its tradition. Its watches represent the apogee of fashion style. This embrace of high-art when it comes to watchmaking is discernible once again with the latest Hermès Arceau Into the Canadian Wild, which is a wonderful homage to the harsh and sweeping climate of Canada's frozen north. 
But ultimately, it is the French tradition that Hermès encapsulates, particularly with regard to contemporary minimalism; and yet this collection's timepieces have even more of the sparkling effect than usual. In showcasing the diamonds combined with a raw, Bauhaus-inspired design, Hermès has signaled here its close bond with the art world.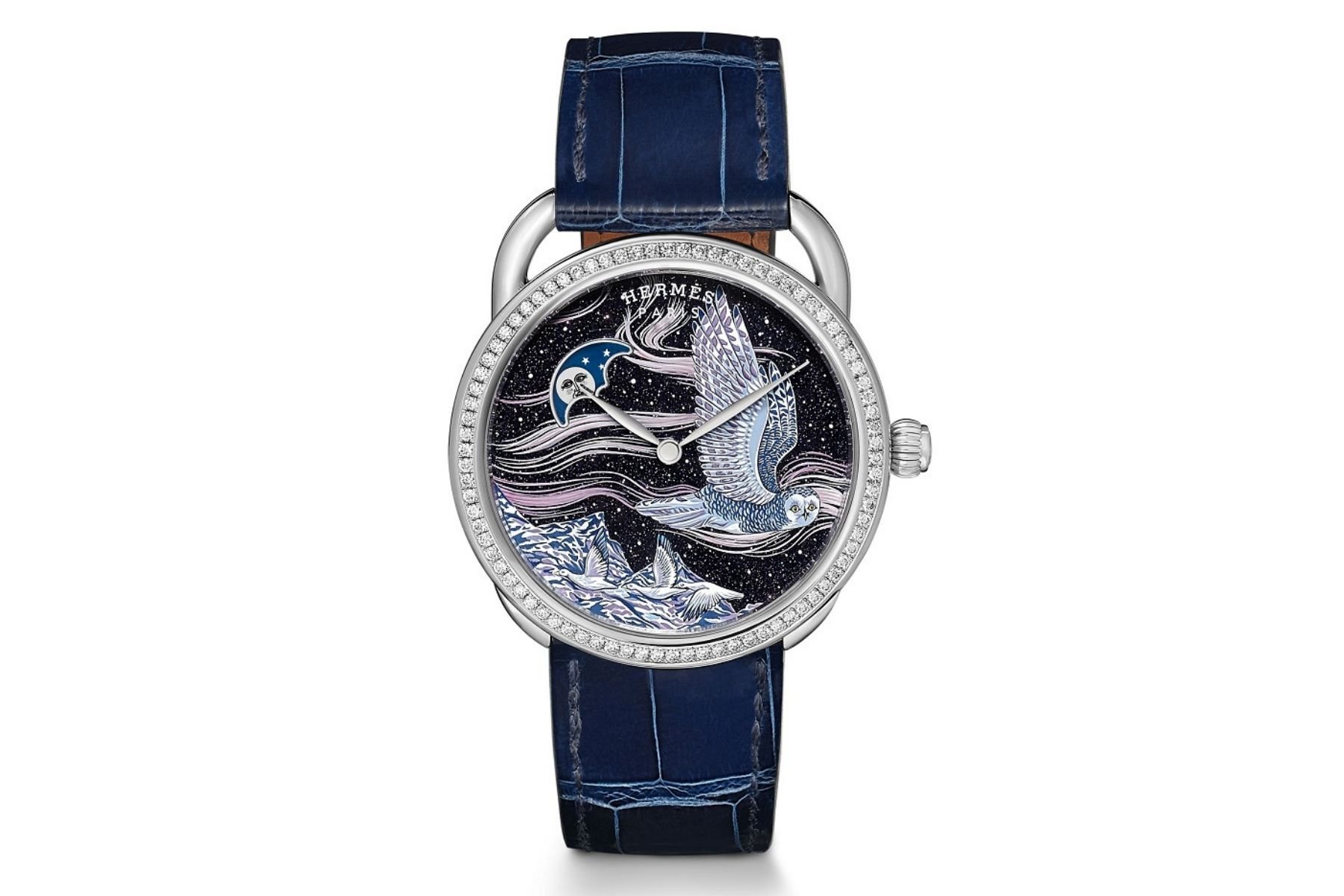 Overall minimalism
The French brand frequently references the Henri d'Origny aesthetic, typified by the asymmetric case. The imbalanced lugs mesh well with rounded design of the case, resulting in a pleasingly identifiable silhouette. The major difference for this model is the slim, diamond-set bezel that encircles the artistic dial. The white gold and 82 diamonds give this model a refreshingly soft, feminine character. While the simple, sapphire blue alligator strap completes the design. Additionally, the water-resistance of the case is 30 m.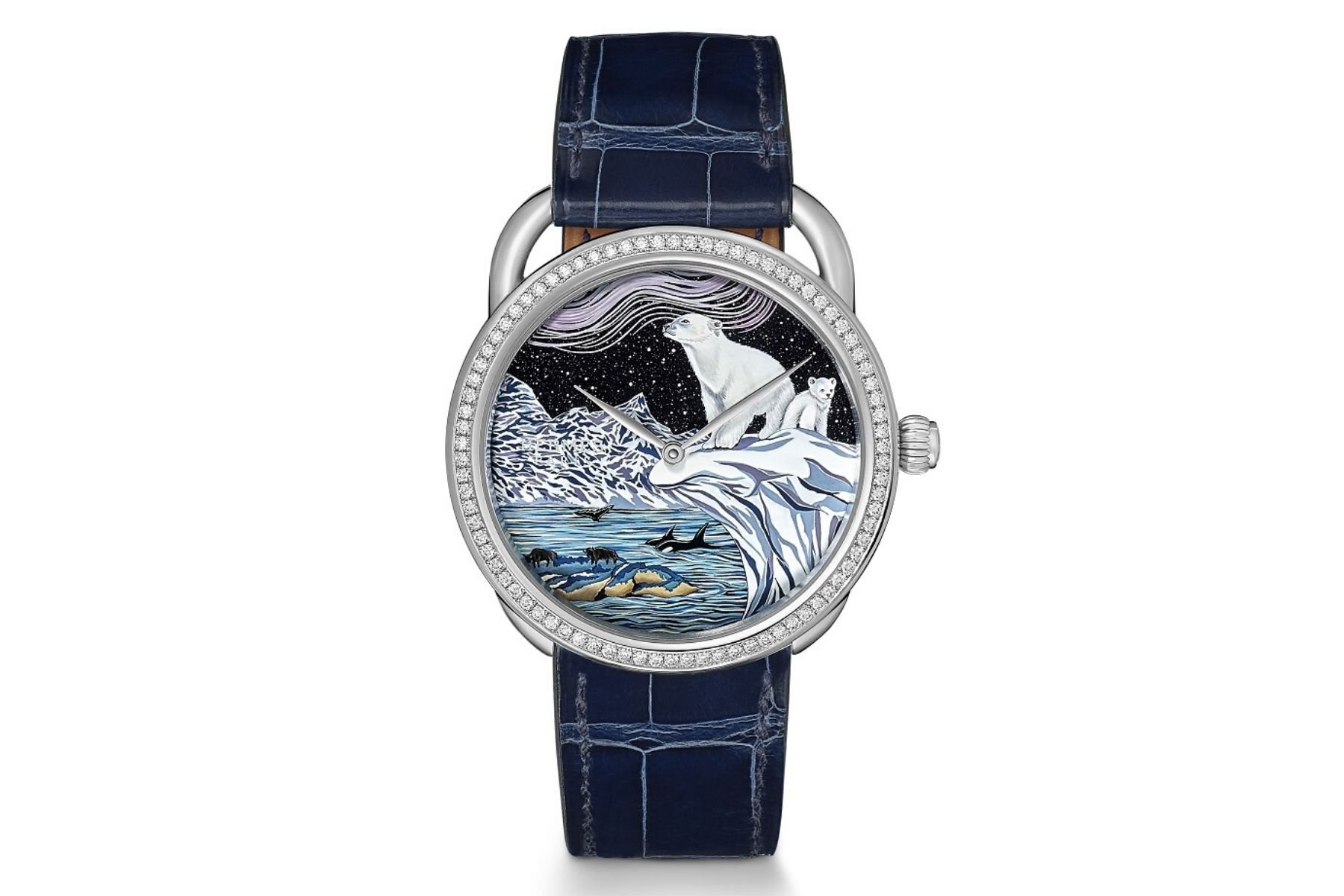 The wildest dials
For Hermès, the starting point was a silk scarf design conceived by British artist Alice Shirley, one which had marked Canada's 150th-anniversary celebrations. With an eye for attention-grabbing details and an appreciation of artisanal ability, the new dials showcase animal motifs.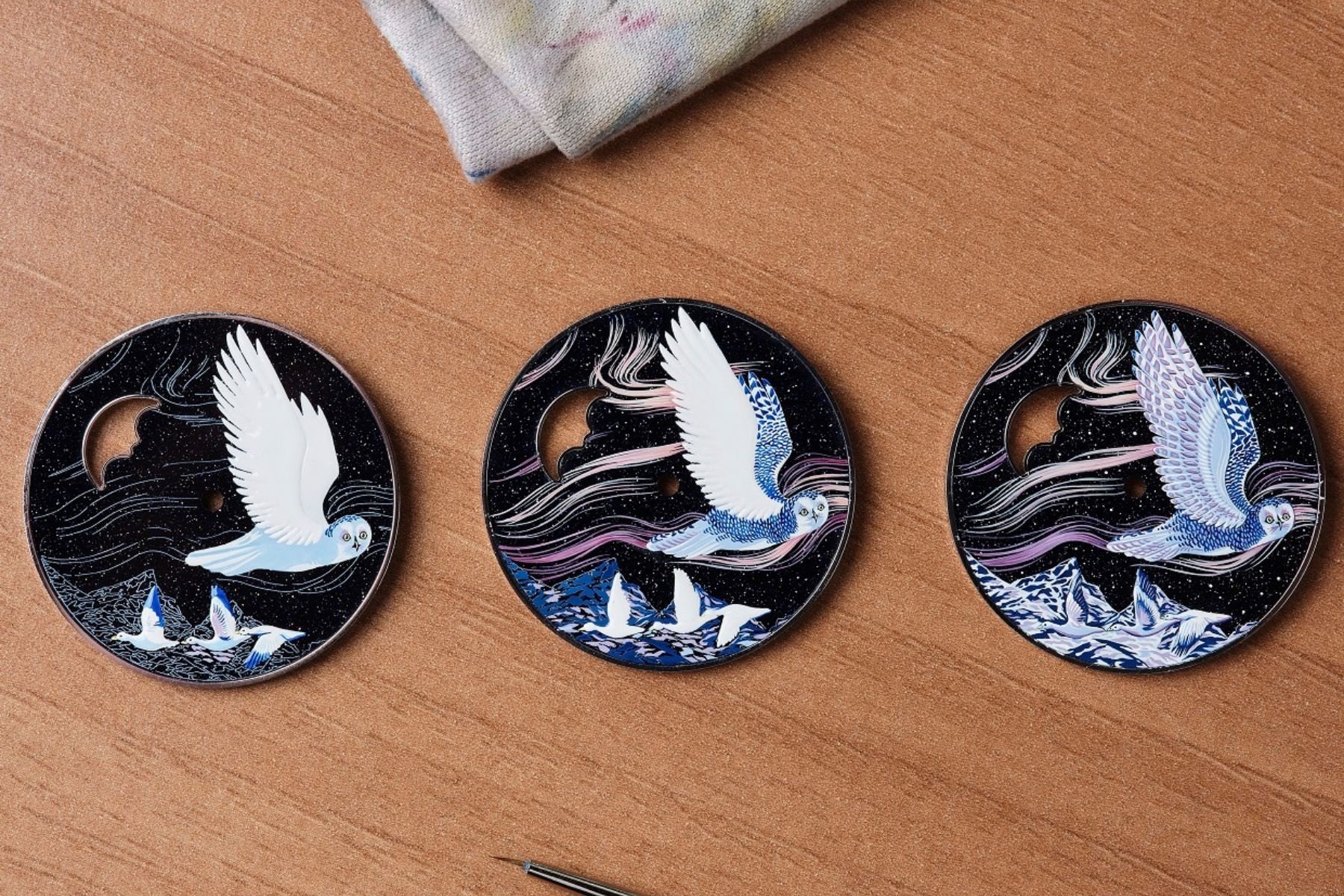 You get to choose between either a polar bear or an owl. Both have been hand-painted layer by layer, both miniaturized beauties. This technique represents a major challenge for the brand. It is a complex that takes time and skill to execute properly. Artists paint with various tones and volumes, always focusing on accentuating the natural charm of the aventurine base. These hand-applied layers, alternated with firings result in a component that commands a special place in the canon of Haute Horlogerie.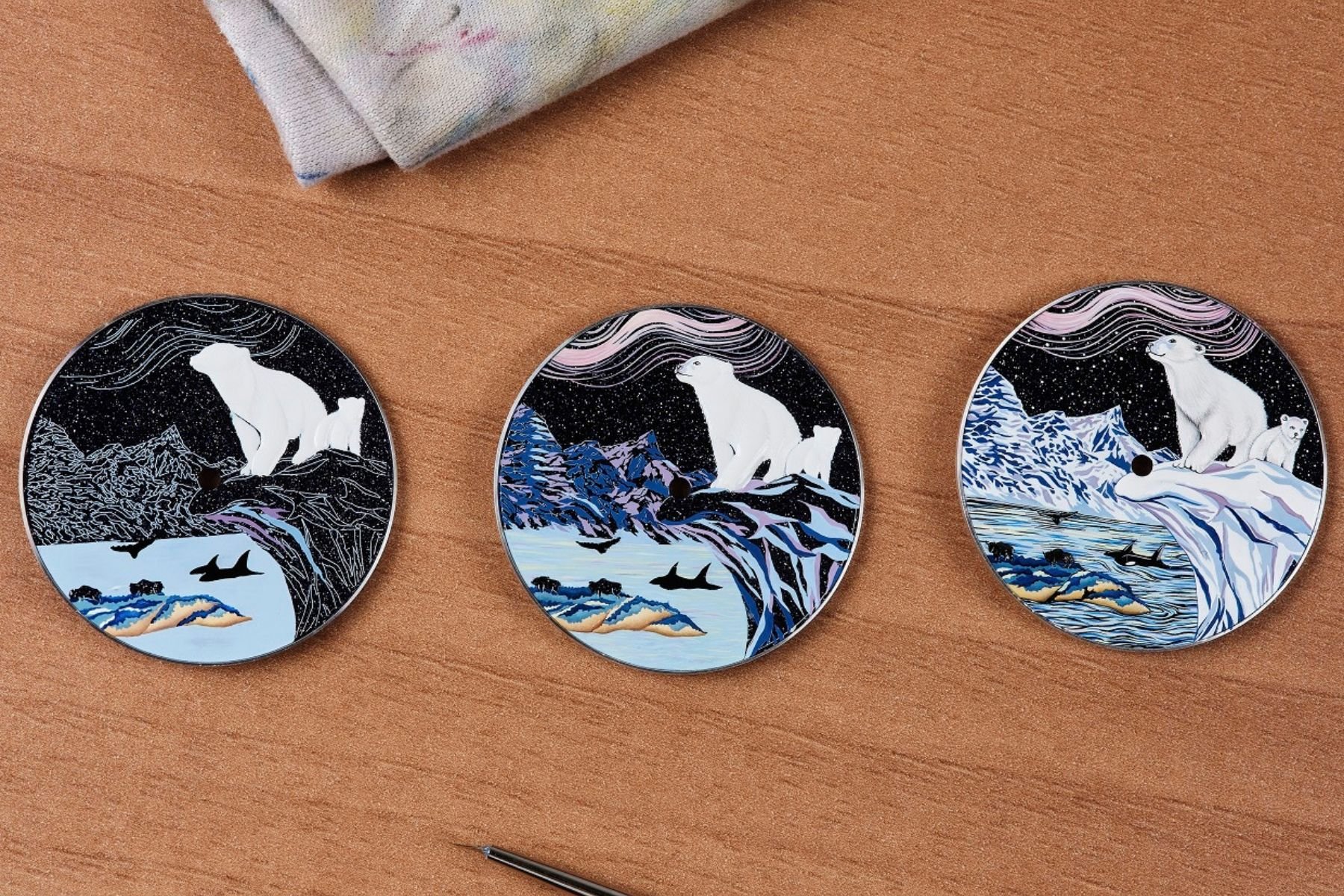 Considering its previous Arceau — Cheval Cosmique — this is definitely playing to the tune of the Hermès' songbook. The seductive dials boast white gold hands and a moon phase window placed between 10 and 11 o'clock. These additional elements further distinguish these models from those that have gone before.  

The movement
Behind the see-through case back of the polar bear edition, Hermès has located its H1912 movement; the snowy owl has the H1837 at its core. The main difference, besides the size, of the movements is the moon phase. The H1837 features hours, minutes, and a beautifully finished disc for tracking the lunar cycle. Indeed, the pieces here feature durable self-winding mechanical movements. Both the H1912 and the H1837 generate 50-hour power reserves and tick at 28,800vph.
The fine art of watchmaking 
Personally, when I see such beauties I feel my heart skipping a beat. These timepieces are graceful and urban, and they represent everything that Hermès stands for. The Into the Canadian Wild collection brings everything I love about the brand and Haute Horlogerie together. Indeed, the most extraordinary element of these designs, are the truly luxurious dials painted by hand on aventurine glass. Just 48 pieces will be made. Learn more at hermes.com