Introducing: MB&F HM11 Architect — The House That Max Built
Have you ever wondered, "What if a watch were a house?"
It is easy to become a bit jaded about new watch releases when you see them every day. A lumed ceramic bezel? A fumé dial? It is only when they are executed exceptionally well that they truly get the heart racing after a while. But then, every so often, something comes along that doesn't play by the same rules — something that redefines what a watch can be. This, my dear Fratelli, is such a watch. This is the MB&F HM11 Architect.
"HM" stands for Horological Machine. That would be a pretentious name for almost any watch-related creation, but it is fully justified for the mad inventions that Max Büsser and his friends build. Today's release is the eleventh Horological Machine, and its theme is architecture. Strap in, though, because this machine is even wilder than it looks.
MB&F HM11 Architect concept
All of Max Büsser and his friends' Horological Machines start with a source of inspiration. True creatives find inspiration anywhere, so you see quite some variety in MB&F's sources. HM6, for instance, was inspired by a spacecraft from a Japanese anime series. HM10 took its inspiration from bulldogs. This time, the team took on a broader theme — architecture.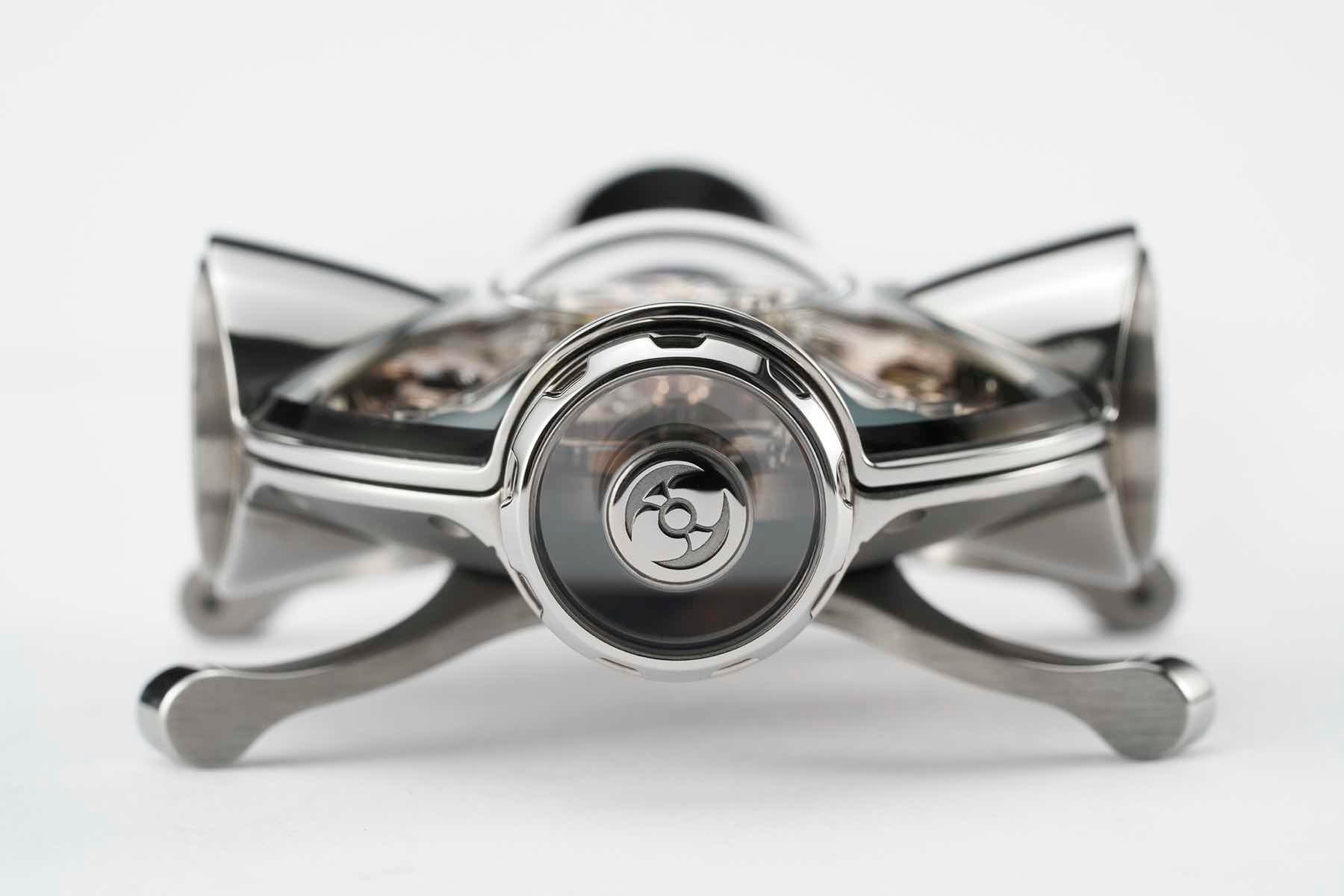 The core creed of the project comes from Swiss architect Le Corbusier: "Une maison est une machine à habiter" (A house is a machine to live in). That already sounds quite MB&F-ish, doesn't it? Well, leave it to those mad minds to turn this into a mind-boggling wrist-mounted creation.
Specifically, 1960s and 1970s architecture serves as the starting point. Domed skylights, bubble houses, and experimental 1960s styles are all visible in the HM11. This horological house features a central atrium under a tall, domed sapphire crystal. Four "rooms" are arranged in a cross, with large sapphire windows facing outwards.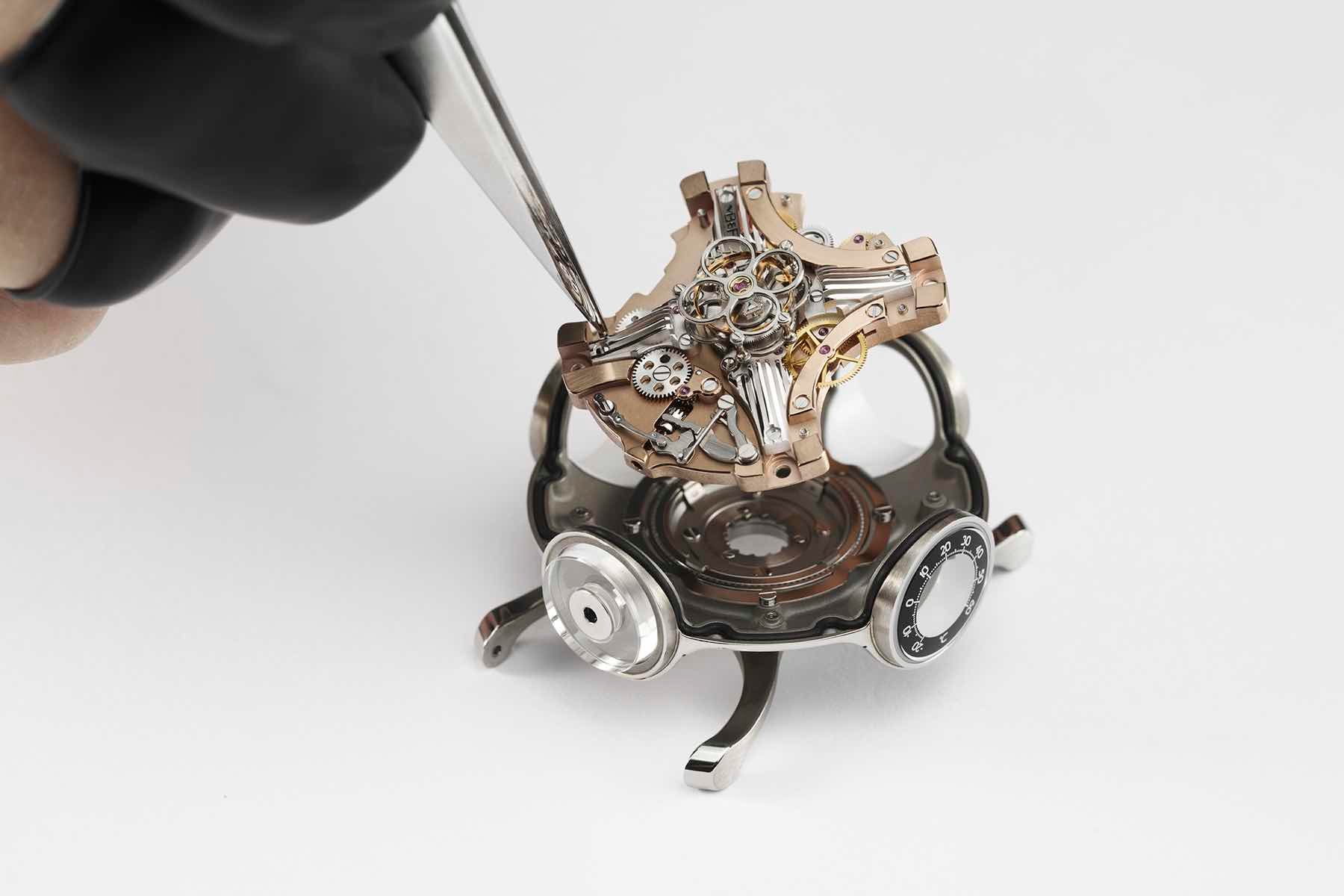 The four rooms in the MB&F HM11 Architect
Each white-walled room has a specific purpose. The first features a wall-clock-style display of the time. Twelve orbs "float" in space, representing the hours. A comparatively normal handset in the center shows the time. The orbs at 12, 3, 6, and 9 o'clock are executed in polished aluminum. The remaining indices are a darker, polished titanium. Regulating the time is a flying tourbillon, proudly housed in the central atrium.
Aesthetically, the second room is quite similar, featuring five floating (or, technically, rod-mounted) orbs and a single hand. This is the power reserve indicator. The larger the orb, the more power remains in the mainspring. The third room features a mechanical temperature display based on the expanding properties of different metals in a spring. You can have your pick of a display in Fahrenheit or Celsius. Read that again if you want — a mechanical temperature gauge on your watch.
The final room is the crown, which is used for setting the time. So that one is quite simple. Oh, wait…we're dealing with MB&F here. The crown is massive and has a sapphire window to provide a view into the movement. To facilitate a crown of this size, a total of eight gaskets are necessary. The largest is five times bigger than a normal crown gasket.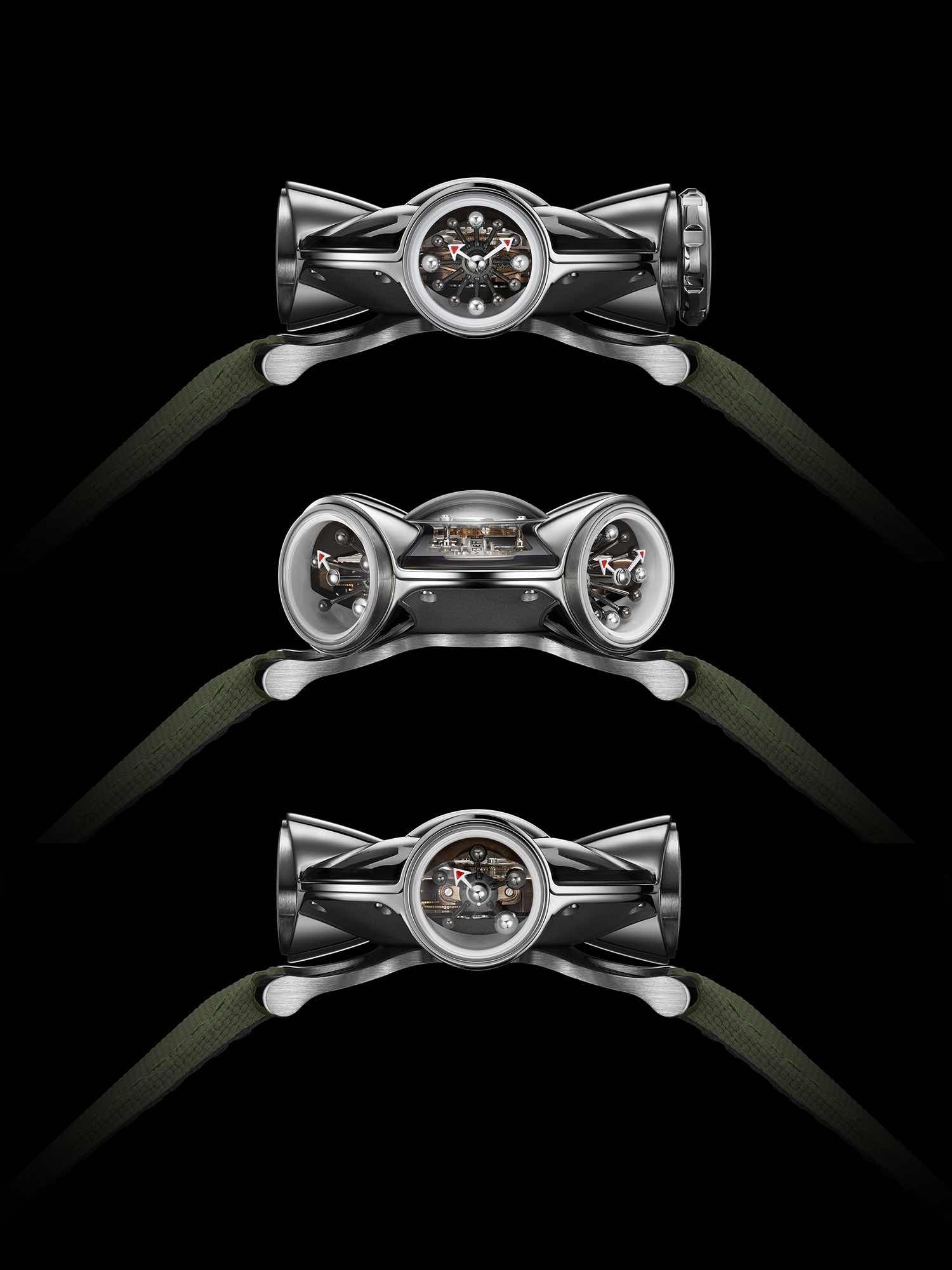 The MB&F HM11 Architect case
Did you notice how I didn't mention winding when I described the crown? Well, that's because you don't use the crown for that. In fact, you rotate the entire circular case of the watch on its wrist-mounted frame. You can click any of the "rooms" to face you, the wearer. Alternatively, you can pick one of the four intermediate positions to have two rooms in view. With each click, however, you put 72 minutes' worth of energy into the mainspring. Ten full rotations give you a power reserve of 96 hours. It's seriously clever stuff.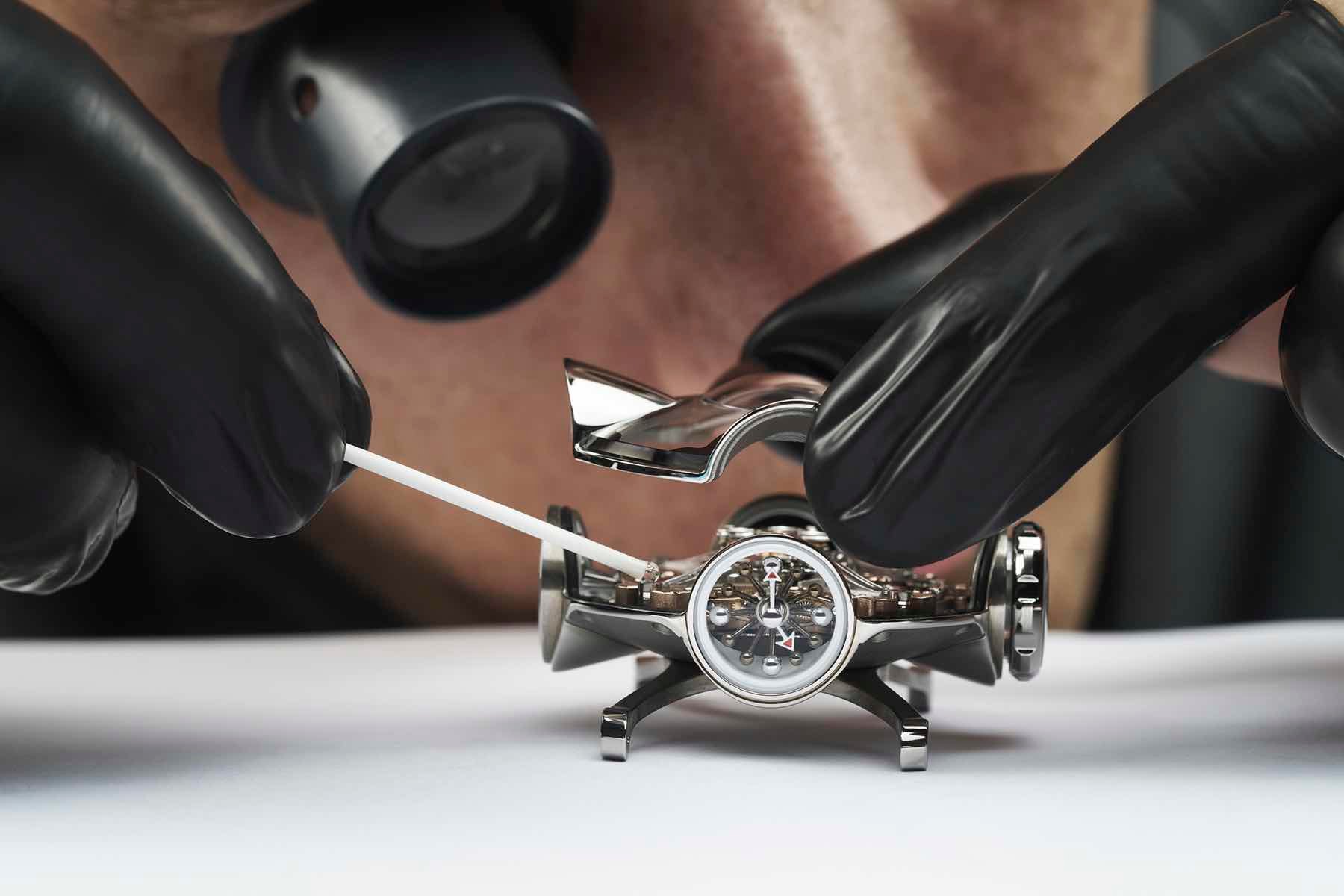 The case is made of Grade 5 titanium and measures 42mm across and 23mm tall. It is made of 92 components and features six complex sapphire crystals and 19 gaskets. Still, don't even think about diving with it as water resistance is rated at 2 ATM. I assume, however, that you already own a handful of nice sports watches if you're in the market for this. So let's keep this work of art dry, shall we?
The rotating part of the case stands on a frame that curves around the wrist quite radically. You strap it down with either a khaki or white fabric strap with a titanium tang buckle. You'll get the white strap if you pick the blue PVD'ed movement plates. The khaki strap comes with the other color option, a rose-gold-plated movement.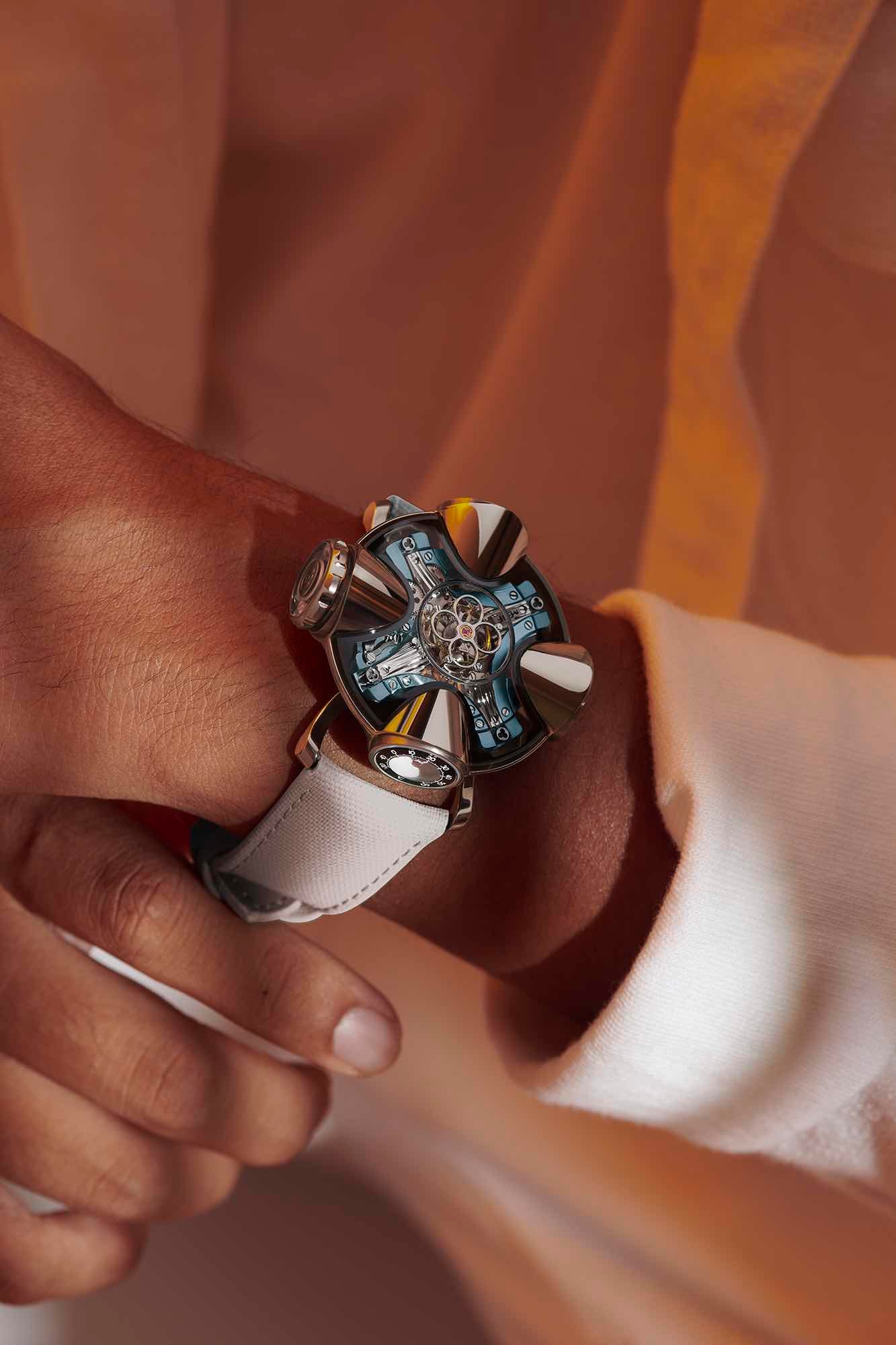 Initial impressions
The MB&F HM11 Architect is yet another awe-inspiring creation from Max Büsser and his friends. Those are quite the friends, by the way. I don't know about your friends, but I don't have high hopes for mine in terms of creating stuff like this. I mean…I love them and all, but come on.
Over time, I have found myself becoming a bit of an MB&F fanboy. Admittedly, I estimate the chances of ever owning a watch from the brand are painfully close to zero. I am still extremely happy, though, that MB&F is around today. I love that there is this realm outside of reality where anything goes — where centuries-old watchmaking crafts combine with space-age technology, bulldogs, and frogs for inspiration. Additionally, these are the kinds of creations that will be displayed in museums centuries from today. "Look at what they could do back then!" I can imagine visitors saying (assuming that we humans are still around by then, of course).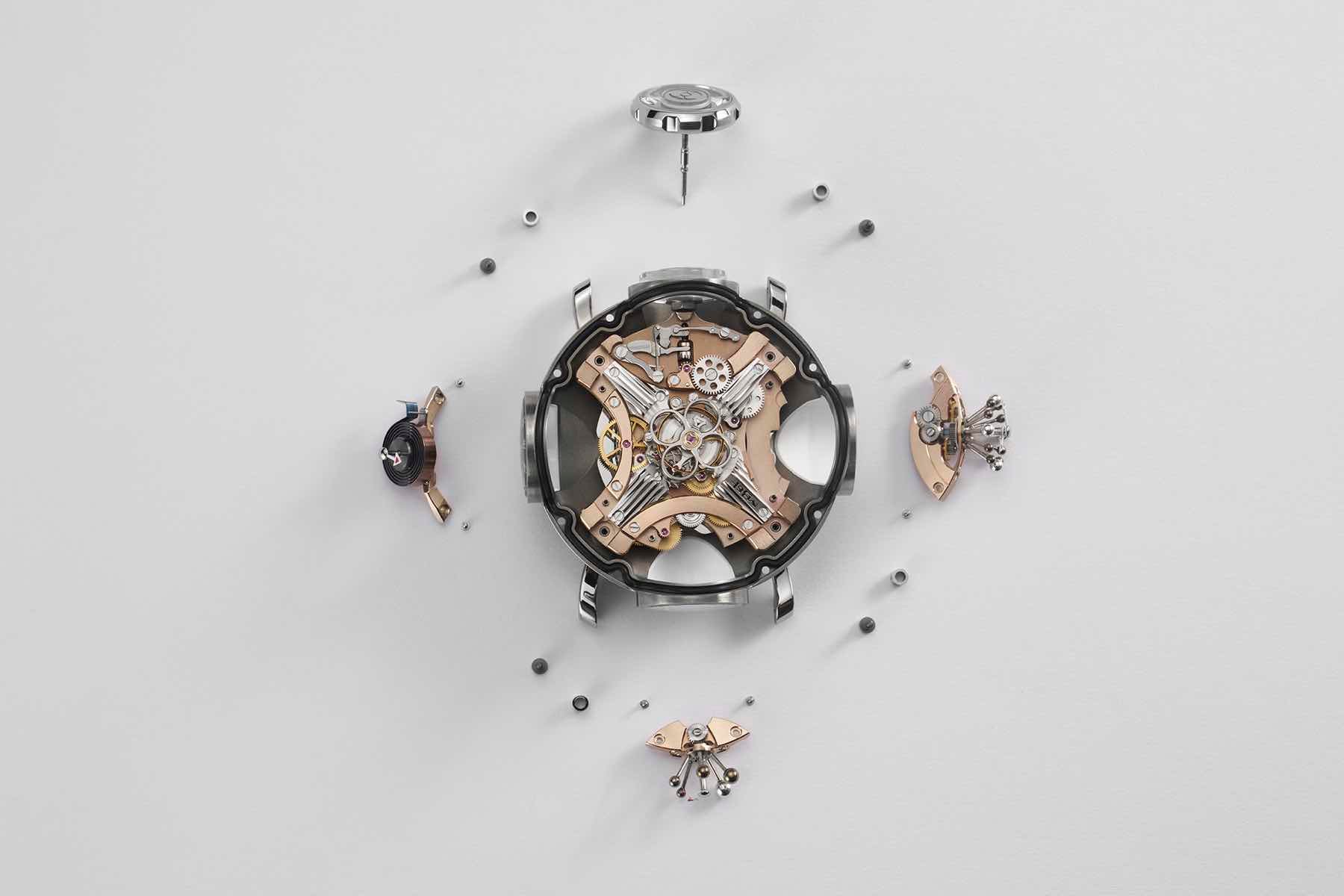 The MB&F HM11 Architect, specifically, is another great expression of that. You may initially find yourself amazed at the design, but then you realize how complicated it is to get all of the readouts spread across four displays. Then you read that the entire watch case acts as a winding crown, and then you spot all the crazy sapphire shapes, which are a nightmare to produce. And if all that hasn't blown your mind yet, the friends put a flying tourbillon right in the middle of it all. This is watchmaking turned up to 11, and I love it.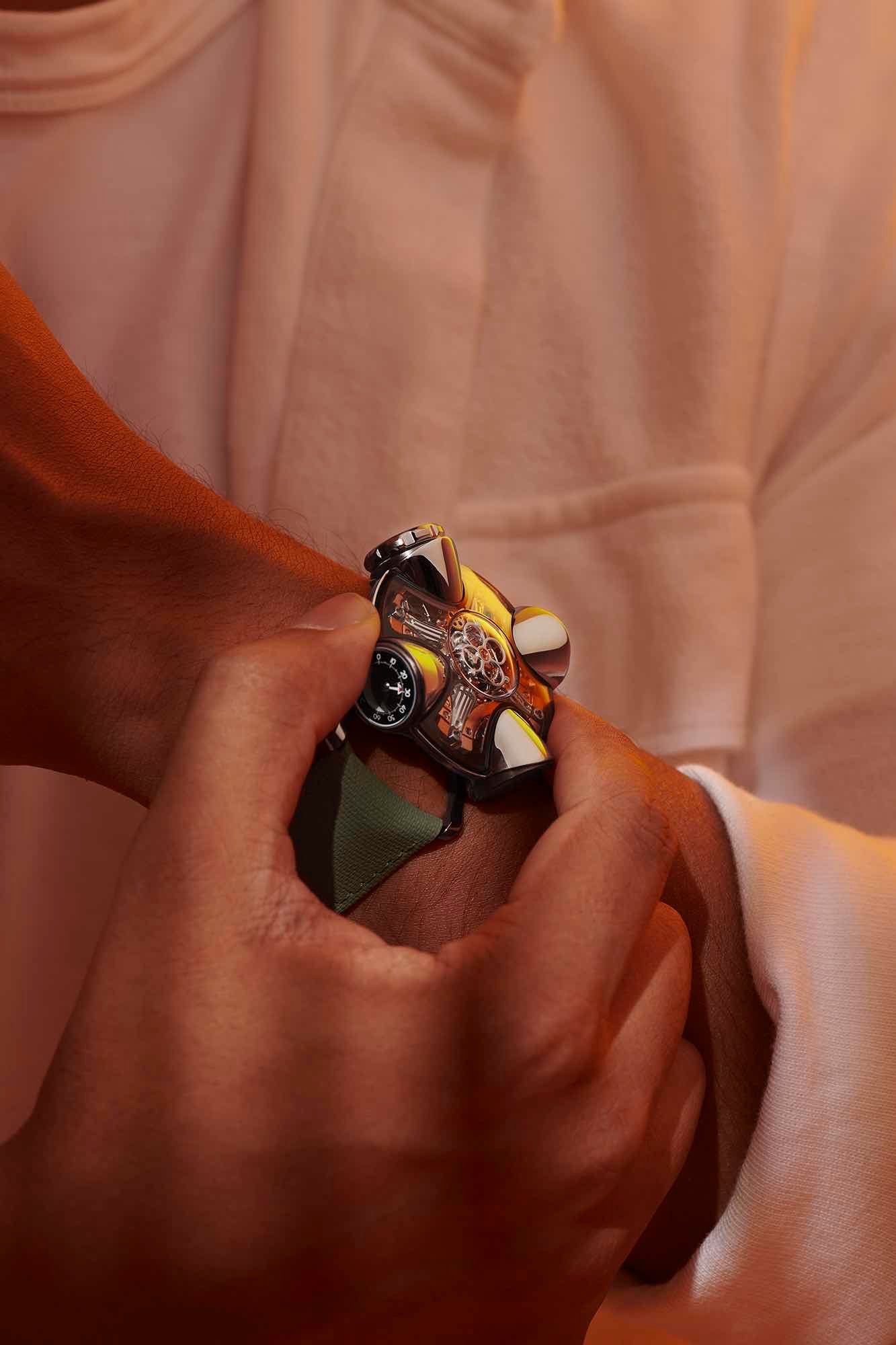 Pricing and availability
The MB&F HM11 Architect is limited to 25 pieces of each color. They can be purchased directly through MB&F, each for a price of CHF 198,000 / €207,000 / US$230,000 before taxes.
What do you think of the new MB&F HM11 Architect? Let us know in the comments below!