Introducing the Linde Werdelin SpidoSpeed Titanium
Linde Werdelin is a brand that we've been covering from their (and our) early days on. Not only because Jorn Werdelin, Morten Linde and their entire team are great people, but also – of course – because they truly have something to show with their modern sports watches.
This time – and we already had a little sneak preview – Linde Werdelin presents the SpidoSpeed Titanium. A watch that was made based on the original Linde Werdelin design code: a sturdy sports watch that has a clear focus on construction and functionality. Everything unnecessary has been cut away from the Grade 5 titanium. To what's left, Linde Werdelin makes sure to finish it in the best way possible. Using industrial-style satin, polishing and microbillé finish techniques for the case. These different type of finish methods result in a watch that gets the best contrasts from light reflection.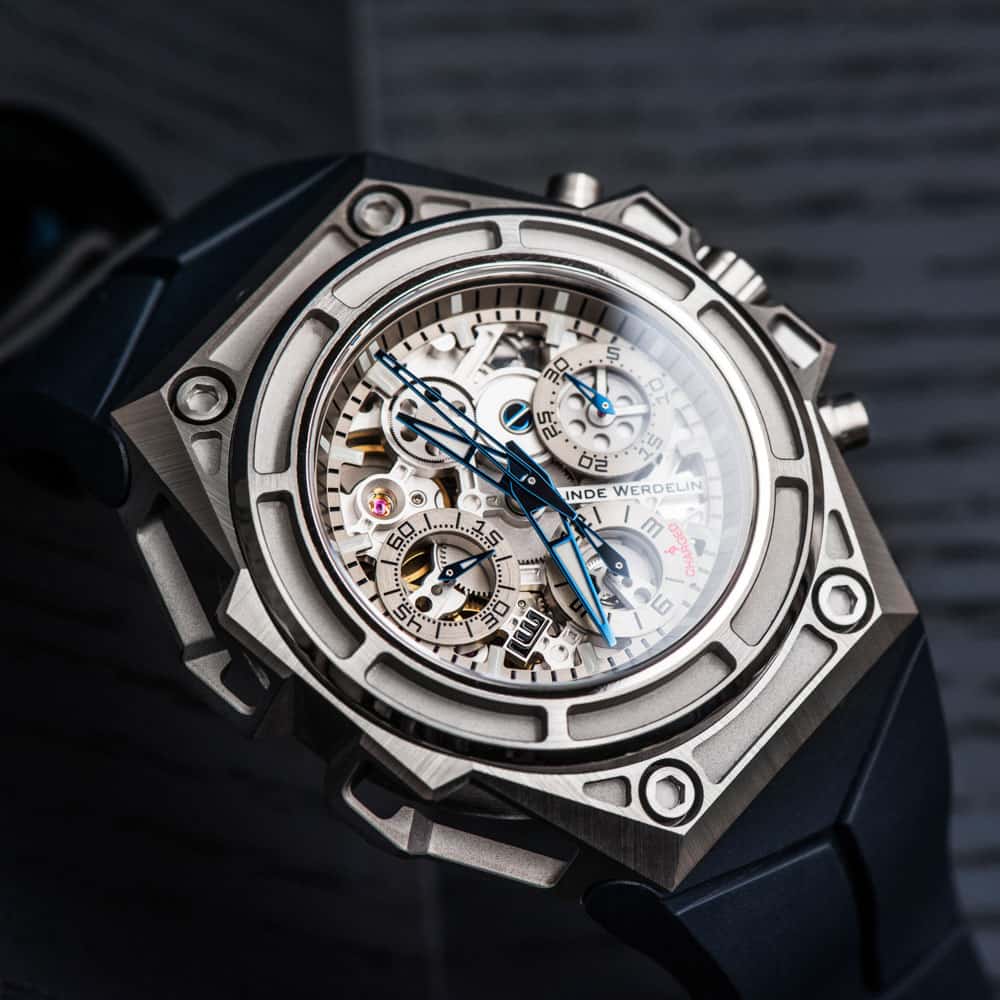 Linde Werdelin's hunger for weight reduction is clearly inspired by the racing industry, without compromising on function. We also can see this in the dial of the SpidoSpeed Titanium. The fully skeletonized dial unveils the caliber LW06 movement. A chronograph movement from the Jaquet Family that consists of 273 parts. Some of these parts are individually skeletonized as well. The monochrome appearance of the SpidoSpeed Titanium received some blue detailing by screws that underwent heat treatment and of course the skeletonized hands. Linde Werdelin let us know that their Rock and Reef instruments (in-house developed add-on digital modules for rock climbers and divers) are now also available in matching colors for the Spidospeed Titanium: both are available in blue and natural anodised aluminium.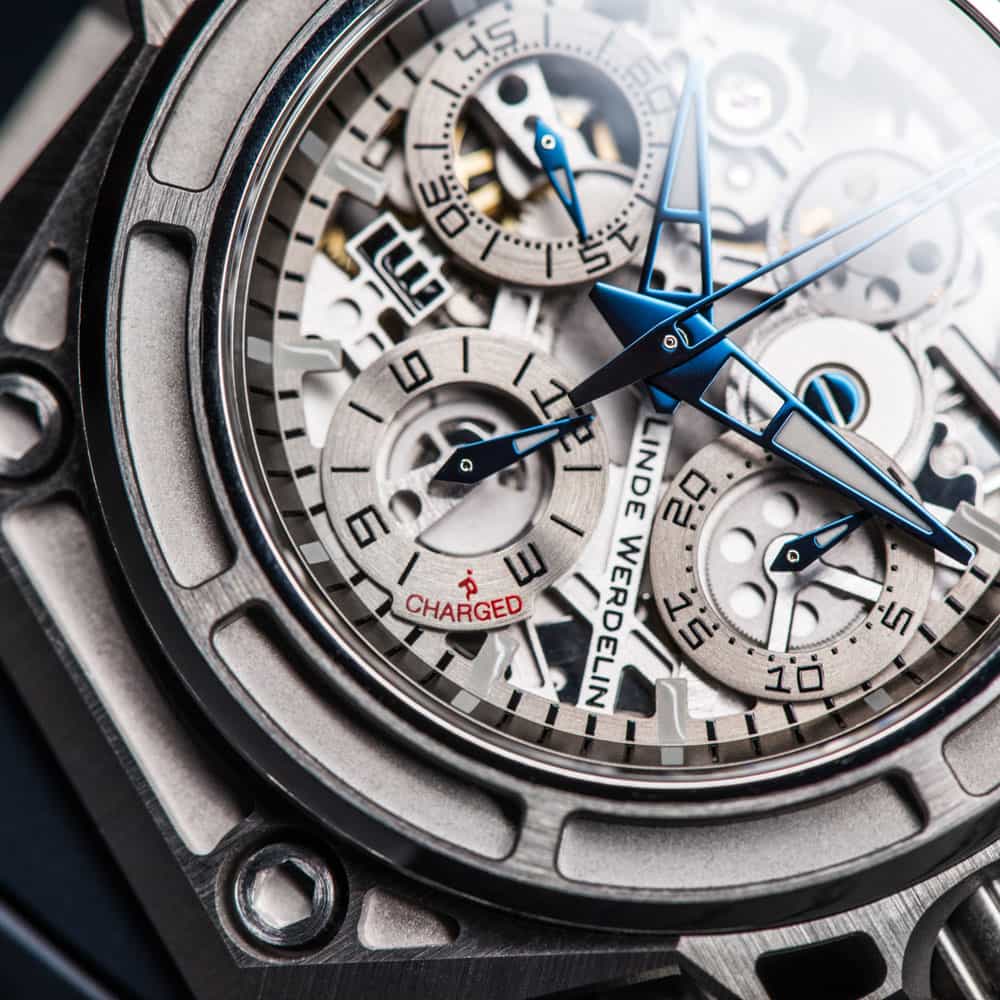 The "R" on the 6 o'clock sub-dial may be understated, but it holds a significant function for the adventure-seeking owner. After a full day's skiing with The Rock, place the instrument on charge and start the SpidoSpeed's chronograph. When the sub-dial meets the "R", The Rock is fully charged and ready to go again.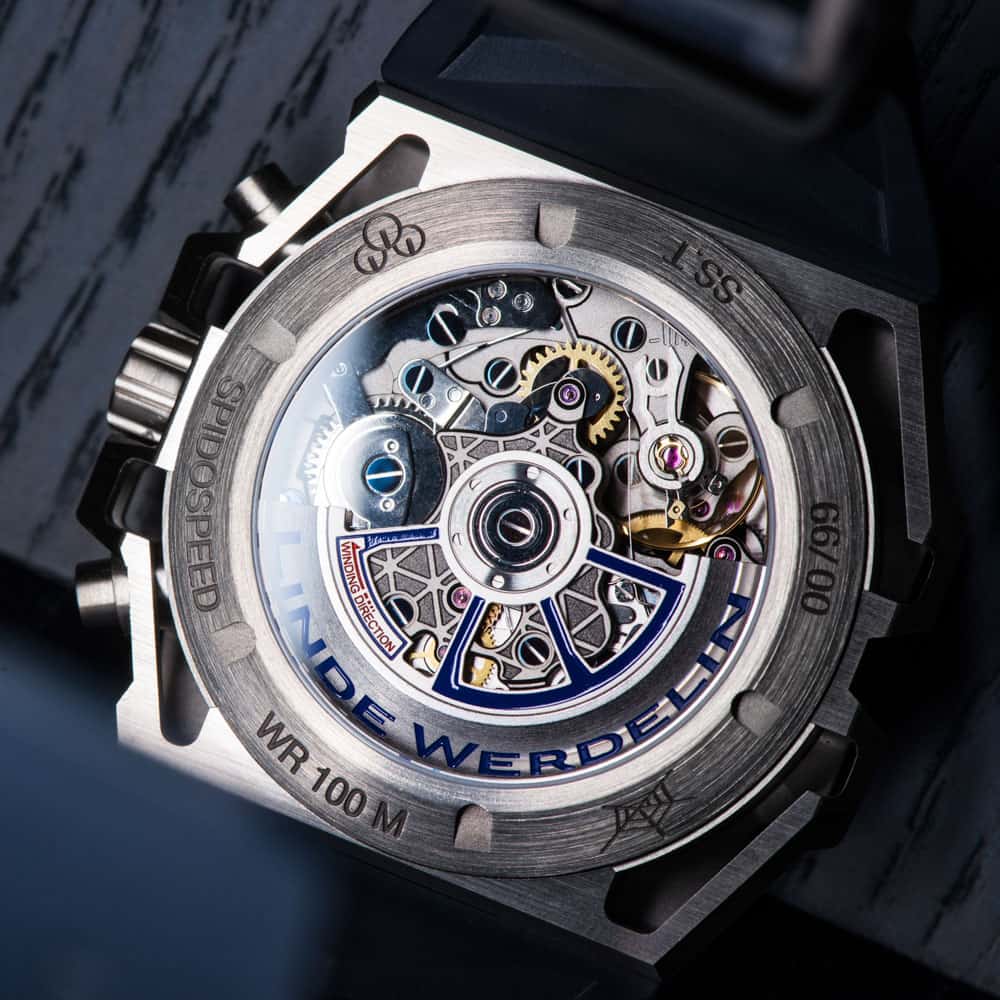 The SpidoSpeed Titanium will be exclusively available at Martin Pulli from 1st June 2015, and will go on general release at a number of select retailers as of 8th June 2015. The SpidoSpeed Titanium comes in a limited and numbered series of 99 pieces worldwide
Without further ado, here are the technical specifications of the SpidoSpeed Titanium:
OUTER CASE
– Three-part case construction; Titanium Grade 5; satin, polished and microbillé finishing
– Sapphire crystal, anti-reflective on the inside
– Crown: Titanium Grade 5; screw-down; rough circular satin; engraved with a spider icon
– Case dimension: 44mm (w) x 46mm (l) x 15mm (h)
BEZEL
– Titanium Grade 5; satin on top surface; polished facet; microbillé in grooves
MOVEMENT
– LW06, movement skeletonised and customised by Linde Werdelin
– 48 hours power reserve
– Balance frequency: 28,800vph (4Hz)
– Jewels: 27
– Movement plate: rhodium; circular satin
– Linde Werdelin-developed chronograph pusher system; Titanium Grade 5 with rough circular satin
BACK CASE
– Titanium Grade 5; circular satin
– Sapphire crystal, anti-reflective on the inside
– Limited edition number laser engraved from 1 to 99
– Rotor: rhodium; logo and logotype printed in blue; "winding direction" printed in red
– Water resistant to 100 metres
INNER CASE
– Titanium Grade 5; vertical satin
– Engraved with "start/stop" and "reset" around pushers
STRAP
– Interchangeable natural rubber strap in LW-blue
– Titanium screws; circular satin on top
– Black tension discs
– Titanium Grade 5 buckle; satin, polished and microbillé finishing
DIAL
– Skeletonised dial
– Réhaut and dial: titanium colour, circular satin finish
– Hands blued by heat treatment; polished; cool grey Luminova
– Cool grey hour indexes
– Black minute indexes
– Logo and logotype printed in black
– Sub-dials: Titanium with graphics printed in black
– R: charge-indicator printed in red on 6 o'clock sub-dial
– Wheels: rhodium, with circular cut-outs; matte treatment
– Screws: visible screws blued by heat treatment
The SpidoSpeed Titanium will retail for CHF18,000, €18,400 or £13,600, excluding VAT. More information can be found here.