Introducing: The Revamped Breitling Avenger — Taking Off With The Avenger B01 Chronograph 44 Leading The Way
A stealthy Night Mission chrono, a 44mm GMT, and a 42mm Automatic also take flight
One day ahead of the global launch of the revamped Breitling Avenger, Georges Kern, Breitling's CEO since 2017, appeared on my smartphone screen to talk about the new watches. The first question I had for him was the simplest of the lot: which new Avenger model are you wearing today? Well, he didn't have to answer that one because when the CEO moved his left arm, the black-dialed Navitimer on his wrist was clearly visible. Never mind; more questions were ready to go. I could still find out about his favorite new Avenger of the collection, which includes plenty of Avenger B01 Chronograph 44 models, two stealthy Night Mission chronographs, a 44mm GMT, and a slightly smaller 42mm Automatic model.
The Breitling Avenger has been around for more than 20 years. It always looked like it meant business. Rough business, that is. Well, it was built for fighter pilots, so the Avenger was designed to deal with extreme conditions in mind. Extreme resilience and optimum readability were key elements in the creation of the original Avenger. The new collection shows sophisticated evolution without losing the original fighter-pilot spirit. It's that same connection to flying military men and women that led to me talking to Georges Kern on the phone instead of on the flight deck of the USS Intrepid. That Essex-class aircraft carrier built during World War II is now a museum ship floating in the Hudson River on the west side of Manhattan. The Intrepid Museum was the original location for this launch, but in light of recent global events, a former warship didn't feel like the appropriate setting.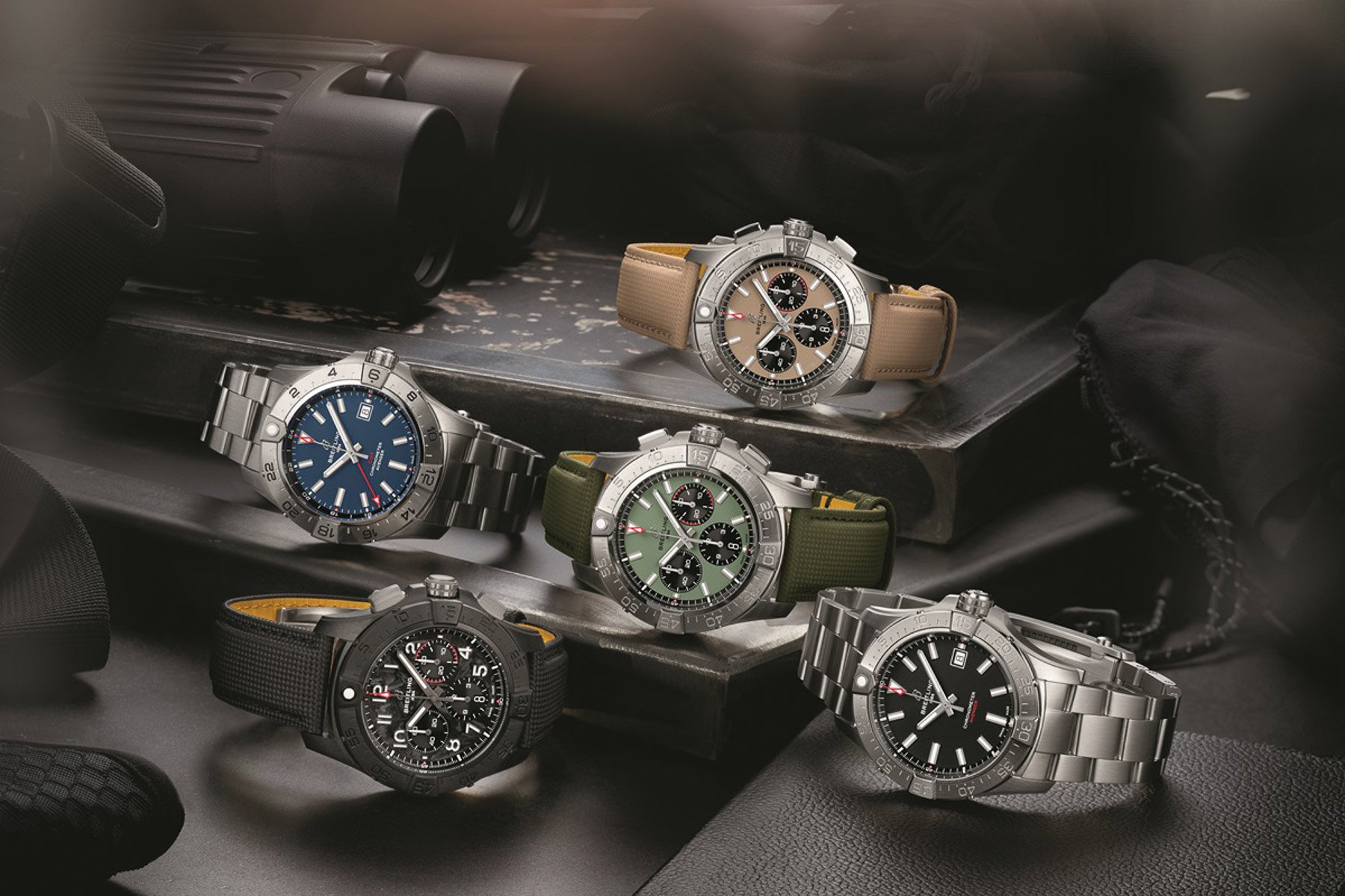 The revamped Breitling Avenger takes off from a different location
Asking about Georges Kern's favorite new Avenger of the lot is a good way to start exploring the new collection that comes in three formats — a 44mm chronograph, a 44mm automatic GMT, and a 42mm automatic three-hander. Kern's favorite is the Avenger B01 Chronograph 44 with a green dial and a matching green strap (AB0147101L1X1). He explained, "As you can see, it's a different type of green than you usually see on watch dials. We were looking for new greens with a subtler and softer hue. The green we used may remind you of vintage Jeeps. The color is military, but also a bit faded and therefore less aggressive. The blue dial of the Avenger B01 Chronograph 44 also shows a different type of blue that does have military inspiration, but the softness of the color with hints of gray is not aggressive."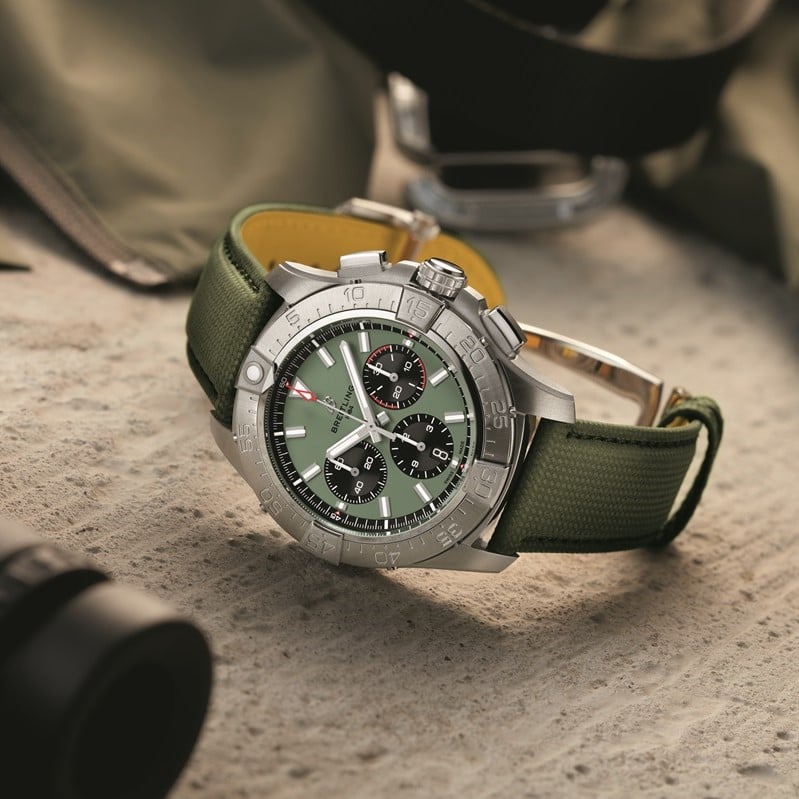 The now more sport-chic Breitling Avenger takes off
The new Avenger collection underwent some serious cosmetic changes without losing the original bold looks. While the Avenger once looked like a Chronomat on steroids, the two collections are now positioned further apart from each other.
Georges Kern told me, "You're right when you say that the two collections, at some point, began to look too much alike. It was difficult to distinguish the difference between the Avenger and the Chronomat. With the introduction of the bullet bracelet, the Chronomat became more chic and elegant. The revamped Avenger presents itself in a sporty, sophisticated, modern aviation style.
"What is important for Breitling is that we are instantly recognizable as a brand. That goes for the way we communicate and present ourselves, but, of course, also regarding our watch collections. That's why we present ourselves in a compact way. We're now more sport chic than 'male military.' Excuse me for using a car analogy, but we're now more Aston Martin than Lamborghini. The new Avenger watches have a chic appearance, sportier than ever and not aggressive. Don't get me wrong; the Avenger is still a rugged outdoor watch, but it's now a bit more stylish. Look at the pushers and bezel, for instance. The design is now much more refined. Mind you, it took us three years to design."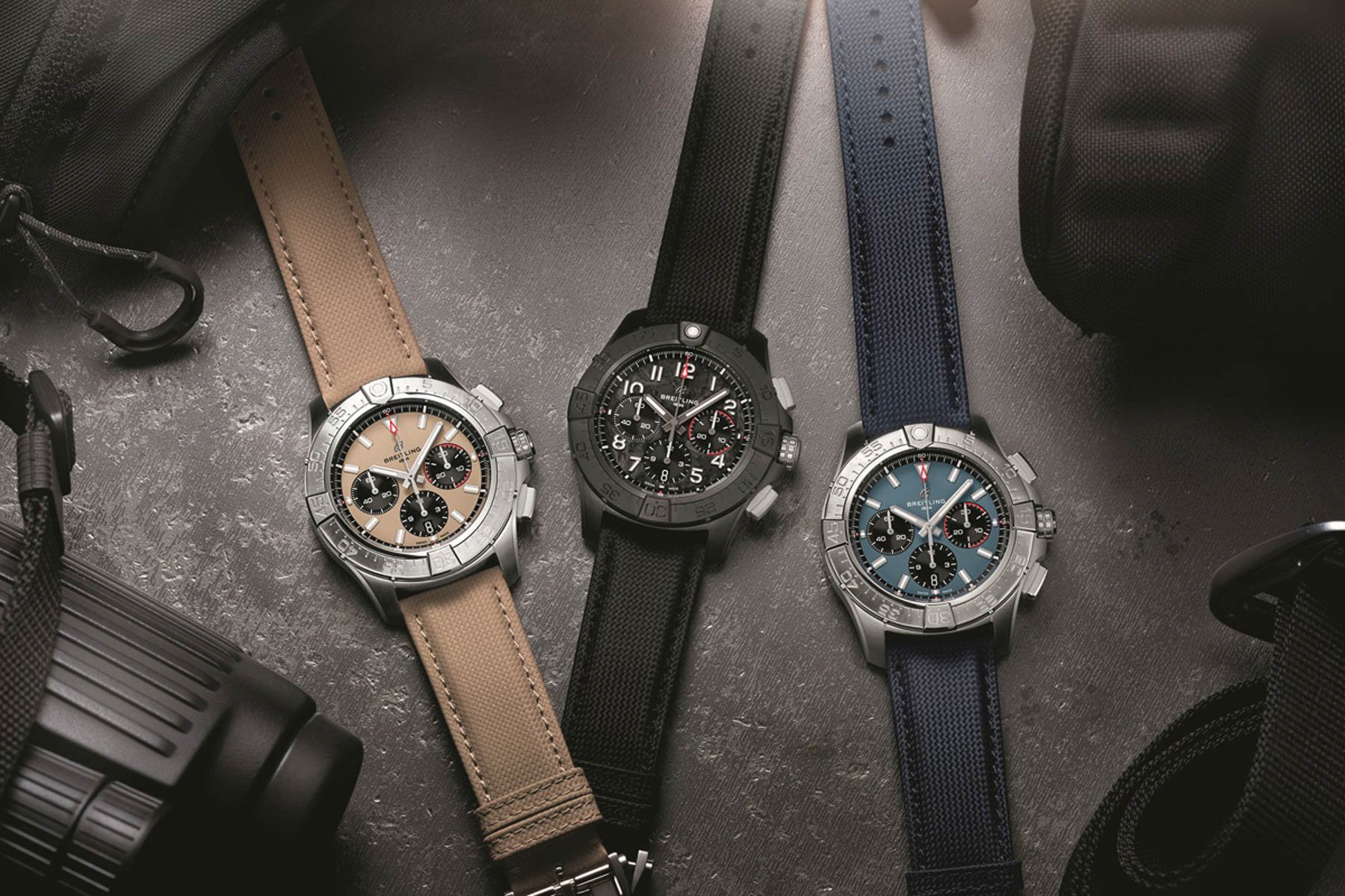 Avenger B01 Chronograph 44: a manufacture caliber inside
All the new Breitling Avenger models are COSC-certified watches that come with a choice of a military leather strap with a folding pin buckle or a three-row stainless steel bracelet with a micro-adjustable folding clasp. Each new watch also has a 300m water resistance rating. But not every Avenger model is created equal. The Avenger B01 Chronograph 44, for instance, uses the in-house Breitling 01 (B01) movement, which provides approximately 70 hours of power and comes with a five-year warranty. The GMT and Automatic models house renamed ETA movements, but more about that later.
The steel Breitling Avenger B01 Chronograph 44 is available in four dial colors — blue, green, black, and beige. There's the choice between a bracelet (€7,900) or a strap (€7,600), so you're looking at eight new references in total (AB0147101B1X1, AB0147101B1A1, AB0147101C1X1, AB0147101C1A1, AB0147101L1X1, AB0147101L1A1, AB0147101A1X1, and AB0147101A1A1). The brushed steel 44 × 15.2mm case has a 53mm lug-to-lug length. Its brushed surfaces do give it a tool-watch-like appearance and help to visually keep things in check. Having said that, it still looks like a 44mm watch and not a single millimeter smaller. There's also a display case back with a sapphire crystal, so you can try to find the column wheel of the chronograph mechanism.
On the dial, no-nonsense stick hands and indexes provide easy readability. The red-tipped chronograph seconds hand is also a functional touch, as are the tabs on the bezel and the large grip pattern on the crown. The newly designed rectangular pushers, a result of that three-year process, should also allow you to operate the chronograph smoothly.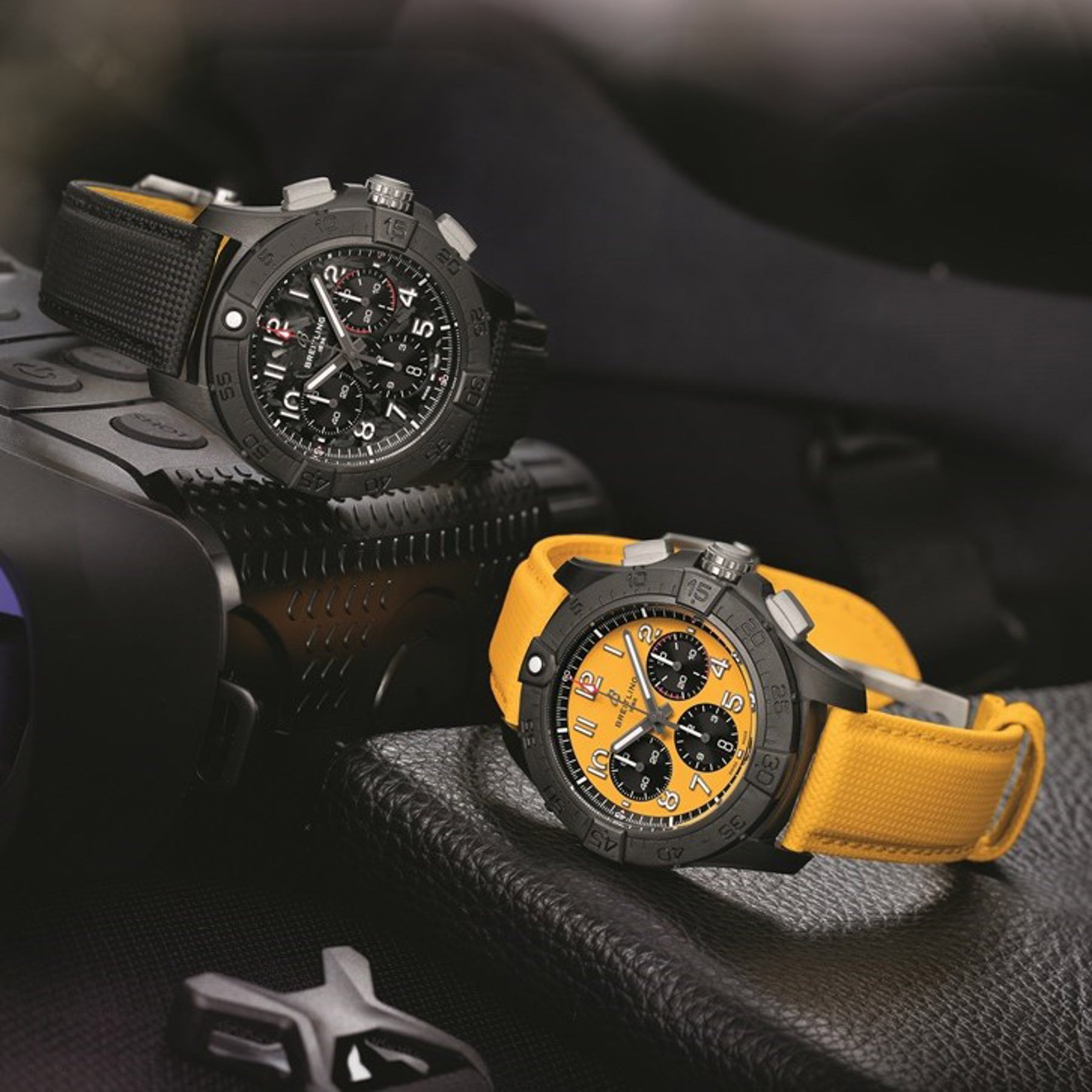 Avenger B01 Chronograph 44 Night Mission: ceramic and stealthy
Whereas the regular Avenger B01 Chronograph 44 uses sturdy, tried-and-tested, traditional steel, the Night Mission relies on black ceramic. The Avenger B01 Chronograph Night Mission comes in a black ceramic case with the choice of two different dials.
The first variant has a black carbon dial (SB0147101B1X1) with a €9,100 retail price. There's also a version with a yellow dial with black contrasting chronograph counters. It comes on either a black strap (SB0147101I1X1) or a bright yellow one (SB0147101I1X2), both with a price of €8,900. The bezel is also executed in scratch-resistant ceramic while the case back, crown, pushers, and buckle, meanwhile, are crafted in solid titanium.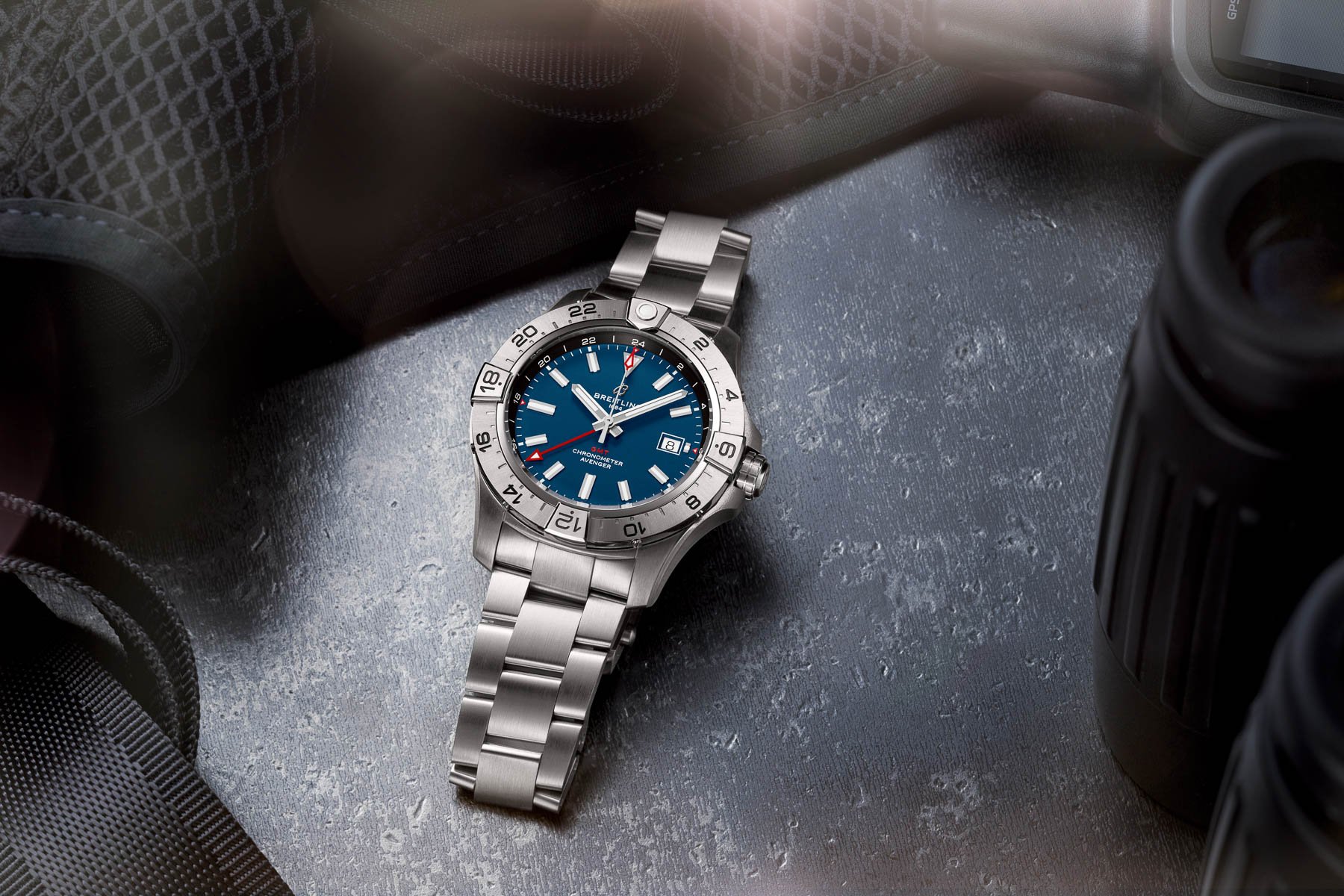 Avenger Automatic GMT 44: sadly, not a "flyer"
The Avenger Automatic GMT 44 is available with either a black or a blue dial (A32320101B1X1, A32320101B1A1, A32320101C1X1, and A32320101C1A1) and a 44 × 12.05mm steel case with a 53mm lug-to-lug length. You can choose between a black or blue military leather strap with a folding pin buckle (€5,100) or a stainless steel bracelet with a folding clasp (€5,400). The diameter of the GMT model is equal to that of the chronograph, but the case profile is over 3mm slimmer.
Inside the watch beats the COSC-certified Breitling caliber 32, which is based on the ETA 2893-2 and provides an approximate 42-hour reserve. Sadly, the use of that movement means that the Avenger Automatic GMT 44 is not a "flyer" but a "caller" GMT. In the second position, the quick adjustment advances the 24-hour hand rather than the 12-hour hand. Maybe Breitling could/should have used a Kenissi-made MT5652 GMT movement like Tudor uses in the Black Bay Pro and Black Bay GMT. After all, Breitling is an industrial partner of Kenissi.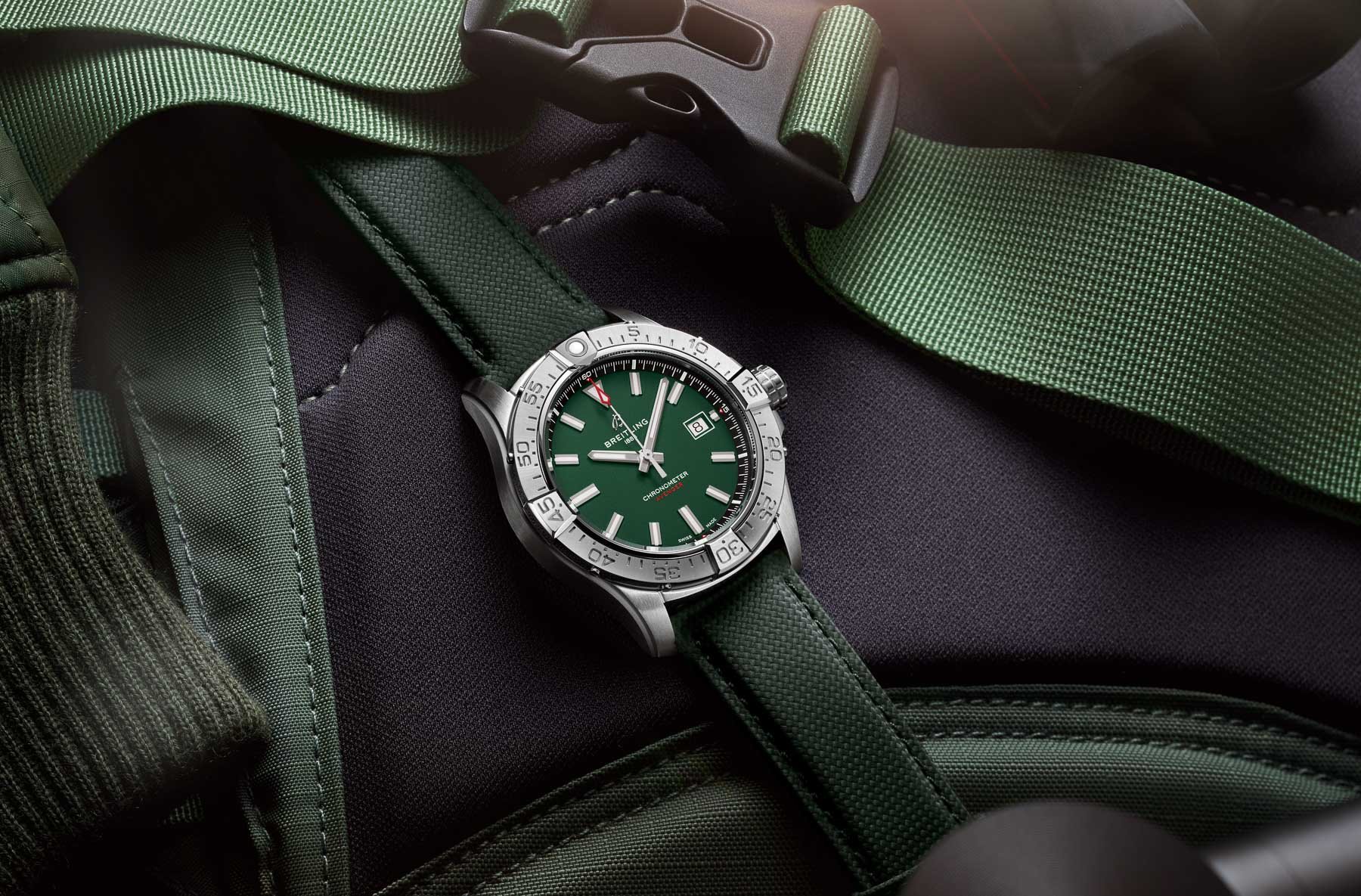 Avenger Automatic 42: your everyday flying superhero
With its 42 × 12.15mm brushed steel case with a 51.21mm lug-to-lug length, the Avenger Automatic 42 is smaller than the Chronograph and the GMT. But this model watch is also the sleekest. It comes with a black, blue, or khaki-green dial (A17328101B1X1, A17328101B1A1, A17328101C1X1, A17328101C1A1, A17328101L1X1, and A17328101L1A1) and a choice between a military leather strap with folding pin buckle (€4,400) or a stainless-steel, three-link bracelet with folding clasp (€4,700).
The Automatic 42 is the most introverted Avenger, but it still packs the line's original punch. Inside the brushed case beats the COSC-certified Breitling caliber 17 based on the ETA 2824-2. This is an automatic three-hand movement that delivers up to 38 hours of power with a two-year warranty.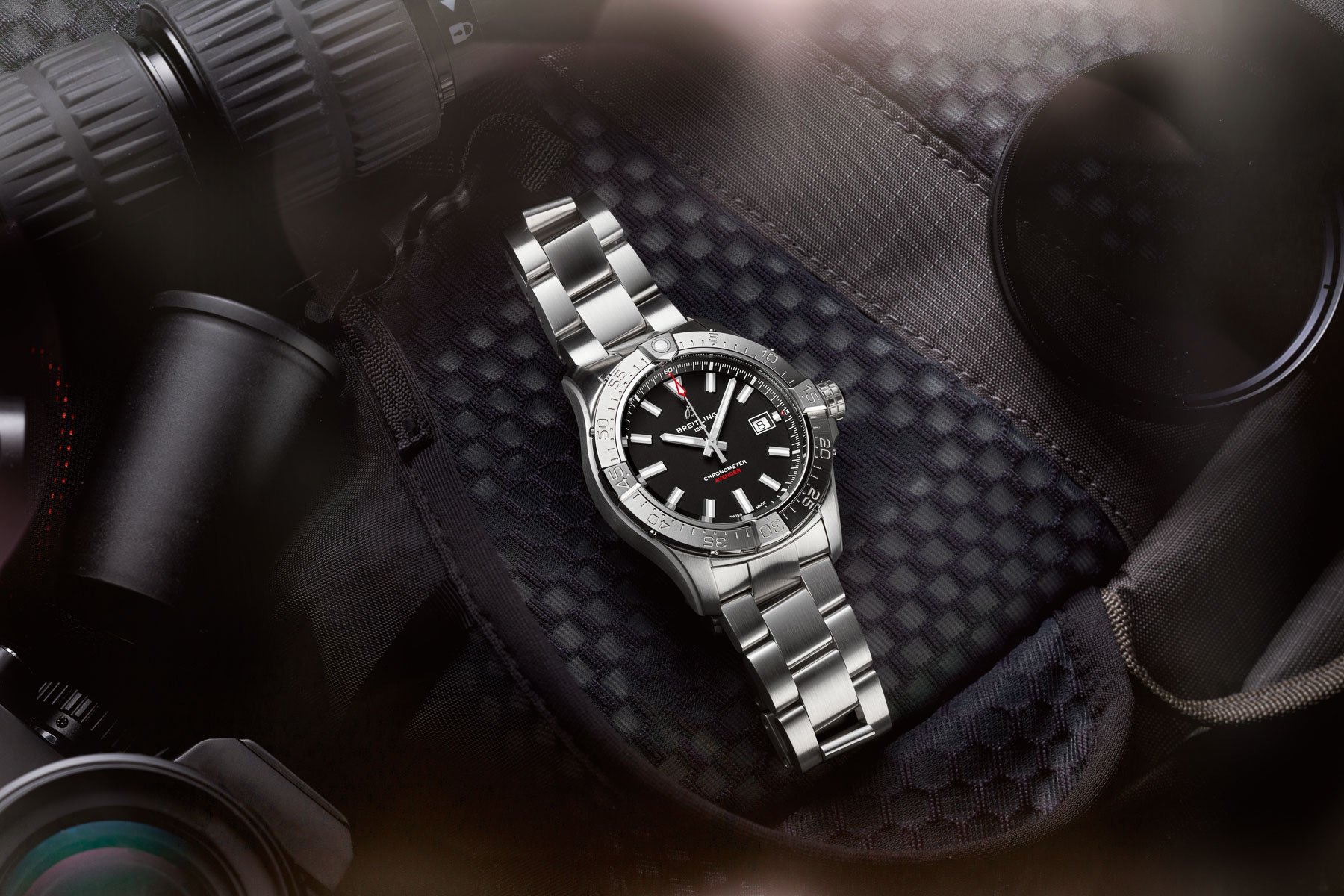 Final words on the new Breitling Avengers
With this new generation, the Breitling Avenger is flying high again, especially the chronographs with their distinct new colors and B01 movement. The GMT and Automatic are not quite in the same league, and the ETA-based movements are to blame. There are better movements out there today. Yes, both of the calibers that Breitling used are chronometers, but their power reserves are on the low end. The fact that more and more GMT watches in the €4K–5K price range are superior flyer GMTs and not caller-type ones is also a bit of a miss. During the interview, Georges Kern didn't mention an upcoming flyer GMT movement, but he did reveal that a new in-house three-hand automatic movement is being developed right now.
What do you think of the new Breitling Avenger watches? Do you like what you see in terms of colors, design, and movements? Let me know what you think in the comments below, and visit Breitling's website for more info.