Introducing: The Zodiac Super Sea Wolf Left Hand Drive Pro Diver GMT
A blacked-out "destro" limited edition for Huckberry
Here we have a brand-new Zodiac destro GMT. When I say "destro GMT", I am pretty sure you will think of one specific oddball watch release from this year. Now, though, there is another that is pretty much the polar opposite in execution. Meet the menacing-looking Zodiac Super Sea Wolf Left Hand Drive Pro Diver GMT.
Zodiac will release only 282 of these in cooperation with American adventure retailer Huckberry. For all you European watch aficionados, there is a small pre-launch of 25 pieces being sold in Scotland and another 25 in Italy.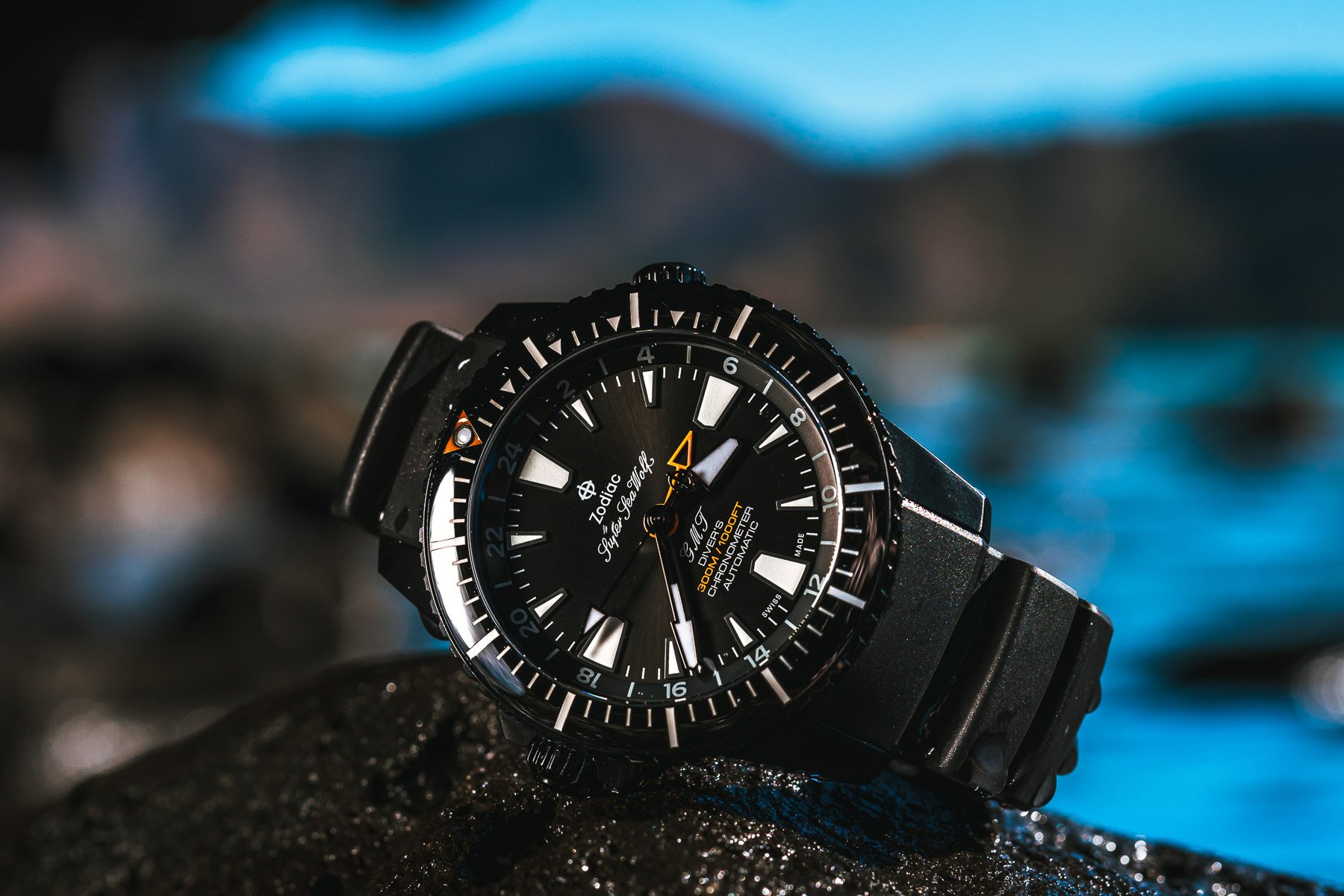 Zodiac's destro GMT
I should probably refer to this new Zodiac destro GMT by its proper name, the Super Sea Wolf Left Hand Drive Pro Diver GMT. But since that is a bit of a mouthful, forgive me for this abbreviation. In any case, what we have here is a watch that looks every bit like a Zodiac. Over the decades, the brand has developed a distinct style, and if you like it, I'm sure this will speak to you as well. This is, however, a more brutalist version of that design language. Unlike some of Zodiac's small vintage-vibe divers, this is a beast with beastly aesthetics. And I think it looks pretty darn cool.
This Zodiac destro GMT features a black DLC-coated case, which measures 42 × 50 × 14.5mm. It has a helium escape valve at 2 o'clock and is able to withstand 30 ATM of water pressure. It comes on a nicely integrated rubber strap.
Inside ticks a Soprod C125, a 25-jewel automatic caliber offering 42 hours of power reserve. This is a caller GMT, so unfortunately there is no on-the-fly adjustment of the local time. The GMT hand is executed in skeleton style, so it's not filled with lume. The bright orange color should make it legible in most circumstances, though. Otherwise, the dial, hands, and bezel are fully lumed with BGW9. This should make for a nice bright blue spectacle on your nightstand. Er… I mean at the bottom of the ocean.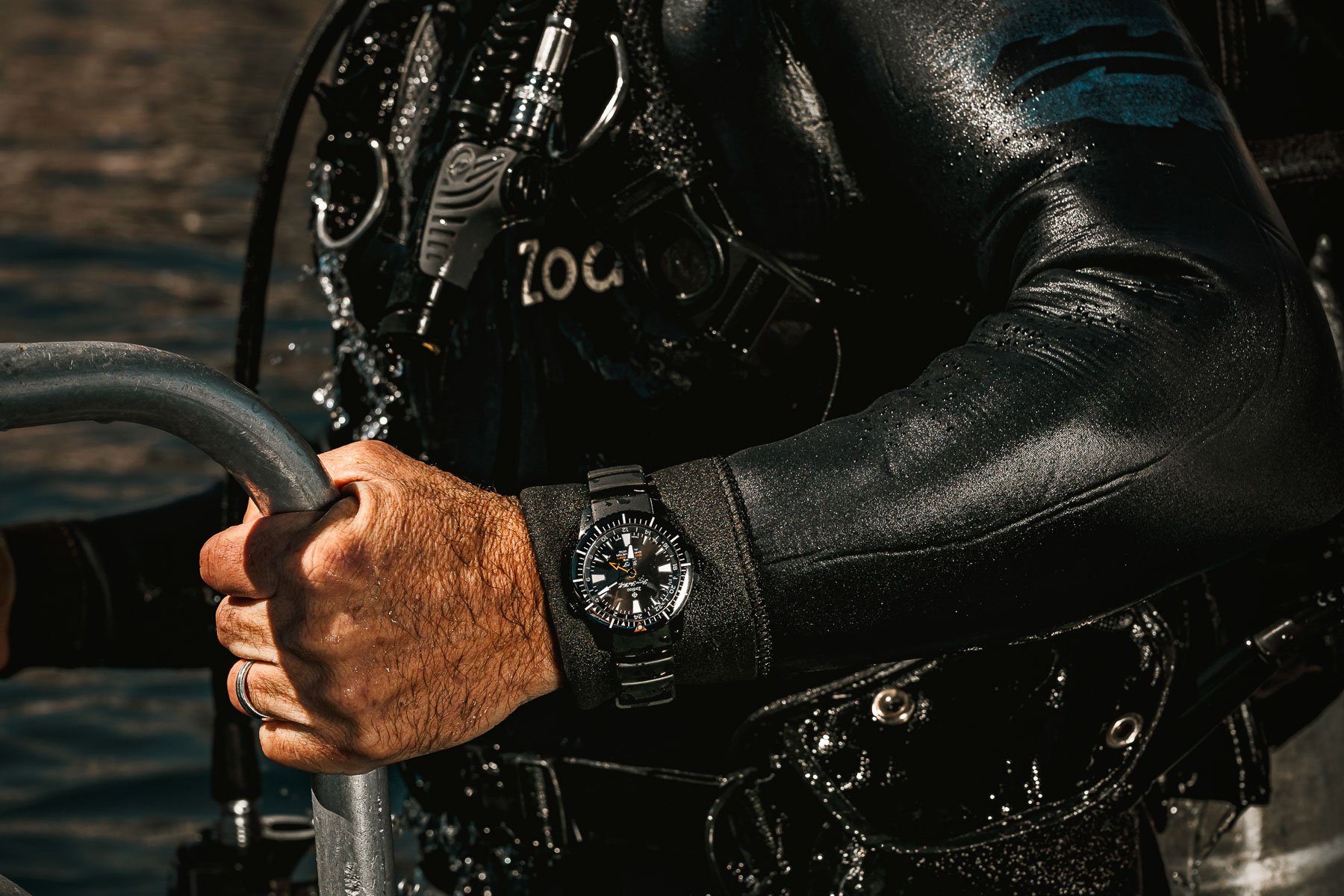 Going destro
A destro configuration (crown on the left side) can be implemented for a few reasons. In the case of the Rolex GMT-Master II that I referred to earlier, it is aimed at left-handed people who would wear the watch on the right wrist (destro means "right" in Italian, after all). Such a setup arguably makes it easier for these folks to adjust the time while keeping the watch on the wrist. In the case of this Zodiac, it has more to do with wearing comfort. Being quite a bulky watch, there is a chance of the crown digging into the hand for right-handed wearers. There is no risk of that happening now unless, of course, you wear your watches on your right wrist.
A destro watch can look a bit odd. Upside down, even. I am happy to report that this is not the case here. The black case makes it less noticeable, and the helium valve at 2 o'clock balances it out nicely. I think the configuration looks very cool on this Zodiac destro GMT.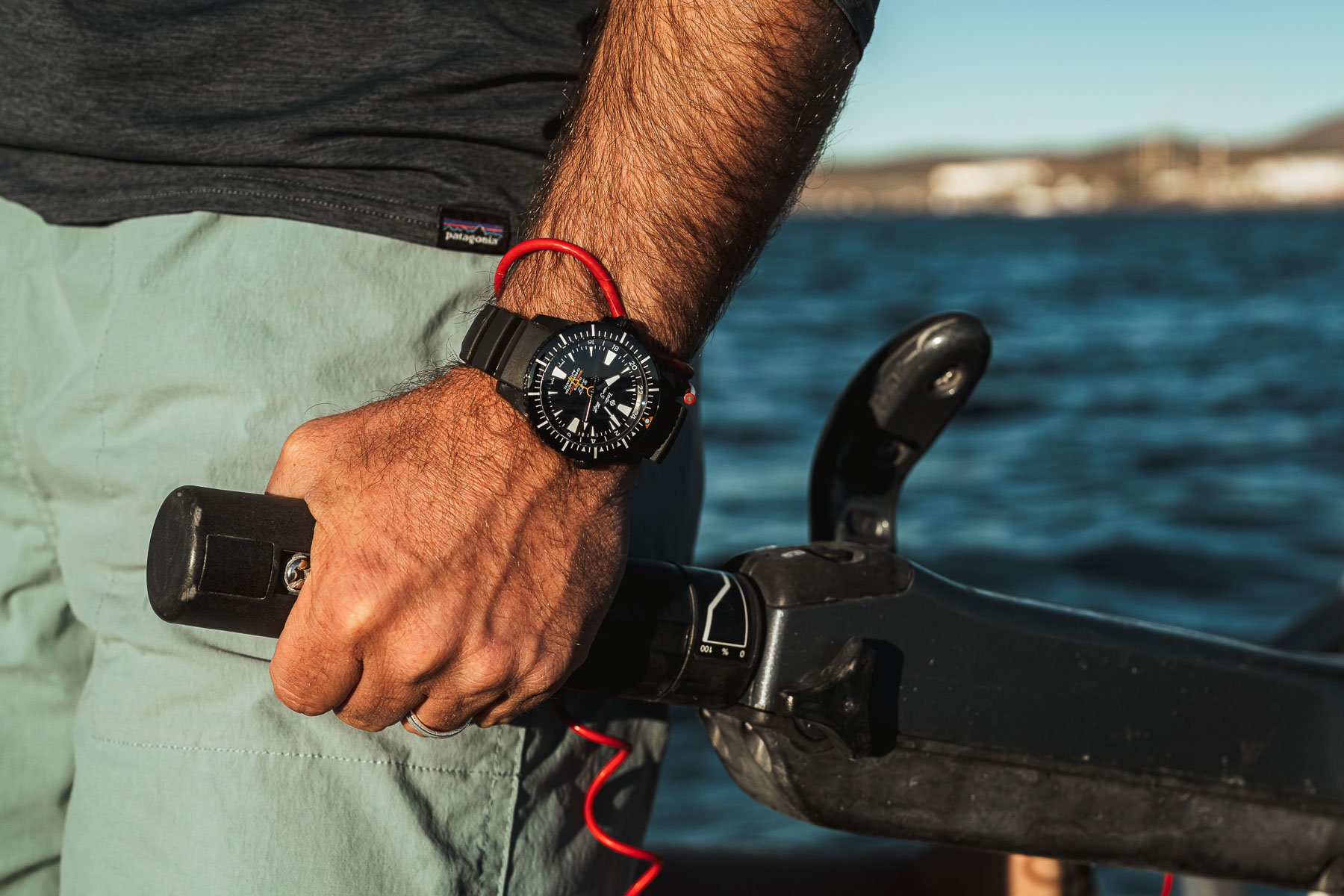 Zodiac Left Hand Drive Pro Diver GMT — An (almost) Huckberry exclusive
This watch was exclusively developed for American retailer Huckberry, and it suits the company to a tee. The online adventure-lifestyle retailer specializes in rugged outdoor apparel and gear, and it does so in a very stylish, fashion-forward way. The Zodiac destro GMT will launch on Huckberry's website on January 1st.
As of December 17th, 25 pieces will be available through James Porter in Glasgow, Scotland. Another 25 are offered through Grimoldi in Milan, Italy. The Zodiac Super Sea Wolf Left Hand Drive Pro Diver GMT is priced at US$2,295.