Watches Dating Profiles: Italy — Unimatic, U-Boat, And Panerai Are Wild And Full Of Life
You can't rule the heart
Italy is known for bold design and expert handicraft. The watches featured in this edition of Watch Dating Profiles bring that and then some. Bold, striking, and unapologetic, these watches get as close to a short red dress or Italian Barbera red wine as any watch can. The Unimatic U1 Classic is a thick and bold yet minimalist approach to the classic dive tool watch. The U-Boat Classico 45 Tungsteno Movelock is large, loud, and demands one's full attention. Finally, the Panerai Luminor Marina ref. PAM01313 embodies Italy's incredible history as the modern-day iteration of one of the world's first dive watches. It's still bold, but also the most elegant watch that Italy's boldest watch designers can deliver. If you're ready for some fun, put your dancing shoes on and unbutton the top three on your shirt — it's Italian time.
Unlike some of the other countries we've featured so far, Italy has a fairly non-existent watch-movement industry (if any Fratelli know otherwise, please enlighten me in the comments). Italian watch companies source their movements from the standard places — Switzerland and Japan. Or, more often, as with Panerai and other prominent names, they'll opt to have the watches entirely Swiss-made. This wasn't always the case — Panerai and the like historically manufactured watches in Italy — but c'est la vie. But for various reasons, the Swiss won out on the movement and manufacturing side of watch production. To stay relevant, Italian watch companies doubled down on their incredible strength of uniquely Italian design. And it's paying dividends. Some watch brands, like Unimatic, are intent on bringing watchmaking back to The Boot, even if the movements come from elsewhere.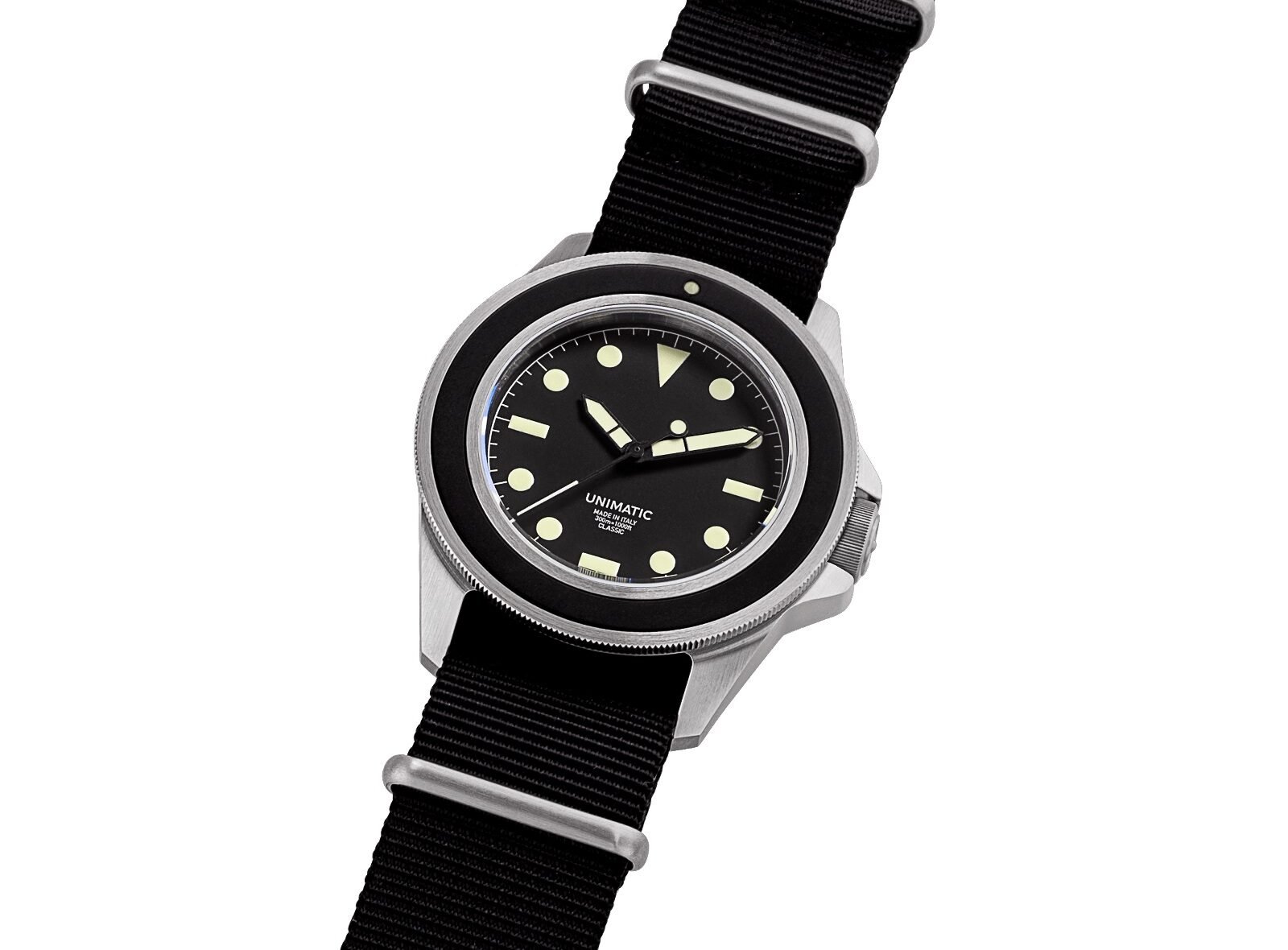 Unimatic U1 Classic ref. UC-1 — soon to be an Italian standard
Unimatic is a young watch company with a timeless design. Formed by college friends Giovanni Moro and Simone Nunziato, united by their love of vintage Seikos, Unimatic started as a side project to explore the intersection of form and function in the simple tool watch. A few years, a few models, and lots of hard work later, Unimatic was thriving as an affordable yet exclusive Italian microbrand capitalizing on its unique design language. Today, we look at a member of the recent unlimited release of the "Classic" line, the UC-1.
The UC-1 is 40mm of brushed steel goodness, with black for any surface that requires color. On paper, one might call the design reserved. But like the rest of Unimatic's line, in actuality, it's a lot louder. Black in high doses is bold and undoes any attempt at stealth. The UC-1 has what I consider to be black in a high dose. Accents come in the form of the almost-white hands, hour indices, and lumed pip on the bezel. Excluding the radical horizontal hour index at 6 o'clock, the watch approaches quintessential diver territory. If we're talking Plato's ideals (we'll excuse his not being Italian), the UC-1 is just about as close to the mark as I've ever seen.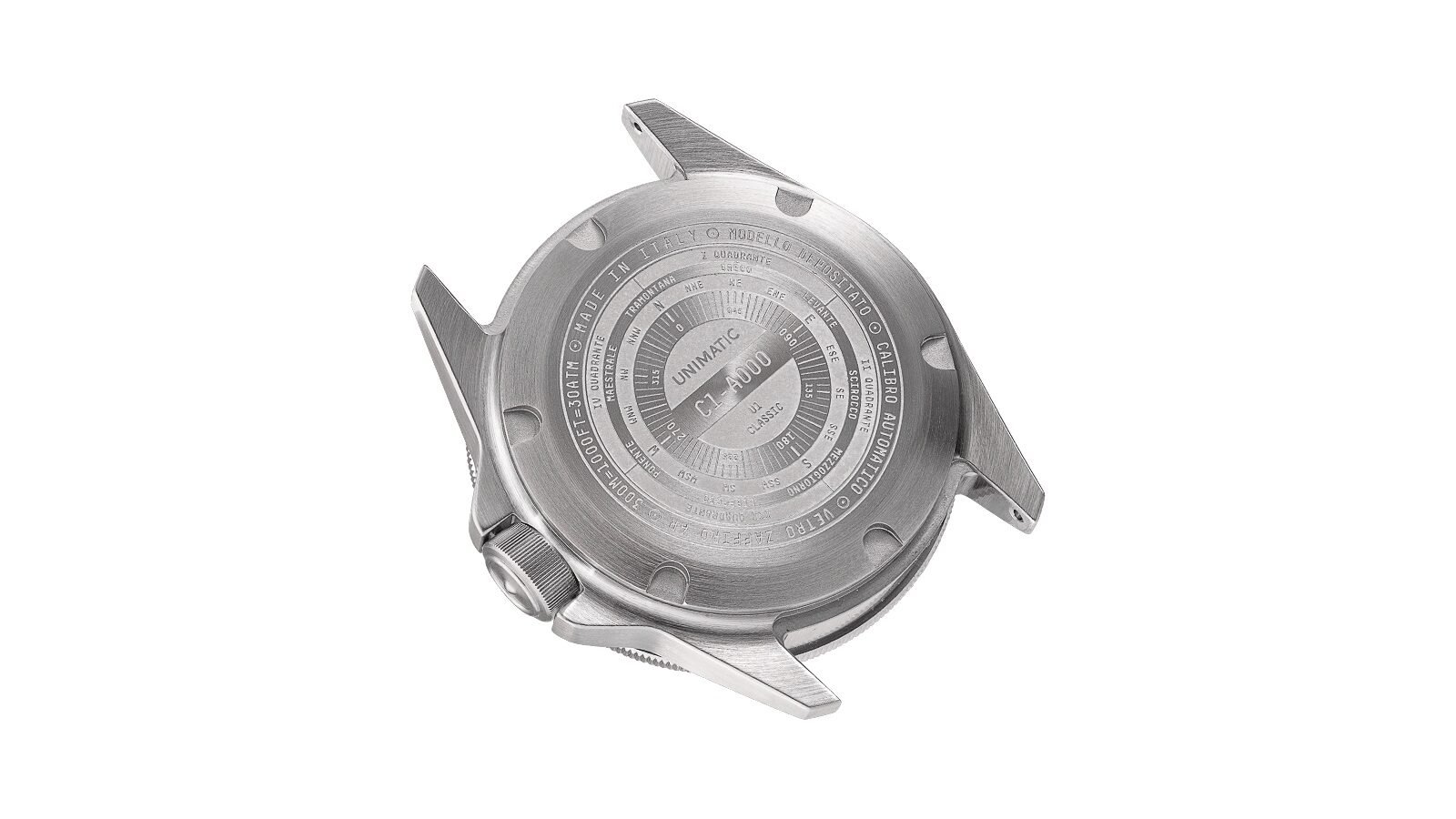 Design is in the details
This less-is-more, reductive approach to building a watch permeates every aspect. In the theme of taking only what it needs, such as with the case material, finishing, dial design, and palette, the movement within is equally utilitarian. A Seiko Instruments NH35A beats within at 21,600vph. The sapphire crystal with its anti-reflective coating is perhaps the fanciest part of the UC-1.
But the watch is a dive watch, and thoroughly so. Its water-resistance rating is a capable 300 meters. The 120-click bezel is unidirectional. The black nylon strap it comes on is water-ready. The bold white parts of the bezel, dial, and hands are all lumed in Super-LumiNova C3. As attentively designed as the UC-1 may be, the goal was never lost. In fact, the reductive approach makes more of a dive watch than many other dive watches with superfluous flourishes or features. If it is guilty of any flourish, it's in the "signed" crown with Unimatic's mammarian brand symbol and the engraved case back. On the latter, you'll find much more information than you would think for such a stripped-down watch, including an individual serial number.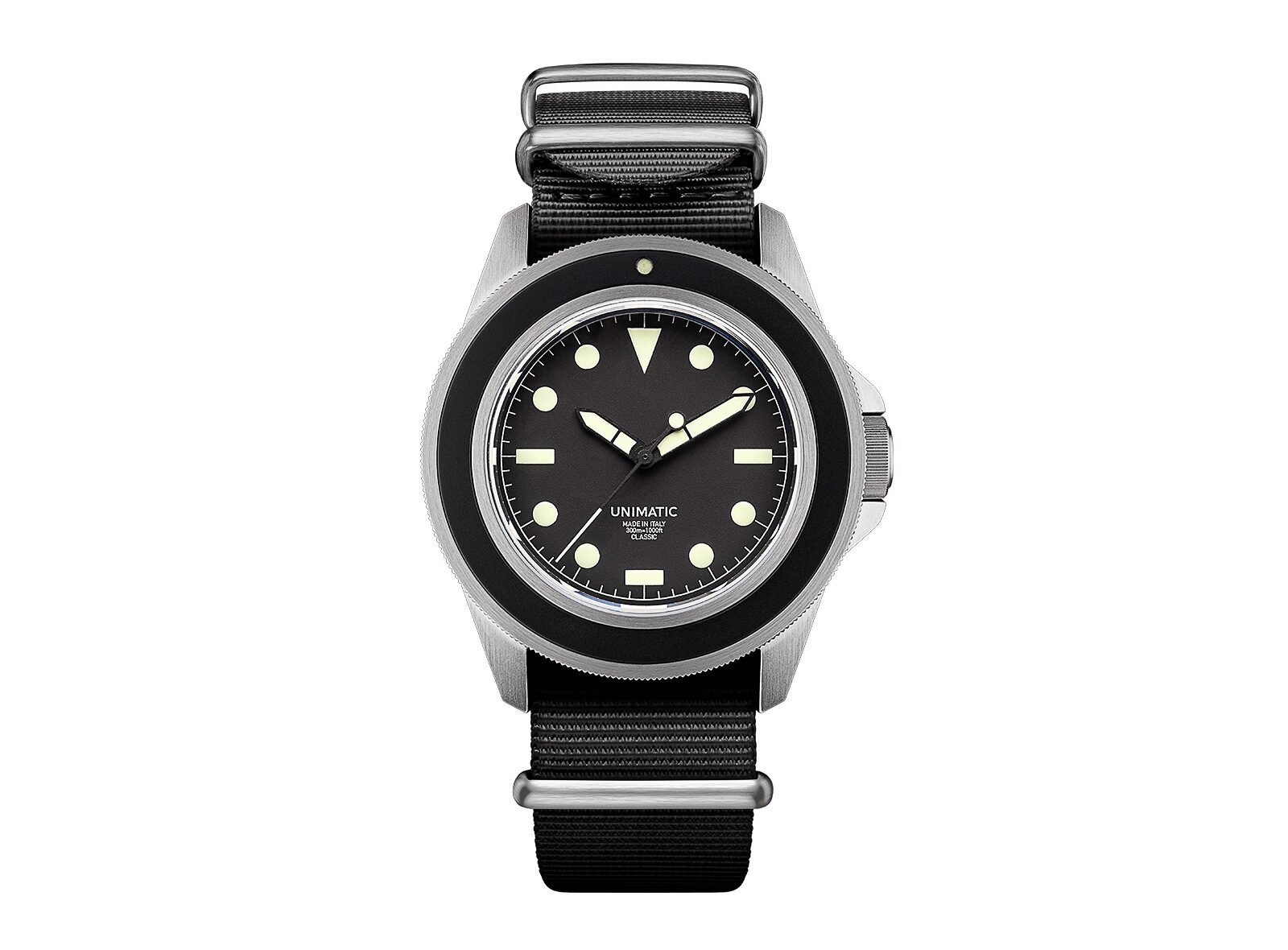 Cool and collected is the UC-1 and its tribe
Unimatic's UC-1 is for those inclined towards excellent design without flex. Unimatic's limited-edition offerings are notorious for selling out in minutes, and the unique tweaks in design elevate the "cool factor" in their exclusivity. But with the UC-1 about to launch — Unimatic's first unlimited offering — you get to own a Unimatic outside of the scarcity hype. That is to say, you can own the watch for the watch's sake. With a design as pure as what the UC-1 brings to the table, I say it's about time Unimatic watches got some space to exist unrestrained by batch sizes.
The UC-1 is that perfect addition to a restrained but infinitely flexible ensemble of possessions…
The ideal wearer of Unimatic's UC-1 is a minimalist. While you don't necessarily have to wear all black, the clothes you do own are at least versatile, functional, and few. Why clutter one's life up with material possessions if they slow you down in experiencing life? The UC-1 is that perfect addition to a restrained but infinitely flexible ensemble of possessions. It's able to accompany the wearer on outdoor adventures and gallery openings alike. At €525, practical refinement is the name of the game. Any price lower than that for the UC-1 would approach the absurd.
But — like the UC-1 — you may have a penchant for understated flair. It's in the details that one can find elements of self-expression and fun amidst the practical minimalism of your presentation. The Unimatic UC-1 is a microcosm of that stylistic tension, and it may be that crack in the facade that welcomes keen observers in to learn more. At the very least, if you need a conversation piece to shine among all the black in your wardrobe, the UC-1 will do the job beautifully.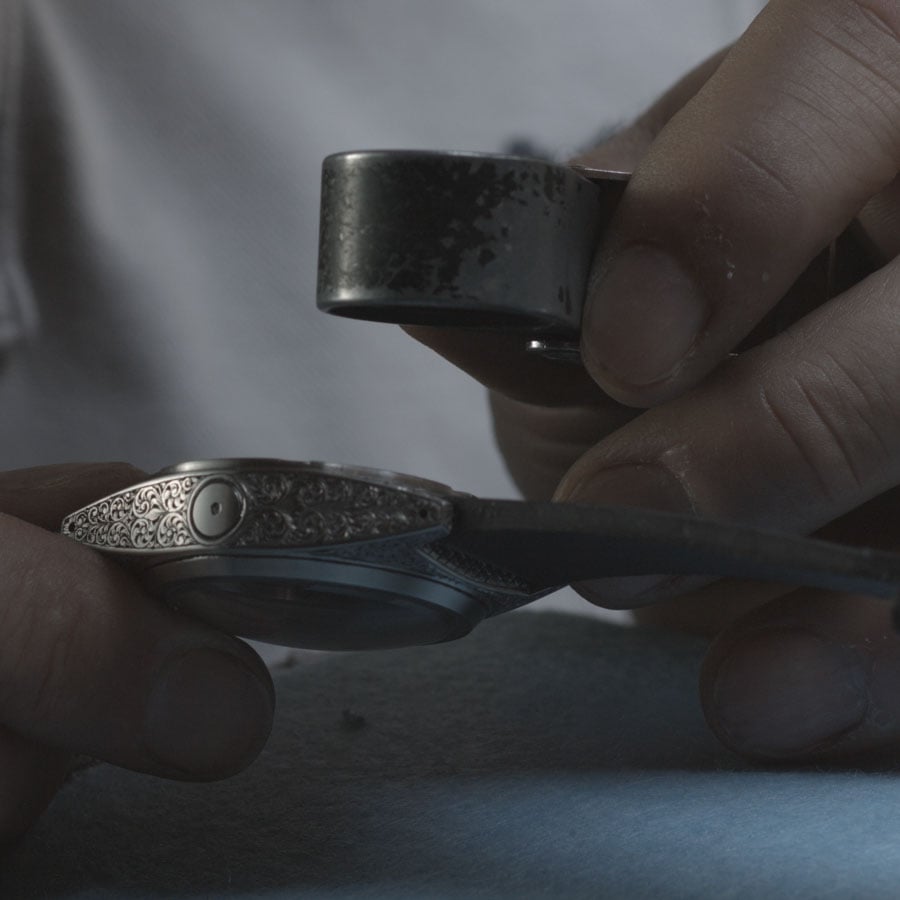 But what about Italy?
For all its restraint, Unimatic is fiercely Italian. Moro and Nunziato have worked to move as much of the watch-building within Italy's borders as possible. Some parts are made in Italy. Water-resistance testing and casing are performed in Italy. Of course, the design process occurs in Italy. But if there's anything that points to Unimatic being an Italian watch company (aside from the assertion on the watch dials), it's in the option of manual engraving for certain pieces. Currently reserved only for the Modello Due watch cases, this artisan hand-engraving elevates already refined watches to an entirely different level. As hard as Unimatic tries to keep things subdued, there's just no escaping that Italian flavor of beauty and expression. That specific "Italian-ness" is something our next brand, U-Boat, is no stranger to and has no qualms embracing.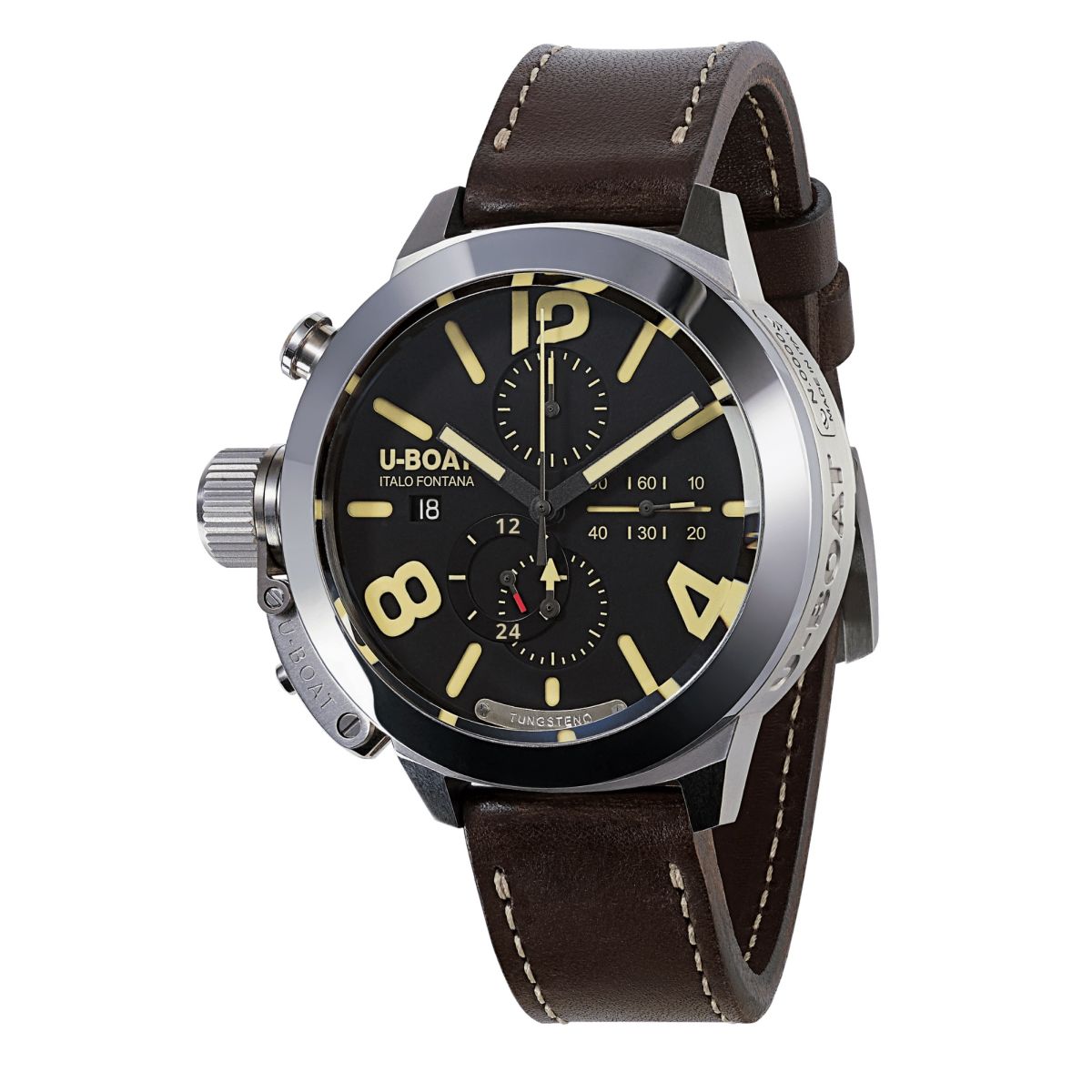 U-better watch out for this U-Boat Classico 45 Tungsteno Movelock
U-Boat is another young company, but one that makes unapologetically large (like, really large), loud, Italian watches. After finding his grandfather's watch designs for the Italian Navy, Italo Fontana founded U-Boat to develop the idea and create what is undeniably an Italian watch company. Many of the watches feature the imposing screw-down cap on the destro crown, a characteristic of the original design, apparently. There's no way a crown assembly like that could wear comfortably on the right side. Some watches are oil-filled to improve dial clarity and have a fun bubble zooming around under the crystal. Unfortunately, the U-Boat Classico 45 Tungsteno Movelock ref. 8075 is not oil-filled, but it's fun nonetheless and full of flavor.
The Classico 45 Tungsteno Movelock, as the name suggests, is a classic riff on the original U-Boat design with some key features. First of all, the bezel on the 45mm behemoth is made of tungsten, and thus virtually unscratchable. It also employs the "Movelock" protective mechanism, combining a screw-down crown cap and crown-lifting lever for setting the time. This is not unlike Panerai's crown-protection mechanism, though it is very much unique in its right. But it seems there certainly was a theme in protective elements for Italy's early water watches.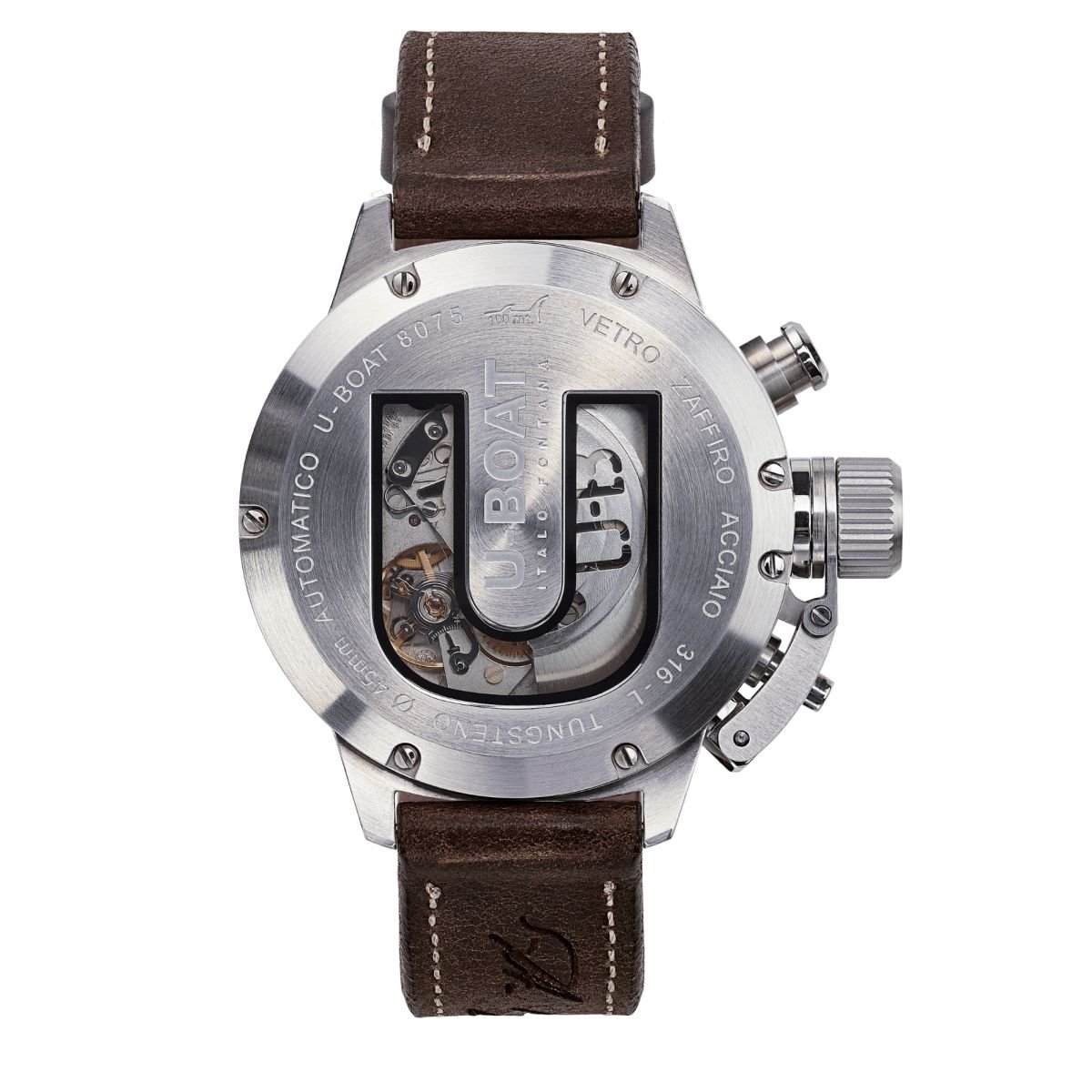 Specs and flex
The Movelock system is interwoven with the chronograph pushers, all on the left side of the case. It's a lot going on in a small space on the case band, and I think that's the point. This is a watch that wants to combine technical ability with a robust appearance, and there's a lot of overlap. The right side of the case features a bold "U-BOAT" engraving, and the case back is partially see-through thanks to the large sapphire U-shaped window. This is all in case you forget who makes this watch.
This watch is about ego, Italo's included.
The large dial is a bold black with oversized fauxtina mixed hour indices and Arabic numerals. These are chopped up by the sub-dials of the automatic chronograph movement, seemingly an upside-down Valjoux 7750, though U-Boat doesn't specify. There is an added 24-hour dial nestled in among the sub-dials. The text on the dial simply states "U-Boat" and "Italo Fontana". This watch is about ego, Italo's included. The almost comically close lugs hold onto the normal-sized (but tiny-looking) 20mm handmade brown leather strap. Though U-Boat doesn't specify, I would be shocked if it wasn't Italian leathercraft.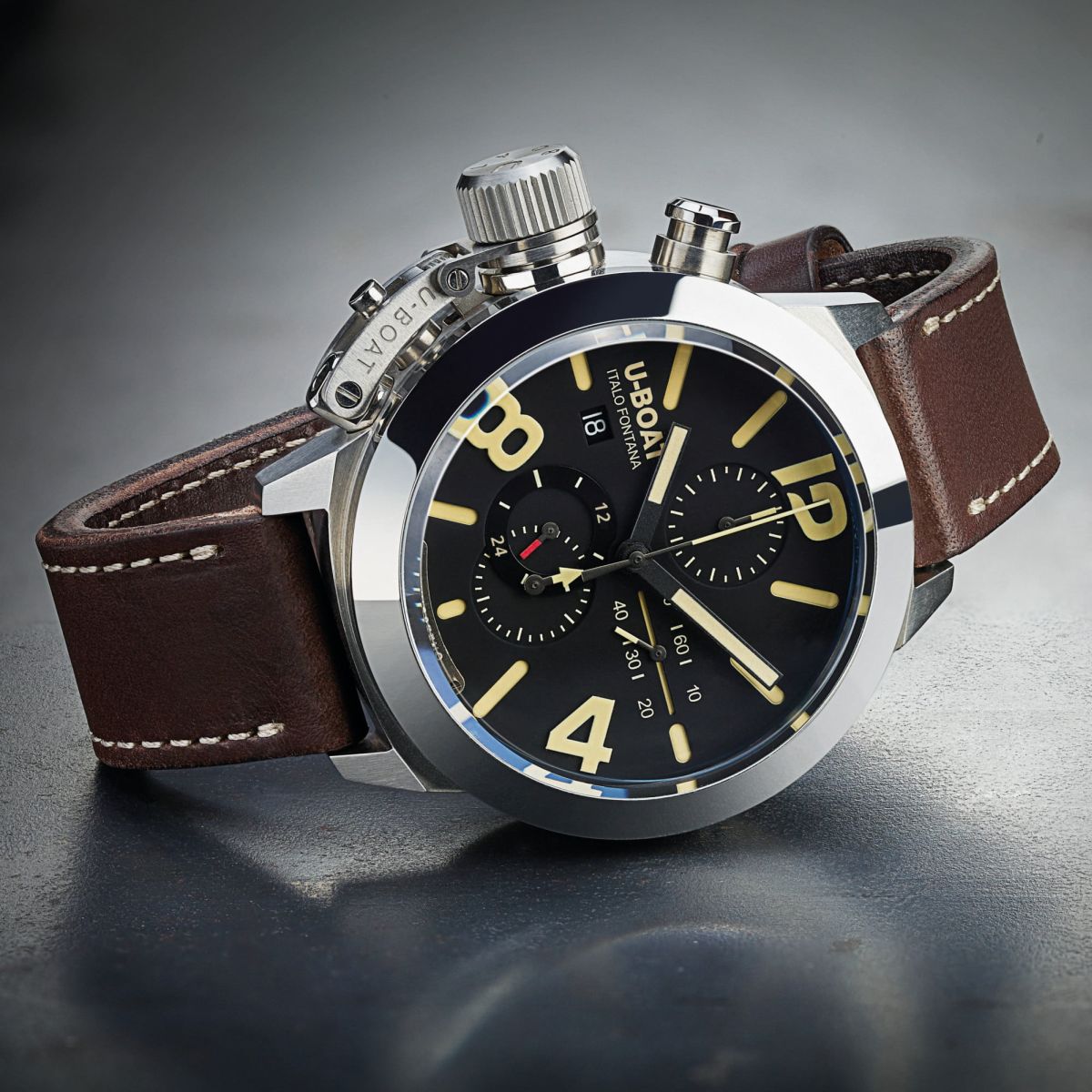 Mi perdoni, wrist clock coming through
The U-Boat Classico 45 Tungsteno Movelock is not for the small-wristed. Or maybe it is if you have enough machismo to back it up with. And that's what this U-Boat is all about. You wear this watch to be noticed. Its size prevents any chance of sliding it under a cuff. Its design, however, wouldn't let you even if you could. And though you may not garner the instant brand recognition and honor a Rolex might bring, the wrist -candy element — with all the pushers, caps, and engravings — is through the roof.
You may be the sort of person that only travels with an entourage. You may be the sort of person that orders dinner for everyone. Either way, you're the center of attention, or at least you strive to be. The U-Boat Classico 45 on your wrist accompanies the many rings and bracelets alongside it perfectly. It is the Hummer H2 of watches. It looks tough and does a good enough job doing that it never actually needs to be tough. Because at 100 meters of water resistance, all those bells and whistles are primarily for show. You're not taking this thing diving, but no one could see your U-Boat underwater anyway, so it's a moot point.
This €4,500 U-Boat is all Italian extravagance. If that's a persona you embody, you've found an apt wrist companion. It'll look excellent as you fight for the check after a few bottles of wine. Just don't let it come to blows, as the weight of the U-Boat on a wrist guarantees a knockout. Be like the U-Boat — look tough, be fun.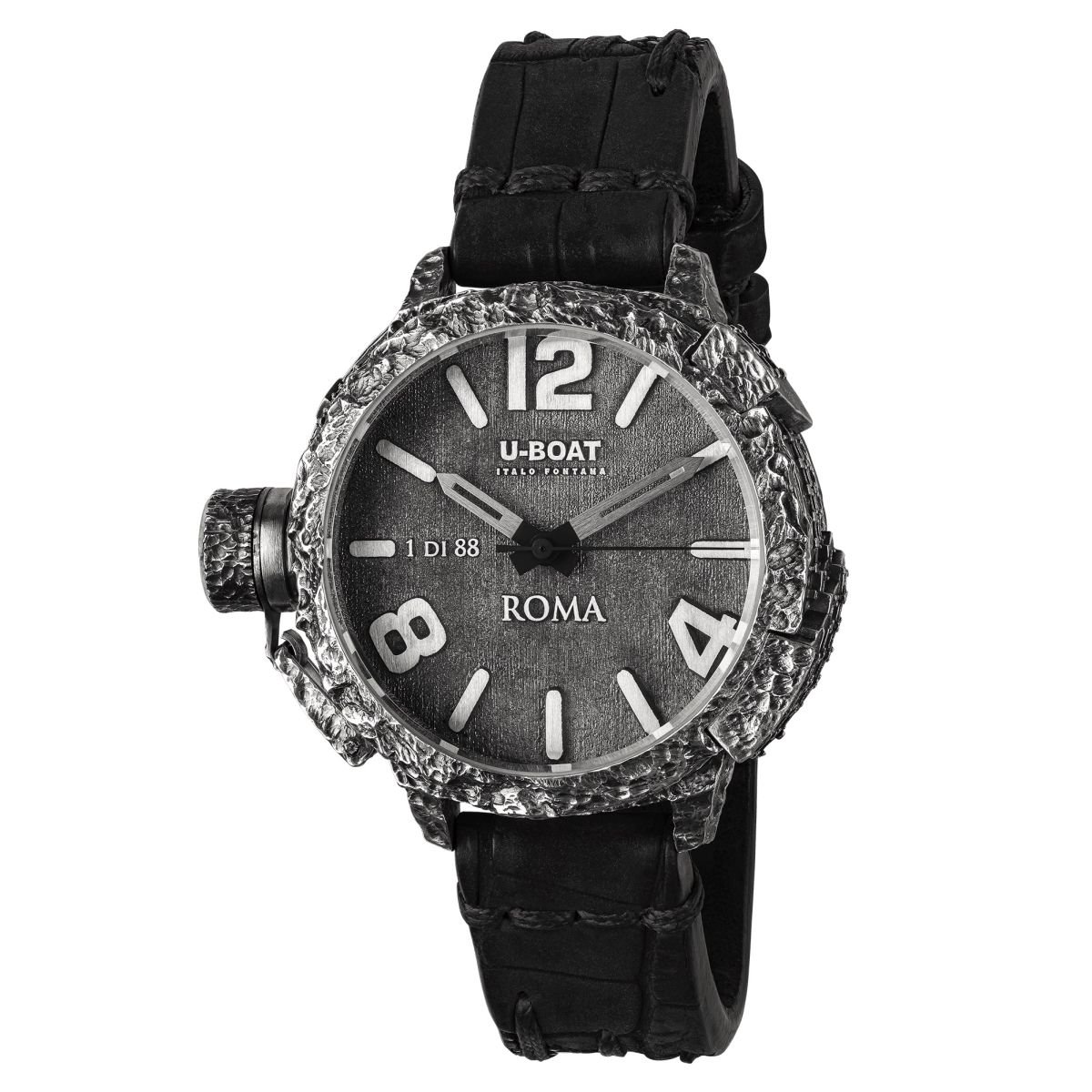 Another opportunity for exceptional Italian craft
Not to be outdone by anyone, least of all minimalist Unimatic, U-Boat takes its uniquely Italian case decoration to the next level. The Classico 45 is hardly the brand's wildest design. For an example of pure showmanship, look no further than U-Boat's "Roma Silver". The case is entirely crafted of 925 sterling silver.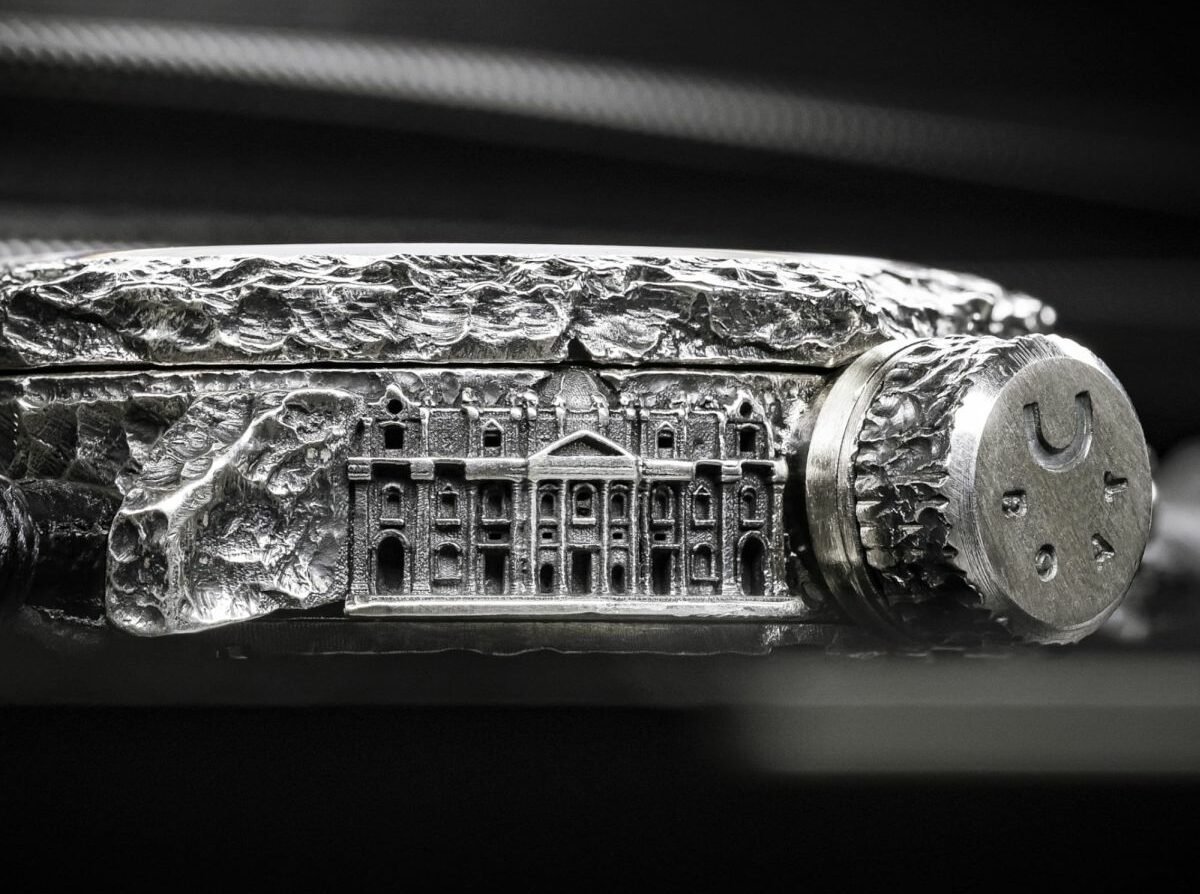 Like the fine marble sculptures peppered throughout Italy that once were solid blocks, Tuscan silversmiths hand-chisel the case away to reveal detailed dioramas of some of Rome's most iconic scenes. If that isn't an Italian watch, I don't know what is.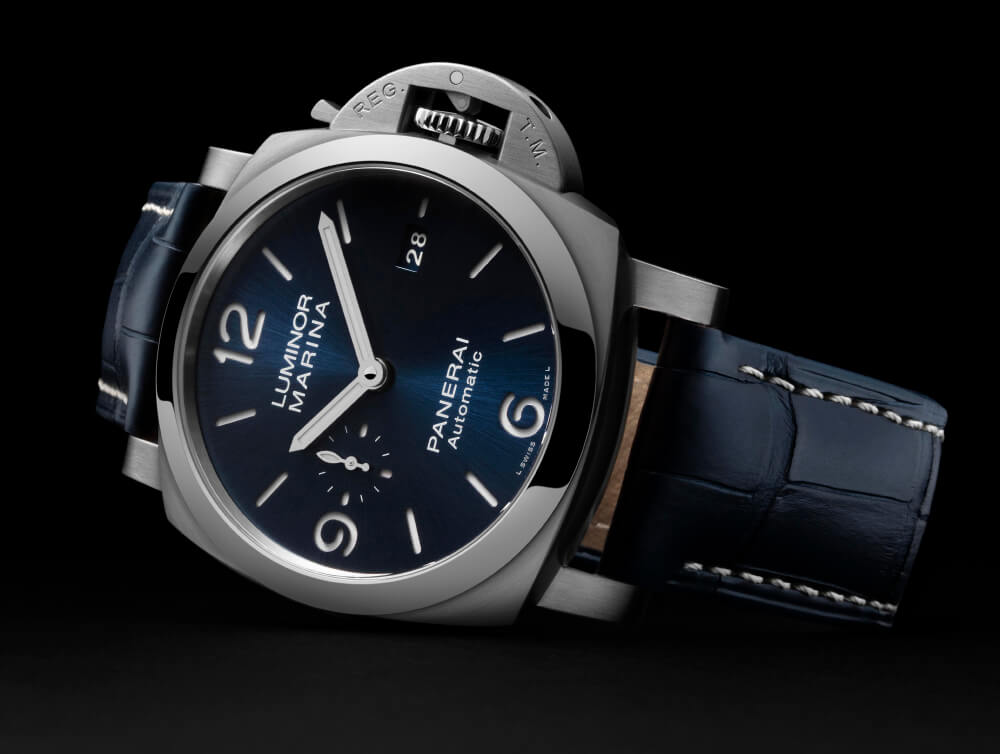 Panerai Luminor Marina 44mm ref. PAM01313
We've gone subtle. We've gone bold. Now we hit a sweet spot with Panerai, what I consider to be the quintessential Italian watch. Sure, the brand is more Swiss than Italian at this point, at least as far as manufacturing goes. Panerai's history and design, however, are proudly Florentine. To round out this vivacious presentation of some of the Mediterranean's best, what better representative than a watch as cool blue as the Mediterranean itself with substantial water history to boot.
The Luminor Marina at 44mm, referred to from here on out by its reference — PAM01313 — is at the current end of a long lineage of Panerai watches intended for the sea. Present here — like with U-Boat — is a unique crown guard. However, in this case, it's just small enough to justify keeping it on the right side. The sandwich dial with luminous material underneath (no longer radium, thank goodness), is quintessential Panerai. So too are the numerals every three hours. The PAM01313 modernizes with a date window at 3 o'clock and small seconds at 9 o'clock, made possible by the automatic caliber P.9010, one of Panerai's workhorse movements.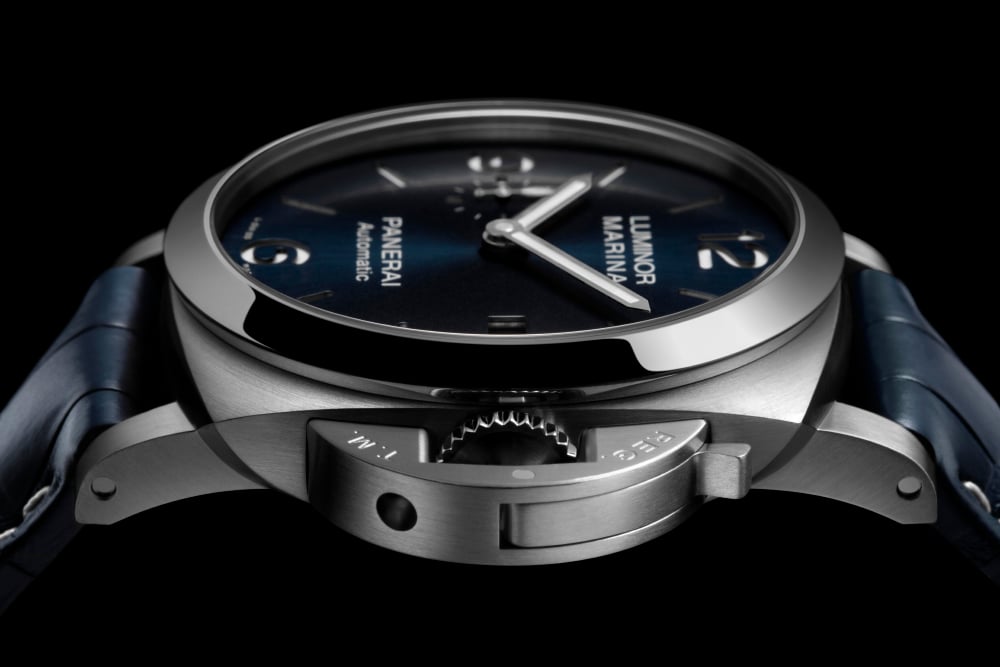 Pretty large, and just pretty
Yes, the case is large, but if Italians have taught us anything, it's that wearing a large watch is okay. There must be some beefy-wristed Italians out there thoroughly enjoying the attention to their wrist demographic, but I assure you, not everyone wearing large Italian pieces has the wrists of André the Giant (he was French, for the record). Panerai has been around long enough to show that large watches can be elegant, and the PAM01313 is especially so.
Elegance is the name of the game with the PAM01313. Though Panerai's roots are in tool-watch territory, the Italian-ness of the designs lends an inevitable style, not unlike what's found in Unimatic's industrial designs. The PAM01313's sunray blue dial and blue strap mix with the polished and brushed surfaces of the stainless steel case in a watch that says, "I used to dive. Now I enjoy life." Don't underestimate the PAM01313 though. Unlike U-Boat's Classico, the PAM01313 is water-resistant to 300 meters, though you'll want to change that elegant crocodile strap first.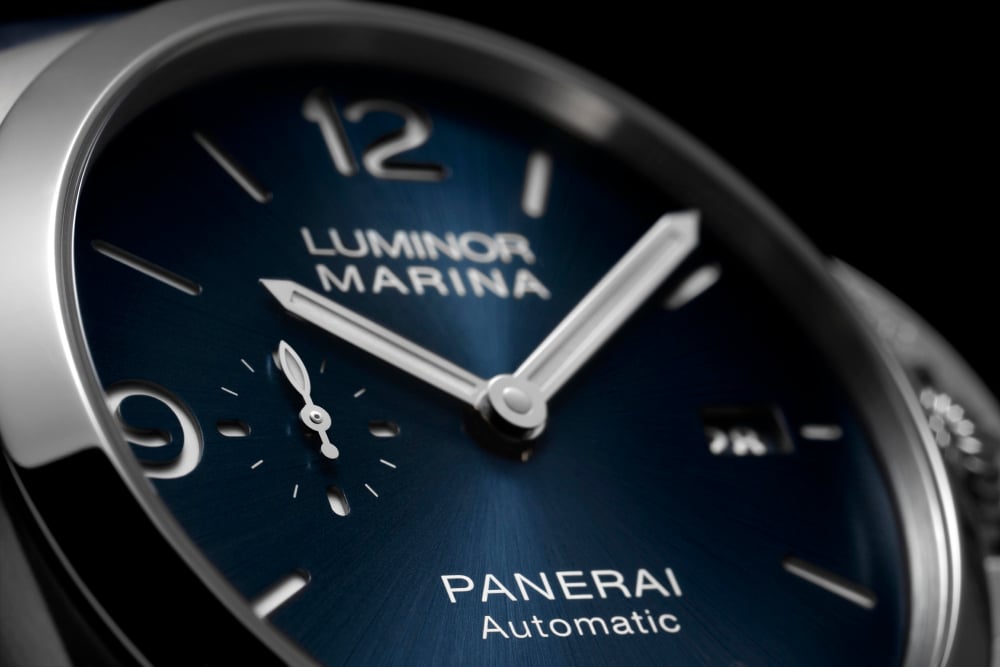 Panerai — bold elegance worth noting
The fact that there is a name for Panerai aficionados — "Paneristi" — should tell you everything you need to know. In fact, I'm terrified to describe an "ideal" owner of the PAM01313 and end up offending some 30,000 others. I'll play it safe and say that the ideal owner of the PAM01313 is someone who knows the good things in life and isn't apprehensive about enjoying them.
…having a Panerai as a daily wearer is similar to what is achieved with a daily-wearer Rolex, though with an entirely different focus on priorities.
I imagine the PAM01313 accompanying someone in a linen suit and sockless loafers (Italian), seated comfortably at some seaside cafe. You might be sipping Fernet Branca and halfway listening to subdued accordion and mandolin from somewhere down the street. If you're wearing a €7,900 PAM01313 and wearing it well, I can only assume that you're doing okay, and happy enough to go slow and take in the pleasures of life. Panerai is no Rolex, but I dare to go as far as to say that having a Panerai as a daily wearer is similar to what is achieved with a daily-wearer Rolex, though with an entirely different focus on priorities. (I think I've succumbed to expert marketing practices, and apologize for foisting them upon you.)
But there's always room for fun. It'd be a real shame to let that water resistance go to waste. The suit can quickly be forgone for an impromptu midnight Mediterranean dip with a new acquaintance. I doubt a watch has ever gotten someone to home base, but a Panerai certainly won't get in the way of that happening.
Italian watches = fun
If that last statement doesn't pre-emptively dodge any ire from the united Paneristi, then I was in trouble before I even started. There are many more brands of Italian watches not featured here, but if there is a thematic element that connects them all it's a certain Italian flavor of fun. Full of life (even when attempting austerity), rich, and unapologetic about their presence, the Unimatic UC-1, U-Boat Classico 45 Tungsteno Movelock, and Panerai PAM01313 are thoroughly united in what makes them proud Italian watches. They offer more than enough fun for anyone that's struck by their looks. The question is, which one will you choose? Let us know in the comments below. More information can be found at the websites for Unimatic, U-Boat, and Panerai. Arrivederci!