In Detail – Jaeger-LeCoultre Reverso Tribute Moon
Back in 2011, Jaeger-LeCoultre introduced the Tribute to 1931 collection of Reverso models. Watches with the same dimensions as the very first Reverso models (without the brand name on the dial). In the meanwhile, Jaeger-LeCoultre has been introducing a number of models in this 'Tribute' range. This year, it was time for the Reverso Tribute Moon watch. Let's have a closer look.
Reverso Tribute Moon 3958420
The Jaeger-LeCoultre Reverso Tribute Moon is based on the Tribute to 1931. The watch is slightly thicker of course, due to the complicated movement. Where the original Tribute to 1931 had a two hands manual wound movement which enabled the Le Sentier manufacture to use a case that was only 7.2mm thick, this Reverso Tribute Moon measures 10.9mm in thickness. Also the length (49.7mm) and width (29.9mm) are a bit increased.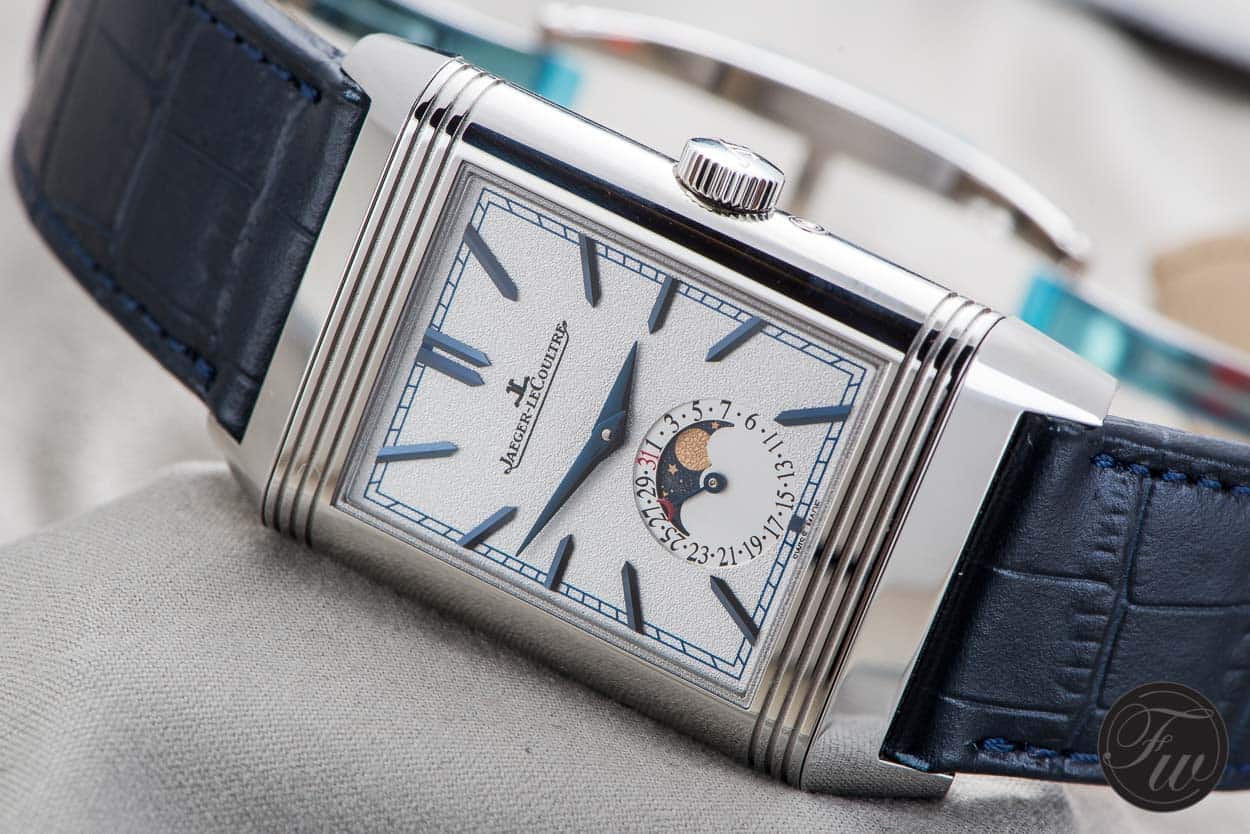 The silver grained dial on the 'Moon' side of the watch is simply stunning. Blue hour markers and blue dauphine hands give a beautiful contrast to the dial and makes it very easy to read. At 6 o'clock you will find the moonphases indicator and the date. The date is indicated with a 'croissant' pointer. No seconds hand or other disturbing (and moving) elements on the dial. The moon phase disc is very nicely done, with gold painted stars and moon. The starry sky has stars in different sizes and shapes.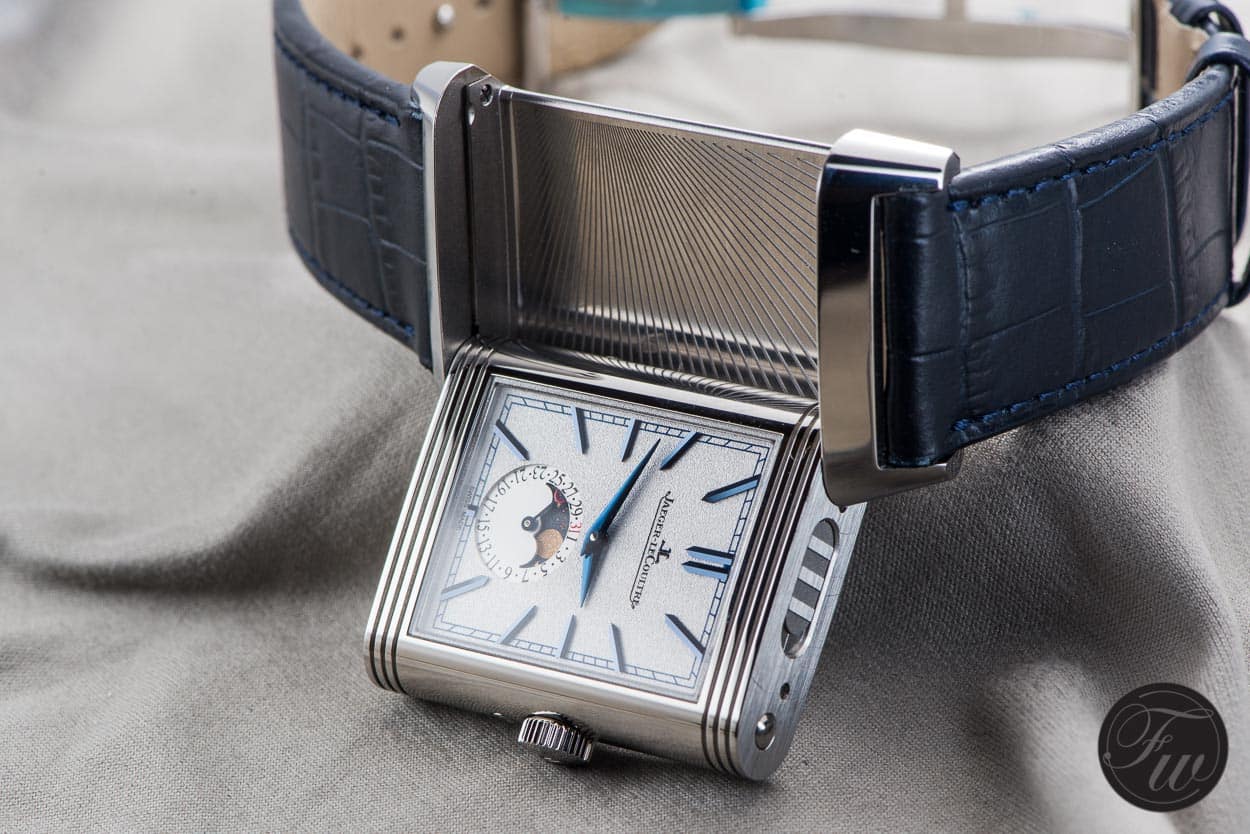 If you just move the case slightly to the right, you can rotate the case so you will see the back side of the watch. Gently push the case back into position and it will lock into place with a mechanical 'click' and you are ready to go. Always make sure not to force anything, and after 'reversing' the watch a couple of times you will get the hang of it. It doesn't require a specific 'fingerspitzengefühl' but you always need to be cautious. You are dealing with a hand-made mechanical (luxury) product here. While I am at it, also always make sure to keep the sliding elements clean. Dust, moisture or other stuff getting clogged up in there can result in problems eventually.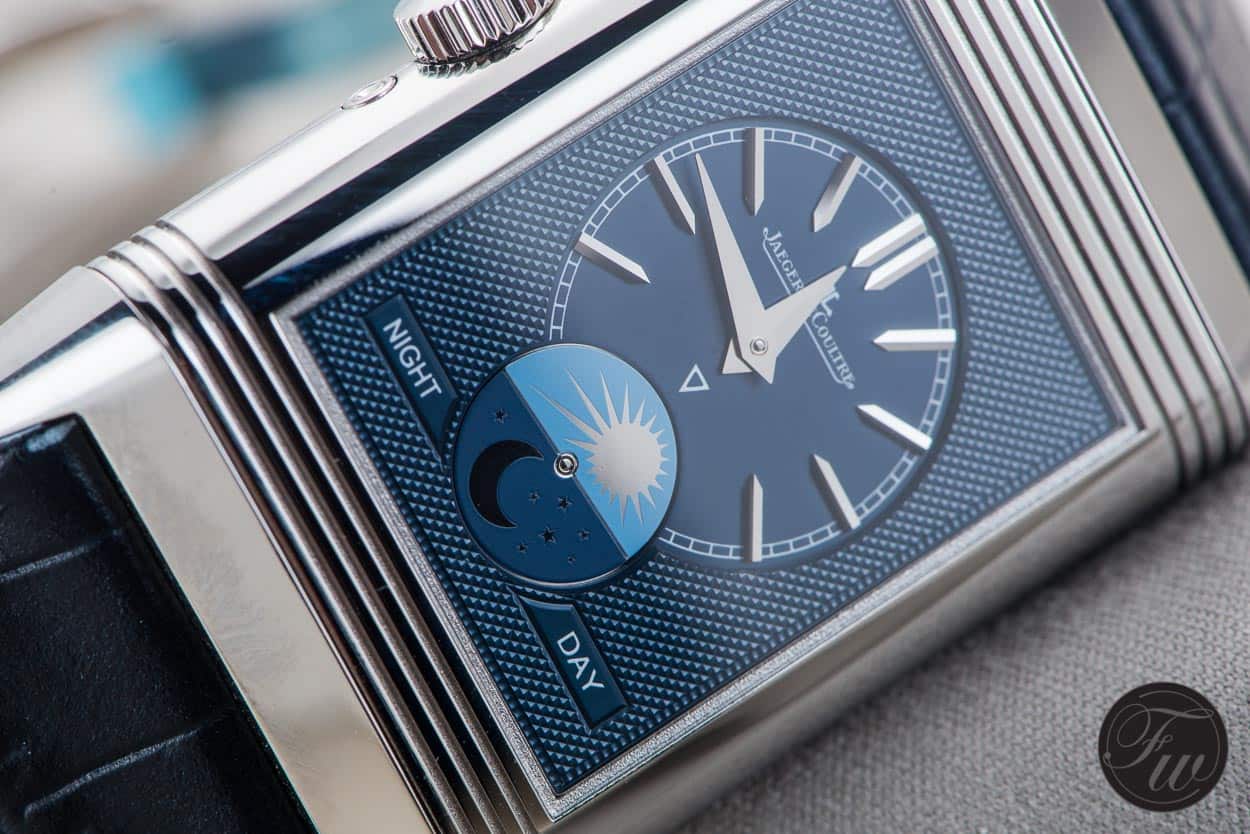 The back side of the Reverso Tribute Moon has a nice looking nigh blue dial. This dial has a – and I am a sucker for that – 'Clous de Paris' finish and a pair of high polished silver color dauphine hands. The dial has been applied with polished hour markers. The hour markers and dauphine hands give enough contrast to the night blue dial for an easy read off. Below the hour and minutes dial, you will find a small sub dial indicating day and night with a moon and sun disc.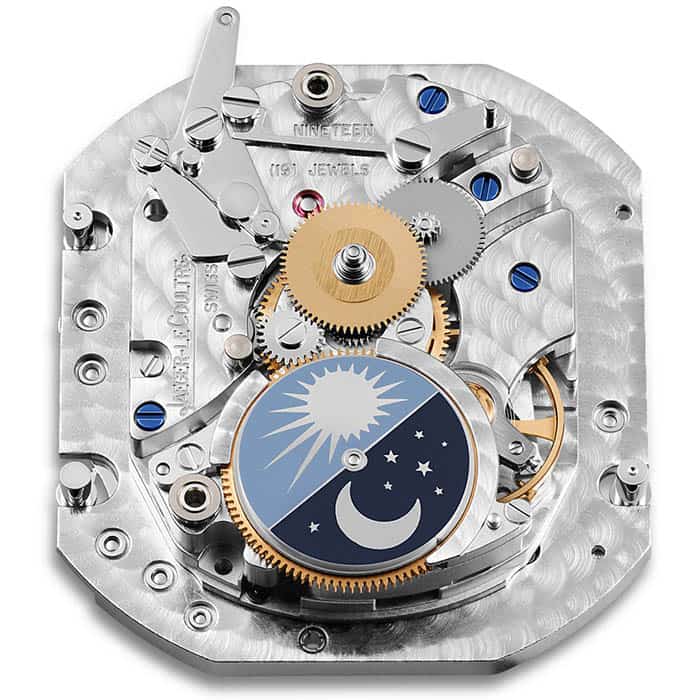 Inside this stainless steel Reverso Tribute Moon we find the Jaeger-LeCoultre Calibre 853A movement. A hand-wound movement that consists of 223 parts. A beautifully finished movement – even though you can't admire it as there is no display back of course – with a thickness of just 5.15mm. It ticks at 21600vph and has a power reserve of 42 hours. This little work of art is one of the many in-house developed calibers from the Jaeger-LeCoultre manufacture, known for their huge number of different movements. A few years ago I went and see the manufacture in Le Sentier and it was quite an eye-opener to see that this company really does almost everything in-house (not straps and crystals of course). Even for historical movements they are able to reconstruct parts and have them restored again.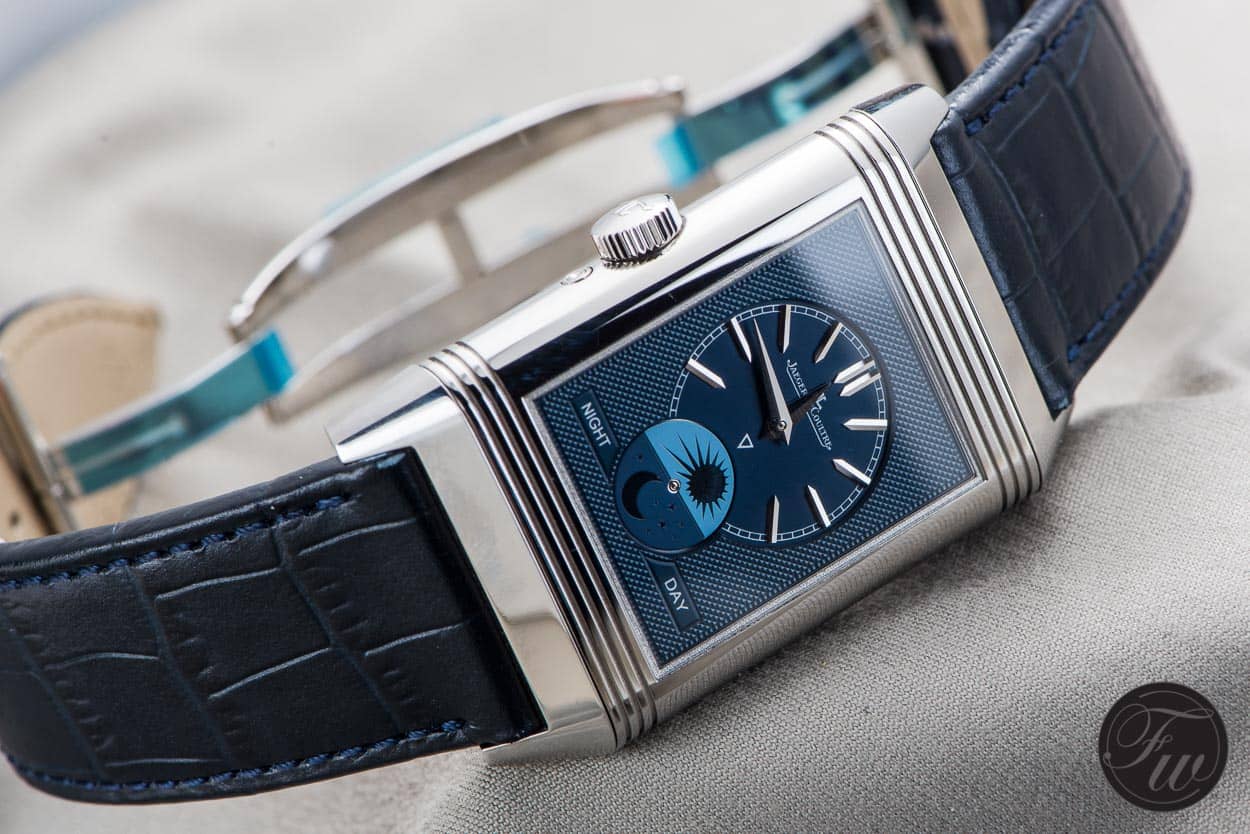 This stainless steel Jaeger-LeCoultre Reverso Tribute Moon has a retail price of 13.400 Euro ($12,700.-USD excluding sales tax). That is a fair amount of money, but for this you will get a true manufacture timepiece with a moonphases indicator, day & night indicator and a beautifully crafted and finished watch. The Reverso Tribute Moon comes on a dark blue alligator leather strap and folding clasp. These straps sell for 345 Euro (if you want to add an extra), but you can also go for the beautiful tan ostrich strap for 165 Euro. The watch can be ordered on-line via the official e-boutique of Jaeger-LeCoultre.
More information (and ordering) via Jaeger-LeCoultre on-line.