There is no doubt that sovereign city-state Monaco breathes magic for a lot of people. Cannes, Nice and St. Tropez are all nice places to visit, but Monaco is the crown on every trip to the Cote d'Azur. Besides being a tax heaven, Monaco is famous for the Monaco Grand Prix, the Monte Carlo Rally and ofcourse the number one source of income for this constitutional monarchy is tourism, the Monte Carlo Casino to be more precise. Did you know that citizens of Monaco are not allowed to gamble in the casino at all?
The few times I visited Monaco, I really enjoyed the view (as pictured below), the enormous yachts, the Riva boats and the passing Lambos/Ferraris/Maseratis. Driving around in Monaco gives a magic feeling, knowing that you are on the same track as some of the fastest and most special cars in the world.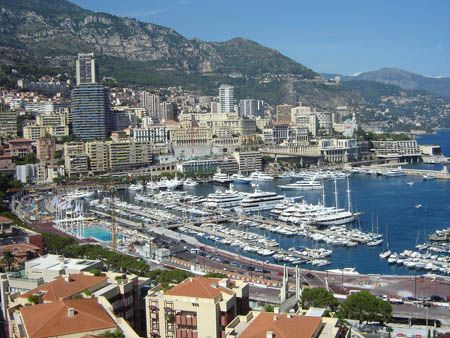 And Monaco recently got more interesting for watch freaks like you and me. On the 25th of April 2009, Pim Koeslag and Robert van Pappelendam launched new haute horlogerie brand Ateliers DeMonaco together with H.S.H. Prince Albert II of Monaco. These two Dutch guys, founded Ateliers DeMonaco together with another Dutchman Peter Stas (founder of Frederique Constant and Alpina Geneve) on the 6th of April 2009.
About a week ago, I got in touch with Pim Koeslag and his wife Susana. Their enthusiasm for watches and their own Ateliers DeMonaco brand in particular is contagious for watch lovers. The official Ateliers DeMonaco website and the pictured watches on there make you want to know more about the Carre d'Or timepiece and its creators.
Pim Koeslag is master watchmaker and responsible for the innovative tourbillon construction as well as for the whole design of the Carre d'Or watch. This is something you'll see more often with independent watchmakers. This is a huge advantage over the existing (big) brands that need to bring all involved parties together to get a common consent with respect to design, technology, marketing etc. Pim Koeslag doesn't have to make concessions when it comes to the design of the timepiece and the used technology.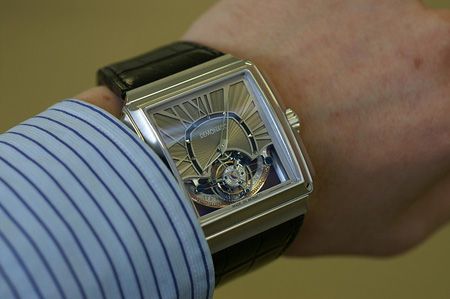 The first noticeable detail about the Carre d'Or is the sapphire tourbillon bridge. The patented Grand XP 1 minute tourbillon has been developed and manufactured in-house and it is one of the most accurate tourbillon movements in the world. XP stands for eXtreme Precision, which can be guaranteed because the used technology allows the 28.800 beats per hour to be translated into pure accuracy that is regulated to have a tolerance of only zero to 2 seconds per 24 hours. Ateliers deMonaco uses three supporting innovations to be able to achieve this kind of tolerance for their Carre d'Or XP tourbillon timepiece. These innovations are: a perfect balance cage, silicium escapement and lever and the use of a few super precision manufacturing methodologies.
A perfect balance cage is established by using small metal weights on the sides of the escapement. By adding or removing these small weights, the watchmaker is able to balance the weight of the tourbillon cage until it is perfect. This means that the gravity point of all components should be brought to the center of the cage.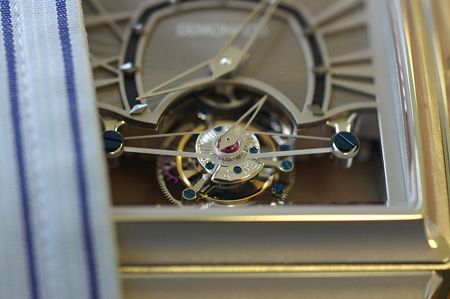 Being an IT guy for profession, I am familiar with the use of silicium for microprocessors. However, just (fairly) recently, the watch industry also found its way to this light weight, extreme hard and corrosion resistant material. In the most recent edition of Revolution Magazine (US edition), the use of silicium for mechanical movements is being further examined and discussed by several watch makers. The only problem some companies seem to have is the fact that it is technology meant for electronics and not for the traditional watchmaking craft. Basically, creating the escapement wheel and lever from silicium, will result in improved efficiency of energy. Since this material is very hard (twice as hard as regular stainless steel), there is only low friction and therefore no need for lubrication. Silicium is also anti-magnetic, which solves the old problem of interference that causes deviations in accuracy.
Although Pim Koeslag is the only watchmaker at Ateliers DeMonaco, he does source some help from only the best available parties in Switzerland. The sapphire tourbillon bridge for example, is just like any other small part, very hard to create out of sapphire. I have heard this complaint before, from Bernhard Lederer of BLU during my interview with him in Basel. After breaking a serious amount of precious sapphire parts, Atelier DeMonaco decided to use laser cutting technology to get the required result. A company called Sebal S.A, who specializes in manufacturing sapphire crystals in Bocourt, Switzerland, helped the Monaco based watch manufacturer out.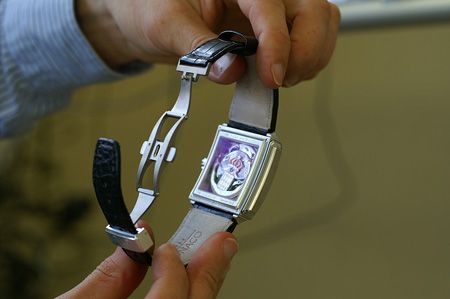 The 18ct gold rotor of the movement has been engraved and finished by Jochen Benzinger, master hand engraver. Benzinger, well-known for his work on his own line of watches and those of Chronoswiss for example, has decorated both sides of the gold rotor with the Ateliers DeMonaco shield and a hand guilloche finish.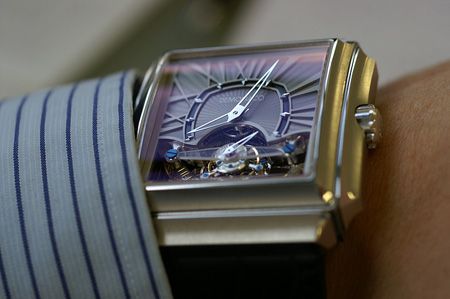 The rectangular case of the watch is 44.3x48mm, which makes it fairly big, and consists of 33 parts. The core of the watch case is made out of titanium and the parts that create a shell around the titanium frame are made out of 18 carat solid gold, as pictured below.
Production of the Carre d'Or is limited to 18 pieces and prices are unknown (yet). For more detailed information about the Carre d'Or or Les Ateliers DeMonaco, visit the website by clicking here.
Thanks to Pim and Susana Koeslag for the photographs. I can't wait to see one of these beauties in person, perhaps I should plan a trip to Monaco soon 🙂

Robert-Jan Broer, born in 1977, watch collector and author on watches for over a decade. Founder of Fratello Watches in 2004.

Latest posts by Robert-Jan Broer (see all)